1. Writing retreats lead to deep transformative experiences, cracking us open and awakening us to new possibilities. Nothing is as powerful as walking away from our daily lives to enter a safe, sacred environment solely focused on enhancing and supporting our creativity. One of the things I love most about retreats is seeing peoples' faces change from the first day to the last. They often look scared and defended and uncertain on the first day—but by the end of the retreat, their faces are gleaming with love, connection and openness.
2. You leave behind all the things that distract you from your writing. When we are freed from our to-do lists and the relentless pressure of the "undone," we are free to focus on our heart's desire: connecting with the deep place the truest writing comes from.
3. You leave behind your excuses. Making a conscious choice to commit to your writing for an intensive period of time focuses the mind and leads to breakthroughs in your work—and in your life.
Read more...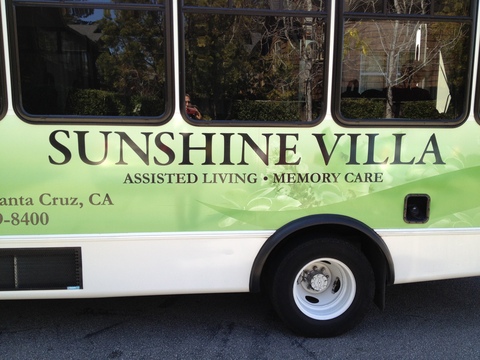 We slowly made our way down the flowered hallways, flowered wallpaper lining our pathway, flowers edging the muted carpet on the floor. I deliberately shortened my stride, moving so slowly it felt like the walking meditation I'd done 20 minutes at a time at Spirit Rock Meditation Center on 10 day Vipassana retreats. My mother was teetering nearby, floating with an expression on her face that looked sweet and empty at the same time. I'd taken her on a walk around the second floor of the building, up the elevator, circling three hallways, and back again. We passed the front desk, the music room, the library, and around the corner past the activity room, the place with the large looseleaf notebook out front where you can sign up for outings on the first day of the month—the scenic drives, a monthly movie, outings to Walgreens or Rite Aid to stock up on shampoo or Depends.
The first time I saw the Sunshine Villa bus, six months ago, I looked at the huge letters across the side of the bus on both sides, shouting out for all to see: Sunshine Villa Assisted Living and Memory Care. I remember thinking at the time, there was no way Mom would ever live here, ride in a bus like that. It would be way too humiliating. I felt the same way when I visited on Saint Patrick's day and the halls were full of little cardboard shamrocks and leprechauns or at Halloween when black cats and orange pumpkins lined the halls. For the entire month of December, canned Christmas carols blared from speakers in the hall. That would be hell on earth for my proud Jewish mother, to be in such a goyisha place. It was like a holiday curriculum at a preschool on steroids. Is this what they think old people want?
Now, six months after my first visit, Mom was living here, being helped up into the van with the letters screaming Memory Care on the side, enjoying the scenic drives to nowhere.
Read more...
Part IV: Building a Relationship With Your Customers
This is the last in a four-part series on how to market your business as a self-employed entrepreneur. The first article, "Selling is Not a Dirty Word," can be accessed here. The second, "Marketing Basics" can be accessed here. The third, "Building a Relationship with your Customer," can be found here.
• It's not about you. When you're starting a business, it's easy to focus on you and what you need and how things are working out for you. If you shift your focus to how you can best serve your customers, your whole mindset will change—and that change will naturally be telegraphed to your clientele. People will sense that you're really there to help them or meet their needs—not just to use them.
• It's essential that you understand your customers. Learn everything you can about the people who use your products and services. I am certainly willing to teach anyone, and love it when diversity walks through my door, but I have learned over the years that my "typical" student is a middle-aged woman who is going through a life change or who wants a creative outlet. I also have younger and older students—and the occasional man graces my classes, but I know whom my core students are—and what they're looking for.
• Offer value before you ask for a sale. In our information-rich technological world, resources and information are shared readily and easily—often at the click of a button—most of it for free. People expect to get a good deal of value for nothing and you have to be prepared to give it to them. No one will give you their email address or their attention or their money unless you've already proven that you have information or resources that can help them directly. This value could be a free class, a information-rich blog, a free download from your website, a presentation at a conference or a number of other things, depending on your business.
• Inspire loyalty. Your goal should be to create a relationship, not just a sale. A one-time sale doesn't really help your business. Find a way to stay in touch with former students and customers. The best way for you will be determined by who you are and the kind of relationship you want to develop. I utilize a monthly email newsletter and The Writer's Journey Roadmap; I send out weekly writing prompts by email. These prompts are connected to a free online community where people can post writing and respond to each other's work. I spent several months and several thousand dollars creating this free "product," and I spend a fair amount of time keeping it going and monitoring the site where this online community gathers. The Writer's Journey Roadmap reflects my values and represents exactly who I am and what I do best. It has been worth every dollar and every hour I spent working to create it because I am creating relationships with people all over the country and the world, people who are learning to trust me and become curious about what I have to offer. Right now, my (very limited) advertising dollars are not going to promote my paid events; they're advertising the free Roadmap, because it's the most effective ways I get new people, outside of my own local community, to become acquainted with who I am and what I do. P.S. There is always an ad on the Roadmap blog and the email I send out promoting the next retreat, but it's in the background, not the main event.
• Communicate with your customers before, during and after your events. I rarely use a written syllabus in my work because I value spontaneity, but I do tell people what to expect once they arrive, when the breaks will be, and any other pertinent information they might need. After events, I often send a follow-up letter thanking everyone for their participation and highlighting upcoming opportunities to work with me further. Once someone attends one of my events, they also get added on my email list and receive future mailings I send out.
• Put yourself in your customers' shoes.
This is one of the reasons I take writing classes myself. Being a student keeps me in touch with how much I resist certain assignments, how vulnerable I feel when I've spilled out the truth on the page, and how sometimes, I'd rather have brain surgery than read out loud. Staying close to my students' experience gives me a visceral reminder of what I'm asking them to do. For similar reasons, I always include myself on my own mailing list and try to register for every event I post—so I can see first-hand what my students are experiencing when they interface with my marketing and registration materials.
Read more...
I was going to post the final segment of my posts on marketing, but this piece was much more immeidate for me this month, and so I decided to post this one instead.
I remember Mom standing at the top of steps on her little landing outside her back door. We were leaving DeAnza Mobile Home Park, her home for the past four years. I knew that she might be leaving for the very last time, but in her mind, she was just spending the night at my house and then going for a month-long trial, to check out Sunshine Villa, a classy assisted living place up above the Boardwalk in Santa Cruz.
(Why do they give homes for old people names like that? Sunshine Villa? Really? Though I suppose Sunshine Villa is a lot better than Twilight Manor, one of the assisted living places on Chanticleer I pass every day on my way home. )
Mom didn't really want to go, but at one point, my brother and I tag teamed her, one on either side of her, and told her she really needed to, and she reluctantly said yes. And the two of us, our power of attorney in hand, had been making the necessary arrangements ever since. And now it was time.
All Mom was carrying was her black purse that is always gaping open, holding her most precious possession. She picked it up and waved it in the air and cackled, "This is the secret of my popularity." It was her blue plastic handicapped parking placard. "Everyone wants to take me out because I have this!"
She was holding her purse and her multi-colored cane, the cane she tends to wave around rather than lean on, and that was all. I think she had a light jacket on, a white jacket, the kind she never would have worn in New Jersey after Labor Day.
I was following right behind her and I saw her step out on to the landing and start to wobble, and I could see that in an instant she could fall down the steps in one direction or down the steps in the other. I couldn't get to her on time, but just in time, she grabbed the handrail and steadied herself, and that's when I knew for sure. She can't come back here. She can't live here anymore.
And so knowing what I knew, I shepherded her out toward my car (which used to be her car before I had to take it away from her), and I patiently waited while she slowly positioned her body so she could plop heavily down into the passenger seat, get her legs under her, and close the door. I fastened her seat belt, reaching carefully across her chest. After all that exertion, she was breathing hard.
I checked my watch, knowing that in half an hour the woman I hired to pack up Mom's furniture and all the masks from her travels all over the world and the giant dark wood headboard she schlepped all the way back from Mexico and her special Mexican bedside lamps and the beaded necklace we'd all strung for her on the occasion of her 70th birthday, fifteen year ago—was going to arrive. And I didn't want Mom to be there when she did.
Anne specializes in moving seniors. She was about to come in, and in two hours, lovingly pack up all the things I'd designated to be moved. And then the next morning, the moving truck she'd hired would arrive while Mom and I were eating breakfast across town, and all of Mom's things would be moved to Sunshine Villa, a mile away, and her art work and the rug my partner Karyn had woven her and her masks would all be set up all in the exact same order on the wall they were here, in her new room at Sunshine Villa. Her bed would be made the same way. Her couch would have the same throw folded neatly on the back. Her phone and answering machine would be functioning and ready. Her cable would be connected, her TV working. Her clothes would hang in her new closet, sorted much the way they had been at home. Everything would be set up as close to how it had been in her old place, so it would feel at least on the surface, a little bit like home.
I knew all that was about to happen and that tomorrow I would bring Mom over to her new room when I got the all clear, that everything was ready. Until then, we would play cards and eat dinner and hopefully Eli and Lizzy would give her the time of day, and in the morning we would hang out and wait and then go out to lunch, and eventually we'd wend our way over there where all those old people with wheelchairs and walkers live (my mother of course is not one of them!). And then I'd open the door to her room and she'd see all her things in place and I would sit with her and watch her face register shock and dismay, and then eventually, I would leave her behind to grieve the loss of her home in the way her damaged mind could process it. I knew what was before us, and she didn't.