The Courage to Heal Workbook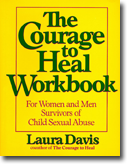 Sale: $22.95
This groundbreaking companion to
The Courage to Heal
is an innovative, inspiring, and in-depth workbook that speaks to anyone healing from the effects of child sexual abuse. With its combination of checklists, open-ended questions, writing exercises, art projects, and activities,
The Courage to Heal Workbook
takes survivors step-by-step through the key aspects of the healing process. While written specifically for survivors of sexual abuse, this wise guide can be useful to anyone suffering from the effects of other kinds of trauma.
Praise for The Courage to Heal Workbook:
"Laura Davis offers hope and validation as survivors actively participate in reclaiming their power, their self, and their life."
--Claudia Black, Author of It Will Never Happen to Me

"In this wise and empowering workbook, Laura Davis transforms the broad stages of the healing process into practical, tangible steps. With warm support and reassuring guidance, she offers creative and abundant ways for survivors to stay focused, active, and engaged in the process of change."
-- Ellen Bass, Co-author of The Courage to Heal

"A splendid, invaluable resource for recovery. Clear, comprehensive, smart, and deeply human. I recommend it to all male and female survivors, and for the counselors and therapists who work with them. Savor it and respect your own pace."
-- Mike Lew, Author of Victims No Longer