Bali is famous for its inner and outer beauty, and its gracious hospitality. This beautiful island features majestic volcanoes and terraced rice fields that gently spill into an azure sea. And Bali's rich cultural heritage and deep reverence for life is legendary.
"Take a vacation with two wonderful leaders if you want to learn about yourself and the beauty that lies outside your daily life."
–Julie Goodman, Santa Cruz
Our trip will bring you into three distinct regions of Bali. We will stay in small, locally owned hotels—away from the tourist scene—so you can fully immerse ourselves in this unique, evocative culture. In addition to daily writing and yoga classes, our excursions will include rice field hikes, treks in rain forests, snorkeling expeditions among tropical coral gardens, walks through coffee and clove plantations, and lush waterfalls. Each day, our tour guides will give us an insider's view of Balinese dance, music, art and sacred ceremonies.
"Your retreat provided me with great adventures, a healing connection with others, the chance to deepen my writing, and the opportunity to heal my mind, body and spirit. I got to experience and connect with a wonderful nourishing country and its people. Your magical retreat taught me to never give up before the miracle."
–Allison Summers, Casuarina, Australia
We will begin our journey at the peaceful, pristine, beautiful Lotus Bungalows resort, perched right at the edge of the Indian Ocean. This small East Bali hotel is the perfect place to land and decompress from your journey. We will spend four nights in Candi Dasa, beginning our writing and yoga classes, our explorations of Bali, and our life together as a traveling community. This is where you will begin to learn about the Balinese people—their language, their culture, and their way of life.
During the middle portion of our trip, we will move to Ubud, the cultural center of Bali, where we will experience "urban" life and a faster pace. You will drink in many cultural riches and experience a variety of solo and group adventures. Ubud is also the place where you will be able to buy stunning artwork and other gifts to bring back home.
During the final part of our trip, we will leave the upbeat energy of the city and travel north to Munduk and the cool volcanic mountains of North Bali–a stunning region of rice fields, coffee and cocoa plantations, where myriad tropical fruits and spices are grown. You will experience first-hand the unspoiled agricultural and village life that Bali has to offer.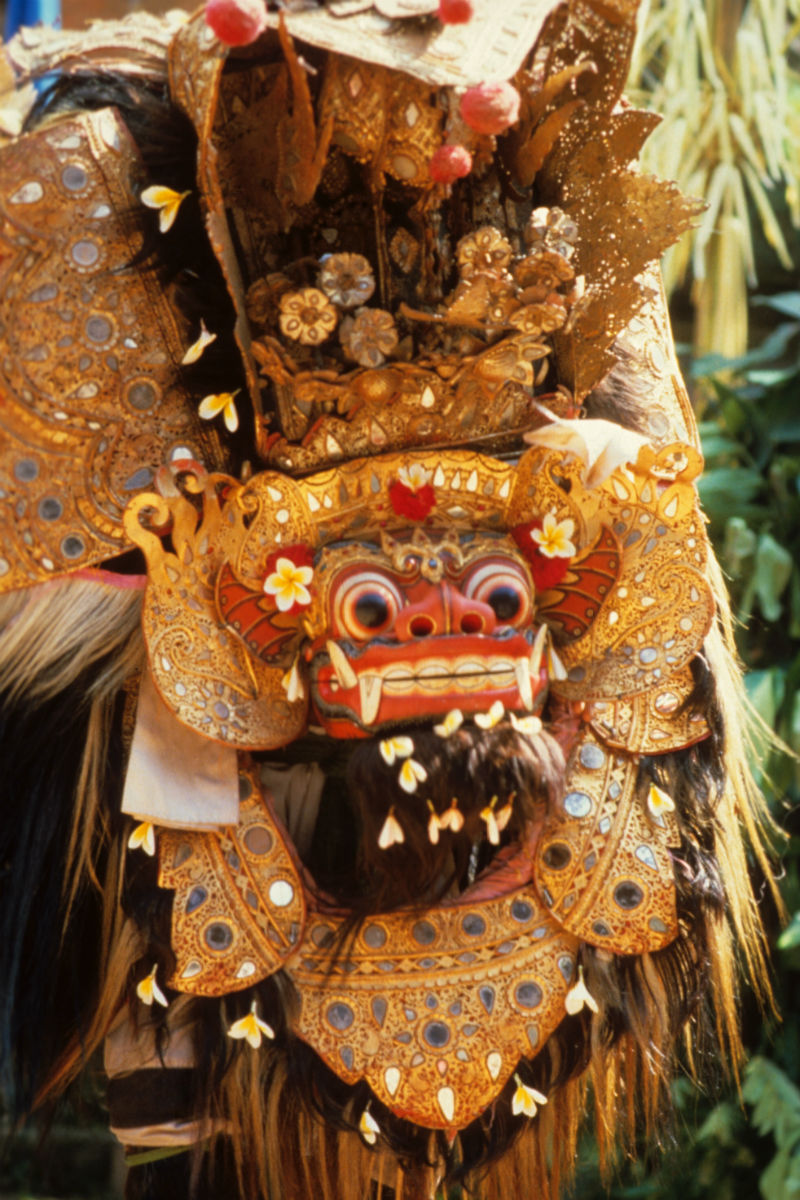 Our final five nights will be spent at a beautiful, restful eco-lodge, overlooking verdant working rice fields: a perfect place to hike, write, relax, get healing massages. In Munduk, you will have the unique opportunity to interact with the local villagers, who use the hotel as a community center for children's dance classes and other activities.
At the end of your two weeks in Bali, you will return home deeply connected to yourself, your voice, and a remarkable new community of friends. You will leave, as most visitors do, pledging to come back, full of love for a land and people certain to touch your heart with beauty.
"This transformative trip had the perfect balance of activities for me. The tour guides and the instructors were very knowledgeable, courteous, genuine and authentic. There was just the right amount of adventure, relaxation, activity and rest."
–Kathy Walters, Garderville, Nevada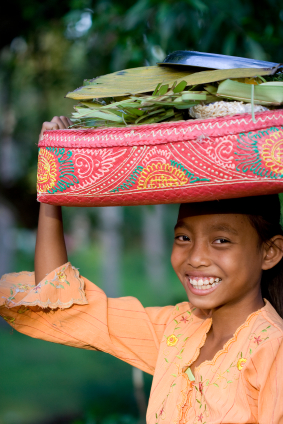 Who This Trip Is For:
Although this is a retreat designed with writers in mind, this is not the kind of workshop where you hole up in a rustic cabin and write for 8-10 hours a day. Rather, this trip is designed for people who are looking for more than just a writing retreat. Our daily itinerary will include yoga, an active exploration of Bali as a place and a culture, adventures, and writing.
"This was a fabulous eye-opening, educational trip with wonderful people. Bali is stunning and the Balinese are amazing people. The snorkeling was fantastic. The yoga was great for my body every day. All the leaders were outstanding."
–Susan Hillyard, Santa Cruz
We will start every day with an hour of (optional) early morning yoga, taught by Karyn Bristol. There will be a 2-3 hour writing class each day (except travel days), and Laura will give daily homework to sharpen your powers of observation and ability to write vivid description. In writing class, she will teach you to record your experiences and insights with clarity and depth, facilitating a richer travel experience.
Beginning and experienced writers are welcome, but since the material in the class builds progressively, this will not be a drop-in class.
Non-writing spouses and friends are welcome to join us, if they'd like to use the hours of writing class for rest, relaxation, massage, exploration on their own, unexpected adventures, photography, painting or whatever else they enjoy doing while on vacation.
"This was a beautiful cultural experience, an opportunity to reach deep inside and to get clarity, especially coming as I do from an overscheduled, outer-focused world."
–Annette Naber, Monterey, Virginia
We will be actively touring three distinct regions of Bali, learning about the land and its people from two very knowledgeable, generous tour guides—Judy Slattum and Made Surya—whose love of Bali and its people will infuse your time in their country with the reverence and gratitude the Balinese are famous for.
"Every time I come to Bali, I receive the beauty and harmony of the Balinese people—their life and spirit in a deeper way. If you're considering this trip, don't hesitate. Open your eyes and your heart. Let go of false identities and come home."
–Karen Zelin, Santa Cruz
Leave all of your inhibitions at home. Come with an open mind so you can absorb the amazing smells, sights and sounds of Bali. I'm so glad I came. I will admire the Balinese culture for the rest of my life."
–Gilda Zelin, age 84, Santa Cruz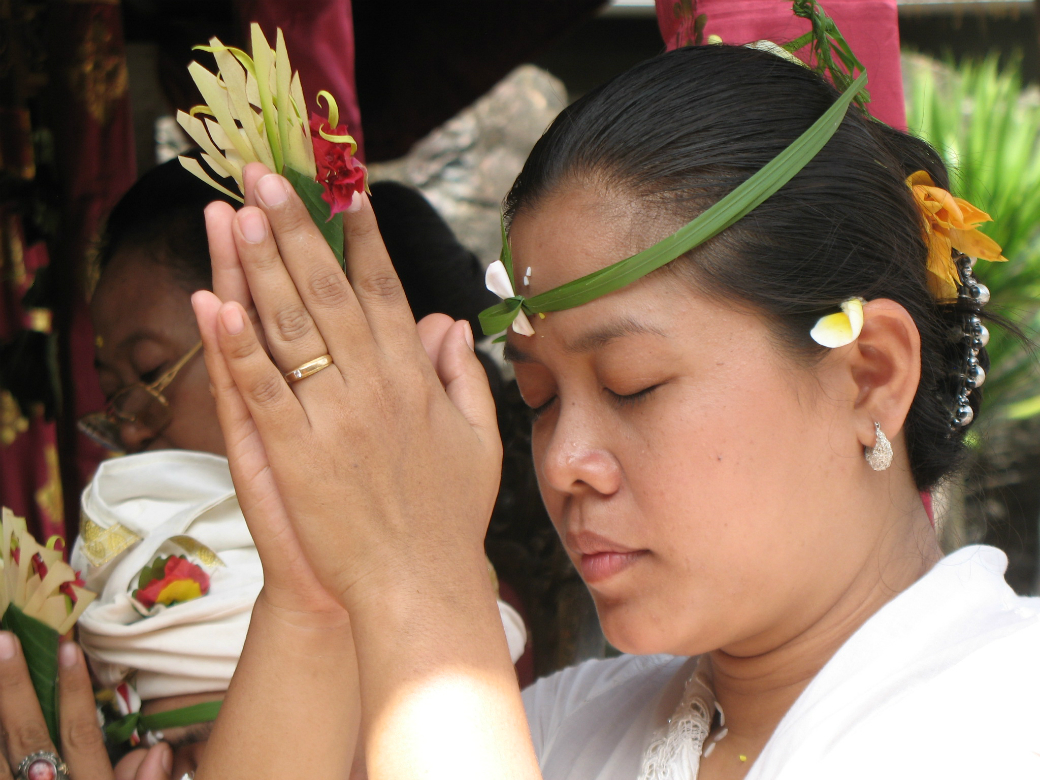 A note about accessibility and the physicality of the trip:
Bali is an island full of stairs and uneven pavement. You will be climbing up and down stairs wherever we go. Although all the physical adventures on this trip (snorkeling, trekking, hiking) are optional, walking is required. You should be able to negotiate stairs and walk several miles unassisted in order to comfortably participate.
"The opportunity to be surrounded by a community of soulful people is what makes transformation possible. This trip gave me renewal of my body, mind and spirit. Thank you for giving me such a gift of healing and transformation."
–Marci Drimer, Baltimore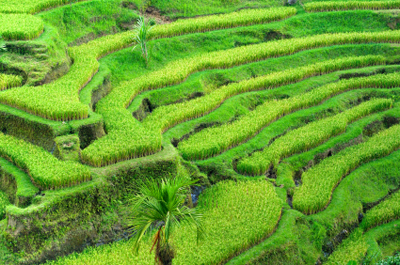 Itinerary
Friday, June 21st: Depart USA around midnight. Cross international dateline and lose one day, which is made up on your return.
Saturday, June 22nd: Candi Dasa D Arrive Bali mid-afternoon, and be transported by minibus to east Bali and our beachfront bungalows overlooking the azure spell of the Indian Ocean at an intimate beachside resort. Check into hotel and unpack before dinner together.
Sunday, June 23rd: Candi Dasa BD Early morning yoga with Karyn, followed by breakfast. After breakfast, we will have our first daily (brief) all-group meeting. Afterwards, we will we will venture by minibus to our waiting boat and a morning snorkeling excursion to a nearby coral reef preserve with hundreds of tropical fish—a wonderful way to "arrive" fully in Bali. Over lunch back at the hotel, we will have our first orientation session with Judy, focusing on basic Indonesian manners and customs, including a demonstration of how to wrap a traditional sarong. In the afternoon, the writing workshop with Laura will begin. Afterwards, we will walk together to the center of the village to tour Bali's only Gandhian Ashram, followed by an exquisite many-course feast served outdoors, overlooking the Indian Ocean, prepared by ashram members.
Monday, June 24th: Candi Dasa B Early morning yoga with Karyn, followed by breakfast and our morning meeting. There will be second orientation/language session focusing on the Bali/Hindu religion and the caste system. Afterwards, the writing workshop will continue. For lunch, we will travel to Tirtagangga, a fabulous "water palace" created by the region's last Raja. We will eat a wonderful gourmet lunch at the restaurant there, and afterwards, you can swim in the crystal clear, Olympic-sized pool. On our way back to our bungalows by the sea, we will visit nearby Tenganan aboriginal village, where Bali's finest basket making and textile weaving takes place. You will see a demonstration of the intricate calligraphy used to create traditional lontar books and learn about double-ikat weaving. We will return to the hotel (by van or on foot for those who prefer to walk) in the late afternoon. After dinner, there will be time to write and relax. An optional ethnographic movie will be offered to those who want to delve more deeply into the culture of the Balinese.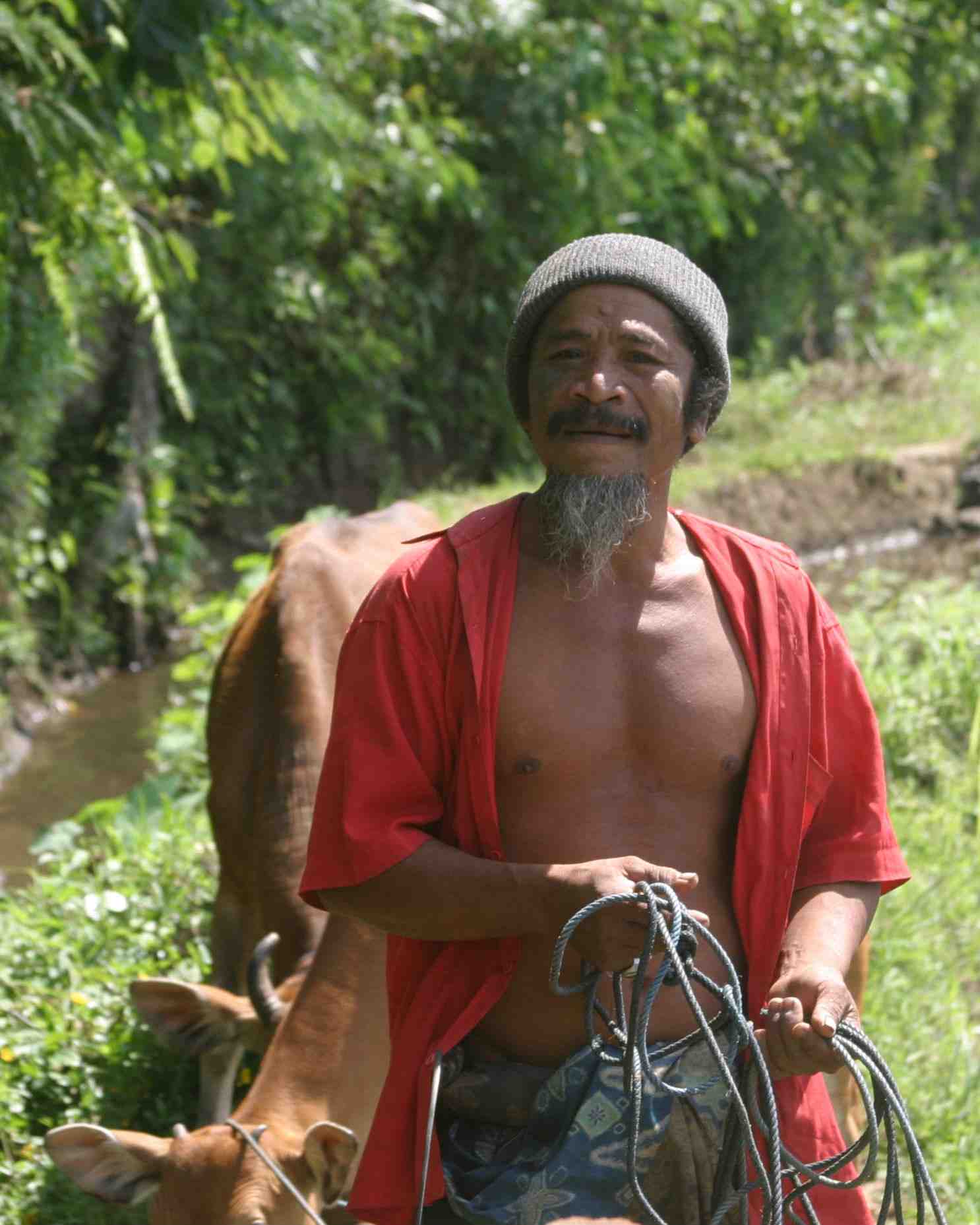 Tuesday, June 25th: Candi Dasa B Early morning yoga with Karyn, followed by breakfast and our daily meeting. The morning is free to take advantage of a variety of possible outings: a visit to a nearby plantation where cloves, nutmeg, vanilla and other herbs are harvested, and where the most famous and expensive coffee in the world is cultivated using methods that will probably surprise you, a trip through local villages to walk across the top of one of Bali's most exquisite rice fields, or a snorkeling or scuba diving adventure. Lunch on your own. Our writing workshop will continue in the mid-afternoon before our final dinner in Candi Dasa.
"This trip is unique. It's more than a chance to explore Bali; it's a way to go deeper into yourself, to be awake and aware. This was a complete travel experience: learning and seeing the culture and history, action and adventure (snorkeling and hiking), self-care through yoga and massage, facials and pedicures. And this is key, the writing with Laura helped me experience the trip more fully and to become a better writer. It was a wonderful way to connect to the other participants."
–Elya Braden, Santa Monica
Wednesday, June 26th: Leave Candi Dasa; Travel Day to Ubud B Early morning yoga. Over breakfast, we'll have our final language session and a dramatic demonstration of the art of bargaining as we prepare to move on to Ubud. Ubud is Bali's center for the arts, represents the "urban" part of our trip, and is a great place to shop. After breakfast, we'll have our final writing workshop in Candi Dasa. Depart for Ubud after lunch, stopping along the way at Kerta Gosa, the Dutch-Colonial era Hall of Justice. Discover the ceiling paintings, known as the Balinese Dante's Inferno, depicting punishments in hell for transgressors committing gluttony, incest, and public farting among other "sins." After settling in at our new hotel in Ubud, we'll have a short orientation to all that Ubud has to offer (including a free massage for all the tour participants), and you'll be free to start exploring on foot. Dinner will be on your own or in small groups.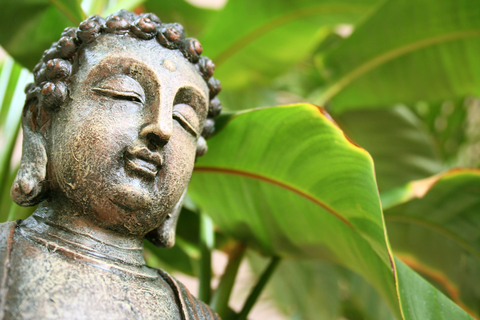 Thursday, June 27th: Ubud B The writing workshop will go on a (very) early morning excursion to the local outdoor market with our notebooks to record the sights, sounds and smells of local women buying and bargaining for the day's foods and the ingredients for daily offerings. (After you've done your writing, you, too, can bargain for bags of saffron and fresh vanilla beans). Our field trip will wrap up at a great local eatery, The Three Monkeys, so we can compare notes and observations. After a leisurely breakfast, we'll take off on an optional walking tour of to see some of the wonderful things Ubud has to offer: the Monkey Forest to meet the long-tailed residents, a visit to the model village of Nyu Kuning to learn about the layout of a traditional village, a visit to a woman who has transformed women's reproductive health in Ubud. You can participate in as much or as little of this walking tour as you like. You can peel off at any time to explore, shop, visit Ubud's beautiful art museum, have a pedicure or a massage, or go back to the hotel to write or rest. Lunch will be on your own. We'll meet back at the hotel as a group at 4 PM for a restorative yoga class. Afterwards, Made Surya will teach a fascinating seminar about the traditions and symbols of Balinese dance so we can better understand the performance we are about to see. After his talk, we will walk together to an early evening performance of the spellbinding Kecak (Ramayana) dance and a Fire trance dance, followed by dinner on your own.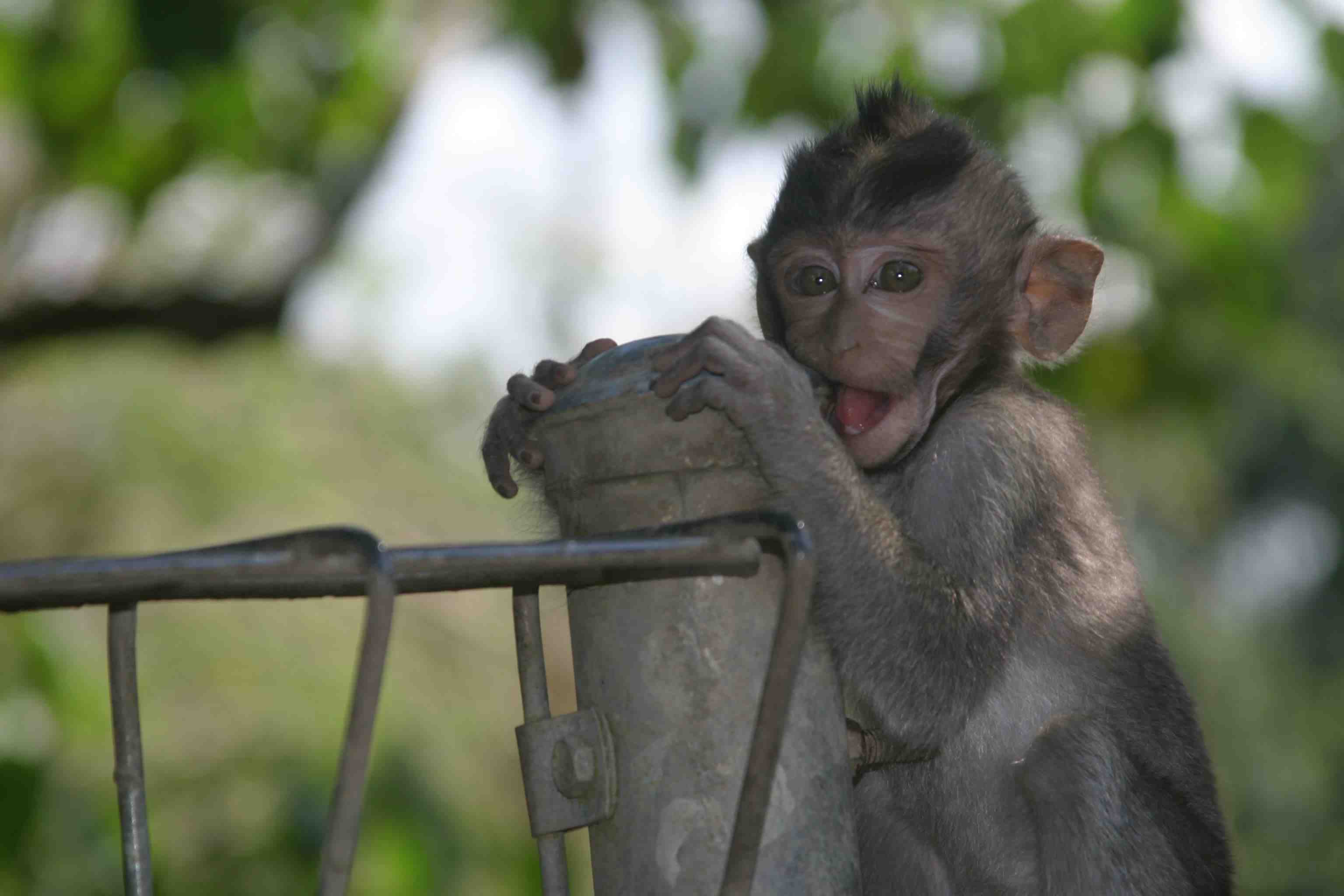 Friday, June 28th: Ubud BL Early Yoga class before breakfast. Breakfast check-in meeting, followed by a two-hour writing workshop. Then we proceed south for a very special visit to the traditional Balinese compound where Surya's family has lived for over 400 years. His family will cook us a multi-course, delicious Balinese lunch. Surya's sister will teach us how to make offerings (she and her mother make over 250 a day!) While at this beautiful compound, we will take time to pause and record observations in our notebooks. On the way home, we will stop at the home/studio of one of the most revered master carvers of sacred masks, to watch the process of creation and hear about the role of masks in Balinese society. We will make our way back to Ubud in the late afternoon. Dinner will be on your own. Optional evening performances or cultural events will be announced.
Saturday, June 29th: Ubud B After early yoga and our morning meeting, you will enjoy an entire free day on your own. You can use it to write and relax or you can choose one or more of the amazing activities the Ubud area has to offer. Possibilities include: spa treatments, bodywork and massage, hikes through the countryside, an authentic Balinese cooking class, a mountain bike ride down from the volcano through beautiful countryside and many small villages, white water rafting, shopping for gifts, or a visit to work with a revered traditional Balinese healer. (And these are just some of the possibilities). There will be a gathering of the writers in the evening to write and share the story of our day's adventures.
"Thanks again for the wonderful experience that was Bali and holding the space for everyone to have their own unique experience."
–Annette Naber, Monterey, Virginia
Sunday, June 30th: Travel Day to Munduk BD After early yoga, and our morning meeting, we'll have our final writing workshop in Ubud and then depart for an island tour of volcano country and north Bali. We'll wind our way through stunning landscapes and Bali's fruit and vegetable basket, enjoying a picnic lunch at the lush Bedugul Botanical Gardens. This wonderland features 320 varieties of orchids and 400 acres of beautifully landscaped gardens. Our second stop will be Pura Ulun Danu, Bali's most beautiful temple, floating on a small island in a volcanic lake. We will arrive in Munduk mountain village in the late afternoon and check into our beautiful eco-friendly hotel, perched on rice fields. After we settle in, we'll enjoy the first of our family-style delicious group dinners together, followed by an optional ethnographic film: The Three Worlds of Bali.
Monday, July 1st: Munduk BD After early morning yoga, and our morning meeting, we'll go on a trek through the neighboring countryside: small villages, rice fields, coffee and clove plantations, culminating at the magical Growing Stone. After lunch, we'll have our first writing workshop in Munduk. Evening meal together and optional ethnographic film: National Geographic Special on Bali.
Tuesday, July 2nd: Munduk BD After yoga, breakfast and our morning meeting, we will depart Munduk for an all-day adventure at West Bali National Park. After checking in at the ranger station, we will board our boat for Menjangan Island, and a world-class snorkeling expedition to view the myriad tropical fish who dwell on the coral reef. On the way back to our hotel, we will visit Bali's Holy Hot Spring and wash the salt off our bodies with the locals. We will return in time for dinner, and the writers will gather in the evening for an explanation of our final writing project, which will tie together all you have learned and all you have seen.
Wednesday, July 3rd: Munduk BD Morning Yoga class. After breakfast, we will hike to one of Bali's most breathtaking waterfalls through cocoa, vanilla, and banana plantations. If you're brave, you can climb underneath. Afternoon work session for writers or work on your final project on your own. Group dinner together. (Timing of workshop and hike may be switched, depending on weather)
Thursday, July 4th: Munduk BD Morning yoga class and group meeting. Our final writing class will be held in the morning. In the afternoon, you'll be free to write, relax, or climb up the stairs of the local purveyor of Lewak coffee for a great view and a remarkable cup of intoxicating brew. You can study the human scarecrow in the rice field, observe the children's afternoon dance class, or pamper yourself with a massage by a truly talented therapeutic masseuse. After our last group dinner together, we will say farewell to Munduk with an intimate performance of dance and music by the village.
Friday, July 5th: Transit B Closing yoga class and final meeting to celebrate each other and our time together. Depart Bali for your trip home, feeling deeply nourished after two weeks bathed in the gratitude, beauty and compassion that emanates from the Balinese people. If you leave with the rest of the group, you will arrive back in the U.S. the same date you left Bali.
You can also elect to stay longer, using your accumulated wisdom to explore this fascinating part of the world. (You have six months to return and may use your optional stopovers on your way back for a small fee).
Note: All activities on this tour are subject to change. There may be unique opportunities we can take advantage of: cremation festivities or other rites of passage, temple festivals or purification ceremonies. Participating in one of these opportunities will preclude doing something that's already on the itinerary. Weather may also cause changes to our itinerary. In case any activity must be canceled, another similar activity will be substituted. There will be no refunds for any activities participants do not attend, and anyone who leaves the tour itinerary at any time FOR ANY REASON is on their own.
"I would recommend this trip, without a doubt. I had a blast on so many different levels. Just go! It will be a healing trip for you, regardless of what you're looking for."
–Rosemary Christian, Santa Cruz


Teachers & Guides
Writing Workshop Instructor: Laura Davis is the author of seven non-fiction books, including The Courage to Heal, Becoming the Parent You Want to Be and I Thought We'd Never Speak Again. Laura's groundbreaking books have sold more than 1.8 million copies around the world. Laura has also worked as a columnist, talk show host, radio reporter, radio producer, blogger, editor, and speaker. Words have always been at the core of her work and her self-expression.
She has been mentoring and supporting writers for the past 20 years. It is truly the work of her heart: "I love teaching. I love watching my students find their natural voice and their rhythm. I love it when they find their true stories and discover the courage to put them on the page. I feel like a midwife as my students birth their stories, and I feel honored to witness their bursts of creativity and pure life energy pouring out on the page. Our writing circles are safe places where skills are honed, tears and laughter are welcome, and each writer is seen, heard and deeply known."
Currently, Laura leads weekly writing groups and memoir writing retreats in the Santa Cruz, CA region, as well as retreats internationally.
To learn more or to receive a free weekly inspirational quote and writing prompt, visit Laura's website at www.lauradavis.net.
Yoga Instructor: When Karyn Bristol took her first Iyengar Yoga class 25 years ago, she never dreamed that she would one day become a certified Iyengar Yoga teacher. Like many of today's yoga students, Karyn took her first yoga class in midlife. She loved yoga from the beginning—the way it increased her strength and endurance. She was also immediately drawn to Iyengar's focus on alignment and posture.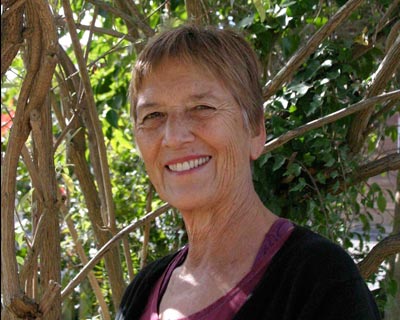 In 2000, Karyn took part in the Advanced Studies and Teacher's Training Program at the Iyengar Institute of San Francisco and became a yoga teacher. After six years of teaching all levels of yoga and becoming a back care specialist, Karyn became one of the few certified Iyengar teachers in Santa Cruz County. Becoming certified required years of practice, study and two rigorous examinations of skills. She has also studied extensively with the Iyengar family in Pune, India.
"Writing and yoga were a great combination and created a wonderful balance. One fed my mind and the other fed my body. Both fed my spirit."
–Rosemary Christian, Santa Cruz
Trip Organizers/Leaders: Judy Slattum MFA and Made Surya B.S. are professional tour organizers who have been leading study tours in Bali since 1985.
Judy Slattum, MFA spent 14 years as an academic before starting her own educational travel company in 1985. She has organized and led study tours to Bali since first visiting the island on sabbatical to study mask dance in 1978. Judy has published many articles on Balinese culture and her book, Masks of Bali; Spirits of an Ancient Drama was released by Chronicle Books in 1992, was featured in Time Magazine has sold thousands of copies, and was reprinted by Periplus Editions in Sept. 2003. Her museum exhibition on Balinese Masks toured the USA as part of the Festival of Indonesia for 5 years and has now relocated to Bali.
Made Surya could best be described as a Balinese Renaissance Man. He carves his own traditional masks, and has performed mask dance at many colleges, universities, and museums, including the Asian and the De Young in San Francisco. He has led culinary tours, been a guest chef at several restaurants, and his recipes are found in several cookbooks. Lonely Planet has declared him the local expert on Balinese traditional healers, and he has lectured and assisted numerous scholars and film crews on such subjects as Hindu religious rituals and practices, vocal music for ceremonies, traditional architecture, and herbal medicine.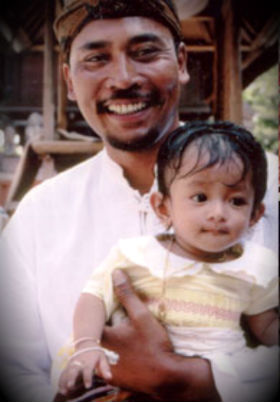 "This transformative trip had the perfect balance of activities for me. The tour guides and the instructors were very knowledgeable, courteous, genuine and authentic. There was just the right amount of adventure, relaxation, activity and rest."
–Kathy Walters, Gardnerville, Nevada

Included in this trip:
• Round Trip airfare from SFO, LAX to Bali
• Airport transfers
• A daily writing workshop every day with Laura Davis (except travel days)
• A morning yoga class every morning with Karyn Bristol
• A snorkeling excursion at Padang Bai
• An excursion to Tirtagangga Water Palace and Tenganan Aboriginal Village
• Transfer to Ubud with a visit to Kerta Gosa Hall of Justice
• A lecture/demonstration on the differences between eastern and western dance
• A one-hour traditional Balinese Massage
• A performance of the Kecak Dance by torch light
• An excursion to Denpasar to visit your guides' traditional family compound with an elaborate ristaffel lunch
• A visit to the royal palace of Singgapadu to watch a demonstration of sacred mask carving and costume construction
• Tour of volcano country in north central Bali, with a visit to the Botanical Garden and Bali's most beautiful temple, floating on a crater lake
• A world-class snorkeling excursion to Menjangan island national park, and afterward, a visit to the Holy Hot Spring
• A performance of traditional dance and music in Munduk
• Two hikes in Munduk: One through coffee and clove plantations to Bali's highest waterfall, and the other through small villages, tropical rain forests and terraced rice fields to a mystical giant rock
• Breakfast every day. 5 family-style dinners in Munduk. Lunch at Ashram Candi Dasa and at your guides' family home
• 4 nights at Greenfield Bungalows in Ubud Cultural Center
• 4 nights at Lotus Bungalows in Candi Dasa
• 5 nights at Puri Lumbung in in Munduk Mountain Village
There will be no refunds for any activities participants do not attend, and anyone who leaves the tour itinerary at any time FOR ANY REASON is on their own.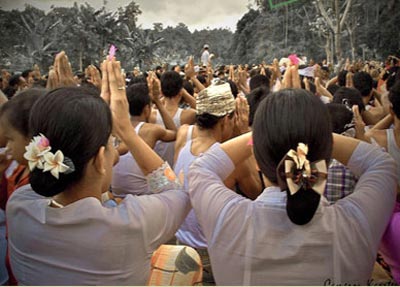 Trip Cost and Fees: $4500 includes airfare from LA or San Francisco. (Early bird special of $4200 is available for those who register before December 1, 2012).
Deposit: A non-refundable deposit of $350.00 per person is required at the time of booking. Final payment is due 60 days prior to departure. Limited to 16 participants.
The trip price is based on two persons sharing a twin-bedded room with private bath Hotels have western amenities. Two have swimming pools. Trip cost includes full breakfast, excursions listed in the itinerary, classes, services of Balinese and USA guide, several orientation and language sessions. The price includes land arrangements and air, but a rise in fuel taxes may influence the final price. Ground only, deduct $1750.00. Those doing their own air will be responsible for transfers from airport to hotel and return.
Not Included: Visa fee ($25) Laundry, tips, Airport departure tax, ($17), Snorkeling Equipment ($5-$10), Other meals, not specifically included: (meals range from $4-$8 each).
Minimum 10 participants, maximum 16.
Cancellations and Refunds: For the flight portion, cancellation will be governed by the rules and regulations as listed in the flight contract by the participating airline. For the land portion, a cancellation fee of $350.00 will be collected up to 60 days prior to departure, after which half the final payment will be refunded. No refunds will be made from one week before departure. Trip cancellation and medical evacuation insurance is highly recommended.
"Whatever you are looking for—you just might find it in Bali!
–Annette Naber, Monterey, Virginia
Baggage: Two (2) pieces of luggage, not exceeding 62 inches. Each cannot exceed 50 lbs.
Accommodations: All accommodations are based on two persons sharing a twin bedded room with private, western-style bath. Single supplement available for $360.00
Roommates: Single people may sign up on a share basis and be assigned a roommate as circumstances permit. If a roommate is unavailable, the participant will be notified of the adjusted price for a SINGLE SUPPLEMENT: $360.00.
Passports, Visa & Health: A passport is required, valid six months from date of entry with proof of onward transportation. Indonesian visa for 30 days granted on arrival to US citizens for $25.00 fee.
No inoculations are suggested or required.
"Your trip provided a wonderful blend of touring, history and activity, writing and yoga, massages and shopping, being in nature and seeing the culture and arts of the 'big city.' I loved that each place we stayed was so different, and that we had time in each place to 'do our own thing.' I loved Laura's writing classes, Karyn's yoga, and Judy and Surya's deep knowledge. I recommend this trip wholeheartedly!"
–Elya Braden, Santa Monica
To read about last year's Writer's Retreat of Your Dreams in Bali, you can read the blog posts Laura sent home. She called her blog, The Virtual Vacation. Now you can enjoy it, too by clicking here.
P.S. It's a long file with lots of pictures and slow to load--so let it load and go do something else, then come back after a while and enjoy Bali!