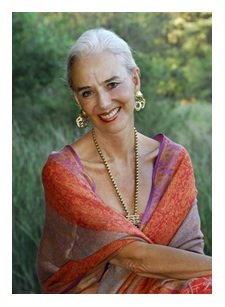 When I picked up Daphne Rose Kingma's latest book, The Ten Things to Do When Your Life Falls Apart: An Emotional and Spiritual Handbook, I never expected it to speak to me. Kingma's book, which lists a practical series of steps to take when life presents a major crisis, asserts that deep trauma itself calls us to dramatic change. Even though I wouldn't describe my problems as catastrophic, Kingma's emotional, psychological and spiritual explanations for why we need to take time to cry, live more simply, and recognize our own strengths and weaknesses called out to me.
In an interview at the at the New World of Publishing Conference in Santa Cruz, California, sponsored by Laura Davis and Janet Goldstein, Kingma said to me of Ten Things, "It's a great title and a horrible title. It's great for someone whose world is falling apart." But for someone with less cataclysmic problems, Kingma agreed that her book just as easily might be called, "A Handbook for Life." As she explained, "People who are suffering are always looking for ways to have more ease and grace about their lives."
Kingma's own ability to glide through experiences with grace renders her an ideal person to write a book about moving through life-changing traumas. After a morning of practical and sobering presentations about the current status of the publishing industry, Kingma's soothing, ethereal presence as the keynote speaker re-inspired the audience as humans and as writers. The air moves through her voice as if the shimmering impermanence of another world travels with her. Yet her extensive background in psychology, including a master's degree, and more than twenty years experience counseling people individually, and in their relationships, provides a strong underlying backbone for her book. Now the author of more than a dozen publications, Kingma has appeared on Oprah's television show numerous times, done countless radio interviews, and spoken all over the world about her unique vision of love, life, and relationships.
Ten Things–Kingma's first book in more than ten years–views real-life examples through her lens as a psychologist. For instance, a writer collapsed on the sidewalk with sky-high blood pressure and borderline diabetes, forcing him to live in a friend's extra room during his convalescence. As part of his recovery plan, the man opted to clean out the enormous book collection that had overtaken his apartment, creating a new sense of space and peace in his life. Examples like this one appear in chapters such as "Live Simply," "Do Something Different," "Let Go," and "Integrate Your Loss." Following the advice of Ten Things, I, too, am trying to simplify my life by taking better control of my hectic schedule. Specifically, I'm trying to confine my many part-time jobs and my children's extracurricular activities to our hometown, rather than wasting precious time and energy commuting to surrounding cities.
In Ten Things, Kingma reminds all of us who are struggling with issues that we do, in fact, have choices: "We see that life is not just a blissful paradise, but a journey of difficulty and impermanence. And we have a choice then-to deny the difficulties that occur and wish they would all go away, or to integrate them into the larger quilt of our experience." Kingma's advice, set in the particular context of life changing traumas, reminds me of the fragility of life and encourages me to confront my own issues without waiting until the problems in my life grow out of control.
Amy McElroy is a writer and freelance editor from Morgan Hill, California. Recently, her work has appeared in the online magazine, Milk and Ink: Family in the Extreme. She also frequently contributes her voice and personal essays to First Person Singular on KUSP radio in Santa Cruz.