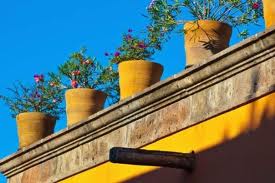 In February of 2012, I had the great pleasure of traveling to the San Miguel Writer's Conference with my Friday student, and friend, Barbara Levitt. Here's her report on her south of the border writing conference experience:
It was the last day to sign up for the Early Bird special for the San Miguel de Allende Writers' Conference. "What the hell," I thought. "I'm feeling kind of jaded. I could use an adventure, and it will be fun to see writers, perhaps the most solitary of workers, at their intensely social, interactive best."
I was traveling with my friend and teacher, Laura Davis. We moved with patience and humor through the increasingly invasive security checks of the New America, as well as the technological glitches of mechanical problems, screwed-up reservations and missed connections. We were good traveling companions with complementary skills, and a willingness to surrender to the inevitable, and often surprising, pleasures and hassles of modern travel.
San Miguel's own beloved spiritual teacher and author, Joseph Dispenza, talks about the inner spiritual journey that accompanies the external, physical journey. In his book, The Way of the Traveler, Dispenza suggests that you write three words on the inside lid of your suitcase so that you see them every time you open up your suitcase. I had written hope, patience transformation.
The town of San Miguel is quaint and charming; sometimes referred to as the poor man's Italy because of the cobbled streets and numerous church domes. The narrow streets were designed for donkeys, but the locals seem to manage the hazards of two-way traffic via a series of shared rules that are inaccessible to casual visitors. Like a Disney set, closed doors hold the delicious secrets of occupation. You never know if you will find a mansion or chickens behind those brightly-colored walls.
The central town square, affectionately known as the Jardin, is the heart of town life. On Sunday, February 19, I was fortunate enough to stumble upon Carnival in the Jardin. I was so mesmerized by the unrestrained exuberance of the mariachi bands, the flamboyant dancers, and the throwing of eggs containing myriad colored ribbons of confetti and sparkles that I missed the rest of my workshops that day. When asked to write my impression of San Miguel in six words at a subsequent workshop, I wrote: We have money. They have joy.
There is a large, interesting community of mostly retired ex-pats in San Miguel. Many stories are told of Canadian and North American visitors who buy a home on their second day there because it is so much more affordable, and the town has such a rich artistic life. The ex-pats are clearly more affluent than the local people, but the two groups seem to co-exist relatively peacefully.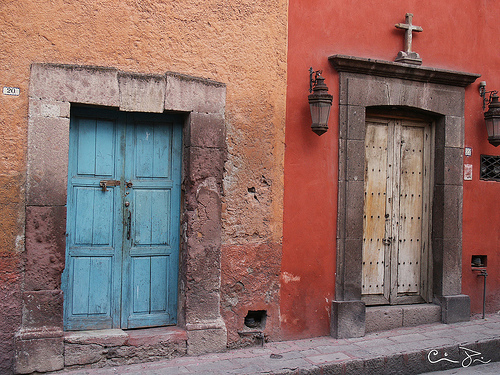 The conference itself was largely a women's affair with a welcoming egalitarian feminist slant. The keynote speakers included some of the wisest and most articulate grandmothers on the planet; highly qualified emissaries of the new world order. Margaret Atwood was brilliant and dry; Joy Harjo authentic and ethnic, and Elena Poniatowska, wise and sweet. They spoke of the coming Apocalypse, and the innocence of their grandchildren with equal compassion and authority. I felt in my bones that it is going to be the grandmothers who can save our teetering, spinning planet, if anyone can.
There were also a number of interesting workshops covering topics as diverse as Internet Book Promotion for Luddites to The Shame Prom: Where Everyone is Invited to Dance. Laura Davis offered a workshop entitled Five Secrets to Writing About Things That You Don't Remember, and was one of the most popular instructors at the Conference because she is such a good teacher. There were also open microphone and literary agent pitch sessions which provided opportunities for new writers. I was thrilled to find enthusiastic agents for both my projects. In general, the atmosphere was very supportive and collaborative, and I met many friendly people with amazing, intense, well-told stories to share. I was sad though that the Spanish-speaking kids from the teen writing workshop did not show up to read their work despite the fact that the conference organizers had gone to great lengths to provide headphones for simultaneous translation.
The famous "Viva Mexico" Fiesta was the highlight of the conference for me. It was held in the architecturally stunning Instituto Allende Plaza with its colorful, sometimes grisly, murals depicting Mexican history, and indoor patios that open up optimistically to the sky . There were bands belting out soulful Mexican ballads, dancers on stilts in scary costumes, fireworks and flowing margaritas. This was truly a great party with the exuberant Mexican flair for celebration.
I managed to fit in one excursion outside San Miguel to the nearby La Gruta hot springs. Driving by bus through the semi-desert of shrubs and giant cactuses, I was again struck by the extremes of poverty faced by some of the locals who were clearly living in tin shanties. The lithium-rich hot springs were magically relaxing and restoring; a great way to prepare for the long journey home.
A wobbly bus ride, a strange, little airport at Leon, customs and immigration at Houston airport, and finally touchdown in SFO. Joseph Dispenza reminds us to take a few moments for self-reflection on the threshold of our homes upon returning, because the moment you enter your home, you make the transition from traveler back to citizen. I paused on the decorative welcome mat by my front door. I had definitely come home feeling larger than when I left; encouraged, expanded and exhausted.
If you'd like to learn more about the San Miguel Writer's Conference, you can visit this link. Consider joining us next year!