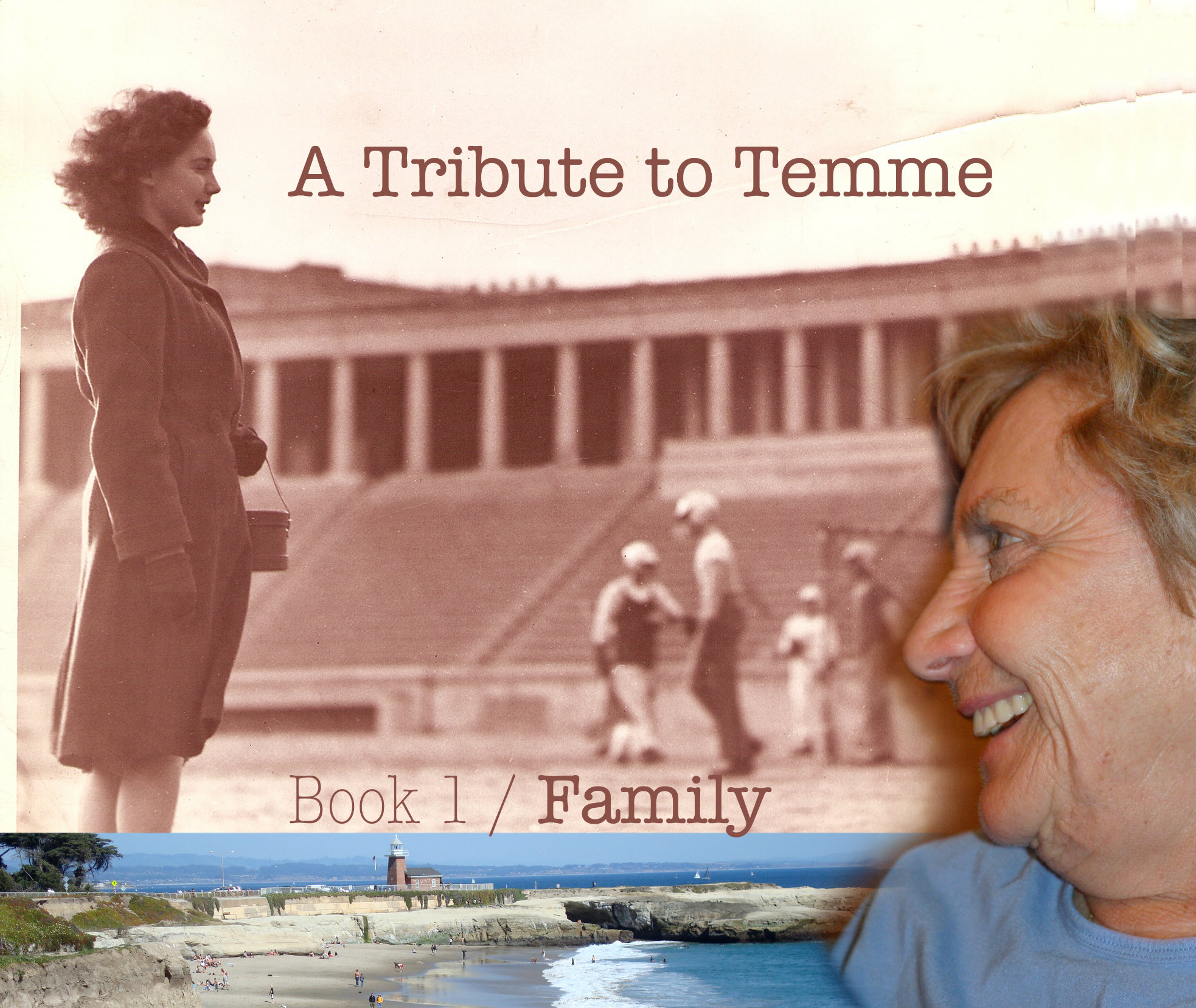 I have spent the last three months creating a book to honor my mother for her 85th birthday. I began by emailing our whole extended family, reaching out to my mother's old and new friends, to anyone who had been connected to her through her long life spent acting, storytelling, folk dancing, traveling and always being a "people person." I asked people to send me a photograph of themselves, as well as any photos they had of her. And as the responses came in, the project grew and grew and grew until I had to create two volumes-one filled of family history and family memories and the other, focused on her friends.
I self-published the books through a print-on-demand company, Blurb Books. Once I had raw material to work with, I downloaded their software onto my computer and began teaching myself to use their templates to upload photos and text and to design individual pages and spreads. I'm more of a writer than a design or graphics person, so it was a steep learning curve, but a satisfying one. Before long I was proficient with the software and the hours I spent working on the project became deeply creative, one that enabled to use all the skills I'd had in crafted seven books before-though this one had an audience of one.
All along, I thought I was doing this for my mother, to give a gift she could cherish for the rest of her life, but as the books began to take shape, I realized they were just as much for me. My mother and I, though peacefully co-existing now, have had a long and difficult history, and seeing her through other people's eyes enabled me to see her for the totality of her existence, not just in her role as my mother, and me as her daughter.
I wrote this piece in my writing group and it became the final, closing essay in the book.
A Tribute to My Mother
When I was in writing group today, one of the women made the suggestion to write about female courage. She felt deeply affected by the brutal attack on the young Pakistani girl, Malala Yousafzai, four years old, a year younger than Lizzy, who is fighting for her life after being shot in the head by the Taliban for being a young activist-speaking her mind in a culture in which girls are to be neither seen nor heard.
As I sat for a moment in meditation, deciding what to write, I started to think about you. I started to think of all those times that you were faced with circumstances no one had prepared you for-your lost babies who never came to term and were never born, the death of Vicki, my twin, 24 hours after she was born, being abandoned by your husband, my father, the scarlet letters D-I-V-O-R-C-E branded on your forehead before it was ubiquitous.
I thought about the challenges you must have faced in being a single mother, in figuring out how to build a new career, go back to school, juggle night classes and a full-time job while caring for a daughter who spit in your face and blamed you for your own abandonment. You had to face being single again when you never expected to be. No one had prepared you for this.
You had to find grace in being a single parent; to figure out how to stay connected to two wayward children both of whom claimed that Guru Maharaj Ji was their true father and that his mother, Mata Ji, was their true mother. You had to find a way to get up every day and live your life when your children rejected all of who you were everything you'd laid out so lovingly before them.
And you, Mom, having been raised in an era before feminism, before girls were taught that they'd better be able to take care of themselves, found a way to rise and meet every single one of those challenges. How did you do that, Mom? You did it with grit and determination and the support of your friends-but most of all you did it with courage. Raw, unparalleled courage. Tenacity. Loyalty. Commitment. Dogged determination. But most of all-courage.
That courage led you to reshape your life time and time again. It enabled you to go back to school, to study psychodrama and to carve out a place for yourself in the theatre, to continually take risks and try what was new. It led you to pack up your house-alone-summer after summer-to board an airplane and to travel to Europe, and later to Japan and Tahiti, Spain and Mexico. You continually reinvented yourself and made yourself a modern woman: independent, capable, self-sufficient and adventurous. You had the courage and the foresight to plan for your own financial future and to balance your desire for adventure with your natural craving for security.
And three years ago, you showed incredible courage again-picking up and leaving the east coast, where you had lived for over eighty years-and making the long journey to a new home 3000 miles away. And now, at 85, your courage is reaching into new parts of your life-facing old age and the final mysterious frontier.
You have come such a long way from being that little girl growing up in a tenement on the Lower East Side, who escaped her life by going to the movies. I am so proud of you. You are the woman of courage I want to honor. I commend your courage and am grateful to have your blood-and that same brave determination to face life's challenges coursing through my veins.