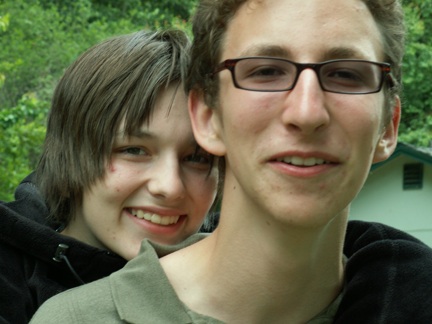 Eli in Love
Note to Readers: I read this post and my last one to Eli and asked his permission to publish them here. Graciously, he gave it.
Dear Eli,
It is time for me to say goodbye to you. It is time for me to let go of the relationship we used to have. For years I have been part of your inner world; you shared it with me freely. I was your mentor, your coach, the sun in your sky. I knew your heart, I knew your mind, I knew your spirit. I could read you with a single glance. From a very young age, you told me who you were and how you saw the world.
Your birth cracked open my heart in a way it had never been broken before; you helped make me who I am today. You gave me a new reason to live, someone to focus on, obsess over, provide for. I have always delighted in paving a way for you, supporting your interests, whatever they might be, creating a wealth of positive choices just steps from where you stood. I have guided you, protected you, cheered you on, and yes, at times, cajoled and manipulated you. I have shared my beliefs, my values, my heart, my resources, my best thoughts, and my deepest self. I have loved you and your sister more completely and with less restrictions than I have ever loved before or since, and I want to thank you for entering my world and teaching me to love.
Now you do not need me to be the mother I have been. You no longer need a mother to guide you, to lead you, to make decisions for you. You don't need a mother to watch over your shoulder and make sure you do what you're supposed to do. You don't need a mother to fret over your choices and to push you when she thinks it is necessary. You don't need me to intrude in your life and you prefer it when I do not.
You want to be left alone. You want the bare scaffolding-a room, a bed, food, lots of easy to fix, teenage food, someone to attend your concerts and read an essay on occasion, but you do not want my company, my ideas, my projections, my hopes for you, and you certainly don't want my Jewish mother pressuring ways. You do not want to share your life with me.
You have created your own orbit and I am not in your universe anymore. In your world, I am a distant dying star, part of your ancient history, the source from which you came. I am a footnote in your life, someone relegated to the margins. Your life is full and vivid on the big screen in front of you. You are strapped in and ready for the ride. You have not invited me to the screening. A bouncer stands outside the door in case I think of crashing the party.
In two years you will be preparing to leave home to take all we have given you and all you have created of yourself to enter the next phase of your life, exploring the larger world and who you are-as a young adult.
Eli, it is time for me to let go of you. To let go of the little boy with the big vocabulary and the open heart. To let go of the K'nex Builder, the kid who hid in the top of the red van when we were at a party and the crowd was too overwhelming for you to face. I have to let go of the fifth grader with big teeth who cross-dressed at the end-of-the-year play and stood up alone at talent night to sing the song we composed together, Sapphira, an ode to the book Eragon, that you and Lizzy and I wrote to the tune of Old Stewball. I have to say goodbye to you choosing to go anywhere with me. I have to say goodbye to any lingering illusion that I have control over your life or your destiny. I have to say goodbye to the belief that I can give you any more than I have already given you. You have absorbed me, for good or bad, and it will be up to you to make sense of that legacy.
Goodbye to you needing me. Goodbye to you seeing me as a companion and a friend. Goodbye to doing fun things together. Goodbye to conversations that include more than monosyllables. Goodbye to being the most important woman in your life. Goodbye to you sharing your heart, your hopes or your dreams with me. Goodbye to my rummage rights. Goodbye to knowing you on the inside. Goodbye to you being transparent and delightful; now you are opaque to me. Goodbye to the look of joy you used to have on your face when you saw me; goodbye to your hand in mine. Goodbye to the heaviness of your head when you plopped off the nipple and crashed hard, asleep on my chest. Goodbye to the hours and days we spent together on the glider with the ugly print. Goodbye to you asking for snuggies, for you saying to me, "Mama, my snuggy tank has sprung a leak and it's all rusty and old and it can't hold snuggies anymore."
Goodbye to reading out loud to you. Goodbye to looking like a hero in your eyes. Goodbye to having motherhood eclipse the rest of my life. Goodbye to doing the one thing that has made me more normal than anything else in my life. Goodbye to knowing what is best for you. Goodbye to "mother of Eli" being who I am and all I want to be. Goodbye to your infancy, your babyhood, your toddlerhood, your young childhood, your latency years and your early puberty. Goodbye to the person you were yesterday. Hello to a closed door and long conversations with someone else. Goodbye to the boy I've loved best, the one I longed for before you had a name. Goodbye to being a hands-on mother. Hello to being a coach and friend.
Goodbye to expectations. Hello to reality. Goodbye to that beaming smile coming my way. Goodbye Eli. I have faith in you. Go and do it, go and live your life. I have given you all of me. It is time for me to let go. It is time for me to say goodbye to who we have been. The time of that need is over.