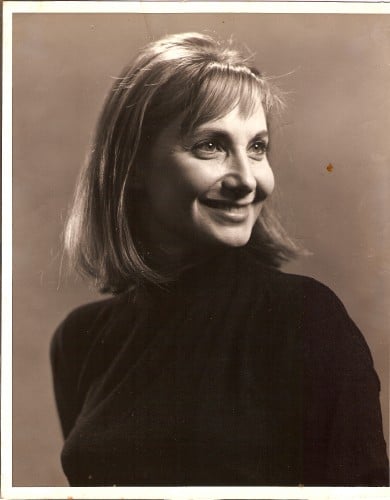 I debated whether to blog this trip and once I decided to, I wondered whether or not I could possibly call it a Virtual Vacation. This is clearly not going to be an exotic armchair adventure in Bali or a Scottish adventure or a travelogue through Mexico. It's going to be a journey into old age in America.
My partner Karyn and I are taking my elderly mother to Florida for one last visit to see her last surviving sibling, her sister Esther. It's certainly much more of a mission of mercy than a vacation, but I am tired of compartmentalizing my life—the entertaining, exciting parts, the seductive lure of worldwide traveler, me as the adventurer, and me as the daughter, me as the last remaining lifeline for my aging mother.
This trip is going to be an exploration of the lines where duty and love and loyalty intersect. It's going to be one more chapter in the long story I've been writing for more than two decades my mother and me—the long story of our estrangement and reconciliation. And what came after.
This journey is part of what comes after.
This trip was born a few months ago when Karyn and I were sitting together on our living room couch discussing whether she was going to travel to Florida to visit her own ailing sister. "Why don't we go together," Karyn suggested, "and take your mom to see Esther?" she said. "Once we get there, I'll get a car and go see Charlene. But we can fly out there and back together. With two us, we should be able to manage."
The challenges of traveling with my mother had kept me from ever considering this seriously before. These days, it's hard to take my mother out in a car and to a restaurant just a few blocks away. It's hard to take her to the movies, to her granddaughter's dance recital—to take her anywhere. She's frail and forgetful and easily disoriented in new situations. Her life runs smoothly because of a repeating set of predictable routines. And now Karyn thought we could take her on a plane trip all the way to Florida?
But in my heart, I knew Karyn was right. For years I'd thought about taking Mom to see Esther, but I never wanted to take the time off or make the effort. I felt bad about it, but I pushed those feelings aside. Wasn't I already doing enough for my mother?
But the facts gnawed at me: my mother and her baby sister have grown extremely close in old age—they talk on the phone almost every day. Even if my mother forgets the contents of their conversations, who cares? She loves her sister and Esther anchors her to this world. And Esther loves her big sister, too. The two of them share a history that none of us can touch—and the far past is the place Mom best remembers.
For years we've all been sad that these two sisters in their eighties would never see each other again—it's been over six years since they last broke bread together. Esther has advanced diabetes and is going blind. Her husband of 61 years, my Uncle Ben, has been on dialysis for more seven and a half years now. They weren't going anywhere—certainly not traveling 3000 miles to California–and my mother? We'd decided she was way beyond traveling for years now—but maybe with the two of us supporting her, she could do it.
After I slept on it, I decided yes, so I called Esther and ran the idea by her. She was thrilled. So I went over to see Mom and asked if she'd like to see her sister. Her face lit up as if she'd just won the lottery.
The first obstacle occurred when I went online to buy the tickets. I ordered a wheelchair, noted that my mother couldn't climb stairs or manage the jet way, said that she had dementia and that we'd need to be with her at all times. But then it dawned on me that my mother no longer had a viable ID to use when we passed through security. Her passport had expired, as had her driver's license. When I went to United Airlines' website and looked at the requirements, I realized that Mom had nothing to identify her as an official person anymore.
When I called United, the woman on the phone was sympathetic, but said that without a current passport or driver's license, Mom would have to have a birth certificate and a social security card. And of course the names on them had to match. I remembered seeing Mom's social security card in her wallet, but a birth certificate? Where the hell was I going to find Mom's birth certificate?
After hours searching through the boxes of Mom's papers that I'd stashed in my office, I finally found her original birth certificate, but the name on it was Tessie Ross, her given name at birth. Mom had never gone by Tessie, but rather used her nickname Temme all her life. And her maiden name, Ross? She hadn't used that in six decades. Yet I had neither the marriage certificate nor the divorce papers to prove it.
Mom had never changed her name officially—she just started using Temme Davis. That's what had been on her expired passport and her driver's license. And on her social security card. Now I had the birth certificate—but nothing else matched.
I called back United and explained my dilemma. "Isn't there anything you can do?" I pleaded with the woman on the phone. Now that we'd made the decision to go, I really wanted this trip to happen. "I just want to get my 86-year-old mother to see her sister one last time."
The woman was sympathetic, but told me that rules were rules. She suggested I call TSA and talk to them, and when I finally got through to the right person, he told me a Medicare card and a credit card in her name would be enough. So I went over to Mom's, and while she was napping, dug through her purse. And that's when I found it—an official senior citizen California state ID card—written out to Temme Tessie Davis. I'd hit the jackpot with a card I never even knew existed. Magically it had both her old name and her new name on it. How had she gotten it? Was it automatically handed out when old people surrendered their licenses? I had no idea.
But now we were in business. We were going to Florida.