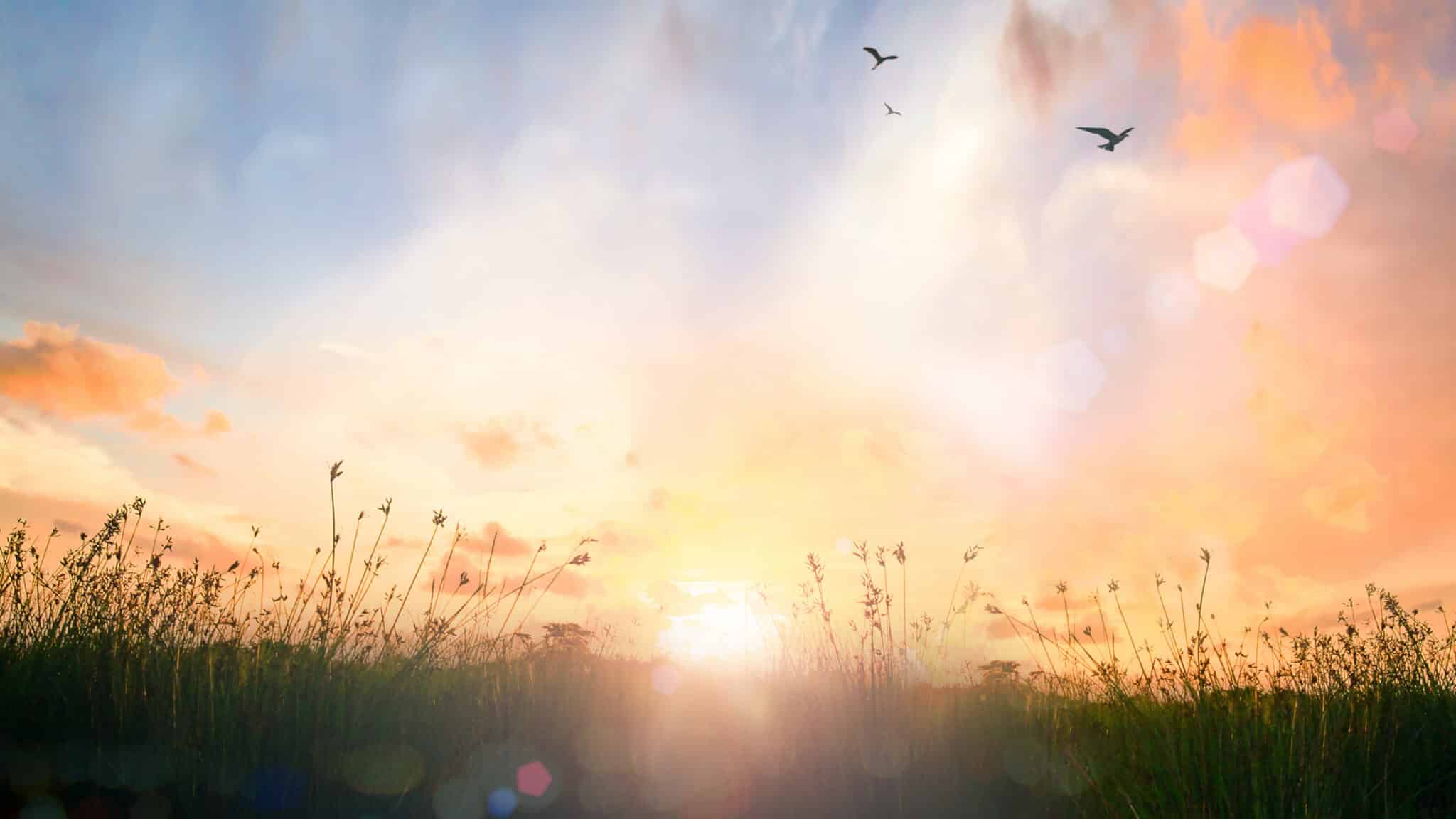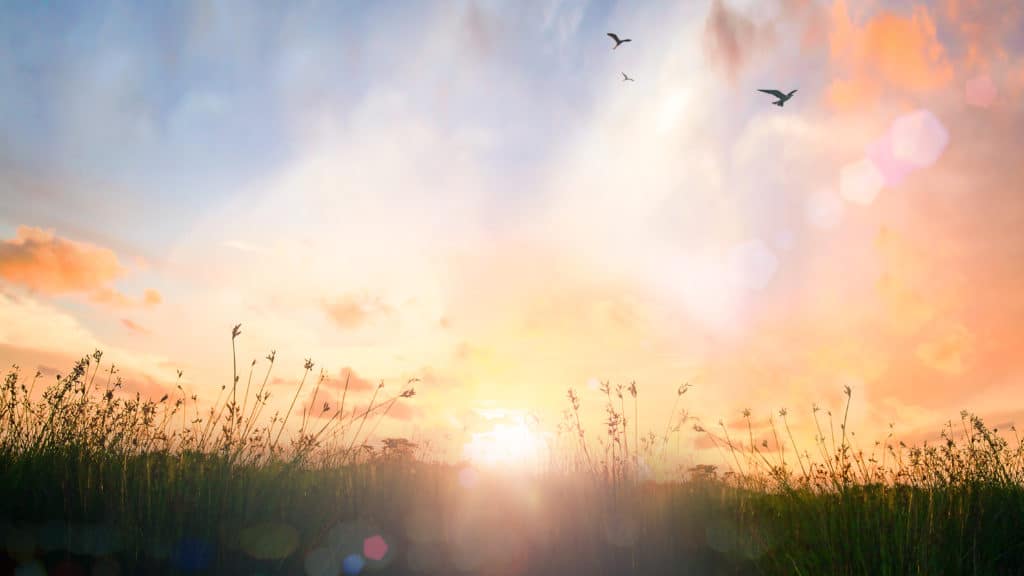 I can't believe this is the hundredth set of resources I've sent out during this pandemic. Phew. And we're still in the thick of it–to say the least.
I'm thankful for my routines, for my classes and the oases they provide, for my students and their passionate honesty, for nature and my ability to walk and swim. To move forward with my own goals–in whatever small ways I can control things (or try to!).
But I'm also exhausted–as is almost everyone I talk to. And here's why: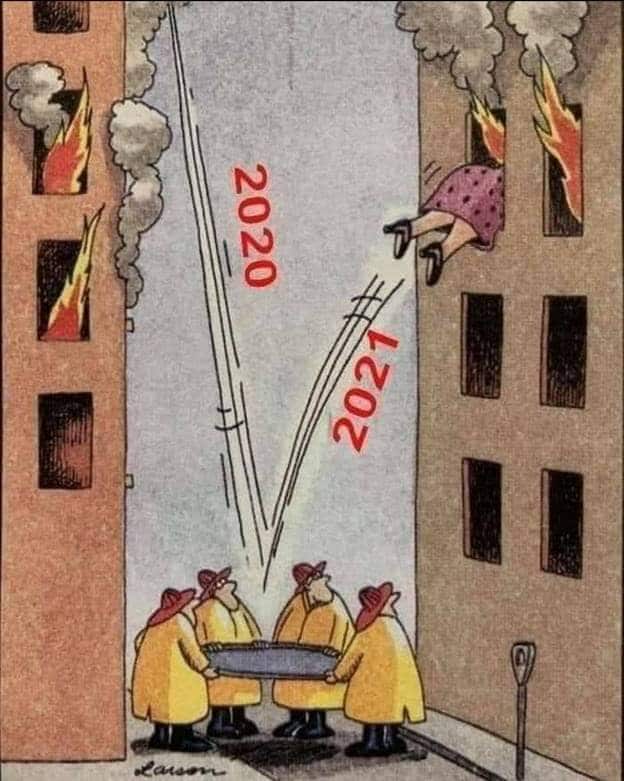 Below, I remind you about the reconciliation summit I'll be part of at the end of this month. And then I move on to today's resources.
You'll see that I've included several of the best things I've read (or listened to) in the aftermath of the January 6th insurgency at the capital. Several of the pieces focus on the violent insurrection-seeking white supremacists involved in the plot to take over the capital, the threats they pose, and what is necessary to depolarize millions of Americans taken in by the Big Lie.
I know some of you are feeling overwhelmed and need to mediate your intake of new information, so I've tried to describe the resources I've included so you can decide for yourself whether you have the bandwidth to assimilate more or not.
The second half of today's resources focus on writing and publishing. Those resources are in the second half of this newsletter.
I will continue to share resources I've culled to help you meet the unique challenges of this unprecedented moment. Feel free to email me back with any resource (podcast, video, music, opportunity, etc.) that you think I might want to share with my list in the future.
---
I'M SPEAKING AT A FREE RECONCILIATION SUMMIT
Some of you may or may not know this about me, but I've been fascinated with the topic of reconciliation for years. My mother and I were estranged for years and ultimately made peace with each other. That is the subject of my memoir, Wholehearted, and was the subject of my 2000 book, I Thought We'd Never Speak Again: The Road from Estrangement to Reconciliation. I'm fascinated by what keeps people apart and what makes it possible for them to make peace with each other–or at least inside themselves.
I'll be a speaker at a terrific free event, hosted by Yasmin Kerkez, at the end of this month, January 26-28: Moving Beyond Family Struggles Summit. I'm one of a number of excellent speakers providing myriad free resources helpful for anyone struggling with a challenging relationship with a family member.
At this time when there is so much divisiveness in our world, we need these resources more than ever.
I'm thrilled to be a part of this free, 3-day virtual event. Come hear me speak!
My interview is one of 15 and will take place on the third day. You also may recognize some of the names among this group of experts centered on family relationship struggles and estrangement. If you don't yet know them, you'll be introduced.
Take a moment to check out and sign up for the Summit. It's all free. All that's required is your attention.
For More Information and to Register.
---
Coronavirus & the Pandemic Response
Coronavirus and Domestic Violence
Domestic violence has skyrocketed during the pandemic with women (and sometimes men) trapped at home with their abusers. Here's a list of international resources that can help:
Click here to access this resource.
Politics and Psychology
The 'Shared Psychosis' of Donald Trump and His Loyalists – Scientific American
The violent insurrection at the U.S. Capitol Building last week, incited by President Donald Trump, serves as the grimmest moment in one of the darkest chapters in the nation's history. Yet the rioters' actions—and Trump's own role in, and response to, them—come as little surprise to many, particularly those who have been studying the president's mental fitness and the psychology of his most ardent followers since he took office.
One such person is Bandy X. Lee, a forensic psychiatrist and president of the World Mental Health Coalition.Scientific American asked Lee to comment on the psychology behind Trump's destructive behavior, what drives some of his followers—and how to free people from his grip when this damaging presidency ends.
"For healing, I usually recommend three steps: (1) Removal of the offending agent (the influential person with severe symptoms). (2) Dismantling systems of thought control—common in advertising but now also heavily adopted by politics. And (3) fixing the socioeconomic conditions that give rise to poor collective mental health in the first place.
Great read about the symbiotic relationship between Trump and his followers and how to help them heal from their delusion.
Click here to access this resource.
The Attack on The Capital – How to Quell a Domestic Insurgency
This is not an easy podcast to listen to. If you're already overwhelmed, you may want to pass on this one.
Here's what it's about:
Pro-Trump extremists breached the Capitol, attacked police and called for the Vice President's execution. Now, national security experts see an even bigger danger. Are we facing domestic insurgency? And if we are, how can we heal as a nation? Ret. Col. Lawrence Wilkerson, Frank Figliuzzi and David Kilcullen join Meghna Chakrabarti.
Click here to access this resource.
HOW SCHOOLS ARE TALKING TO KIDS ABOUT THE INSURRECTION AT THE CAPITAL
'Kids can handle hard truths': teachers and their students reckon with capitol attack | US education | The Guardian
Click here to access this resource.
How the White Evangelical Church is Being Torn Apart
After staying basically level for four years, Trump's approval ratings dropped roughly 10 points across several polls in a week. The most popular piece on the Christianity Today website is headlined, "We Worship With the Magi, Not MAGA." In the world of secular conservatism, The Wall Street Journal editorial page called on Trump to resign. Addressing Trump supporters, the conservative talk show host Erick Erickson wrote, "Everything — from the storming of the Capitol to people getting killed to social networks banning you to corporations not giving you money — everything is a logical consequence of you people lying relentlessly for two months and taking advantage of American patriots."
"One core feature of Trumpism is that it forces you to betray every other commitment you might have: to the truth, moral character, the Sermon on the Mount, conservative principles, the Constitution. In defeat, some people are finally not willing to sacrifice all else on Trump's altar.
"The split we are seeing is not theological or philosophical. It's a division between those who have become detached from reality and those who, however right wing, are still in the real world. Hence, it's not an argument. You can't argue with people who have their own separate made-up set of facts. You can't have an argument with people who are deranged by the euphoric rage of what Erich Fromm called group narcissism — the thoughtless roar of those who believe their superior group is being polluted by alien groups.
"It's a pure power struggle. The weapons in this struggle are intimidation, verbal assault, death threats and violence, real and rhetorical. The fantasyland mobbists have an advantage because they relish using these weapons, while their fellow Christians just want to lead their lives.
"The problem is, how do you go about reattaching people to reality?"
This article from the New York Times explores how.
Click here to access this resource.
Republicans and Democrats Come Together to Talk About the Insurrection at The Capital
On January 12th, Braver Angels brought together 4,500 liberal and conservative Americans to reflect on what is happening in the country and how we can act to hold America together. At a time when divisiveness is at its height and emotions are incredibly high, I found this conversation a hopeful addition to the conversation.
Speakers included former Republican Utah Gov. Gary Herbert, U.S. Rep. Dean Phillips (D-MM), Rev. Franklin Ruff, pastor of First Baptist Church in Stilwell, KS.
Also featuring live music, Braver Angels leaders, and citizen red/blue pairs, including: Greg Smith — a former police offer, Christian conservative, and ardent Trump supporter — and Kouhyar Mostashfi, a progressive Muslim immigrant from Iran.
Carlos Hernandez — a Latino Trump supporter — and Amania Drane, an African American progressive, who together lead the Braver Angels of Color Advisory Council.
Learn more at www.braverangels.org.
Writing Related
If You're Interested in Getting Your Manuscript Published:
The folks at SheWrites Press are teaming up with the team at Story Summit to put together a five day program for writers who are exploring both traditional and non-traditional publication options. Sessions will be repeated twice daily to create more options for live participation, and will also be videotaped for later viewing.
Monday, Jan. 25-Friday, Jan. 29th, 2021
Two times each day to make attendance more possible:
Daytime Class: 2 p.m. – 4 p.m. Eastern (11 a.m. to 1 p.m. Pacific)
Evening Class: 9 p.m. to 11 p.m. Eastern (6 p.m. to 8 p.m. Pacific)
Monday, January 25: Getting Published: Exploring Your Paths to Publishing
Brooke Warner guides you through the publishing landscape, from the shrinking world of traditional publishing to the rising opportunities in hybrid and self-publishing. She'll walk through the ins and outs of what it takes to get a traditional deal, and why green-lighting your own work is equally inspiring and even more empowering. This session presents all the most up-to-date insights and tips for navigating this constantly changing terrain.
Tuesday, January 26: How to Start and End Your Book
Ellen Meister will focus on how to write a strong opening to your book and structure your manuscript toward a satisfying resolution. Published by HarperCollins, Putnam, and an imprint of Harlequin, Ellen also will speak to the pros and cons of the traditional publishing model.
Wednesday, January 27: Getting Amplified: Starting and Growing Your Author Platform
Brooke Warner will get in the trenches with you to show you exactly how and where to start building your author platform, whether you're at Ground Zero or you've already started. She'll continue to talk about the importance of green-lighting yourself when it comes to author platform—from tending to your author persona and voice on social media, to content creation, to creatively inspired and outside-the-box ideas. You'll leave with a commitment and an action plan to bring your message into the world in a way that engages conversations and builds a fan base.
​Thursday, January 28: The ABCs: Celebrating the Power of Your Unique Voice Through Authenticity, Boldness, and Courage
Katrina Willis has experienced the hybrid publishing for her book, Parting Gifts. She'll share her experience with the process and what she learned along the way to help you prepare for a successful launch and life of your book. Plus, she'll focus on brave writing that is borne of the body and the senses, breaking traditional barriers to storytelling.
Friday, January 29: Locking It All in with Confidence and a Plan
On this final day with Brooke Warner, you'll be prompted to confront any lingering doubts or fears about what it means to step into your greatness and green light your own work first. It takes a lot of gumption and confidence to amplify your message, pursue publication, and promote your work. This class will explore how to do this well, and with generosity, and how to think about your long-range vision as an author. This class is all about preparing you to own your author identity—with pride and confidence.
Click Here for More Information and to Book.
Love Letters to the World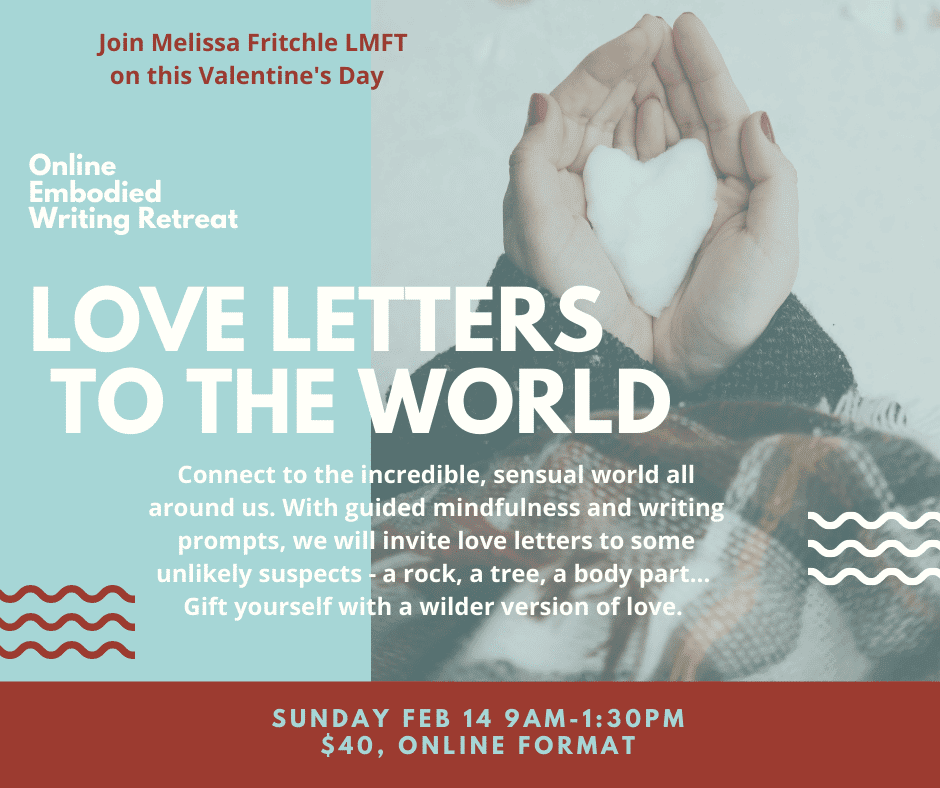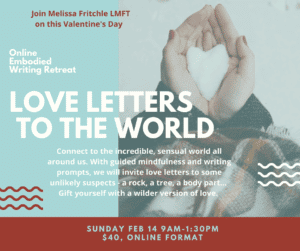 My Wednesday morning writing student, Melissa Fritchle, is offering this fantastic writing workshop next month. She's a terrific writer and a great heartful facilitator. I'm sure this will be a wonderful gathering.
Join us for a relaxed morning using writing practice to connect us to the incredible, sensual world all around us. Through guided prompts and mindfulness exercises, we will write love letters to some unlikely suspects – perhaps a rock, a stranger, a body part – and dive into our sacred inter-connectedness and capacity for love.
Gift yourself this Valentine's day with a wider version of love than you have been taught to seek.
Facilitated by Melissa Fritchle, Holistic Psychotherapist & Mindfulness Meditation Teacher. Email to register melissa@mf-therapy.com.
Nobody Gets What They're Worth
If you happen to be negotiating a book deal anytime soon, some great words of wisdom from Brevity: