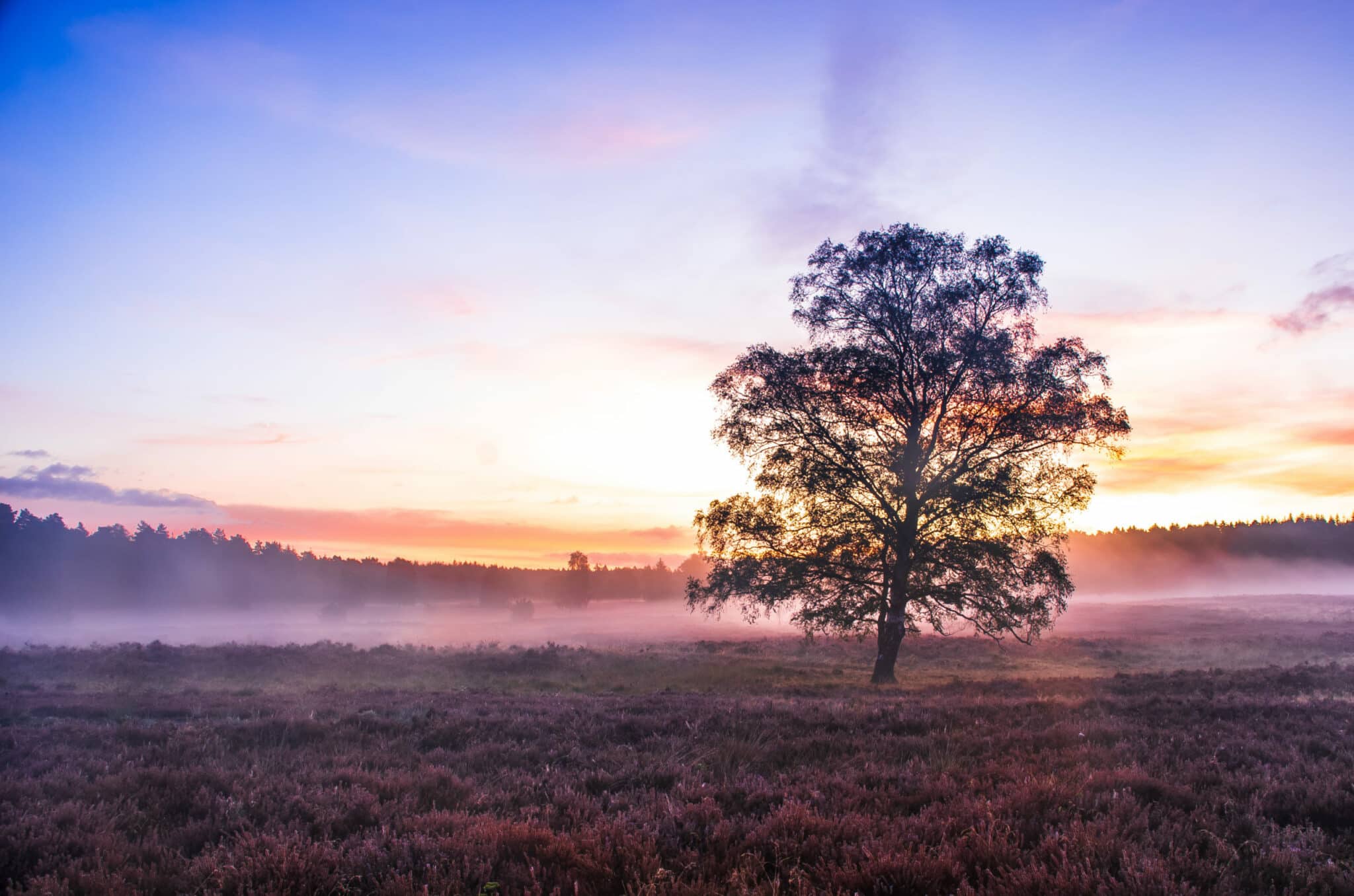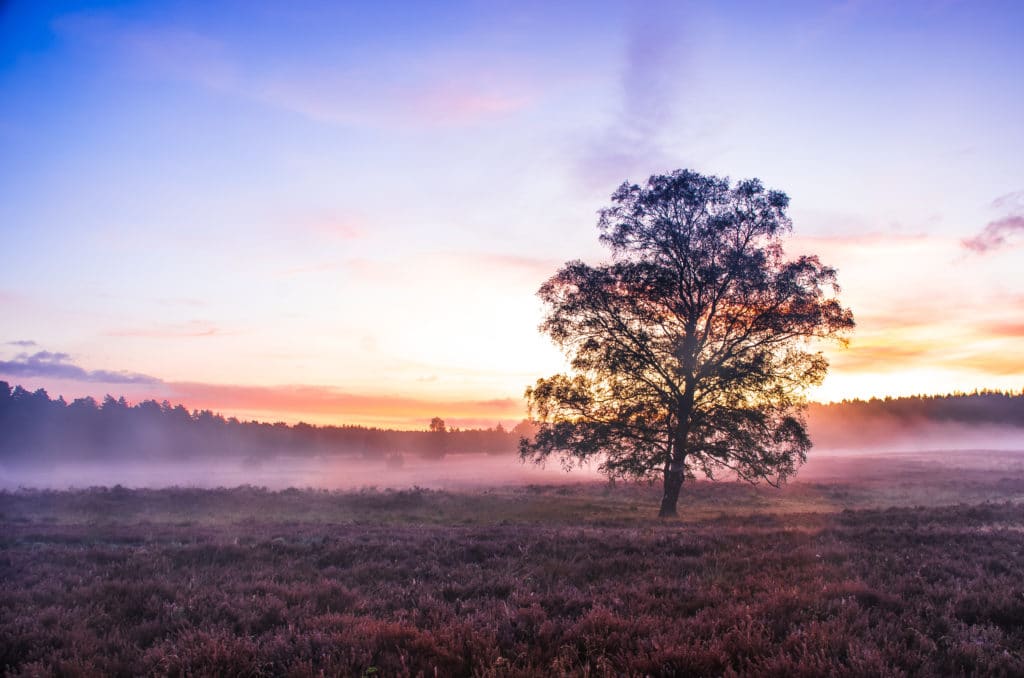 Coronavirus & the Pandemic Response
What Kids Are Learning When They're Not In School
Click here to access this resource.
Racial Justice & Educational Resources
A great and growing compendium of resources to unlearn racism
Anti-Racism Resource Center
The heartbeat of racism itself has always been denial. The sound of that heartbeat is "I am not racist." There is no such thing as "not racist." As author and historian Ibram X. Kendi explains in one of the TED Talks included here There is no such thing as "not racist." We are either racist or anti-racist. In each moment, one or the other. We either support policies that lead to injustice and inequity, or we are supporting policies that are leading to justice and equality.
NewStories is learning and unlearning our own way here. While we are blessed with powerful People of Color on our Board and Core Team, NewStories was founded by and has been led by white people. Whiteness, and blindness to blindness of systemic racism is in our DNA. Time to shift that. We know we are embarking on a profoundly messy, humbling, imploding, intense learning journey… layer, by layer, by layer, seeing how whiteness lives through us. Many behaviors, perspectives, unconscious scripts that run our minds, and that live in our very cells must die.
As we have started to add anti-racist materials to our Essential Knowledge collection, we have been struck by how much is out there. In many cases we are offering collections of resources created by others and sharing them in their context. We invite you to unlearn and learn with us.
Click here to access this resource.
Are you tired of the polarization in the United States? Would you like to do something about it?
I recently participated in a structured online conversation about race through the group Living Room Conversations. I enjoyed it, but everyone on the call was from the progressive end of the political spectrum. I realized that I was more interested in bridges divides with those I'd consider "the other" from a political point of view. Someone in our dialogue group introduced me to the organization Braver Angels, designed to facilitate conversations and to develop respect across the political divide. So I check them out and signed up to participate. I wanted to share this resource with you.
Here's a bit from their website:
The Challenge: Political Polarization
Politics is tough. It always has been. American politics is competitive, thrilling, frustrating – and infuriating. The stakes are high. Issues are important. Outcomes matter. This is why we care, and should care, about our politics.
But do our politics have to be demonizing? Does it have to bring out the worst in us? Do our politics have to destroy the goodwill of our society? Is the dehumanizing of our fellow Americans something we should accept?
Affective political polarization (not only disagreement on issues but personal contempt and distrust) has been growing between us for at least 25 years. In other words the vitriol in American politics was a problem long before Donald Trump, Hillary Clinton and the 2016 election.
Yet today, there is evidence to suggest that we are now as polarized as we have been since the Civil War. We are in what some are calling a "cold civil war" right at the moment when a spreading pandemic, vast economic trouble, and other national and global challenges call upon us to support each other like never before.
We do not accept this.
At Braver Angels we do not accept this division. We reject the normalizing of this extreme polarization. We say no to the breakdown of political and social life that it brings.
Our work is about restoring civic trust in the USA. It is about healing the wounds between left and right. It is about challenging institutions to be better, building community together, and discovering what it means to be American in our time.
Our work is about supporting a more perfect union. Our work is about inspiring the beloved community.
At Braver Angels, our work is about building a house united.
The root of our organizing, however, begins in the transformation of our attitudes towards each other. The foundation of all our activities is what we refer to as patriotic-empathy: the idea that our love for our country is shown by our concern for our fellow citizens.
If feelings about our political adversaries can be represented on a spectrum, our objective is to move Americans from hatred or disdain to respect & appreciation. (See diagram below.)
Our approach is guided by the Braver Angels Pledge:
As individuals, we try to understand the other side's point of view, even if we don't agree with it.
In our communities, we engage those we disagree with, looking for common ground and ways to work together.
In politics, we support principles that bring us together rather than divide us.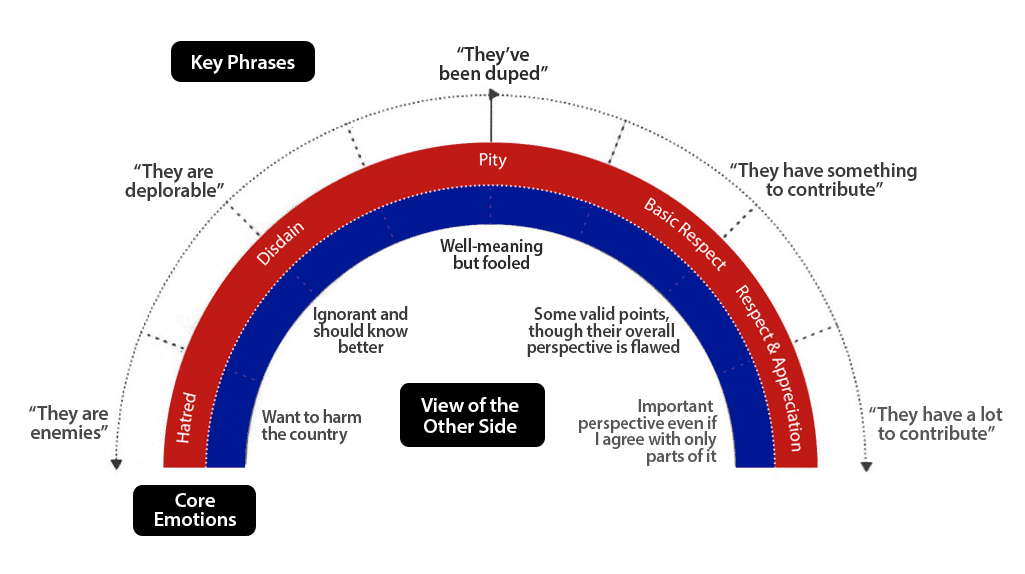 Click here to access this resource.
Here are a couple of the online offerings from Braver Angels, two self-paced courses, one that deals with how to lessen the effects of polarization when you encounter them in your political conversations.
Click here to access this resource.
And this one:
This course will teach you how to communicate better with people who differ from you politically. There are two course options, one for "reds" and one for "blues."
Click here to access this resource.
SPECIAL WORKSHOP TOMORROW
Register Now for the first national online Depolarizing Within Workshop, July 25, 2 p.m.
Join us online for local and national Braver Angels Workshops (Skills for Bridging the Divide, Depolarizing Within, and Red-Blue). Everyone is invited to register for the very first national online Depolarizing Within Hybrid workshop Saturday, July 25 at 2 p.m. ET. This is a great way to work with people from all across the country as you learn and practice skills for respectful and productive conversations with people on your side of political issues. Information about registering for other upcoming local and national online workshops can be found here:
Click here to access this resource.
From Brene Brown: a listing of black-owned bookstores and a list of great books to order online:
Click here to access this resource.
WHAT WILL IT TAKE FOR AMERICA TO HEAL?
This episode of The Ezra Klein Show deals with question, "How can we heal the history of white supremacy in our country?" An inspiring listen about what real healing requires. Thanks to Tree Dunbar for passing this show along.
Here's what it's about:
What would it take for America to heal? To be the country it claims to be?This is the question that animates Bryan Stevenson's career. Stevenson is the founder and executive director of the Equal Justice Initiative, a clinical professor at the New York University School of Law, a MacArthur genius, and the author of the remarkable book Just Mercy — which was recently turned into a feature film, where Stevenson was played by Michael B. Jordan
Stevenson has lived a life dedicated to justice. Justice for individuals — some of whom he has rescued from death row — and justice for the society he lives in. "He's one of the few people with vision for how America could find justice on the far shore of our own history. That vision is particularly needed now."
This conversation is about truth and reconciliation in America — and about whether truth would actually lead to reconciliation in America. It's about what the process of reckoning with our past sins and present wounds would look and feel and sound like. It's about what we can learn from countries like Germany and South Africa, that have walked further down this path than we have. And it's about the country and community that could lie on the other side of that confrontation.
Click here to access this resource.
The Ally Nudge
An innovative monthlong program to educate and inspire action, via daily text message, to those who want to support Black Lives Matter. Great for young people or others who are text oriented.
Click here to access this resource.
Resources to Calm the Spirit and Bring Joy
And in the good news department:
7 top virtual museum tours around the world
Click here to access this resource.
IF YOU'RE A GLUTTON FOR PUNISHMENT, HERE'S A LIST OF THE BEST APOCALYPTIC MOVIES ABOUT THE END OF THE WORLD.
From the folks at the Atlantic.
Some of us, when faced with dire circumstances, choose to immerse ourselves in positive, uplifting images. And some of us like to put our face right in the worst of what might happen. If you happen to be in the latter category, here's a list of movie options:
Click here to access this resource.
A moment of beauty in the middle of the pandemic