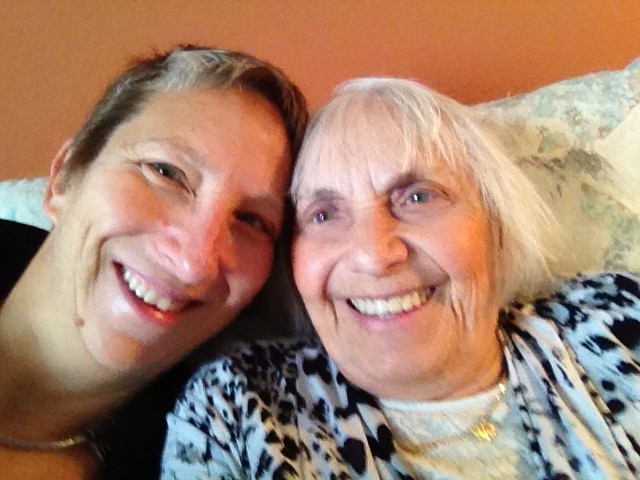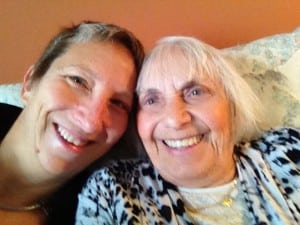 It's been a little more two months since my mother died. I've created an altar to her in my living room, but I find myself rushing past it without really seeing it, without actually stopping and looking or feeling its significance. Somehow, I just can't. I think I'm open to the grief, but so far, in the first weeks of this journey of mother loss, I feel very little. The words, "My mother is dead," come easily from my lips, but they haven't reached my heart. They haven't hit their target. It's not real to me that she is really gone. Gone forever. Really dead, permanently dead.
When I think about my mother, I mostly feel relief. Relief that she is no longer suffering. Relief that I no longer spend my days worrying that she'll forget she's not supposed to walk, and that she'll fall, that she'll break her hip again, the same one or the other one. Relief that I no longer have to dread a phone call from Maple House that means racing to the ER, that we won't have to face all the trauma that entails. Old demented people and the ER do no mix.
I am relieved that I no longer wake imagining my mother miserable and lingering, dying a horrible death in an understaffed nursing home. I'm relieved that she isn't monopolizing all the space in my brain, that I no longer have to be obsessed with whether I'm making the right decisions or being the best daughter I can possibly be.
Yet whenever I see an old person with a walker or someone over 80 struggling to rise from a chair, I feel an ache. When I walk out of a great movie or a terrible one, I want to tell my mother about it. I miss the annoying immediacy of her critique of every film we ever saw together. She'd start ripping the movie apart the moment the credits started to roll.
But I feel much more distant from her death than I expected. I anticipated more tears, more anguish, and more obsessive thoughts. Mostly what I feel now is exhaustion-a bone-weary tiredness that dogs me. I am told this is what grief looks like, but isn't grief the way I thought it would be.
A month ago, just four short weeks after my mother died, I had to make the decision whether to teach my classes this fall or take a sabbatical instead. I wasn't sure whether I could handle stepping back into "being Laura Davis," the author, the teacher, the mentor, the person who holds the space so others can write. I wasn't sure I had it in me. But after I wrestled with the decision, I opted for teaching less, but teaching again.
It's been a good decision. I love my students. I love the communities we create together. I love being moved by their stories and their words. Even in a time of disorientation and confusion, it feels good to still feel connected to my purpose. It's nice to have a routine and a place to be.
And now, two months after I lost my mother forever, I am planning for the future-a retreat in Scotland next June and one in Vietnam the year after that. It feels good to dream of a time when I will once again travel and teach and take joy in the freedom of adventure. My mother was a traveler. And every time I left for a trip, even at the end when she had lost so much and needed me beside her, she always sent me off with a smile.
So I am starting to envision a future without her. I am imagining how my life might go on without the person who loomed largest no longer beside me. I am not the person I used to be, but a new me is generating inside of me, putting one foot in front of the other-one day, one week, one adventure at a time.