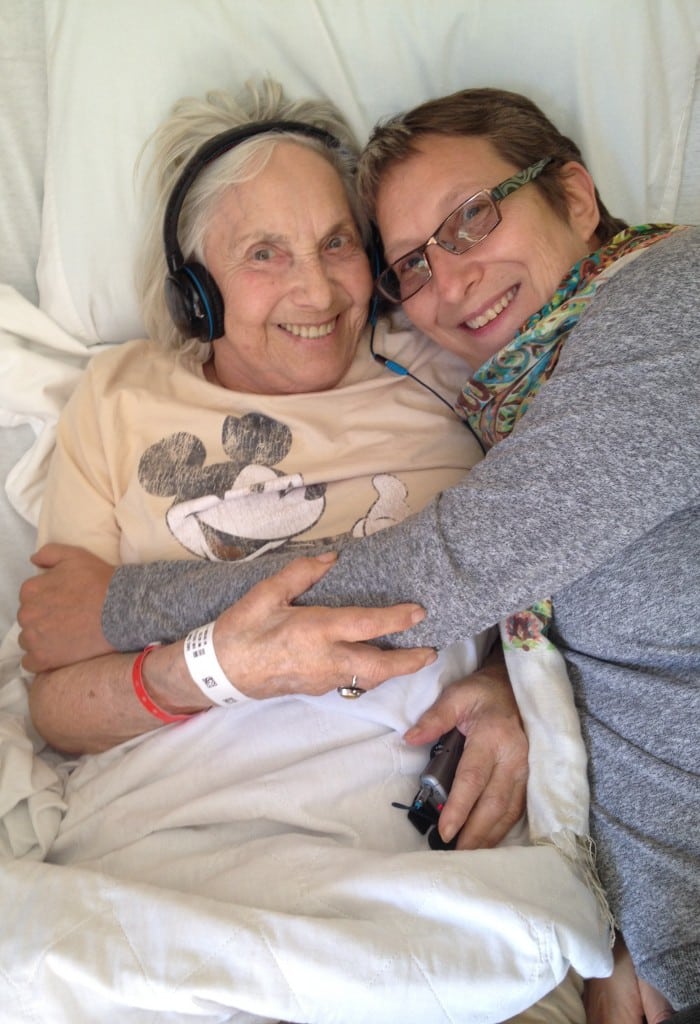 I've been home for a few days from taking Eliza, our youngest, to college in Boston. It's surreal to come home to no mother and no daughter, to an empty nest, the first time in 25 years that Karyn and I have not had children in our house. My mother's death and dying still feels white hot and impossible to get close to it. I want to write about it all, to record it, but words feel insufficient, the experience so vast. It's not often that I'm at a loss for words. The changes are so big and far-reaching, I can't touch them. I wonder when I'll be able to, if I'll be able to. Right now, I feel untethered and lost and the things that feel best are eating healthy food, walking, being in nature, sitting with a friend.
Last night I said to Karyn that it wasn't yet real to me that my mother is dead. It hasn't sunk in that she will not reappear, that I will not be making my daily visits, fielding the emergency phone calls, listening to her tell me over and over again, "You're the best daughter in the whole world and you've never given me a moment's trouble." I won't be worrying about her falling or having to take her to the ER or getting yet another crisis call from Ronald at Maple House beginning with the words, "It's your mom…"
The other day, I stood in front of our refrigerator with the door propped open. There were two drawers full of wet, moldy vegetables, aged into bagged slime while we moved Eliza to Boston, bought her nine used cold weather coats-down, fake leather, tweed, fleece, and pea. We shopped at Target, Staples, and Bed, Bath and Beyond, loading carts with extra long twin size sheets, a bulletin board, a round white sticky dot that attaches to the wall for dry-erase messages, a mesh pop up hamper, clothespins, hangers, highlighters, a coffee filter, a coffee cone (it took nine stores in Boston to find one-no one knew what we were asking for), a Tempurpedic mattress pad, and a hundred other needed items: a muted world map mounted of poster board, a ream of pure white paper, a new computer, the small ink-jet printer I sent Eli to college with that he never used. We left Eliza with ground Philz coffee, a box of throat coat tea, warm socks, and the first aid kit Karyn lovingly made for her, full of bandaids, Advil and organic remedies from Santa Cruz. We carried boxes, suitcases and bags into her dorm room, lofted her bed, spread her comforter, rolled her new sweaters, hung her clothes, organized her shoes, while she set up her bulletin board and unpacked her office supplies.
Then we drove her to the gym where she was greeted by upperclassmen dancing in silly costumes to music we didn't recognize. Their presence, blocking the entrance to the door, was clear evidence were not meant to follow our daughter into the gym. Instead we stood, feeling old, watching her carry her gear for her pre-orientation backpacking trip through the gauntlet of greeters and didn't look back. We turned and staggered back to the empty rented van. Our daughter didn't live with us anymore.
On the night of our return, as I stared into the fridge, I was confronted at Eliza's staples: white tortillas, cheddar cheese, ham, frozen boxed macaroni and cheese, all foods I do not want to eat. For 25 years our diet has been ruled by the whims and caprices of children. Now as I stared into the mostly empty, dirty fridge), I had no idea what to eat. And so I went to bed hungry.
Every time I walk into our house, I am confronted with the altar I created for my mother and two empty bedrooms. Every time I drive home, I pass Maple House, where my mother spent the last six weeks of her life. It is the place where she struggled to breathe and stopped eating and drinking. It was the place where I moistened her lips with a tiny green sponge on the end of a stick and washed her hair in bed the day before she died. It is the place where bedsores bloomed overnight, where I held her hand as she labored to die. Where we sat with her body through the night as her skin turned cool alabaster. It is the place where my brother and I watched her body lifted onto a gurney and covered with a blue velvet cloth. I touched her belly one last time and said, "I grew in there. She made me." Then they wheeled her out the back door so the other residents wouldn't have to see her body. Wouldn't have to look their future in the face.
Every single time I drive by Maple House, something rips inside me and and I have to turn away.
I've always thought of myself as someone who likes to face my life. I like to delve beneath the surface. I like to feel it, analyze it, explore it, know it. And yet I cannot do that now. When I see my mother's face on the desktop of my computer or accidentally start the slide show I made of our trip to Florida to see her sister, just six months ago, I quickly click away. I can't look at the video my cousin made of her funeral. I can't listen to the interview we did together on StoryCorps just a few years ago. Whenever I go into my office to get a file folder or retrieve a book,  I have to walk past heaps of her clothing, her blue recliner, her artwork, an ocean of her belongings. I walk past her things and pretend not to see them. I am a ghost, picking up the empty file folder or the book.  I leave as fast as I can.
Every morning I think to myself, 'Oh, I should be writing about my mother's death. I should write about how she tried to speak to me the day before she died, but it only came out as gibberish. I should write about the smell of decay on her breath as she lay dying. I should write about how I held her hand and stared into her eyes and traveled with her to the place between worlds. I should write about how I saw in that moment that she and I have been together in the timeless realms, stretching far before my birth and well beyond the death of her body. I should write about watching her bones glow red hot in the crematorium, the pooling of blood on her back when the hospice worker and I washed her the morning she died.
But I just can't do it. I feel I should; I am afraid I will forget; but I can't bear to remember. I want to record what happened, but the loss is too big for words. It is white hot and I can't get near it. I want to open myself to take in the vastness of the changes in my life. The immensity of the grief. The loss of my mother. The launching of my daughter. No one but me to care for the first time in 25 years. But I can't. I can only feel it in dribs and drabs. Waking up sobbing. Or feeling as if I've been whacked upside the head by a heavy weight in the middle of the day. The exhaustion I carry with me every moment. My irritability. The way nothing matters anymore.
I have grieved before, but not like this. I have faced change and loss and transformation before, but not like this. My life and my heart, my very self, is unrecognizable to me. I don't know what that will mean for my life or my teaching, my writing or my relationships. All I know is that I am untethered. And I recognize that this is only the beginning of this journey.