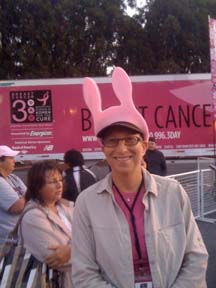 Dear Readers:
This is a long post from a long walk, but I promise it won't take you as long to read it as it did for me to walk it! Find a quiet moment to savor the story of my journey. I hope it helps you feel like you were there.

Day 1
Last night, my friend Barbara helped me carbo-load with a giant bowl of pasta, chicken apple sausage, sun-dried tomatoes, kale, onions, garlic, fresh peas and olive oil. Oh yes, and garlic bread. Now she's gotten up in the pre-dawn to take me to the drop-off point in Daly City. We leave her Glen Park neighborhood at 6:00 AM. It's still dark and I've been up since 4:30. My belly is full of chai. In the car, I eat a bowl of oatmeal cooked with banana, cinnamon, and almond butter, my favorite long-distance training breakfast.
My phone is charged–I'm planning to take pictures along the way and won't have access to electric outlets for three days. My gear has been carefully packed in a rolling golf duffle borrowed from my mother, my clothes neatly rolled in 2.5 gallon Ziploc bags, marked Day 2, Day 3, sleepwear, warmies. I've got my four pill boxes full of medications and supplements, plus a stash of Advil, Valium and Ativan. I've already taken two Advil; when walking twenty miles, I believe in prophylactic medicine. My fanny pack is loaded with my usual supplies as well as a small spiral notebook and pen so I can record my journey.
I slathered my feet with a thick, gooey layer of Vaseline before I slid on my white, wicking socks and laced up my well-seasoned sneakers. I was told by one of my Tuesday morning walking buddies, the Butt Busters, that gobbing on Vaseline is a surefire way to avoid blisters. It was gross (how do you get all that Vaseline off your hands?) but Marilyn has done this walk many times so I meticulously followed her instructions.
Spraying exposed skin with SPF 50 sunscreen wearing a tank top and shorts is a very unpleasant experience at 5:30 AM. Don't try it unless you have to.
My hair is half-an-inch long and I will be called "Sir" a number of times over the next three days. I cut it yesterday in honor of the event and in memory of my own chemo and the chemo of millions of my fellow cancer patients.
I think I'm ready.
We arrive at the Cow Palace at 6:15. It's my first visceral experience of the fact that this is a very big event. I've mostly trained solo so the magnitude of what I'm about to do hasn't hit me. But now we're in a huge mangled traffic jam. People with bright orange vests are directing traffic. I feel like I'm at the airport the day before Thanksgiving. There's chaos all around me: hundreds of women (and some men) unloading cars and wheeling baggage.
Huge trucks are lined up by the side of the road, designated with letters that correspond to the tent assignments we got during online check-in. I'm in tent C-7 so I head to the huge truck marked C. A big, capable man takes my rolling bag with my sleeping pad cinched on the side and lifts it into the truck. He points me in the direction of opening ceremonies and I join the stream of walkers heading that way. There are so many of us!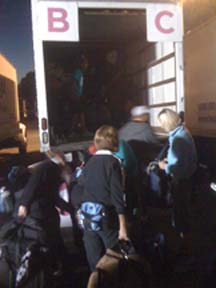 In the large holding area where we wait, the first thing I notice is the music. It's loud, really loud. A male announcer with one of those deep, resonant fuck-me voices welcomes us to "Three-Day Radio." The throbbing soundtrack reminds me of gay bars thirty years ago: We Are Family, YMCA, disco I haven't heard in decades. It's loud, the rhythm is infectious, and the music immediately makes me want to dance. Which is a good thing. It's cold wearing shorts and a tank top at 6:30 AM.
It's still dark out and huge pink globes of light seemingly float in the air. The effect is otherworldly. They mark kiosks where you can fill your water bottles and get Gatorade in three colors–blue, orange, and red.

A woman hands out large pink foam bunny ears with the word "Energizer" emblazoned on the brim. They fit lightly on the head and the ears stand up perfectly. I'm not one for wearing corporate advertising, but I add a pair on top of my visor to get into the spirit of things.
My friend Renee, who I drove up with yesterday, is somewhere in this milling crowd with her daughter Stephanie, who flew in from St. Louis to walk with her mother. We also have some teammates I haven't met yet. I use a few of my precious cell phone minutes trying to find them. Renee leaves me a message saying that she and Stephanie are in the crowd wearing pink crowns. I look for a while, then give up. Look for someone wearing pink? You've got to be kidding.
There are 1400 walkers here and it's an ocean of pink. There are pink backpacks, pink boas, pink tutus, pink Mardi Gras masks, pink polka dot cowboy hats, pink silk capes, pink hair, pink "grass" skirts. A woman walks by with a pink sash penned with the names of her contributors. I see a service dog dress in, you guessed it, pink. It's a three-year-old girl's dream party landscape. I have to admit, I'm stunned. I trained and I'm here, but I didn't realize the scene I was walking into.
I've taken literally the instruction to drink 32 ounces of electrolyte drink the morning of the walk–on top of my chai–so I head over to the row of green portapotties that line that back of the lot. They're pristine, the urinals unused, and there's a bottle of hand sanitizer attached to the wall. It's actually rather pleasant sitting in the dark, out of the mayhem. I sit there for a while, hoping to do my business, hating the idea of having the urge out on the trail, miles from the next pit stop.
Booths line the perimeter. The 3-Day gear shop is full of socks, shoes, logo shirts, flannel pajama bottoms, work-out gear…all pink and black and white. I'm not buying anything; I've got what I need. Besides, who wants to carry one more thing?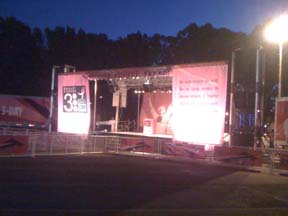 The music rises to a crescendo and we're called to the stage. I try to get as close to the front as I can because we're told the closer you are to the front, the sooner you start walking, and I want to warm up. Standing beside me is another solo walker, Emily, who resembles my best childhood friend, Mindy. I'm immediately drawn to her and we start to talk. I learn that her kids are in their twenties and that her sister-in-law has been diagnosed with cancer. Emily is doing this walk in her honor and also as a birthday gift to her father for his 80th birthday.
A very energetic MC leads us in some group stretching. A sign language interpreter translates her reminders to hydrate, instructions to hold your arms up, wrists crossed, if you want to signal a sweep van to pick you up. We're told that there will be complimentary chair massages at camp each night and the crowd goes wild.
A fire truck drives by, horns blaring, our first taste of the community support we're about to be showered with.
We're told the 3-Day Walks have raised $400 million dollars since their inception. Seventy percent goes to the Susan Komen Foundation, some to direct services in the communities that raise the money and some to research. Thirty percent puts on this event, literally a moving city that travels around the country to 12 different locations a year. The organizational know-how to produce an event this size is staggering.
As the MC reminds us that each of us has our own special reason for being here, walkers silently come out on stage carrying huge vertical banners, each with words that represent those reasons: My Mother, My Daughter, My Friend, My Husband, My Grandmother, My Aunt, My Children, My Wife, My Sister, My Father, My Hero, Myself, The Future.
The MC continues, "These next three days are for you to create the experience you want. To laugh as much as you want. To cry as much as you need. To celebrate this moment. You're telling the world that everyone deserves to live life to the fullest. You're here to guarantee that every lifetime is complete."
The crowd is cheering and screaming. There are tissues everywhere. We've all been training for months. We're raring to go.
Eight survivors walk out with tall flags that say, "Courage. Love, Hope. Optimism. Patience. Commitment." They make their way through the crowd to a raised dais where they plant their flags. They they turn solemnly and stand in a circle, facing outward. "These flags will be carried for the next 60 miles."
There is a pause. Then: "We all hold stories that connect us to each other. Who's the hero of your story? Call out the name of the people you're walking for." Voices erupt throughout the dark morning air. I yell out, "Myself."
"Look around you," the MC says, "This is what the end of breast cancer looks like."
Suddenly, there is a movement in front of me and I'm part of a surge moving toward the gates of the Cow Palace. We walk through a narrow aisle made from two rows of cheering crew members and supporters who give us high fives. A group of volunteers using hand-held scanners quickly scan the bar codes on the ID badges we've been told to wear at all times. Others hand out small cards that identify the route and give the distance and location of each pitstop. The efficiency of this operation is astounding.
There are so many of us unleashed at once, I can barely move. I wonder if the whole walk will be like this, barely a shuffle, but I'm assured that we'll spread out after the first pitstop.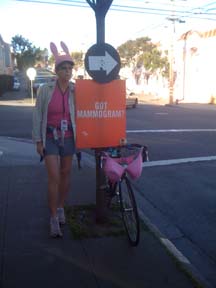 The route is well marked with huge white arrows. Whenever the route takes a turn, there's a pink sign that says, "The cure for breast cancer is right around the corner." Every few blocks, pink signs remind us to hydrate or stretch. Others say things like, "Have you had your mammies grammed?"
Emily tells me the story of how she became a high school math teacher. She had a masters in public health and decided to go back to school for a second masters, but first needed to take a math class to prep for her GREs. She'd been so-so about math in high school, but in mid-life, she fell in love with it. She enjoyed higher-level math so much, she changed direction and got her masters in math. She says lots of mid-life women find their way to math. I wonder if it's something about how the female brain develops. I tell her about Eli who thinks AP Calculus is fun and she suggests some small colleges for him to investigate.
Emily is a seasoned athlete, her pace a little faster than mine. I lose her at the first pit stop as I rush, desperate for relief, toward the green portapotty doors. She is the first of many fellow voyagers I will meet along the way.
There is a huge line for the bathroom. I am squirming and squeezing my legs together. This will be a recurring theme. How can you drink 32 ounces every hour and not have to pee desperately? My focus the first day is not on the beauty of the scenery, the tightness in my calves or the inspiring story of the walker next to me, but rather, on the distance to the next portapotty. Signs all along the route urge us to hydrate, crew members offer water at the top of craggy climbs in the Golden Gate National Recreation Area, and everywhere there are beverage filling stations. Where does all that liquid go? It's not particularly hot outside; I'm not sweating it out. I fear that my main experience of the 3-Day will be a painfully full bladder. It is not until Day 2 that learn one of the tricks of the trade–to wait until I see the sign saying the next pit stop is a mile away–and only then start drinking.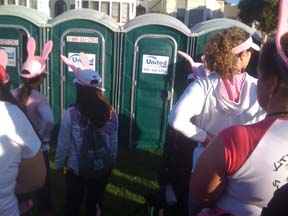 Outside the clanking green doors, there's a plastic tub of hand sanitizer packets. A second tub is filled with tubes wrapped in green and yellow paper. It's not until the third pitstop that I realize that these are tampons. Playtex is one of our sponsors, but I didn't make the connection. Thanks to chemo, it's been two years since I needed one.
Beverage booths are central to every pit stop. You can get one of three flavors of Gatorade and there are giant coolers full of cold water. As it gets hotter, the crew put out tubs of ice you can stick in your water bottle. I fill both my empty bottles with water and then drop a fizzing electrolyte tablet in one. I can't stand the taste of Gatorade.
There's a medical pavilion, too, staffed with doctors, physical therapists, and chiropractors, all volunteers, here to help with immediate first aid. They tape injuries, evaluate dehydration, and assess physical exhaustion. Mostly, they deal with feet. There is a self-help table loaded with supplies for blister self-care, along with pictures illustrating how to care for every size and type of blister. You can also wait and get your blisters lanced and treated by a professional if they're beyond your ability to deal with yourself. This is one service I fortunately do not need; Marilyn's Vaseline trick protects my feet perfectly. I do as she told me; I reapply a whole travel tube of Vaseline at lunch when I change into a fresh, brand-new pair of wicking socks. But I witness the destruction of many pairs of feet around me. People are often pulled over off the side of the trail, sitting with sock and shoe off, tending to a blister. People get blisters on top of blisters. Blisters under their toenails. A popular button states, "Blisters don't need chemotherapy." In other words, why complain about a few blisters–it's nothing compared to what people with cancer go through.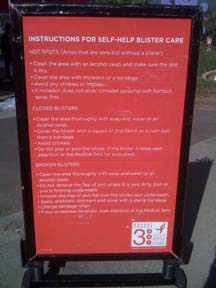 Besides beverages, medical and bathrooms, food is the main event at pit stops. Usually, there's string cheese, cut-up bananas (I grab half a banana each time–need that potassium), cut-up oranges, little bags of peanuts, pretzels, and potato chips for quick salt, "cruelty-free" animal crackers, granola bars, cut-up bagels and cream cheese, and the food that becomes my personal favorite–Smuckers Crustables–a round, sealed peanut butter and jelly sandwich on white bread, wrapped in a tear off plastic bag. I never knew these things existed and would never give them a second glance in the supermarket, but when you're doing twenty miles, they are like manna.
Before the walk, I decided not to sweat the fact that I'll be off my usual organic, Santa Cruz post-cancer diet for these three days. I'm going to eat what they feed us (though I did order vegetarian meals–a good choice as it turns out). I figure they know more about endurance sports nutrition than I do. My diet is clean 90% of the time. I've long ago give up my need to be rigid about things that don't matter.
It's not until I get to lunch feeling full, having eaten a substantial breakfast as well as big snacks at the first three pitstops that I realize that maybe I don't have to eat at every one. "I gained five pounds on the walk last year," one woman told me. I can certainly see why. It all seems to be about walking, eating, drinking, and peeing. As one walker said to me, "The walk? There's really nothing to it. You just walk 3 miles and eat and then walk 3 miles and eat…and then walk three miles and eat…a whole bunch of times and then you're done."
At the second pit stop, there's a new feature–a clothing drop off. You shed the layers you don't want, tie them up in a plastic bag with your name and tent number and voila, they appear back at camp by the time you arrive. No bulky sweatshirts tied around the waist for us.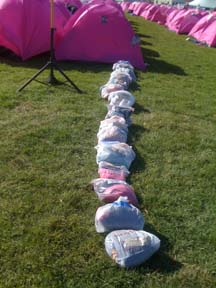 Oh, and did I mention that each pitstop has a theme? There is the "Welcome Back to the 60's" pitstop, complete with crew dressed in tye-dye wearing round-rimmed granny glasses, with peace signs everywhere. The penguin pit stop. The French pit stop where the food table is decorated with wine bottles and Paris souvenirs. Servers in chef's hats and tams add cut-up baguettes and chocolate to the menu.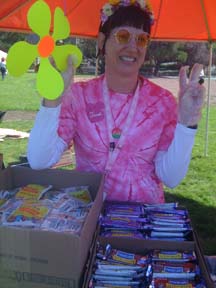 The paths leading into these watering holes are lined with local well-wishers: people dressed in black with pink megaphones chanting, "Let's go walkers, let's go!," old people holding pink plastic hands that clack together rapidly in applause, and in one case, a real bona fide team of high school cheerleaders. Twice, we are greeted with a red carpet.
As we walk, there's an easy camaraderie among walkers. The most common questions are, "Are you with a team?" and "Is this your first walk?" Then: "Why are you walking?" "Tell me about your sister." "What stage was your cancer?"
As the day wears on, I realize that for many walkers and crew members, this is not a one time thing. This is a big part of their lives, an annual commitment, the basis of their social life and the thing that gives them a sense of purpose. I meet walkers doing their 5th or 12th walk, walkers who travel to multiple cities, teams who spend all year fundraising huge sums of money. This event is at the core of their healing, their sense of self, fundamental to their lives.
I meet mothers and daughters, mothers and sons, husbands and wives, brothers and sisters, whole extended families walking together. Often they walk with pictures of their loved ones printed on the back of their clothes. It feels like I'm traveling with a moving, breathing, walking AIDS quilt. The testimonials to loved ones are everywhere.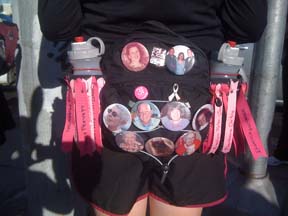 So is the humor. White sweep vans travel up and down the streets, honking their horns and playing cowbells out the window, trolling for walkers who need a ride to the next pit stop, to lunch or back to camp. Each van is decorated with a theme. A popular van belongs to Hookers for Hooters, a group of women dressed as pink whores, each more outrageous than the next. Their van is decorated with large pink letters proclaiming, "Well-behaved women never make history" and "Beep for boobs!" They pull over at street corners and pose for pictures while dancing to the beat of the funky music they are always playing. A second van has bunny ears in the front and a tail in the back, and a bumper sticker that says, "Watch for droppings." Another has "Lions and tigers and blisters, oh my!" emblazoned in pink on the side. The Peppermint Paddywagon sports a huge candy cane on the front bumper, pink painted bars along the side panels and a police emblem on the door. The driver and the man riding shotgun are dressed as bobbies with huge police caps on their heads. My personal favorite are the Jersey Girls with a map of my hometown on their side door.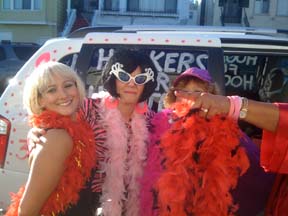 A silver convertible full of young women hooting and hollering and vamping all through San Francisco follows us everywhere we go, loudly and unabashedly honking and cheering us on.
And then there is our bike escort. A group of hunky, young San Jose cops on bicycles ride with us all 60 miles. They wear black regulation shorts and pink shirts, pink ears, pink necklaces and whatever strikes their fancy. One has an iPod and speakers bungeed to his bike rack playing Jumping Jack Flash and Thriller. These men have the biggest hearts and the most amazing calf muscles I've ever seen. Playful and encouraging, they are willing to embarrass themselves at a moment's notice to please the crowd. The mostly female walkers love them. They ride with us up and down the hills, escorting tired walkers up to the top with pulsing music and verbal encouragement. I can't imagine how many hundreds of miles they rode.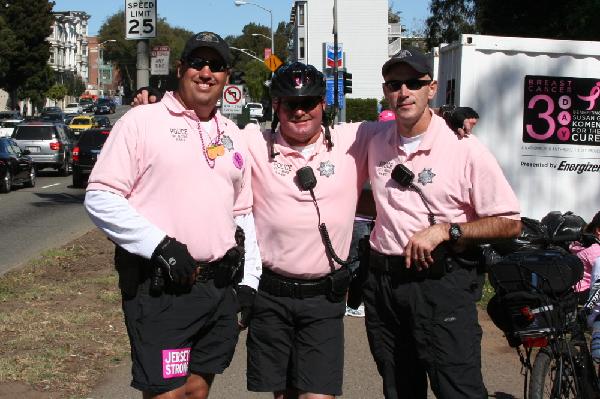 Formal and informal cheering stations greet us frequently. Other times, it's a family handing out individual cartons of chilled mango nectar. People sit in lawn chairs, offering candy and encouragement.
All in all, it's a great roving party.
One man and his two young boys appear in different locations, not just on Day One, but every day. One of the boys hands out stickers and the other clutches a big tub of red licorice. The third time I see them I think, "They have a reason to be out here spending their weekend this way. They could be at a Little League game or flying a kite on the beach. I wonder if these boys lost their mother to breast cancer, and this man, his wife." But there is no time to ask, just enough to smile, take the star sticker, politely decline the licorice and move on.
Periodically, there's someone by the side of the road selling buttons or hats or pins. Often they're walkers from another city trying to raise their $2300 in donations this way. Ten miles into the first day, I buy a "Cancer Sucks" button and one that says "Save Second Base" and I pin them on my hat. A few miles later, an older woman gets up from her bench at the beach, comes over to me and whispers, "I've got cancer and I just love those pink ears you're wearing. Do you know where I could get a pair? I'd like to get them for my whole support group."
"Well, I can't provide them for your whole group," I say, handing mine over, "but you can certainly have these."
Toward the end of the day, I chat with an older man with a shock of white hair and a lean body. He used two walking poles and has a steady, determined gait. The back of his clothes is covered with pins and mementos from many previous walks. George tells me this is the 23rd walk he's done since 2002. "I did all twelve in 2004," he tells me. I ask how he raised all that money and for the next half hour, he tells me the story, full of miracles and serendipity. I learn about two young women he urged to have mammograms–both of whom found out they had cancer and thanked George for saving their lives. Getting women to have mammograms is George's mission in life. He asks every woman he meets on the Walk if she's had one yet this year. A surprising number have not. I tell George he doesn't have to worry about me.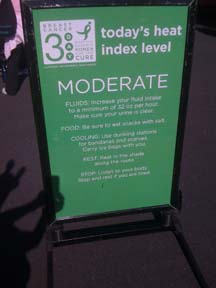 Day One, we are treated to perfect walking weather: warm, but never too hot, occasionally a breeze and the best views the Bay Area has to offer. We walk from Daly City to Ocean Beach in San Francisco, along the coastline to the Sutro Baths, through the Golden Gate Recreation Area and finally down to our campsite under the Golden Gate Bridge at Crissy Field. The views are glorious, the out-of-towners often stopping to take pictures.
For me, the first day's walk feels relatively easy. I am beat, of course, and my feet ache, but I feel triumphant. All my months of training have paid off. I cruise into camp, number 100 out of 1400 walkers, both tired and pleased. They scan and barcode us coming into camp and as we walk through the gates, we are treated to an incredible view of the Bay.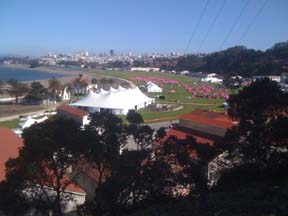 Our gear is laid out on tarps by tent number. I easily find my bag and go to pick up my pink tent, walk over to my site number (again, easy to find, a simple grid) and put up my tent, a simple affair with too pop-up poles and a rain fly. These are meant to house two walkers, but they are tiny inside. While I'm sad she couldn't join me, I'm thrilled that Nona decided not to walk, because it left me with a tent of my own. Peeling off my shoes and my filthy, sticky socks, I unpack quickly, set up my bed, get my toiletries and some warm clothes (the wind is coming up from the water) and head to the showers. On the way, I stop at the towel table (towel service costs $12 and is well worth it) and pick up my day's allotment: two incredibly small insignificant white towels.
I mean, come on, really, we are big, strong W-O-M-Y-N with actual bodies. How about some real towels?
I wait five minutes outside the trailer that houses the women's showers until a couple of women come out looking refreshed and then I climb the metal stairs to enter. Inside, there is a locker room with a bench, a narrow aisle and pegs on the wall for clothes and towels. There are a half dozen shower stalls, each with its own curtain. I peel off my sweaty clothes and go in for one of the very best showers I have ever had. How they can produce such a marvelous, strong stream of hot water in a trailer is beyond me, but it is pure heaven. I hear sighs all around me. I stay under the hot water a little longer than I should, but I can't resist enjoying the few extra minutes. I dry off the best I can with the teeny towels, dress in a pair of cords, a black fleece shirt, a light jacket, a pair of furry slippers, and I feel like a new woman. I don't have to do more than ruffle a towel over my hair (the one thing I loved about chemo was the lack of hair care). There is a toothbrushing station outside the showers with mirrors and large rolls of brown paper towels. I cherish the sensation of a clean mouth out in the open air.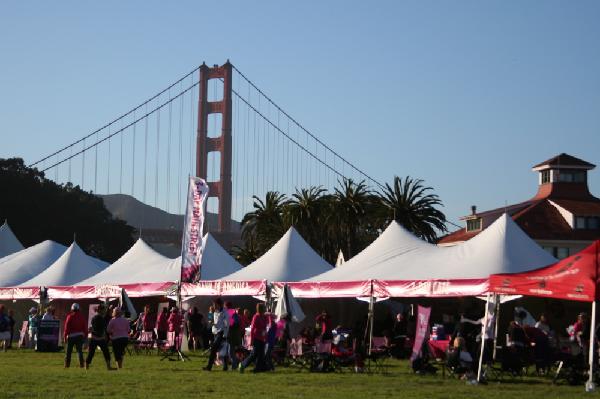 I set out to explore camp. By the Bay, there's "Main Street," full of services and booths representing our major corporate sponsors. There's the New Balance store for gear and a tent where you can email friends and family about your day. I head to an open computer station and type our a long writerly message, then use my iPhone to input a dozen email addresses. I hit send and get an error. I hit send again and get another error. In red, the screen informs me that I no more than ten email addresses are allowed. When I am completely perplexed over who to eliminate, I realize how exhausted I really am. Next thing I know, the screen goes blank and I lose everything I've written. I rewrite my letter, but then the whole system goes down and I'm told if I want to send a message, I'll have to wait ten minutes and start all over. I leave the tent; I know when I've been defeated.
Next door is the camp post office and there's a letter in there from Lizzy! Two postcards from Denny. Lizzy's message is pure, encouraging and full of love. Denny's make me smile.
I head to the next tent and find the promised massage chairs. I go up to the woman holding the clipboard and ask to get on the list. She says they're full for today. "If you want a massage, come back at 3:45 tomorrow." I'm determined to make that deadline even if I have to run all 21.5 miles.
Finally, buzzing but not knowing what else to do, I lay down in my tent and zone out for a while. I can't sleep, but I guess what I do counts as rest. While I'm laying there, my cell phone rings–the only call I receive all weekend. It's Eli. "Mom, can you pick me up at ten?"
Silence. "Eli, do you remember where I am?"
Pause. "Oh yeah. I forgot."
An hour later, Renee and her daughter the rest of our team, most of whom I've never met, return to camp and we head over to the dining tent. Dinner is spaghetti with meatballs and meat sauce for the meat eaters, and with big chunks or zucchini and soy protein for the vegetarians. Garlic bread. A fresh salad bar with cucumbers, croutons and chick peas to put on top, huge vats of bottled institutional dressing, frozen cooked vegetables, and disgustingly sweet chocolate sheet cake. Another set of tables serve coffee, tea and hot chocolate.
It's cold now. The wind is whipping in from the Bay. I'm wearing gloves, three layers plus a windbreaker, and I've borrowed a hat. I'm still cold. Probably some of it is internal from the exertion, but wind is intense. Everyone is talking about it. Inside the huge white tent where we all sit to eat, it's warmer. Pasta never tasted so good. I pass on the veggies which taste gross and don't seem real, but I enjoy the fresh salad. I pass on the dessert after one bite, but I'm happy and feel well nourished.
At 7:00 PM, the camp show begins. A very lively, funny MC, who takes this show on the road all over the country, gives us the weather report, reviews the day's route, makes some jokes, and preps us for tomorrow. There are two hours of entertainment ahead, but I'm so tired, I can't see straight. It's the kind of pure physical exhaustion that leaves me unable to speak or think. I excuse myself and turn on my headlamp so I can find my way back to my tent. Once I get outside, I see it's unnecessary. There's a glorious full moon rising over the Bay providing all the light I need. It's easy to find my tent in this sea of identical pink domes. There's a multi-colored flag tied on top of my tent (Barbara sewed it for me last night while I was falling asleep), and besides, there's an annual tent-decorating contest going on and the team sleeping across from me has erected a life-size cardboard Elvis they've somehow managed to keep upright despite the wind. Their tents are covered with old 45s. With them as neighbors, finding my tent is a piece of cake.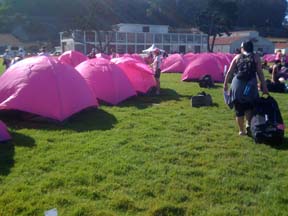 Zipped inside my tiny pink home, I lay out my clothes for the morning, refill my fanny pack with essentials, lay out my second pair of shoes (you're supposed to let your first pair "rest" for a day), a clean pair of socks, and a new tube of Vaseline. I add to the pile my credential, my visor, my pink sparkly crown and the pink Mardi Gras beads I picked up on the route today.
Once in my jammies, I climb into my sleeping bag and am grateful I brought my real pillow from home. I'm exhausted and my feet ache, but I can't fall asleep. I call home briefly (got to save those batteries!) and then take half a Valium. I'm so glad cancer introduced me to the wonders of the pharmaceutical world. The next thing I know, it's 5:30 AM and the alarm on my phone is ringing.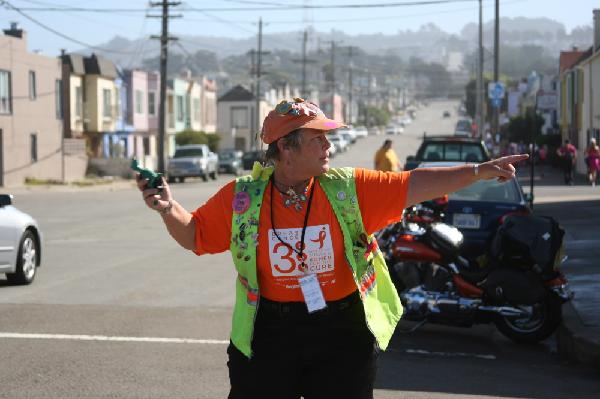 Day 2
I dress quickly and step out into the chilly morning air. Breakfast is a plentiful buffet. I choose scrambled eggs and oatmeal sprinkled with almonds, granola and raisins, and a glass of soy milk. Over breakfast, there's a slide show from yesterday's walk already set to an inspiring pop soundtrack: Put a Little Love in Your Heart, We Are Family (This seems to be a recurring favorite.)
After breakfast, I get in line at the front gate with fifty or so other eager beavers. I'm determined to get an early start. I'm going to get back by 3:45 so I can get one of those coveted massage slots. My competitive side is showing. The gatekeepers are waiting for dawn to break so we don't trip and injure ourselves. As they scan us out the front gate, they tell us we'll probably catch the sunrise while crossing the Golden Gate Bridge. We do. It's glorious.
I start keeping pace with a first-time walker named Wendy, who's also walking alone. She's the only obvious butch I've seen in the crowd so I make an extra effort to be friendly. She feels me out with comments like, "I really expected more diversity here." I know she's not talking race. I've passed Latinos, Southeast Asians, Blacks and others in this crowd. Her comment is code for, "Where are all the queers? These are all straight people."
I let her know that my partner Karyn and I are about to celebrate our 20th anniversary and she visibly relaxes. I tell her I've got three kids and a grandson. She tells me about her eight-year-old daughter who'll be waiting for her at one of the cheering stations down the road, "but I have to pretend to be surprised."
Wendy and I spend all morning together and eat lunch leaning against a chain-link fence, talking about our lives, comparing notes on lesbian parenting, and speculating why there's no visible queer presence on the Walk. Obviously, tons of lesbians get breast cancer. Why aren't we more visibly represented? Is there something homophobic from on high that we newbies don't know about? Of course, you never know by looking, but this does seem like a very straight crowd. Wendy and I have fun trying out our gaydar. I spot one gay man and two women I think are a couple. I offer one of them some second skin when they are stopped by the side of the road tending to a blister, but they brush me off. If they are a couple, they certainly don't want anyone to know.
"So many of these people are really into it," Wendy observes. "Lots of them walk in multiple cities. They're passionate and say the Walk has changed their lives."
I know it's changed mine–and I hope the change sticks. I was a chemofied couch potato when this started, and I want to keep walking and exercise for the rest of my life. But, as I tell Wendy, I feel a little too well-cooked as a human being for anything, even an event of this magnitude, to make a convert out of me.
Wendy wonders out loud if people keep coming back because they are attracted to the incredibly sense of community that surround this event–the warmth and caring, the playfulness and sense of belonging–things those of us who've had to create our own extended families because we're gay, take for granted. I find her theory interesting. It's hard to gauge coming from the bubble that is Santa Cruz–where community is everywhere, for everyone, but she's right, this event feels more like a big gay pride parade than anything else I've ever been a part of–the sense of drama, community, grief, solidarity and humor. Not to mention the costumes. The music is right out of a gay bar. And everywhere you look, men in pink.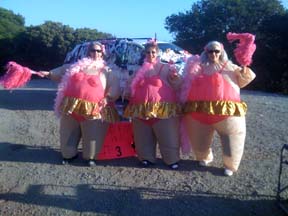 It's fun to have a like-minded comrade for awhile. Our pace is compatible and the miles pass quickly. Unfortunately, Wendy is nursing giant blisters and it's only Day 2. Every time we come to a pitstop, she goes into the medical tent to get them lance or re-bandaged. I wait for her or she waits for me at the exit. We stay together until we arrive at the cheering station where her little daughter waits waving a sign, then runs down the sidewalk and jumps into her arms, screaming, "Mommy! Mommy!" I can see she'll be staying for a while.
After we separate, I stop at a table by the side of the road and buy a pink hat that has the word "survivor" stitched on the back. I've been a survivor of so many things, not just cancer, and I'm proud of it. I want people to know.
"Twelve years for me," the vendor tells me. "How many for you?"
"I was diagnosed in June of 2007. Finished my treatment a year-and-a-half ago."
"Well, good for you. Have a great walk!"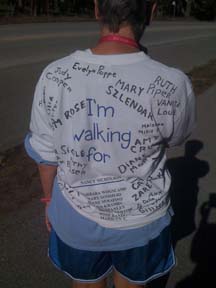 Day 2's route is beautiful. We cross the Golden Gate Bridge and walk through Sausalito to Mill Valley. We pass art galleries, yoga studios, bakeries, several Starbucks, and all kinds of hip, expensive, trendy Marin shops. It's fun window shopping. I stop for a chai and an excellent scone. I see other walkers duck out for a real cup of coffee.
After our lunch break in Mill Valley, we turn around and retrace our steps. I only stop briefly, refilling my bottles, using the portapotties, grabbing some peanuts or a Crustable, and heading on. I've got massage chairs on my mind. When I get back to camp, I'm not going to make the same mistake I did yesterday. I'm not dicking around changing clothes, taking a shower or anything else. I know where I'm headed once I cross those gates.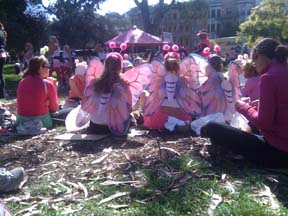 By serendipity, I meet up with Wendy again. She confides that she's having trouble with all of the pink. "Makes you feel like you're in drag?" I ask. She laughs.
We walk the last five miles together. There is one last long steep hill at mile 18 before we get back on the Golden Gate Bridge. One of the San Jose bike cops rides alongside us playing the theme song from Rocky. When we crest the top of the hill, he rides down again and escorts the next group of walkers to the top. He does it over and over again all afternoon. Talk about a pair of calves.
The Bridge is much busier now than it was at 7:00 in the morning; it's full of tourists, but fortunately for us, the late afternoon wind hasn't picked up yet.
Wendy and I part ways when we reach camp. Her feet are really hurting. I've got only one thing on my mind. Everyone has his or her own idea about what to do first after walking 21.5 miles and I can guarantee you they've been planning it all afternoon.
It's 3:42 when we get back to camp. The gatekeepers scan our badges and hand us half a sheet of paper, some announcements for the evening. I fold mine up to read later; I'm not wasting a minute. I cut through the grass, the quickest way to get to Main Street. I'm determined to get on that list. But all I see in front of me is the Bay. All the merchandising and sponsor tents are gone. The massage tent is gone. I look around to check my bearings. There is the dining tent, the Remembrance tent, and the sea of pink sleeping tents. I am not hallucinating. Main Street is gone.
I unfold the piece of paper I've been clutching in my hand. "Due to high wind warnings, Main Street has been closed. Sorry for any inconvenience." Inconvenience? INCONVENIENCE? This is criminal!
Crushed, I wander aimlessly for awhile. I meet up with several other despondent walkers who had their eyes on the prize as well.
I head to the showers. As I reach for one of my tiny towels to dry myself, I look to my right and see a large woman with a missing breast, a bald head, and a large mastectomy scar. She's standing there unashamed, just like I am, our scars visible for everyone to see. I wonder how many places she feels comfortable being naked. I'm glad this is one of them. Instantly, I'm reminded why I'm here. My resentment over the missed massage disappears. I decide it's time to go to the Remembrance Tent.
Large and white, the Remembrance Tent is set apart from the rest of camp. Beside it are four smaller white domes. Each of the smaller tents has the name of a city: Chicago, Twin Cities, Denver, Boston. I assume these are the last four cities that have been walked. The fly of each tent is inscribed with dozens of personal messages penned in black marker:
"I miss you Aunt Marge. I hope you love heaven. I'll see you again someday and we will find a cure. XOXO With Love, Tracy."
"Mom, I wish u were here. Sheri Claire."
"Oggie, we love you and miss you. You were the best."
Inside the large Remembrance Tent is a table with journals set out on a black tablecloth where we are invited to express our grief and write tributes to those who have died. The room is gently lit and for one, soft music plays. The walls are lined with framed black and white portraits of women who walked or crewed the 3-Day Walks and later died, mostly of breast cancer. In the center of the room is the small tent for San Francisco, identical to the ones outside. There are already many inscriptions:
"Loved and missed: Daisy Umiamaka, Anne Pawlishak, Colby Curtin, Nyla Burbridge, Beth McShane, Harleen Attieri, Darlene Miller, Will Never Forget, XOXO Turi"
"Mom, Ann is walking, Billy is crewing, Dad and Lucas are cheering. Chris and I are here. We miss you, Beth."
"Peachy, take care of yourself up there. Love you."
"Auntie, I lost you just as I was learning how much you have to give. I miss you so much, Rachel."
"I walk for my baby girl. May she never ever worry about breast cancer. Mom."
I'm reminded of my first visit to see the AIDS quilt years ago. The sense of magnitude. The enormity. The grief. The staggering loss of human potential. When statistics become real people, we are motivated to make a difference. I am so glad I am walking.
Back outside, I can't find Wendy or Renee or the rest of my team, so I head alone to the food line. I don't mind. I don't feel like talking right now.
Dinner is veggie burgers with picata sauce, wild rice, salad with feta cheese, and real brocolli. A talented high school acappella group, 'Til Dawn, serenades us through dinner. Of course, I think of Eli and his chamber choir.
Right before 7:00, three-and-a-half hours after I finished walking, the MC announces that the last walker is arriving at camp. She asks us all to get up from our dinners, to go out into the windy night and to form a corridor to welcome her home. We empty out of the dining hall and get in formation; our parallel lines extend far out into the night. The full moon has risen and the last walker arrives, flanked by supporters on either side; we cheer her all the way to the flagpole where she has the honor of raising a pink flag that proclaims, "One day closer to the end of breast cancer." The flag whips in the stiff wind.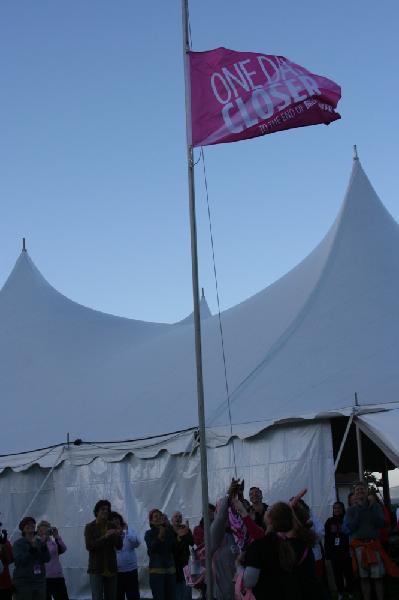 Back in the big tent, the camp show begins. Despite the day's mileage, I have more energy tonight. Our MC reviews our route, give us a weather report and talks about Day 3. We're instructed to fold out tents (there's a very funny demonstration about how to do so), pack our bags and bring them back to the trucks before we leave camp in the morning. The route will be open at 6:45 and everyone has to be out of camp by 7:30. Breakfast starts at 5:00.
After the announcements, two walkers are called up to tell their stories, the first, the top fundraiser, who brought in over 36 thousand dollars (and was given an honorary large tent). The second is a breast cancer survivor. The first woman is a radio personality (that's how she raised all that money) and is quite funny. At one point she quips, "Well, it's not a cake walk, but you could call it a walking buffet."
After the speakers, the MC leads a game show where contestants are quizzed on questions about breast health followed by the finals of the annual rock star competition. Then she introduces the crowd's favorite Saturday night tradition: "We always have a dance party on Saturday night because nothing says I walked 40 miles like getting your groove on." The men are forced to get up on stage and dance first (she calls it a "mance"). The music is loud, the beat infectious, and it feels good to move. Dancing keeps the muscles from tightening up and helps us stay limber.
A thousand walkers are still dancing to Saturday Night Fever when I call it a night and head back to my little pink home. I use some of my precious cell minutes to call home, take half a Valium, and the next thing I know, it's morning.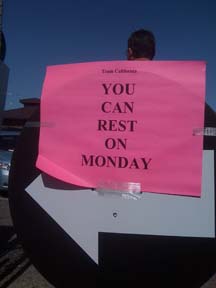 Day 3
I walk alone for most of Day 3. We're trucking through San Francisco proper, getting a tour of the Panhandle, Golden Gate Park, the Haight, Chinatown and North Beach. Well-wishers are out everywhere, sitting in cafes, standing on street corners, handing out Mardi Gras beads and Milky Ways.
At 7:00 AM, just fifteen minutes out of the gate, I see a whole bunch of walkers clustered eagerly around a makeshift table. Would it be the usual? Tootsie pops? Stickers? No, it's two guys making mimosas as fast as they can. I ask for a glass of straight orange juice.
Walking alone, I think about all my friends with autoimmune diseases, friends with illnesses that can't be identified or diagnosed, friends who've been told it's all in their heads, friends who've gone from doctor to doctor, told there's nothing that can be done. There are no 3-Day-Walks raising money to fight their disease. People aren't standing on the street corners applauding their courage. There aren't tee shirts and sports gear declaring war on their illnesses. I realize how lucky I am I had breast cancer.
My calves are really hurting. I'm starting to hobble. At pit stop 2, I break down and sign in at the medical tent. A man tapes me up with some kind of athletic tape that's supposed to help hold your muscles in the right position. Frankly, I can't tell the difference. I keep walking.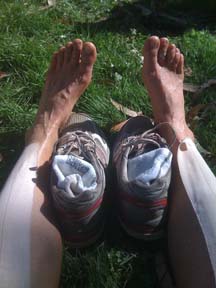 At five miles, I come upon a young man carrying the flag that says, "I Walk For Myself" and ask if I can carry it. He surrenders it readily. It fits snugly in my hand.
When I reach Golden Gate Park, my friends Denny and Yosi are waiting for me. They jump up out of the impromptu cheering section they'd joined and walk the next few miles with me. It's great to have friends see what this whole crazy event is like.
At the lunch stop, they go their way and I head to the medical tent. I'm experiencing shin splints, shooting pains up the front of my shins. Every step is painful. A chiropractor works on my legs for ten minutes. His touch is firm and knowledgeable. There's a line, so I get up and go on my way. A woman who's still waiting asks me, "Did it help?"
I shrug then add confidentially, "He had really nice, warm hands."
She laughs. "I guess it did help then."
The last four miles of the day are hellish for me. It's just pure endurance. The more tired I get and the more pain I fell, the less I drink and the less I stretch. It's a vicious cycle. I've hit a wall but I'm determined to make it to the end. As we pass through North Beach, I do metta practice for all the people I know who are suffering, including myself: "May I be happy. May I be at peace. May I be healthy. May I be free."
I try to stay in the moment. I say to myself, "Pain feels like this. Exhaustion feels like this. Commitment feels like this."
Sitting down in the brown portapotty at the last pitstop is painful. All my joints and muscles hurt. I don't want to get up again. I don't even know if I can. But I do. A couple of miles from the end, I consider flagging down a sweep van, but I don't want to. I won't. I am going to finish.
A mile from the holding area where we'll wait for the rest of the walkers to arrive, I meet three women from a team on the Peninsula. We walk together for a while. At one of that last stop lights, I sag against the lamp post when the light turns green. One of the women turns and says to me, "Here, let me walk you in." I've never met her before, but she links her arm in mine and walks with me like that for the last half a mile. Her name, she tells me twice, is Merine, "like Merlin with an e." I will never forget her. She walks me through cheering crowds through the gate to the finish line. Disco Inferno is blaring on the speakers and she smiles at me.
"I'm alright now," I tell her and I am. I walk alone through the columns of cheering greeters to the tables full of Victory Shirts. There are white for the walkers, pink for survivors, red and purple for volunteers and crew. I proudly don my pink shirt. I take off my shoes and socks and set them behind me in the grass. Barefoot, I join the growing line of greeters. Funky Town blares through the speakers. The woman next to me, also in a pink tee shirt, hands me a pink cheerleading pompom and says, "Don't sit down or you'll be sorry. You'll never get up again. It's much better if you dance."
And so I dance. The music is irresistible: Gotta Get it On, Girls Just Want to Have Fun, Jive Talking, Dance to the Music, Voulez Vous Couchez Avec Moi, Hot Stuff, Staying Alive, early Michael Jackson. I slap the hand of every walker who comes in, hundreds of them over the next two hours. I can't stop crying as I look at each exhausted, exhilarated face. They come through the line walking, dazed, running, dancing, skipping, limping, bandaged–all ages, all sizes, all colors. They come in alone, they come in with teammates, they come in with their children and families. One woman hobbles in on crutches. She broke her leg on Day 2.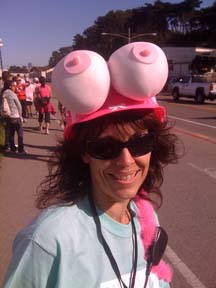 The mass of humanity that flows by is astounding. Dancing in place, I study their costumes: hats with flamingos, hats with boobs on them, hats with fuzzy antennae in green, pink and orange. A hot pink hard hat with foam breasts on top. And of course, bunny ears. A woman has pink woven into her dreads. A man's beard is dyed pink. Team shirts proclaim, "One in Eight," "Young Survivor's Coalition," "Rack Attack," "Tickled Pink," "Saving Reese's Pieces," "Breast Friends," and "Save the Tatas." Individual shirts sport equally creative logos: "Know Your Knockers," "Real Men Wear Pink," "Cash for Knockers," "Big or Small, We Save Them All," "Failure is Not an Option," and "60-Mile Man." One extended Filipino family wears identical pictures of the woman they loved on their chests.
I have to breathe to take it all in. Every one who passes by men, more than a thousand strong has been as deeply touched by breast cancer as I have.
Nothing hurts anymore.
And then the crew comes through our lines. All the medical people, food servers, cooks, logistics people, food stockers, pitstop workers, traffic directors, sign putter-uppers, route safety people, sweep drivers, clean-up crew, beverage dispensers, cops on bikes. All volunteers. Every one of them. The crowd goes wild. These are the people who made our three days possible. They encouraged us, entertained us, fed us, cared for us, and kept us safe. They danced in the streets for our pleasure and now it's time for us to thank them.
We're told the last walker is about to arrive. We Are Family plays as she is swarmed by the crowd. She's a large woman and she looks dazed, tears streaming down her face. "You did it," she hears chanted by hundreds of grateful, dancing admirers. "You made it!"
It's time for us to line up to walk to closing ceremonies a few blocks away in Marina Green. No one asks how far it is. We are all walking on air.
The volunteers and crew line up first, then the walkers in white. We survivors, in rows of five with arms linked, bring up the rear. I've found Renee and we're standing side by side in the same row of pink.
It's freezing out. I'm wearing a tiny pair of shorts and snuggle up to my neighbors for warmth. As we enter Marina Green, music and voices envelop us. And then I hear our cue, "There's one last group that are the real heroes here. Not only have they survived breast cancer. Not only have they faced surgery, chemo and radiation. Not only do they live with the fear that their cancer may return. That isn't enough for them. Now they want to give back. They have walked 60 miles to help find a cure. They are our survivors."
And we press forward. Off to the right, I see Karyn and Lizzy and Eli and Temme, Denny and Yosi, my niece Sonya and her boyfriend Joey. They are beaming at me as I walk by in formation. When we get close to the stage, all the other walkers sit surrounding us, holding their shoes up in the air in tribute to us.
We are told we raised 4 million dollars. With your help, I raised $6000 myself.
Closing ceremonies end with one last pink flag raised up into the sky. It boldly asserts, "An End to Breast Cancer."
I hug Renee, then walk back to find my family. The kids jump on me so hard they almost knock me over. The look of pride in Lizzy's eyes is worth the entire walk. I hug Temme and Karyn, Sonya and Joey, Denny and Yosi. Karyn says she's already picked up my bag and put it in the car. What a relief. I can't do one more thing.
Karyn and Lizzy and Eli and Temme and I go out to dinner. In the car on the way, Temme says, "I'm so proud of you. This is the best day I've had since I've moved to California."
Eli is quiet for awhile, then says, "Do they really mean an end to breast cancer? You can't eradicate breast cancer." As he warms to his subject, he grows more emphatic and animated. Soon he's gesturing with his hands. "Cancer isn't a disease like smallpox. Smallpox is created by microbes. Microbes you can actually eradicate. You cannot eradicate a mutation. Curing breast cancer would be equivalent to curing blue eyes. It's something that happens within a person's cells. You can make it so that breast cancer is no worse than getting the common flu; you get it, you're sick for a couple of days and then you get better. But you can't stop a mutation from occurring without messing with human's genetic code, and that's not good."
My God, he is so Eli. I am so happy to be with him again.
At the restaurant. I have a glass of wine and eat a burger and fries. I'm so wiped out, I can barely talk, but that's okay because the music is so loud, we can't hear each other anyway.
When I look around, I realize something odd: I'm the only person in the room who's wearing pink. The 3-Day Walk is over.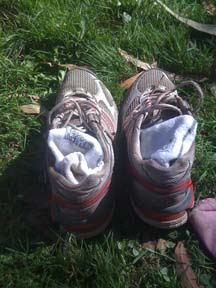 The Morning After
Karyn lets me sleep in. I wake naturally to the sounds of the household getting up for school. Putting my feet on the floor is painful, one of the symptoms of plantar's fascitis. I don't think I have a bad case, but 60 miles definitely exacerbated what I had. I've been told I should stretch before I get out of bed, but I forgot…again. I am sore and feel hung over, a bit like I've been through a train wreck, but a happy train wreck.
My first thought of the day: Ouch, my foot hurts. My second: I did it! After that? It's amazing to be able to use a toilet when I need to instead of holding everything in until the next pitstop. It's amazing to be able to flush, to wash my hands in a real sink with foaming soap. To have slept in my own bed with my own blankets. Little luxuries, one on top of the other.
I see the kids off to school, check my email, make a cup of chai. Call Mom. Sit down to record my journey. Gotta get it down while it's still fresh.
Will I walk next year? I think so. I might even start a team. Want to join me?
P.S. Walkers have to train and raise money. Crew members don't but work hard for four days. Both are part of an amazing experience.