This is the blog I sent home from the first Writer's Journey writing and yoga retreat in Bali, held in June of 2012. I hope that it captures some of incredible magic and beauty that saturates the culture and people of this very special island.
The posts begin when my 15-year-old daughter, Lizzy, and I arrived in Eastern Bali, a week before the retreat participants joined us at our beautiful retreat center perched on the Indian Ocean.
–Laura, June 2012
P.S. There are a lot of photos in this blog report, so you may need to let it load for awhile and then come back and read it.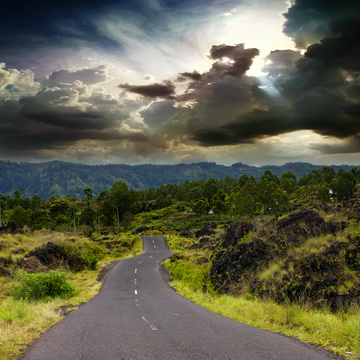 Post #1: Greetings from Halfway Around the World….in Bali!
With the help of a lot of online movies, some Ativan and half a Valium, I slept for most of the way across the Pacific and have arrived with Lizzy in Bali.
The first thing we both noticed when we got out of the airport was the humidity–not quite a wall of heat, but almost–and the motorcycles that were absolutely everywhere.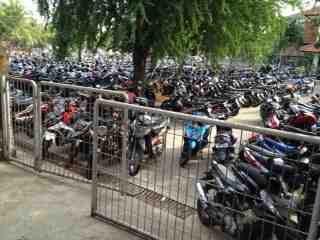 When the driver from the hotel picked us up, he immediately handed us cold washcloths to wipe away the travel grime and cold bottled water. His van was a bit cold for my taste with the air conditioning–we had to wrap ourselves in our sweatshirts.
The road was a mass of motorcycles with cars weaving in and out (including ours). Off to the side of the road, the English language billboards close to the airport gave way to verdant fields of brilliant green. There was so much to see on our hour-long drive to our hotel.
Walking through the gates of the Lotus Bungalows was like walking into heaven. We are staying in a small bungalow with a wonderful bathroom with an outdoor shower, a small fridge, safe, two clean comfortable beds, brilliant flowers on our pillowcases and fresh water to drink. A long luscious pool with lounges is right up to the ocean. Ten minutes after we arrived, a woman came bearing a tray of tropical fruit for our refreshment.
We had wonderful dinner–clean white fish for me, some kind of steak for Lizzy. We both loved our dinners and they cost $7.00 each–and this is in a tourist hotel where prices are inflated.
After a luxurious outside shower and a bit of unpacking, we're ready to drift off into sleep. Jet lag is upon us. Hopefully, we'll wake up refreshed.
More adventures await tomorrow.
In the spirit of adventure,
Laura
Post #2: Three Dives In One Day….I'm Still Floating
I came a week early to Bali so I could get acclimated and prepare for the writing and yoga students that will be arriving from all over the U.S. (and one from Australia) next week. I also did it because I could (why fly all the way around the world for just two weeks if you can stay longer?) And the third big reason was that it gave me a chance to spend a week with Lizzy, who at 15, doesn't really give Karyn or I the time of day very often when we're at home.
And we chose this place, Lotus Bungalows in Candi Dasa, not just because it's where the retreat will start next week–and I'd learn the lay of the land, but also because this place just so happens to double as a dive resort and Lizzy and I love scuba diving.
I'm definitely a fair weather diver. I dove a lot in my early thirties before kids, took a decade and half hiatus, and now I try to go at least every couple of years. I am definitely only a warm water diver. I tried diving once in the Monterey Bay. It was freezing, we had to lug all our heavy equipment across a huge beach, I had to fight through the surf to get in the water, I was enveloped in kelp, and could see only three feet in front of me. There was no visibility. What was the point?
But I love to dive. I love the weightless floating sensation, the incredible fish and coral and marine life you can see. So I jumped on this chance and Lizzy jumped right along with me.
We've decided to take the Advanced Open Water Course, which entails doing five special dives: navigation, deep diver, drift diving, night diving, and peak performance buoyancy. This is a good thing because it's fun to learn new skills and it opens up many more dive sites to us. The down side is that by the time I go on another vacation where I can dive, I will have forgotten every bit of what I will learn here in the next week. And the other negative is we have to study! Yes, we have a book that covers each of these subjects and we have to go over the material, and get 75% on each section in a test!
So far, we've just being diving for fun. We did a night dive tonight, in the pitch black water, holding these giant lights and seeing all kinds of nocturnal miracles: three octopi, a squid eating a fish, all kinds of amazing coral, and huge bright blue starfish. Between the momentum of the boat that took us out there and the weightless sensation of diving, I'm still rolling around inside my body, all tucked in my bed. (Lizzy's happily reading Memoirs of a Geisha on the Kindle in the bed next to me).
Our first couple of days in Bali, we've barely ventured outside of this bungalow dive resort. It's peaceful here and we're the only Americans. The other guests are all Europeans. Lizzy remarked that there are people here speaking to each other in Dutch, German, Indonesian, and Balinese. We can't understand any of their conversations, but they can understand ours, because everyone speaks English!
The food here is plentiful, delicious and cheap. Lizzy and I just had a late dinner by candlelight. As we played Rummikub (with two decks of cards), our vacation tradition while hanging out in restaurants, we were perched on the edge of large patio, looking out at the lit turquoise pool and beyond it the Indian Ocean. It was a stunning view.
I was very happy with the Balinese-style fish I ordered, wrapped in banana leaves and served (of course) with rice. Lizzy ate a piece of steak with some kind of peppercorn sauce. The food was healthy and delicious, completely satisfying, and the bill (including 21% gratuity) came to 98,000 rupia. When I plugged that in to the Convert App on my iPhone, I found out we'd just spent 10 bucks for dinner–for both of us!
More adventures await tomorrow.
In the spirit of adventure,
Laura
Post #3: Two Glorious Dives and 20 Manta Rays
Lizzy and I just returned from two spectacular dives. The first, called a drift dive, means toppling over backwards into the ocean from a boat with all your gear, holding your regulator (breathing apparatus) in place up to your mouth, and your mask in place with the other hand. Then you roll backwards into the water. It's one of the first things you have to master when you learn to dive.
Jan, the Danish man who manages this place with his wife, Henriette, was our divemaster today. And he was the personal guide for Lizzy and I underwater. We went down about 70 feet and there was this endless (seemingly endless) wall of coral. And the current just pulled us along and all we had to do was relax, and occasionally turn or pivot to see something of interest. There were hundreds of kinds of coral in every color imaginable. Fish of every hue, whole schools of them swimming by. I could have stayed down there forever, but our dive computers told us we had to surface to keep from getting too much nitrogen in our bloodstream.
You have to wait an hour between dives, so the boat took us to the next dive site–a rollicking high speed ride with the boat slapping up and down. Thank God for the transdermal patch I'm wearing behind my ear for seasickness. Good planning on my part.
Funny enough, the other five divers on the boat were all French. And yet all the instructions were given in English! Lizzy is fairly fluent in French and eventually got up her courage and introduced herself to one of the women and got to practice her French. They told her what a good accent she had, and Lizzy, though being exceedingly polite, was beaming.
Our second dive was at Manta Point and as we got all suited up, Jan said, "Let's go see some mantas!" He said it was hit or miss; he couldn't guarantee anything. "Sometimes we come out here and there's nothing."
But less than minute after we descended 30 feet to the bottom, manta rays were swimming above us, one after the other. We watched for an hour, drifting back and forth in a very gentle, soothing current, and each time one member of our party spotted one, they'd point and soon we'd all be riveted on the next one–and the next. Sometimes they came by in pairs. We saw at least twenty–I think more. They were breathtaking creatures, slow and graceful in their passage through the sea.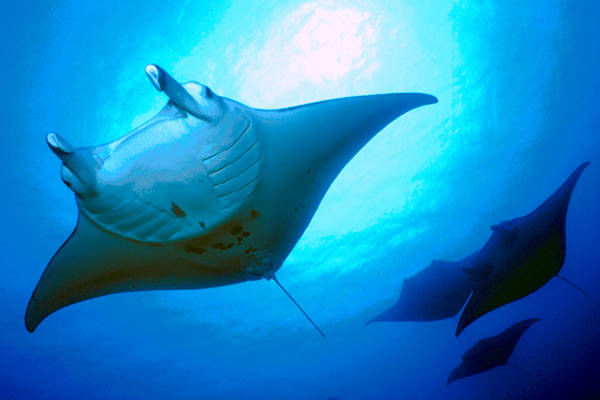 Now we're back in our room. Lizzy's taking a quick shower and then we're going to meet Jan and get certified for the use of Nitrox, an enriched blend to dive with that has more oxygen than the usual "air" typically used in diving. It means longer dives and more bottom time, which (if we pass our test), we'll be able to take advantage of starting tomorrow.
More adventures await as the day unfolds.
In the spirit of adventure,
Laura
Post #4: I Did Something Today I Haven't Done in More Than a Decade….
It was a simple thing, really. Something I did once or twice on camping trips, years ago, inspired by Karyn. I painted!
One of the handbooks to "leading a creativity tour" that I read before I came to Bali suggested not just doing what you are already good at (in my case, writing), but to use travel as a way to explore other avenues of creativity that might be dormant.

Following that advice, I went down to Palace Arts and bought a very small, stackable water color set, a few very cheap brushes, a tiny pack of 12 colored pencils and the smallest Moleskin watercolor pad I could find. All of it, (expect the brushes, which were too long) fit neatly in a little zip lock bag.
And today after diving, I brought the art kit and a book out to the huge couch near the pool to relax. I read a few pages of the book and decided to draw instead. Why not? There's beauty here everywhere I look!
And so I sketched the gorgeous vase of flowers in front of me, and then the end of the couch I was lying on. And then I got a cup of water and started painting in the drawings. I'm no artist, but it was fun. I felt focused, concentrated, awake and alive. And I did it all for my own pleasure.
One of the Balinese waitresses came up and asked if I wanted a drink (fresh papaya-pineapple juice is my current standard order) and she said in her minimal English, "Is that your hobby?" I smiled and answered, "I haven't done it in over a decade, but I'm doing it now." And doing it now made me feel very, very happy.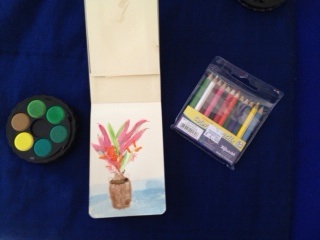 And you can see how happy Lizzy and I were after our second dive today, where we practiced riding the currents and communed with a sea turtle from a couple of feet away. We also saw a white-tipped reef shark (perfectly safe) swim by.
And after we got back, we practiced our navigation skills with a compass. Tomorrow we get to do them underwater at the site of a World War II wreck, The U.S.S. Liberty.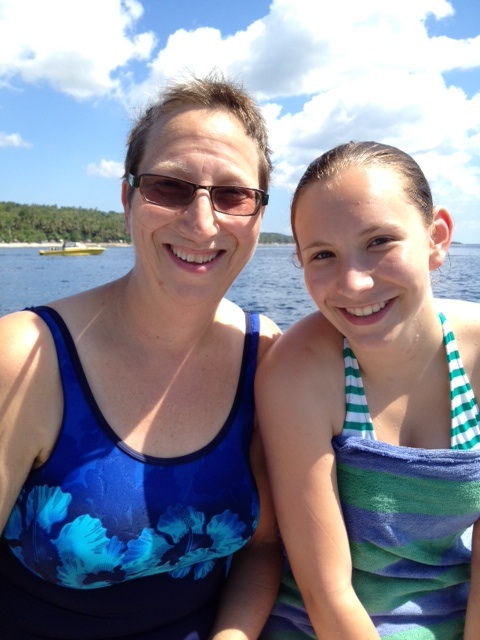 Now I'm waiting to get a two-hour extra special Balinese massage, first an in-depth massage of the feet, then the whole body. The massage pavilion is open aired and by the pool. I've been watching massages happen there for the past couple of days, and thought, I want one of those!
The price for the extra deluxe two-hour massage is 350,000 rupiah. When I looked that up in my handy-dandy conversion app, I saw that it means I'll be paying $37 for a two-hour massage. I'll let you know how it felt later…
More adventures await as the day unfolds.
In the spirit of adventure,
Laura
Post #5: So I Was Sitting on the Porch Reading a Book…
And Ketut the masseuse came over to find me. She was carrying a plastic tub and a tray with bath salts, a loofa and a couple of bottles of what looked like essential oils. And a lot of fragrant flower petals. She got some hot water from our bathroom and then as I sat on the porch, she had me soak my feet and started massaging them with salt, perfumes and flower petals.
When I asked her for her name, she told me Ketut simply means fourth-born, so every fourth born child, male or female, in Bali is named Ketut.
Fifteen minutes later, we walked over to the massage tent by the pool, less than a minute away. I wasn't sure what the protocol was about massage in Bali. Was I supposed to strip naked, like I would at home? Or was I supposed to keep my clothes on? Although her English was marginal and my Balinese was nil, I got the message to leave my underpants on and take everything else off. I climbed up on the massage table and settled myself face, down, so my face nestled in the face cradle. And there, right where I was looking down at the wooden floor was a hollowed out half a coconut with floating tropical flower petals wafting their odor right up to me! It was put there just for my sensory pleasure. And maybe to bless the massage. It was beauty incarnate.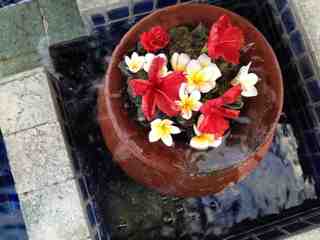 That's when I realized that everywhere in Bali, there are flowers. Every time our room is cleaned, the beds are made perfectly and there's a jasmine blossom left on the pillow. Same with the bathroom sink, the soap dish, little fragrant flowers left everywhere. I feel as if I am walking in beauty, everywhere I turn.
Ah, the massage. Ketut had strong, practiced hands. I said I wanted a hard massage and she gave me one. As I laid there, I could hear the waves on the other side of the massage pavilion, and feel the afternoon wind coming through the cloth walls of the pavilion. So there was this gentle, cooling breeze blowing over me at the same time that Ketut's hands spread their warmth across my body.
As well as we could, we talked about the universal thing all women talk about. How many children do you have? How old are they? I told her I had three children and one grandson. She said she has four children and six grandchildren, and that in Bali, you have to pay to go school. There is no free education.
Ketut asked why my husband wasn't with me, and I just didn't think with the language barrier and cultural divide, it was the right time to give an honest answer, so I just murmured, and let the question pass. "Is he working?" she asked. "Yes, working," I replied. Then I surrendered again, to the flowers below me, the hands on me, and the wind all around me, the billowing white curtains, and the faint voices of other guests at the pool.
We entered the massage tent at 5:15., in daylight. But the time I left, at 7:00, it was deep night. I went up to the restaurant to meet Lizzy, who had been devouring "Memoirs of a Geisha" on the Kindle the last time i saw her.
Lizzy found me and we went to the dining room where a special "Bali Night" was about to begin. A buffet of traditional Balinese foods. Two Balinese dancers. I was determined to taste everything, even if I had no idea what it was I was eating. So I took a little of everything on my plate. Most of the tastes were pleasant, some more than others.
After several dances, there were the desserts. There were two kinds of cookies that tasted like Indian confections I learned to make 30 years ago–usually out of some equivalent of cream of wheat, rosewater and a lot of sugar. They tasted pretty good. Then there was this other dessert wrapped up in a palm frond. It looked a lot like the yogurt push-ups that Eli and Lizzy adored when they were small, the kind of ice cream, frozen thing that's in a cardboard tube and you push a stick at the bottom and the ice cream/yogurt comes up the top. It looked kind of like that, only the whole thing was wrapped in a spiraling piece of palm frond instead of a cardboard tube.
Lizzy and I each took one. I took a bite and there was not one single familiar taste in what went into my mouth. Not one. It wasn't horrible, but it wasn't appealing either. I took another nibble and then another. (You know how when something isn't very good, you eat more thinking it might improve? Not!)
When the young Balinese woman came to clear our plates, I asked her what it was and how it was made. She said it was made from flowers, the essence of flowers mixed with sugar. Well, that made it a lot more interesting. So I peeled back more of the palm frond and ate a little more. I let it sit in my mouth and closed my eyes imagining the taste of flowers exploding in my mouth. It did taste early and primal then, as if I was eating beauty. So I ate a little more.
Then Henriette, the manager of Lotus Bungalows came over on her rounds of working the tables and chatting up the guests. When she reached us, we asked about the wrapped-up dessert again. She said she didn't think the Balinese ate flowers. So she called out one of the cooks, who said that the dessert is called, Cerecot (pronounced with a "ch" at the beginning). It's Balinese cake, she told us, and it's made from palm sugar, coconut milk and rice flour. And then wrapped in shredded palm fronds.
Suddenly it didn't taste so good anymore. Though I really did try to like it.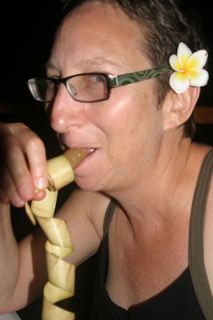 It was moving to me to see the two dancers perform. The image of the Balinese dancer is so iconic. Even though these dancers were being paid to dance for a room full of international tourists (we remain the only Americans), it still was awesome to see those movements and that costume live, in person, in Bali.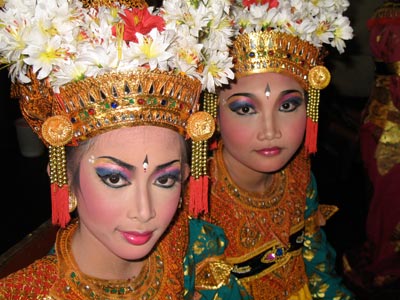 After their dances, they tried really hard to get members of the audience to come up and dance with them. After a lot of encouragement and Lizzy telling me I wouldn't embarrass her forever, I became one of the volunteers: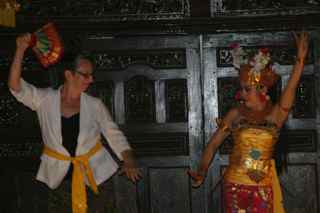 More adventures await as the day unfolds.
In the spirit of adventure,
Laura
Post #6: What It's Like to Go Back to School in Paradise
One thing about taking this Advanced Diving Course with Lizzy. She whips my ass at everything. Do you know the last time I had to memorize a formula? Cram for a multiple choice test? Retain facts from a textbook? Memorize anything at all? I stand no chance whatsoever with my straight-A daughter. She knows how to study. Her brain is like a steel trap. Facts don't stand a chance of escaping her mental clutches.
Me? As soon as I learn something–like the rudiments of how to work a dive computer (you wear it on your wrist–it looks like giant wristwatch) or follow the lubber line on a compass, I forget them. Not only does it take me two or three times longer than Lizzy to grok the concept, once I get it, it doesn't stick.
We got out in the boat and our instructor said, "Okay, now set your computers for nitrox. Now how deep can you dive?" And I invariably fuck up and press the wrong button or the right buttons, but in the wrong order, and then I have to get bailed out by our Danish instructor, Jan, who is a good teacher, but not exactly what you'd call patient or compassionate. He's all business.
So instead of acknowledging to him one more time that I didn't exactly get it, I'm whispering to Lizzy, "Now what am I supposed to do?" And usually she bails me out. It's humbling to say the least. I used to be the "A" student. But those days are decades away, in the dim past.
And so, I started the day cramming for the navigation and deep dive sections of our Advanced Open Water Course. Here you can see the evidence of the tough academic pressure I'm under: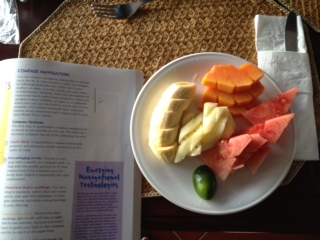 That's fresh pineapple, fresh papaya, fresh tropical banana, watermelon and half a lime to squeeze over them all.
After breakfast, at 8:00 AM, we met the dive van with all our gear already stowed in the back by the dive crew, and drove an hour on windy roads to the dive site–a sunken wreck called the USS Liberty from World War II.
The way people drive here in Bali is to continually change lanes, weaving in and out on both the right and left sides of the road, and to use the horn continually to make people get out of their way. Aside from vans (like the one we were in) and cars, the road is completely full of scooters, veering in and out of traffic.
The scooters often have whole families on them, a baby up front, a woman behind holding a little bigger baby, a four year old wedged behind them all. The younger women drive scooters of their own or ride in back, straddling the seat. But the older women (and some younger, too) sit sidesaddle and somehow manage to keep their balance.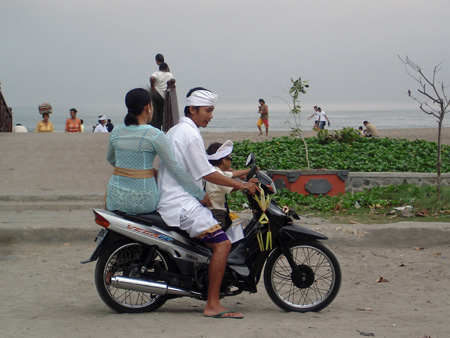 And you can't believe the things hauled around of motorbikes. Here's a sample of what we see everyday: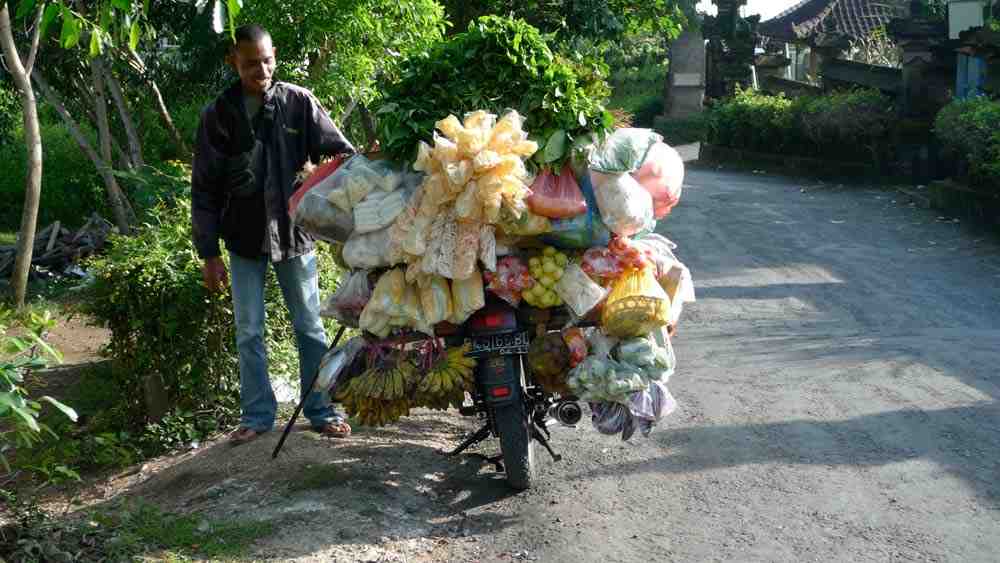 After a drive through verdant countryside and rice paddies that had more shades of brilliant green that I ever thought possible, we finally reached our dive site.
It was there, in the parking lot, that I had my first opportunity to squat in a real Balinese toilet. They are not for inflexible or the feint of heart: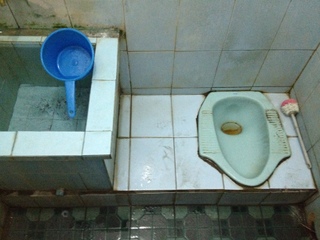 As we hiked down the dive site, a whole crew of Balinese woman had the job of carrying our full scuba tanks down the hill to the beach–and later, to carry back the empties.
I did the math–a full scuba tank is 57 pounds; an empty one, 43 pounds. It was shady, so I didn't get a very good shot, but they were carrying one of top of their head (with a rolled up towel for cushioning) and one over their shoulder…that's 114 pounds. And often, they'd also carry a couple of weight belts on their shoulder as well. They kept going back and forth, carrying tanks, and sometimes whole boxes of gear on their heads.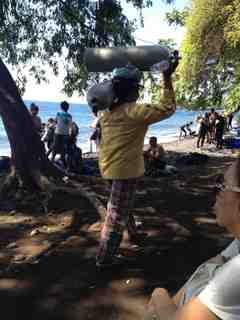 Back to our navigation dive. Well, I can't say it was fun. Not today. Because we were basically having an exam underwater, proving we'd learned the skills of diving deep (anything beyond 60 feet is considered deep) and navigating underwater.
It was a shore dive, which meant walking over a beach of underwater rocks with 70 pounds of gear on our backs. After two very awkward entrances into the water, climbing through underwater boulders to get to deep enough water to submerge, Jan took Lizzy and I to a "quiet" place underwater to do the skills for the underwater navigation part of our certification.
As buddies, Lizzy and I had to map a square and a triangle, with sides of a certain length while we navigated underwater. We took turns. One of us kept the compass bearing, while the other one made sure our depth was consistent, and counted kick strokes, one way of determining distance underwater.
When it was my turn with the compass, I did miserably. For one thing, I have a mask that corrects for my distance vision, but it doesn't do anything for close up vision, so I could barely make out the numbers on the compass. The mask I have is 20 years old and my vision has changed a lot since then.
And then I couldn't remember if we were supposed to add 60 degrees or 120 degrees when we turned, and all the rest of the technical details of how to navigate with a compass.
We even had to surface once so Jan could tell me what I was doing wrong. I thought for sure I was going to fail, but eventually on the third try, I did a passably decent job in creating that underwater triangle. It was not a fun dive–all skills and very little sightseeing, though we got a quick view of the wreck on our way back to the surface.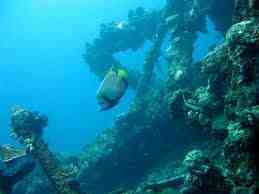 We're going out again tonight. This dive is purely fun. No skills tonight. I love diving at night. It's eerie and quiet and dark. We carry giant lanterns and the sea life is completely different at night.
Tomorrow we do two more dives to complete our certification and then we'll graduate! Getting this certification means I better find some other ways to dive, not just once every three or five years!
More adventures await as the day unfolds.
In the spirit of adventure,
Laura
Post #7: Offerings & Sharks: Just Another Day in Paradise
After two more dives this morning, I spent the afternoon on the large expansive outdoor couch by the pool, starting to think about what I want to teach in a few days when my partner, Karyn, and the 16 other members of our group arrive.
Today's planning session took place in the nicest environment I've ever worked in, but as I dove into "teacher mode," I could have been anywhere. I forgot for a moment that I was even in Bali.
But then I walked up to the front office to try to find Henriette, the manager, about a couple of things I need for the workshop. She wasn't there, but as I walked up the path, I saw several exquisite little creations made of leaves and flowers and grass with incense burning on top. One of the Balinese women working in the office came out and explained to me that they were offerings and that in her village, they make them every morning and every night.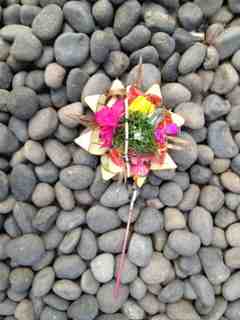 These small offerings are called 'canang sari' and the Balinese offer them to their Gods several times a day. Giving offerings is basically a ritual of giving back what has been given to you by the Gods. It is a sharing that is not based upon fear, but on gratitude for the richness of life. Offerings appease the spirits and bring prosperity and good health to the family. It is a duty and an honor at the same time, and from the Balinese perspective, it is a very natural, logical thing to maintain a good relationship between people and the spirits.
In the cities, the receptionist told me, people are not making offerings as often and the ingredients are more expensive, but in her village, which is very traditional, this is a practice that goes on every day.
As she was eager to practice her (very good) English, I learned a little more about scooters (she rides one to work), the educational system, and her family.
Then it was time for our night dive–the final dive of our advanced course. It was just Lizzy and I as passengers on the boat. This dive with Jan as our guide was just for us. It was one of the most amazing dives I've ever been on–there was a fair amount of surge, which if you relax into it, pretty much does all the work for you, washing you one way and then the other, you just steering a bit with a flipper here and a flipper there. We each carried a big lantern and when we found something of interest, we moved our lights from side to side to signal the others.
We saw huge lobsters, polka-dotted crabs, all kinds of scuttling creatures that I can't begin to name. They come out at night and you can't see them in the day. And then a giant white tipped reef shark swam right in front of us. Later, Jan told us it was very rare to see them at night.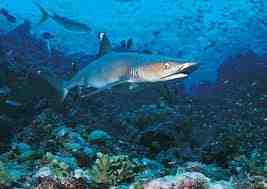 The whole time we were being lulled back and forth by the surge, like a giant womb. I loved the sensation and after a week of diving, I finally had back that sense of ease and relaxation underwater.
But then it was time for our final skill–we had to navigate underwater with a compass in the dark! Lizzy did okay. When it was my turn, Jan stopped me with his hand and very fiercely started doing something, I didn't know what, but he was making big giant movements behind me. I couldn't figure out what I was doing wrong. It wasn't until after the dive (and after I squeaked by on my night time navigation) that he told me my tank had come loose and he was tightening it on to my back again!
The only hard part of the dive (except for the compass) was getting back on the boat afterwards. They lower a metal ladder and you have to swim for the boat (on the surface), take off your weight belt and fins and hand them up to the crew and then climb up the ladder, rung by rung, with a wetsuit, a BCD and a heavy aluminum tank on your back. It's hard in the best of circumstances, but it a surgy sea it was way harder! I was breathing hard when I finally got back on to the boat.
But then, there was Jan shaking our hands, telling us we had passed! We were now Advanced Open Water Divers. It was a lot of work and precluded a lot of other things we might have done, but it was also great to have a focus, and I loved doing so much diving. Especially with Lizzy. Of course.
We'll probably dive one more time, on Tuesday, before everyone arrives that same day, at dinner time. But tomorrow (Monday here in Bali), we have a very different plan.
Henriette, the manager, has found for us two scooter drivers and we're going to get on the back of their scooters and basically tell them, "If you had a friend visiting you for the first time here in Bali, where would you take him? What would you want to show him about your country?"
We're going to leave the decisions to our guides/drivers. It's going to be an all-day excursion to….well we don't know where to! But we're excited.
When I told Henriette that this is what Lizzy and I wanted to do, she was all for it. She said, "I'll arrange it and I'll just put it on your bill."
"Sounds great," I said. It wasn't till later that I thought about what it actually might cost us to have our own private guides for a day–and transportation. I kicked myself for not asking, but then thought, "Well, whatever it is, it will be worth it."
Tonight, when Henriette said she'd made all the arrangements, she said, "Oh, yeah, it'll cost $200,000 rupia each." That sounded like a lot of money–two hundred thousand rupia–and I had to wait till I got back to our room to calculate how much. Well, guess what? It came out to $21.00 each for the whole day! Our day touring east Bali on the back of scooters with two personalized guides is going to cost less than a bag of groceries.
Visiting Bali is a lot easier on the pocketbook than visiting France. It's very nice to travel in a country where everything is cheaper than it is back home, rather than twice the price!
Now it's bedtime. I want to be rested for tomorrow. I can't wait for our $21 dollar tour guides to show us "their" Bali.
I expect I'll have a good report for you tomorrow night. In the mean time, imagine us weaving in and out of all that horrible traffic, holding on for dear life.
And that's just it, isn't it? Dear life. Sometimes it takes traveling halfway around the world to remember it.
More adventures await as the days unfold.
In the spirit of adventure,
Laura
Post #8: Heaven is Riding on the Back of a Scooter
This morning at 9:00, Lizzy and I were picked up by I Wayan Sumadra, (nicknamed Toto) and his brother, Komang. Toto spoke English fairly well; Komang, our second driver, spoke none.
With few preliminaries, I hopped on the back of Toto's scooter and Lizzy hopped on the back of Komang's.
Toto said to me, "I was told you do not want to go to the touristic places, that you want to see the real Bali. Do you want to go to the market where the local people shop?"
"Yes!"
"Do you want to see the most beautiful rice paddy in all of Bali?"
"Yes!"
"Do you want to see a Brahmin silver village and a blacksmith?"
"Yes!"
He could have said anything and I would have said yes. Yes! Yes! Yes!
And so we were off.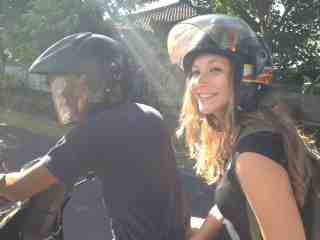 I used to drive a Yamaha 360 motorcycle back when I was in my twenties. And the second we took off on that bike, I felt free and happy. I knew how to lean into the curves and shift my weight with the momentum of the bike. And suddenly I wasn't just watching all that crazy driving. We were right in the midst of it!
But pretty soon, Toto turned off the main road and we were cruising up and down small country roads, driving through small villages. I was bombarded with so many images, I could hardly take them in. A funeral procession coming at us down the street, a wrapped body, carried high on a pedestal by pall-bearers. Huge mounds of coconuts and wood. Tiny storefronts. Old women drying rice by the side of the road. And all the while, the swish of the bike, the wind in our faces, and Toto's eager chatter. "Your happiness is my happiness," he said. "Are you feeling happiness?"
"Yes," I said. "I am feeling very, very happy today."
Our first stop was at a local market. Even though it was only 10 in the morning, Toto told us that most village markets were already closed. They open at 2 or 3 in the morning and close very early. This was the only local market that stayed open until noon.
It was a feast for the eyes. And much of what was for sale were the necessary things to make offerings. There were as many booths selling the makings of offerings as there were booths with food for people to eat. Here is just a small sampling of the things being sold to make offerings to the Gods: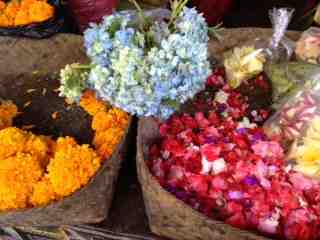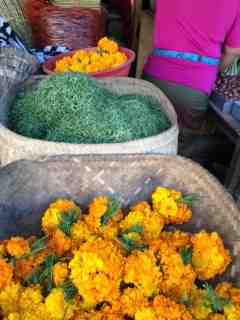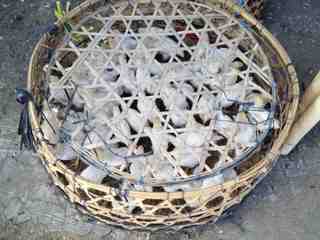 hens in a basket
Here were some of the items for people: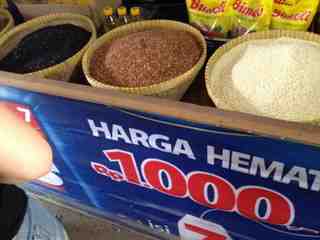 varieties of rice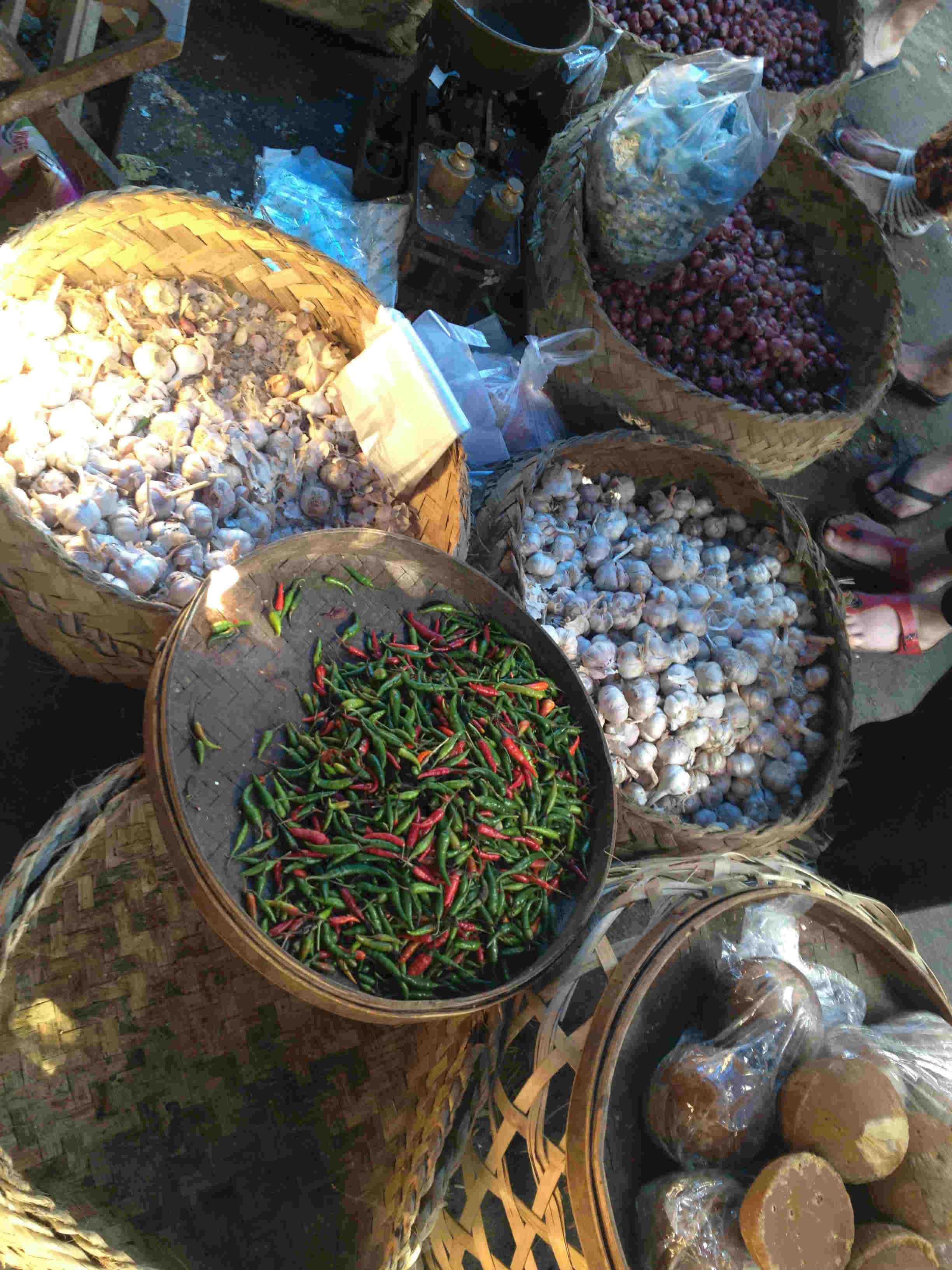 shallots, chilis and garlic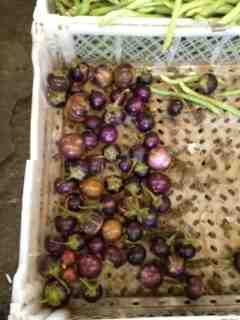 teeny eggplants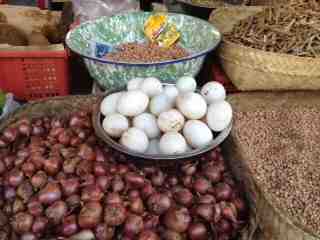 duck eggs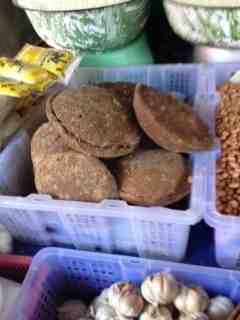 brown sugar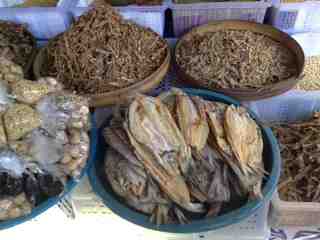 dried fish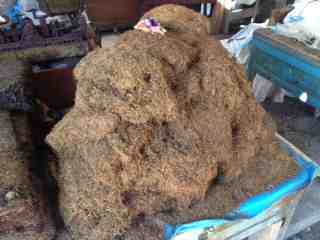 tobacco
And yes, there are a lot of smokers in Bali!
After wandering through the market–we were definitely the only white people in sight–Toto and Komang took us to the Brahmin silversmithing village. I got a whole lecture on the caste system along the way.
And after that, by the side of the road, he took us to see his friend who is a blacksmith. I didn't get his name, but here he is at work: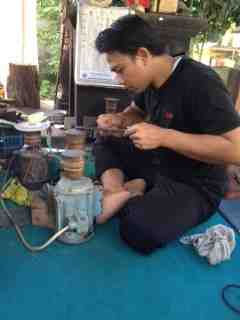 And what was he making? He was making tiny spurs for cockfighting. Cockfighting is legal when it's part of a religious ritual, but otherwise it is illegal in Bali, but wildly popular. Officials are paid off and the gambling continues unabated. Here's what some of the tiny spurs look like:
The most glorious part of the day was still to come. It was our trip through small villages and on dirt paths and up rutted hillsides and narrow lanes to get to the Coumung Rice Terrace. As Toto promised, it was the most exquisite rice terrace in all of Bali. We parked the bikes and hiked on a trail along the top of the rice fields. I have never seen such green in all my life.
These pictures that Lizzy took can't really do justice to the amazing panorama that was spread out before us: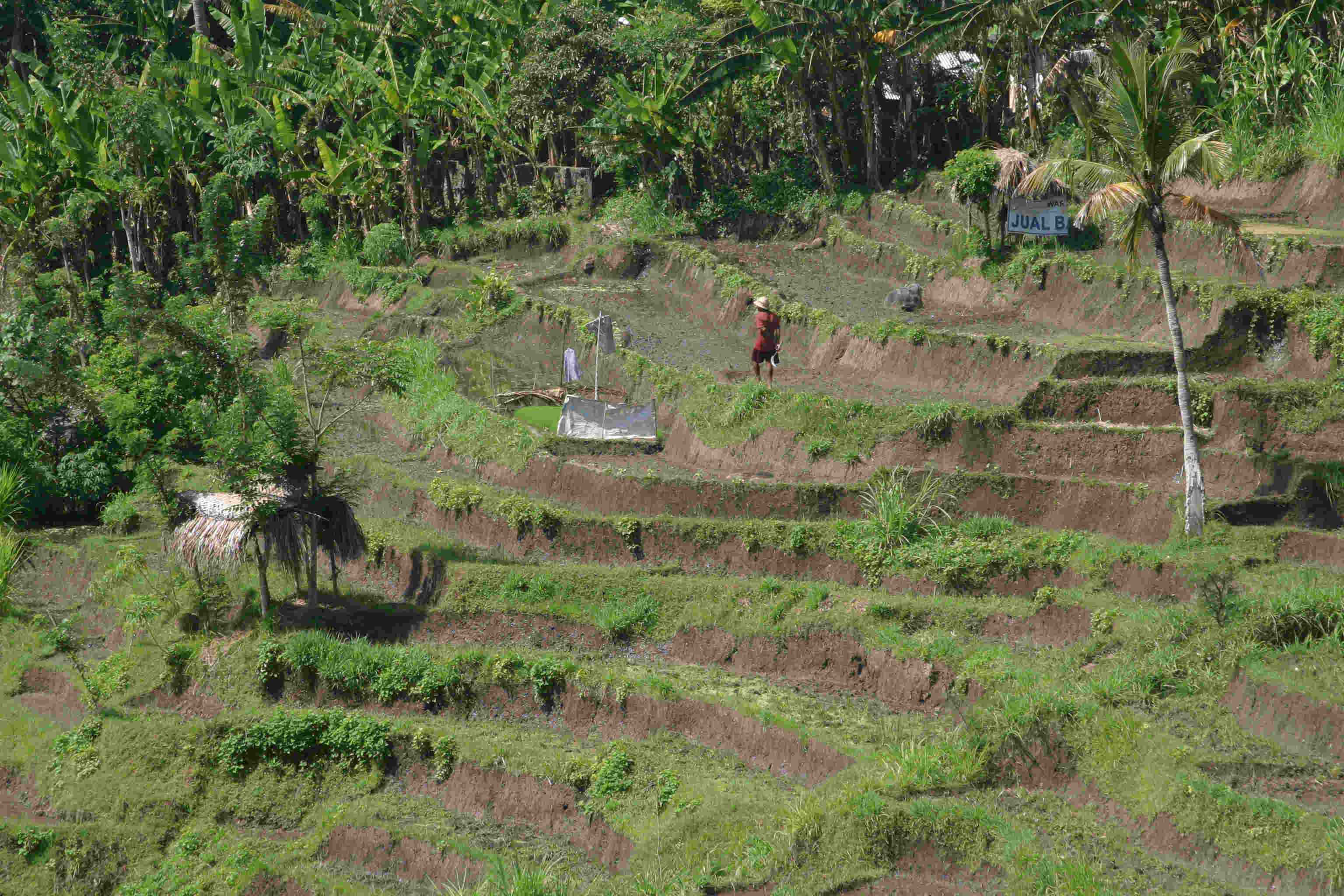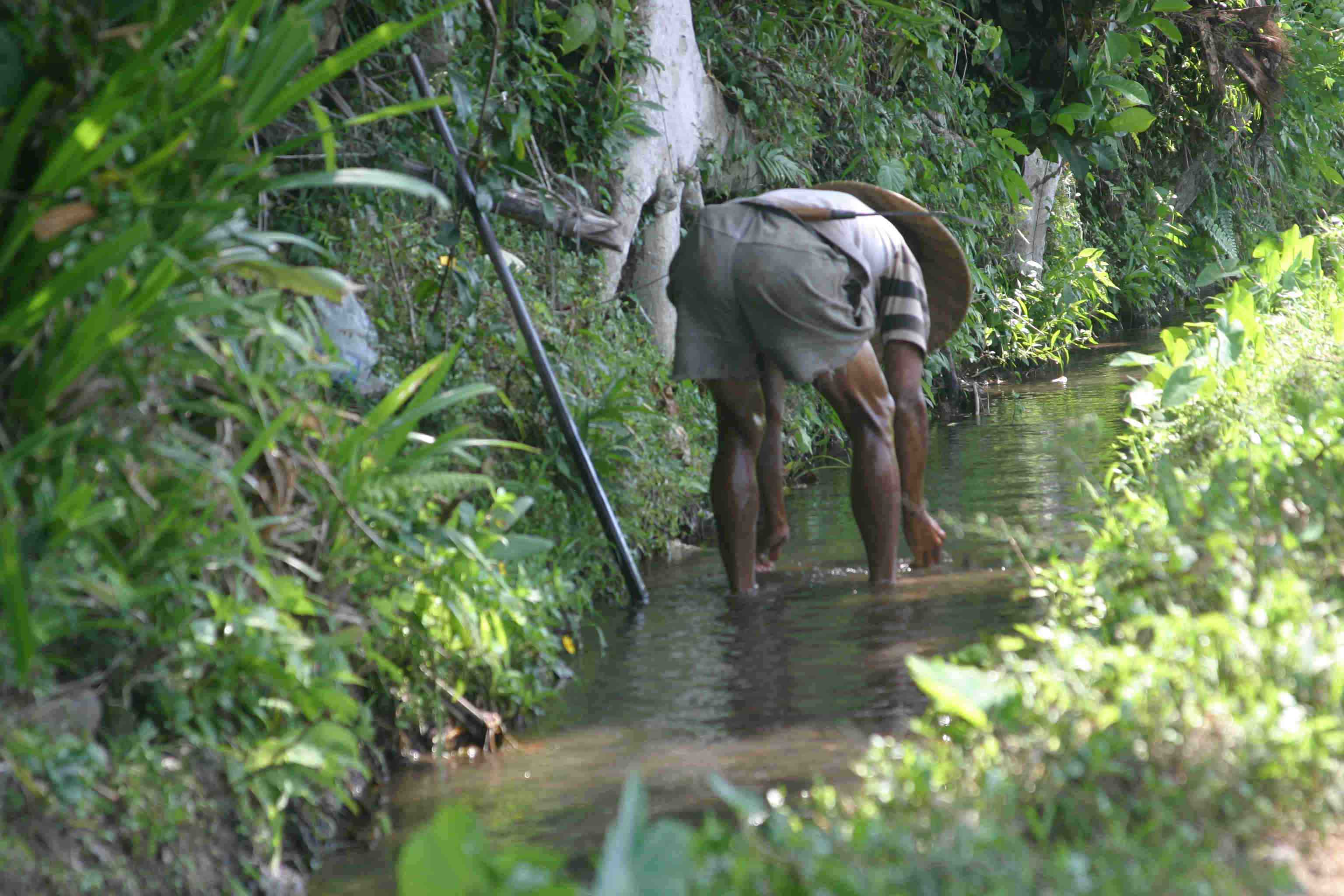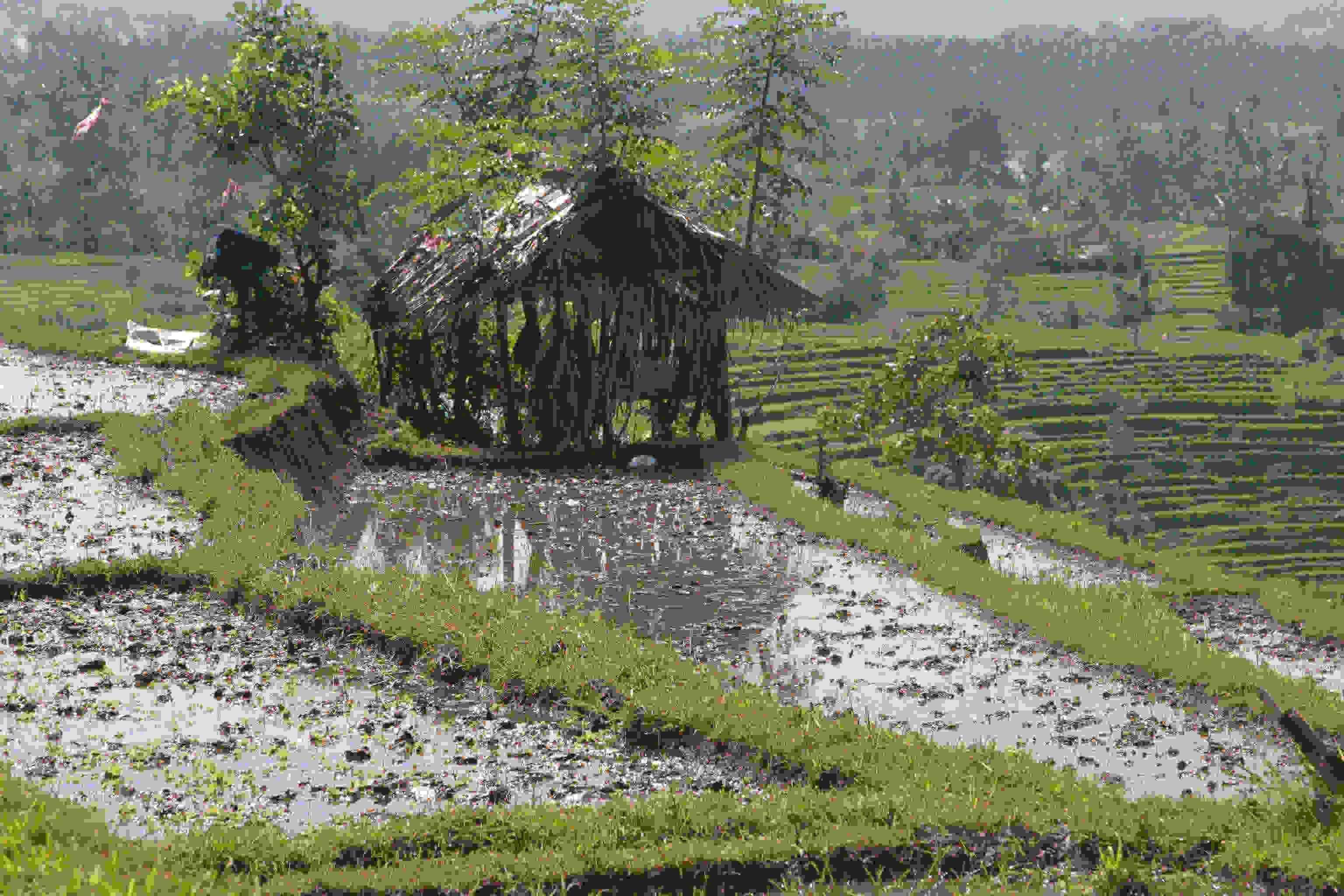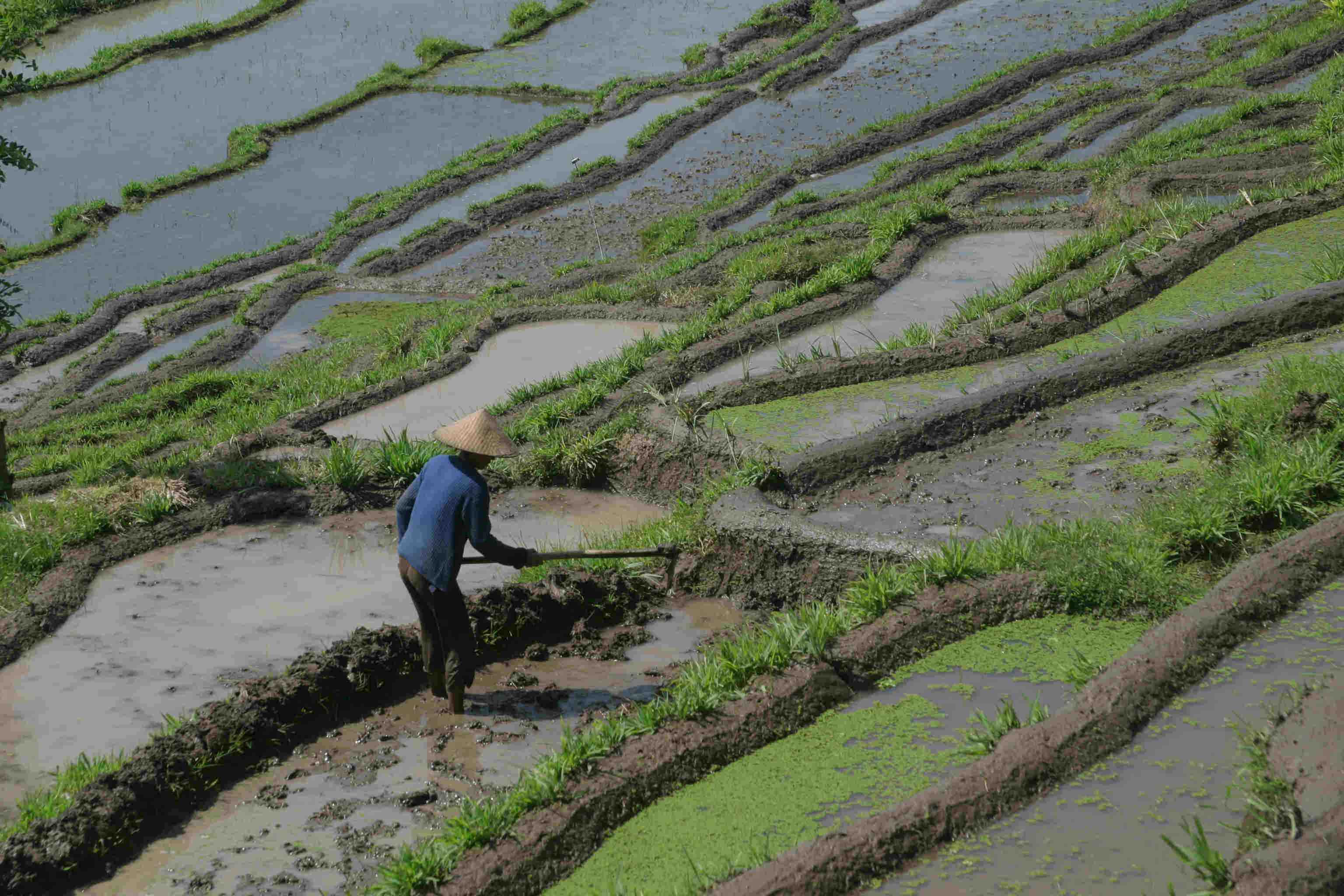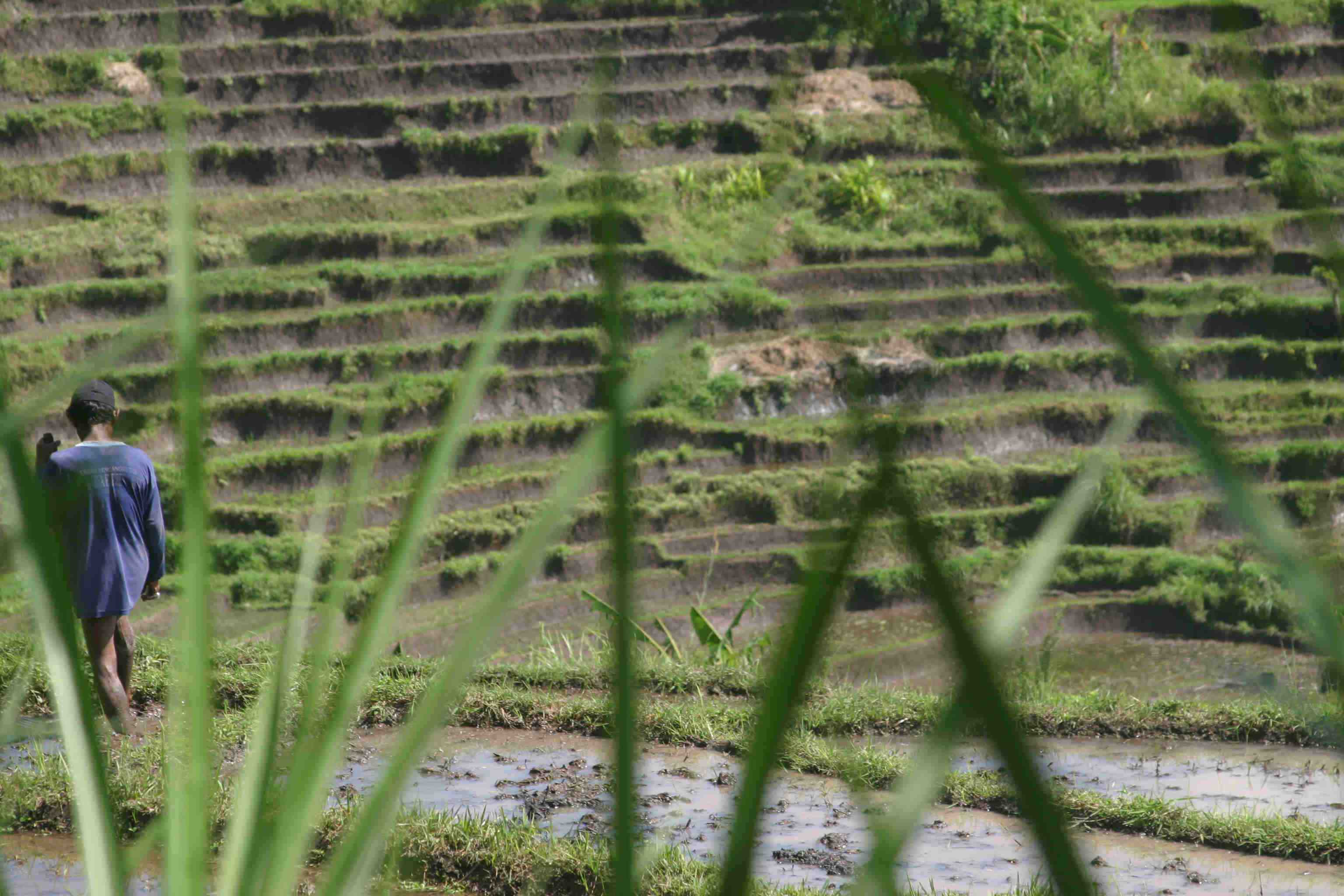 We could see the workers in the fields, mostly old men. Toto says that many young people leave Bali, often to work on cruise ships, to make more money and to see the world. And then after ten or fifteen years, they come back to Bali and work in the rice fields. "They all return to Bali," he said. "They need to be cremated here."
Here's one man we met on the trail. We had to get out of the way of his cows. He smiled broadly and invited Lizzy to take his picture:
It was hot in the rice fields. I'd gotten so used the ocean breeze at the Lotus Bungalows that I'd forgotten how that we were living near the equator. Lizzy and I had hats, but Toto did not, so he hacked off a large banana leaf and used that for shade.
When I asked if I could take his picture, he said, "Oh, but I am so ugly." And that's when the saddest thing in the whole day took place. Toto said, "I have dark skin and I am considered very ugly. People in Bali, they want light skin, like your skin. Those are the beautiful people. Me, I am ugly. Why would you want to take my picture?"
But he let me take one anyway: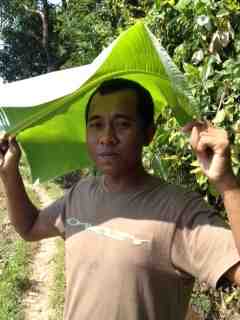 Toto was a fantastic guide. On our way back out along the rim trail above the rice fields, we stopped at a small outdoor "store" for lack of a better word, up at the top of the paddies. Lizzy and I shared a coconut there–the man playing the gamelan in the shop hacked it open for us with a machete and handed us two straws: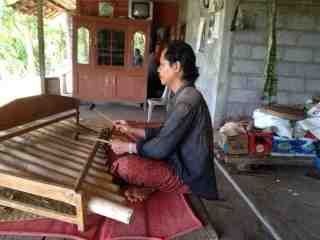 And then we hiked the rest of the way out–laughing as we watched two women climbing up through the narrow pathway carrying two cartoon covered mattresses on their heads. It was such an incongruous sight.
And such a savory, delicious adventure.
When we got home to our hotel, we filled out the final paperwork for our new diving certification. Tomorrow morning, we are going out for our last two dives. Then Toto is coming back at 2:30 to take us to visit a coconut oil distiliery that's just down the road.
Now it's evening. Lizzy and I just had our dinner in the open pavilion while listening to the Indian Ocean rolling up on the shore just outside. I had my favorite fish and she had chicken, both with Balinese vegetables and rice–our total dinner cost $12 for two.
Today is the last full day of my vacation. Tomorrow at 6:00 PM, Karyn and Judy (our tour guide) and the 16 people who signed up for our writing and yoga retreat arrive. Lizzy and I will be glowing and rested and relaxed and they'll be jet-lagged and exhausted, stressed from life and travel, just beginning their adventure.
Once they arrive and my responsibilities as teacher and group leader begin, I don't know how much time I'll have for this blog. We'll just have to see.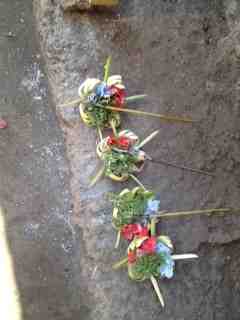 Offerings on the sidewalk: they are everywhere you look!
More adventures await as the days unfold.
In the spirit of adventure,
Laura
Post #9: The Most Expensive Coffee in the World
This morning after Lizzy and I had our final two dives, we decided to go on another motorbike adventure. It was our last afternoon before the rest of our Bali adventurers were set to arrive and we were determined to make the best of it.
One of our group arrived early in the middle of the night, and she decided to join us. At first we thought about going to the white sand beach, but since I live in Santa Cruz, the beach is not a novelty. So instead, on the suggestion of some of the front desk staff, we decided to go on an excursion an hour away to the place where they make a very special kind of coffee, the most expensive coffee in the world.
On very short notice, Toto got his brother and his father to come with their scooters, and then the three of us, Lizzy, Annette, and I, hopped on the back and were off.
Today's ride began down busier highways, more trafficked roads, and we passed through larger towns, maybe even a small city. There was a lot more diesel fumes and a lot more traffic. But after the first half hour, we turned off the main thoroughfare, and once again, started driving through smaller towns and on more rural roads. One town we passed through seemed to sell nothing but bright ceremonial umbrellas. I could see nothing but them in every shop in town.
As we cruised around curves and drove into higher countryside, the view by the side of the road was ever-changing: old women selling mackerel by the side of the road, piles of huge green bumpy jackfruit, giant piles of rock.
As we pulled up at one particularly beautiful vista point, Bukit Jambut, a man came up and collected a small fee for parking and we only parked for a couple of minutes, long enough to take a photograph. As we pulled away and back on to the road, I saw a sign, "Pay toilet 2000 Rp"
That really got to me..pay toilets in Bali?
But then we were off again.
All along the road were fighting cocks in wicker baskets. I asked Toto why they were there. "To keep them away from the hens," he said.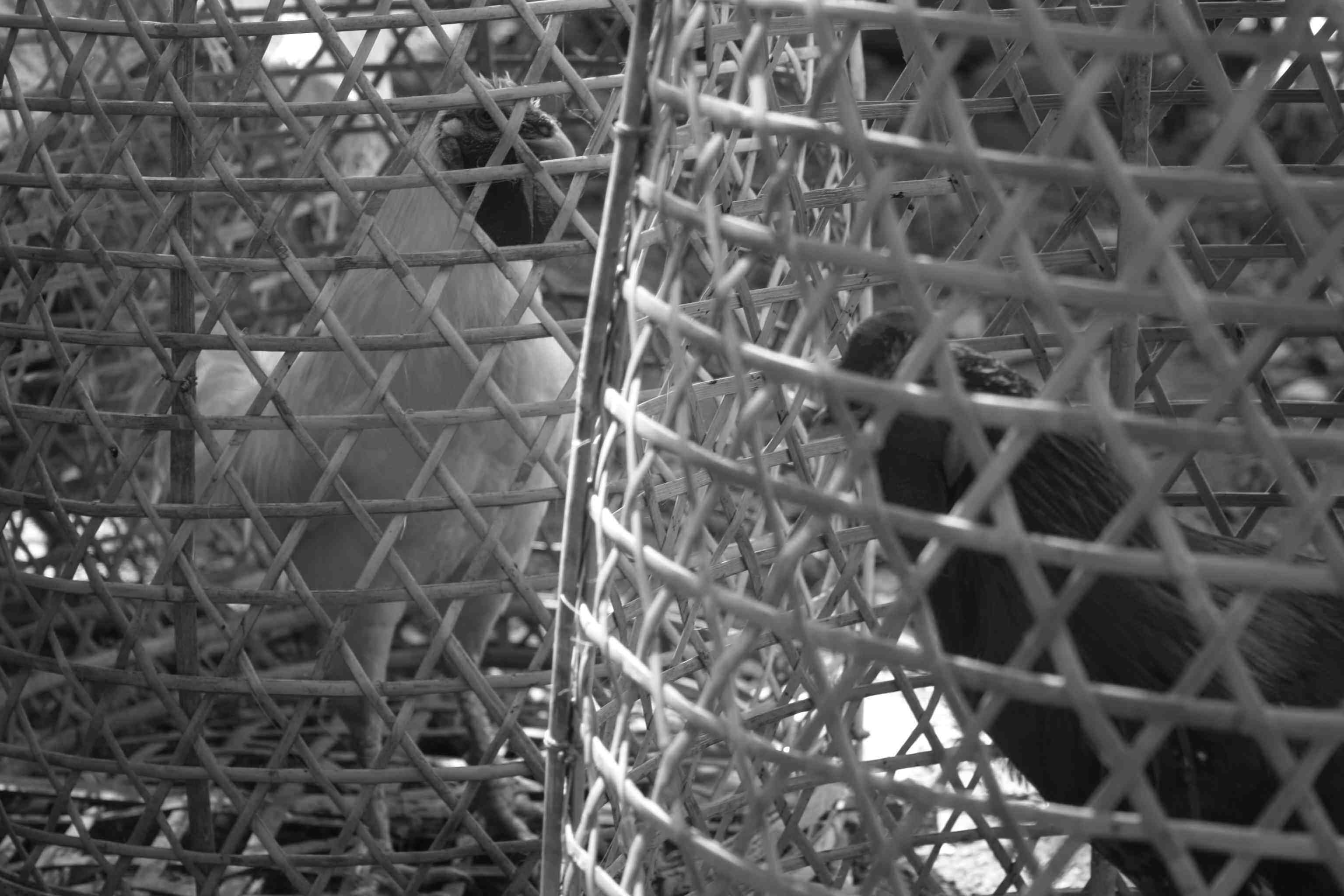 Woven offerings on huge tall posts arched over the road like old-fashioned streetlights back home.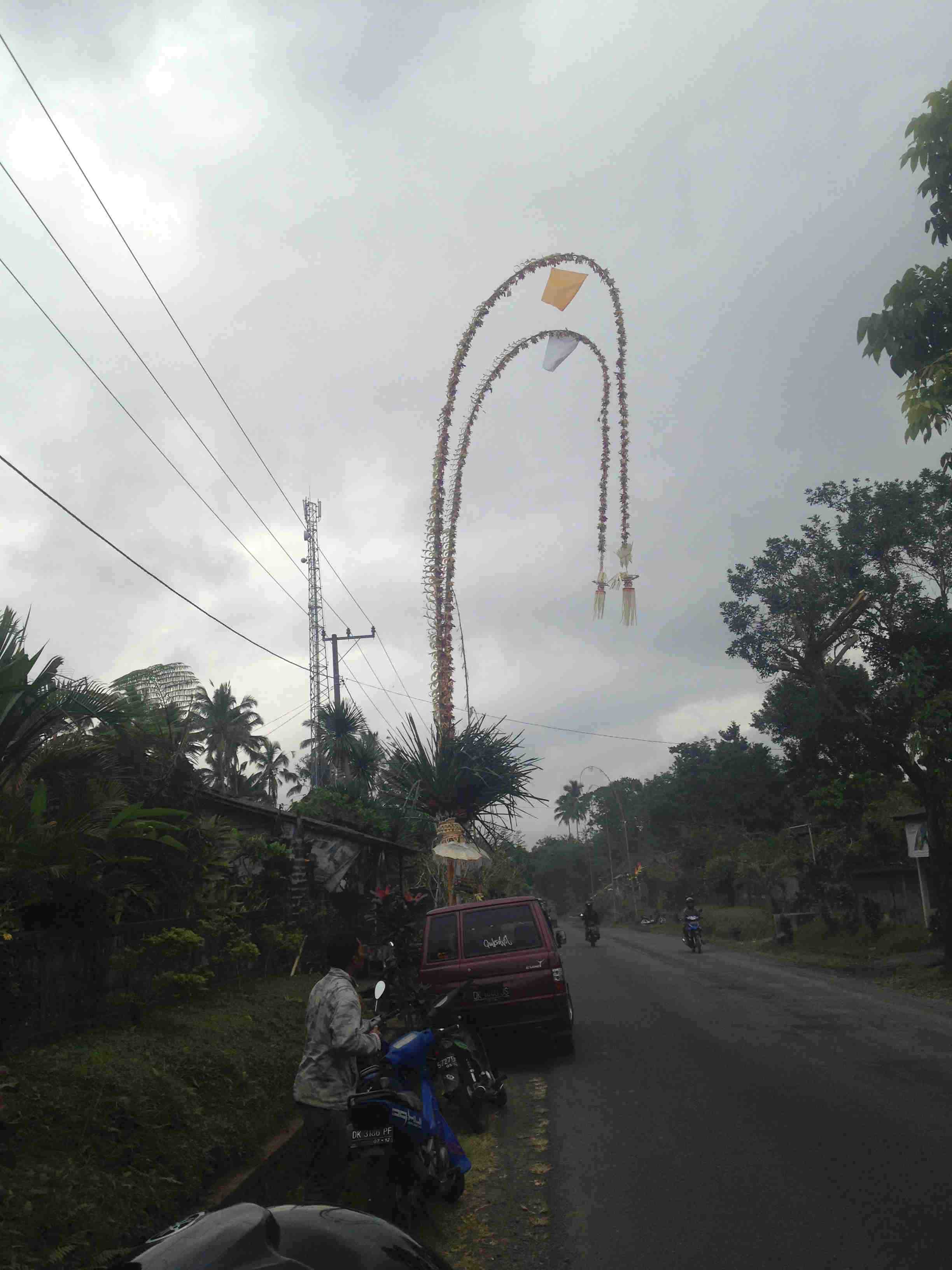 We flew past rice fields in every stage of their three month life cycle: growing greet shoots, stubbly harvested fields, flooded fields, burned or burning fields.
I counted four rudimentary soccer fields with young men playing. "Do girls get to play?" I asked Toto. "No, he said, just the boys."
And then there was the incongruous: a red Coca-Cola machine, an open air pool table with four young men playing, a young man holding an electric guitar on the back of a scooter, a young boy holding a badminton racket on the back of another scooter. An ancient cement mixer. Two dogs yelping and stuck together by the side of the road. Mangy dogs everywhere, running free. Stands selling small plastic bottles of petrol. A man on a scooter carrying a machete. A cow on a halter being walked down the street. A man with a huge, wide stack of firewood strapped to his back as he rode his scooter.
And in the midst of kilometers of rice fields, one field of peanuts, onions, and corn. How surprising to see those familiar corn tassels!
As we rode, Toto answered my questions about what I was seeing. At one point, I asked him why he spoke English and his father and his brother did not. "I am the energetic one in the family," he said. "My father and brother are fishermen. They do not want to learn English."
As we rose up into higher elevation, the temperature dropped. Toto was cold and so I wrapped my arms around him to warm him up and leaned into him. I think he was grateful for the warmth, and so was I.
A few more miles and we had reached our destination. We pulled up in front of this sign: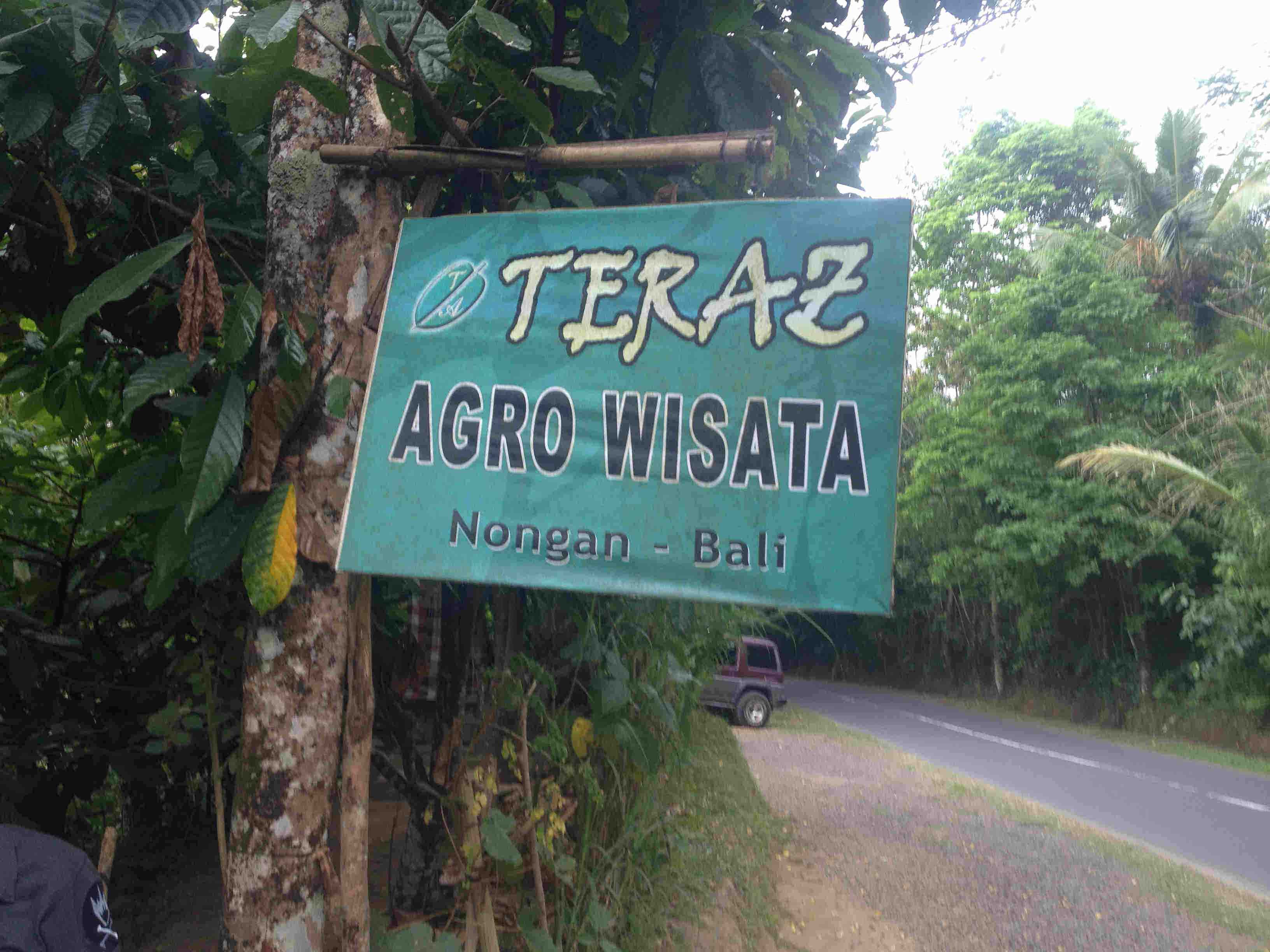 And we were the only guests.
A path snaked down through dense vegetation. Along the way down there were signs identifying different kinds of trees: cinnamon trees, coffee trees, torch ginger, lemon grass, ylang ylang, nutmeg, star anise, black chili, vanilla, different varieties of cocoa beans.
And then suddenly, there was a cage with the following warning sign: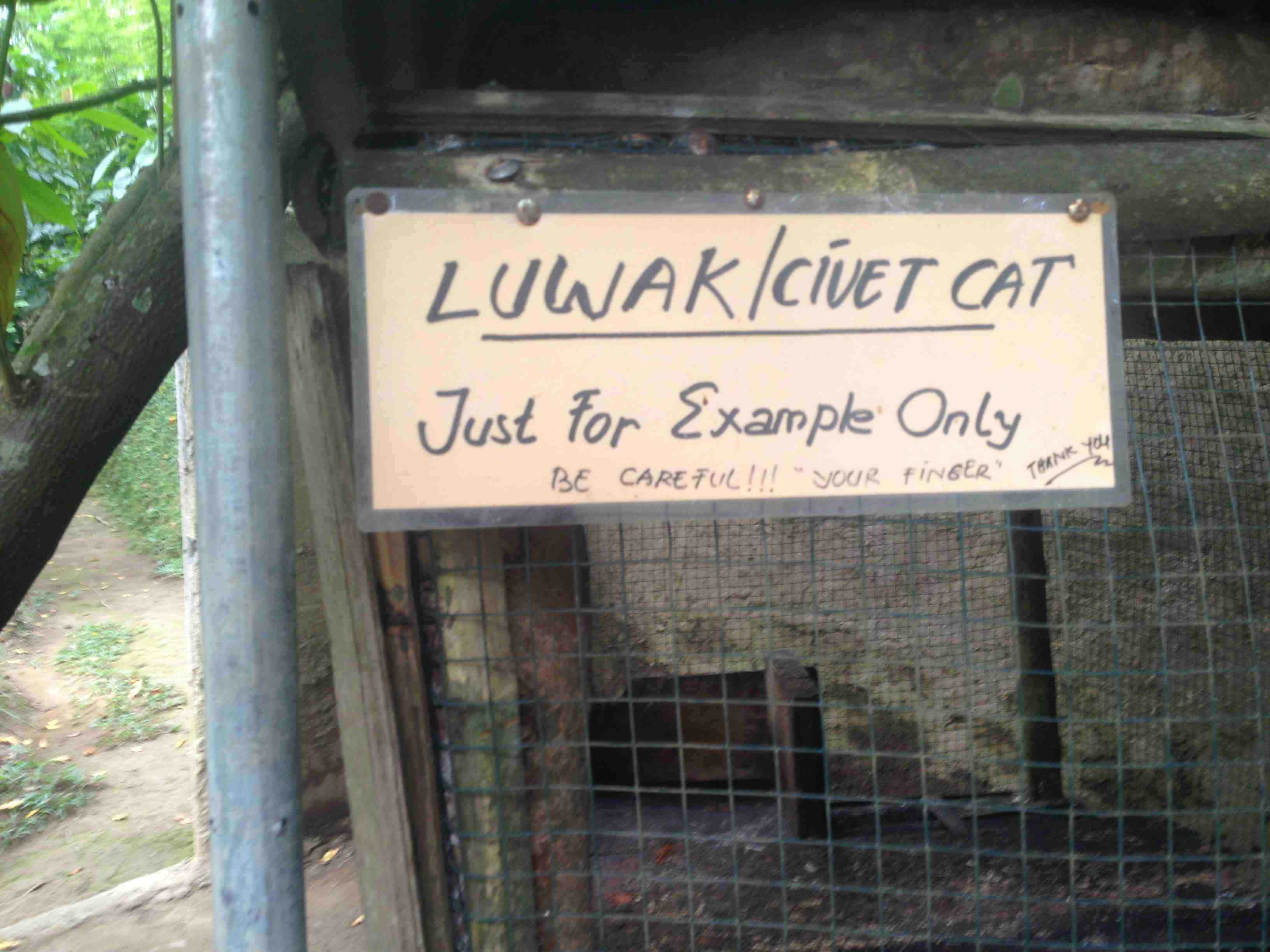 And inside the cage, a sleeping animal that all this fuss was about. This was the animal that made this coffee so special (but more on that in a minute).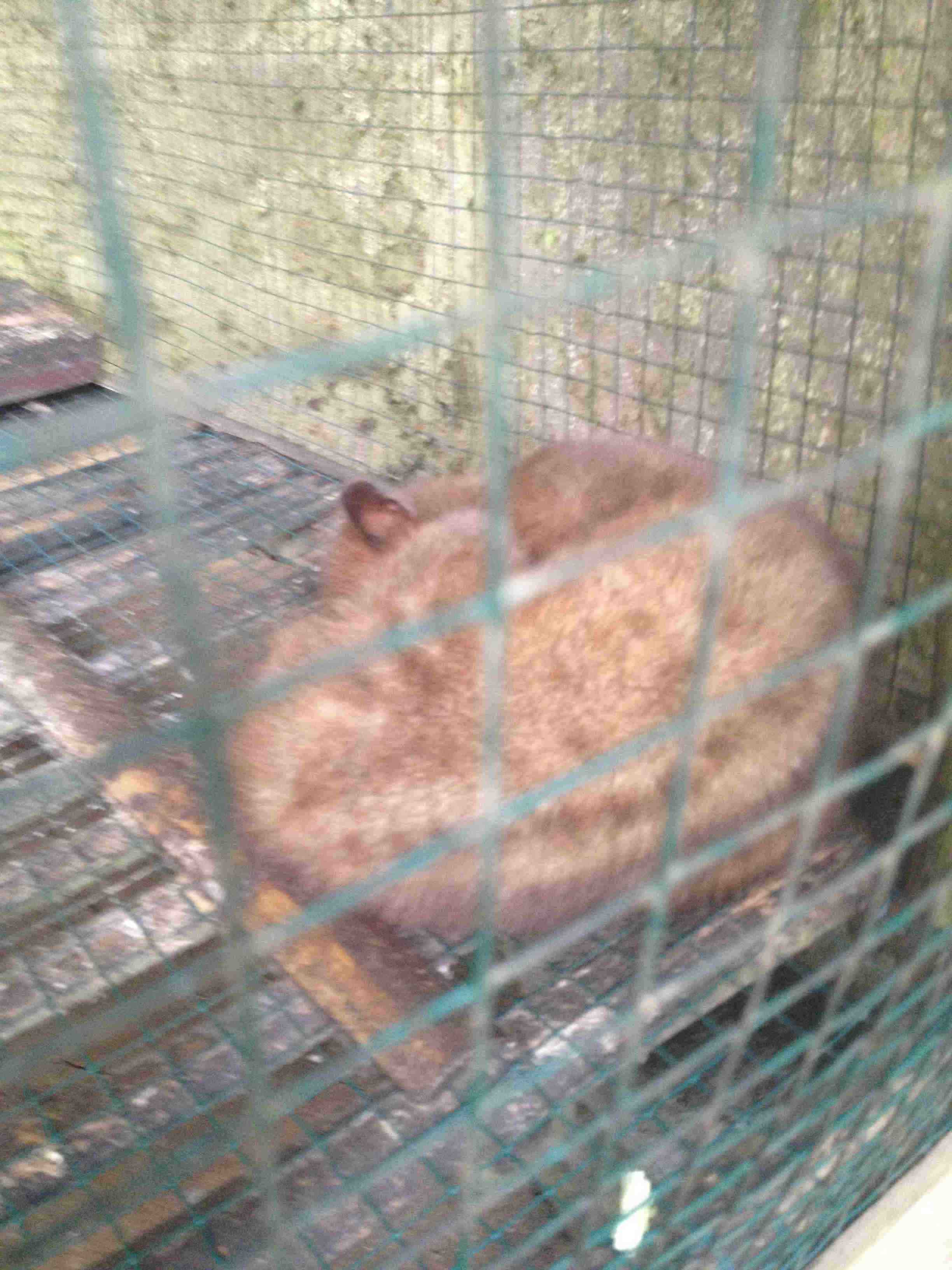 A few more turns down the path, a display table showed some of the products grown in this farm, like these cocoa pods and cocoa beans: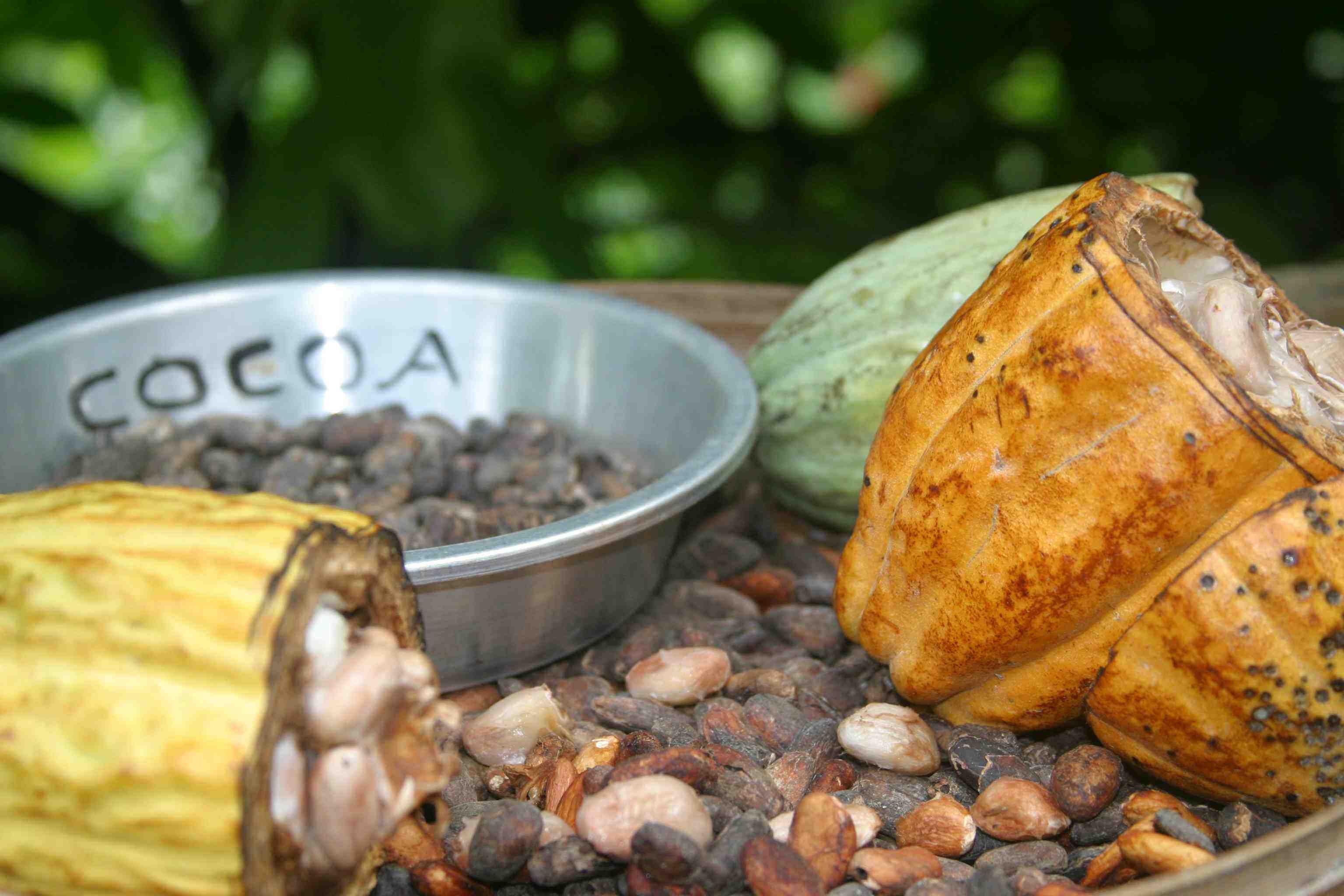 And these spices: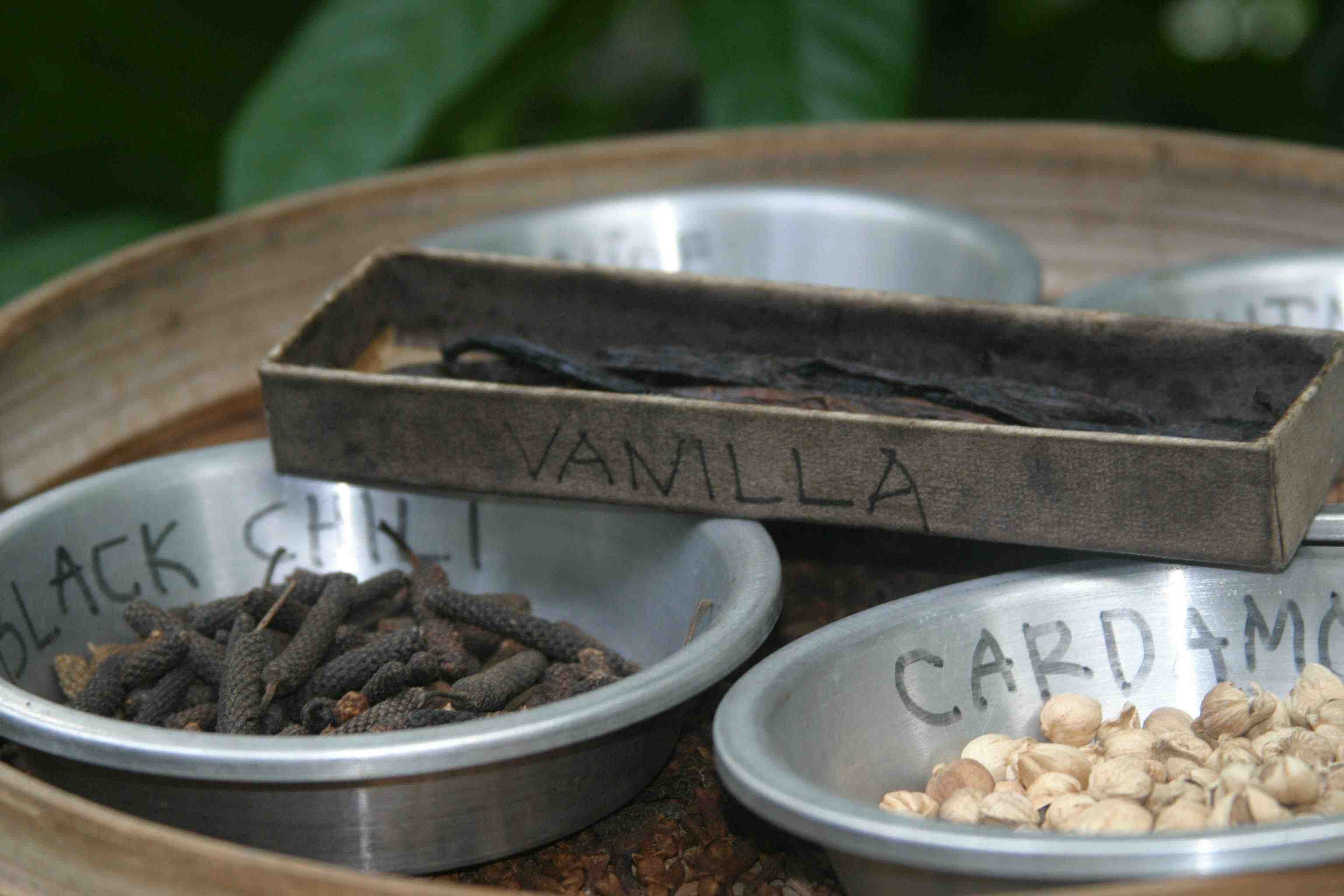 Then we came to a work area where an old woman was slowly roasting beans over an open fire.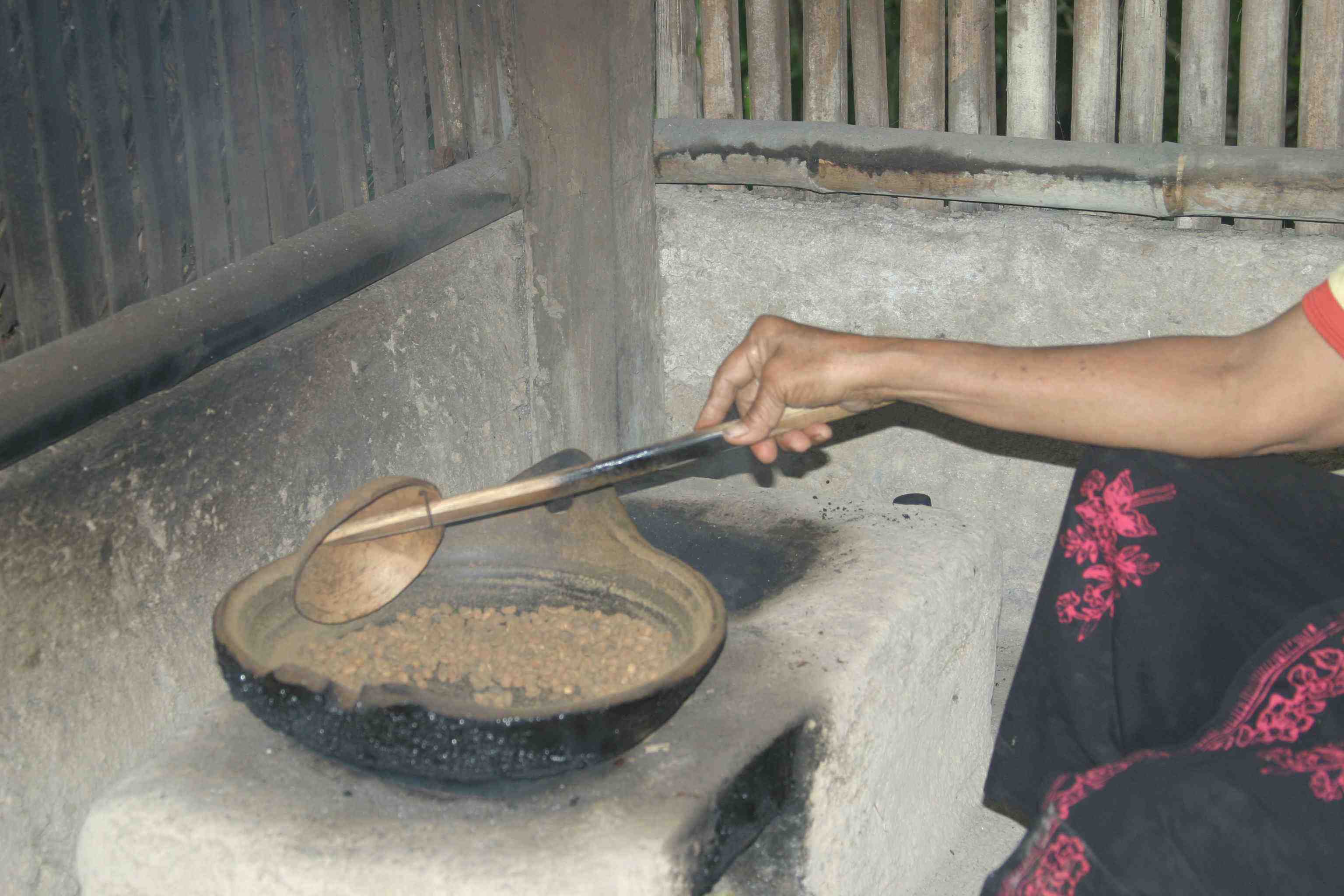 Beside her was the grinder where the roasted beans were ground into powder.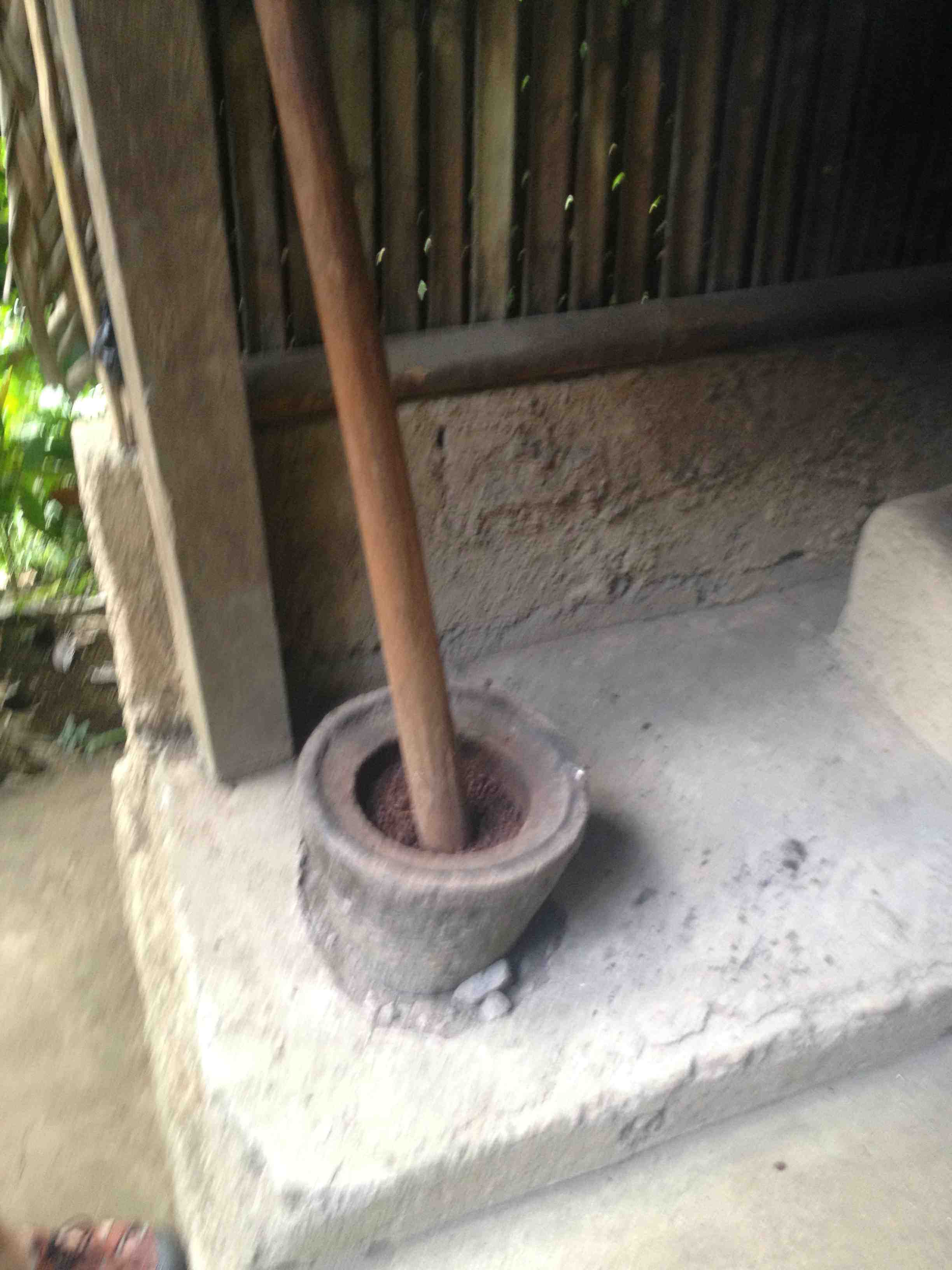 And here's what the finished coffee looks like: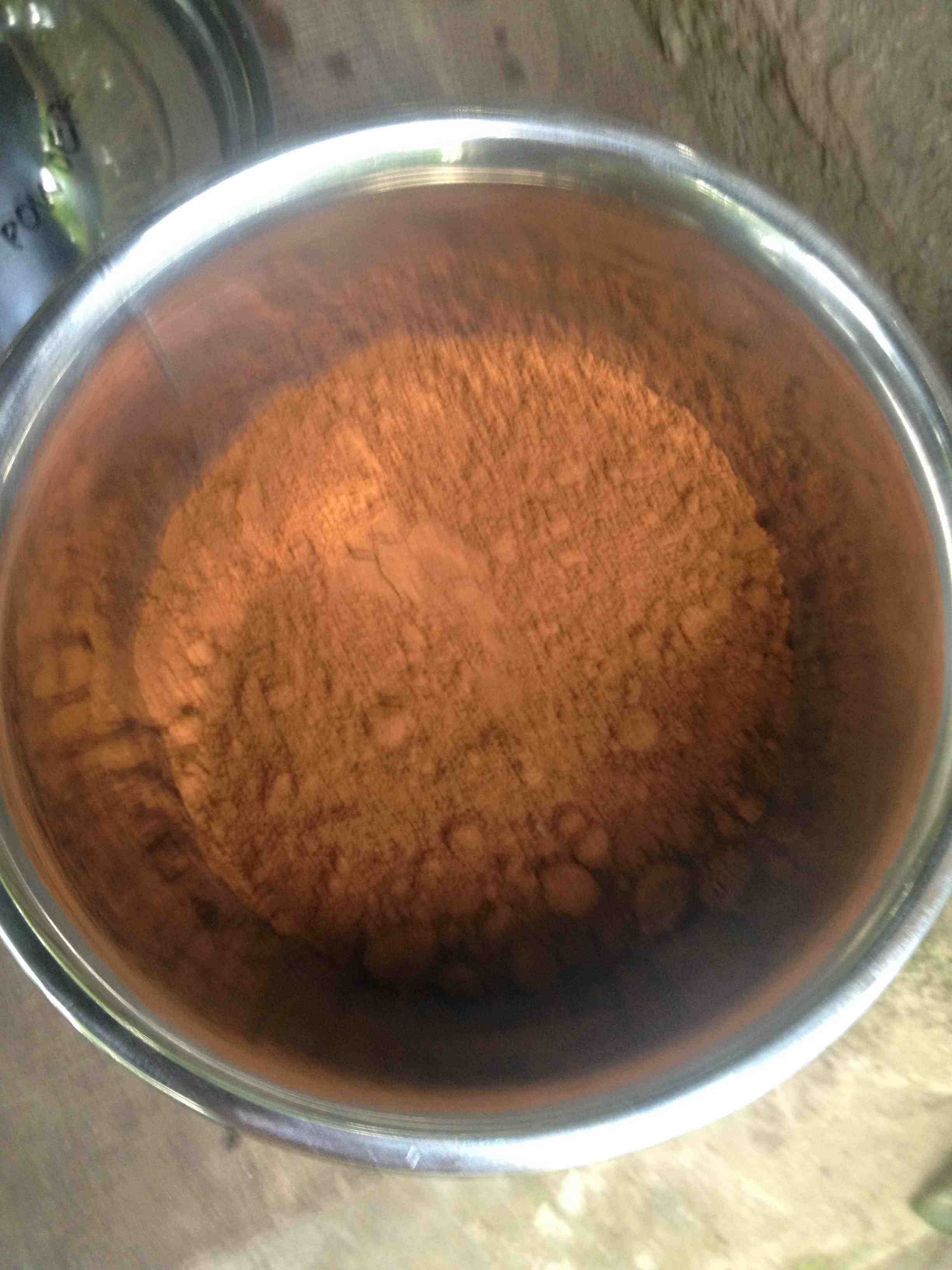 Then the owner of the place came over and began to tell us how this special coffee is made. He began by talking about the coffee itself. He told us that each tree makes both male and female beans; 90% male and 10% female. And the male coffee has a stronger flavor (why wasn't I surprised?)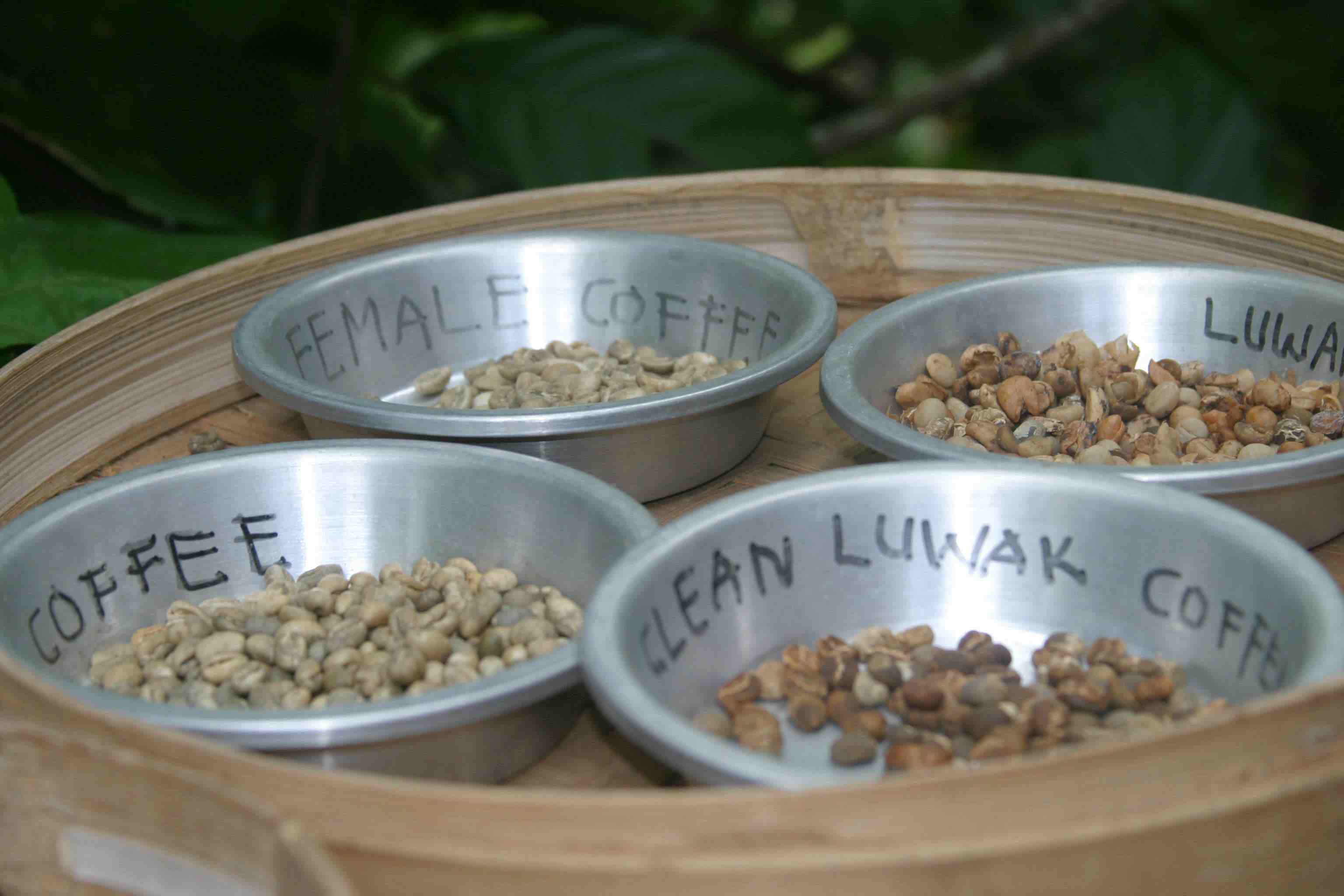 But that's only the beginning of the story. The real story has to do with that civet we saw in the cage earlier. The short version is that the civet eats the coffee beans as a natural part of its diet. Then it excretes them (yes, poops them out) and these pooped-out beans are collected and cleaned, the protective layer is peeled off, they are dried in the sun, roasted over the wood fire and then ground by hand.
Did you get that?
This is how the most expensive coffee in the world is made. I'm not making this up. How could I? And how could I resist writing about it?
Here's what the beans look like after they come out of the civet: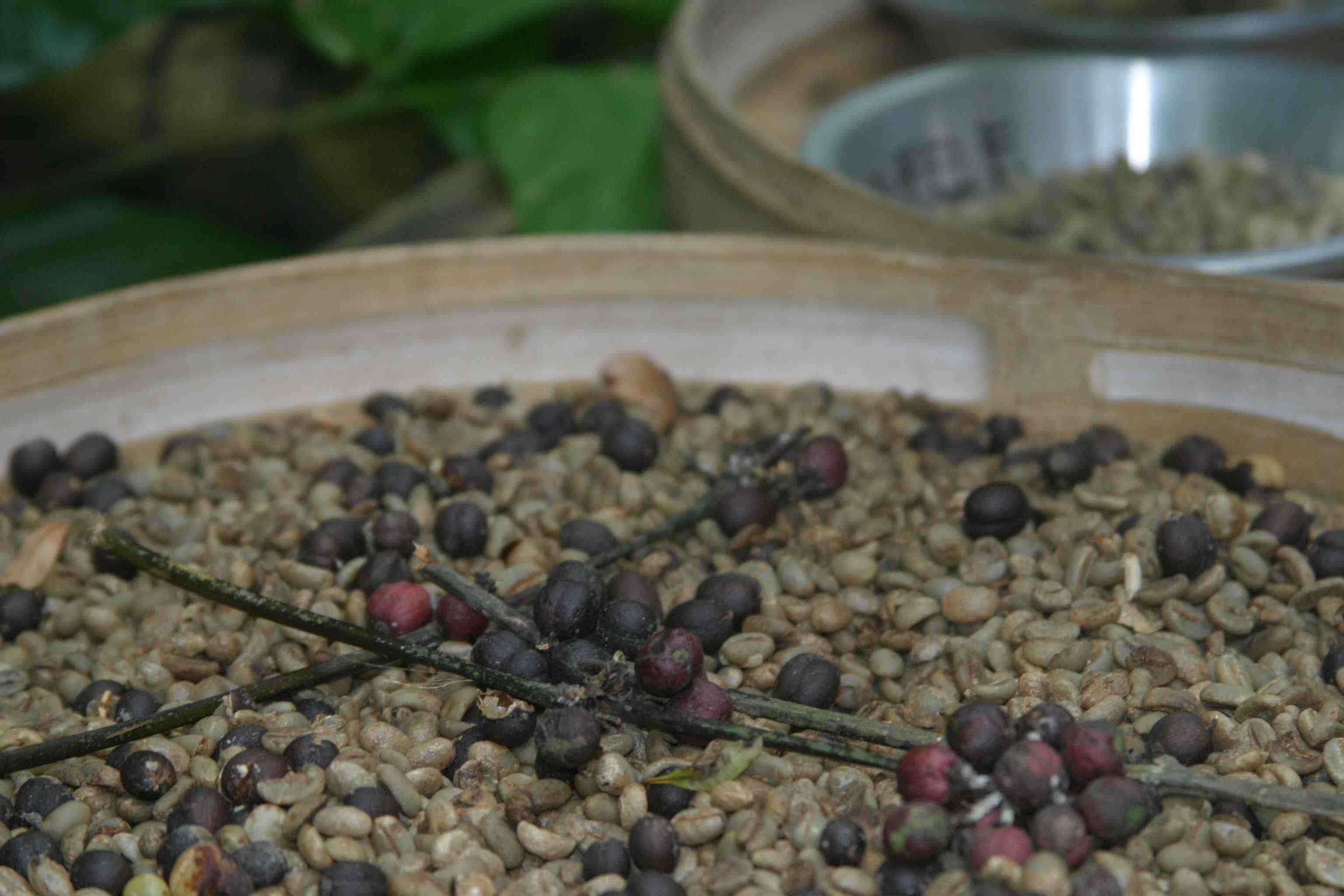 And here's how they're manually stripped: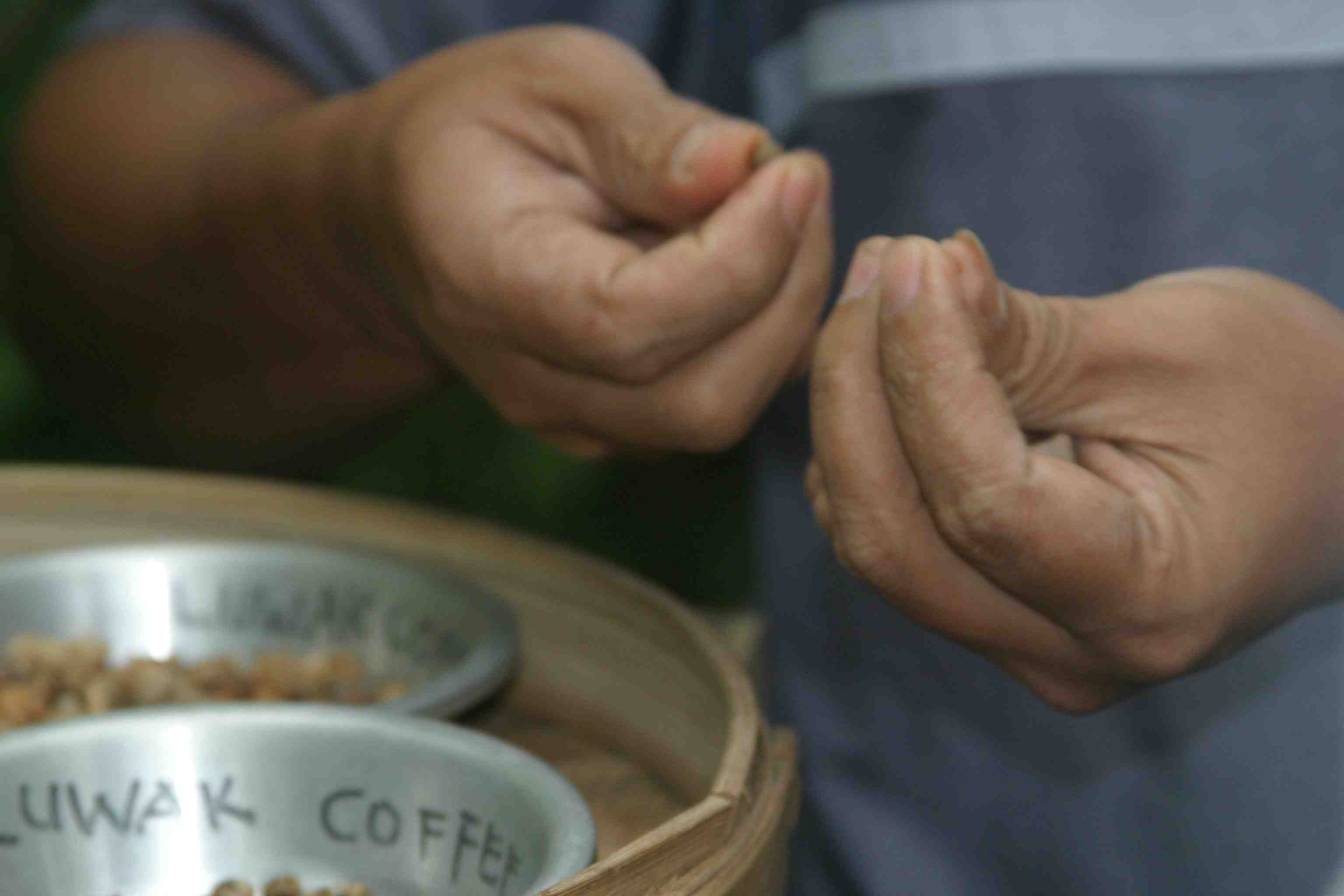 Still with me?
A little further up the path, we arrived at a little outside area with a few tables and chairs. We were instructed to sit down, and then were offered tasting samples of five different blends, all made and sold on this farm: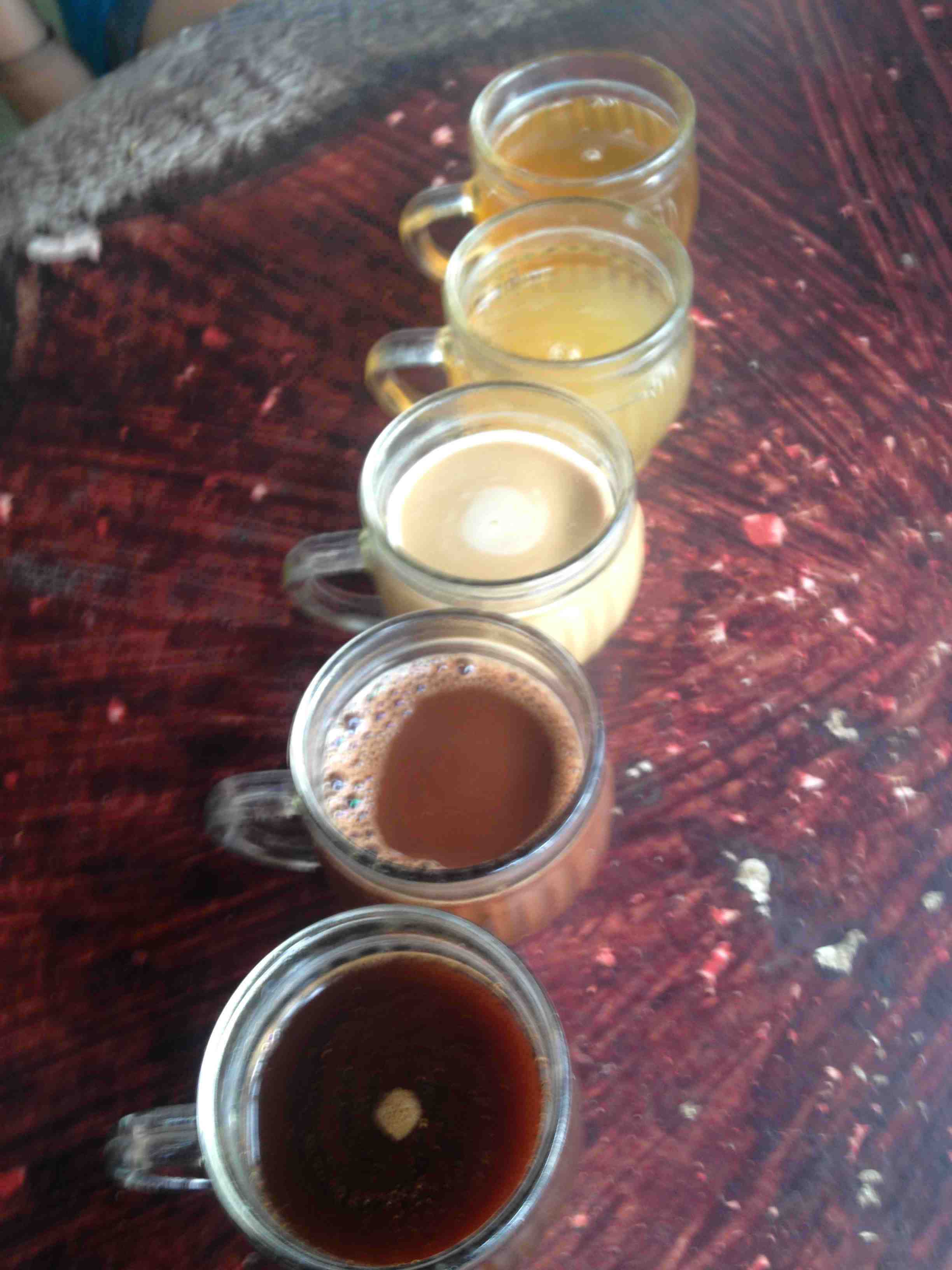 A little sign came with the drinks:
Free for testing:
Bali Coffee

Bali Cocoa

Ginseng Coffee (my personal favorite)

Ginger Tea

Lemon Grass Tea
While we tasted our drinks (they don't offer the special Lewak coffee for free), I read more about Lewak coffee and its special attributes:
Kopi Luwak are robusta or arabic coffee beans which have been eaten by and passed through the digestive tract of the Indonesian Civet. This process takes place on the islands to Sumatra, Java, Sulawesi and Bali…
"Kopi" is the Indonesian word for coffee and "Luwak" is the local name of this animal which eats the raw red coffee "cherries" as part of its usual diet. This animal eats a mixed diet of insects, small mammals and fruits along with the softer outer part of the coffee cherry, but it does not digest the inner beans, instead excreting them still covered in some inner layers of the cherry.
Locals then gather the beans-which come through the animal stage intact-and sell them on to dealers. It is believed that enzymes in the stomach of the civet add to the coffee's flavor through fermentation of some type.
Here at the farm, a small cup of this most precious coffee sells 40,000 rupia, approximately four American dollars. Less than most Starbucks, right? But in a hotel in Bali, a cup of this same coffee goes for 15 or 20 dollars. And in Europe, 30 Euros for a single cup.
The owner told us that Oprah Winfrey has touted the health benefits of Luwak coffee on her show. A second card on the table explained just what those benefits are:
Did You Know?
Consuming luwak coffee will not harm but instead will provide many benefits.

Good resistant to the dangers of type 2 diabetes.

Has benefits for the digestive system improvement.

Resist the formation of colon cancer tissue.

Reducing the risk of Parkinson's disease.

Can cure the Beriberi disease.

Add stamina (especially man).

Boost immunity.

Can clear the mind.
After drinking our delicious beverages, we climbed up further to the open air store at the top of the hill, near the exit, where spices, teas, and of course luwak coffee were for sale. And so we bought some gifts.
And then it was time to head back to Candi Dasa. We wanted to make it back by six when the rest of our group of writers and yogis were due to arrive. I had a fantasy that we'd pull up on our scooters just as they pulled up in their vans, all hot and sweaty and exhausted from travel. While we would be glowing with bravado and the joy of adventure.
On the way home, there was much more to see: a sign by the side of the road: Amik's Laundry: 50 meters. Three men building a stone wall by hand, carefully placing black rocks and spreading mortar. A funeral. Loads of every variety on heads, shoulders and scooters. Four teenage girls walking down the road, laughing like teenage girls everywhere. A boy getting his hair cut by a creek at the side of the road.
Huge white sacks of rice were piled in fields. Lattice fences ran along the side of the road, made of woven snake skin trees. Everywhere I looked there were old people who looked both old and beautiful. They were just as beautiful as the beautiful children and young people we saw everywhere.
I saw a chicken and her chicks pecking at an offering that had been left on the road, probably just a few hours earlier. And I saw a young girl squatting holding a straw tray, arranging a new offering on the road in front of her.
No one was in hurry. People were either working or at rest. Sitting, standing. Talking. Looking. Building. Hoeing. Hauling. Harvesting. A very old bony man walked slowly with a tall walking stick as the smell of a burning rice field filled our nostrils.
And in every town we passed, I saw the same banner, over and over again. It was large and red and white and it said, "Surya Pro Mild." When I asked Toto what that meant, he said it was a cigarette ad. So much for stereotypes of paradise.
Since Annette had said she wanted to buy some fruit, Toto stopped by the side of the road and said we needed to try a very special fruit. In English, it's called snakeskin fruit. The Balinese call it Salak, and it is only grown in Sibetan Village. That's the only place in Bali where it grows, and that's where he pulled off the road.
The fruit looks like this: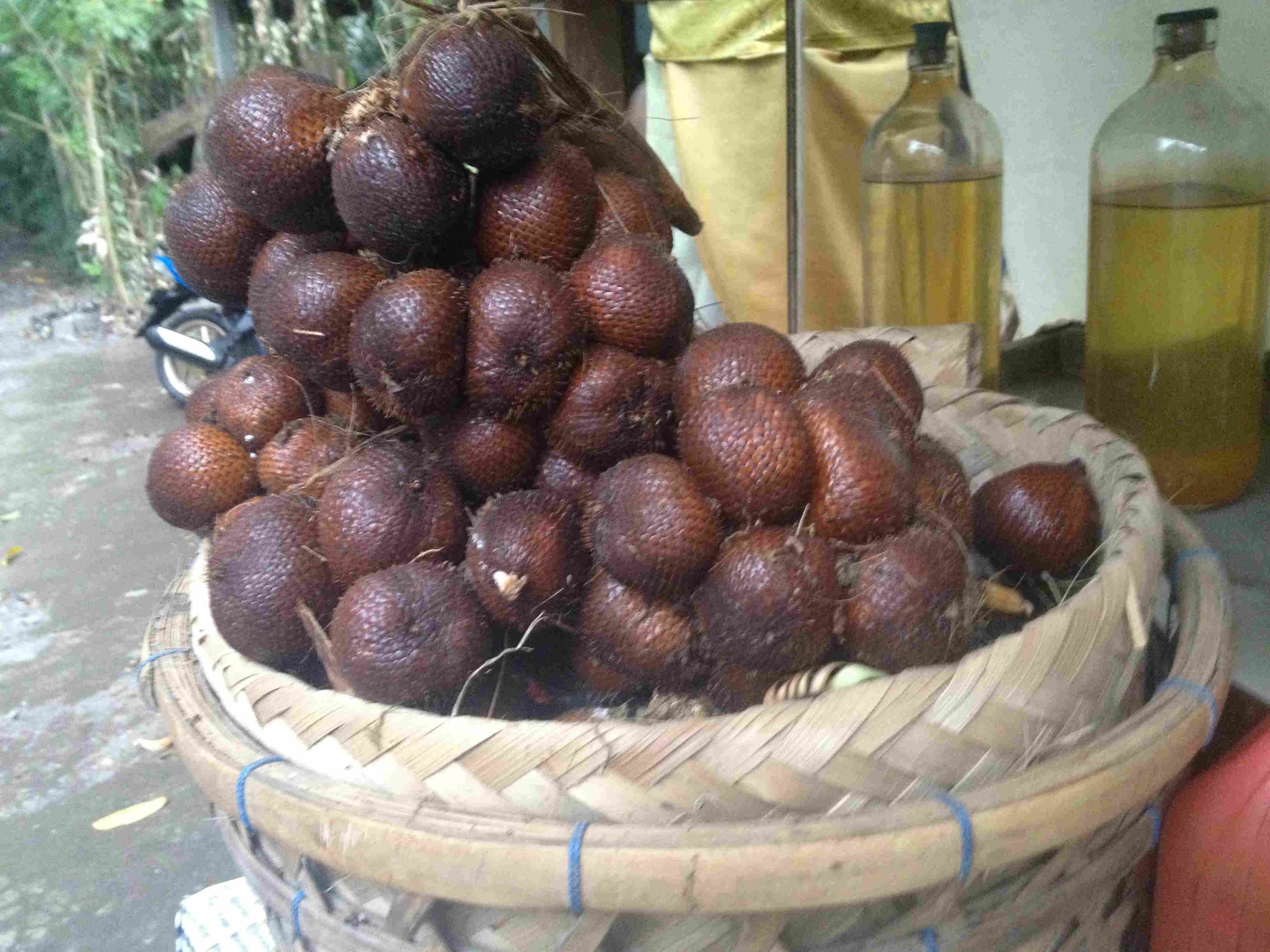 The tree is comes from is full of stickers and the fruit clusters at the bottom like so:
And when you peel off the dark outer layer, it's a hard white fruit with a pit inside. And it was remarkably delicious. So we bought a bag to bring home with us.
By the time we left the fruit stand, it was after five and dusk. Toto and the other drivers put on their headlights and the air was grey and threatening rain. But it never rained. Instead we flew down the country roads toward larger roads until we finally reached the main road to Candidasa and the Lotus Bungalows.
And just as we pulled in the driveway, I got my wish. The vans had just arriving and Karyn and the retreat members were piling out of three vans. Boy did that make me happy!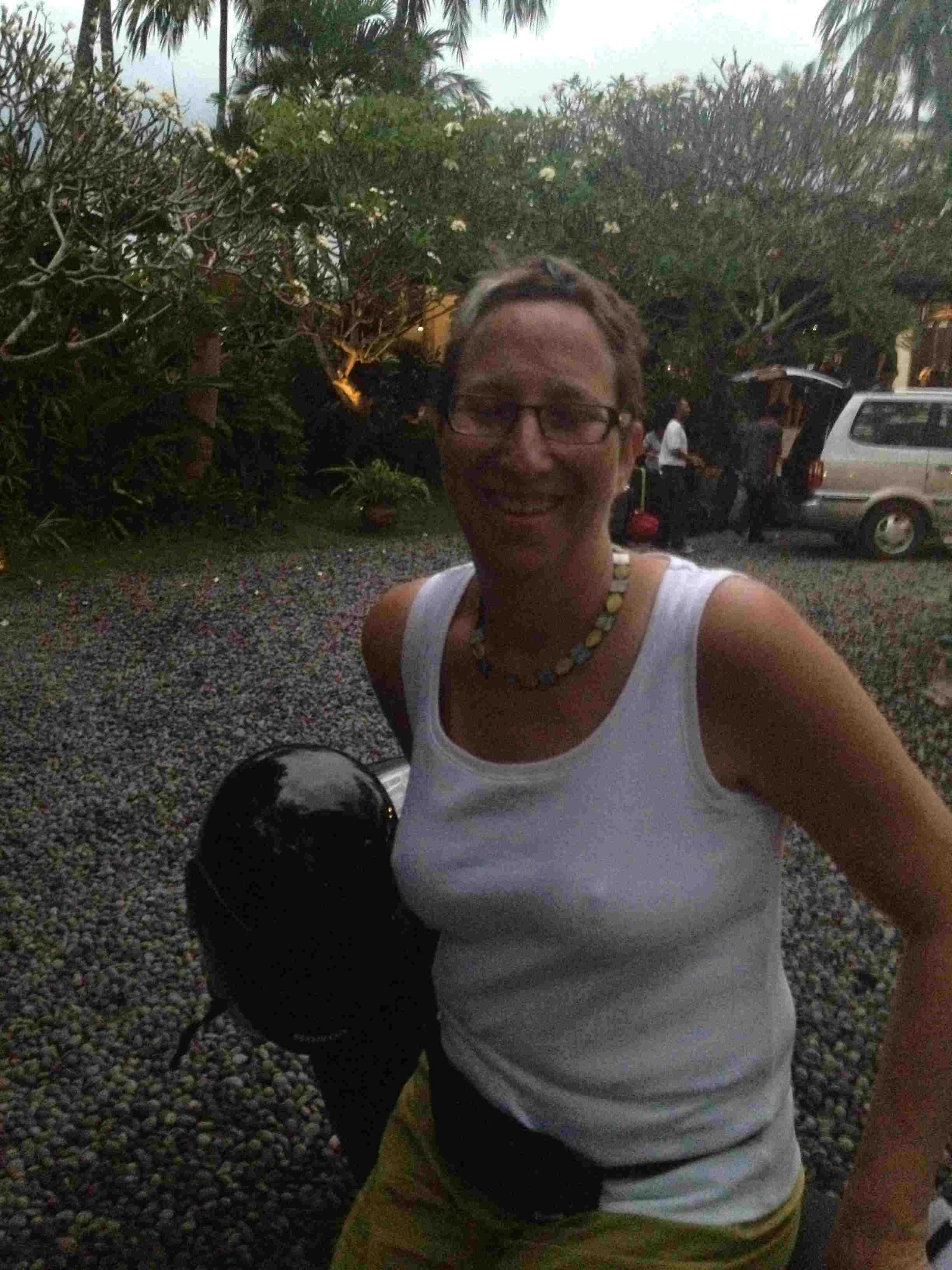 Then there was a lot of greeting and meeting and people going to their rooms and a half hour later, jetlagged and exhausted, we all met for dinner and our first gathering as a whole group. Our guide, Judy, karyn and I, the teachers, Lizzy, and 16 participants from all over the United States. And one from Australia.
As I looked around the table, I just couldn't stop thinking, "I can't believe I created this! I had an idea and I made this idea happen. And now 20 amazing people are about to have an extraordinary two weeks together. I can't believe we are in Bali and that this dream of mind is actually happening!"
At the start of other retreats, I've left chocolates on everyone's pillow as a welcome gift. Tonight, as we waited for our dinners, I handed everyone a snakeskin fruit instead. After tasting it, one woman said, "It's like a crunchy strawberry." Another said, "Where can I get more of these? I want to eat them every day." A third said, "I know what they taste like! A cross between strawberry and an Asian pear."
And they were all exactly right.
After dinner, the weary travelers took outdoor showers in their indoor-outdoor bathrooms and crawled into their clean and comfortable beds. And I sat down to compose this very long blog post for you.
I knew the story of that coffee simply had to be told. But I started writing this (and downloading the pictures) at 10:00 PM and now it's well after midnight, and I have the alarm set for 6:30 tomorrow morning. Obviously, I'm not going to be able to keep this up.
My posts are going to have to be fewer and farther between.
I'm looking forward to our first writing workshop tomorrow…and really starting to get to know each other.
In the spirit of adventure,
Laura
Post #10: How to Not Offend the Balinese
After early morning yoga and a wonderful morning snorkeling trip for most of us (and sleeping in and massages for others), we met for lunch as a whole group and our guide, Judy Slattum gave us an introductory talk on Balinese customs.
She began by saying that the vast majority of travelers to Bali (and to most places in the world) don't take the time to learn the local customs, and so they regularly offend the local people without intending to through ignorance and lack of awareness. And then she proceeded to give us a crash course on Balinese customs.
Here's some of what we learned:
Putting your hands on your hips means you are projecting hostility.

Beckoning someone with your finger or hand toward you is considered grossly sexual.

Pointing a forefinger at someone is like pointing a gun at them.

Bali is a paperless society. The idea of blowing your nose with a tissue or using toilet paper is distasteful to the Balinese. After using the bathroom, they wash with their left hand–and so they only eat with the right hand. The right hand is called the "clean" hand and the left hand is called the "dirty" hand. As a result, you only shake the right hand, never the left. And if you give someone a gift, you must only give it with the right hand. As a result, left-handed children in Bali are trained out of being left-handed.

Bali is a very religious society. If you say you're an atheist, it's as bad as saying you're a Communist or a devil.

Everything in Balinese culture is considered high or low. High is near heaven and is holy. "High" is where the volcanoes and the sky is. Each of the eight sacred volcanoes on Bali have a temple on top of them because that's where the deities live.

The human body is likewise divided into high and low. Since the top of the head is the highest part of the self, that's where our own personal God or Goddess resides. So the top of the head is seen as sacred. You would never touch the head of a Balinese. If you need to touch the top of someone's head (say if you're washing or cutting their hair), you'd always acknowledge what you were about to do by saying "excuse me" first.

The waist is the at the center of the body; the Balinese wear a temple scarf at their waist to delineate the high part of the body from the low part of the body.

The feet are the lowest part of the body. And the lowest part of the feet are the soles of the feet. So pointing your feet at a Balinese person is considered very insulting. For instance, if you crossed your leg, and put your ankle on your knee, with your foot on top, as many Americans do, you'd have the bottom of your feet pointed at someone. Or if you were sitting on a chaise lounge, with your feet pointing straight out in front of you, and a Balinese person came toward you from the bottom of the chaise chair, the polite thing to do would be to turn your feet away. The basic rule is: Don't stretch your feet out in front of you so they point at someone.

The feet are considered so offensive, a Balinese person wouldn't give someone the finger, but they might give someone "the foot."

There is no floss in Balinese culture. The food is finely chopped which means that things get caught in your teeth. Balinese will use toothpicks to clean and their groom their teeth. You can do this at the table, but only if you cover what you're doing with your other hand.

Men and women never have physical contact on the street or in public. It's considered indiscreet. But people of the same gender can hold hands or be affectionate in public.

Don't ever stare or take pictures of anyone bathing.

If you want to take a picture of someone, you can ask with a gesture, and they will tell you yes or no. Judy told us the story of a friend of hers who wanted to do a photography book of Balinese women and all the amazing loads they carry on their heads. But he was respectful and always asked before he took their pictures–and they all declined. None of them wanted their pictures taken while they were working because they were dirty and sweaty and thought they looked ugly. So the book never got made. If you ask someone dressed for a ceremony, however, they will likely say yes and be happy to have their picture taken.
These girls were certainly happy for Lizzy to take their picture: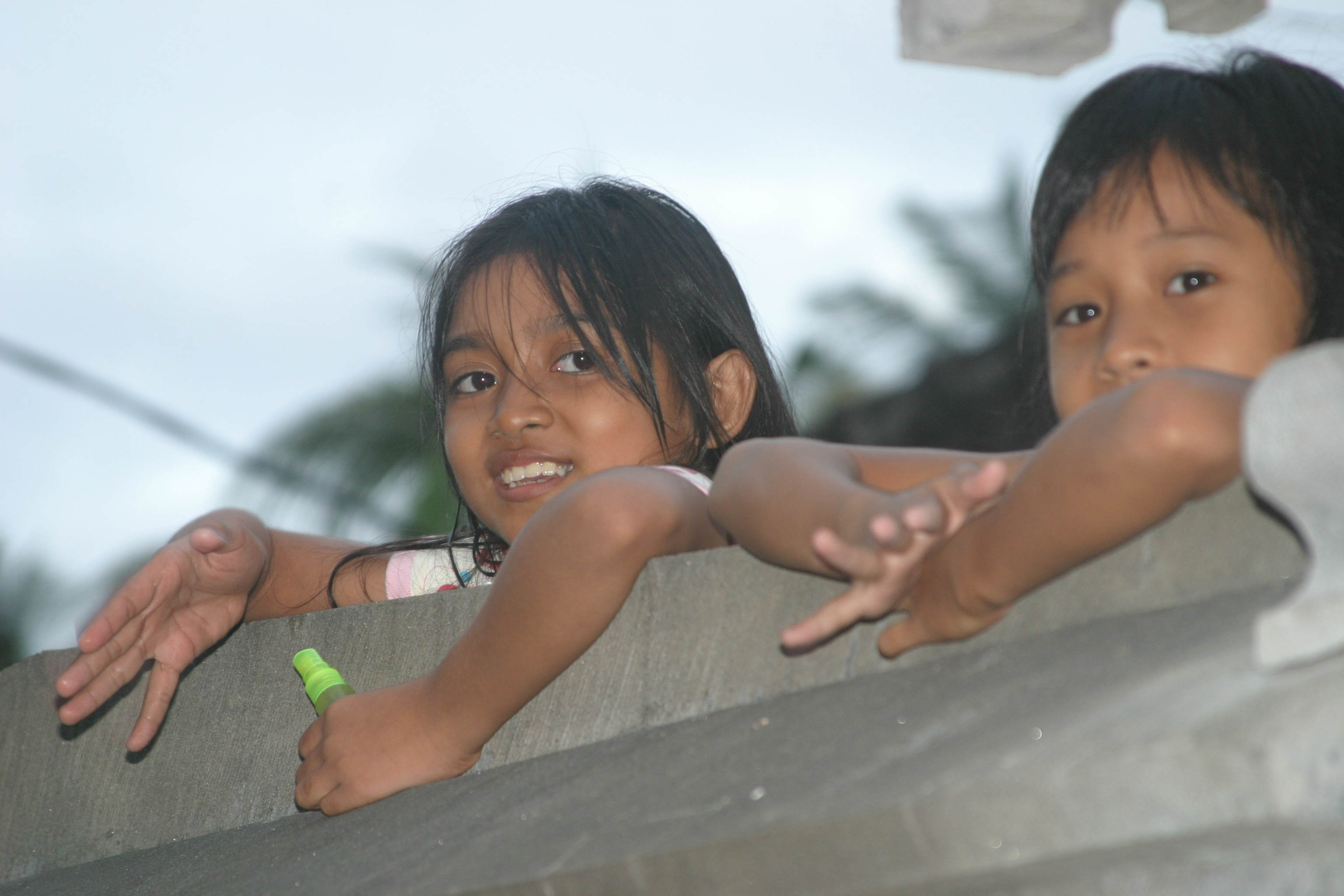 In the spirit of adventure,
Laura
Post #11: Bargaining 101
Today we were going to an ancient walled aboriginal village of Tenganan which is famous for its textiles and other handicrafts.
Since it would be our first real opportunity to buy Balinese art and handicrafts, Judy gathered us together to give us a lecture on Bargaining 101. She began by telling us that in Bali, it's always okay to bargain. There are fixed price places-some very expensive galleries and places like pharmacies and supermarkets, but at markets, you are expected to bargain.
Most Americans, she said, unless they're accustomed to going to flea markets and yard sales, are not used to bargaining. "It's expected in this culture," she told us. "It's not about besting anyone. It's just what's done here."
Bargaining is a game and it's all about getting to know the seller and the seller getting to know you. In our world, in our country, you go into a store, you choose what you want, you go up to the cashier and pay and then you leave the store. And its unlikely that you'd be able to say anything about the person who just sold you the goods you purchased. But in Bali, it's all about getting to know the other person, because if they get to know you, if you become a friend, then they'll give you a good price. And in Bali, the interaction is a pleasant one that creates equal happiness on both sides. You've become friends because of your interaction.
If it's a big purchase, you spend more time with the seller. You may be offered coffee and tea. You might get into a conversation that has nothing to do about the item you want to purchase; you might start discussing where you're from and your family. You hang out, you become friends, and only after that, you seal the deal.
The word for a price in Bali is parga. A store may have a sign that says parga fixed or parga pas. If you see either of these signs or if you see price tags in a store, you will know that the price is fixed. Otherwise, bargaining is expected.
It is often possible to get a good price if you are the first customer of the day because the first sale of the day, called harga pagi, brings good luck. The Balinese actually take the rupiahs from that sale and dust the bills over the rest of the things in the store.
At any time, you can walk into a store and say, I want harga pagi. I want the best price.
To be a good bargainer, Judy told us, it helps to know what something is generally worth and also to be clear about what you're willing to pay. The basic starting place is to offer half of the given price, which should be substantially under what you are willing to pay.
To be a savvy bargainer, there is a lot of theatre and play-acting. The game begins when you walk in casually, look at things here and there in the store, and act nonchalant. Then you see the thing you want, the tablecloth or the mask or the sarong of your dreams. But you don't show any interest. Instead, you might pick it up and look for flaws, sneer, sigh, and then keep going. Keep looking.
Then maybe later, come back that way, never showing any real interest. Utter the magic words, "Berapa harga ini? What's the price? Say it without any real excitement. Don't betray your enthusiasm. Then the shopkeeper's job is to give the price. If you don't speak the language, she might write it on a piece of paper or communicate it by holding up her fingers. This is when the real dramatic flair kicks in.
This is when you react and gasp. You're in shock. Your eyes roll back in your head. You collapse in a chair and feel faint. ¨How could that possibly be the price?" You say, Mahal!" Expensive. Then the shopkeeper replies, "Murah." Cheap. All the while, you're both smiling.
Then she'll ask for your price. You're still in disbelief over 10 dollars, so you say, "How about half or less?" Once you give your new price, then she reacts. She gets an instant headache. She says, "Me bankrute (bankrupt)." Then you come back with more, a little more. Or stick to your guns. And so the bargaining dance goes on.
Sometimes you reach an impasse. That is when you reach the final moment–the walk away. You smile, you mime emptying your pockets, and you walk away slowly. She'll likely run after you. If she doesn't, then that was the bottom. You either eat crow and go back, find the item somewhere else, or you let it go.
When you pay, she's smiling. And you're smiling. And if it is the first sale of the day she's going to go around dusting the furniture with the rupiah you hand her.
The bottom line is never pay the first price.
If you don't bargain, the Balinese will think you're really stupid. They will look down on you.
P.S. And no, I haven't tried bargaining yet. I've told my writing students here I expect them to take one new risk a day–whether its eating an unfamiliar food, trying to speak a few words of Indonesian, breaking a habitual pattern or trying to bargain–that is definitely going to be one of the edges I need to cross myself, coming up soon.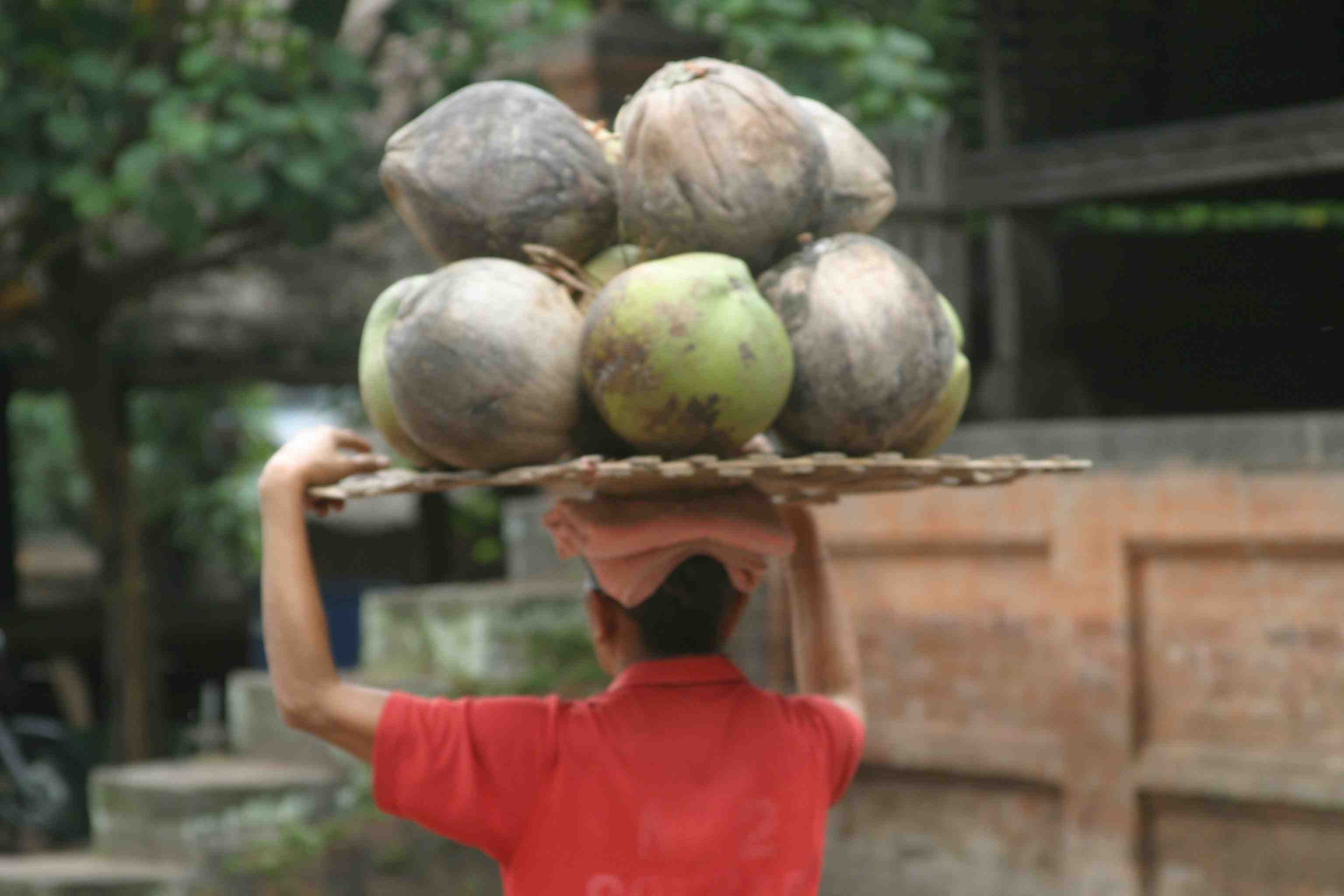 In the spirit of adventure,
Laura
Post #12: Adventures at the Water Palace
Today we went to the water palace of Tirtagangga, a rich maze of pools and fountains surrounded by a lush garden and stone carvings and statues. Tirta Gangga literally means water from the Ganges and the water palace was created by the region's last Raja in 1946.
In addition to a very delicious lunch, I had the most refreshing drink I've ever had, a mint lime honey drink that tasted like pure unbridled refreshment. It was so alive, I could drink it every day for the rest of my life. I'd love to learn the recipe. Our garden back home is chock full of fresh wild mint.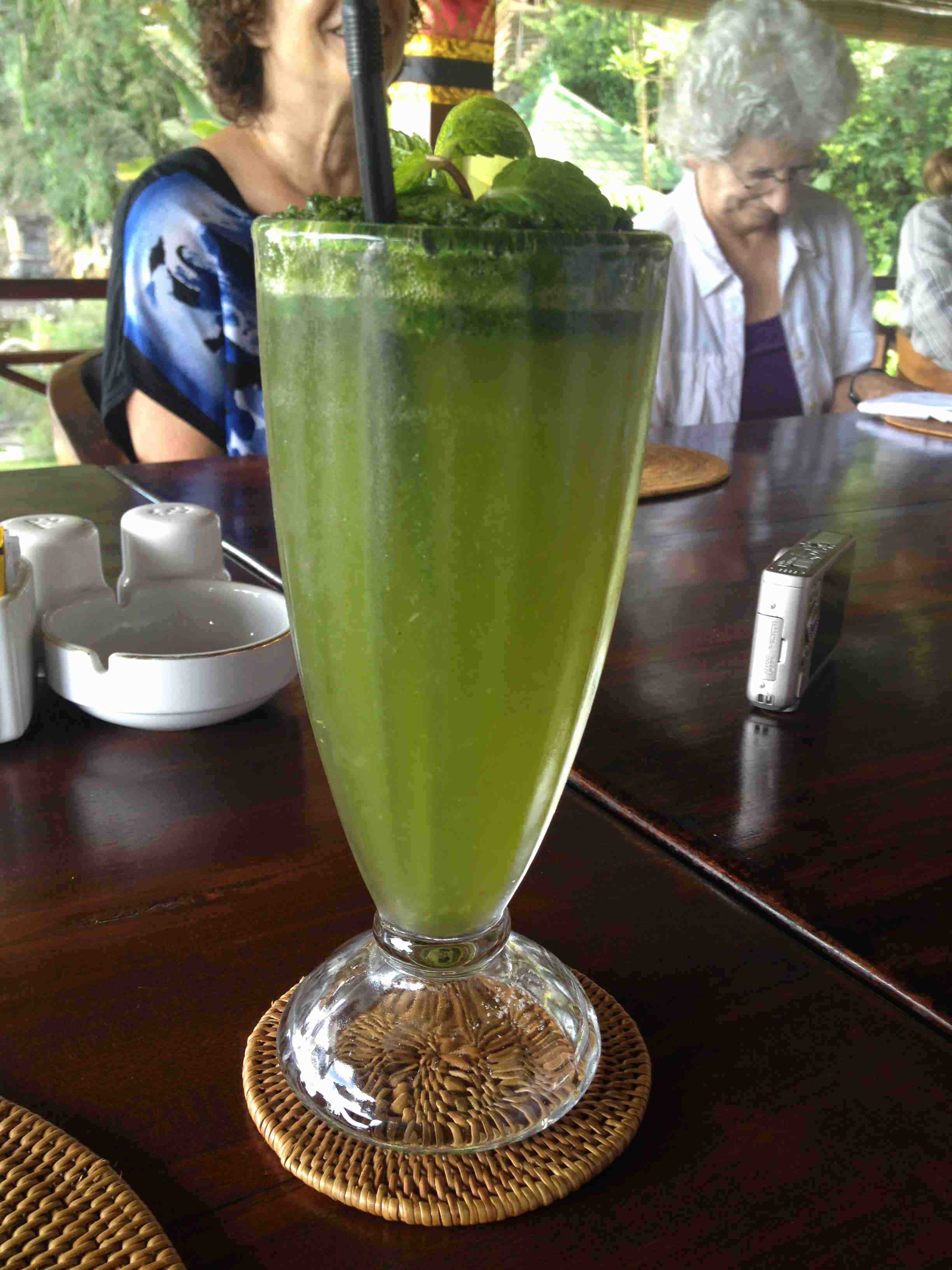 The gardens outside which surrounded koi ponds were filled with statues of characters from the Indian classic work, the Mahabaratha. Karyn and I walked the water labyrinth, stepping from stone to stone amid the incredible statuary.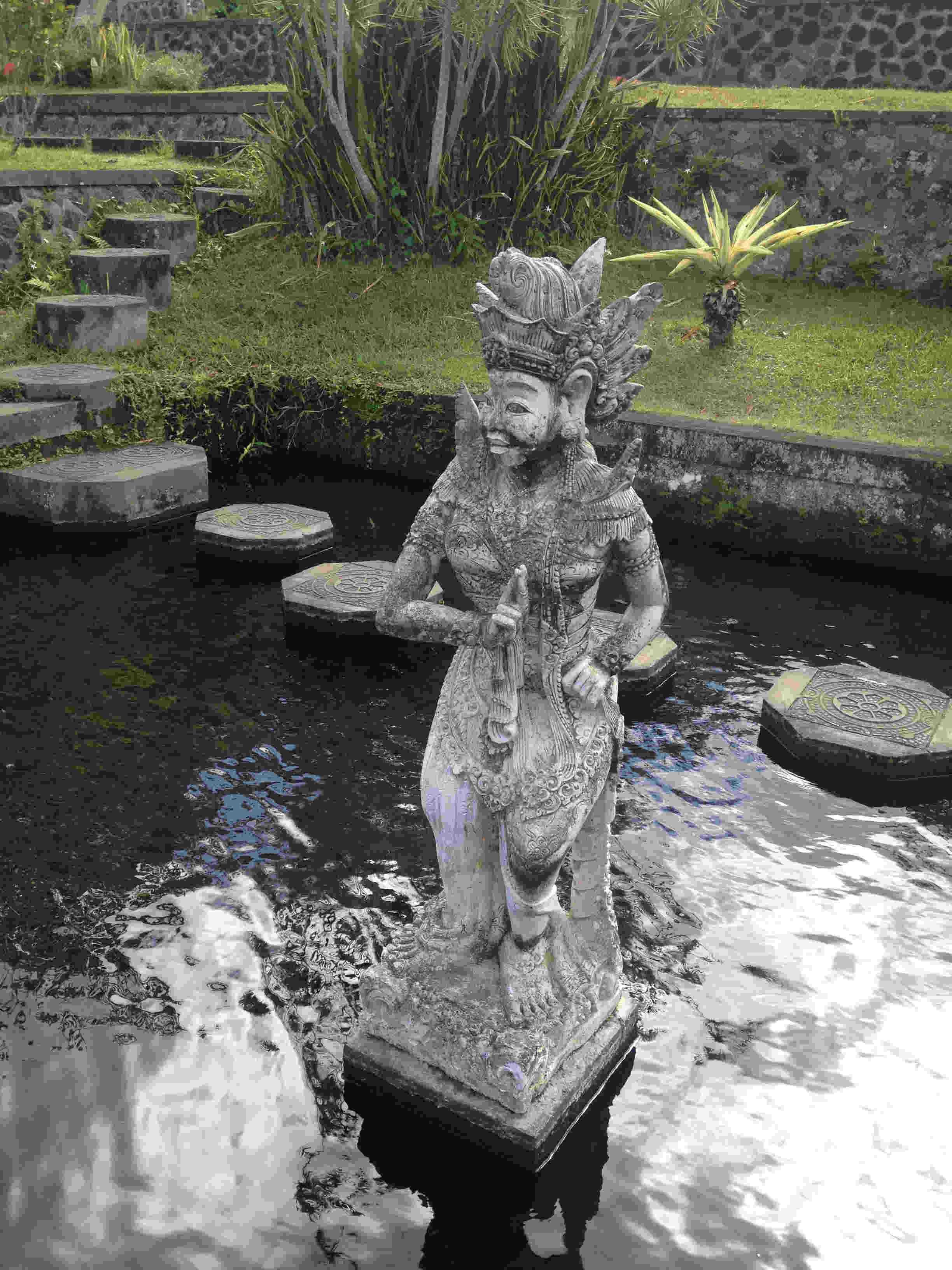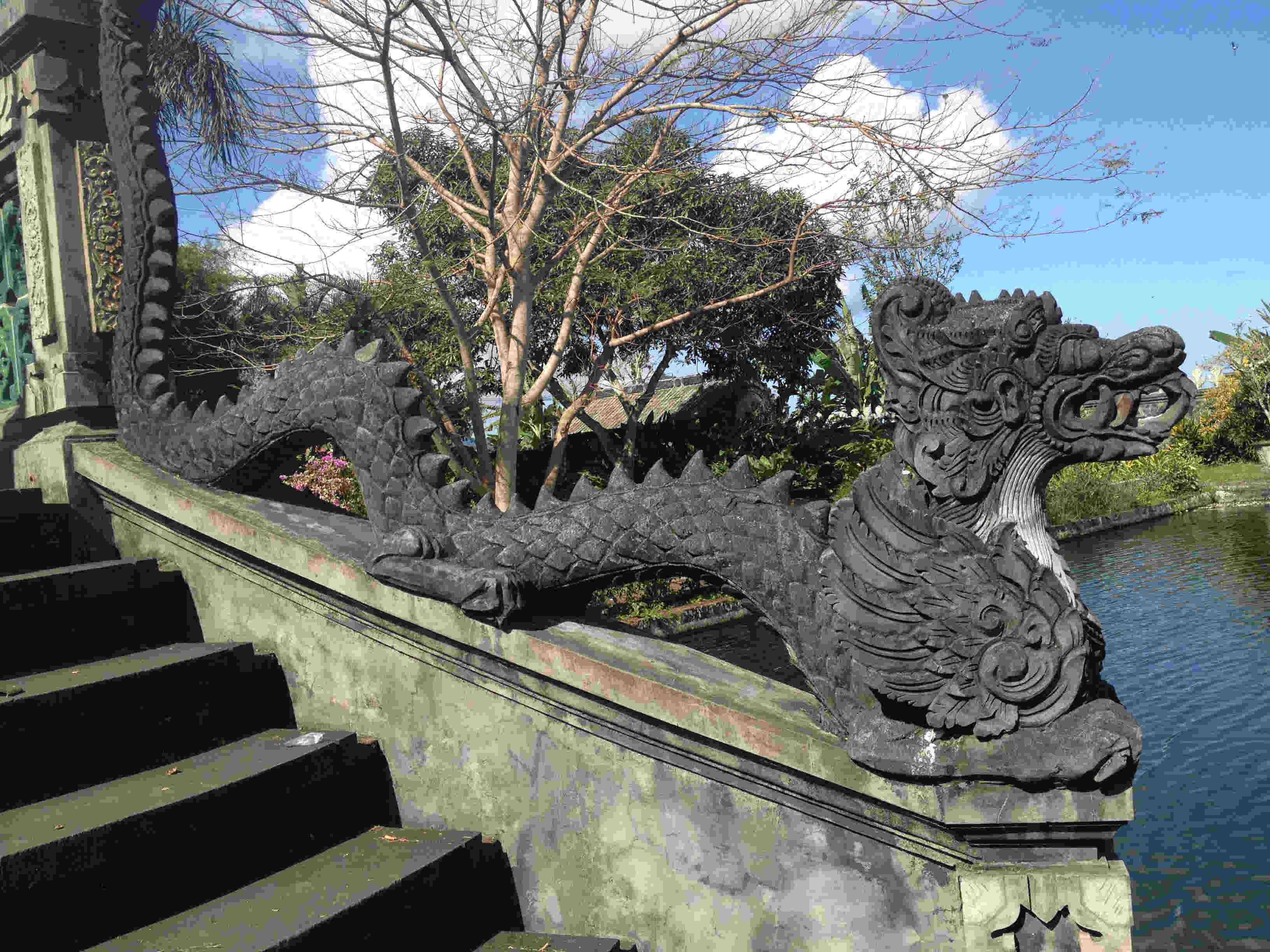 We even found this statue of a demon giving someone the foot-as you learned in a prior post, the ultimate insult in Balinese culture. But apparently it's permissable for animals to give the foot, just not people.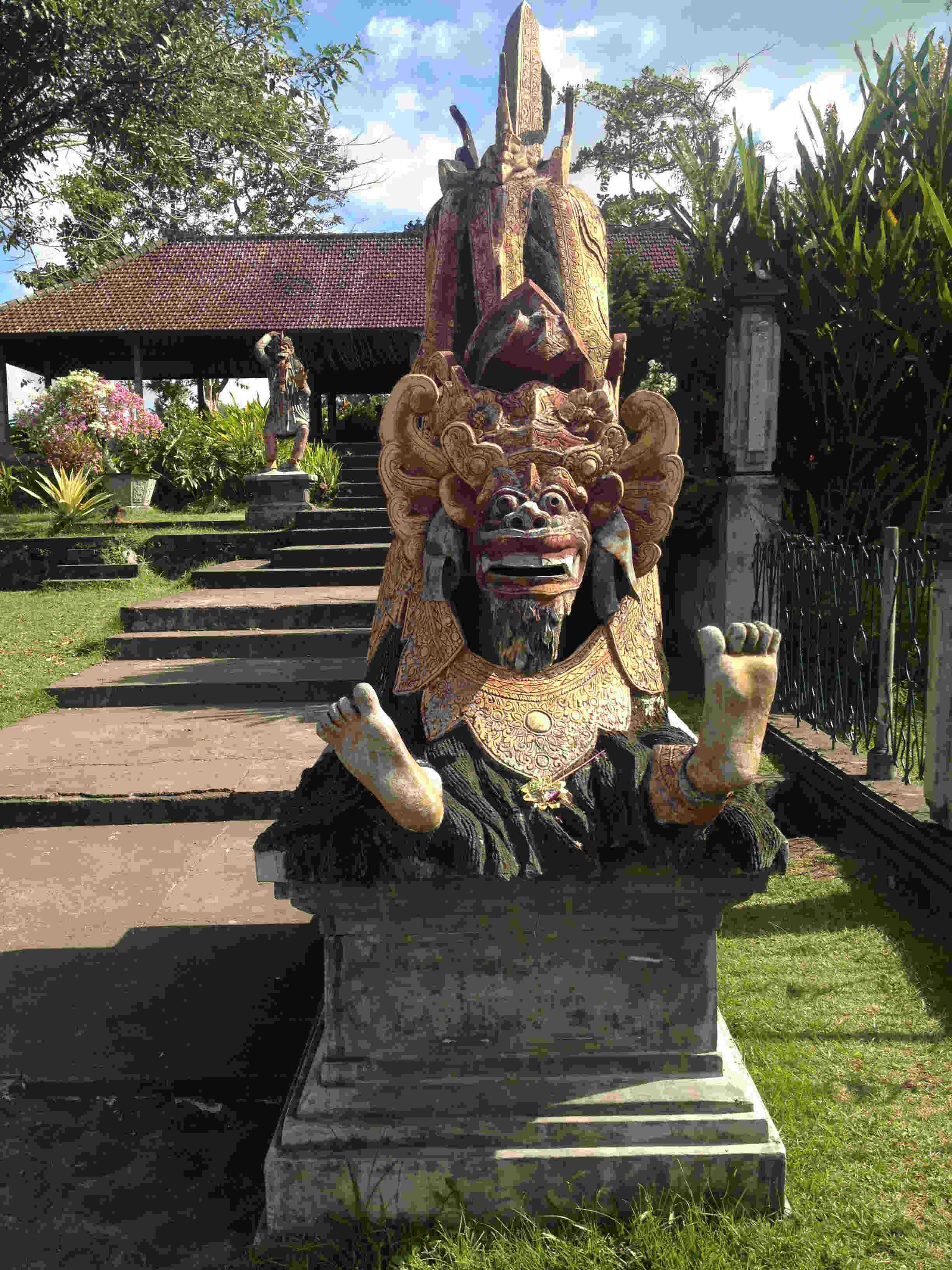 Karyn teaches us yoga every morning and here she is, not able to stop herself from doing more.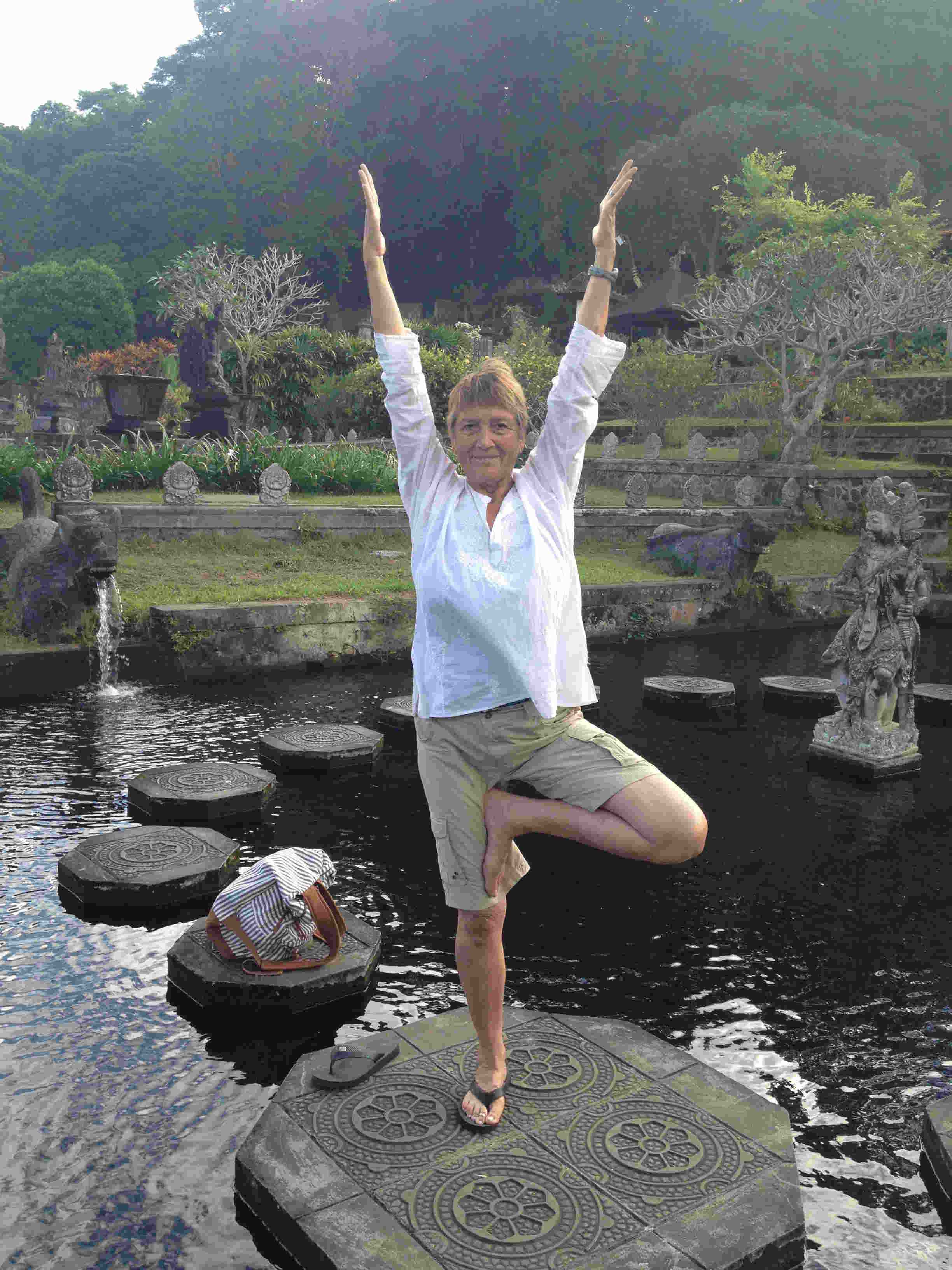 Here's Karyn, always doing yoga!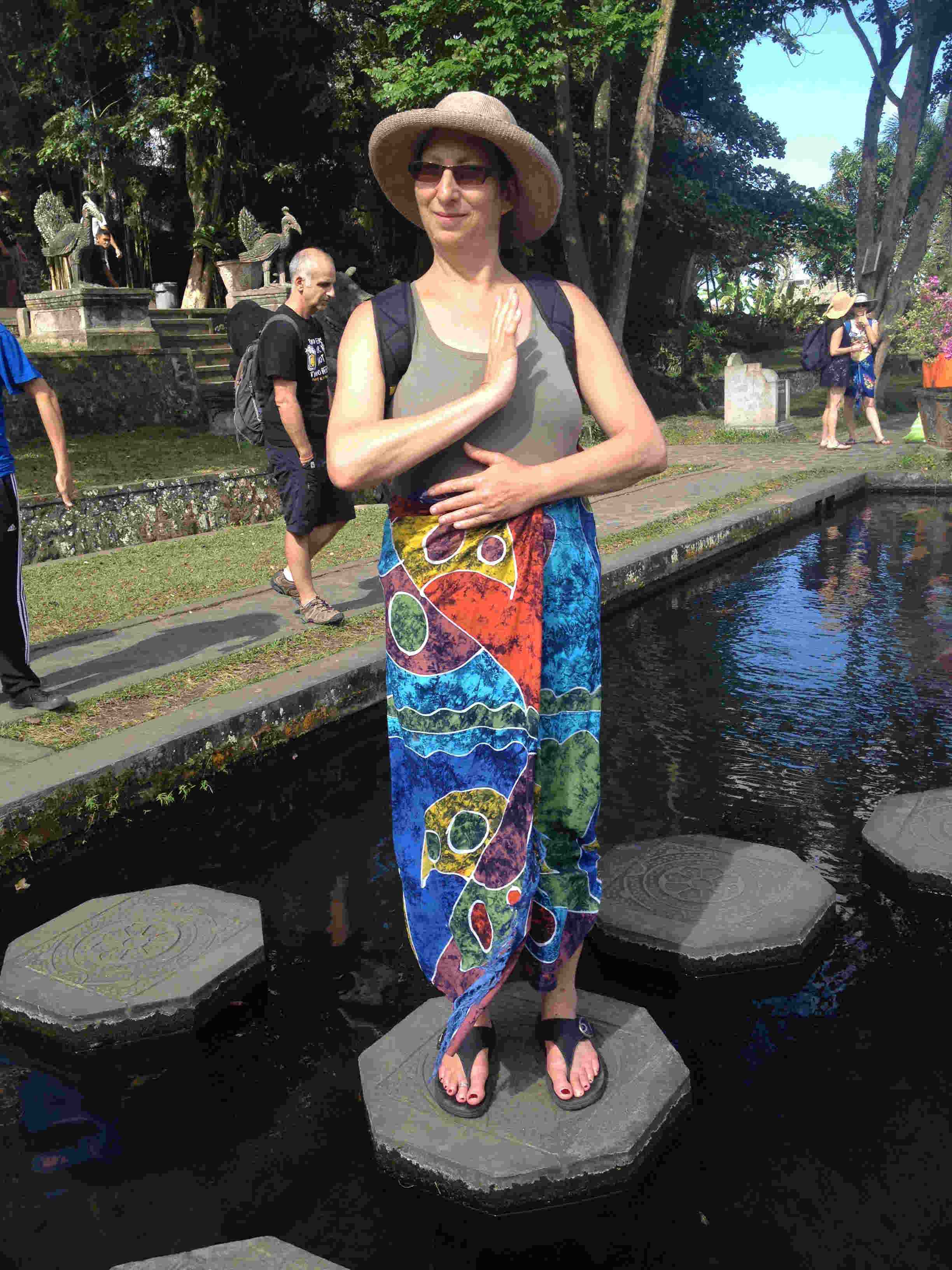 I had an interesting realization while we were driving back from the water palace today. The very sights that just 12 days ago were so incredibly new and unexpected and amazing to me have become familiar. How could that be?
Then, after writing class tonight, a group of us looked up into the clear night sky and realized we were looking at totally different stars. One of the members of our group lives in Australia and she started pointing out the constellations in the Southern Hemisphere. It was another one of those moments when it hit me again, wow, we are really all in Bali.
Tonight is our last night in Candi Dasa. I will miss the incredible views, the constant sound of the ocean, the yoga in the open air pavilion, the first days of our writing circle, and of course, the diving. Lizzy and I have been here almost two weeks. And this is the place where our group is starting to gel into a community.
Tomorrow, Judy's husband, Surya, joins our group as we move on to Ubud. Surya is Balinese but lives in Santa Cruz part of the year. His depth of knowledge about Balinese arts and culture, and simultaneous understanding of our culture, is going to add a very rich dimension to our tour.
Onward to Ubud tomorrow. I will try to file at least one report from the arts center of Bali.

In the spirit of adventure,
Laura
Post #13: A Risk A Day
The theme of this retreat to Bali is transformation. So the first day of the writing class, I gave the instruction, "Part of transformation is letting go of what is safe and habitual. So every day, I want you to take a risk. It doesn't have to be a big, huge risk. It can be a small, tiny risk that might seem insignificant to anyone else, but for you, it meant pushing a limit or an edge. Make it your practice to look for that risk every day."
So, just to keep myself honest, here are some of the risks I've taken so far:
tasting jackfruit and mangosteen and half a dozen other new tropical fruits

completely revising my plans for teaching each day right before each day's class

going to yoga every morning despite my tight hamstrings and hatred of downward facing dog

doing downward facing dog

getting something I didn't order in a restaurant and diving into the new food with an open mind

tasting every Balinese dish I've been offered

trying out a few basic Indonesian words while out in public

starting conversations with some of the Balinese people who work here about their lives, finding common ground, finding humor
Today, I took a poll of the group while we were having our last breakfast at the Lotus Bungalows about some of the risks they've taken so far. Here`s what some of them came up with:
"I got on the back of a scooter and went for a long ride in the mountains."
"I went by myself to spend the evening with a Balinese family after making a connection with one member of the family. Then I rode home on a scooter."
"I've opened up with complete strangers who have become my friends."
"Considering my age and health issues, coming on this trip at all was a risk. I'm doing way more than I thought I would.¨
"I connected with the Balinese driver for an hour yesterday and learned so much about the local people."
"Showing up for yoga every morning."
"I tried bargaining."
"I skipped writing class to go meditate at the local ashram."
"I didn't feel I could walk up and down the hills in the village, and I did it anyway, with help from the group."
"I had my first massage ever."
"I went snorkeling for the first time."
"I`m 84 years old and I'm afraid of falling so walking on the sidewalks that are uneven and full of so many holes is a risk for me every day."
"Sharing my writing out loud in the group."
"Being the first one to sing om in yoga class."
"Yesterday, I sat in a shop with a shop owner and her daughter and talked to them for an hour. I stayed and took the time to get to know them. It was a very warm, kind experience."
"After Judy talked about the high mortality rate on scooters, I took a deliberate risk and took a second motorbike trip to the rice field."
Now we have arrived in Ubud. It is a completely different environment that the peaceful Lotus Bungalows. We are in a pretty, urban hotel and there is constant construction outside during the daytime hours. Within a block of here is the Monkey Forest (an outing for tomorrow) and a million little tourist shops. Some of us took off after lunch today for a bit of power shopping and I did my first successful bargaining, so I guess that was today's risk for me.
In the spirit of adventure,
Laura
Post #14: The Four Ceremonies That Bind Balinese Life
Yesterday, on the way to Ubud, Judy began to tell us about the rituals that hold together the fabric of Balinese life. There is much less alienation in Bali because everyone in the culture has their place and the ceremonies that mark the stage of life keep everyone in that rightful place. Everyone belongs and everyone is part of an interwoven community.
There are four major ceremonies that happen, sequentially, in the life of every Balinese. The first, the baby ceremony, usually takes place when a baby is six months old. Babies are considered to be little deities, fresh from heaven and they are revered by the Balinese. There is no child sexual abuse or child abuse among the Balinese.
Each baby is considered to be the reincarnation of an ancestor, and parents often go to a channeler to find out what ancestor their new child is. They might be told, "This baby loves the water like great aunt Made." Or "This baby has a high dimple, just like grandfather Ketut."
For the first six months of their lives, babies' feet never touch the ground. They are carried everywhere, by their whole extended family. At six months of age, they receive their first haircut, their feet touch the ground and they are given a name. At that time, they move from the heavenly realm and become a human being.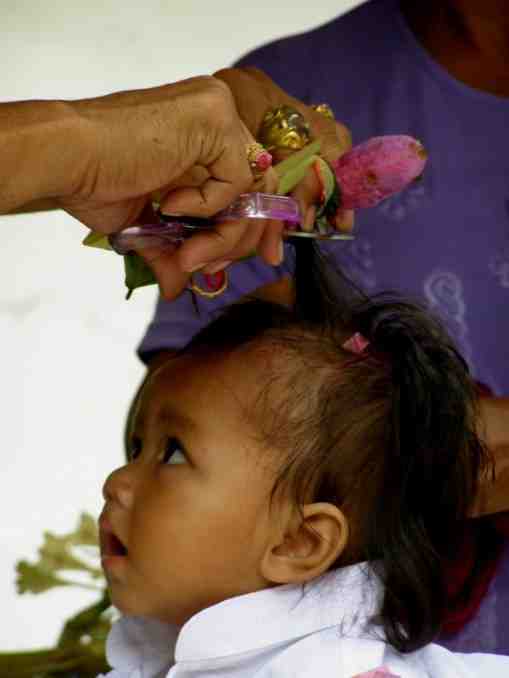 The second major ceremony in Balinese life happens at puberty. It is the crossing over into adulthood. That is the time when the young person is at risk of being lured by the Balinese equivalent of the seven deadly sins. It's a risky time spiritually because demons are hanging around.
This is where the teeth filing ceremony comes in. The Balinese believe our animal energy is stored in our canine teeth and in order to control it, the canine teeth must be filed down.
The young people are dressed in gorgeous clothing and big headdresses and a specialist is called in to file down their canine teeth. Herbal medicine is rubbed on the gums to numb them and then each teenager gets to determined how much filing they want done. The filings are kept and put in a small coconut so low spirits can't get a hold of them. Later they are buried.
If a young person dies before their teeth have been filed, the corpse must have its teeth filed before it can be cremated.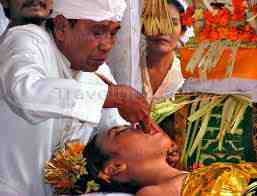 The third major ceremony in Balinese life is marriage. All Balinese want to get married, and Balinese men are allowed to have up to three wives, if their first wife gives her approval. The marriage ceremony is expensive. The whole community must be invited and fed.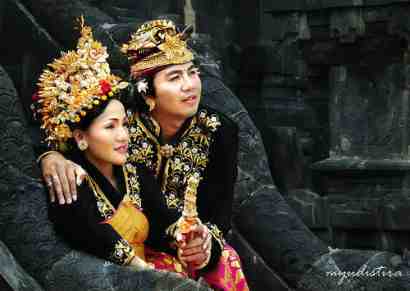 The final and most holy ceremony for the Balinese is cremation. Cremation is the most expensive ceremony, and because of the very high cost, it does not usually happen immediately after death.
When you drive around Bali, you see little tiny headstones on the ground. These are temporary burial sites for people who have not yet been cremated because the family doesn't have the money for the cremation, and so they have to wait for a mass cremation ceremony. Often bones stay in the ground for five years or ten or even twenty until they are dug up and given their final ceremony–a ritual cremation.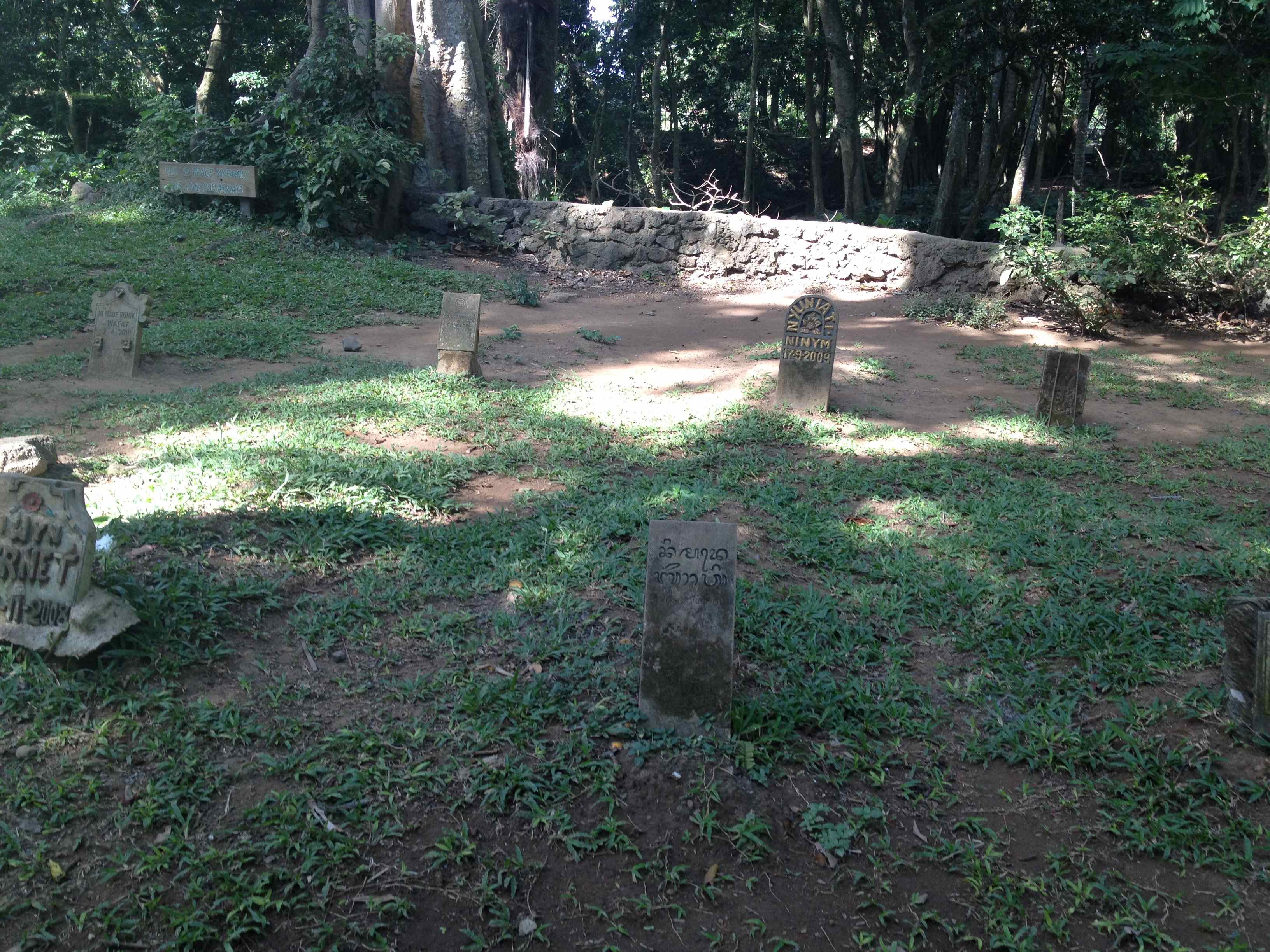 Cremations are held in a public place and they are a joyous time for the Balinese because the soul is being liberated.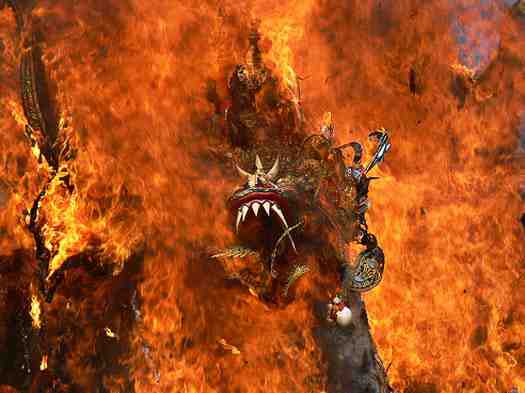 I find it absolutely fascinating to learn about this culture. I hope you are enjoying these posts, too.
In the spirit of adventure,
Laura
Post #15: Urban Adventures in Ubud
Yesterday was a transition day. We left the incredibly spacious, stunning, expansive Lotus Bungalows resort right on the ocean, and we came to Ubud, and moved into an urban hotel right in the middle of the shopping district. Judy, who set up all the logistics for the trip, couldn't have known that there would be non-stop construction going on right across the alleyway–continual banging, sawing and hammering from 8 AM until 9 PM. Trying to teach and write, to do yoga or even have a conversation in the midst of all that racket was nerve-wracking. Most of us felt a little shell-shocked.
The only good thing about the logistics at this hotel is that Karyn has what I can only call a "yoga throne," more like a yoga basket. In India, this is what the teachers use when they teach yoga. They sit calmly in the basket and shout out poses. As you can see, Karyn really like this a lot.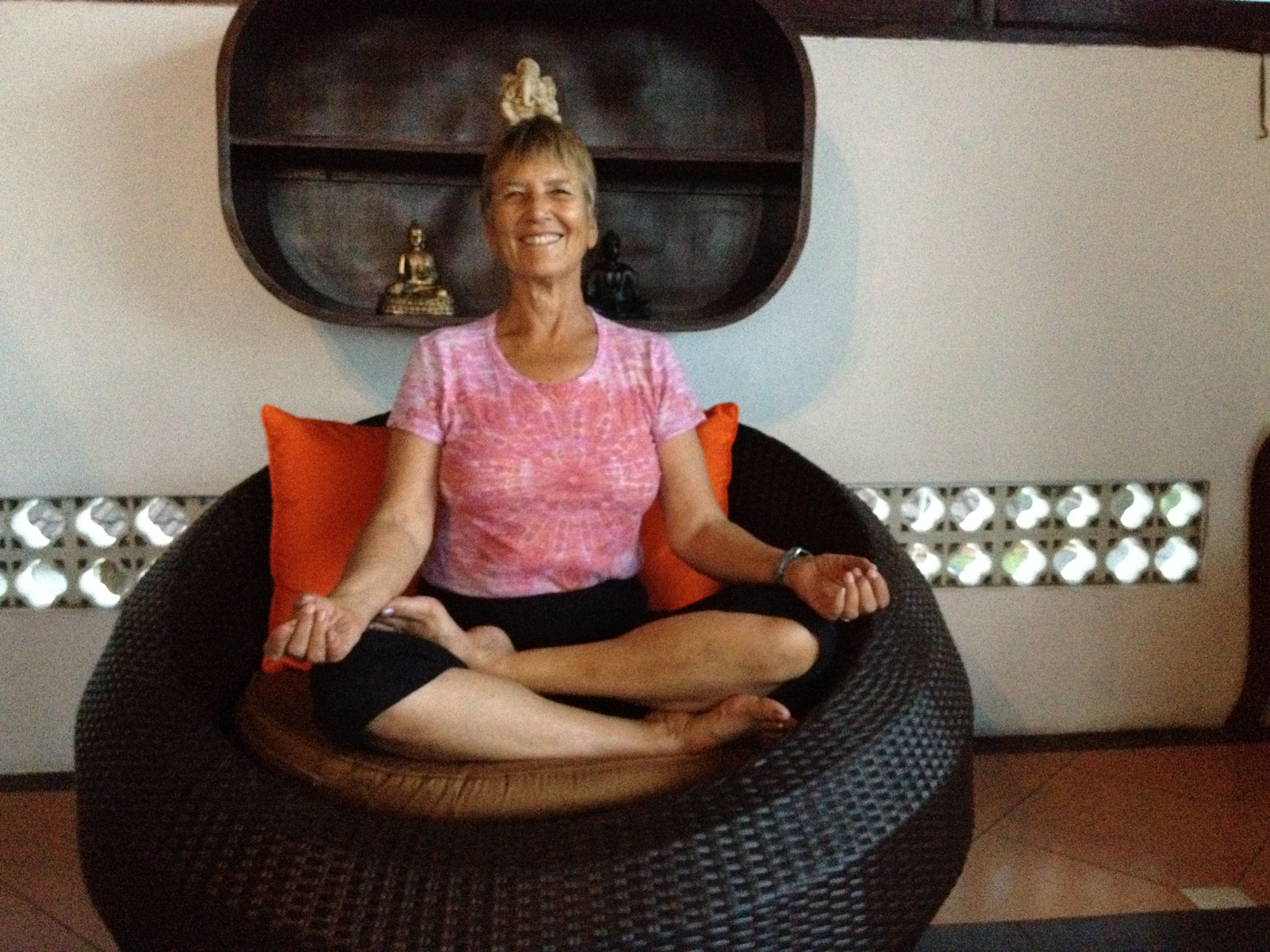 Last night, feeling a bit strung out, Karyn and Lizzy and I headed out to a famous duck restaurant, Bebek Bengal, also known as the Dirty Duck Diner. It was right down the street and had a huge tacky sign out front, yet we had one of the most delicious, entertaining dinners I've ever had. I chose the house specialty, a sweet, crispy skinned duck with three very spicy fresh dipping sauces. I don't normally eat duck, but Lizzy and I had grown to love it while traveling in Uzes, France last summer, and here was another chance to try it. Lizzy chose a different variety of duck with wine sauce, and Karyn ordered chicken sate on skewers. My duck was so fantastic, I'm going back to eat it again.
I had my first alcohol of the trip last night at dinner–a Balinese margarita, made with the local alcohol. Karyn had the local beer. Pretty soon, the travel and noise and stresses of moving nineteen people to a new location were behind us and we were reveling in the completely relaxed aura of the restaurant. We sat on cushions under a wooden rectangular table out in the open air and ate and laughed, the three of us relaxed and so happy to be traveling together. This is the first time I have ever taught a retreat (or anything for that matter) and brought my family along. And this is the first time in 22 years that Karyn and I have ever worked together. We only wished Eli could have been with us.
Over the course of our very long dinner, we made friends with our waiter, Wayan. Lizzy has picked up more Indonesian than either of us, and with her fledgling abilities, she initiated our first forays into friendship with him. When we told Wayan we were from California, he like, every Balinese person we've met, said, "Oh, Arnold Schwarzenegger!" We laughed, and Lizzy said, "Not any more!"
Wayan smiled, a big happy smile, and said, "Barack Obama?" And Lizzy said, "Yes, we like Barack Obama." Our waiter, it ends up, had been at the embassy in Jakarta when Obama visited, so he'd actually been a lot closer to our President than we ever had.
Today, after a good night's sleep, a shower and some sweet black rice for breakfast (at a cost of 70 cents at the restaurant next door), I began to fully delight in the richness of our urban adventure.
After Karyn's morning yoga class, we started the day with a walking tour of Ubud. Judy first took us to the Monkey Forest, a tourist stop with a pathway past many statues and a Temple dedicated to Durga, the Hindu Goddess of Death. Before we entered, Judy warned us to take off anything we were wearing that was shiny because the monkeys might snatch it. She told us not to feed them the bananas sold by hawkers all along the pathway, calling out, "Banana for monkey?" The monkeys have grown overweight and dependent on the tourists, eating banana after banana. The locals put cut-up sweet potatoes on the ground–the monkey's natural food. But they are still overweight and can be aggressive.
There were monkeys everywhere, and the little ones, especially were cute. Lizzy couldn't resist taking lots of pictures of them. Nor could the rest of our photographers. Here's some of what Lizzy captured today: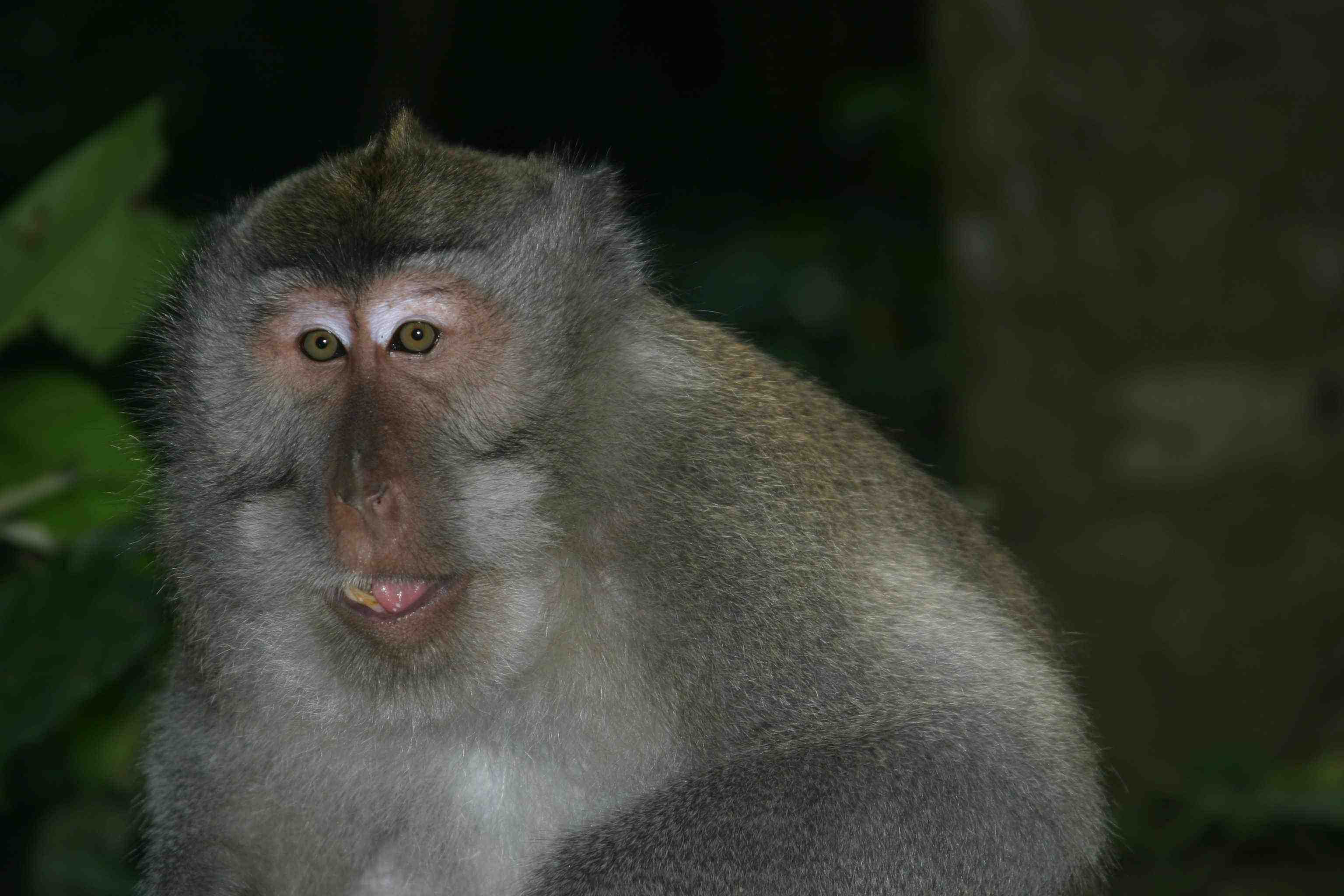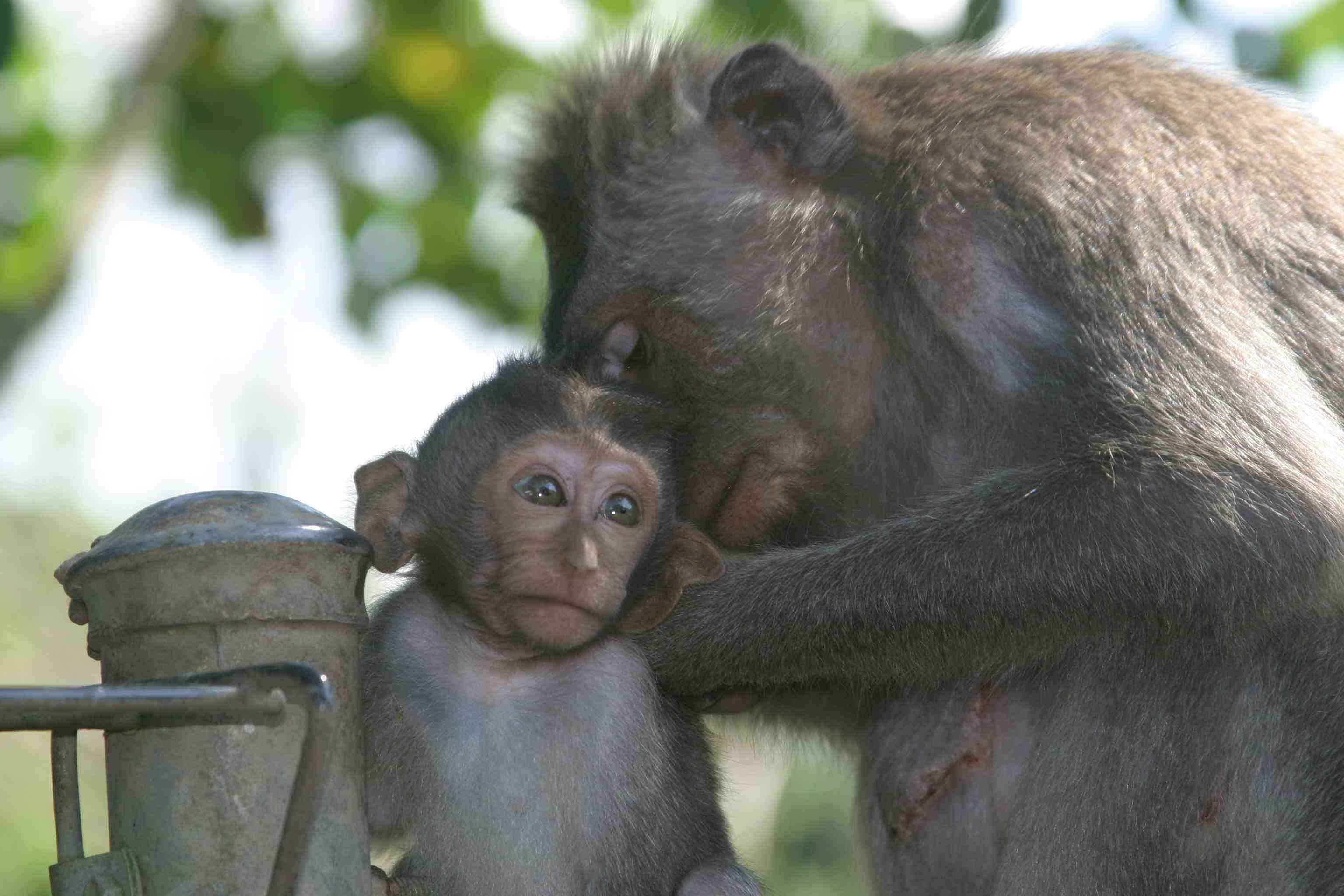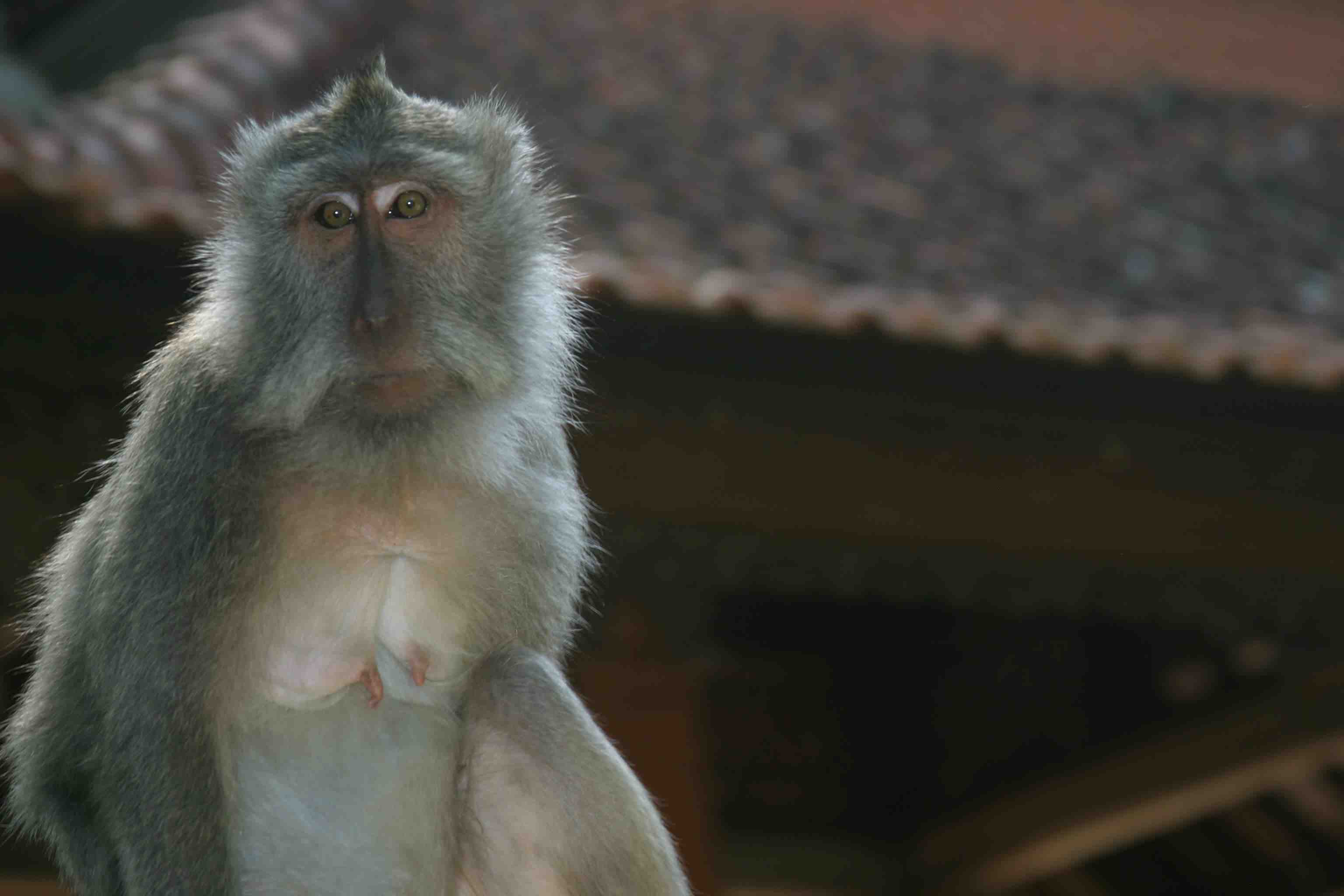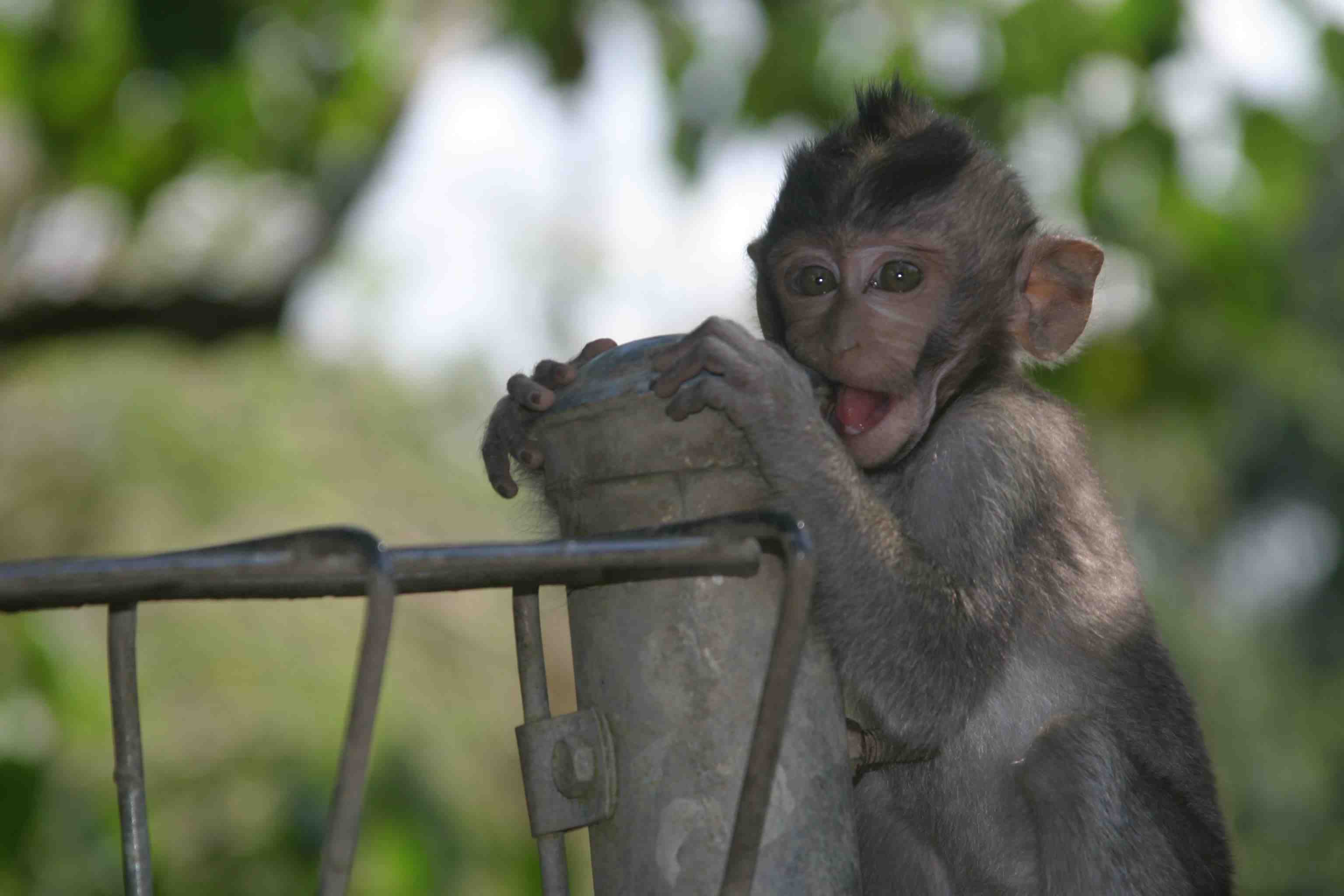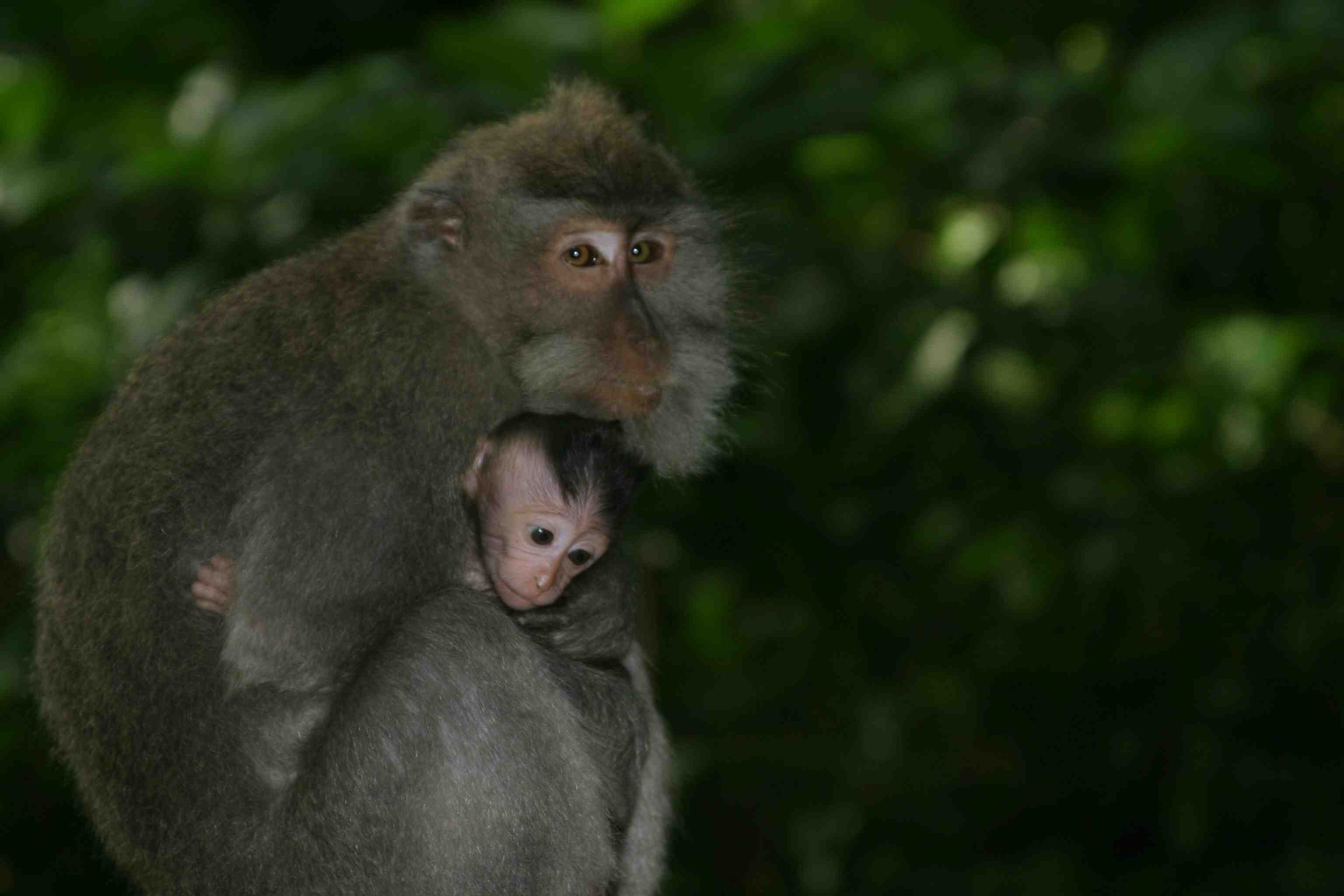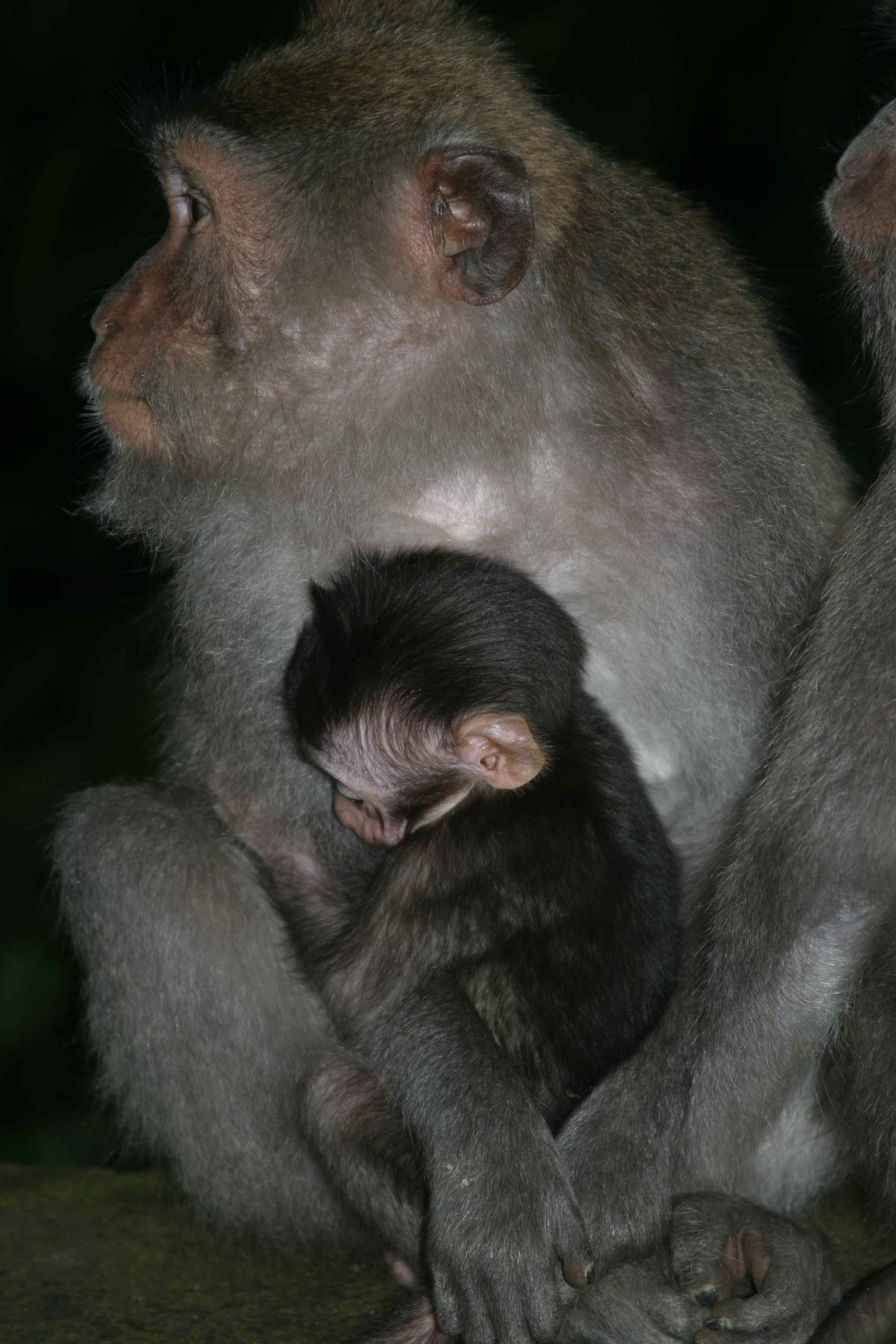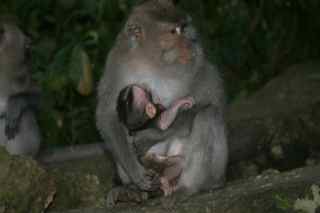 After our stroll through the monkey forest, Judy gave us the history of the Temple dedicated to Durga and we watched a group of Balinese musicians, in full temple garb, start to set up their incredibly intricate and beautiful instruments–red with gold leaf–for a gamelan performance that would be part of a ceremony later in the day.
Continuing our walk. we emerged into a shopping district, full of kitchy tourist shops, men hawking taxis, women in traditional clothing making offerings in the middle of the busy sidewalk, right in the middle of all the chaos. It was hot. We walked fast past all the shops, watching out for the uneven, unsteady paving stones, and huge holes that regularly appeared in the sidewalk.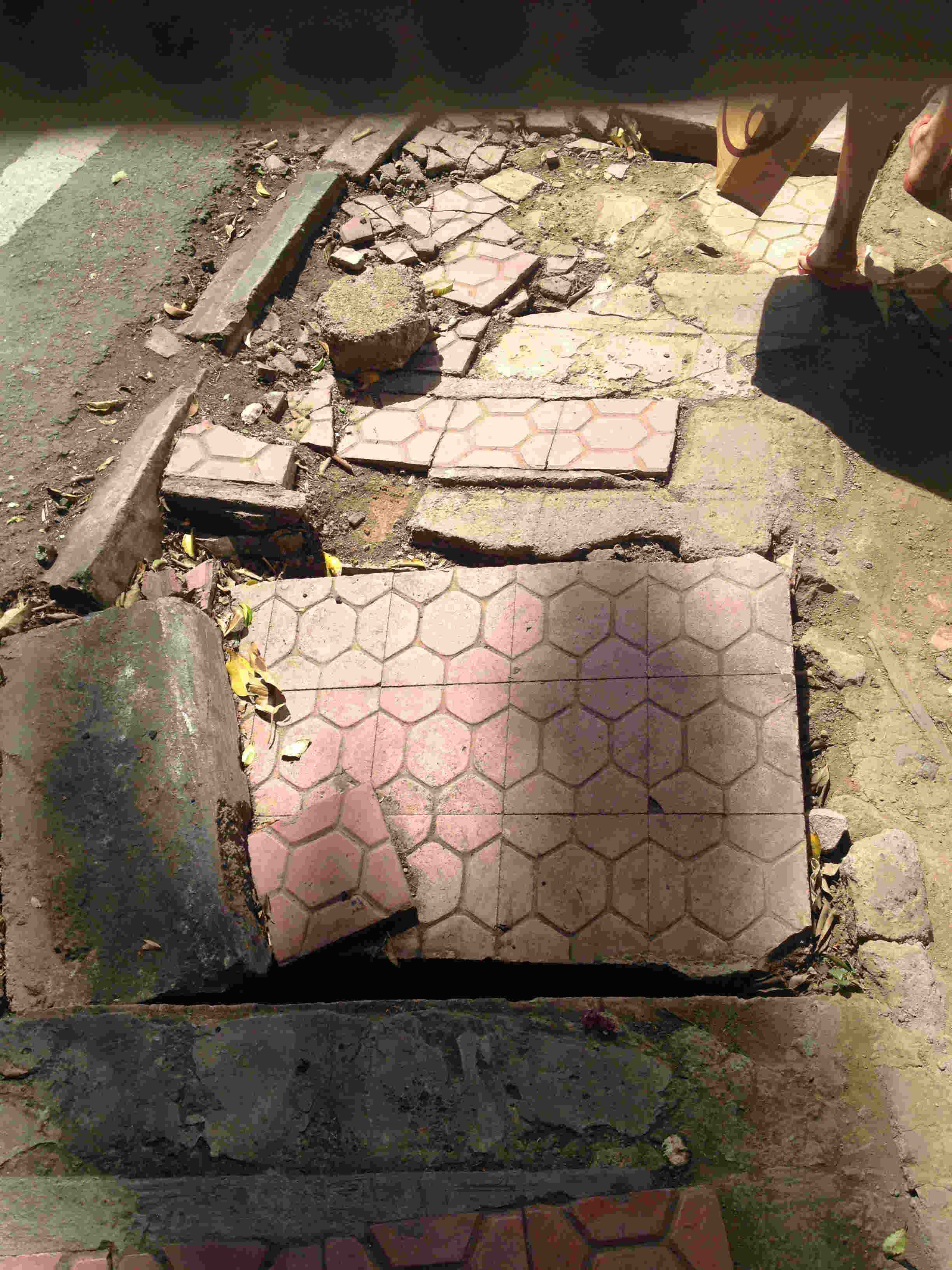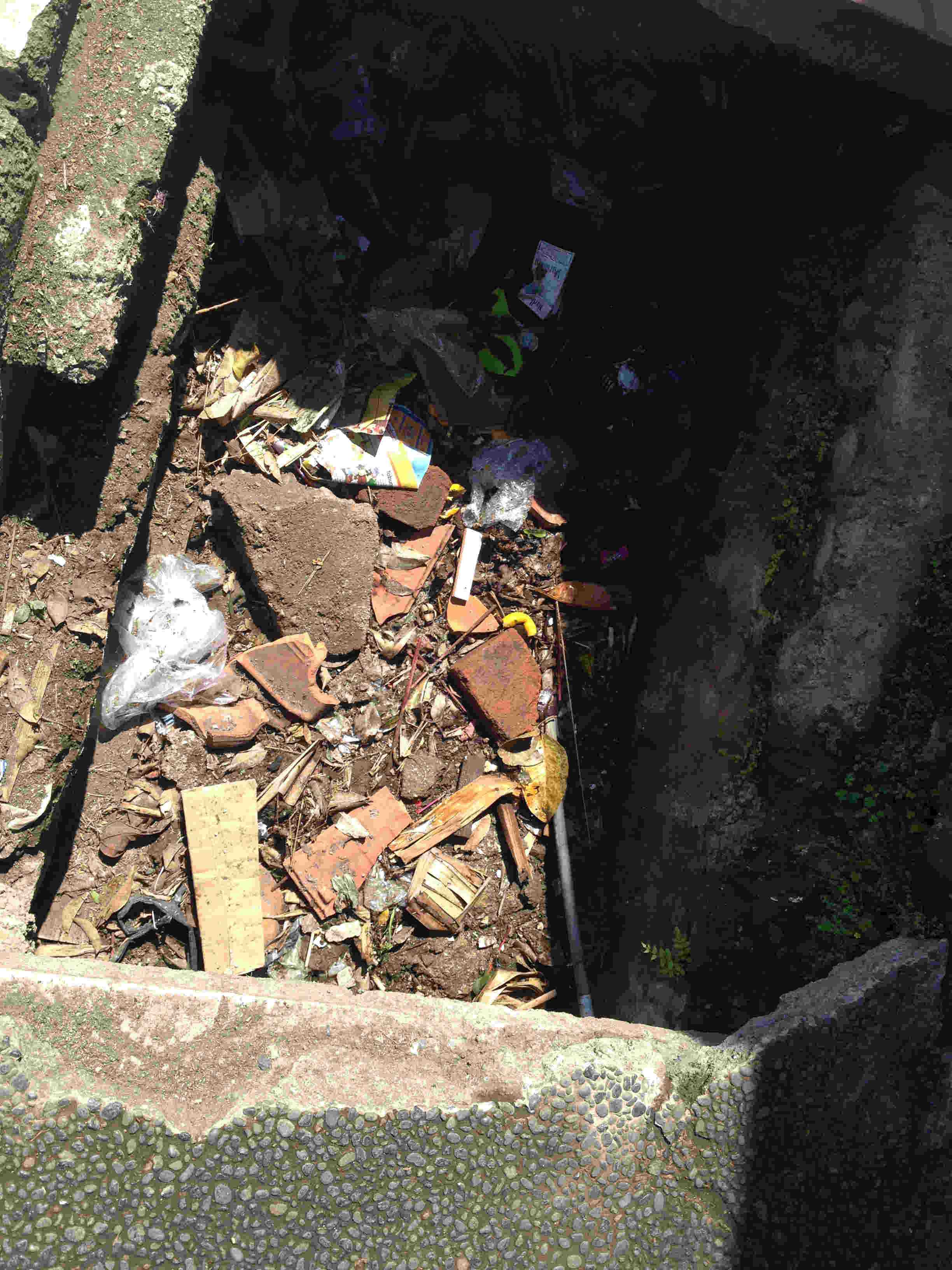 Judy was taking us to one of her favorite lunch spots, Three Monkeys. There, about a dozen of us who'd come on this excursion had some of the most delicious and prettiest food I've ever had.
I ordered this salad for 59,000 rupiah, the equivalent of $5.90. It featured watermelon, feta cheese, red onion, mint, rosewater and balsamic vinegar. I could eat this salad every day and die happy. Best of all, we have mint growing all over our backyard. This is something I could easily learn to make at home.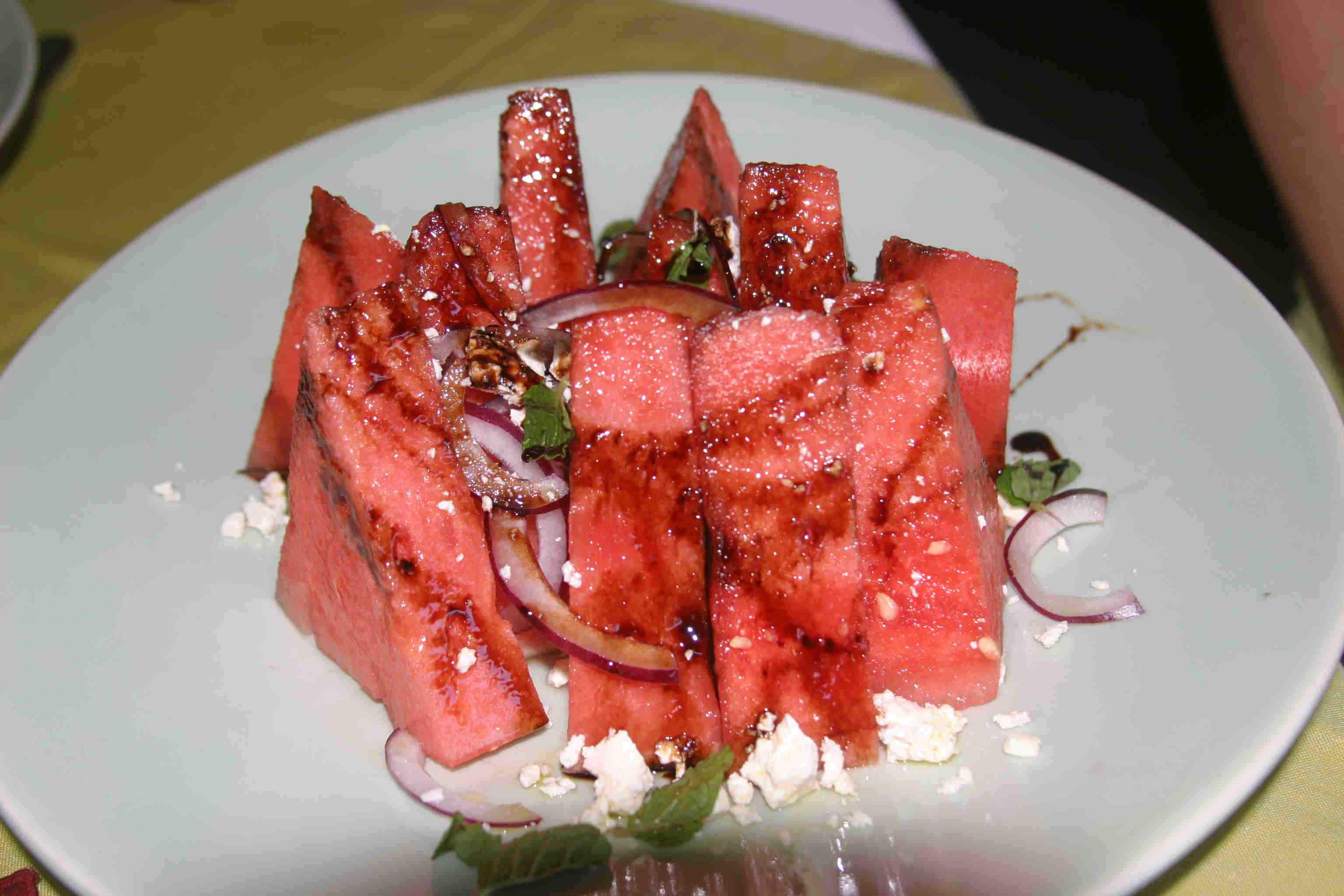 This was red snapper breaded with lemon sesame crumbs, topped with mango salsa and served with wilted bok choy and sautéed parsley potatoes. Is that beautiful food or what?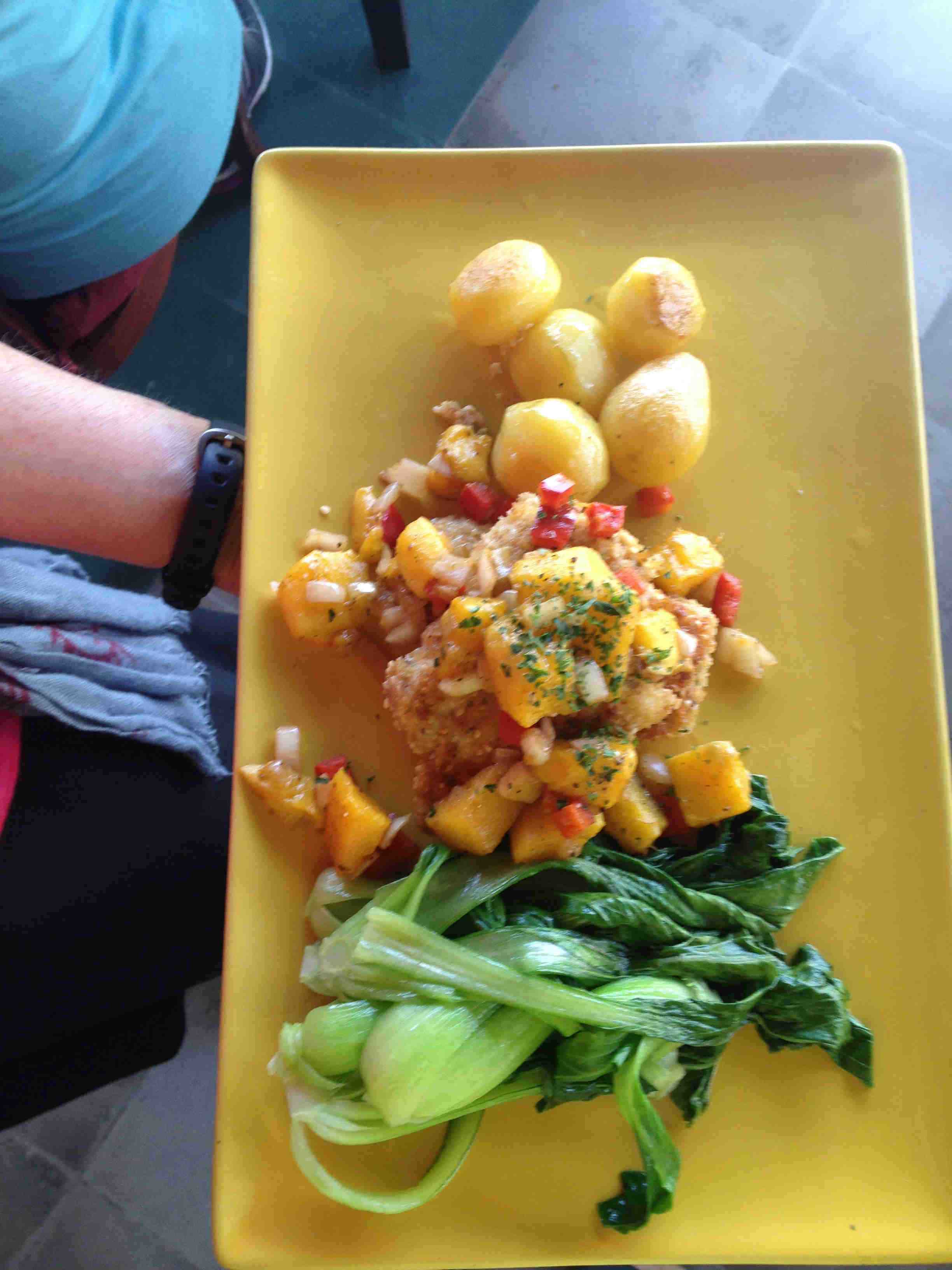 We left happy and full and then did some power shopping, buying presents for ourselves and to bring back home. All of us had got the knack of bargaining and as Judy had told us, each interaction with a sales person was full of humor and good cheer. I left every store smiling, having bought whatever I wanted in my bag for substantially less than the initial asking price.
Then Judy brought us to a huge fabric store, full of bolts of amazing hand-made batik and other incredible fabrics. There was a tailor on the premises and this was a place where we could have clothes made to order in the couple of remaining days we were going to be in Ubud. Karyn and I had decided that we were going to buy tablecloths while in Bali. That was what we were going to bring home with us since we entertain a lot and all our tablecloths are funky, old and stained. I figured we could get a great deal since we were in Indonesia. Everything is cheap, right?
So Karyn and Lizzy and I chose a couple of bolts of gorgeous fabric, one for inside tablecloths and the other for the tables out in our garden. I had six different tablecloths on my list. I had measured all our tables at home, as well as size of our back bathroom that needed new curtains. So I huddled down with the saleswoman and with some help from Judy and a tape measure that had inches on one side and centimeters on the other, and we started to calculate what the first tablecloth would cost. After about twenty minutes of measuring and miming and getting partial translations, we found out that even with our 20% discount for being part of Judy's group, our first tablecloth was going to cost us $120 dollars, just for the fabric. I'd thought maybe, since we were in Indonesia, where everything is so inexpensive, that we could get them all for that price. Not. And so we put that fabric back on the shelf.
Karyn and I decided to go for the curtains in our bathroom instead–one sewing project, instead of 8. We chose another fabric and then, with the saleswoman and the tailor, who came up from downstairs, we spent the next hour working out the dimensions of the curtains, the amount of extra fabric we wanted so they'd curve rather than lay flat, how we wanted the top of the café curtains sewn and so own. Judy helped translate at a few crucial junctures, but basically we were on our own. Lizzy got bored and took off to explore on her own and the others in our group left to make their way back to our hotel or to find new adventures. Karyn and I stayed with it for another hour.
Here's the fabric we chose: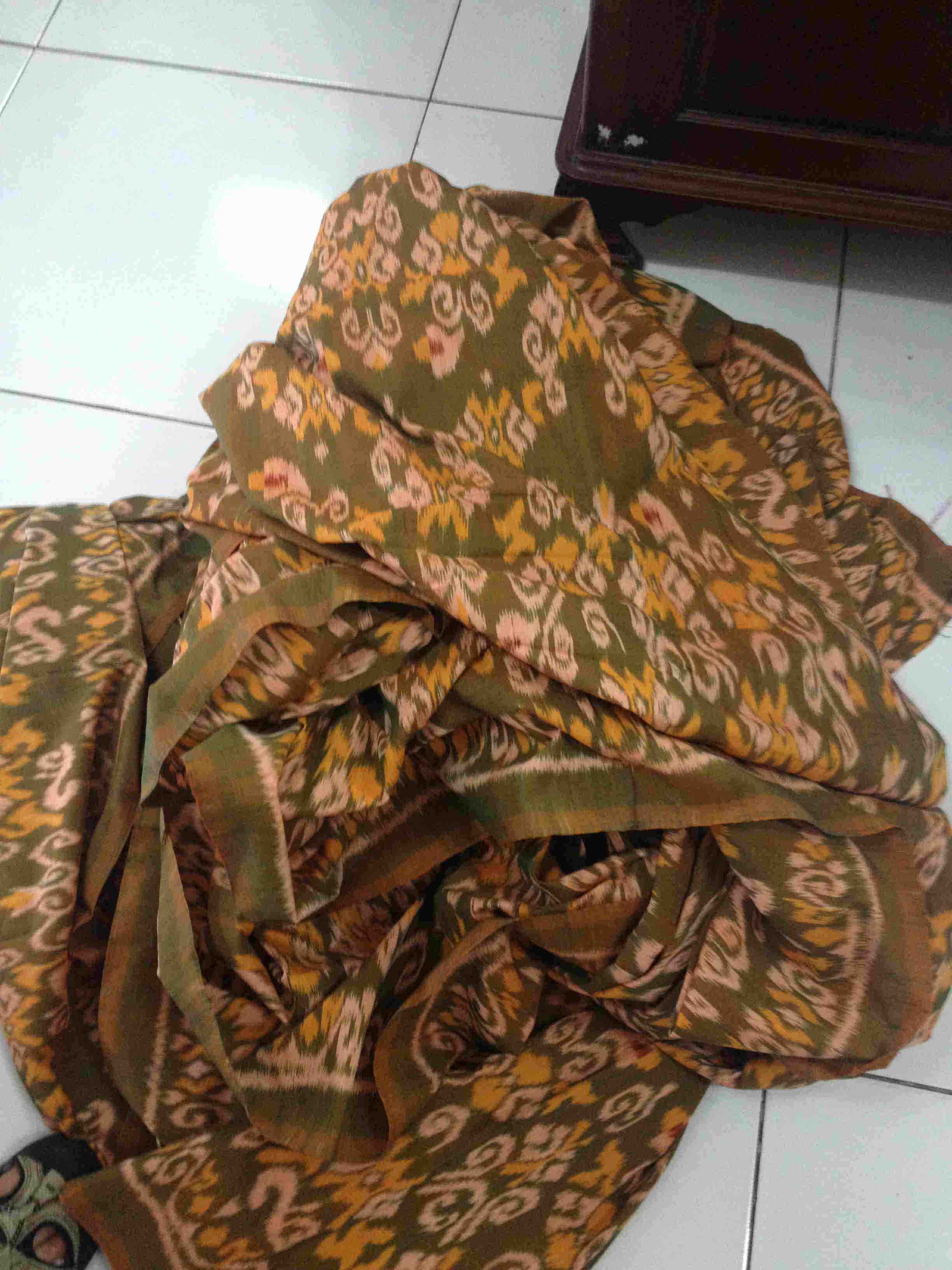 This was Kadek, the saleswoman:
And this was Nyoman, the tailor: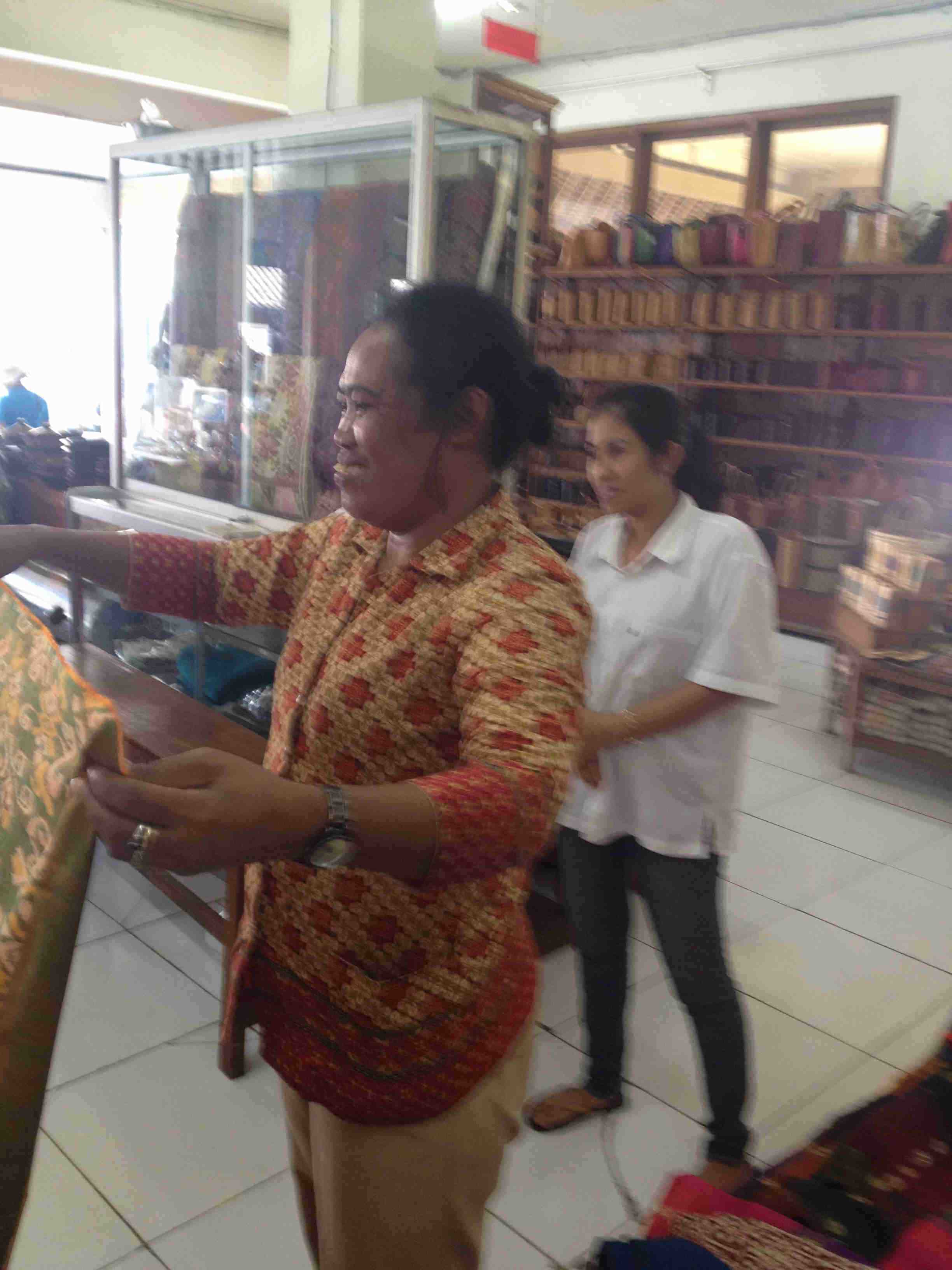 By the end of the process, when Kadek brought out her calculator, we knew we were going to buy the curtains. We'd all invested so much already. And the final price came out: a million, 300 rupiah or $130. She smiled and gave them to us for $120. And all of us were happy.
As we paid our deposit and made arrangements to pick up the finished curtains in two days, Kadek looked at us curiously and asked us about our relationship. "Are you friends?¨ she asked.
¨No,¨ Karyn said. ¨We're partners. Married."
Kadek looked confused. "You have husbands?"'
"No," Karyn said. "No husbands. That girl, Lizzy, she's our daughter."
Kadek looked at me. "Where's your husband?"
¨No husband,¨ I said.
Karyn repeated, No husbands.¨
Kadek looked absolutely perplexed. And that is when I remembered the story Judy told us at dinner the other night, how everyone in Bali wants to marry and have children, and how the Balinese feel sorry for anyone who hasn't had children. To them, not having children is a terrible tragedy and a great cause for sadness. Judy and her Balinese husband, Surya, do not have children.
Judy told us when she talks to someone casually, someone she isn't going to see again, the first thing they always ask is, "Sudah kawin?" Already married? And then next question inevitably, is, "Sudah punya anak?" Already have children? Judy told us that in these casual social conversations, she often makes up imaginary children and talks about them, just to make the other person happy, to keep the social wheels greased.
Maybe Karyn and I, with our lack of husbands, trying to explain our 22-year relationship to this young Balinese woman were headed down the wrong road. But it was too late to turn back now. What the hell. Why not?
I searched both sides of the worn vocabulary sheet I'd been carrying around all week, until I finally found the word I wanted. I gestured at Karyn and I. "Kawin," I said. Indonesian for married.
Kadek's eyes grew wide. "Kawin?" she asked with surprise.
"Yes," I said, laughing. Then I added, "San Francisco," as if that would explain everything.
Soon Kadek went from shock to laughter, her eyes wide.
I conferred with my tattered vocabulary sheet again, "Siapa nama mu?¨I asked. What's your name?
"Kadek," she said.
"And the tailor`s name?" I asked. She wrote it down for me. Nyoman.
"I am going to make you famous," I said. "I am going to write a story about you."
"Eat, Pray, Love?" she asked.
"Yes," I replied, laughing. "Eat Pray Love."
I handed Kadek 600,000 rupiah, our down payment for the curtains. It was just as Judy had told us. Going into a store in Bali was not about buying goods. It was about building relationships. We were all clearly enjoying ourselves. I felt like we had made a new friend.
Karyn looked at the palm of her hand, where she had cribbed the one phrase she was trying to master today. "Terima kasih," she said. Thank you.
"Selamat sore," I added. Good afternoon.
And it had been. It had been a very good afternoon.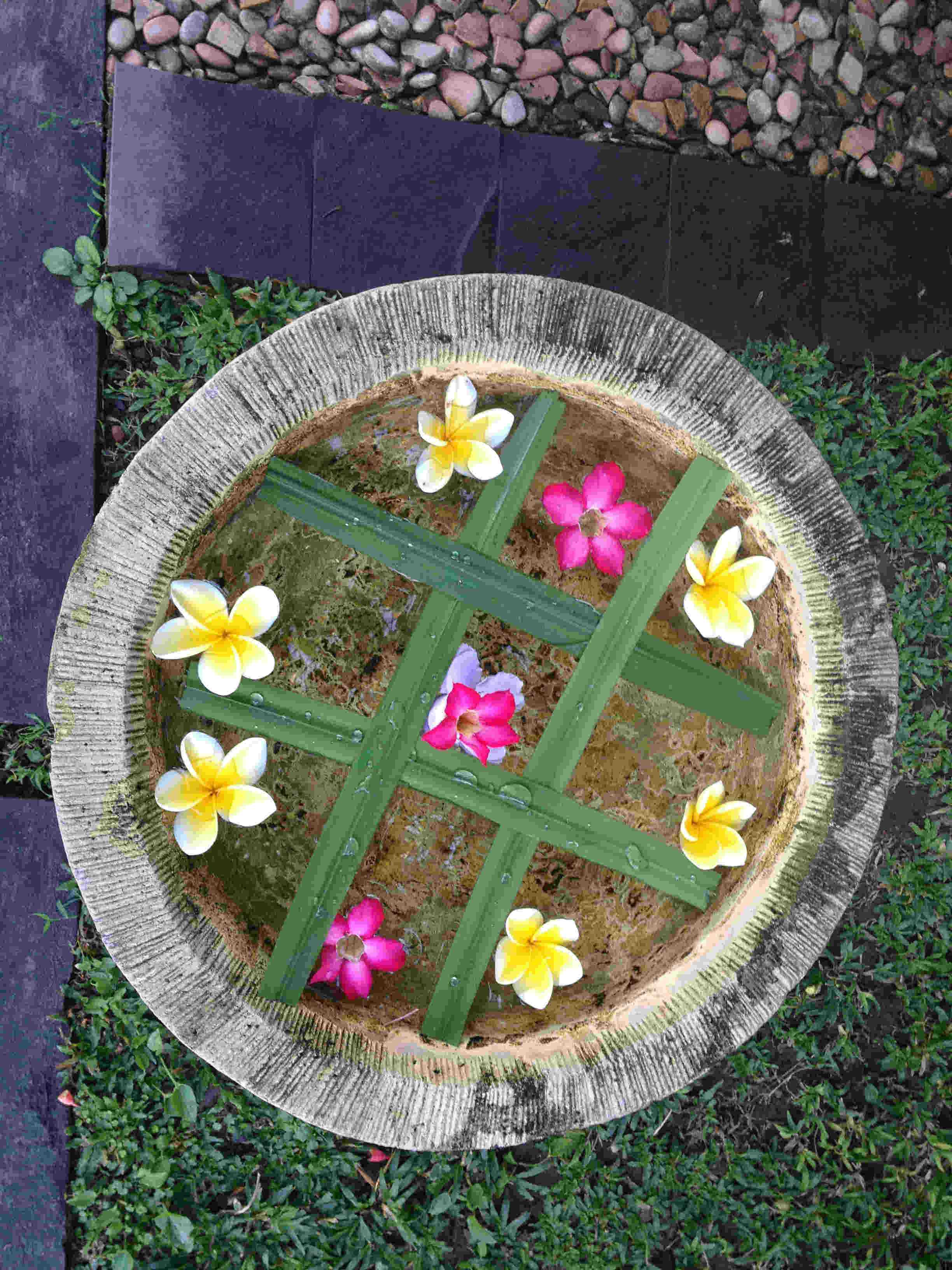 This is a typical offering, creating beauty outside a tacky tourist shop.
P.S. Tonight we went to our first dance performance. I found it riveting and so unlike anything I had ever witnessed or been part of before. I love Bali. I'm already thinking about the next trip back.
P.P.S. The Internet sucks at this hotel. It kept dying in my room and besides, Lizzy and Karyn are fast asleep. So I am standing up at the front desk, which is outdoors, and my ankles and feet are covered with brand new mosquito bites. Such is my dedication to writing!
In the spirit of adventure,
Laura
Post #16: Visiting the Compound Where Surya's Family Has Been Living For Four Hundred Years
Today, after our yoga and writing classes, we hopped in a couple of cars and drove to Denpasar, the largest city in Bali, about half an hour south of Ubud. We had the great privilege of visiting Surya's family compound, right in the middle of the city. Surya told us he has traced his family back to 1374 and that his family has lived on that compound for over 400 years. "We were living here on this land before the United States was dreamed of," he said.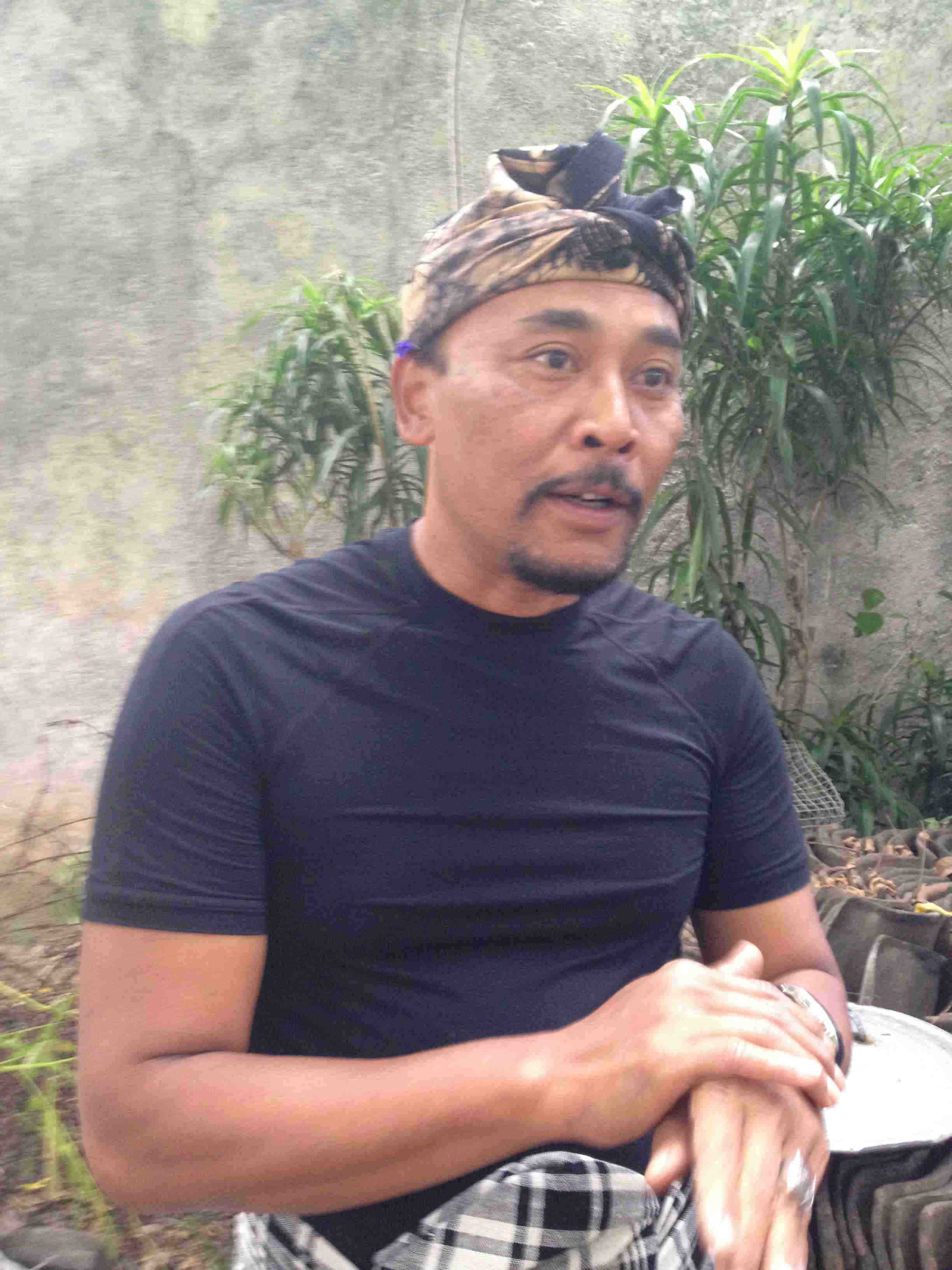 Surya is the head of the household, the oldest son. He and his family have worked to maintain the authentic materials in the buildings and the numerous shrines on the property. Here are several of the shrines, including the ancestor shrine, used in ceremonies by his family.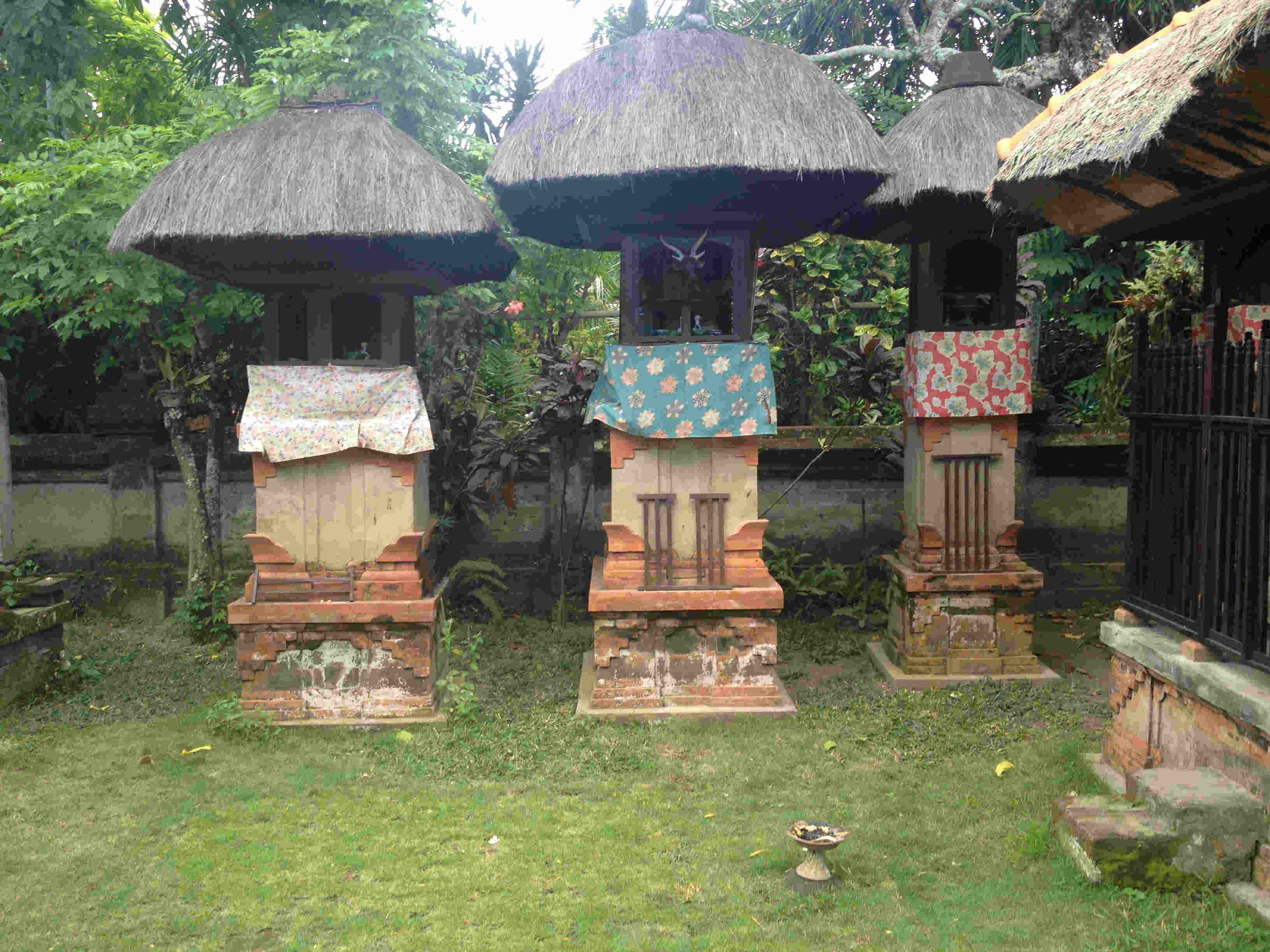 Surya's family goes to great pains to do things the old ways with the traditional materials. But of course, modern life was evident on the compound as well.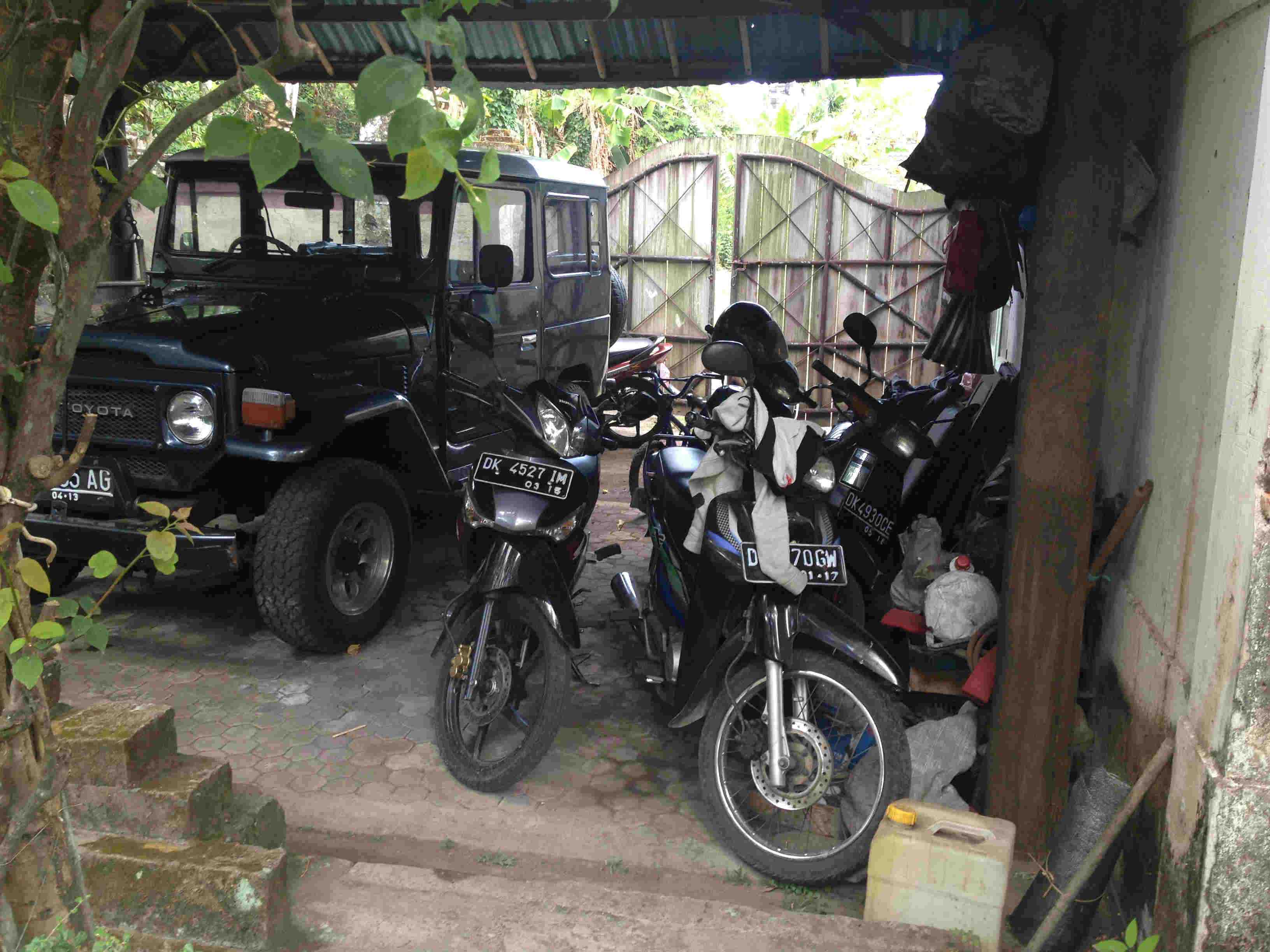 Surya said his mother and sister-in-law make 250 offerings every day. "Sometimes," he told us, "they make a whole lot more on Sunday so they'll last for a few days of the week."
The compound was beautiful. Surya's brother is a gardener and evidence of his handiwork was everywhere. There were ylang ylang trees on the property, as well as avocado, mango, coconut, Asian bay, star fruit, and others. A construction project was going on in the backyard. Then I noticed a lit burner in the backyard with a large covered pot boiling on it. I asked Surya what it was. He knocked off the lid and said he was boiling one of his masks in an early stage to keep the bugs out of it.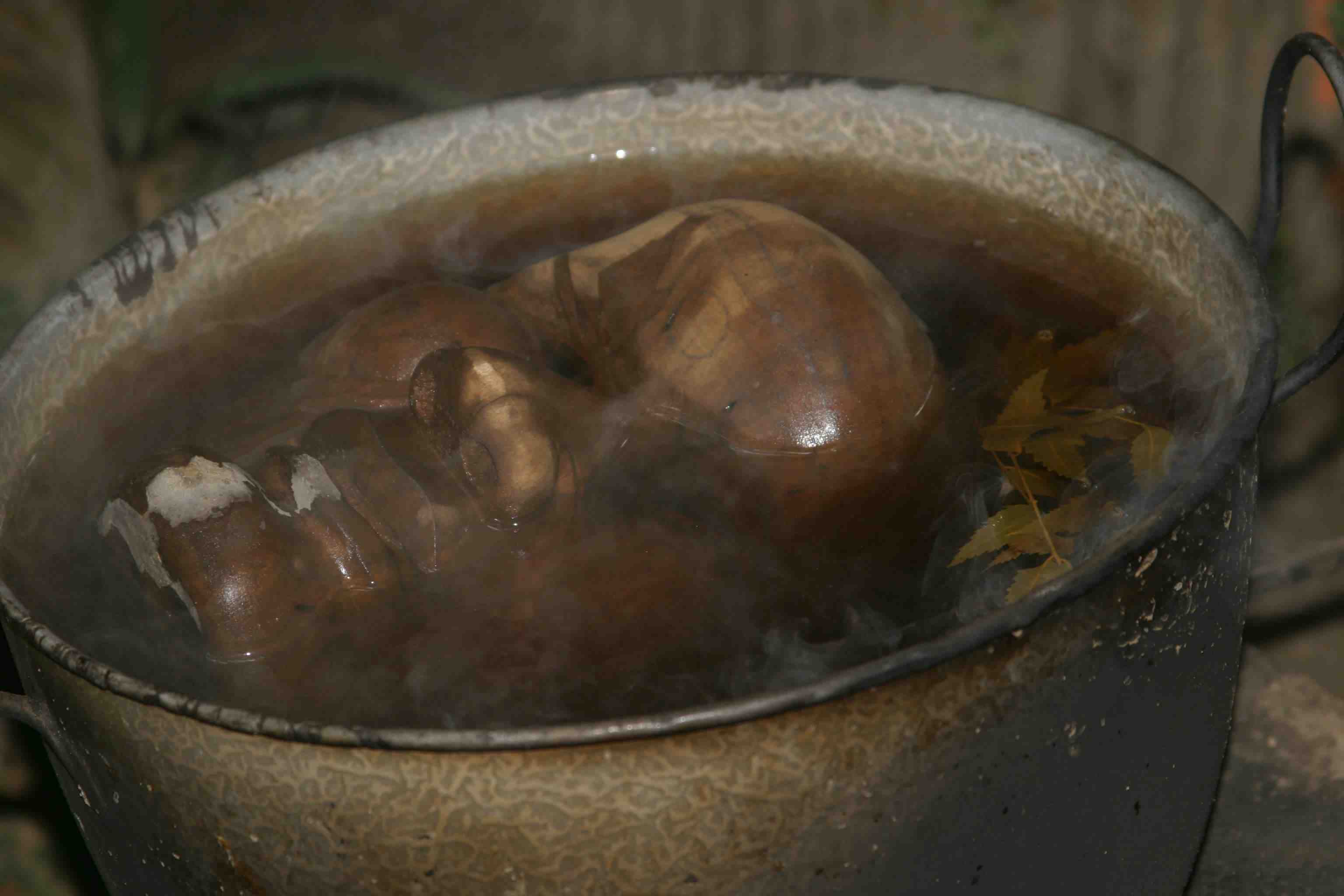 Inside we saw some of his finished masks. He said it takes five days to make one, and he grinds the paint himself. It's made of calcified pig bone and Chinese lacquer.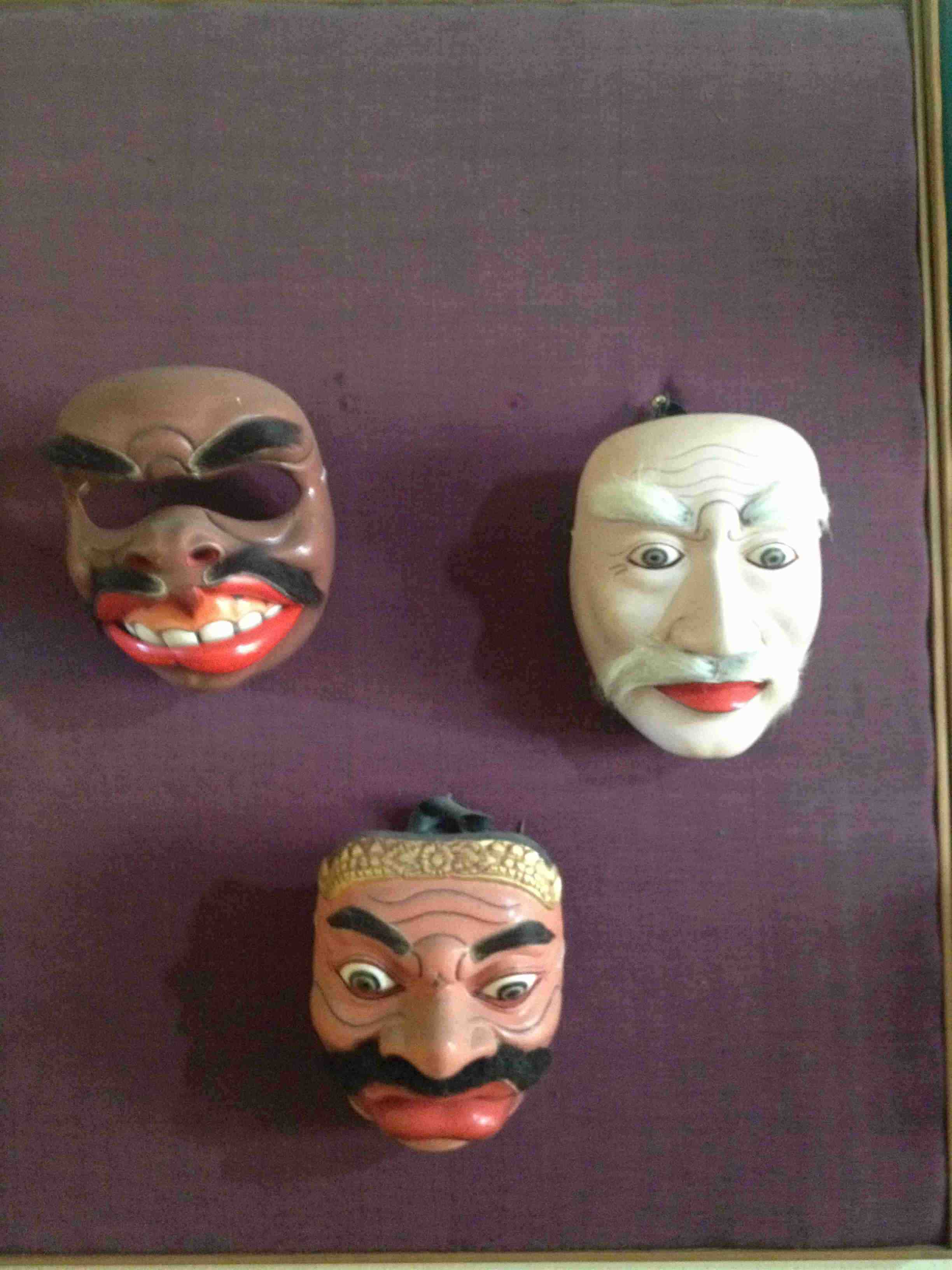 The masks looking amazing on the wall, but when Surya put one on, it was as if he became a completely different being. This picture doesn't really capture it, but the transformation was startling. Surya is a mask dancer.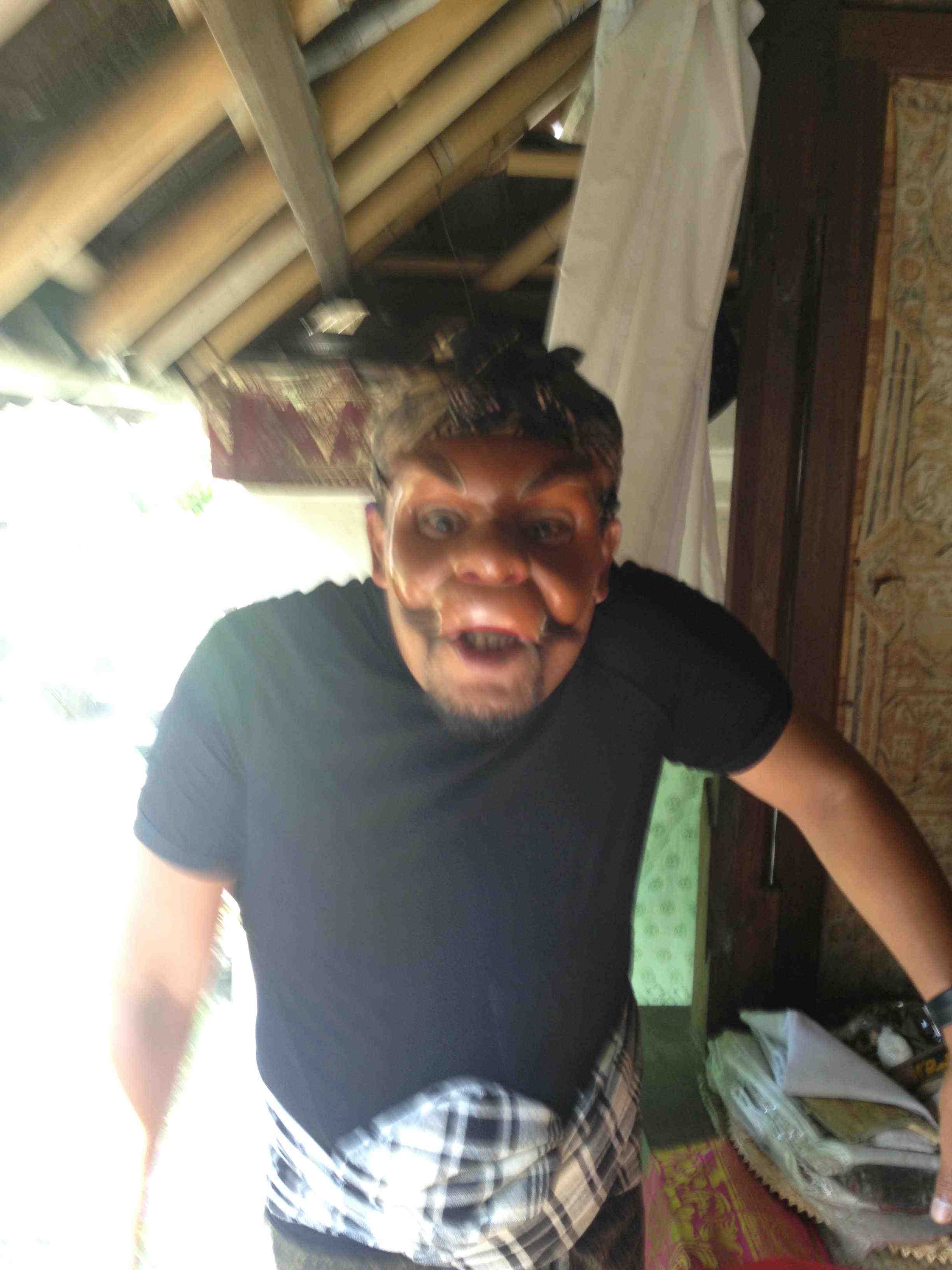 Surya's family had spent the last 24 hours cooking an elaborate lunch for us, full of many delicious, varied dishes.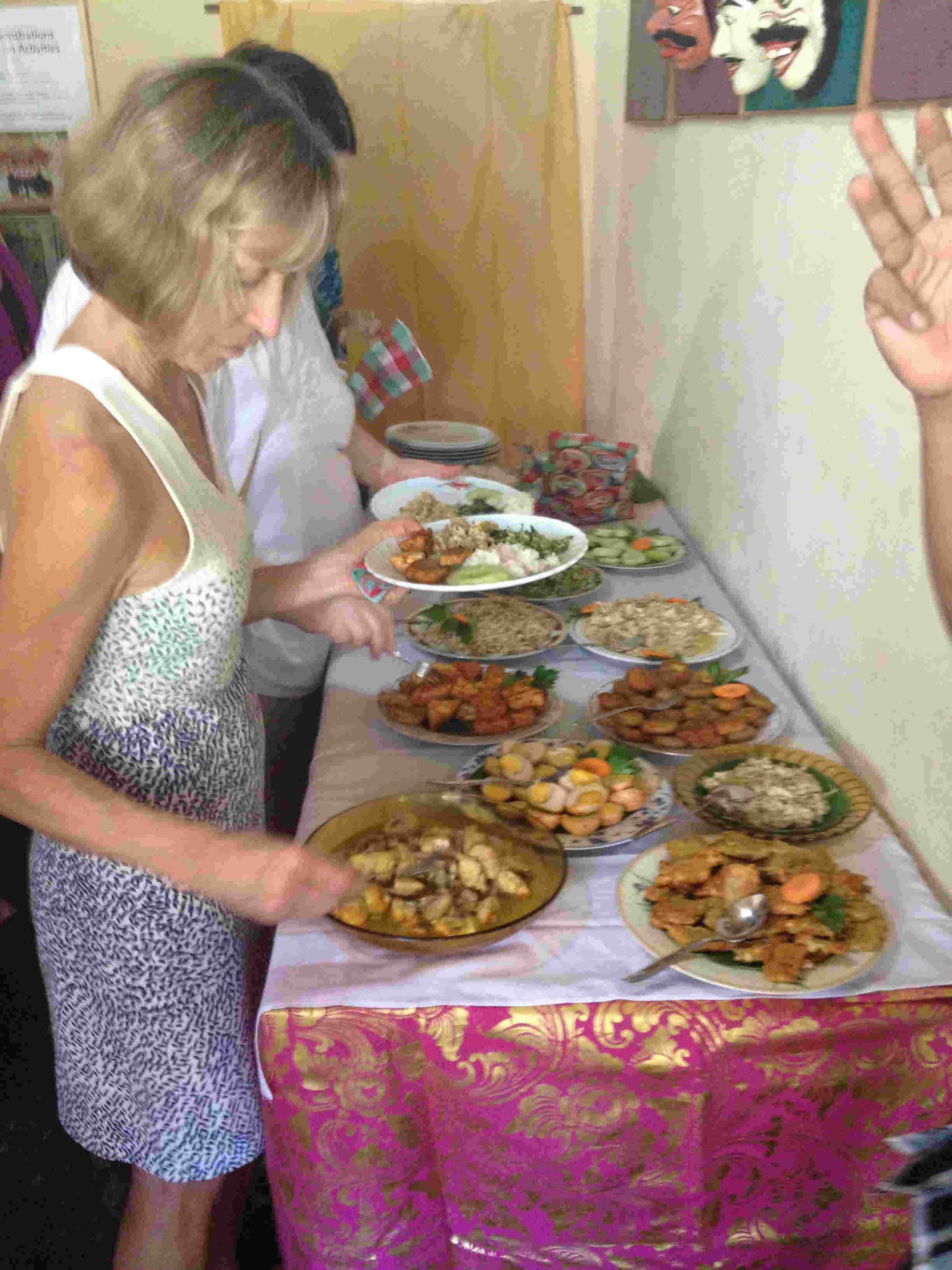 This is one of Surya's nieces and one of his nephews.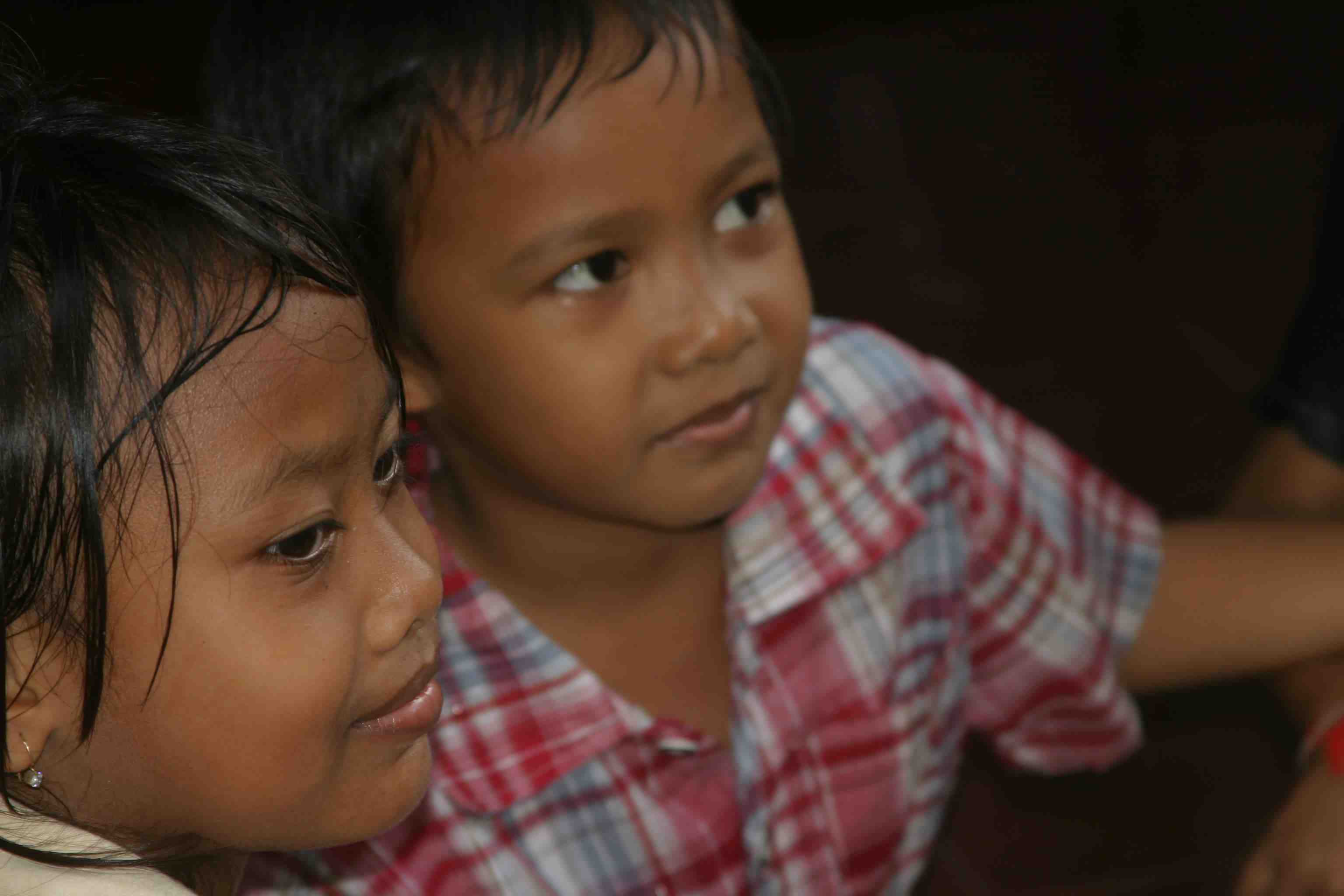 And this is his mother.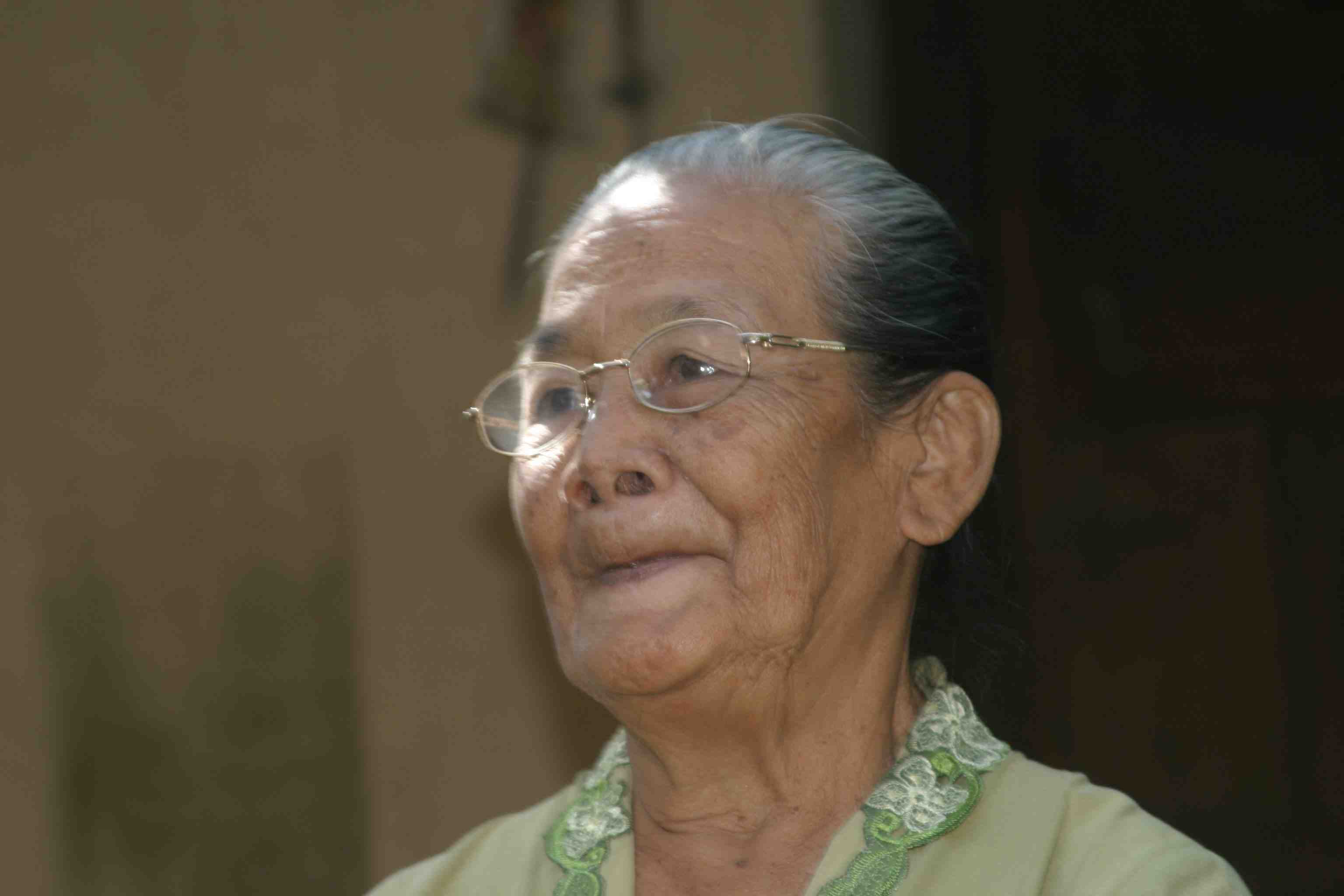 I felt incredibly honored to be there–to see how a real Balinese family lives.
After lunch, we got to go to the very elaborate compound of Surya's carving teacher, Cok Raka Tisnu, who is one of most revered master carvers on the island. He is one of the only carvers in Bali who is allowed to carve sacred masks, the ones imbued with spirit and used for ritual. This was no tourist stop. Judy and Surya are the only people who bring folks to watch the work in progress. The masks were alive and compelling. We saw people at work at every stage of the mask process and making some of the costume pieces we've seen in some of the performances we've seen in Ubud.
These were definitely two of my favorite experiences of this trip, ones I will cherish for a long time.
When we got back, I went out to do some more shopping and wandered around by myself, up and down alleys, going nowhere in particular. I ran into a huge, wild outdoor market and did some amazing bargaining and laughing with some of the sellers. I came away with a couple of things, but left most of the deals on the table.
Tomorrow is a day off from writing class, our last day in Ubud, and a free day. Judy made us a list of about twenty activities we could pursue on our own, ranging from riding an elephant to mountain biking in the country, to going to a sound healer, to getting a pedicure to cooking classes to visiting a traditional healer. And more. So everyone is making their own choices tomorrow.
Lizzy and I are taking the cooking class for the first four or five hours of the day. Afterwards, she's going out exploring on her own; it's her last full day with us. When we take off for Munduk the day after tomorrow, she's flying back to the States and to the next part of her summer adventures. We will certainly miss her. All of us. She's been a wonderful addition to our group.
Karyn is going to the traditional healer in the morning and I'm going to him in the afternoon. I hope to write about that experience tomorrow.
In the spirit of adventure,
Laura
Post #17: Cooking Classes and a Visit to the Healer
Yesterday, Lizzy and I took a Balinese cooking class with Gail and Rosemary from our group, along with two Brits and four Aussies.
We met at a local restaurant and our teacher, Ketut, immediately took us over to the huge public market and began to teach us about the different spices and vegetables and other ingredients, familiar and unfamiliar, that make up the core of Balinese cooking.
While we were there, I bargained for spices–bags of curry powder, whole vanilla bean and gorgeous saffron.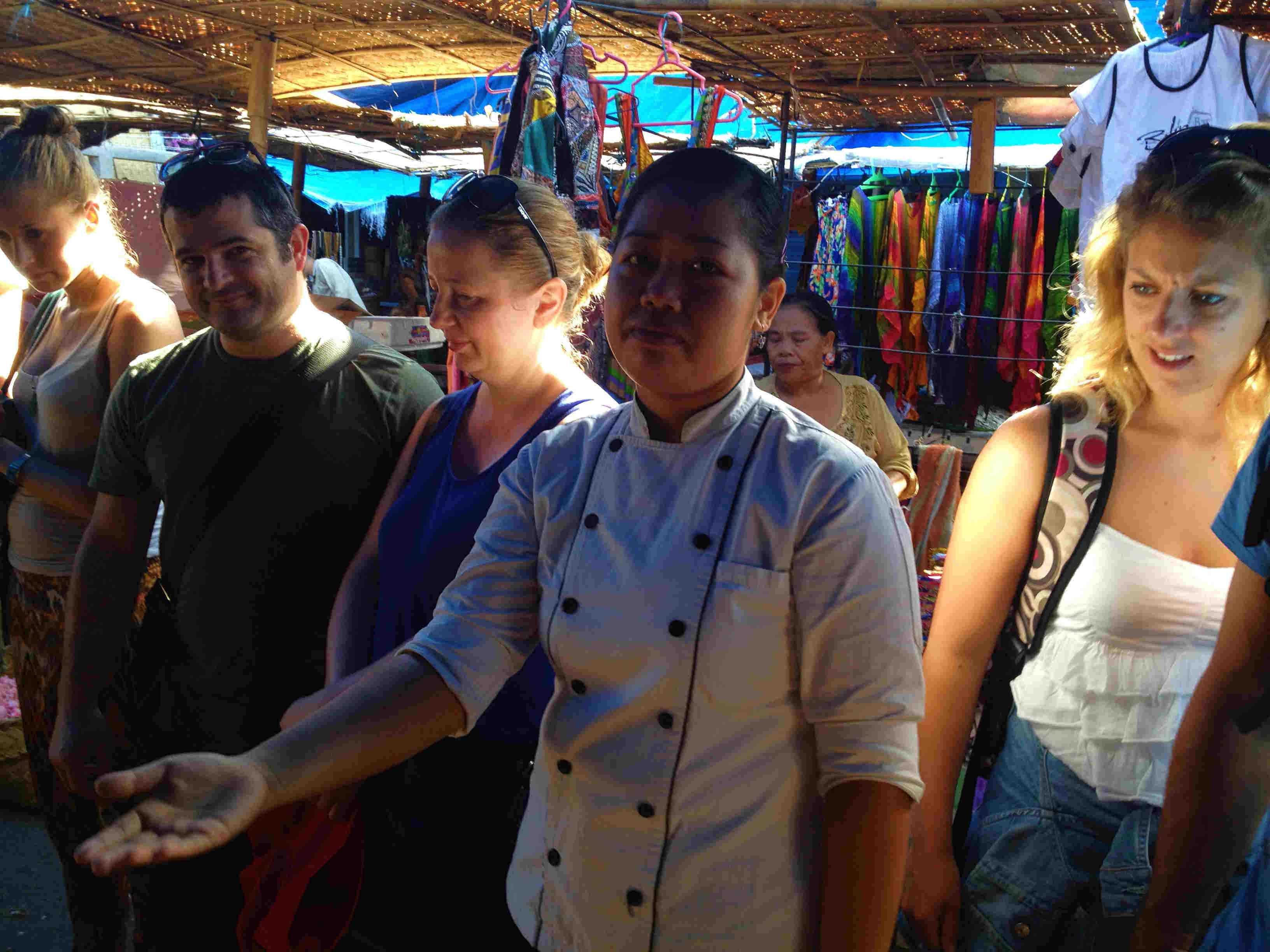 The vegetable Ketut is holding up below is a bittermelon.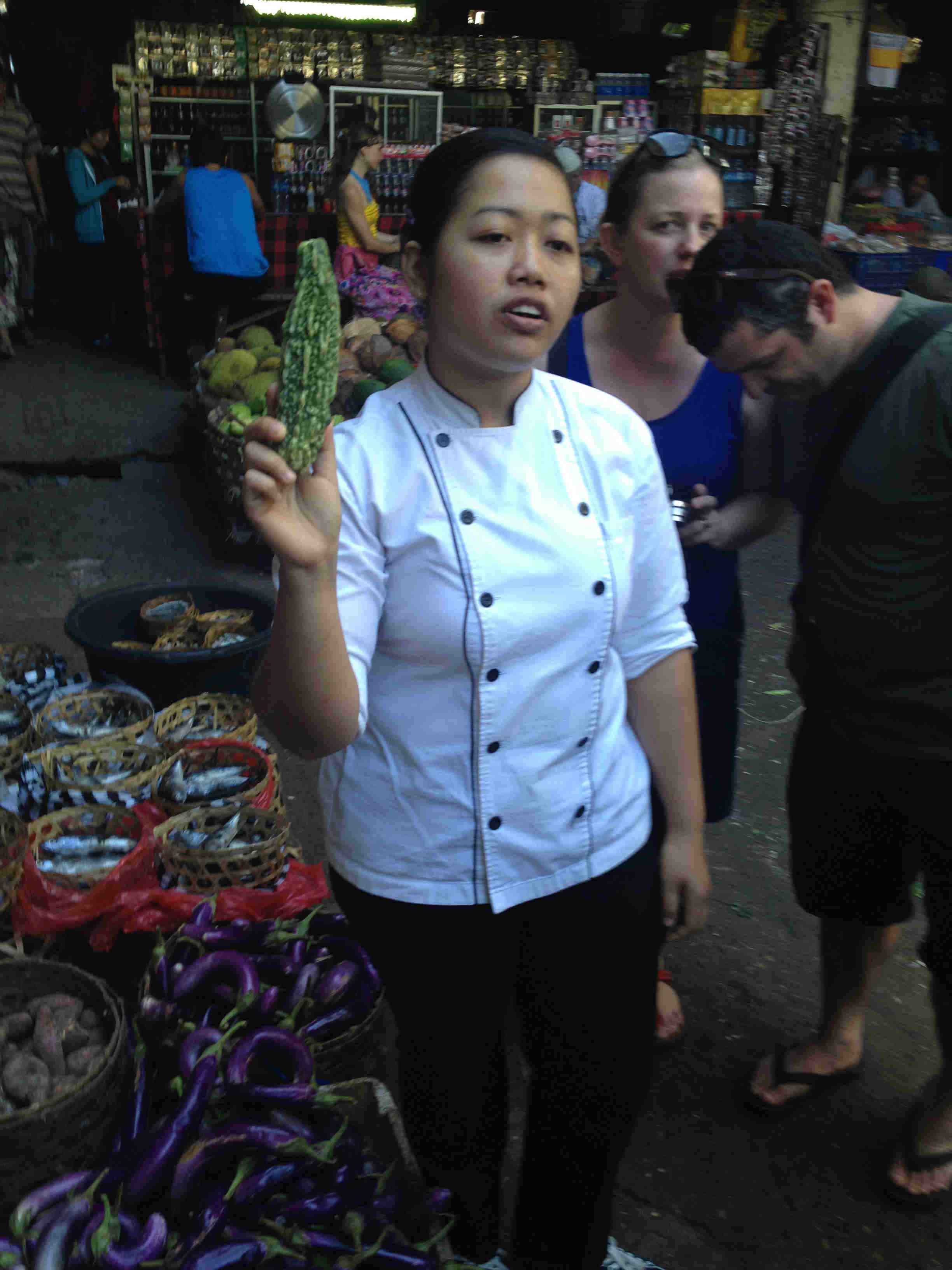 Here are some of the other places we visited in the market. In between familiar vegetables like potatoes and carrots and eggplants, there were all kinds of things I'd never seen before.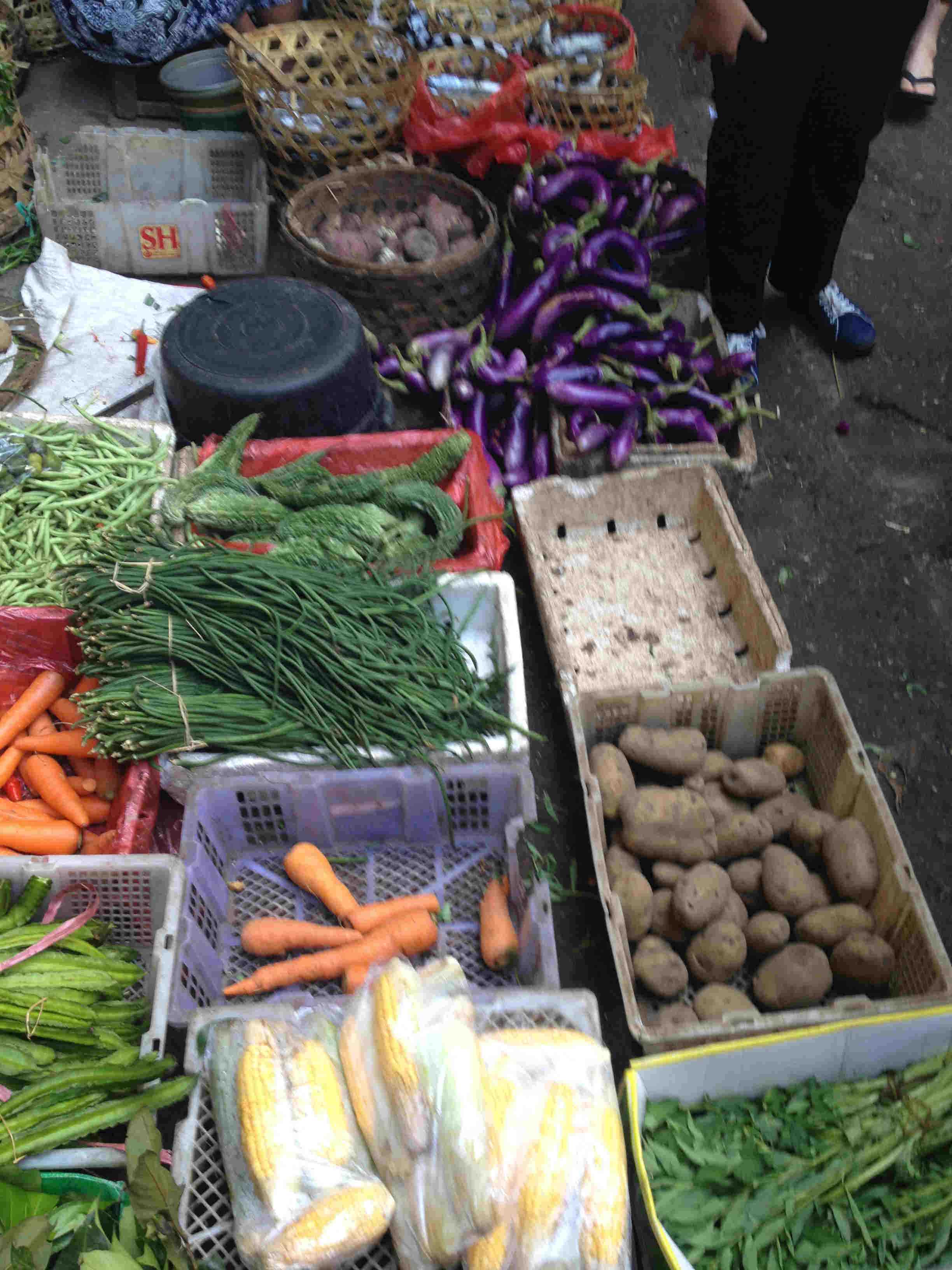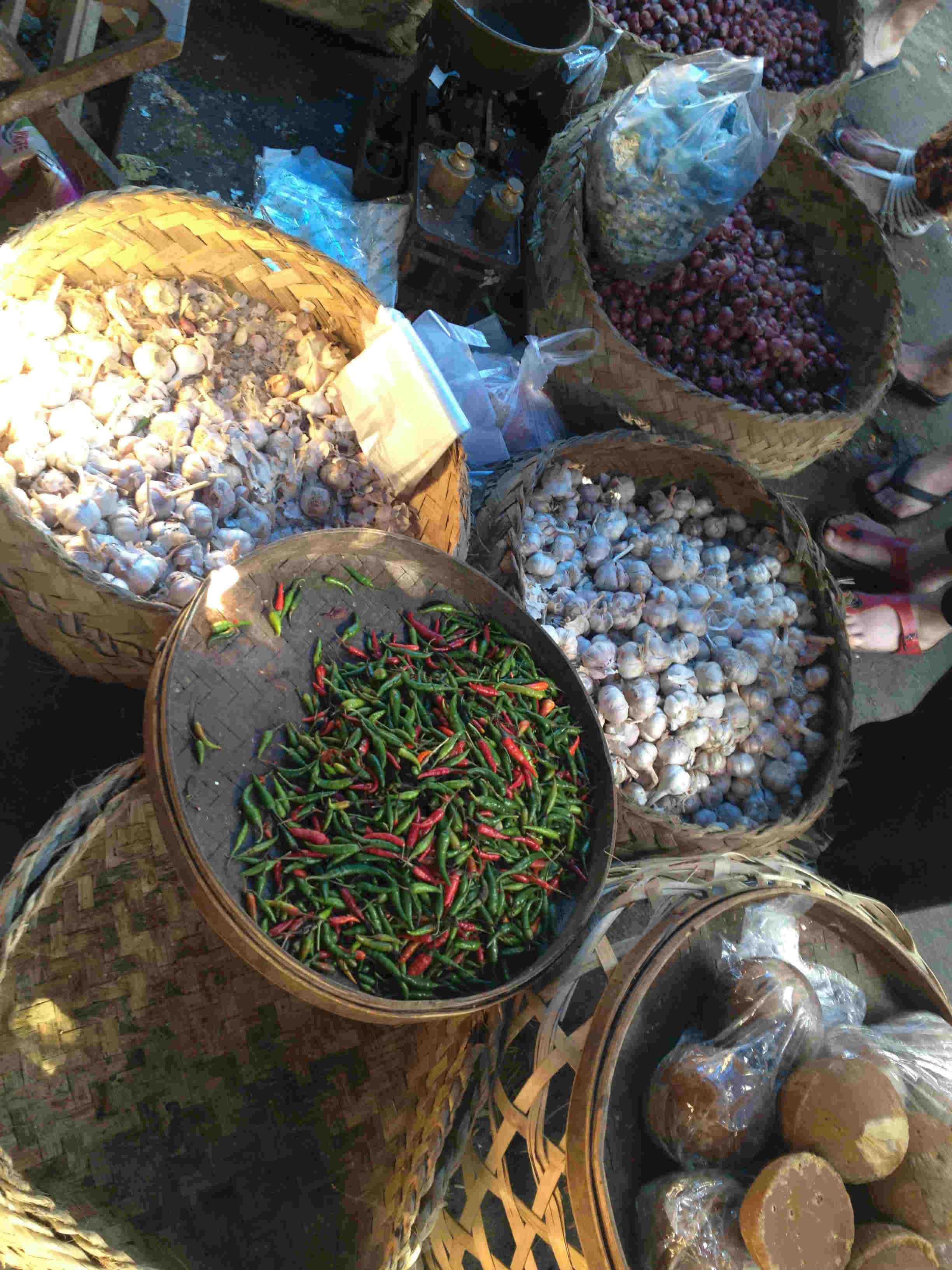 Back at the restaurant, Ketut handed out slices of all the ingredients we had bought at the market–all the spices we were unfamiliar with as well as thin slices of palm sugar which comes in a large solid brown half dome.
Then we learned to make seven Balinese dishes, including the basic spice paste, Base Gede, that is at the core of most Balinese recipes. It includes shallots, salt, two kinds of pepper, shrimp paste, candlenuts (like macademia nuts), lesser and greater galangal (roots similar, but different than ginger), fresh tumeric root, nutmeg, cloves, large red peppers, sweet peppers, garlic, coriander seeds, cumin. We ground these in a large mortar and pestle until they were a thick paste, which was then cooked in oil to make the basic sauce, which was delicious.
Here's Rosemary from our group, grinding the ingredients for the basic sauce.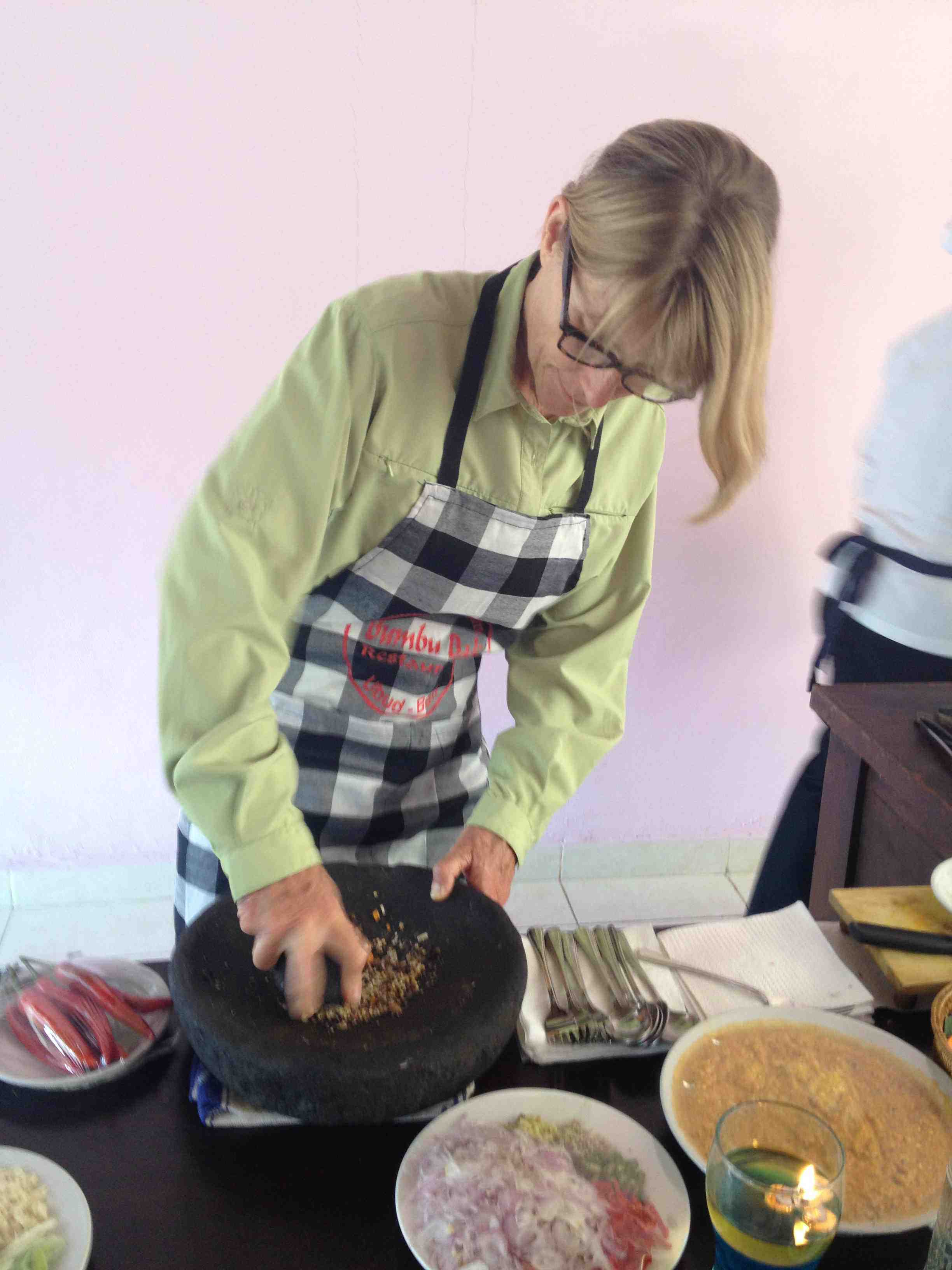 Here's the first of the seven delicious dishes we cooked. It was called Sayur Urab and it include all kinds of shredded vegetables and shredded coconut.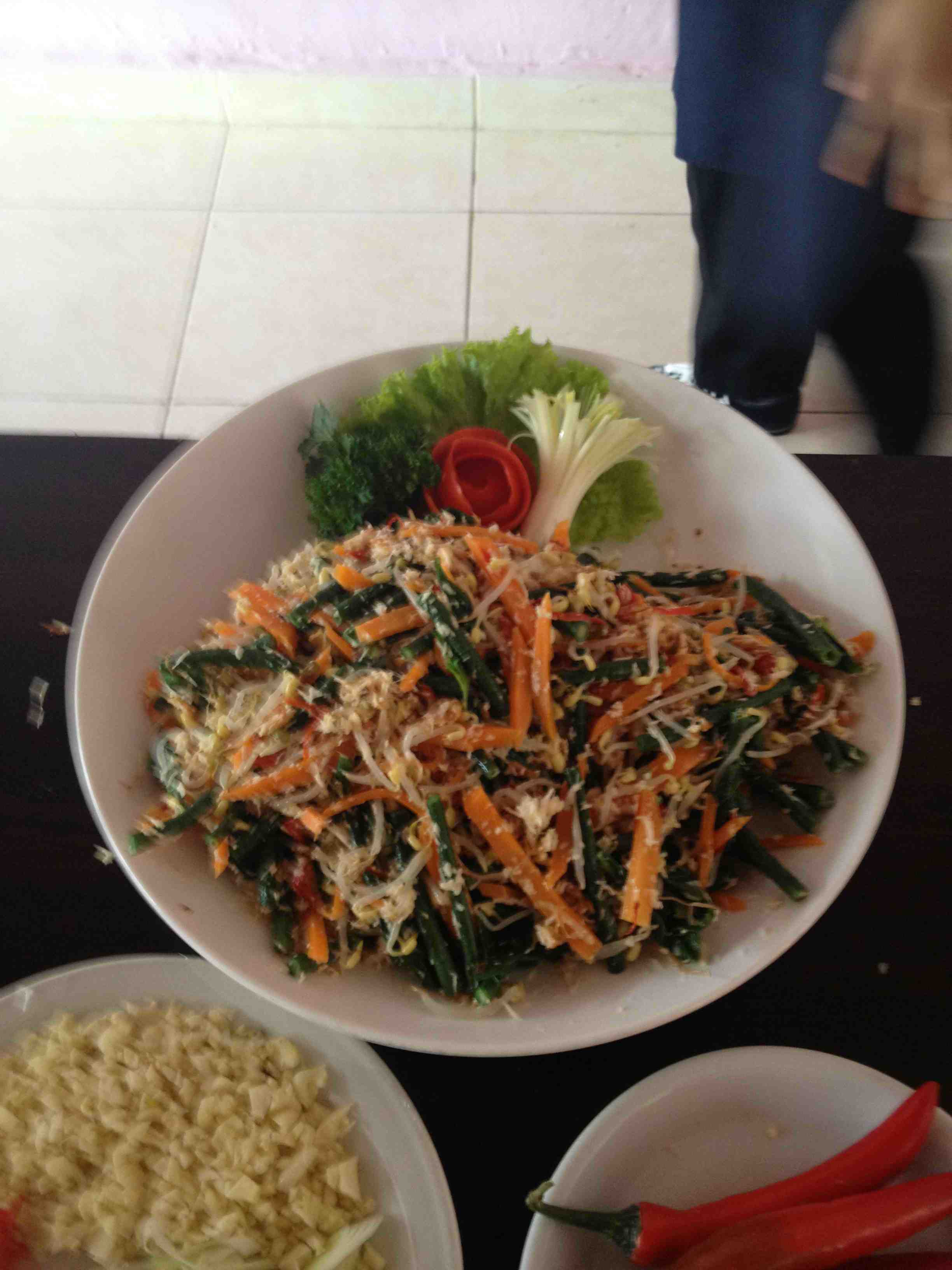 Lizzy and I decided to make it a tradition whenever we are traveling together to take a cooking class. As you can see, I really enjoyed it.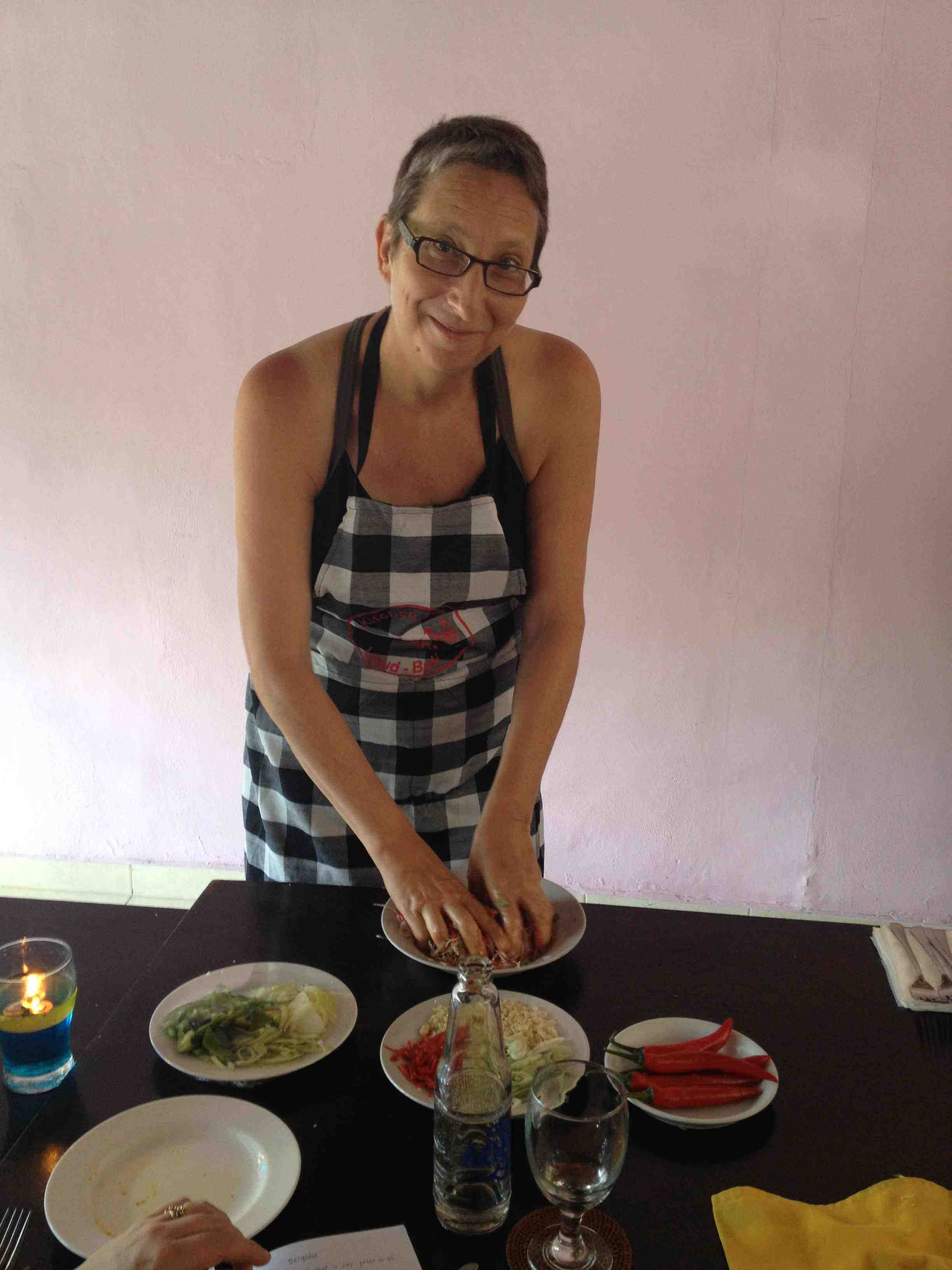 Here are the last two dishes we made: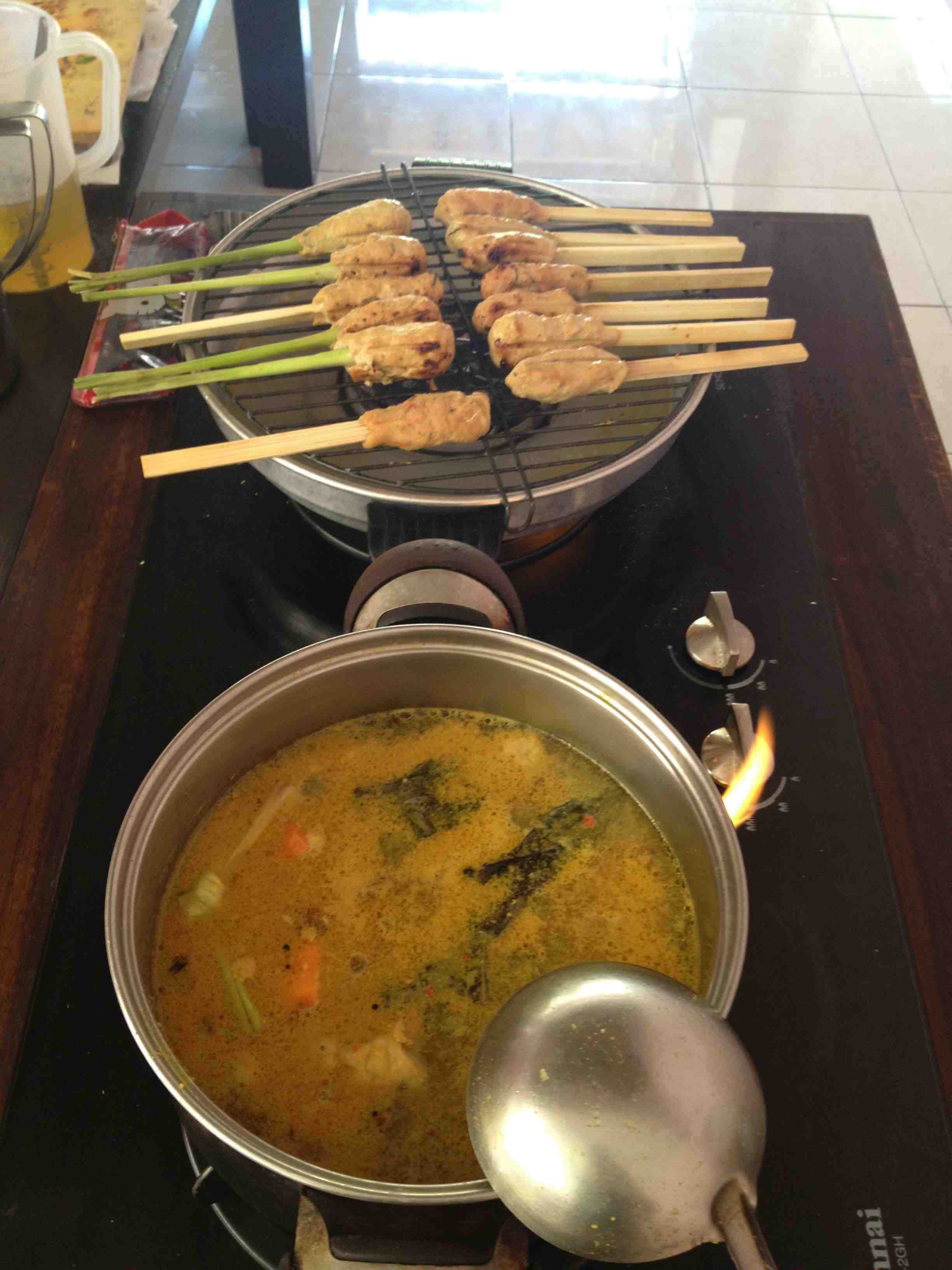 One thing that surprised me was how much oil was used. The Balinese use tons of fresh ingredients and vegetables, but they cook with a lot of palm oil. I think when I try these recipes at home, I'm going to substitute coconut oil.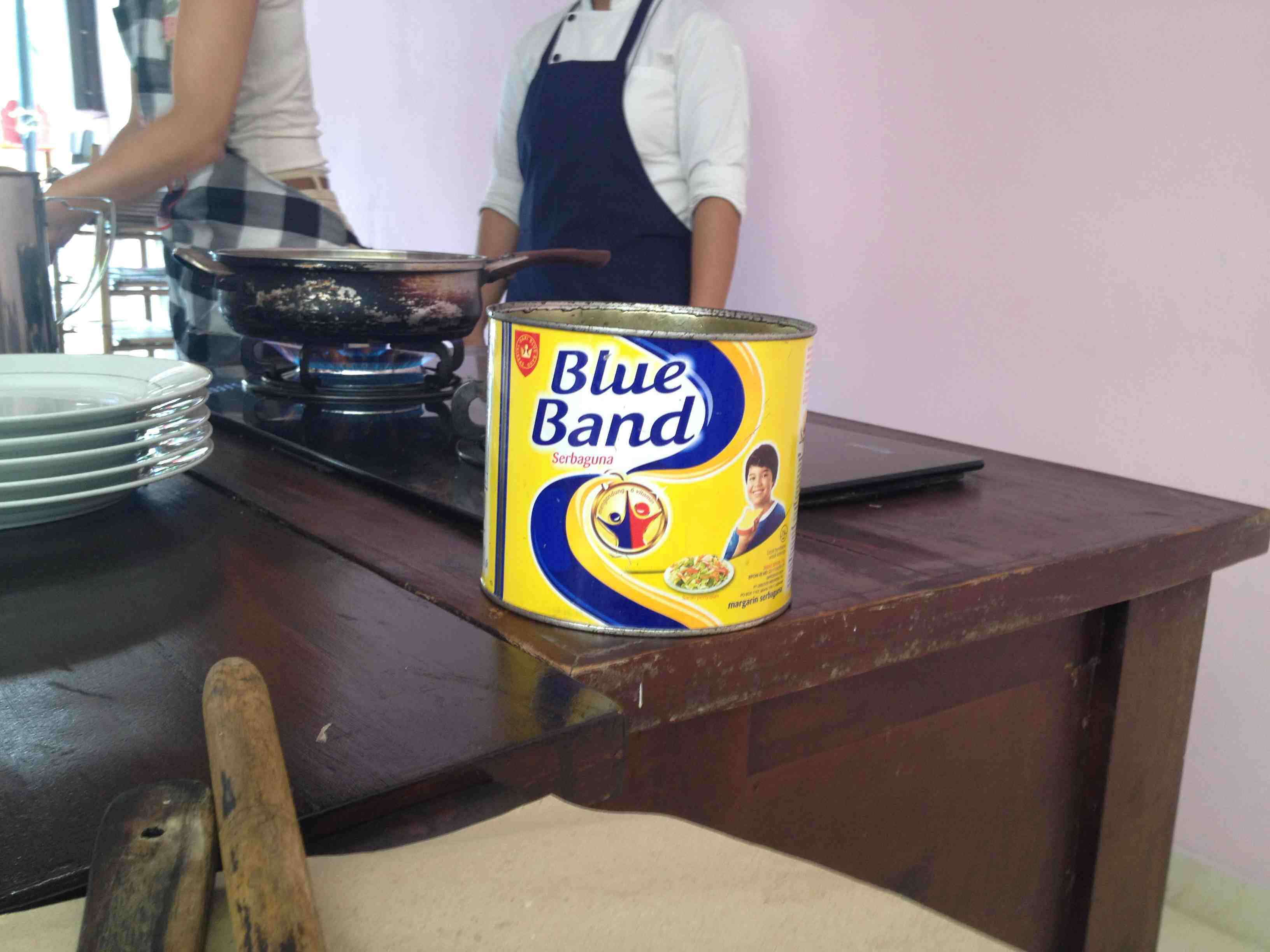 When Lizzy and I took a cooking class in Paris last summer, it cost $250 for the two of us–a very expensive day. Today's cooking class, which lasted five hours and included an eight course meal, a wonderful Balinese cookbook, written in perfect English, and two aprons, cost $50 for the two of us.
In the afternoon, I went with five other retreat participants to the renowned traditional healer, Cokorda Gde Rai. After an early life as a car mechanic, he had an awakening that led him to become a healer 36 years ago. He is no fake healer performing for tourists. He is the real thing. Locals and visitors alike come to see him, a stready stream, day after day.
We had been instructed to wear a traditional sarong and temple scarf and to have our shoulders covered. As we sat on the bale in his family compound, just outside of Ubud, we watched each other have our sessions with Cokorda. Surya told us that a lot of Balinese healing is based on integrating the body and mind. As they put it, "The mind is going north while the body is going south." Cokorda would be looking in each of us for the imbalances that kept us from being in harmony.
Surya instructed us, "You don't have to tell him anything. He sits in the chair. All you have to do is sit in front of him on the ground. He`ll be borrowing the energy of the universe and applying it through his hands. He applies mudras to energy points in the body to find the way we each store the pollution in our bodies and minds."
And then it was time for the first of us to have our turn. Cokorda Gde Rai, a thin 83 year-old man, wearing a sarong and a white western shirt, turned to us and said in Balinese, "What can I do for you?"
And then he worked with each of us in turn.
I am sorry to disappoint, but I cannot describe for you what happened next. Each of us had a very personal, very powerful experience. It was a very intimate thing to do together, to witness this healer working with us, using a framework far outside of our western sensibilities and western knowledge. But when each of us was with him, something happened. It was as if he saw right into us.
This is one experience you'll have to come to Bali to know for yourself. I`m sure I will be contemplating the words he spoke to me for a very long time.
This morning, I woke at 5:30 to an incredible rainstorm. I got up, quickly got dressed, grabbed my umbrella and went out in the rain. I went up to the front desk and asked the young man working there if he'd give a scooter ride to the market. He offered me a poncho. I declined, my tattered umbrella and the early morning rain were good enough. I had one thing on my mind. I wanted to buy a coconut grater, something I'd need to make the recipes I'd just learned back at home. Lizzy had tried to pick one up at the market after our cooking class, but the downstairs area, where they were sold, was already closed. Today, I had better luck. My driver thought I had said I wanted to buy a coconut. So he took me to a woman selling a huge pile of coconut. Through a lot of miming, I finally communicated what I wanted and he found me a man selling housewares along with a million other things. There, in a basket, were some coconut graters. Twenty five thousand rupiah. Two dollars and fifty cents. Sold.
My driver was ready to take me back to the hote,l but I sent him off and said I wanted to stay. The market was teeming with thousands of Balinese women doing their morning shopping. Some of them used umbrellas, some had plastic bags on their heads, some wore ponchos. All the tourist stalls were closed at this time of day. The market was full of food stalls, cooked food, eating stalls, and hundreds of people selling every kind of produce, spice, meat, everything you could possibly want to prepare your day's food. Half the market was dedicated to the makings of offerings. Premade leaf baskets, ready to be filled, came in strings of twenty or thirty. Marigolds. All kinds of flowers and leaves I'd seen daily in hundreds of offerings everywhere we have been in Bali. The women moved through the market, purposeful, quick, sometimes stopping to chat and smile. I was the only westerner in sight.
I thought about sitting down on a wet ledge somewhere to take notes on what I was seeing–to record the specific sensory details–but the sights and smells and sounds were all-consuming and I just wanted to drink them in with my body.
You will just have to visit the Ubud market at 6 AM on a weekday morning someday yourself. It was alive and glorious.
I got lost walking home, walking in large sweeping circles, and soon found myself on streets where all I saw were locals sweeping the street, opening up tiny little warangs and shops, going about their lives. I guess I should have known this from living in Santa Cruz. Every tourist town has a glittering exterior for the tourists, and underneath is the hive of real lives extending far beyond what a casual visitor is every lured or guided to see.
I got a glimpse today. Ubud is a real place, not just a continual array of tourist shops and Temples and restaurants advertising wifi and homestays and adventures. The real world of the Balinese pulses beneath the surface, but you have to get up early to see it.
This morning, as Lizzy gets on a shuttle to head south to the airport, to travel home alone to California, we leave for Munduk, the last stop of the three we're visiting in Bali. It's in the mountains in coffee country, with rice fields all around. I've heard it's very, very beautiful and I'm looking forward to moving into a quieter, more rural setting to finish the final days of our retreat.
In the spirit of adventure,
Laura
P.S. Here I am with my dear buddy Karen Z, who came on the trip with us. You can see how happy we both are!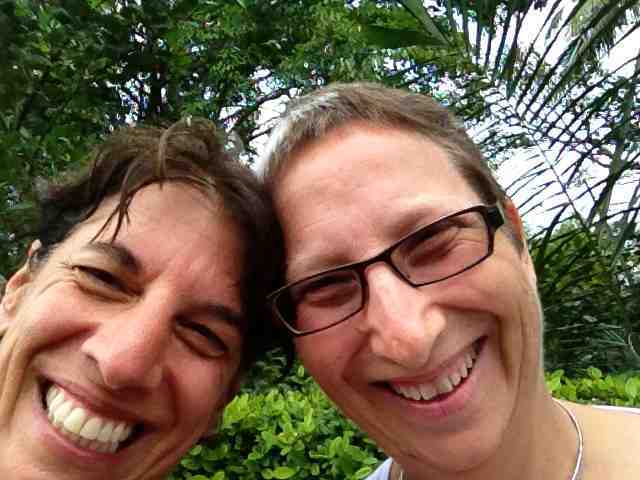 Post #18: A Hike Through Munduk and the High Country
We have fully landed in Munduk in the northern part of Bali. We are three thousand feet above sea level and we can all feel the difference. It got cold at night. The temperature dropped, just like it does back home in Santa Cruz. I was happy I had my fleece sweatshirt that I brought for the plane. This morning I went to the office and asked for an extra blanket. I was cold all night, sleeping inside the mosquito netting in our cozy bed.
Our expansive hotel is perched over the rice fields. We each have our own little dwelling, modeling after the rice huts you see everywhere in Bali.
There is a woman who sits all day in a rickety tower perched above the rice fields. Her job is to be a human scarecrow, to scare the birds out of the fields so the rice will last until harvest. She, and the others like her, make all kinds of clacking and clicking and clapping sounds to frighten the birds. Then she pulls a string that makes a line of tin cans rattle. You can hear the human scarecrow sounds all over the compound.
Last night, while I was getting an amazing Balinese healing massage, I could hear some of the workers playing their gamelon, just fooling around, like someone back home doing riffs on their guitar. Earlier, we'd been able to watch a boy's dance class in our yoga space. One of the boys was so focused and graceful, so precise and beautiful, I wept. They will be performing for us tomorrow night, our final night.
You see the picture at the top of this Bali blog? Well that's what this region looks like. Lush. Hilly. Verdant. With the weather always changing. This is the one place in Bali where I'm glad I brought long pants and mosquito repellent.
After the hubub and grasping of Ubud–the shopping, the performances, the things to do, it is lovely to settle in this peaceful place as our final destination.
This morning, half our group took off on a three-hour hike with Judy. We had two guides with us, both named Ketut. The older Ketut was known as Pak Ketut, the younger (who really wasn't that young) was simply called Young Ketut. Although Judy has hiked here many times, she says she always hires local guides because the pathways and trails and rice fields are always changing.
This is Pak Ketut.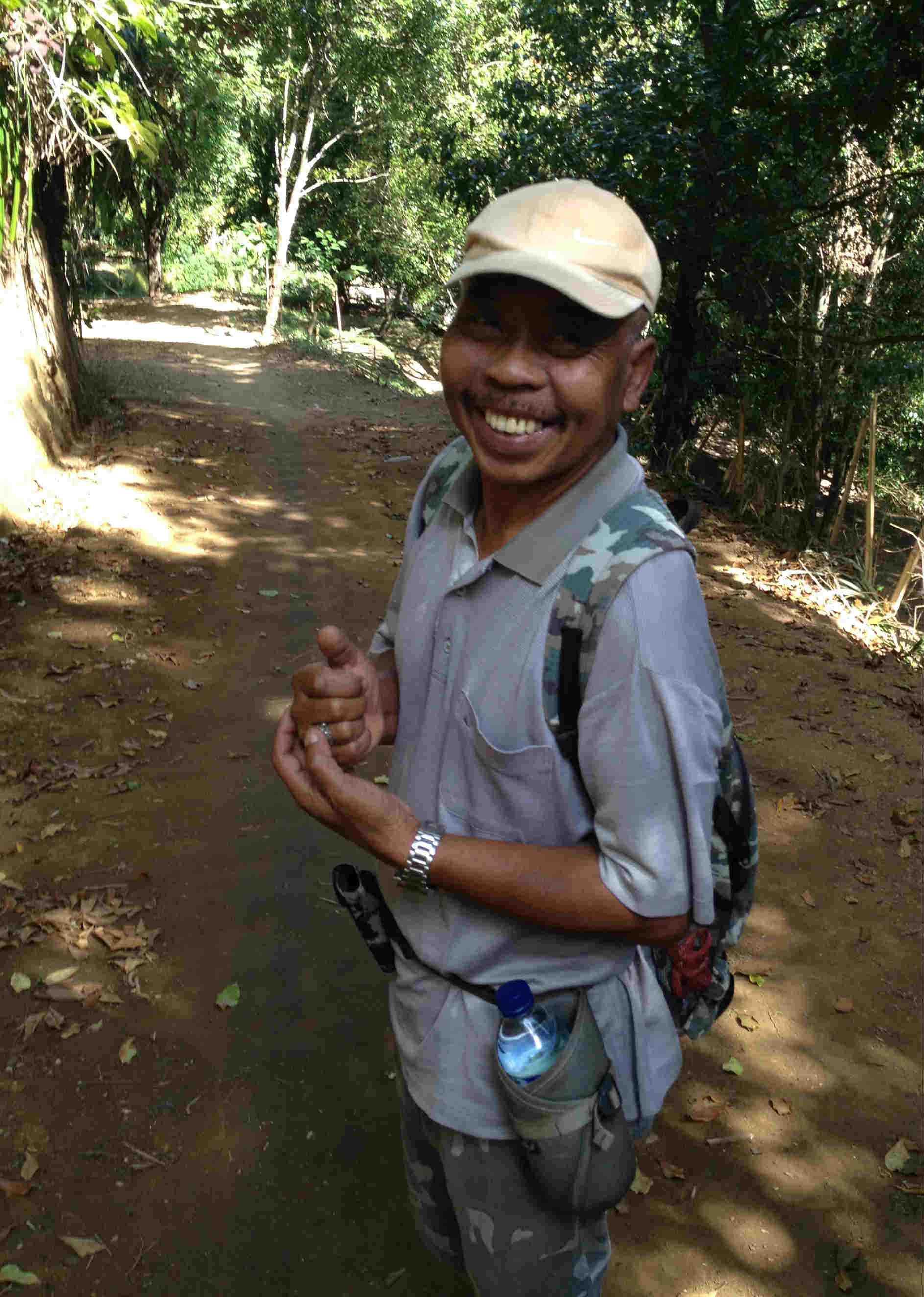 Our trek began from our hotel. We walked a while on the single road that services this area, then turned off onto a dirt road. Right at the intersection we came upon an old ragged truck filled with huge sacks of clove leaves, ready to be processed–clove leaves ready to be turned into clove oil and clove cigarettes.
The cooler climate in this part of Bali is conducive to cloves, coffee, cocoa, nutmeg and a host of other spices, as well as the ubiquitous rice.
This is what a clove tree looks like.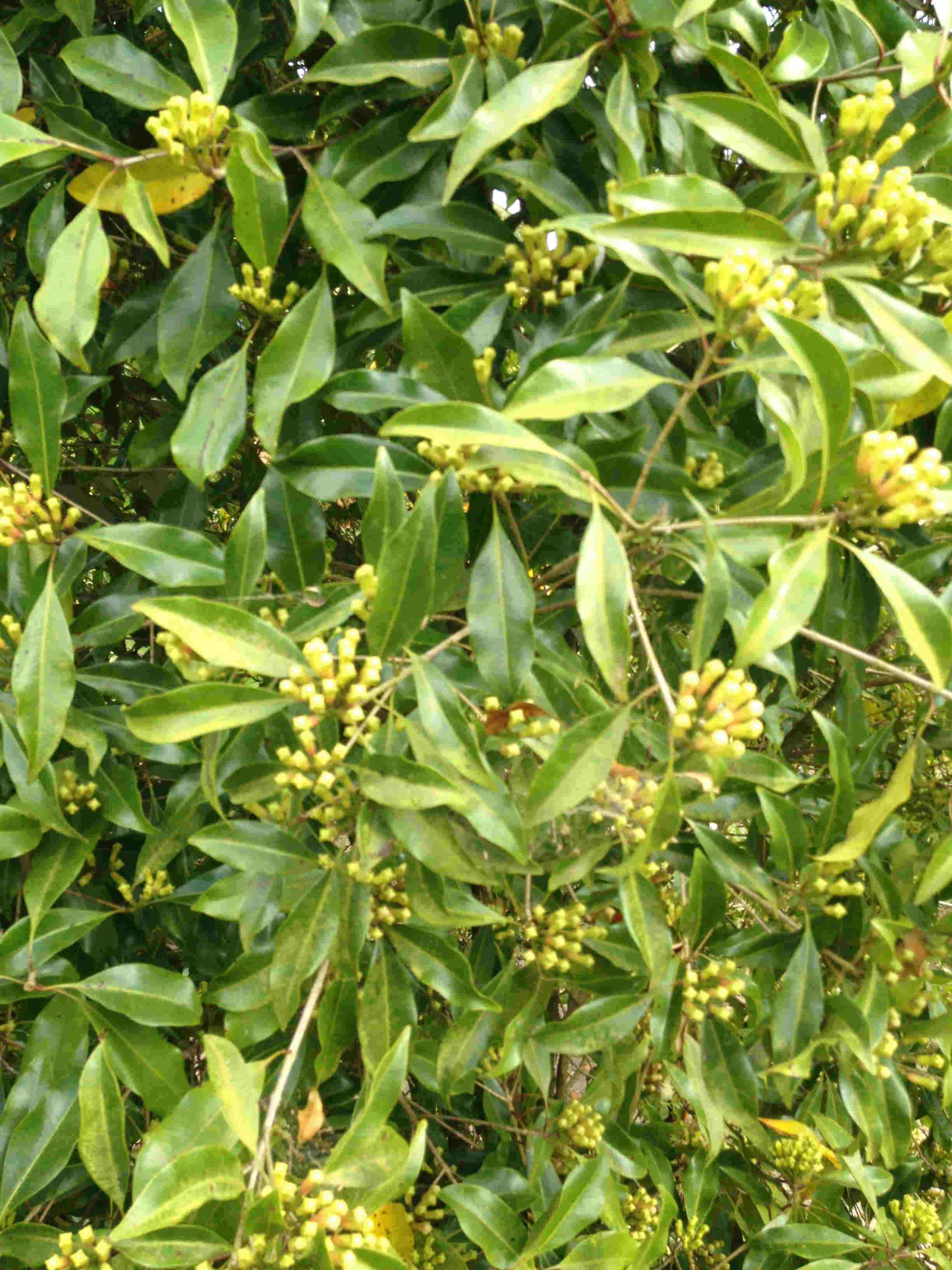 Here are some individual freshly picked cloves in Annetta's hand.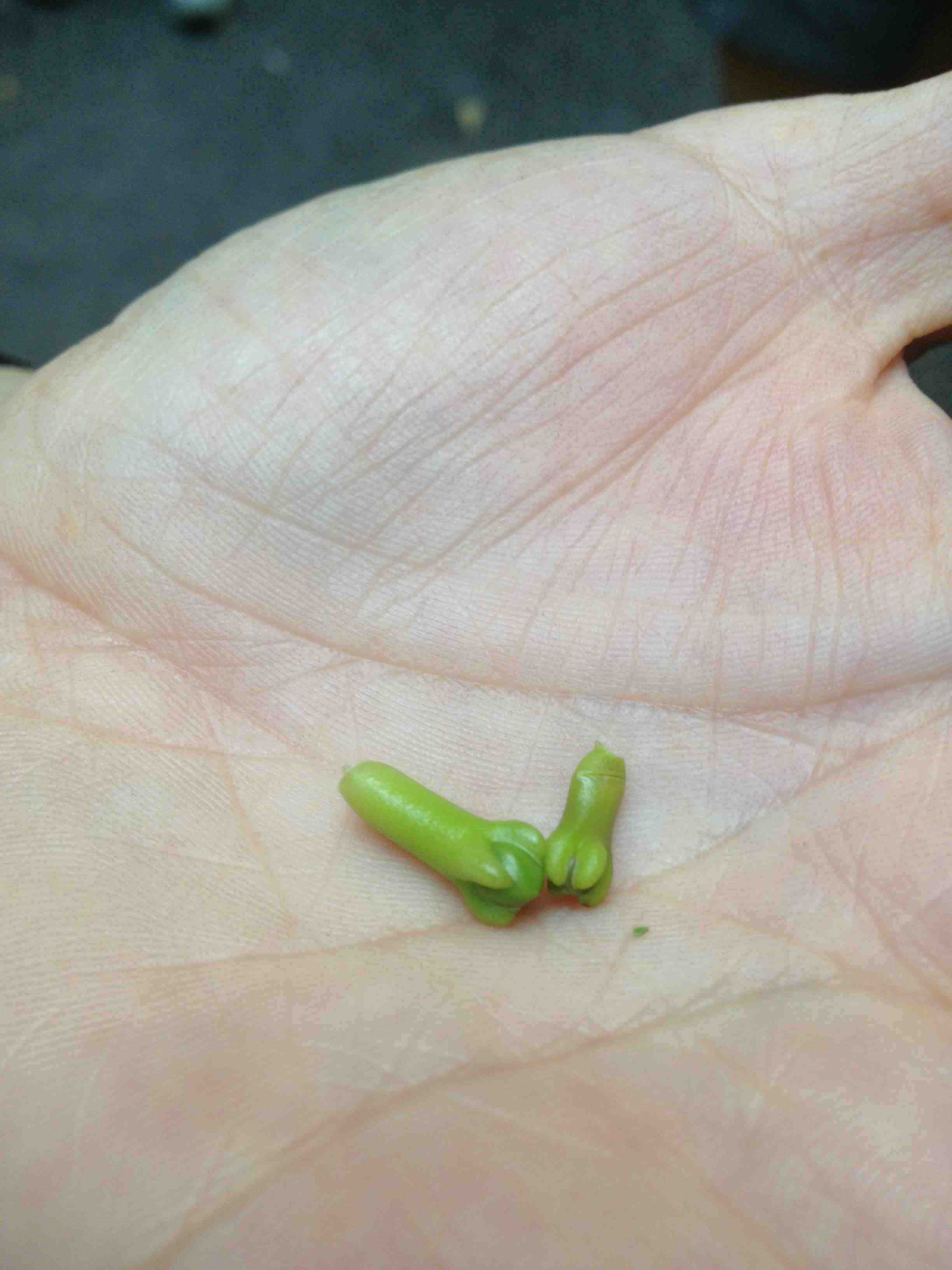 All along our pathway, we saw small family compounds. These were poor families, but their dirt yards were always impeccably swept. As one of our group noted, it was strange that each home was so well kept, while we often see garbage tossed alongside the roads. How can there be so much pride in a family compound and such a lackadaisical attitude about trash on the road?
Many of these families were drying cloves or coffee beans in their yard. Here's one family who were drying cloves to prepare them for sale.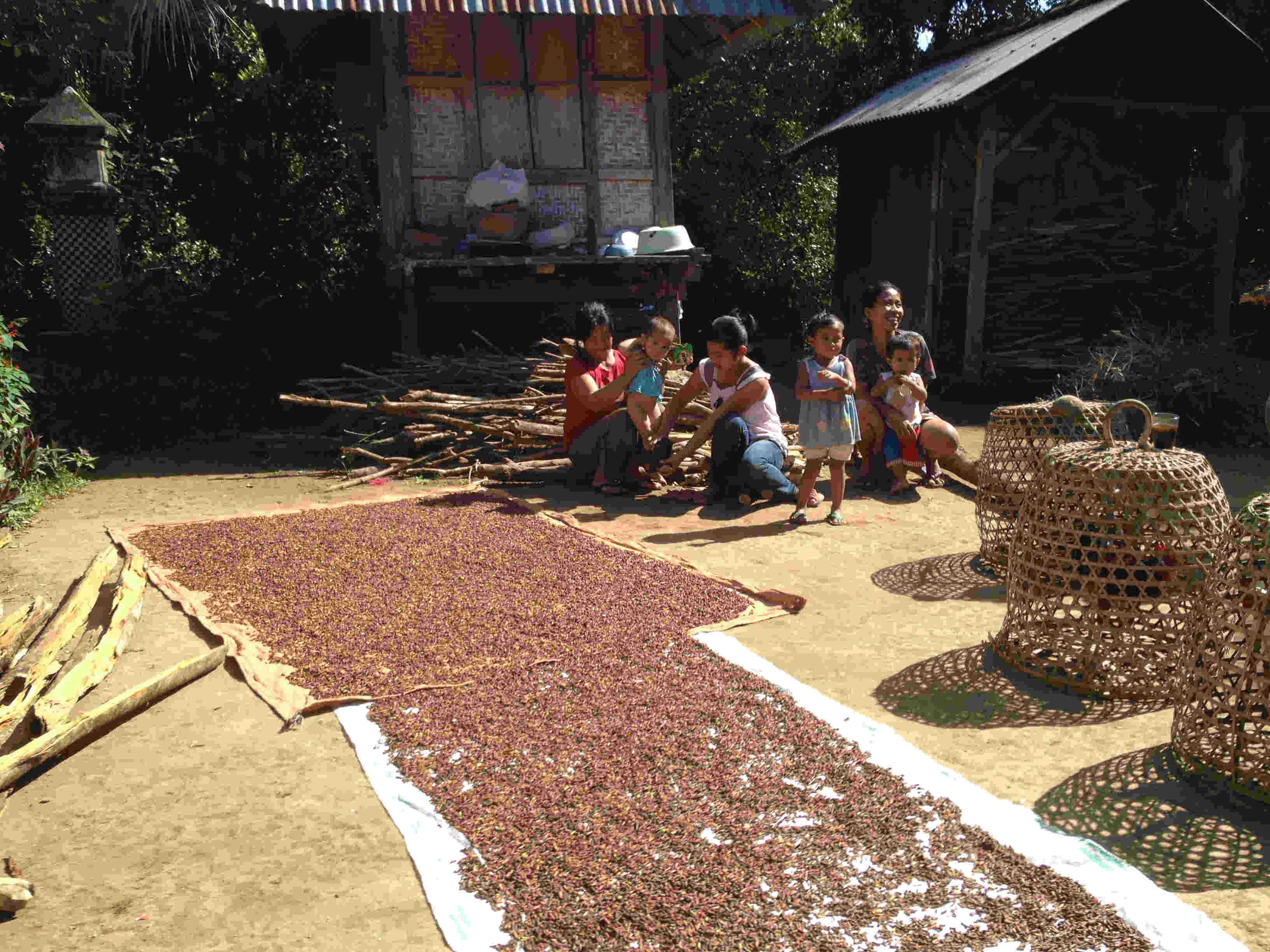 The harvesting of cloves, we learned, is very dangerous work. The workers climb up very thin ladders made of bamboo, supported only with a rope around their waist, loosely connected to the tree. Then they climb way up high in the tree with a picking sack and harvest the cloves.
Here's what a clove ladder looks like.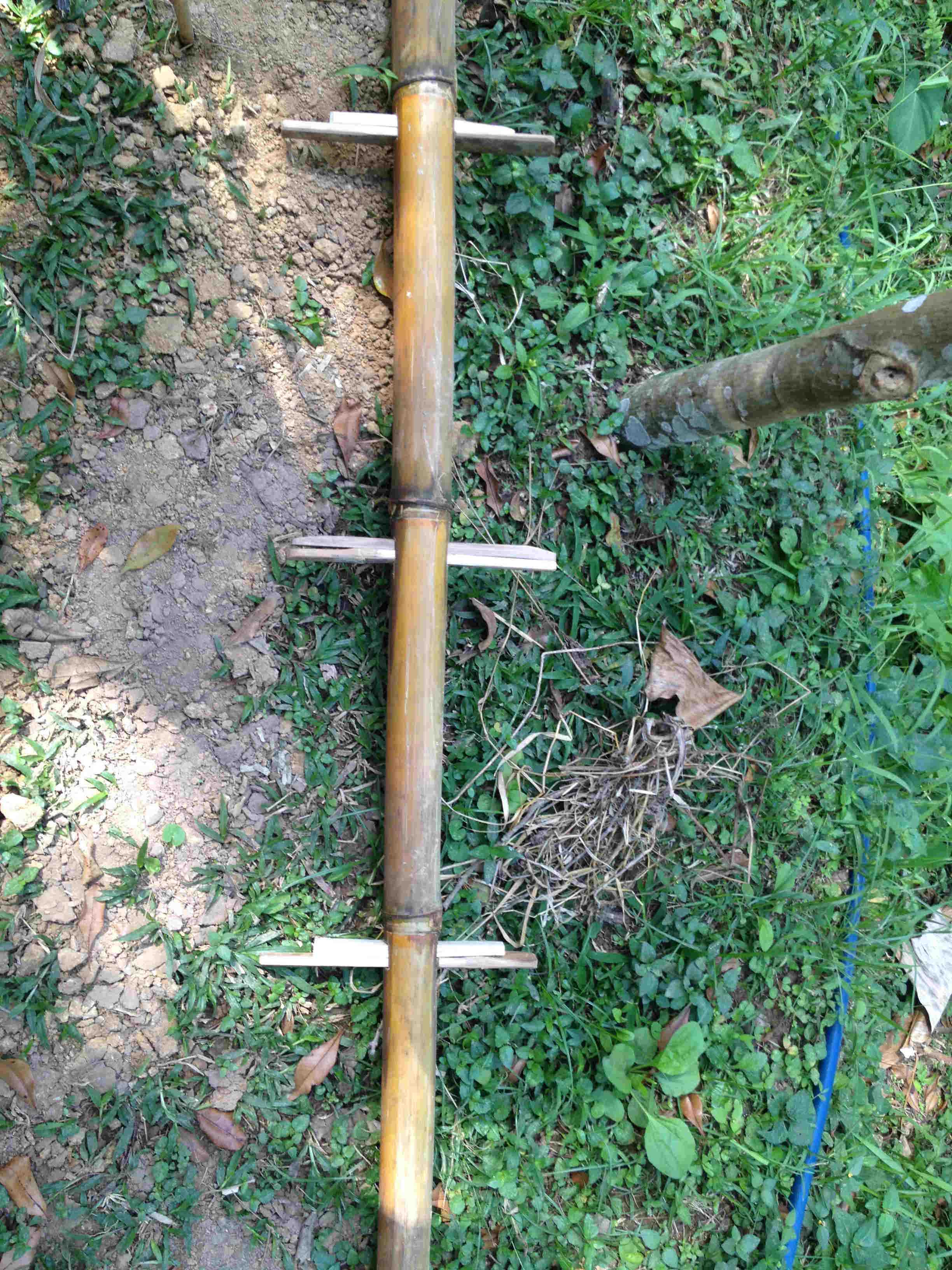 Up at the top of this tree is a man actually harvesting cloves (you'll have to imagine him. I don't think you can actually see him–the quality of pictures I have to work with has gone downhill since Lizzy left with her camera.)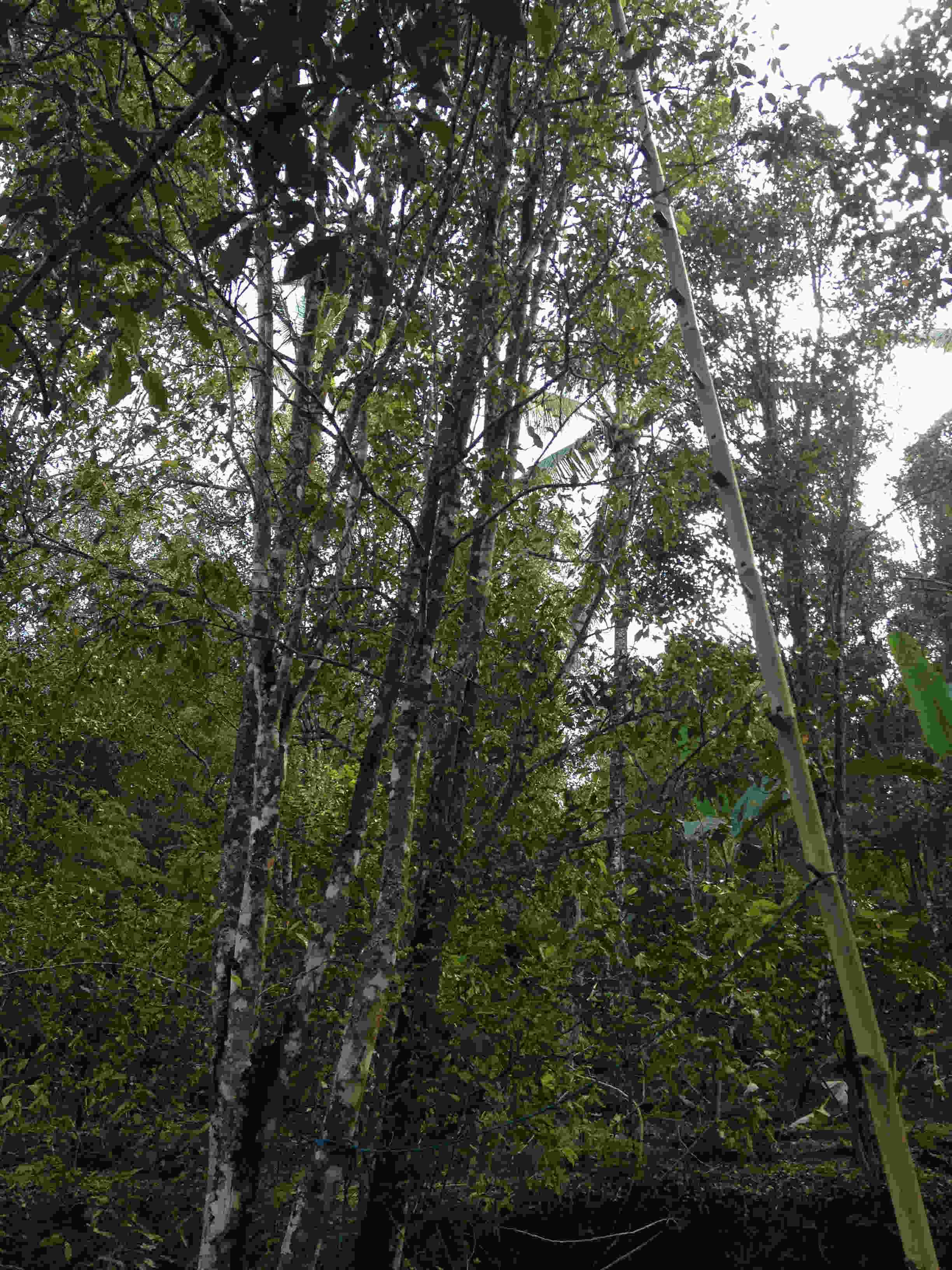 Aside from cloves and coffee beans, we saw an incredible array of things growing–mangosteen, avocado, jackfruit, water apples, starfruit, Balinese cotton, tangerines, bamboo used to make soup and musical instruments, eggplant, casava, and a fruit called the durian. From the outside, it looked like jackfruit. Judy said it was custardy and delicious on the inside but that it smelled putrid, lke "used baby diapers." Most people can't get past the smell to eat the delicious fruit.
This is a decorative yellow fruit called a "trun."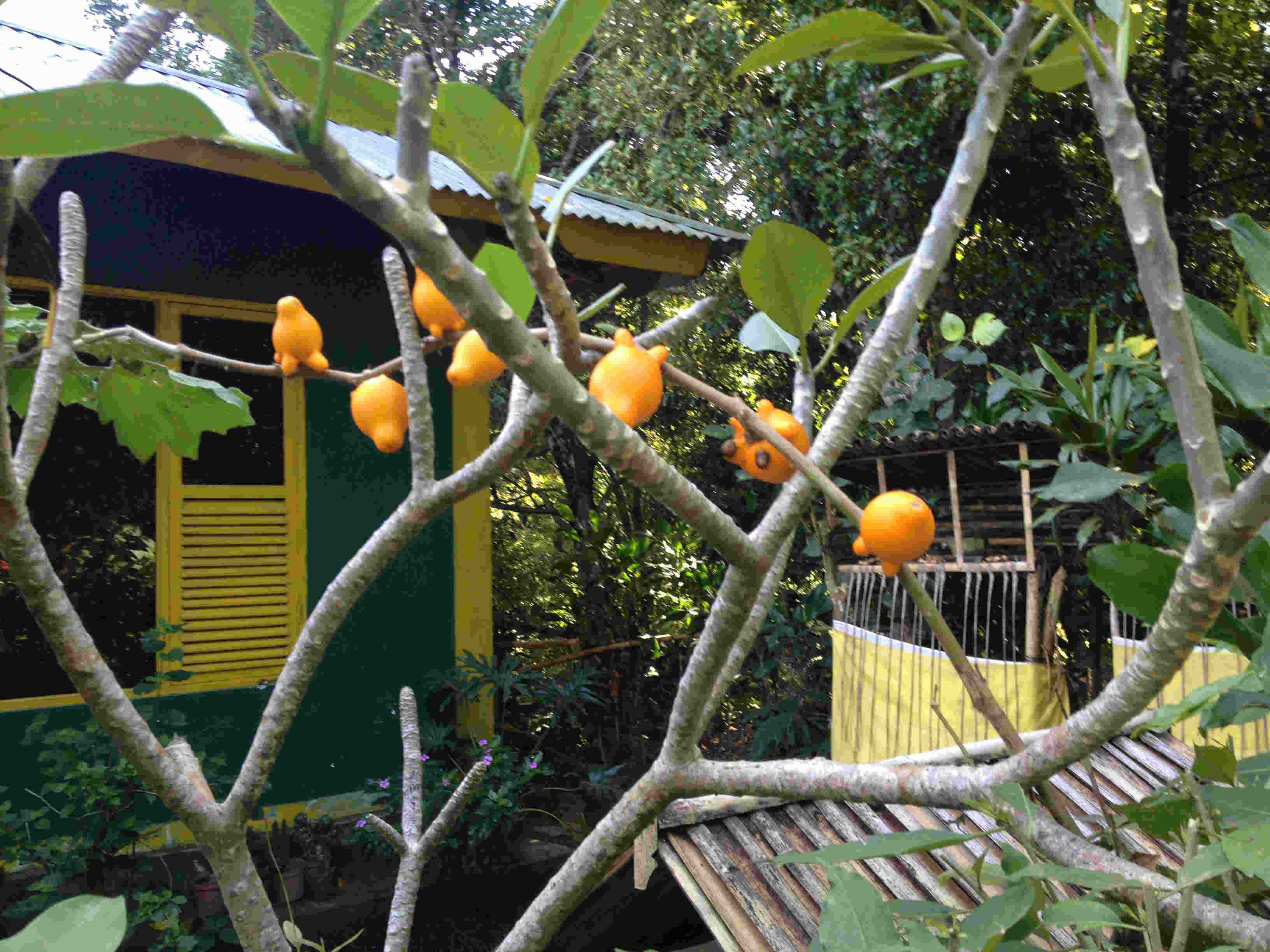 This is what a baby pineapple looks like.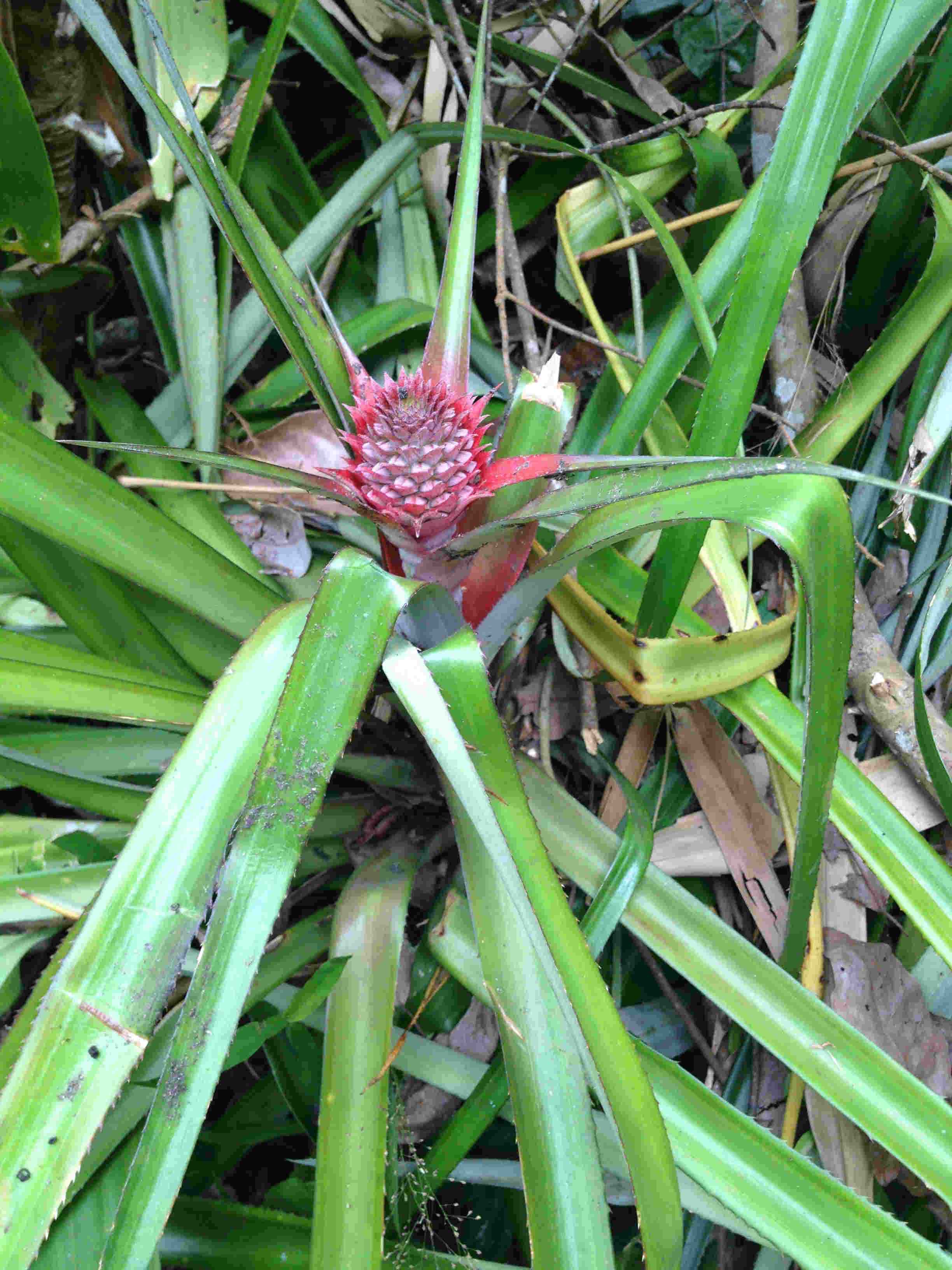 These are taro leaves. Pak Ketut told us they had to be cooked twice, very well, or they could be poisonous. Cooking them for a long time brings out the sweetness, he said.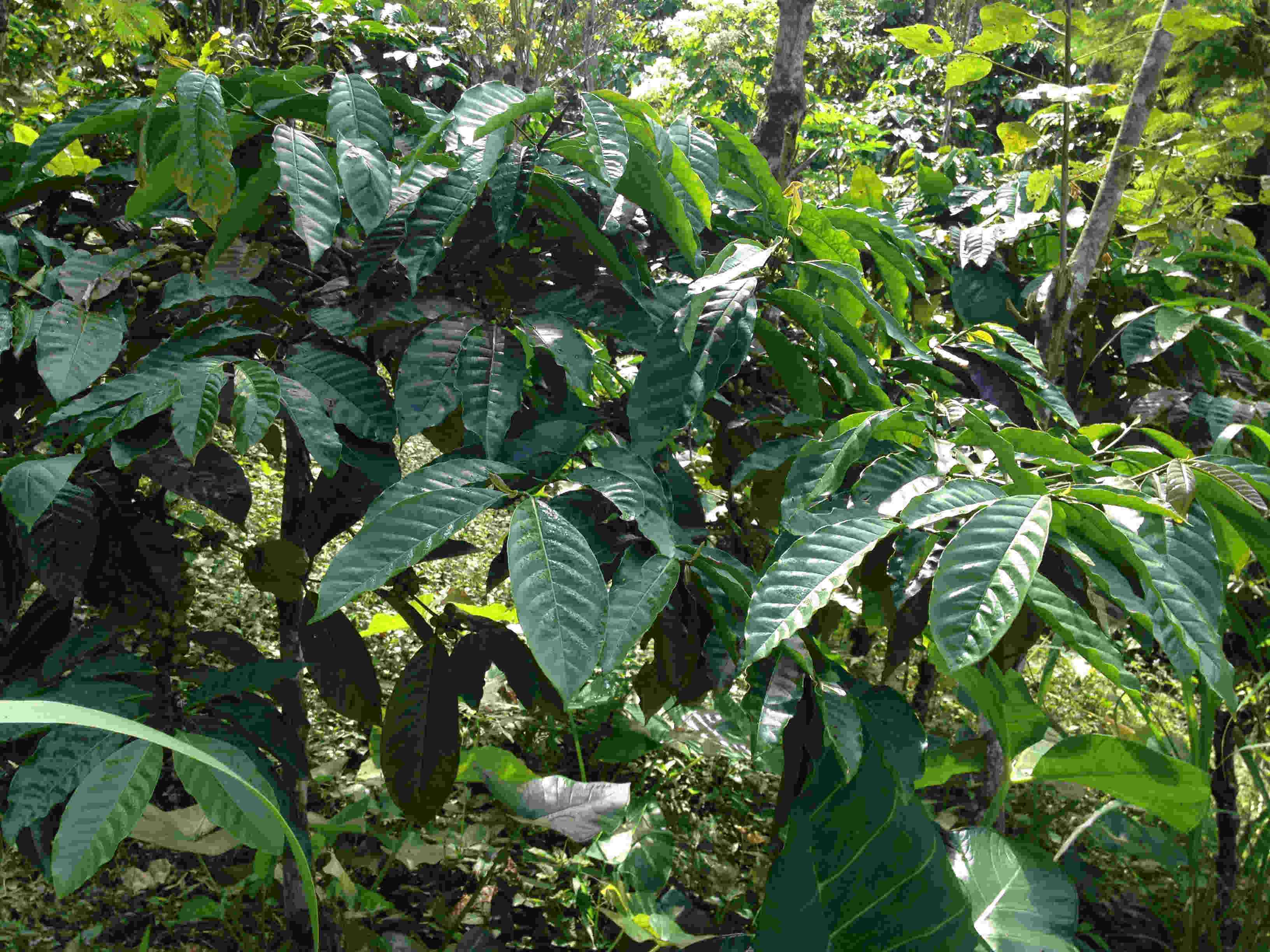 This is lemongrass, one of the ingredients we were cooking with just a couple of days ago, back in Ubud. Karyn says there's some growing in our backyard, but the cat keeps eating it. I guess she'll have to plant some more.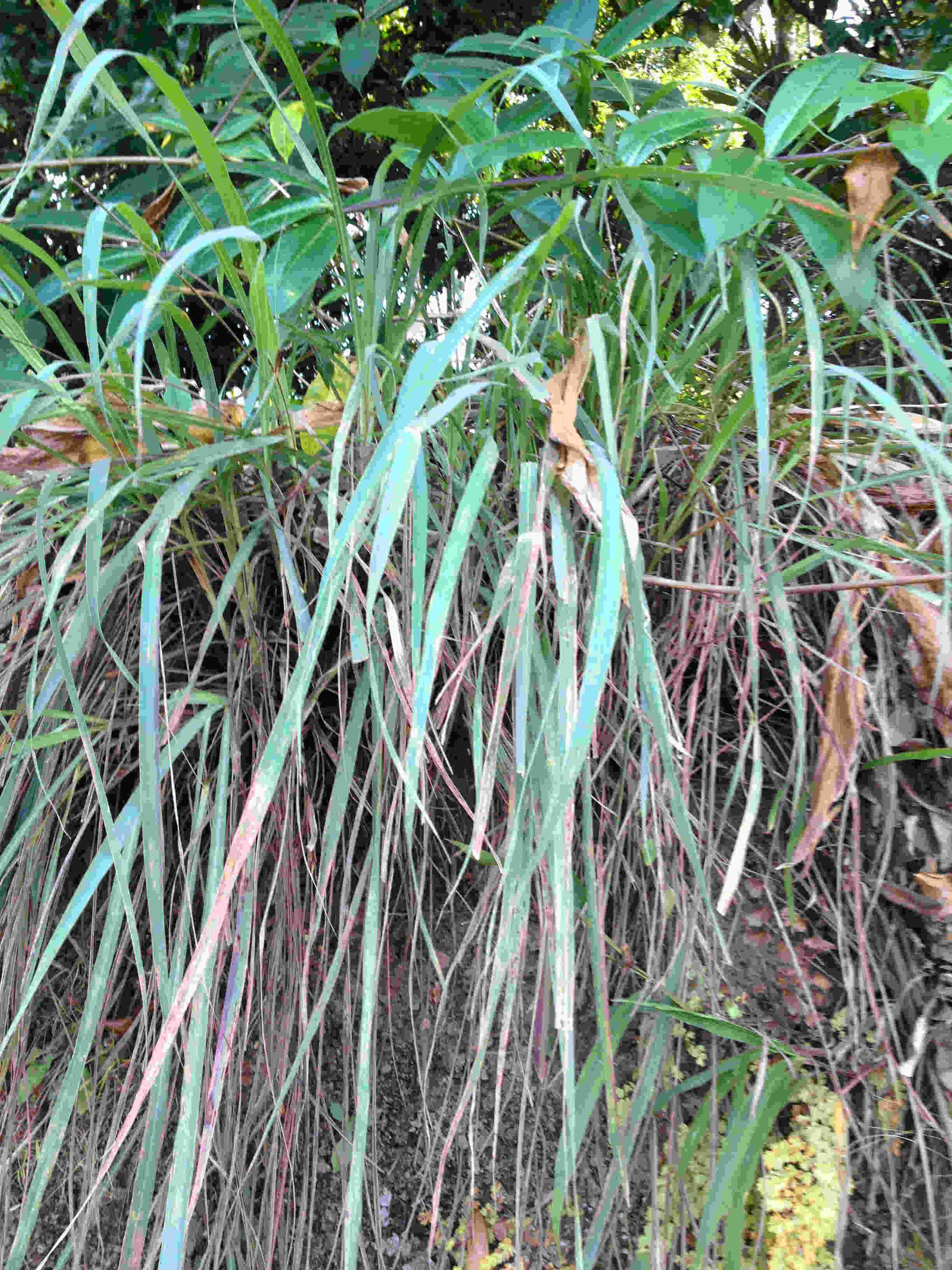 This erotic red plant is nutmeg. The red color says that is ripe and very, very good.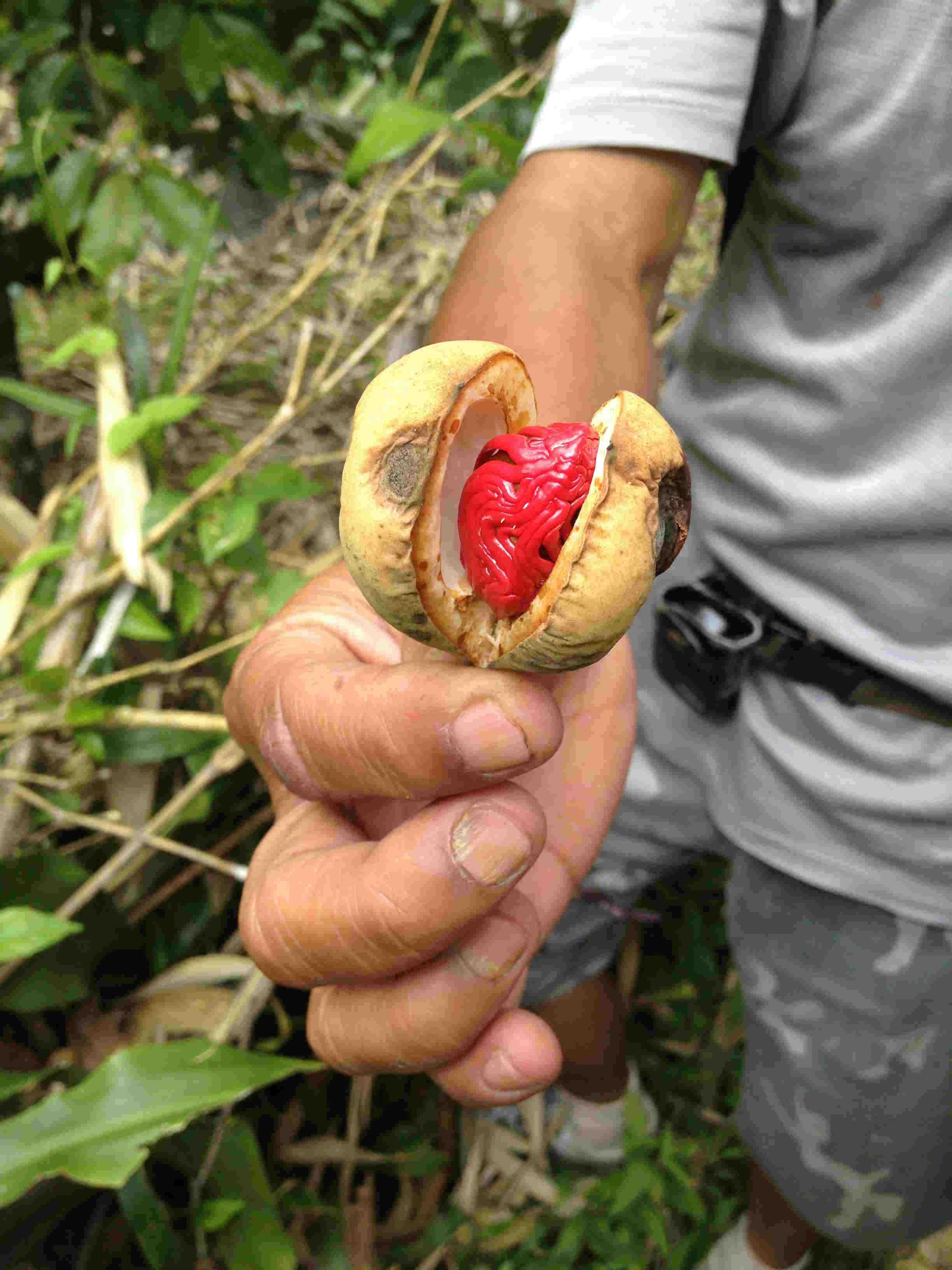 Then there were the cocoa trees. Pak Ketut took one cocoa pod down from a big tree and thwacked it hard on a rock. It cracked open. Inside were a number of creamy white pods all stuck together. We each took one and sucked off the white coating–then threw out the pods. Pak Ketut said the insides were bitter, though once processed, they are the source of the chocolate we all love so much. The Balinese, the younger Ketut told us, don't have a taste for chocolate. And what we tasted bore no relation to the chocolate we know at home.
People greeted us all along our path through their village. This baby just had her hair-cutting ceremony. You can see that she is still wearing her ceremonial jewelry. And of course we got a kick out of her tee-shirt.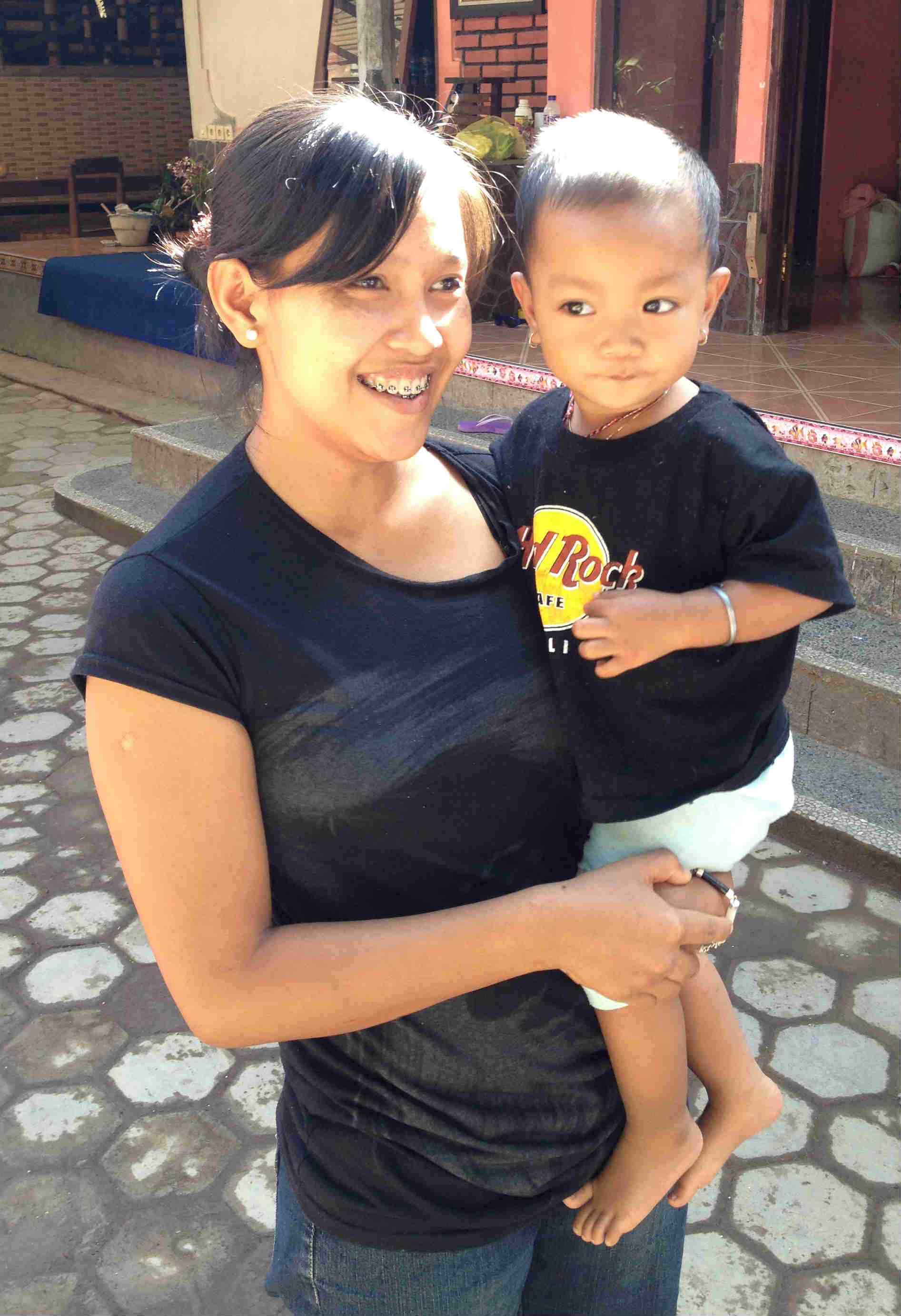 All of the family compounds had structures called lumbungs, sheds to protect the rice harvest from mice and other small animals that might eat a crop. The lumbungs are all designed with legs off the ground and different levels of barriers to keep varmints out of the crop. You see these everywhere in Bali. This one is pretty typical.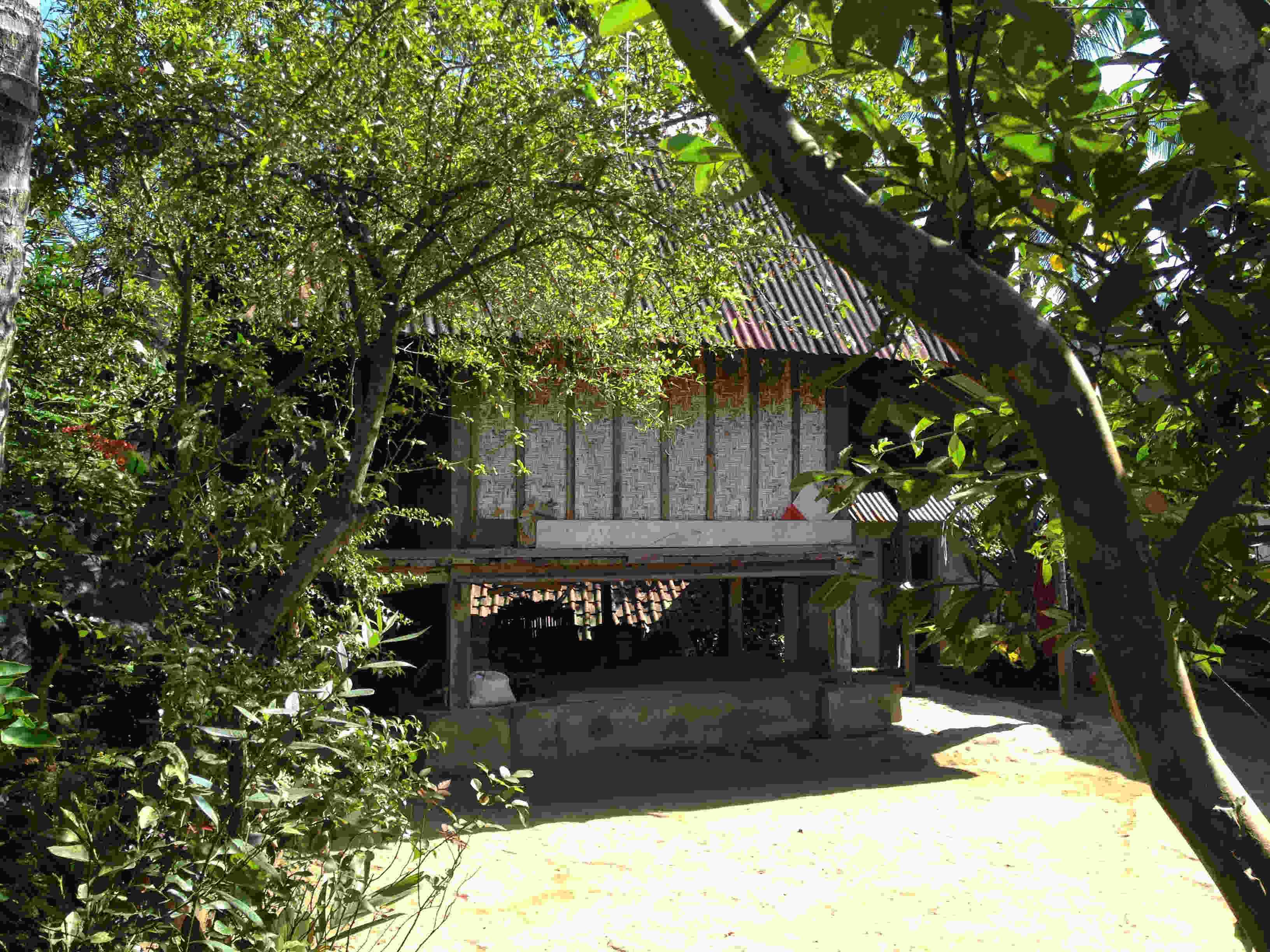 Another common sight, city and country alike, are women with little roadside stands, an extension of their home compound, who sell little things by the side of the road. These warungs provide a bit of income, with no rent to be paid, and they also serve as a gathering place to share news and local gossip, a place to rest and get out of the sun.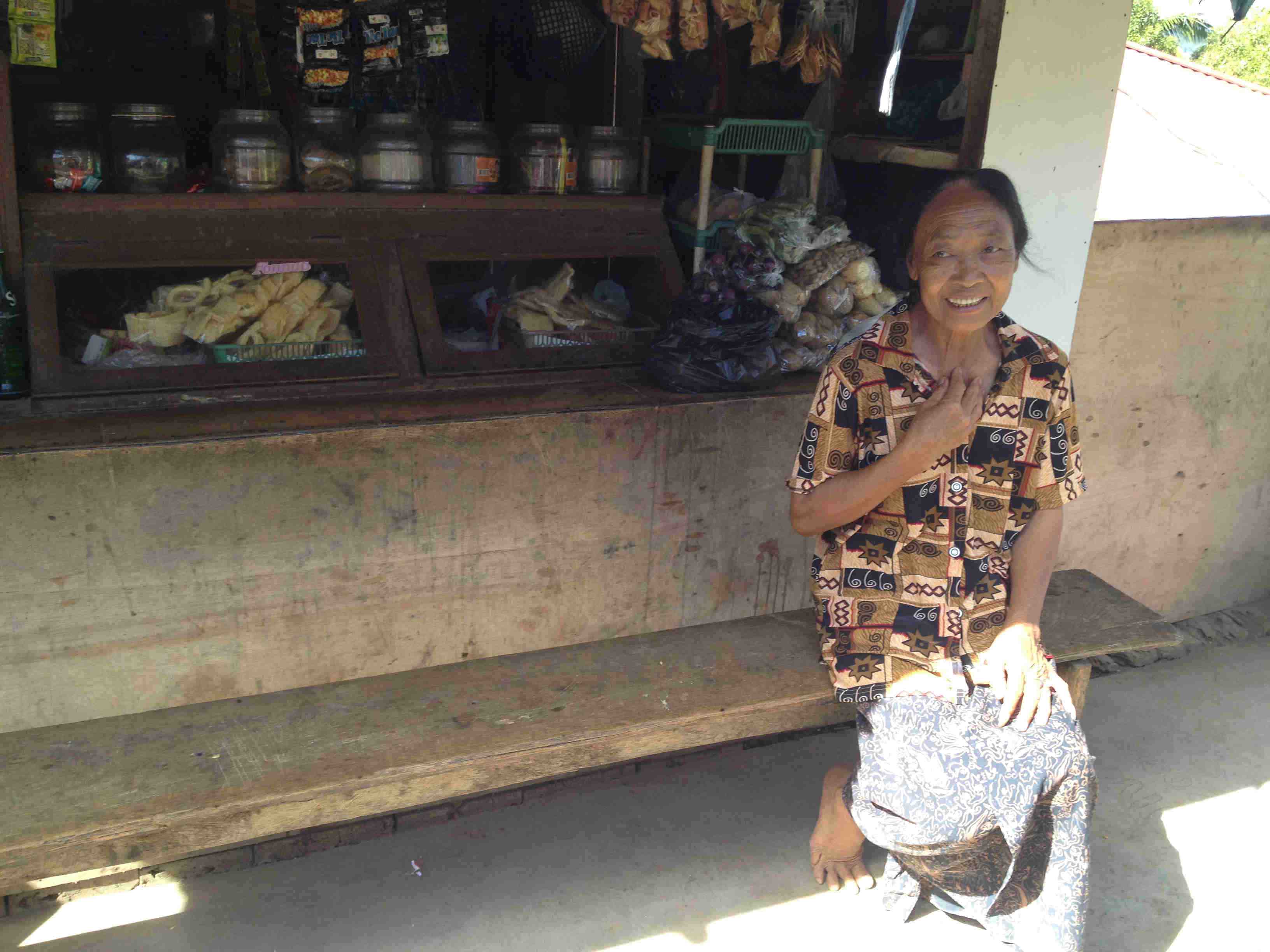 While we were walking on the main road, we came across this construction crew, building by hand an asphalt and rock road. The rainy season has made the road impassable and this crew was made of volunteers from the local banjar, working together to improve the road for everyone's access.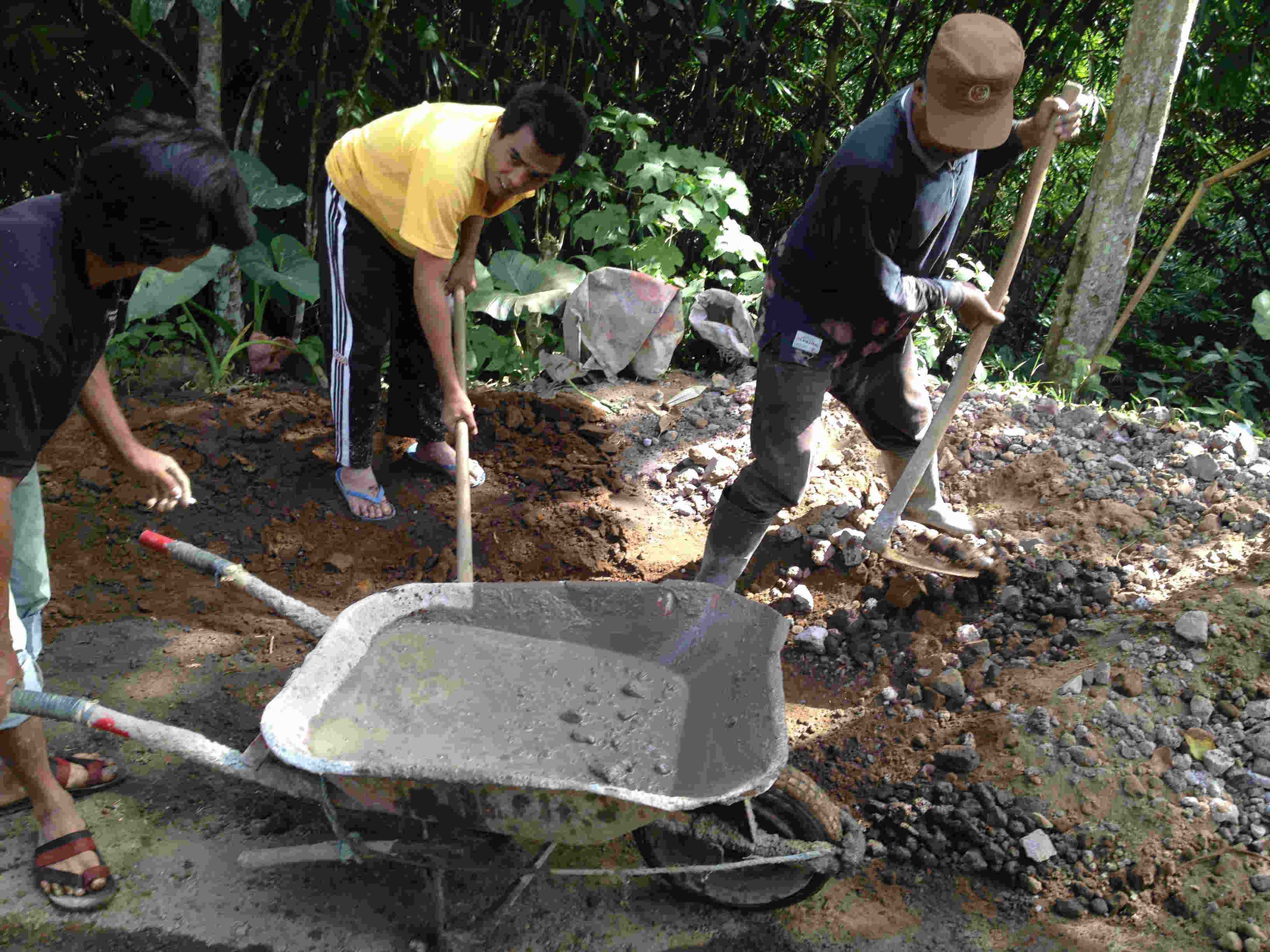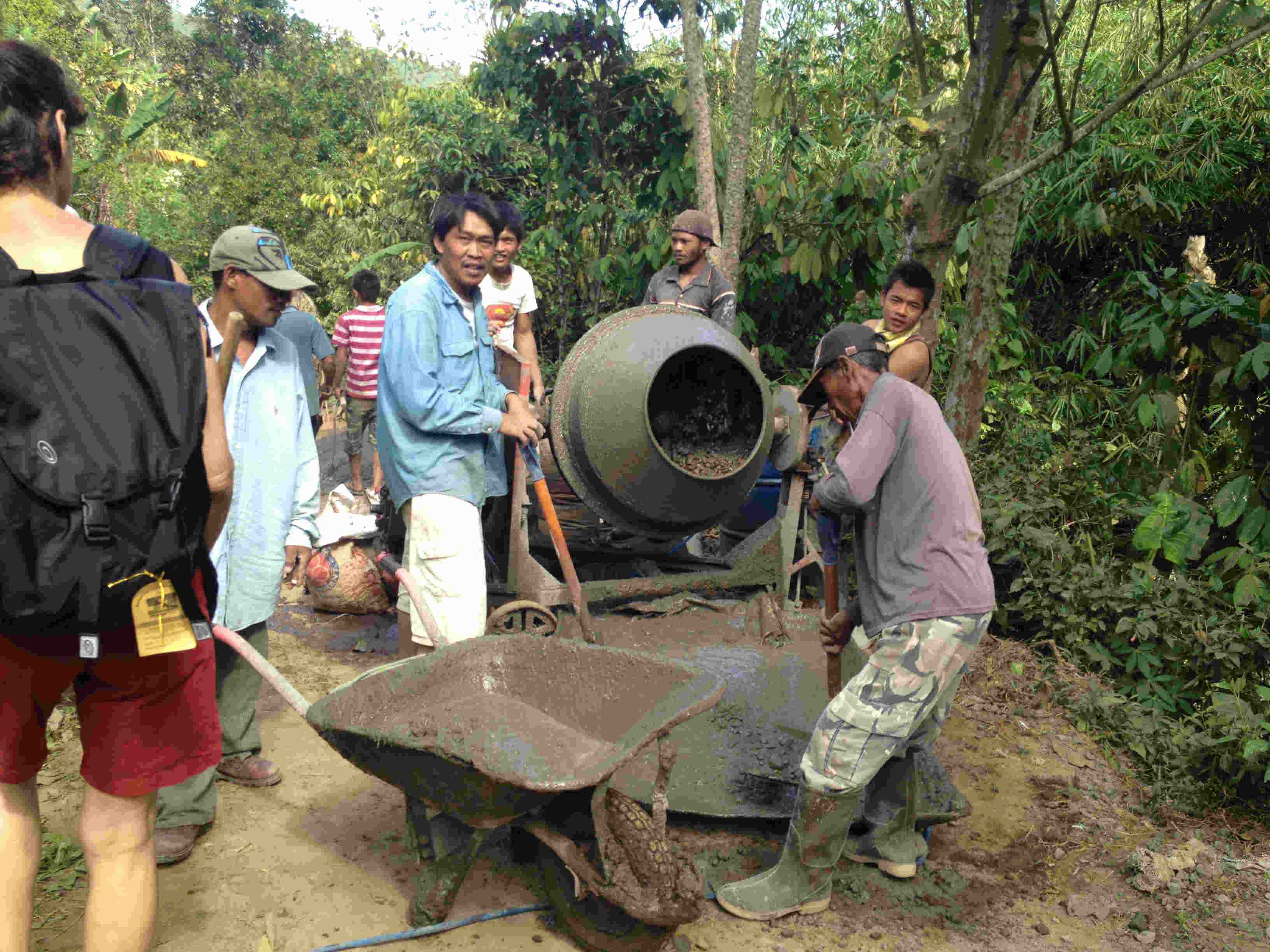 At the fork where we left the road and ventured out into the rice fields, we came upon a clove oil distillery. It was an open building, the sides were covered with tattered groundcloths. Inside was an immense vat where the cloves and clove leaves are cooked down. Distilled clove oil drips out at the bottom. "It`s like cooking rice," Pak Ketut told us. Beyond the distillery was this bamboo bridge.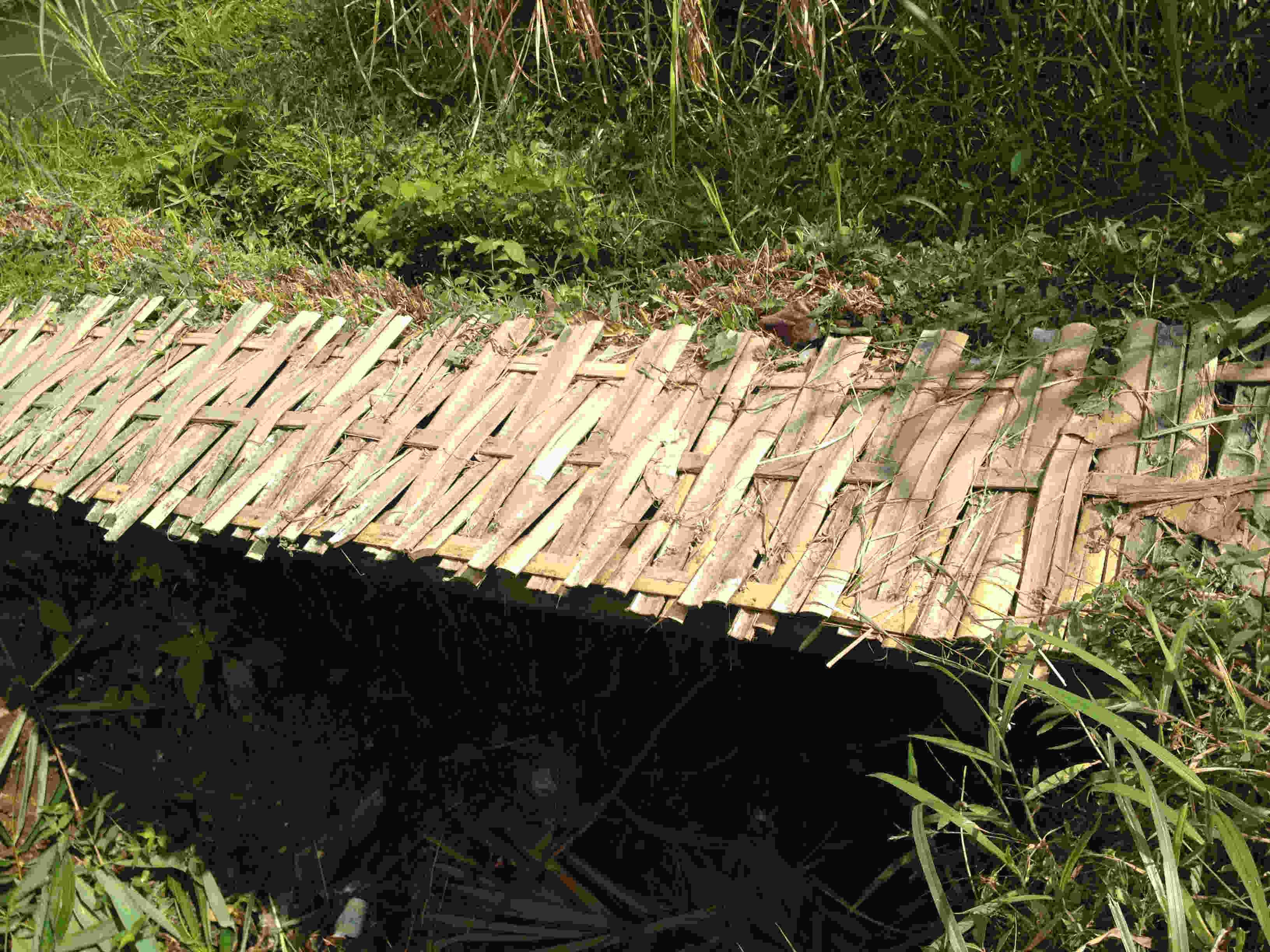 We turned off the "road" and moved on to the thin dirt trails that run through the rice fields. The intense smell of cloves followed us everywhere. We met these children running through the rice fields in flip flops, going out to fly their kites, a beloved pastime in Bali.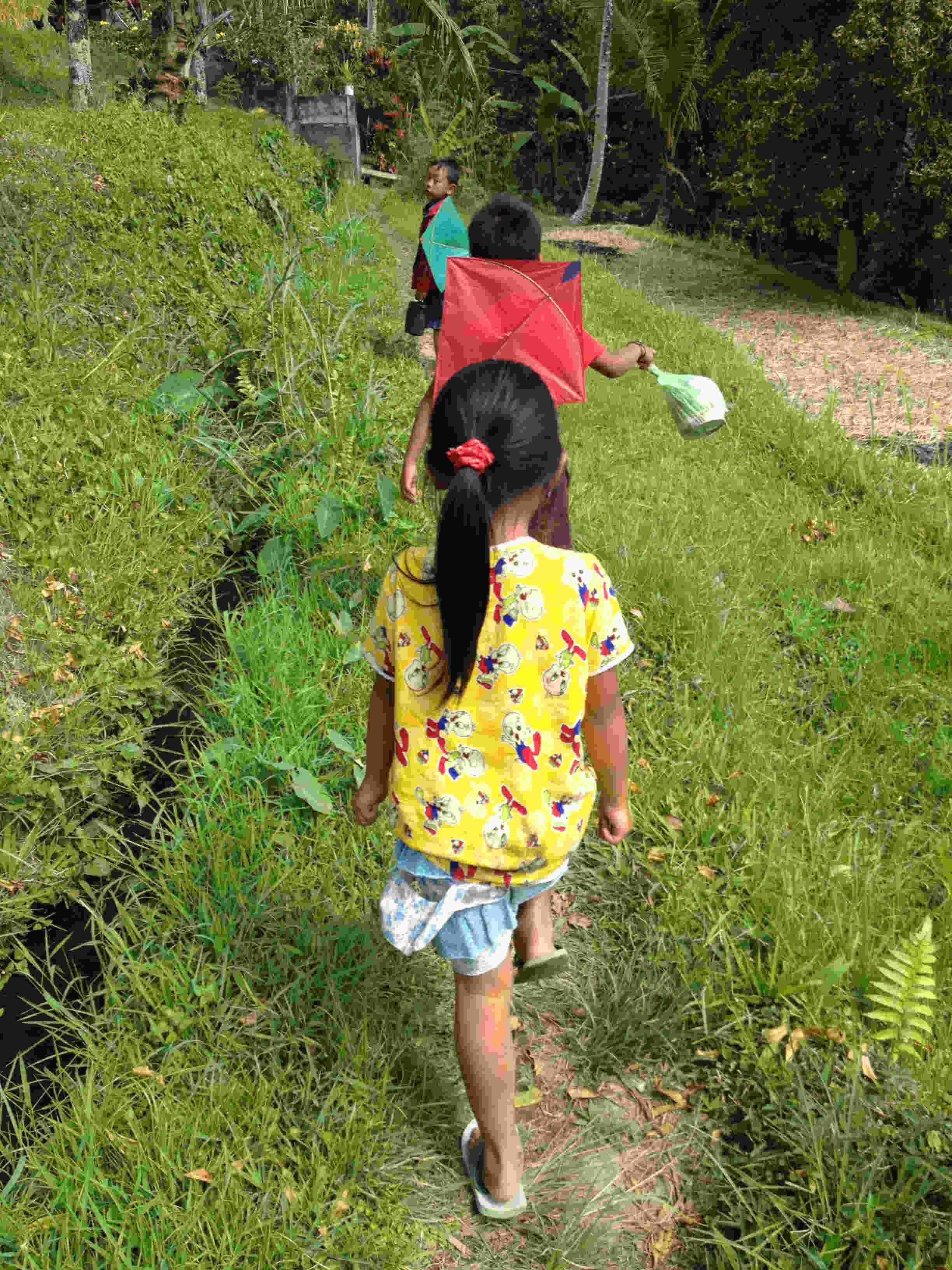 When the rice fields lie fallow between crops, garlic is often planted there. This woman is harvesting garlic.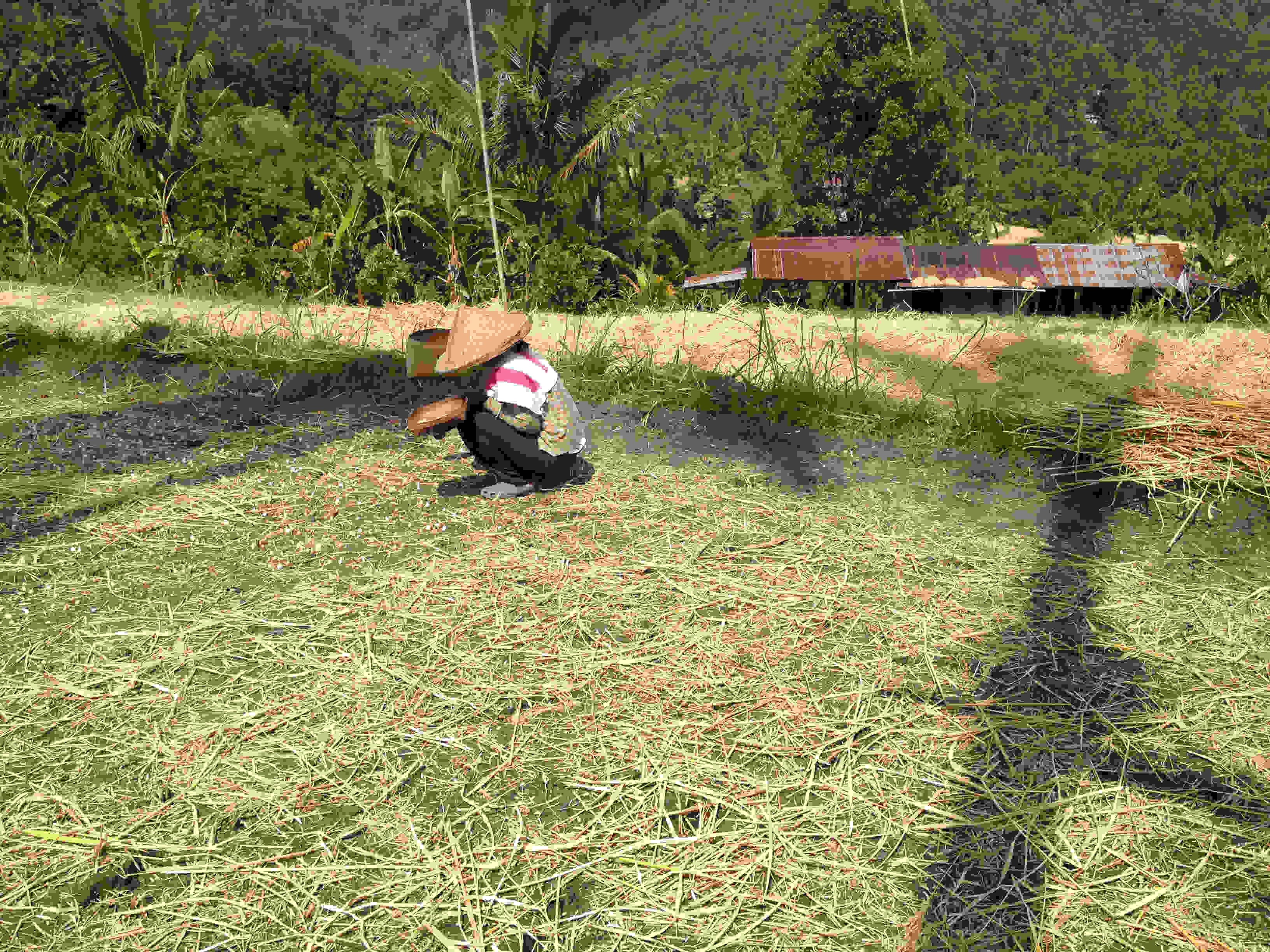 This rice is ready to be harvested.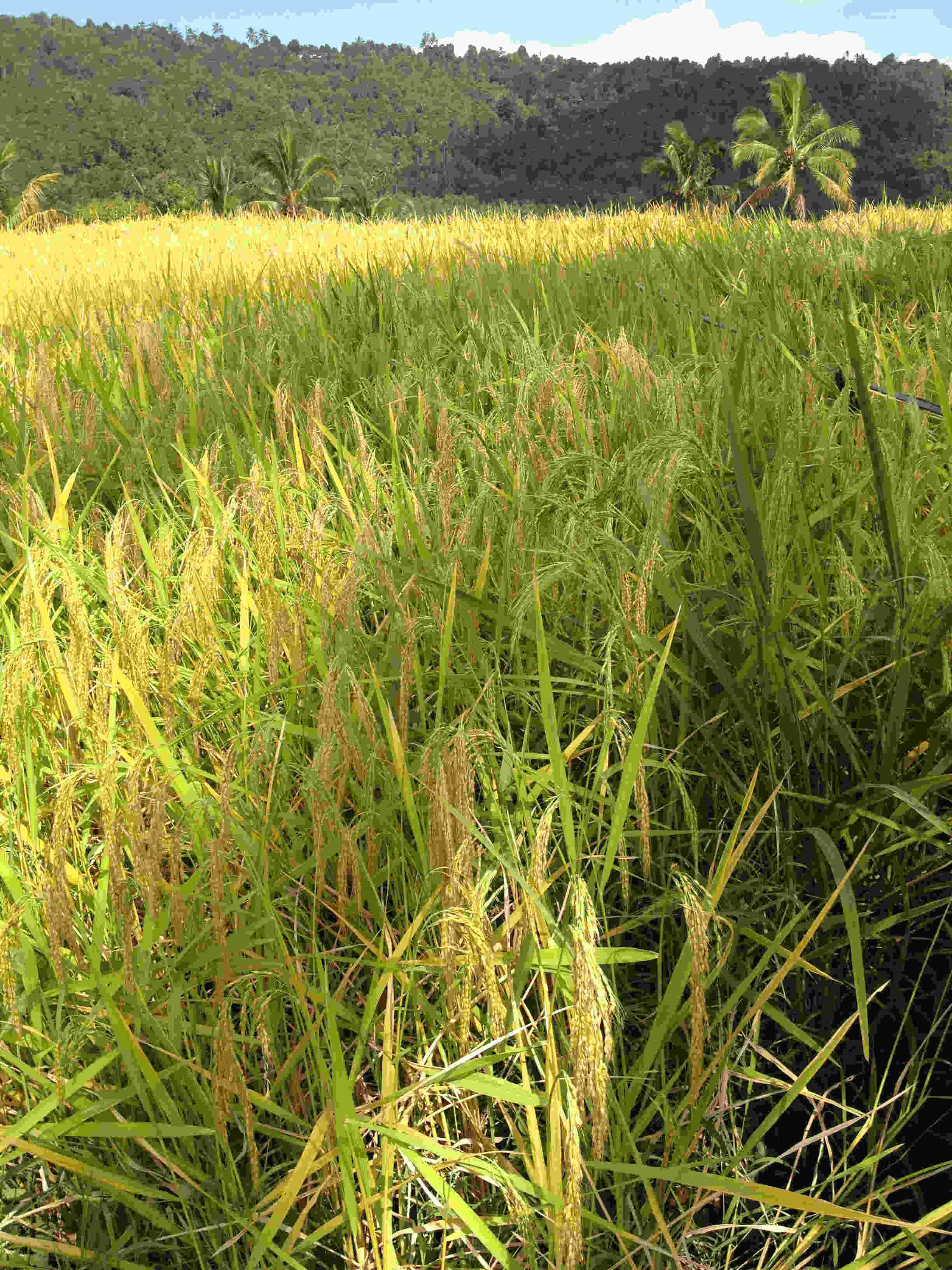 This is the stubble from a rice field that has been burned.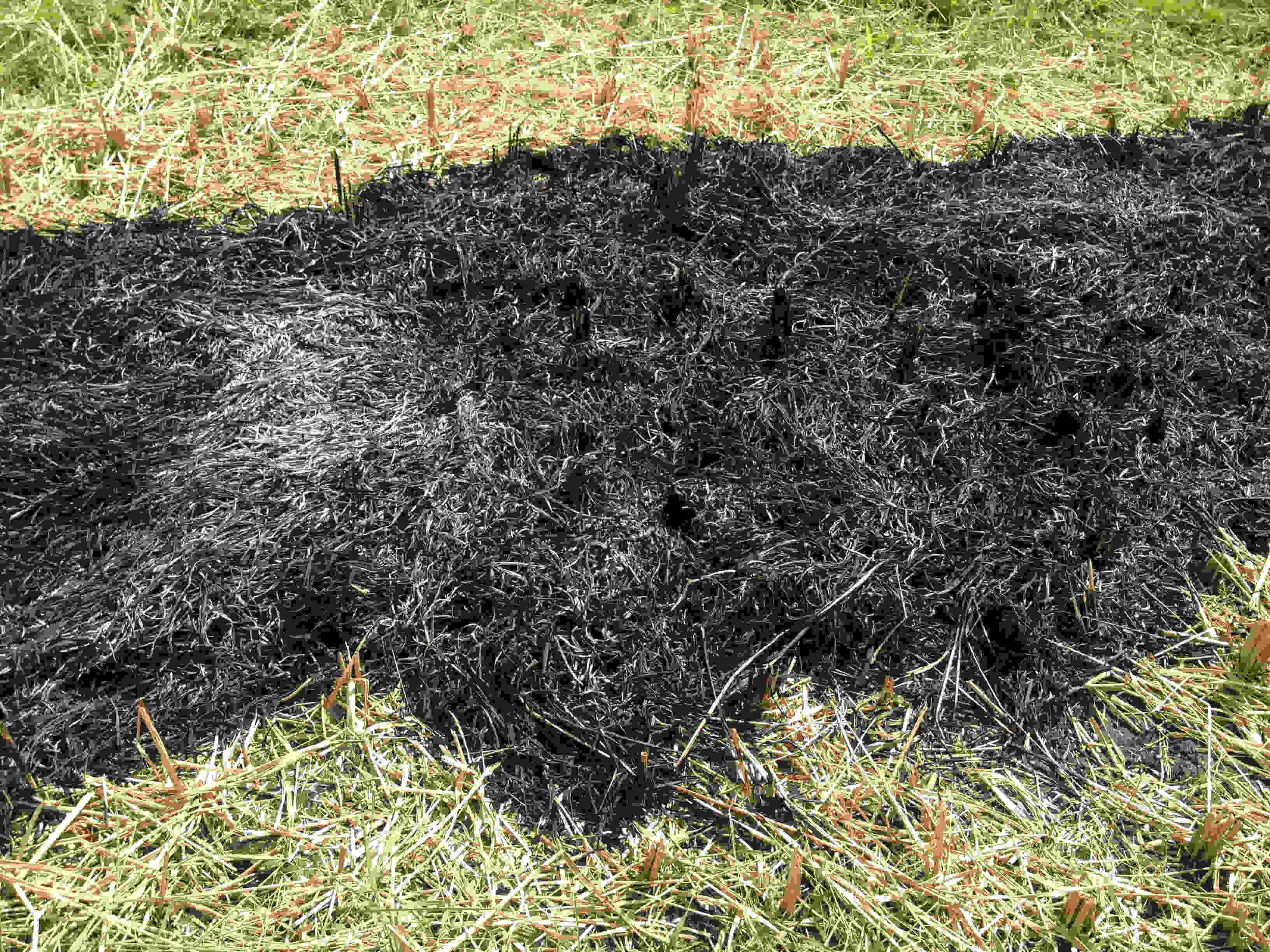 This is a blessing over the rice field. There is also a propeller in the rice field, high on a bamboo pole, that when turned by the wind, makes a sound that is supposed to be appealing to the rice goddess. The villagers put it there to lure the rice goddess and bless their harvest.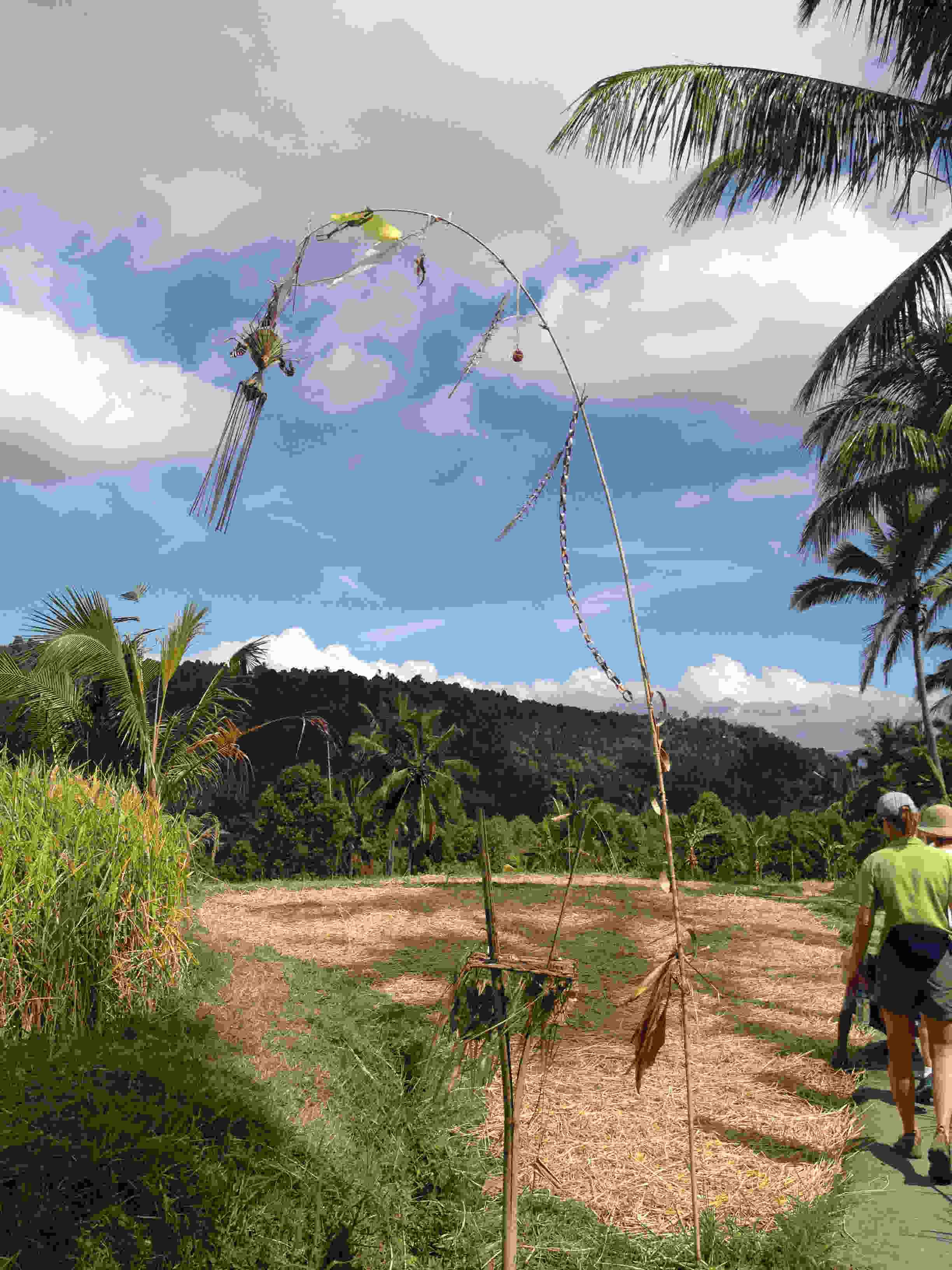 Most rice in Bali is a hybrid rice grown on a three-month cycle. But some traditional rice and this red rice field (below) is grown for nine months. Instead of cutting the rice and thwacking it forcefully to loosen the rice, the rice in the nine-month cycle is tied in bundles and the grains of rice are allowed to fall off the plant naturally. This is a picture of the "gentle" nine-month red rice. One of our trekkers described it as, "a whole field of blond rice ponytails." I thought they were quite beautiful.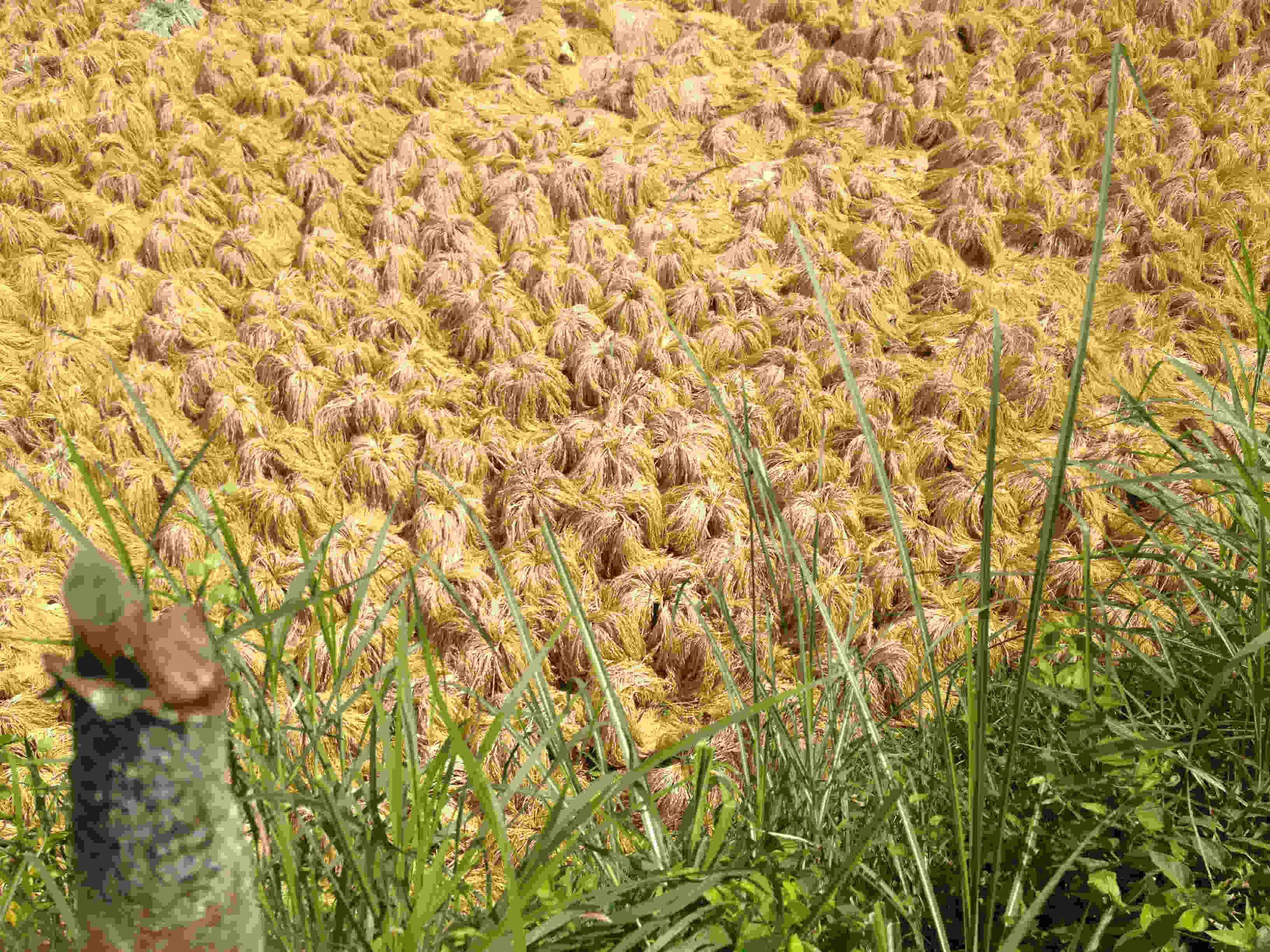 In this close up, you can actually see the individual grains of rice.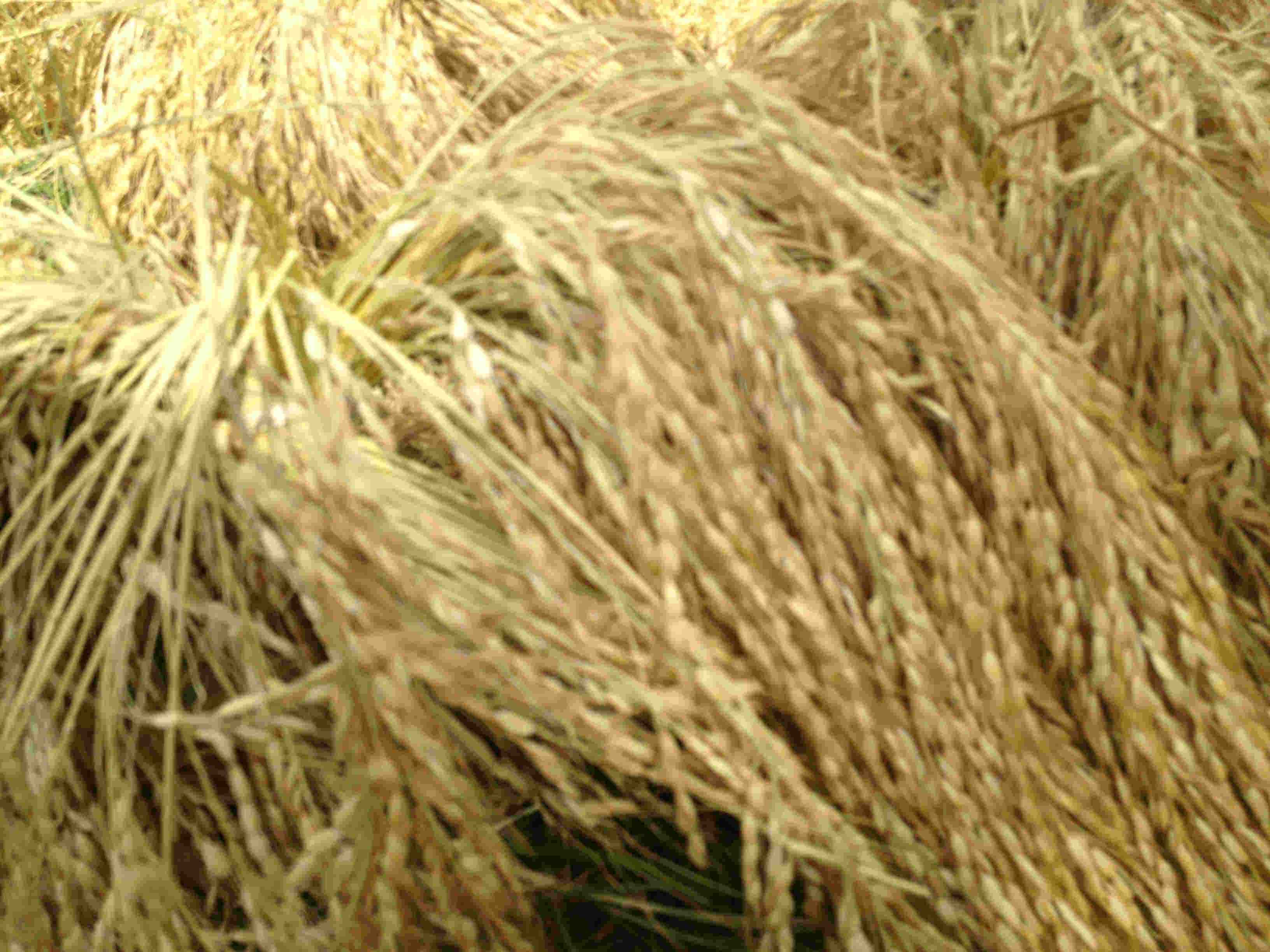 As we began wandering out of the rice fields, several hours after our journey began, the younger Ketut, who spoke excellent English, told us how many of the crops in Bali originated in other places. Cocoa came from Mexico and was brought in by the Dutch. Coffee came from Brazil. And vanilla beans came from central Africa.
Someone asked him why Balinese smile so much and young Ketut (see him here with a big smile on his face) told us about the three basic principles of harmony that the Balinese live by.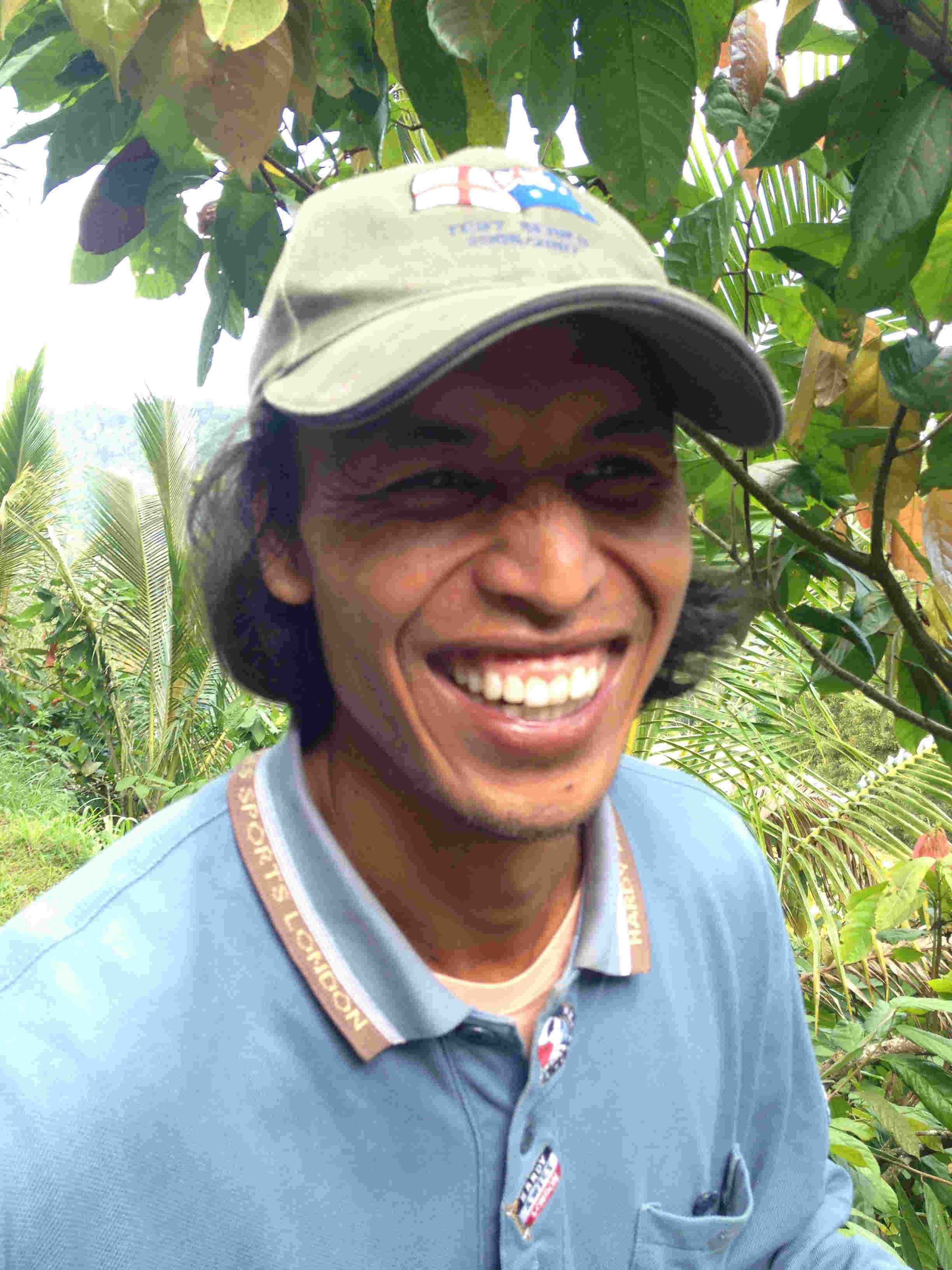 The first principle of harmony is harmony with Gods and the spirits. The second is harmony with human beings. When someone is angry at them, Ketut said, the Balinese smile to dissipate the other person's anger. They are forgiving as a people. "We have forgiven the Javanese who bombed us in the Bali bombings," Ketut told us. "It's because we always want to create harmony."
The third principle of harmony is with the environment. That was obvious everywhere we looked around us. Beauty, harmony, everything being put to use.
Just then, as we were staring off into the beautiful rice fields, contemplating his words, Ketut's cell phone rang, and the ring tone was The Eagle`s Hotel California. And there it was, the modern and the ancient, the traditional and the contemporary, all mixed together, smack dab in the middle of the rice paddies.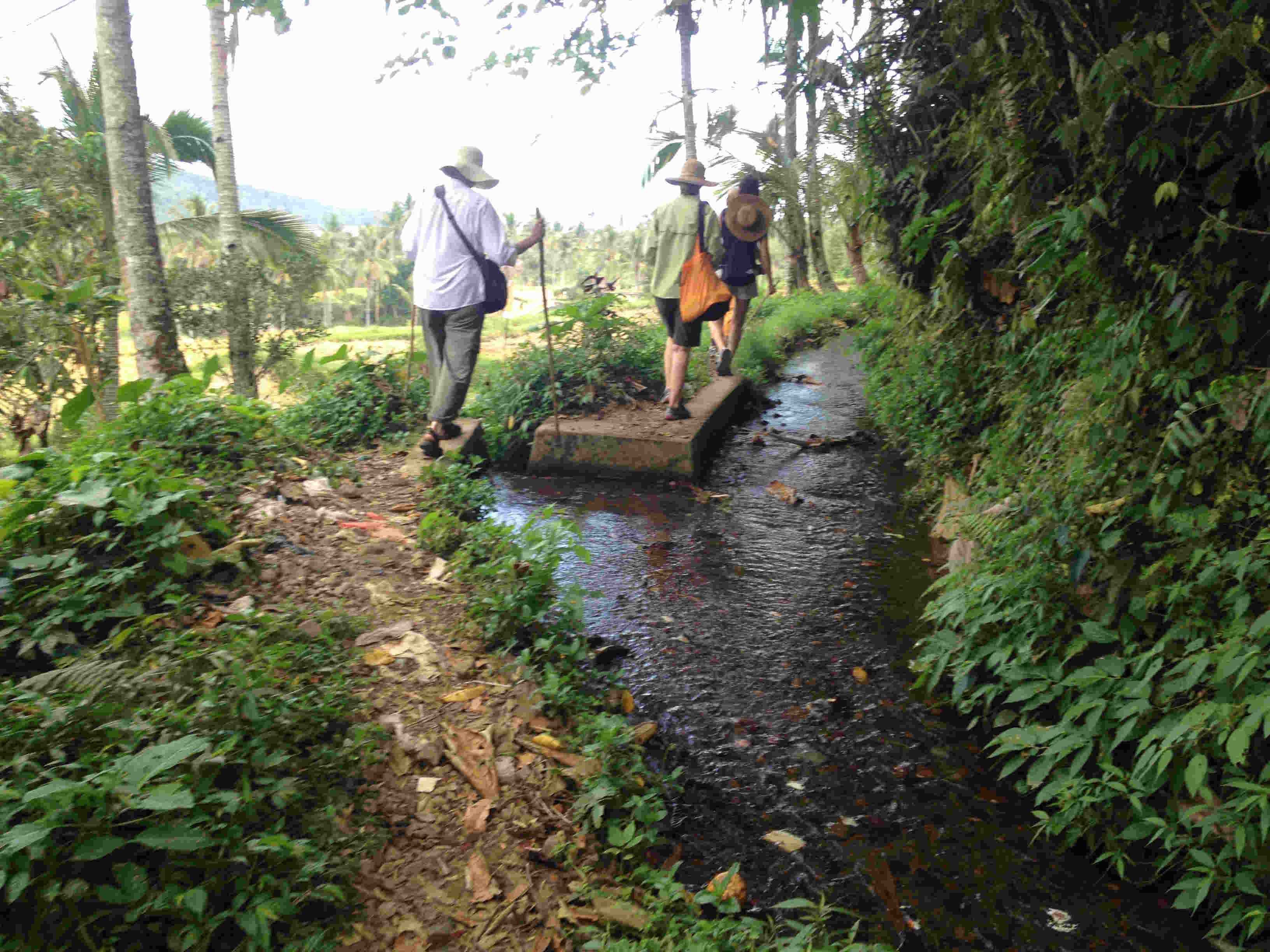 This is us hiking out. It was a magnificent pathway and a great hike. My knees hurt and I came out sweaty, but exhilarated. Munduk is like exploring a whole different world, a whole different Bali.
In the spirit of adventure,
Laura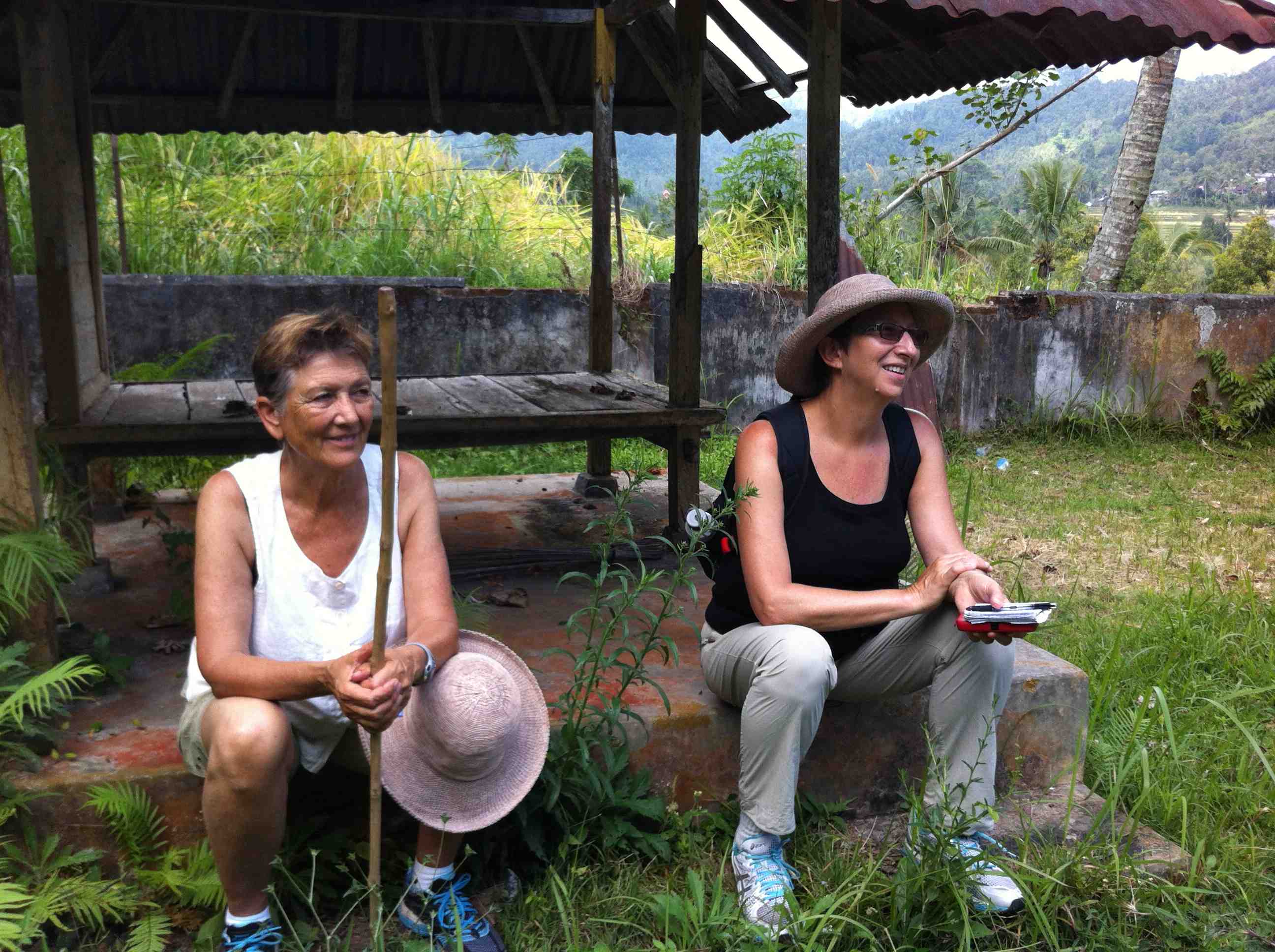 Post #19: Final Report from Bali
It's sunrise over the mountains. I'm looking out over the rice fields and the small thatch platform that the "human scarecrow" will be sitting on in just a little while, beginning another day of chasing birds from the fields and protecting the precious rice crop. Yesterday, there was a ceremony throughout Bali–a ceremony to bless metal objects. We were invited to the ceremony held here on these grounds of our hotel–and got to witness the sanctity of life that is held so dear by the Balinese–even for metal objects–cars, motorcycles, scooters, jewelry, anything metal. I wanted to get my laptop blessed. The keys have been malfunctioning and the whole thing died for a while yesterday. A sacred blessing might just do more for my machine than a trip to Dave's Computer in Santa Cruz when I get home.
I am sad that I have not been able to post much these past couple of days. So much has happened–which of course is the reason I have not had time to write to those of you following our journey at home.
This compound where we are staying is not just an eco-hotel perched on the rice fields. It's a community center for the local area, so children's dance classes are held here every day, a phenomenal dance and gamelon performance happened last night for us and the other guests in the Wantillan. The dancing of local children and the music was fantastic and we were all in a small room, able to see the slightest nuance of movement in the dancers eyes and fingers. Surya gave our group a generous and wonderful treat for our last night. He danced for us in two of the masks he had made. I didn't realize it was him until the final dance. He embodied his character with such grace, precision, humor and dramatic emotion. And then he played with us as he danced. I will never forget his performance.
As the sky brightens all around me and many of our departing group are enjoying their final yoga class with Karyn, I can only share with you some of the highlights of the last few days.
We took a snorkeling trip to West Bali National Park, about an hour and a half drive from here. We got to see stately trees arching over the road–something we`d never seen in Bali before–a gift from the Dutch colonial rulers who wanted their vehicles shaded as they drove down the road.
After a boat trip in a rickety, but efficient old boat with Captain Wayan, who had the biggest smile I have ever seen, we were dropped off on an island where we could see the volcanoes of Java in the distance. After crawling out on broken coral, we came to a 100 foot drop off and some of the clearest water I have ever experienced in my life. Riding the surge of the waves with Karyn, we saw an incredible variety of fish, colors, coral and clams. All I could think besides, "This is amazing," was, "I have to come back here and dive."
Here are some underwater pictures that Wayan took of our underwater journey. We bought the CD for 25,000 rupiah after bargaining him down from 30,000. That was a very funny interaction. We were all so practiced at the dramatic nuances of bargaining by then, we all had a good laugh. However, he knew we wanted the pictures and we knew we wanted them, so he definitely had the upper hand.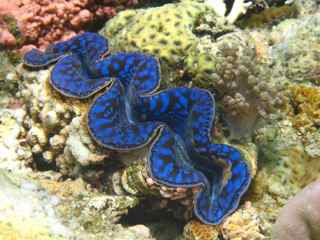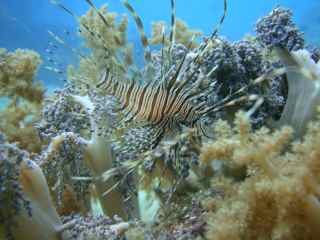 On our way home, we stopped at a funky hot springs where the locals were taking their afternoon showers under hot natural spigots of water pouring into three large somewhat murky pools. We joined them, washing the salt off our bodies, wrapped in towels and drove home.
In our absence, other members of our group, who had stayed home, did a variety of things: hiked to a waterfall, learned to make musical instruments in an intimate family compound, wrote, watched the rice fields, learned about Balinese baking of cakes, and how to make offerings. This is a deeply restful place, the perfect antidote to the excitement and busyness of the city.
There have been spontaneous adventures, too. My favorite was an early morning trip across the street to a two story building that looks as if it is falling down, the local farmer's cooperative. Up two very steep, rickety flights of stairs, stairs I would have thought to be abandoned, was a beautiful café where the head of the coffee cooperative brews and serves Luwak coffee. I'd never actually tasted it back on the other side of the island on our coffee tour.
But this time, I sat with three of my students, who'd made this their morning ritual, and we watched the slow brewing of the special beans. The coffee pot was unlike anything I had ever seen.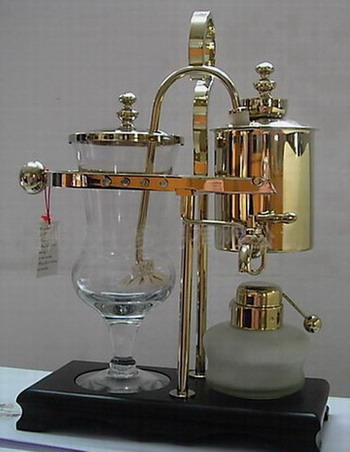 There were two glass pots hooked together. The water was heated by a kerosene flame on one side and when the water was sufficiently hot, the coffee tipped over on to the other side. And then once it had brewed, it was somehow magically siphoned back to the first side. Then our host, Budi, relit the burner and went through the whole process again. Usually, the coffee goes through four magical brewing sessions this way, but for impatient Americans, he only does two.
The coffee was served in small beautiful expresso cups. I don't normally drink coffee at all, and with my first sip, my mouth puckered and we all laughed at my sour expression. I added sugar and milk, something the Balinese would never do, and drank two small cups. I forgot to mention that the view from this deck was one of the most beautiful I had seen in Bali. "Next year," I thought, "I'm going to give my students an assignment to come up here and have a cup of this coffee and to bring their notebooks. What an amazing experience to write about."
So about Luwak coffee–there is no bitterness or acidity in the brew, and for the four hours after I drank it, I felt an incredible sense of well being. My senses seemed more awake. Colors seemed brighter. My mind was amazingly clear. I wrote pages. When Karyn came by, having had her own adventure up in the coffee shop, an hour after mine, we sat and talked, and I just kept thinking, "She looks so beautiful!" I can't say it was a psychedelic experience; it was far more subtle, but I definitely felt altered. The feeling of expanded awareness lasted until lunch time.
I wish I had time to go back for another cup today, but breakfast is about to begin, and we`re having our final group meeting in an hour. And Luwak coffee is not an experience to be rushed. It's nothing like a Starbucks where you put in your order and walk out five minutes later with your venti soy latte. But I swear I will climb those rickety steps again.
One last thing…Judy and Surya have established a program where people on their tours have the opportunity to sponsor a child to go to school here in Bali. Most farmers make the equivalent of $125 dollars a year and the supplies for one child to go to school are $20 a year. Many children, as a result, stop their studies before junior high. When Judy asked if any of us wanted to join their program, my hand shot up. Karyn and I have always valued education, treasured it so highly. When we thought of the schooling our children have had, and their love of learning, there was no question in our mind. We wanted to help a Balinese child go to school.
Yesterday, Karyn and I got to meet with the 13-year-old boy whose education we will be paying for. He doesn't speak English, so Surya translated for us. Our student's name is Putu Metha Sustrawan. He's thirteen and his mother is a field worker, his father an underemployed technician, who also works in the fields. Putu plays in a gamelan group, is a dancer, and loves drawing and painting. His favorite subjects in school are math, science and Indonesian. When not in school, he helps his mother harvest cloves and cares for his younger brothers. He would not be going back to school next month if not for our contribution (of just over a hundred dollars a year.)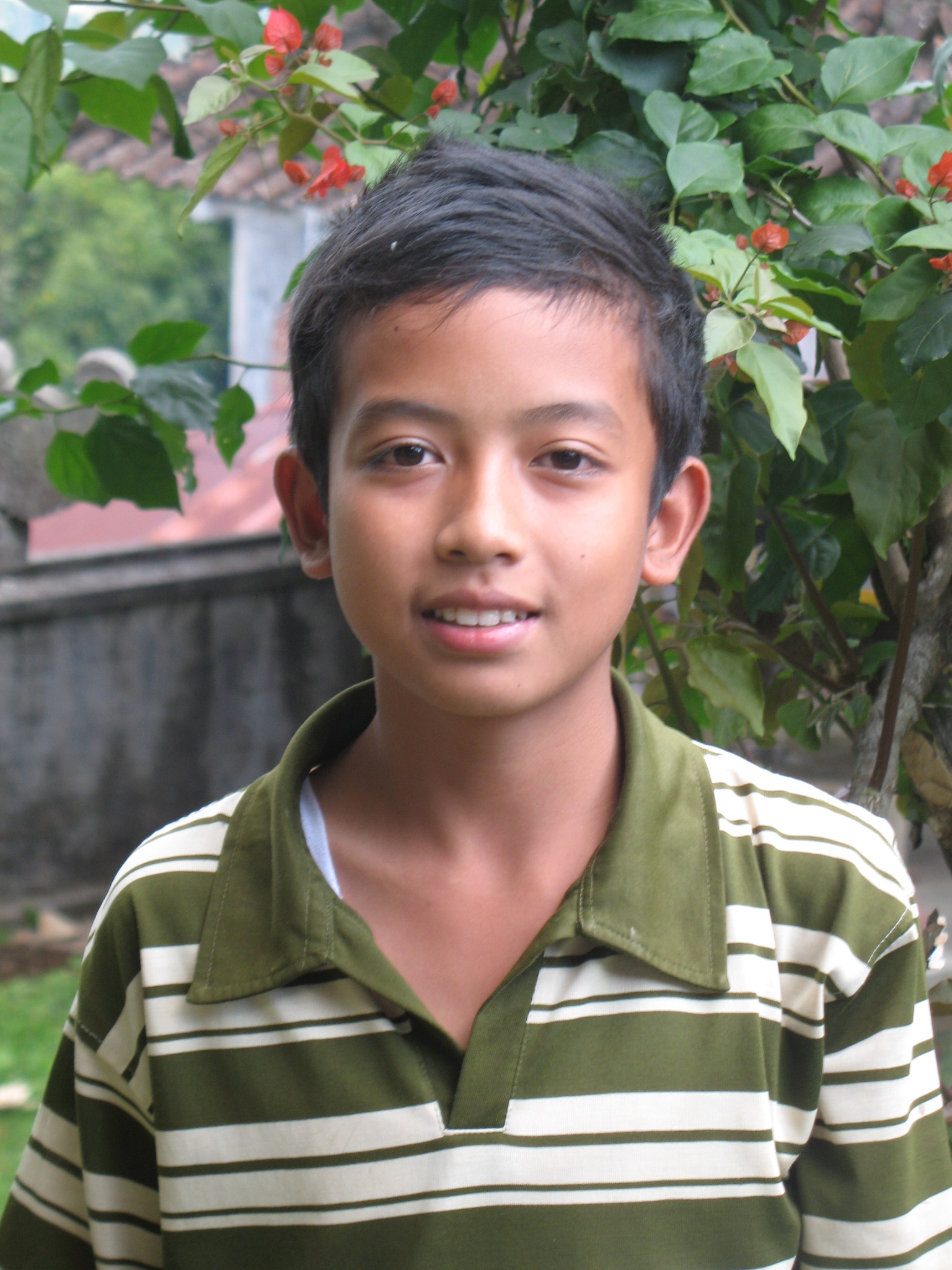 Putu is a slight boy. Seeing him, I assumed he was much younger. This is true of many Balinese children. His father, Komang, stood beside him. He was a humble man, so grateful to us, the white Americans. I tried to step down so I would be below him. I hated the feeling of towering over him as Karyn and I were introduced. But every time I stepped lower, Komang did, too. Finally, I gave up, smiled and shook their hands. By providence, I remembered the beautiful little water color set I'd brought from home and the watercolor paper. Karyn, too, had brought some art supplies to give away. So we gave Putu our art supplies and the promise of a check so he might return to school. I felt so blessed to have a way to give back to the country and the people who have been so generous and welcoming to us.
I have to stop writing now. The sky has lightened and there is a soft light wrapping around the distant mountains. There is slight breeze in the air, a coolness on my skin. I am all packed and my bags are perched on our deck waiting to be taken to the cars. I have my backpack beside me, my passport, my exit paperwork, money for the exit fee. I have spent down to my last 6,000 rupiah. Six dollars.
It is time for me to go to breakfast for papaya rice pancakes and mie goring and eggs and the most delicious papaya jam–and whatever other goodies are offered in this morning's final breakfast buffet. The food here has been particularly good–and it's been good the whole trip. This place would be heaven for anyone who is gluten-free. This is land of rice–not wheat. And it's the kind of food that easily passes through you. I've eaten three generous meals a day since I've been here–and have lost a few pounds.
Soon it will be time for our closing session, where we take the time to appreciate each other and the strengths and lessons we have gained on our journey together.
This morning at five, when I awoke, was the first time I really thought about going home. Like many first time visitors to Bali, I have fallen under the spell of the land, the beauty, and most of all, the people. I am sure that what I have seen and witnessed is just a fraction of what real life is like here, and that what I have experienced as a tourist is just a thin veil beyond which real life and real issues and real problems abide. Yet that does not stop me from being filled with the wonder and magic of this place.
Before I left, people asked, "Are you going to do this again? Will you go back to Bali again?" And I always answered, "I don't know. I have to go there first. I have to have the experience before I'll know. This may be a one-time thing."
But now I've been here. I've seen the transformative power of travel, of this land, of these people, of this culture, of writing and yoga and community. But most of all, I have felt my own heart crack open with wonder and awe, time and time again. I have felt more relaxed and easy, down to my core, here than I have in a very long time.
And I am left with so many questions still to be answered: Why do the dancers move their eyes like that? What are the mudras they make with their fingers as they dance, so precise and perfectly rendered? How are cocoa beans harvested and processed? How do the Balinese people maintain their traditions and their ancient strengths in the midst of tourism and the pressures and conundrums of modern life? I want to learn how to make that amazing ginger condiment we had at dinner the other night. I want to sit in the crater of the volcano at dawn. I want to go down to the surfer café in Kuta beach where you can order a magic mushroom omelette for breakfast. I want to dive in these vast, clear waters again.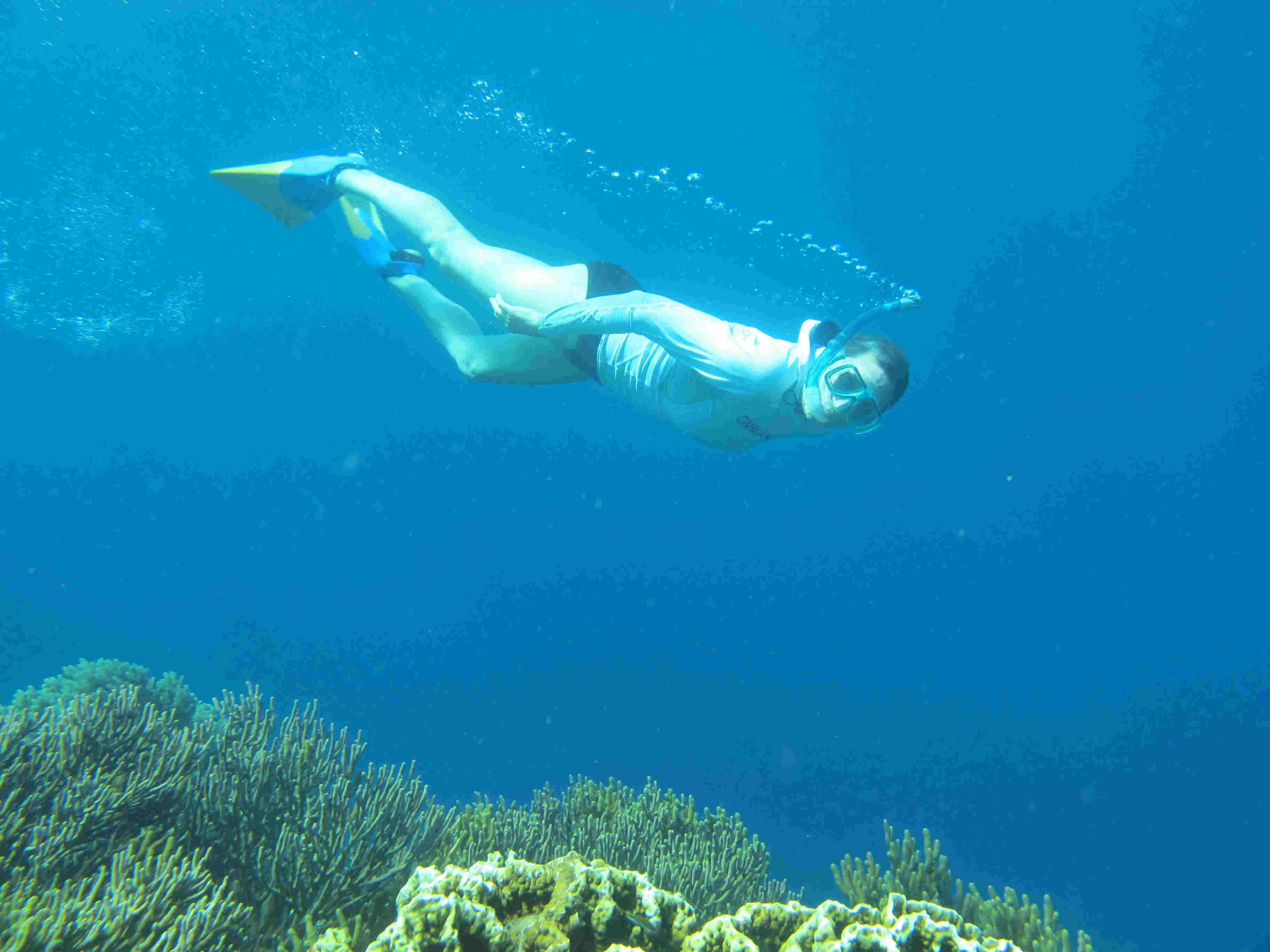 So, yes, yes, I know I'll be back.
In the spirit of adventure,
Laura
P.S. If you'd like to explore the possibility of joining Laura in Bali next year, you can email her at: lauradavis@lauradavis.net and she will send you the dates and details of the 2013 trip as soon as they are finalized and available.