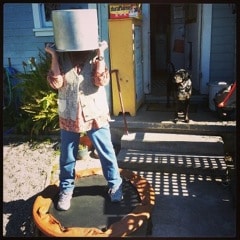 Michael Dorenzo is a member of the Wednesday morning writing practice group and has attended many of Laura's classes and retreats over the year. She wrote this piece in response to the prompt, "Write Your Own Personal Ten Commandments."
1. Thou shalt not scream at thy mother even when it seems like an appropriate response to her telling you every detail of her day: each conversation she had with her love interest, what she ate, did not eat, did, felt, every moment, over and over. Every day. More than once.
2. Thou shalt have dogs. Big beautiful companions with shiny coats to sleep with-Furry, loving, smiling ancient jackal grins, stinky, dangerous creatures. Thou shalt love them.
3. Thou shalt be kind to strangers and be open to their pain, their joy, your moment with them and then, move on. Drive-by intimacy. Let yourself be filled by it, by them.
4. Thou shalt write. (*Art harder.)
5. Enough with the "thou, thy"! Feed everybody that comes within feeding distance. Make wholesome, beautiful, dishes, preferably with food you've grown yourself. Bowls, cups, spoonsful of love.
6. Laugh. At every opportunity, with every one you can. Laugh with your whole body.
7. When you feel pushed by someone, push back. Firmly, gently. Let people know who you are and that you are accountable to that.
8. Thou shalt not kill. Except for gophers. Until you can find a way to live with them or until it makes you feel so bad about yourself you can no longer stand it. And especially, thou shalt not kill thy mother.
9. Every day, give yourself to the experience of nature in all its crawling, flying, leaping, unfurling, relentless, violent, fragile, joyous, tragic forms. Every day. As often as possible.
10. Demand silence. Take all you need or want. Don't talk or listen. Embrace silence. Demand music. As often as you can, be in the same room as the musician. Let your heart be lifted by it or broken by it. Let it pour into you and through you. Dance. To the music and to the silence.
* from terribleminds: chuck wendig "Art Harder Motherfucker" I borrowed this for one of my mottos.
Michael Dorenzo is retired from University of California, Santa Cruz where she worked for 16 years. At UCSC, she coordinated a Health Education (Alcohol and Other Drug Abuse Prevention) Program for students and staff. She also represented UCSC in both state and national efforts to create a safer culture in higher education, through programming, research and policy change, designed to reduce the harms associated with high risk use of alcohol and other drugs. Michael's current focus is graphic design, writing and community activism. She is a spirited dog mom who roams the forests and beaches of SC with her pack.