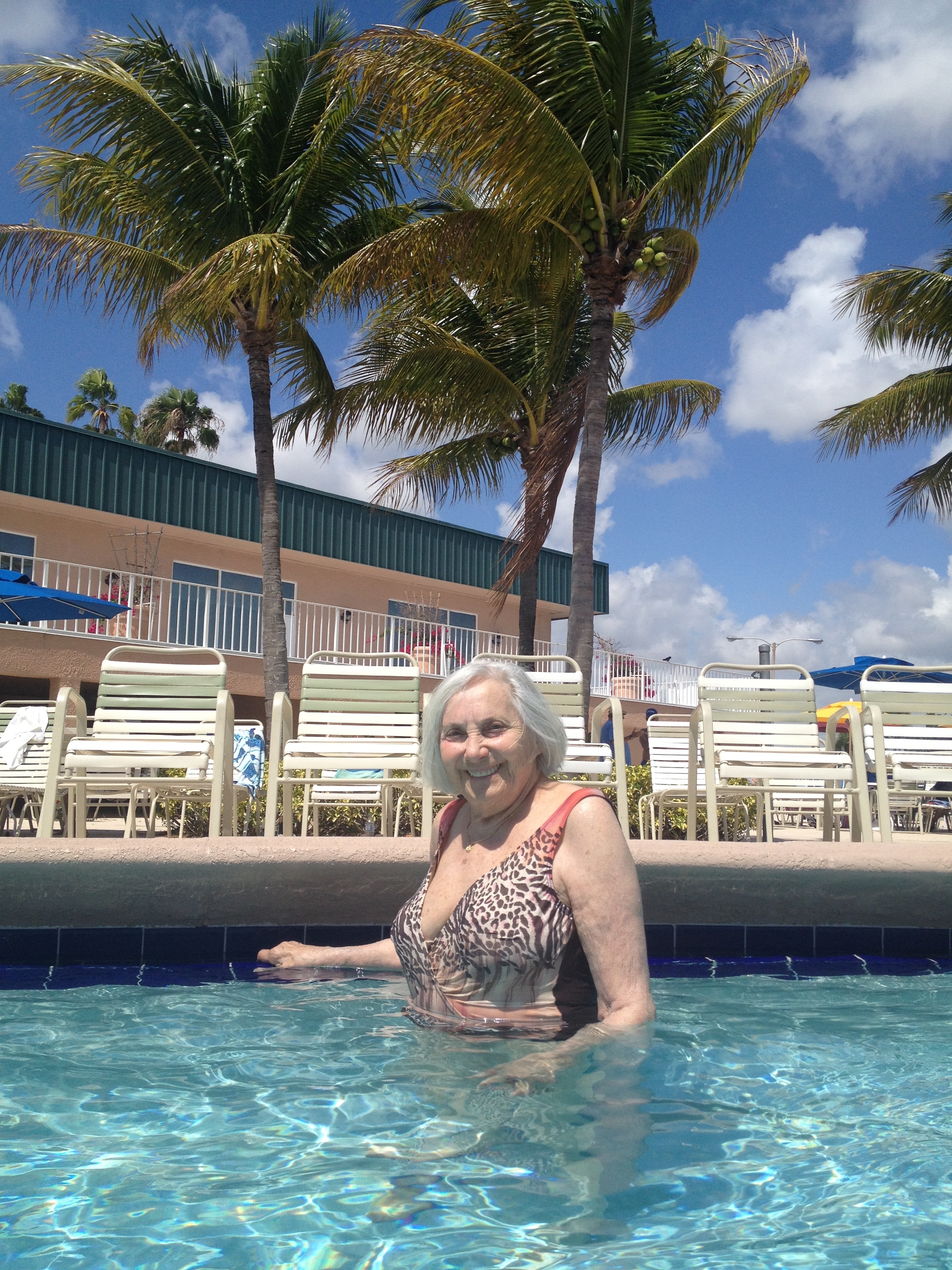 By the time we were up and had eaten breakfast and Mom had finished her two morning naps, it was 1:00 PM and I was really needing an outing. Lucy was working again today, so she agreed to drive Esther and Mom and I to one of the many pools gracing this complex.
I put on my bathing suit and threw a pair of shorts and mesh coverup on top. Then I pulled out Mom's old bathing suit from the bottom of her suitcase. I wasn't sure I could manage getting her in the water, but I wanted to. Mom and Esther had grown up going to the beach at Coney Island, and I'd grown up at the Jersey shore. Our family spent summers at the beach and I associated Mom with a big wide brimmed hat, a bathing suit with a matching pocketbook, sitting at a table playing bridge or diving in the lap pool. Until last year when I moved her into Sunshine Villa, she's spent her more than 8 decades going to the beach or using a swimming pool.
I pulled off Mom's Depends and pulled on her bathing suit. I was just going to hope for the best, just like when you take a newly trained toddler into the swimming pool. Mom didn't have many accidents; she was good about going to the bathroom when she needed to. The Depends were more for insurance than anything else.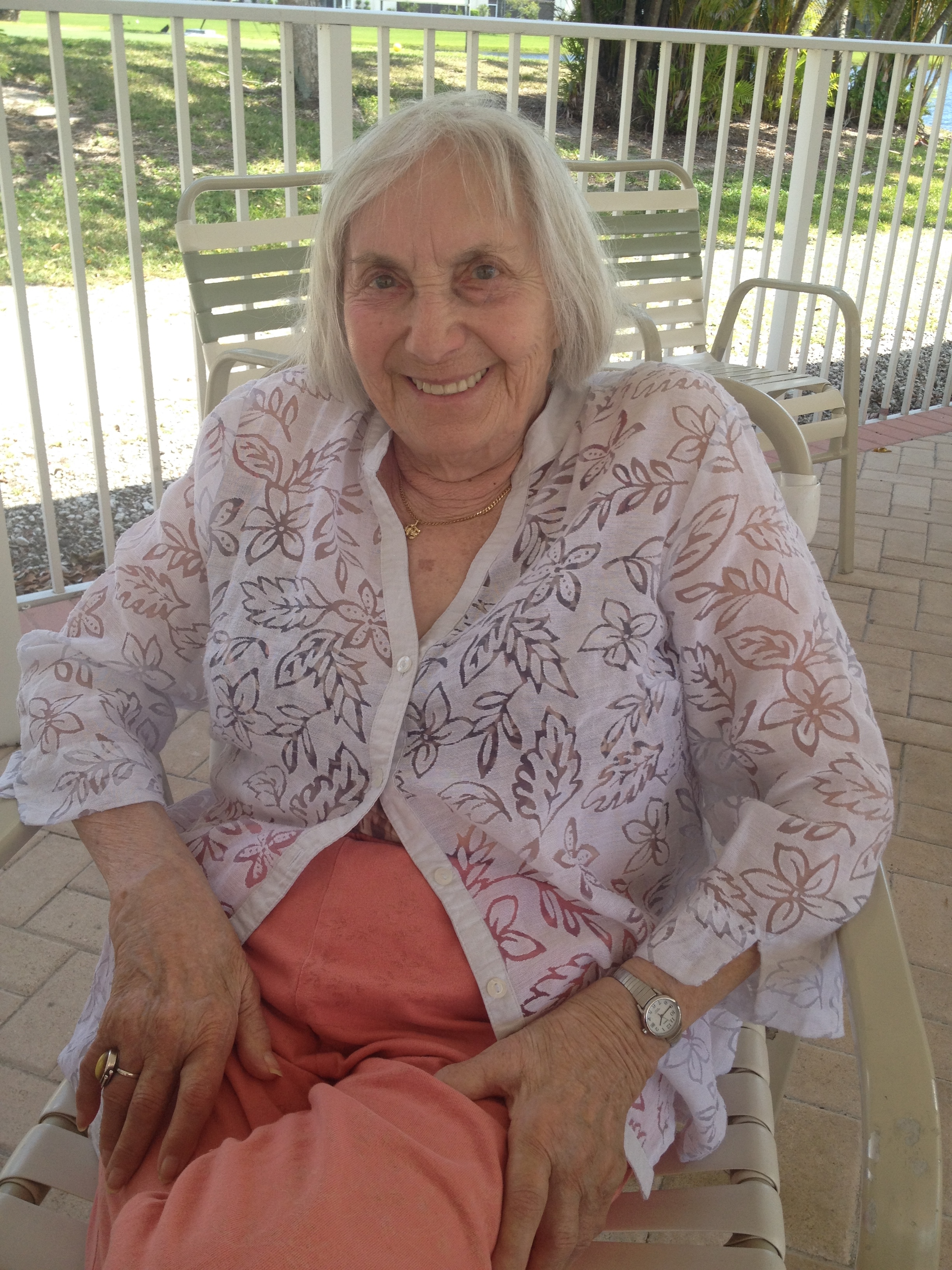 When we arrived at the pool, we made out way to the back where there was shade. Esther avoids the sun and Mom wanted to "warm up" before she got in the water. The pool was full of senior citizens, covered with deep wrinkles and very dark even tans. There were lots of men with silver hair, white hair and no hair, most with moderate to huge bellies. Women stood around the pool in clusters with full makeup and bright lipstick, perfectly coiffed hair, lacquered fingernails, and sunglasses, ropes of gold jewelry adorning their necks, ankles and wrists.
I decided to give it a try. "Mom, let's get in the pool." I had Mom maneuver her walker as close to the poolside as possible. I helped her take off her white lace cover-up. There were five wide steps going down into the pool on the shallow end with sturdy railings with blue grips all the way down into the pool. I stood in front of Mom. She held on to the railings and I yelled out, "There's another step, Mom," and I stood there to catch her if she were to stumble. Each step downward was like a major spelunking expedition, but in just a few moments, she was standing on the floor of the pool. I took her by the hand and led her over to the side where she could hold on. "This is the perfect temperature!" she called out. Then she bent forward and kissed me on the cheek, a huge smile on her face. "I just felt like doing that. We're in Florida!"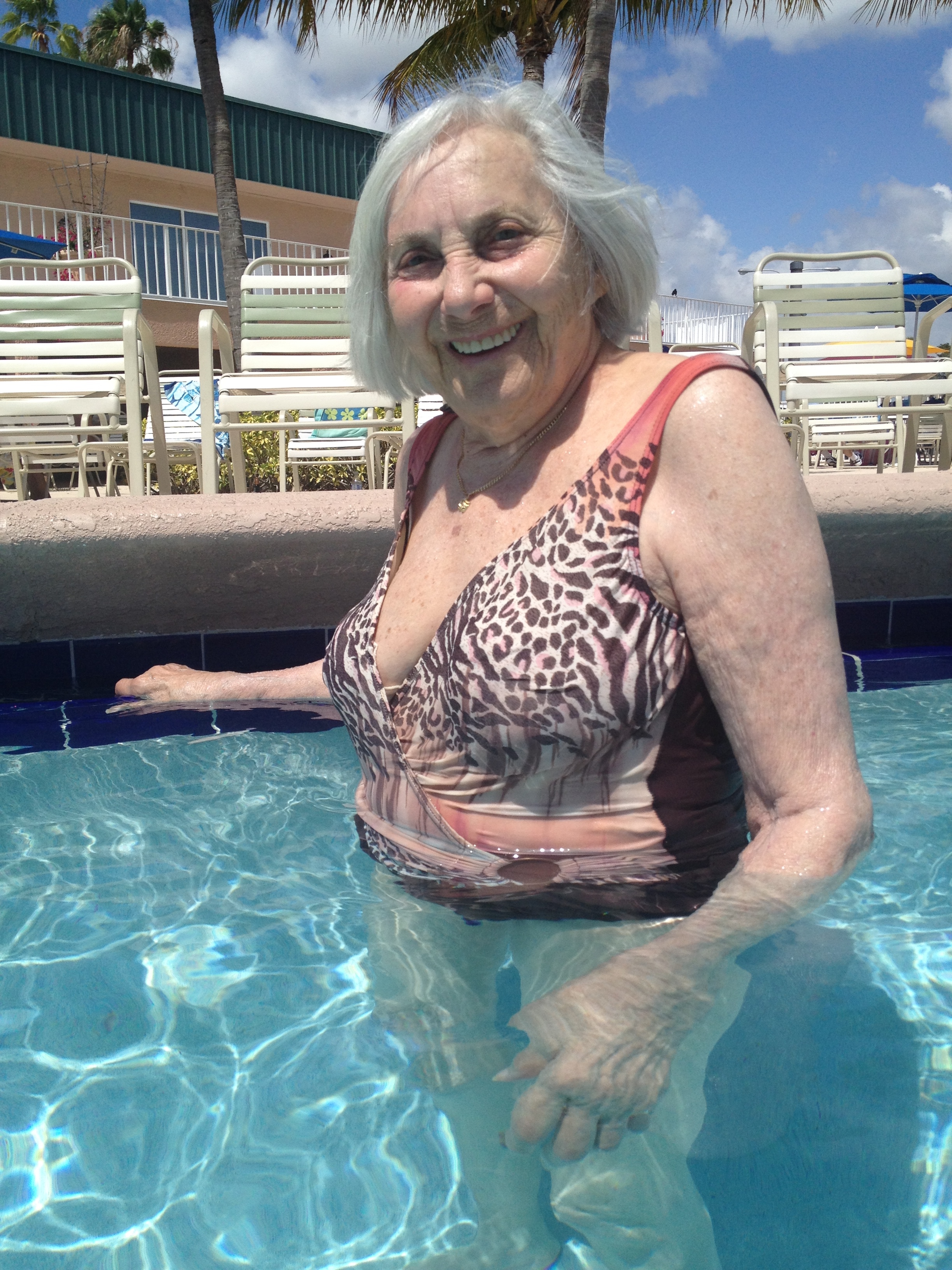 Slowly, I started walking backwards and leading Mom around the pool. We started talking about some troubles happening in our family. Mom volunteered, "I've never had any troubles in my life."
"Mom, yes, you have Mom. Your husband walked out on you. Your children quit college and went to join a guru. And I became a lesbian. I know it's not a big deal now, Mom, but it was back then. When I came out to you, it was at your father's 90th birthday party. We were in Miami Beach together and you the first thing you said to me was, 'You've confirmed my worst fear about you.'"
Mom took another step forward, bobbing in the water. "Well, I don't feel that way now. I love Karyn. She's like a daughter to me. If you ran around with a lot of women, I probably wouldn't like it, but Karyn's my daughter-in-law and she's very good to me."
We walked around the pool, me leading her just like I'd led Eli and Lizzy when they were little. "Do you want to try floating, Mom?"
And like a trusting child, she laid down in the water and I pulled her forward, her body, light and unencumbered, floating like a cork. Then I had her lie on her back and I held the back of her head and neck with my strong, firm hands and began pulling her gently and steadily backwards through the water. Her body floated along and I walked faster, swishing her body from side to side. Eli and Lizzy used to love it when I did this for them, and I used to love it when I was little and my Dad did it for me. As Mom floated, I caught little snatches of conversations all around us. Most of the people had thick New York accents, sounds that felt like home:
"He married her on the stage in Las Vegas and then divorced her a year later. He was a rat."
"It was TMI. I couldn't believe it. I wanted to vomit."
"We only got to speak to the other people at our table. And the people at our table. Uy!"
"They think you're gonna rob them when you go down there. You know what the guy did? He paid a thousand dollars and the next day…"
"I've been here three years and I must have seen 300 shows. This place is the sixth borough of New York City. Most people here are from New York. If you're Jewish, this is a very good place.
When I set Mom back on her feet, she tried to dive into the pool in front of her and swim, but she just laid there. I lifted her up and she tried again. "I can't swim anymore," she said. "I've lost my confidence."
"But here you are in the pool, Mom. You haven't been in the pool since you moved into Sunshine Villa. Are you ready to get out, Mom?" I asked.
"No just a little longer. This is perfect."
"Are you happy Mom?" I asked.
"I'm happy with you," she said, beaming at me. "I couldn't be happier."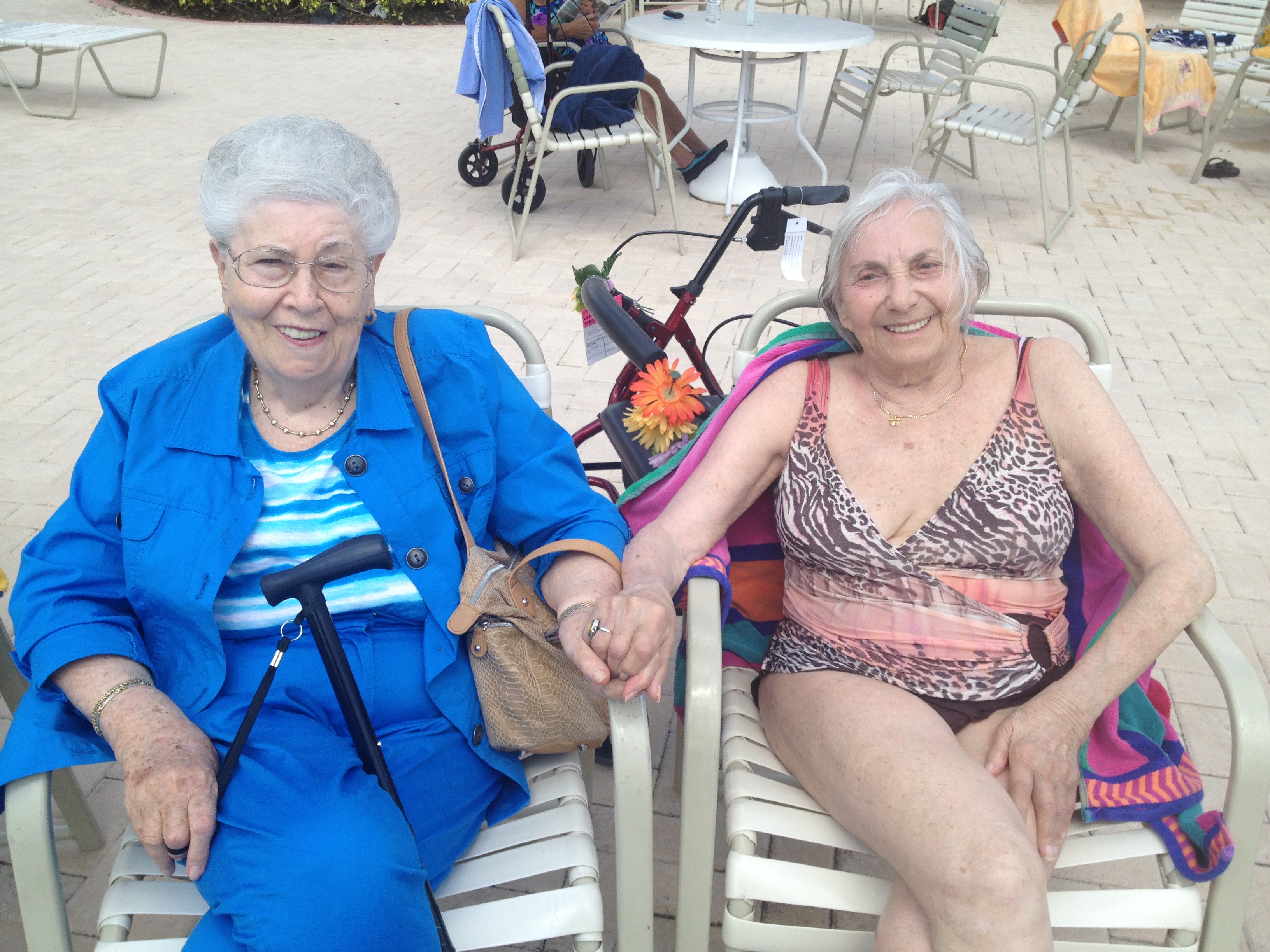 P.S. We went out to dinner tonight, the four of us. It took ten minutes to make it over to our table–between Mom's walker and Esther and Ben's canes. Over the meal, I asked Esther and Ben about their marriage and if and how they fought. We talked about money and marriage and they told me the story of my cousin's death at 52 and his funeral, one I didn't feel connected enough to attend. As I sat there looking at these three very frail old people, the last of their generation of Depression-era Jews born to immigrant parents on the Lower East Side, I felt a huge upwelling of love. These people connected to me by blood, did their best and lived their lives as best they could. They couldn't understand most of the choices I'd made in my life, and yet here we were at the end of theirs, together. For the first time ever, I felt real love for my aunt and uncle, and I was grateful for the unexpected gift of this trip: a genuine, respectful relationship with them for the first time in our lives.
Karyn arrived back from the other side of the state tonight. We went out for a long walk in the balmy evening air to catch up on our past few days. Tomorrow we pack up and head home to California.