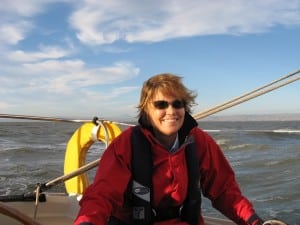 Deb Blackmore is a long-time member of Laura's Friday morning feedback group, currently on hiatus as she sails around the world. She writes humor, poetry and a novel in fits and starts. She wrote this in response to Laura's prompt to create a recipe.
This is an old family favorite – a deeply satisfying dish that's enough to serve a crowd. It's full to the brim with simmering resentments, sly sarcasm, back biting and betrayals — all covered in a crispy fat-laden crust that will make everyone feel guilty for enjoying it with such gusto.
First, pre-heat your oven to roaring hot. It should nearly singe your eyebrows off when you open it to take a peek.  This pie is best half-baked, blackened around the edges and slightly inflamed.
Next, assemble your raw ingredients:  fresh hurts, tiny insults, big fat lies and niggling doubts and mix well in a big chipped bowl. If sour grapes or hot gossip are in season, toss it in too to add a bit of bite. Season well with assumptions and misjudgments and toss well.
For your crust, combine flour, lard and some of your own sweat and tears to moisten. Rub the mixture between your fingers until your nerves are raw and when crumbly, form into a ball. Wrap the whole mess in plastic film and throw it against the wall with all of your might. Scrape up, sprinkle with regret, rewrap and store in a cold dark place, like your great aunt's heart, until well chilled.
Roll out the pastry on a floured surface. Take a moment to enjoy the wicked delight of the weighty rolling pin in your hands, then bash the dough ball a few times until your arms get pleasantly tired. Re-form, roll out the dough again and place in a sturdy pie pan.
Add the dysfunctional filling in a messy heap and drizzle with hot brown sauce (see p. 666). Dust with dry mustard to encourage tearfulness. Cover with the top crust and crimp in your style, pinching the edges like a good boy's cheek.
Serve warm from the oven in the center of your table. Be mindful of placing too many serving utensils alongside. Dysfunctional Pie is worth fighting over and even the bluntest of objects can be taken up as weapons
Sit back and savor your success as your dear ones eat their fill. They're sure to come back for more!