Mom woke up disoriented today, certain we were party-crashing her sister's house, that we shouldn't be there, that we were imposing, and that she was ready to go home. I wondered if I should give her a dose of the Ativan I'd brought along, but by the time my cousins Judi and Stuart showed up from their hotel, Mom had calmed down and we were all eating breakfast together—Jewish east coast foods not in my diet anymore—bagels and cream cheese and lox (I had fruit and half a bagel and peanut butter), orange juice and coffee.
Mom slept through much of the day. She konked out on the couch after breakfast and when we took our one outing of the day to the Clubhouse across the street—a big excursion requiring two cars for our three elderly relatives-—Mom fell asleep again while we sat in chairs around the pool. We conversed around her while she slept. I'd actually brought a bathing suit and went swimming in both of the pools—one normal temperature and the other heated to 85 degrees. It was like swimming in a bathtub.
I assumed that all the travel and the new environment and the new demands on her brain put Mom right to sleep. She was not coping well with being in a new environment–and I realized how much her functioning depends on being in a place where everything is familiar and predictable and there are no expectations on her whatsoever. When we got home from the Clubhouse outing, Mom fell asleep again on the couch until I finally woke her up at 5 for an early dinner. If she slept all day, what was her night going to be like?
Mom perked up over dinner. Esther and Ben brought in a big tray of cold cuts—turkey, beef, pastrami and corned beef, mustard and russian dressing, chopped liver spread on thin tiny slices of pumpernickel bread, three loaves of rye bread, potato salad, cole slaw, and a vat of half sour pickles. Mom and I scarfed down the chopped liver. I hadn't eaten any in probably ten years, but it tasted great and felt like a sacrament to the Gods of my childhood. I made myself a fat pastrami and mustard sandwich on rye for dinner with a side of cole slaw, and it tasted great: former soul foods from a distant past life circling back into orbit in this retro place. We decided we'd definitely go out for our favorite–hot dogs and sauerkraut–an annual sacrament I've missed since I moved Mom out of New Jersey.
After dinner, conversation between the sisters continued. Esther read Temme the riot about never wearing her hearing aids. I said nothing because I've given up on getting Mom be a compliant patient in this regard. But it was bothering Esther that every other word out of her sister's mouth was, "What?" And as she said to Temme in no uncertain language, "I'm going blind and I can't read and I can't do anything about that. But you can do something about this. And it really bothers me that you're not. You need to wear your hearing aids."
"Okay I will," Mom said. "I'll do it when I get home. And Laurie is going to remind me. Now let's talk about something else."
And quite easily, the tense moment passed. Judi and Stuart had gone back to their hotel—they had flights to catch in the morning. Ben came back into the living room and I sat with the octogenarians, recording their conversation on my iPhone.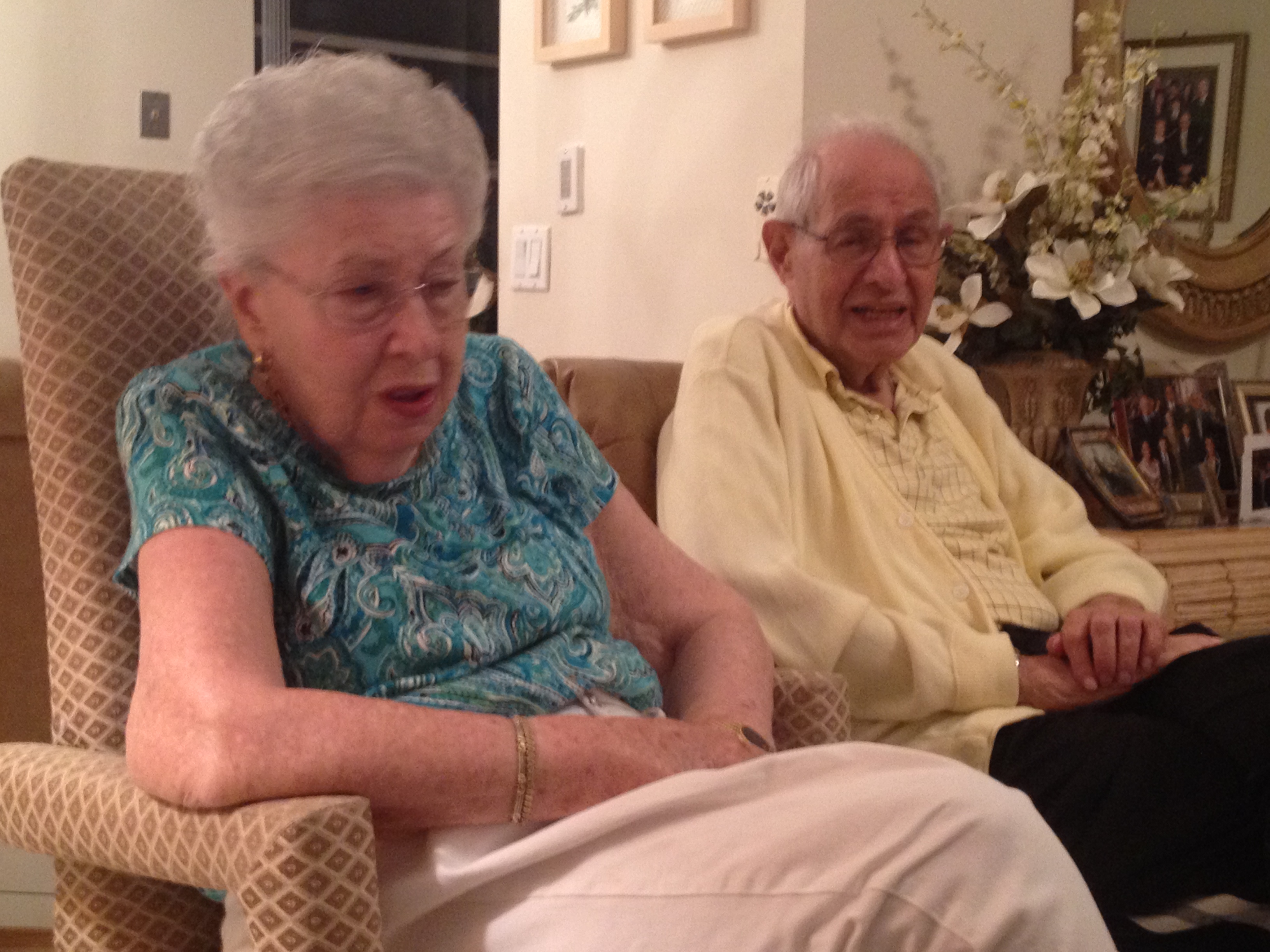 They discussed Joe and Sylvia, their siblings who have already passed on. They shared memories of my grandfather and his Kosher butcher shop on the Lower East Side. Then they moved on to their mother. Mom said, "I dream about Mama some time, do you? I remember visiting Mama on the Belt Parkway. She was so sad and she'd beg me to take her home." I remember that visit too–I must have been 15. It was right before she died.
Esther recalled her own last days with their mother. "People would say to me, 'Why do you go see her every day?' They'd say, "Why do you bring Amy? She's a little girl. It's so painful.' And I'd say, 'That's what life is. This is her grandmother."
Remembering her mother's suffering in that nursing home, Mom said, "I hope I die quickly."
Ben chimed in, "You have no choice unless you take your own life. I've been on dialysis for seven-and-a-half years and most people don't last that long. But I'm still here. As a friend said to me, 'At least at this point we don't have to worry about dying young." Then he looked at his wife of 61 years, his childhood sweetheart—they met when Esther was 14 years old and married five years later. "I'm only here because of her."
"I had a friend," Esther said, picking up the thread of the conversation, "who died 15 minutes after her husband. That's what I'd like. But in the case of this couple, the man was so obnoxious, you'd have thought she'd want to breathe a little on her own without him. But she didn't. With Ben, I'd like to die together."
"Don't you think will has anything to do with it?" I asked. "Do you think people can decide they just don't want to live anymore?"
The conversation ranged over their deaths, my cancer, their son's premature death at 52, about how life isn't fair but you make the best of it. Mom hung there, hearing at least half of what was being said, commenting appropriately most of the time.
"This is what I came here for," I thought. And then Ben said he was tired and had to go to bed. He had dialysis in the morning. It was time for us to go to bed.
I helped Mom out of her clothes and pulled her black and white patterned cotton nightgown over her head. I helped her with her teeth and pulled up her Depends. She lay on the couch in the room next door to the little alcove I'm sleeping in, and I pulled the knitted cotton blanket up to her neck, tucking her in. She looked at me with her mouth caved in, her teeth gone. I wanted to look away from her sagging hollow cheeks and empty mouth, her slurred speech, but I didn't. I'm sure Mom wouldn't trust anyone else to see her this way and so I stayed right there and smiled down at her. If only my toddlers had been so easy to put to bed!
"I love you Laurie," Mom said. "Thank you bringing me to Florida."