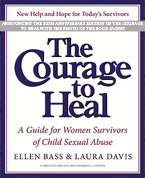 These listings are excerpted from the Resource Guide of the 20th Anniversary Edition of The Courage to Heal. The full version includes a comprehensive review of books, videos, organizations, and web resources pertaining to every aspect of sexual abuse and healing.
I would have loved to publish the Resource Guide online in its entirety, but couldn't because of copyright restrictions. For the full version, you'll need to get a copy of the fully updated Courage to Heal. But in the meantime, here are some basic resources to help you hook up with the help you need. Jump to Hotlines, or Activism and Public Policy resources to start.
Please Note:
This resource guide was last updated in 2008.  Although many of the listing will be helpful and relevant, others may have expired.
Laura Davis
These listings for national organizations are intended as suggestions about where to look for help, not endorsements. Although we've contacted every organization personally in order to assess the reliability of their information and the responsiveness of their staff, changes inevitably occur: organizations shift focus and staff members come and go. Also, what's useful to one survivor won't necessarily benefit another. Therefore, it's essential that you use your own judgment.
For the online resources, we've chosen websites that have been stable, reliable sources of information, but the internet is fluid and sites come and go. Also, there are no guarantees of truth on the Internet. Occasionally there are pornographic and anti-survivor sites that parade as sites that can help you. So use caution as you search for online resources.
Many survivors, particularly those who are isolated, have found companionship and built strong online support communities through the use of chat rooms and bulletin boards. Although the sharing that takes place can be empowering, these venues are not supervised, screened, or protected. The advice or information that is given is not always helpful or accurate. And not everyone you meet is who they claim to be.  If at any time you feel uncomfortable, unsafe, invalidated, or sense that something isn't right, trust your gut feelings and don't continue on. It's also a good idea to report abuses you find online to the sites hosting the discussion board or chat room in question.
It's our hope that you'll find the information, connections, and support you need in the pages of this Guide.
Ellen Bass and Laura Davis
Hotlines
RAINN
(800) 656-HOPE
www.rainn.org
The Rape, Abuse and Incest National Network (RAINN) operates a free 24-hour-a-day hotline for survivors of all kinds of sexual assault, including sexual abuse, rape, and domestic violence. When you call RAINN, a computer instantly connects you to the nearest rape crisis center. At least 1,000 trained counselors are available to answer calls. All calls are confidential and will not show up on your phone bill.
Childhelp National Child Abuse Hotline
(800) 4-A-CHILD
(800) 422-4453
www.childhelp.org
Counselors are available 24 hours a day offering crisis intervention, information regarding child abuse, resources for adult and child survivors, help with parenting, and referrals to agencies across North America.

National Suicide Prevention Lifeline
1-800-273-TALK (8255)
in Spanish: 1-888-628-9454
TTY: 1-800-799-4TTY (4889)
www.suicidepreventionlifeline.org
The toll-free hotline operates 24 hours a day. Callers are routed to local trained crisis counselors who will listen and offer help and referrals. A call to them can save your life.
National Domestic Violence Hotline
(800) 799-SAFE, (800) 799-7233
(800) 787-3224 TTY
www.ndvh.org
The hotline is staffed 24 hours every day by advocates who listen and offer support, education, and information to help callers make the best choices for themselves, which may include how to leave, how to be safe, where to find a shelter and other services, how to file a report, find a counselor, or interact with the court system. Assistance is available in English and Spanish, and they have access to translators for more than 140 languages.

Love Is Respect National Teen Dating Abuse Helpline
1-866-331-9474
1-866-331-8453 TTY
www.loveisrespect.org
A national web-based and telephone helpline for teens who are experiencing dating abuse. Trained volunteers offer one-on-one support and referrals for girls and boys, friends, parents, and other concerned adults. The phone helpline is available 24 hours a day; the online peer-to-peer chat is available 4 p.m. to midnight Central time.
Organizations that Provide Resources or Direct Services to Survivors
There are more organizations listed in the Activism section as well as under other specific topics.
Darkness to Light
7 Radcliffe Street, Suite 200, Charleston, SC 29403
Helpline: (866) FOR LIGHT / (866) 367-5444
www.darkness2light.org
Non-profit organization whose mission is to reduce the incidence of child sexual abuse by shifting the responsibility from children to adults. Their Stewards of Children child sexual abuse prevention training is available online and through workshops. Their 7 Steps to Protecting Our Children from Child Sexual Abuse booklet is free from their website. Callers to their helpline are routed to a representative in their state who can refer them to sexual abuse resources in their community.
Gift From Within
16 Cobb Hill Rd., Camden, ME 04843
(207) 236-8858
e-mail: joyceb3955@aol.com
www.giftfromwithin.org
This nonprofit group produces high-quality educational materials for people suffering from PTSD and those who care for them. Among others, see the excellent video/DVDs Recovering from Traumatic Events: The Healing Process, which has both a survivor and professional version, Living With PTSD: Lessons for Partners, Friends & Supporters, and When Helping Hurts: Preventing & Treating Compassion Fatigue.  Also offers an online support pal network for isolated female trauma survivors, articles, inspirational stories, and a poetry and art gallery.
Incest Resources Inc. 
c/o The Women's Center
46 Pleasant St., Cambridge, MA 02139
www.incestresourcesinc.org
Founded in 1980 by and for adult survivors of incest. This nonprofit offers educational resources and recovery items by mail order on topics of interest to survivors, partners, and allies, such as Starting from Scratch, a manual for organizing survivor support groups. They also have resource lists for male survivors, survivors abused by women, ritual abuse survivors, non-offending parents, and more.
KIDPOWER TEENPOWER FULLPOWER International™
1-831-426-4407
safety@kidpower.org
www.kidpower.org
Ellen Bass is the founding Board president of KIDPOWER™, a non-profit that teaches people of all ages and abilities to stay safe, act wisely, and believe in themselves. Services include: publications; a free e-newsletter and articles, including "How to Pick a Good Self-Defense Program"; and workshops for children, teens, adults, families, and schools in personal safety, boundary-setting, advocacy, and physical self-defense skills, including full-force self-defense with a head-to-toe padded instructor. These skills prepare people to protect themselves from most bullying, molestation, relationship violence, assault, and abduction.
King County Sexual Assault Resource Center
P.O. Box 300, Renton, WA 98057
(425) 226-5062
www.kcsarc.org
This politically sensitive, groundbreaking agency provides free publications, programs, and counseling for sexual assault prevention and treatment. They are the source of many excellent resources in this field; see their listing under Resources for Teenagers and Prevention Resources for Parents.
The Lionheart Foundation
P.O. Box 194, Back Bay, Boston, MA  02117
(781) 444-6667
questions@lionheart.org
www.lionheart.org
This pioneering organization helps incarcerated men and women recognize, acknowledge, and heal from the childhood trauma that is often at the root of the violence and addictions that led them to prison in the first place. At a time when rehabilitation is being shelved in favor of bigger prisons, the work of the Lionheart Foundation is essential. The Foundation also runs The National Emotional Literacy Project for Youth-at-Risk.
National Organization for Victim Assistance (NOVA)
510 King Street, Suite 424, Alexandria, VA 22314
(800) 879-6682 (24-hour line)
(703) 535-NOVA
www.trynova.org
NOVA is an advocacy organization for crime victims. Sponsors training seminars, educational programs, and conferences; provides a 24-hour information and referral line.
National Center for Victims of Crime
2000 M Street, NW, Ste. 480, Washington, DC 20036
800-FYI-CALL (394-2255)
M–F 8:30 a.m. to 8:30 p.m. EST
TTY: 1-800-211-7996
gethelp@ncvc.org
www.ncvc.org
Nonprofit resource and advocacy organization for crime victims. Offers information, resources and referrals; advocates for passage of laws and public policies that benefit victims of crime; and provides training. The website offers a wealth of information about dating violence, stalking, resilience, and more.
PANdora's Box
www.prevent-abuse-now.com
Information about child abuse prevention, child protection, resources for protective parents and more.
The Safer Society Foundation, Inc. (SSFI)
P.O. Box 340, Brandon, VT 05733
(802) 247-3132
referral line (802) 247-5141
www.safersociety.org
National research, advocacy, and referral center on the prevention and treatment of sexual abuse. Publishes excellent groundbreaking literature, including resources for youthful sex offenders. Maintains a computerized nationwide directory of agencies, institutions, and individuals who provide specialized assessment and treatment for youthful and adult sex offenders.
Survivor Connections Inc.
52 Lyndon Rd., Cranston, RI 02905-1121
www.survivorconnections.net
Started by Frank Fitzpatrick, a survivor of clergy abuse, this non-profit activist organization is for all survivors of sexual abuse and rape. Maintains a database of perpetrators and sponsors the annual To Tell the Truth events.
Survivors Healing Center (SHC)
2301 Mission St., Ste. C-1, Santa Cruz, CA 95060
(831) 423-7601
www.survivorshealingcenter.org
Survivors Healing Center was founded by Ellen Bass and Amy Pine in 1987. Provides education, information and referrals, a local lending library, and support to survivors and their allies. Their primary goals are to empower survivors and to prevent sexual abuse. SHC offers therapy groups for survivors, workshops and trainings for service providers, and sponsors The Annual Art of Healing Event.
Sidran Institute
200 East Joppa Rd. Ste. 207, Baltimore, MD 21286
410-825-8888
Help Desk: 410-825-8888, ext. 203
email: help@sidran.org
www.sidran.org
International non-profit that helps people understand, treat, and recover from trauma, dissociation, and related issues, such as addictions and self-injury. They offer trainings; excellent resources, including many free articles on their website; and a Help Desk that will aid callers in finding a therapist, reading material, and other resources. Sidran Institute also develops collaborative projects to foster multi-disciplinary, community-based responses to the emotional, physical, social, and spiritual impacts of traumatic stress. Sidran Press publishes high-quality books for professionals, paraprofessionals, survivors and their friends.
Stop It Now!® 
351 Pleasant St. Suite 319, Northampton, MA 01060
Office: (413) 587-3500
Helpline: (888) PREVENT, avail. 9-6 EST
info@stopitnow.org
www.stopitnow.org
Founded in 1992 by a survivor, Stop It Now! provides support, information, resources, and referrals that enable individuals and families to keep children safe and create healthier communities. Stop It Now! reaches out to adults who are concerned about their own or others' sexualized behavior toward children and offers adults the tools they need to prevent sexual abuse. Their confidential, toll-free Helpline is available to any adult with questions about sexual abuse, including those who have sexually offended or feel at risk to offend, and who want help to stop.
Survivors of Incest Anonymous (SIA)
P.O. Box 190, Benson, MD 21018
410-893-3322
www.siawso.org
A twelve-step self-help peer program for incest survivors and supporters. They offer extensive literature—the newcomer packet is free if you can't afford it—and have a pen pal program. To locate groups in your area, visit the website or write to them and include a SASE (self-addressed stamped envelope) with two first class stamps.
Activism and Public Policy
ECPAT International
ECPAT-USA
157 Montague St., Brooklyn, NY 11201
(718) 935-9192,
www.ecpatusa.org
www.ecpat.net
ECPAT started in Thailand in 1991 to combat the child sex tourism trade and has expanded its mission to eliminate the sexual exploitation of children, including child prostitution and pornography. Seventy countries have chapters. The U.S. chapter focuses on children brought here from other countries for sexual slavery, American children prostituted in the U.S., and American sex tourists who exploit children in other countries. ECPAT-USA does advocacy research, training, and public policy advocacy. Their website includes a wealth of information, articles, and resources, as well as links to local groups.
Generation Five
3288 21st St., #171, San Francisco, CA 94110
(415) 861-6658
info@generationfive.org
www.generationfive.org
This nonprofit organization has a mission to end child sexual abuse within five generations. They work in collaboration with service providers to ensure that affordable, culturally relevant support is available to survivors, offenders, and affected families. They provide leadership training to community members, activists, and agency professionals, and foster national strategy and information exchange on child sexual abuse.
Institute on Violence, Abuse and Trauma (IVAT)
at Alliant International Univ.
6160 Cornerstone Ct. East, San Diego, CA 92121
(858) 623-2777 ext. 416
www.ivatcenters.org 
Provides information on many areas of violence, abuse and trauma. Conducts workshops and trainings, sponsors international conferences that address cutting edge issues, and provides consulting and program evaluation. Their online bookstore is an excellent resource.
Justice for Children
2600 Southwest Freeway, Ste. 806, Houston, Texas 77098
(800) 733-0059
info@justiceforchildren.org
www.justiceforchildren.org
With chapters in four states, Justice for Children advocates and intervenes on behalf of abused and neglected children in child abuse cases. They provide guidance through a complex child protective system, legal advocacy, professional referrals, public policy monitoring, mental health services, court watch, research, education, and emotional support. They also provide attorney referrals for adult survivors.
Prevent Child Abuse America
500 N. Michigan Ave. #200, Chicago, IL 60611
(312) 663-3520
www.preventchildabuse.org
National organization committed to preventing child abuse in all its forms through education, research, public awareness, and advocacy. With a network of more than forty state chapters, they provide grassroots leadership on the local level. Their Healthy Families America program promotes positive parenting, child development and health. Website includes parenting tips, child abuse facts, and excellent links on adult survivor issues, children's legal rights, parenting, adoption and more.
PROTECT, The National Association to PROTECT Children
46 Haywood St., Ste. 315, Asheville, NC 28801
(828) 350-9350
www.protect.org
America's first political lobby for child protection. This
nonpartisan, pro-child, anti-crime association has successfully utilized its
national membership to force the passage of state-level legislation that
protects children from abuse, exploitation and neglect. The organization is
now moving towards federal legislation.
Stop the Silence: Stop Child Sexual Abuse, Inc.
P.O. Box 127, Glenn Dale, MD 20769
www.stopcsa.org
Stop the Silence aims to prevent and treat child sexual abuse as well as address the relationship between sexual abuse and broader societal violence. Their approach includes support for direct services, advocacy, training of service providers, community education and outreach, policy development, and research. They host the annual International Race to Stop the Silence.
A much more comprehensive Resource Guide can be accessed through the 20th Anniversary Edition of The Courage to Heal.