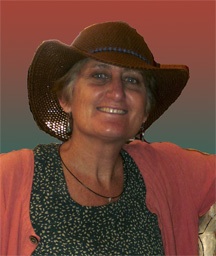 Close the door, turn off the phones, and take a few deep breaths.
Squeeze out generous blobs of paint onto your palette and feel yourself getting excited about the colors.
Deep ultramarine blue, buttery Cadmium yellow, juicy Alizarin Crimson.
Line up your brushes and palette knives, adjust your easel and face the blank canvas.
Ignore the voices that say you are not good enough, and the ones that say you are wasting your time. If they persist, open the door and kick them out of the room.
Breathe.
Pick up a brush, scoop up some paint and put it on the canvas.
Make a mark, any mark.
A sensuous squiggle, a delicate line, a soft flow of color, a loose mass or shape.
Mix colors together. Earthy browns, exotic purples, mossy greens.
Paint from your belly, from the heels of your feet, from all of the unfamiliar places.
Paint as if you were naked. Then let your skin slide away and paint from your bones.
Slip into the unknown and jump without a safety net.
When the voices sneak back into the room to tell you how trite you are, or how silly or ugly your painting is, ignore them and keep going.
Listen to a new voice, the one that tells you what it wants you to do next.
Paint wings, horns, blood. Paint snakes and penises and bodies splitting open. Paint bunny rabbits and bullets, dailies and daggers, monsters and fairies.
Let them be as big as they want to be, as many as want to come, trusting that you are in the process of unearthing something long buried. Know that you are on a hero's journey to the source of all creation, slaying demons and embracing angels along the way.
This journey is an infinite one in which you may never arrive.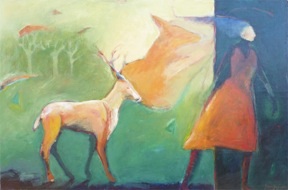 Susan Dorf is a painter and writer who finds that one practice is always influencing the other: the images from her writings make their way into her paintings and her painting process offers inspiration for writing. Susan teaches painting classes and workshops in "Fearless Painting: Cultivating the Imagination through Paint," in which she works with both techniques in acrylic painting as well as personal process in a non-judgmental setting.
Find out more about Susan's workshops and artwork on her website at www.susandorf.com and on her blog at http://artpilgrim3.blogspot.com