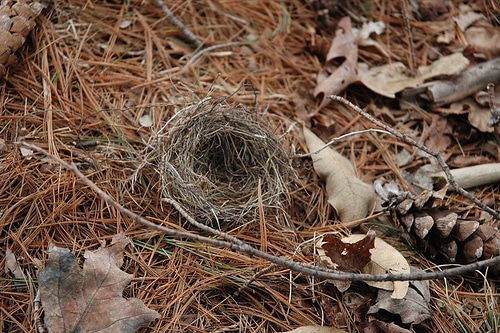 I wrote this in response to the prompt, "Something I'm Letting Go Of." It represents a moment in time in the journey of preparing for my youngest child to leave home.
I'm letting go of my precious, beautiful, perched-on-the-edge-of-her-whole-life-soon-to-launch daughter. I'm letting go of the infusion of life energy she and her friends and her music and her picky appetite and her requests for ham and cheese paninis and vanilla-almond granola and Paul Mitchell hair conditioner and, "Mom, could you edit this essay?" bring to my life. I am letting go of savoring her sassy tone, her casual but perfect clothes. Soon, I will no longer be able to say, "You look gorgeous, Lizzy, but you can't wear that to an interview."
I am letting go of wet towels on the bathroom floor, dirty dishes that make it to the sink, but rarely the dishwasher, heaps of Zappos boots blocking my way to the door, the Arabic textbook and French dictionary haphazardly cluttering the dining room table. I am letting go of discussions about how late she should be allowed to stay out, which parties she can attend, and with whom. I am letting go of episodes of Sherlock and Dr. Who playing behind closed doors, our last bedroom full of teenage energy and angst, secrets, questions, vitality and love. I am letting go our daily check-ins, brief as they may be. I am letting go of the privilege of living on the periphery of my daughter's life: her energy, her optimism, her vitality, her dreams, the future—her future—a field of open, unexplored possibility.
I'm letting go of 24 years of children in our house. I'm letting go of the one identify that has organized my life and given it deep structure for more than two decades. I'm letting go of the most vital, meaningful phase of my life and am catapulting into an unknown, terrifying future.
Soon it will just be the two of us, my partner and I, the core strength of our relationship—raising a family—taken away. We have had children under our roof from the very beginning—my stepson was 11 when we met and fell in love. Who will we be, come fall, without these beautiful young people and their vital youthful glow?
As I celebrate Lizzy's launch and cheer her growing independence, I find myself staring into the void, as all the old unformed chaos I have run from—and confronted—and run from–and confronted—reconfigures in my chest. I am losing the last person who kept me secured to the earth, the last of the beings who, by their mere presence, made me feel for the first time in my life that I was human—a being connected to the rest of the human family. My son's departure three years ago—and hers now—leaves me floating alone in a big empty universe, uncertain, wandering, and afraid. The word screaming through my consciousness is UNTETHERED. I feel utterly and completely alone.
I cannot imagine making it through this passage or coming out on the other side. People who know me professionally scoff and say, "But Laura, you already have so much going for you. Look at everything you do." And from the outside, the landscape looks the same. I am still a daughter, a spouse, a teacher, a workshop leader, an entrepreneur, a colleague, a sister, and a friend. But on the inside, I feel as if I am floating away in empty space. I can't imagine who I will be and what the next decades or whatever years I have left—will bring. I cannot imagine finding a new equilibrium, a new source of purpose and joy.
Back when Eli was a toddler and I was writing Becoming the Parent You Want to Be, I came upon this quote by Elizabeth Stone: "The decision to have a child is the decision to forever have your heart walking around outside your body." To me, that is parenting in a nutshell. And now another piece of my heart is walking away.
Of course, I want her to. We've groomed her for independence. We've groomed her to crave adventure and dream big dreams. We've encouraged her to travel and study languages, repeatedly putting her on airplanes to fly across the world to drink in cultures and experiences beyond those either of us have ever known. Experiences that make her look back at our small, quaint, hippie bubble of a town and say, "I'll never live in Santa Cruz again." Lizzy is dreaming of big cities and foreign lands, adventures and a big world full of open doors. She is prepared and eager and ready to go.
It feels like my life is ending just when hers is beginning.
I do not know how to do this. I don't know who I will be when she is gone. Women tell me that the years after their kids left were the most exciting, satisfying, vibrant, energized years of their lives, but if I am a piece of dust floating alone in the universe without a body, how can I do anything but just drift away?
photo credit: Claudia Snell via photopin cc