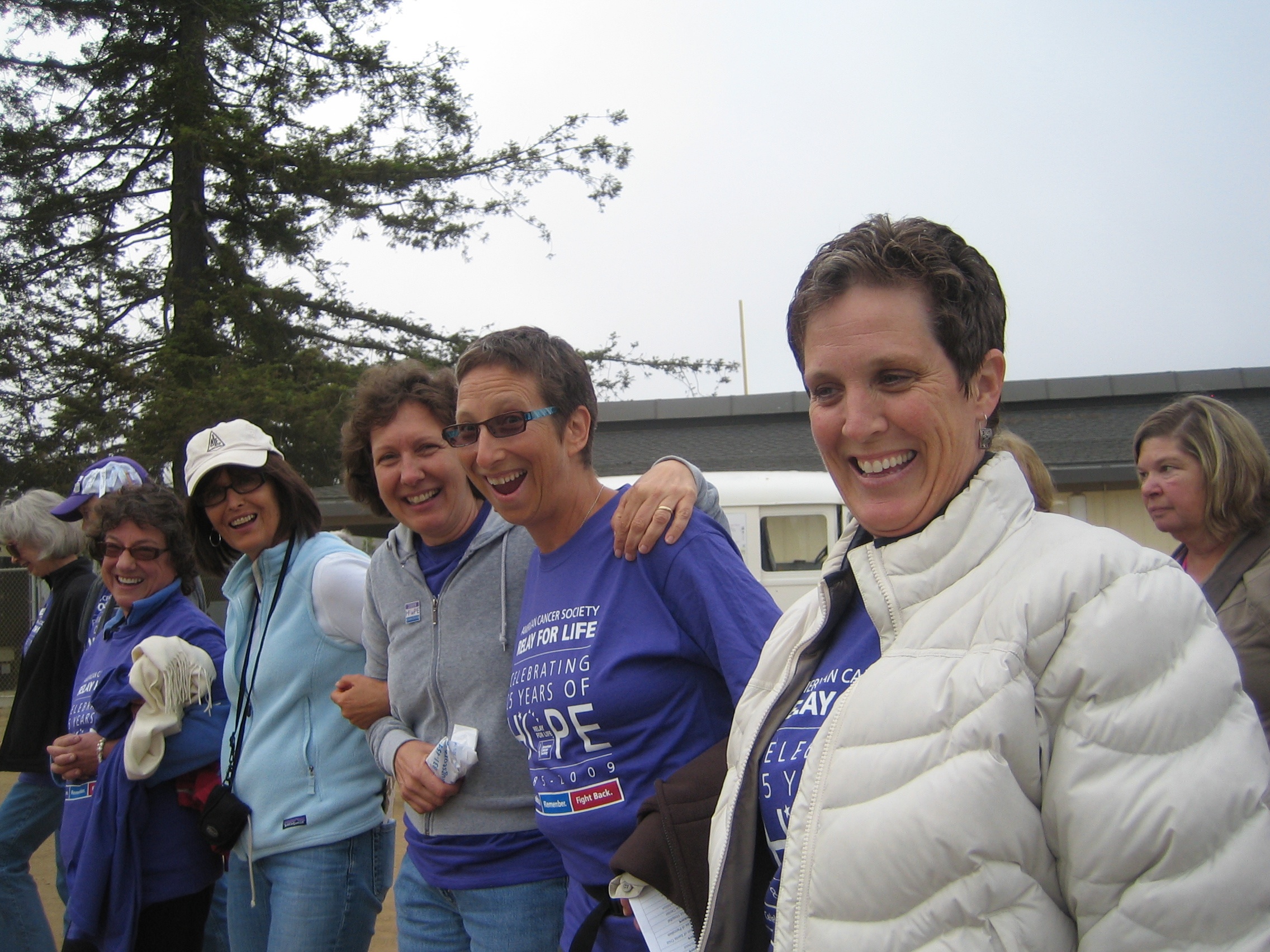 One of the best things cancer has brought me is my post-treatment support group that meets every other week at Womencare. When I walk into that room and sink down into those worn, cosy couches, see the hat rack in the corner full of free hats, the body cast of a woman with a mastectomy, and the bulletin board full of flyers for complementary treatment and art groups for survivors, I feel more at home than I do anywhere else.
In the six months that we have been meeting, the eight of us who gather in that room have gotten to know each other in ways other people don't know us. We talk about things that are largely left unsaid. The people we are closest to in our lives– our families, lovers and friends–are happy we are alive, thrilled we are no longer sick; our cancer, if no longer acute, is in the past for them, where they hope it will remain. But for those of us who had cancer invade our cells, the long-term impact continues to radiate out into our lives. We see the world through different eyes; none of us are the same as we were before the world cracked and cancer entered our bodies.  When we are together in that sacred room, it is one of the few places we can explore what our lives are really like. Freely, we discuss the limbo we live in: the terrain of no longer being sick, but walking on unstable ground. Each of us knows viscerally how thin the line is between health and illness. We no longer feel impervious. No one outside that room "gets it" the way we do. All of us sigh a breath of relief when we walk into that room.
Research shows that long-term survival statistics go up significantly when cancer patients take part in support groups. Knowing that, I'd tried to attend them before. When I was violently ill from chemo, I dragged myself to support groups; I remember sitting in a large meeting room at The Land of the Medicine Buddha bundled up in two coats, a hat and gloves, shivering uncontrollably, then sweating and peeling down to a tank top, and then bundling up again. I'd gone so I could feel communion with other women, but each time I attended, I'd leave rattled and deeply afraid. In those early forays into group support, I heard far too many horror stories, war stories, too much unasked-for advice. I was barely coping with the suffering of the moment; hearing about all the other terrible things that could happen down the line wasn't the least bit comforting. So I stopped going.
The post-treatment group is different. We are all veterans already; we have traversed the underworld and come back into the sweet air of the living. We have survived what might have killed us, and being survivors, we are not the same. We celebrate each other's daily lives, explore the intangible and the unimaginable, offer each other comfort, share laughter and tears, and grieve together when cancer steps back into one of our lives.
Last week, five of us went on our first outing together, an event called Relay for Life, held locally at Cabrillo College. Teams get sponsors and raise money, which they "earn" by having at least one member of their team walk around the track for 24 continuous hours. People of all ages participate: a kid riding a bike with training wheels, an older, disabled man doing his laps in an electric cart.
The theme of this year's Walk for Life was Celebrate, Remember, Fight Back, and different segments of the 24 hours focused on each of these themes. Fifty teams were walking; many make this a yearly fundraising event; others were braving the all-night walk for the first time. To keep people moving and motivated, live bands play music, concessions sell chili tacos, Togo's subs, fresh fruit cookies, s'mores, Mexican hot chocolate, breakfast burritos, coffee, and root beer floats. Tents for sleeping and first aid are pitched in the grassy field. Each teams sponsors a booth, selling a service or a food item. You can get your palm read or enter a raffle to win an I-pod. All the proceeds go to fight cancer.
It's a festival atmosphere. Colorful booths hawk food, trinkets, glow stick jewelry, homemade salsa, and in one case, a necklace with beads to mark the distance you have walked. You pay three bucks for a purple string and then each time you walk a lap, you return to the booth and pick up another bead. The number of beads at the end of the event tells you how far you have walked.
Another table featured luminaria. For ten dollars, you can create a luminaria in memory of someone who has died of cancer or in honor of someone who is struggling with it now. You are given a small paper bag and markers and you write a message on the bag, decorate it, then fill the bottom with sand from a big truck and wedge an unlit candle into the sand at the bottom of the bag. Then you walk around the track and find the small marker with the letter of the alphabet that corresponds to the name of your person. Looking at the hundreds of bags lining the track, I could see that people had lovingly worked on these at home for hours, creating incredible works of art. Bags were cut out with scissors, featured photographs or drawings, glitter and feathers. They said things like, "We miss you Brother, Eddie Navarro," "In honor of my closest friend, Dana Nolan, who lives in Texas, 1 year survivor, Ovarian Cancer. Still battle hard friend, you will get there," "In honor of my mother, Ellen Peirce," "Primo, my Dog, Fight Hard Buddy," "In honor of Jim Maurer, our precious son," "In memory of Gary Love. Sweetheart, the Love Boat keeps growing," "Yet another member of my family to be stricken…but she will prevail…In honor of Sandy Owsen," or simply, "We miss you, Mom."
I made a bag for my friend Jaimee, who is undergoing chemo for a recurrence of ovarian cancer and sharing her journey in a series of powerful, heartfelt emails.  It said: In honor of Jaimee. You rock! Keep telling us the truth. Hang in there."
After placing our bags on the rim of the track, we participated in the annual survivor's lap, where those of us who have lived through cancer walk proudly in purple tee-shirts under an archway of balloons, while people stand on the sidelines and cheer us, simply for being alive.
Our group walked slowly around the track arm in arm, pleased and proud. Three-quarters of the way around, I said, "We're the ones who made it. Think about how many people have died of cancer for every one of us walking around this track."
After the survivor lap came the caregiver lap, and those who had stood by a survivor and seen them through, had their chance to walk proudly. I kept right on walking, five miles worth, to get my training miles in.
I stayed until it got dark so I could witness the luminaria ceremony. As dusk fell, the candles in each of the bags were lit, and at 9 PM, a single bagpiper, in traditional dress, walked slowly around the track, playing a dirge. A cancer survivor spoke about her struggles and her survival, and then the names of all the people memorialized or celebrated on the bags were read. It was a moving tribute; a reminder of the seriousness of why we were there.
The Walk for Life was just a small taste of the experience I'll be having just a few months from now at the Breast Cancer 3 Day, a much larger, longer, more ambitious event. For now, I am hanging in there with my training, walking, swimming, coping with tight hamstrings, aching feet, and general exhaustion. But exhilaration, too.
Yesterday, my buddy Nona arrived, and during her two-week visit, we'll be training together. Step by step by step, we will build the muscles we need. It will be fun to walk and talk together, just one more crazy adventure among many in our 34 years of being friends.
P.S. If you'd like to help Laura reach her goal of raising $15,000 for Breast Cancer research, you can donate online.