This morning at 7 AM, I asked Nancy and David to meet me in my room. The question on the table, "What do people need this morning? What do they need today?" We looked over the plan Nancy and I had made last week and threw most of it away. It was too much. It had become irrelevant. Our original plan no longer met the group where they were or would take them where they needed to go. And so we regrouped. We simplified–vastly simplified our original plan. We pulled things from other parts of our agenda. We tossed around some new ideas. David came up with an idea for a movement exercise. Twenty-five minutes after we sat down together, we had the skeleton of a new plan.
I felt so grateful to them for being part of this team–for helping me evaluate, assess, feel into what is needed. Above all, running a retreat requires being nimble, present, and responsive in the moment.
B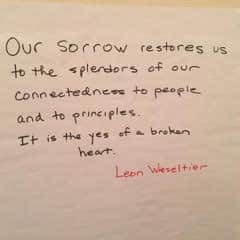 y the time we'd finished breakfast and gathered in the big living room at Pacific House, one of the workshop attendees handed me an interview with Frances Weller about grief in the Sun Magazine–and I spontaneously read a few paragraphs of that at the start of our morning circle.
After tossing out the writing prompts I'd planned for the morning, I instead read something I'd written this summer that demonstrated that there's often a deeper, truer story hiding underneath the rote version of the stories we tell ourselves or others or initially commit to the page.
I described the original story I had written–about the day my mother was officially diagnosed with dementia–which was full of the actually occurrences that took place that day. In the initial story I explored what motivated me to take her to Stanford to get tested–and questioned whether it had really been a good idea. The piece was vivid and accurate but it was incomplete. I wasn't yet telling the real truth. I was missing the underbelly of the story.
Later that night, when I reread my first version, I thought about a prompt my friend and teaching colleague Susan Brown often gives when she wants to students to get through the fake voice into a much more authentic voice: "Who was I kidding anyway?"
Using that prompt as my guide, I dug deeper and wrote a follow-up piece to the first piece, one in which I dug underneath the original story and revealed the truth about what had really motivated me to take my mother to get that diagnosis. Not the reasons I told everyone and myself–the REAL reasons. And it was very different than the first version. I reached for a deeper emotional truth–and dared to put in on the page. It was a far more compelling story.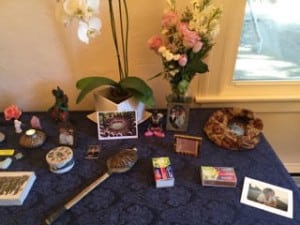 I read that unexpurgated version to my students today and followed it with the prompt: "What's the story you haven't yet been able to tell? What's the real truth living underneath your story?"
Everyone wrote like crazy for 15 minutes…and I could barely get them to stop.
After a break, we spent the rest of the morning sharing these stories, peeling back the layers to get closer to the truth–closer to the heart of their grief, their shame, the way the stories live in their bodies. The truths they have never had a safe place to tell.
Powerful stories, one after the other. So much trust. So much honesty. So many universal truths we all felt and recognized in each others' stories.
And here's a great article about grief I read this morning about the myths and realities of grief.
Laura will be offering this retreat twice in the next year. Click here to visit the retreat page.