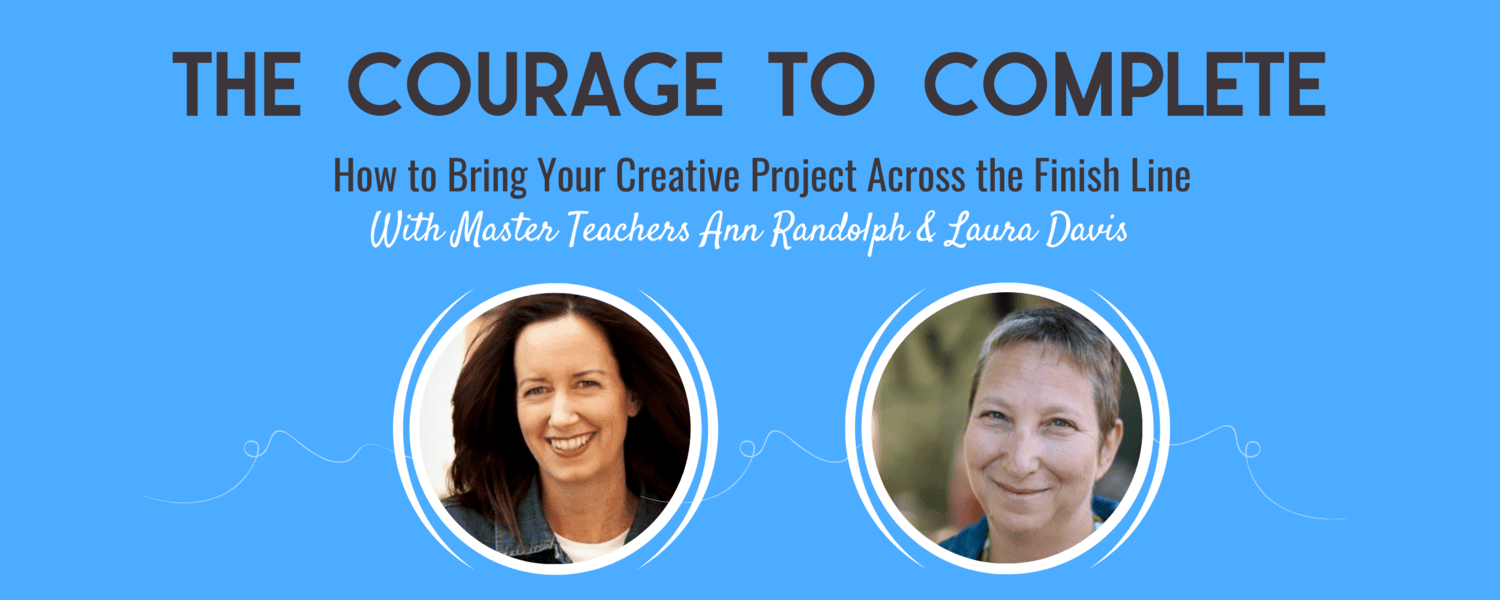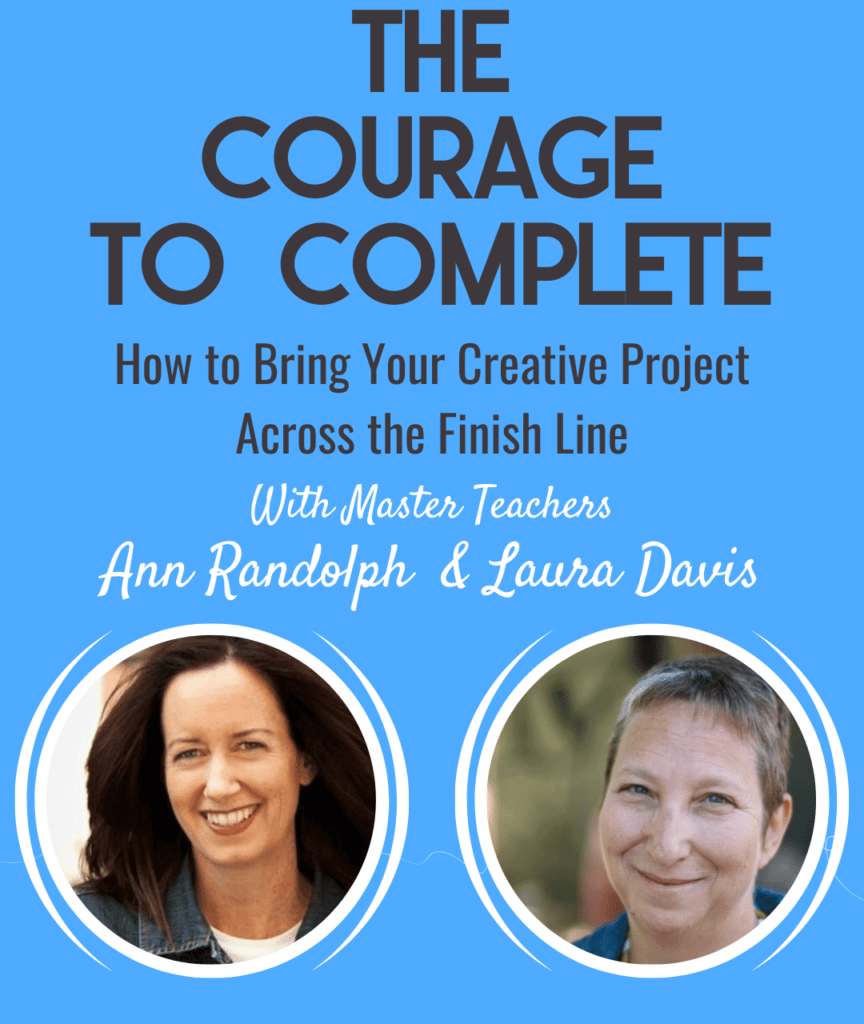 One-Day Online Workshop
Saturday, September 18, 2021
8:30 am – 11:30 am | 1:00 – 4:00 pm | 5:00 – 6:30 pm PST
Do you have a dream of finishing that novel, memoir, performance piece or one-woman show?
Does the finish line of your creative dream keep receding into the distance?
Are you stuck in the muddy middle?
Afraid that you don't have what it takes to complete your project and release it into the world?
Have you ever felt like giving up?
Then this workshop is for you!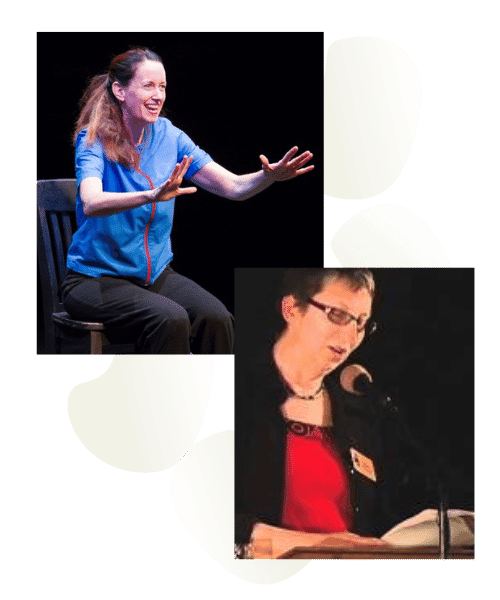 Come learn from two kick-ass manifesters who have put successful creative work out into the world time and time again.
Between them, Ann Randolph and Laura Davis have published seven books, sold two million copies, put on six award-winning one-woman shows, been…and taught thousands of students how to dig deep to ignite their creative fire.
Now they're teaming up to teach you something they've never taught before: what it takes to complete the project of your dreams.
In this one-day online workshop, Ann and Laura will reveal the real truth of the successes and failures in their long, checkered careers. After sharing the five most important secrets of getting a creative project over the finish line, they'll guide you in a series of dynamic, interactive exercises that will help you make serious strides toward manifesting your own dream.
If you want to get your creative work over the finish line, this workshop will tell you how.
Saturday, September 18, 2021
8:30 am – 11:30 am | 1:00 – 4:00 pm | 5:00 – 6:30 pm PST
All times Pacific Standard
The workshop will be recorded in case you can't attend in person.
In this workshop you'll learn:

Why walking away from your project can be critically important to finishing it.

The hidden reasons we sabotage our own success.
Why rest is just as important as focus.

The role other people can and can't play in getting your project to completion.

Why finishing is exhilarating and terrifying.

Why facing fear is a critical part of the creative process.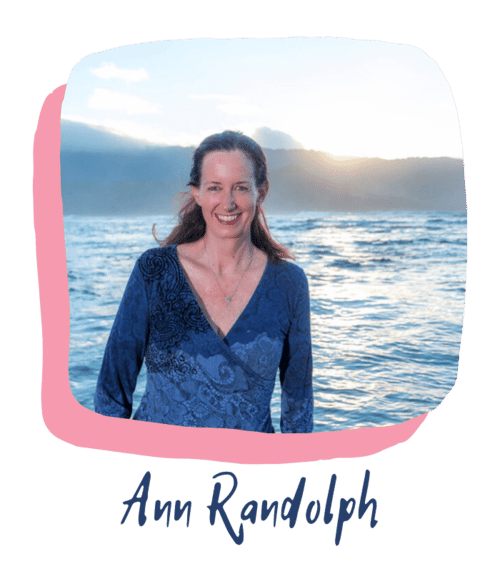 Ann is an award-winning writer and performer. She has performed her solo shows in theaters across the U.S garnering awards along the way including the Los Angeles Ovation Award for "Best Solo Show" and the San Francisco Bay Critic's award for "Best Solo Performer." Mel Brooks produced her first big hit, Squeeze Box, Off-Broadway.
In addition to writing and performing, Ann is passionately committed to helping people speak their truth on the page, stage, and in life. She teaches her widely popular Write Your Life week-long retreats at Esalen, Omega, Kripalu, and in Kauai where she currently resides.
MICHELLE MARTIN, ClassicChic.ca
"My week in Ann Randolph's workshop was simply incredible. She is an exquisite teacher. Skilled, compassionate, funny, inspirational. So talented! So creative! Perfection in an instructor. We had the joy of watching her perform her hilarious new show, Inappropriate In All the Right Ways, one evening at Hollyhock. What a gift! She is a wickedly funny comedienne who was able to drop in and bring a depth and humanity to her characters which was deeply moving. My work took on a new depth and I began to feel hat I night be able to actually write this play. I can say with a full heart that her workshop changed my life."
KATE BRENTON, Educator, Lomilomi Practitioner
"To work with a master of her craft is rare, for she has wisdom and patience, humor and honor, irreverence and fearlessness all in her toolkit. Ann Randolph keeps company with the Muse, in cornerside joints as ell as pristine beaches; her Inspirational Artistry - whether she is performing or inviting the artist in you to come out and play - is an alchemical experience. She employs a grounded yet fluid, seasoned skill set to help you soar."
ALANIS MORISETTE, Singer + Songwriter + Author
"Ann Randolph is a multi-tiered invitation and adventure in interiority, grief, healing; and her teaching touches a part of my heart that brings me to my knees...laughing, sometimes crying. Ann is a master teacher."
MICHAEL BONNABEL, MichaelBonnabel.com
"I value every second of every moment I have spent in Ann's workshops. She has brought inspiration and light into my world as an artist I didn't know existed. For that I will be forever grateful. Without her I wouldn't have written my play, it wouldn't have been produced at two highly regarded theaters in LA, nor would I have had a dreamlike run at on Off-Broadway house in New York, and I wouldn't be in talks with a "very big" MAJOR publishing house and a notable Literary Agent about any of this - if it hadn't been for her - her talent, genius and generous guidance."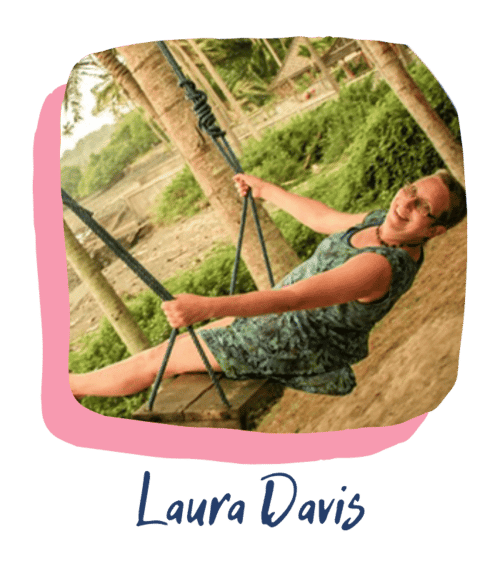 In her 30+ year career as an author, Laura Davis has written seven non-fiction books that have changed peoples' lives. The Courage to Heal paved the way for hundreds of thousands to heal from the trauma of sexual abuse. Becoming the Parent You Want to Be helps parents develop a vision for the families they want to create. And I Thought We'd Never Speak Again: The Road from Estrangement to Reconciliation teaches the skills of reconciliation and peace building to the world, one relationship at a time.
Laura's ground-breaking books have been translated into 11 languages and sold more than two million copies.
Her forthcoming memoir, The Burning Light of Two Stars, tells the story of Laura's dramatic and tumultuous relationship with her mother, Temme, from the time of Laura's birth until her mother's death. This story about "two souls who just wouldn't quit each other" provides a no-holds-barred peek at the real Laura--the woman behind the teacher, the facilitator, and author.
Laura's love of words extends into her teaching life. She loves building communities of writers and teaches weekly writing workshops online and in Santa Cruz, California. When there isn't a pandemic, she leads transformative writing retreats in northern California, Bali, Peru, Italy, Vietnam and other international destinations.
Laura lives in Santa Cruz, California with her spouse Karyn and their new yellow lab puppy, Luna. She enjoys swimming, hiking, mahjong, making kombucha, motion theatre, her grandchildren, and of course, writing.
IAN WEBB, Santa Cruz, CA
"I wanted to experience 'going for it' as a writer. I've been wanting to dive back into writing for years. If I could show you how many New Year's resolutions include 'taking a writing class' I suspect you would laugh. The opportunity to delve deep within and access raw personal truth that I experienced in Laura's workshop was priceless."
PAULA MAHONEY
"When I began working with Laura Davis, I'd carried hundreds of stories around in my head for five and a half decades. Laura helped me breathe life into the words that had waited so long to hear their voices spoken aloud. Her steady guidance and open-hearted engagement with the writer in me was the form of nourishment I needed to begin my long journey as a writer. I am so grateful to Laura for the gift she is."
LAURIE SIMPKINSON
"I've watched Laura reach many different writers at their levels—offering just the right comment to help each writer discover something deeper about this or her process. Laura also offers so much of herself to her students-her life experiences, humor, writing practice, and expertise in the world of publishing. Having access to such a professional mentor is not an opportunity to be missed!"
SHANNON LAGRANDIER, Santa Cruz, CA
"Laura Davis has revolutionized my relationship to writing. Her prompts had the way into my soul."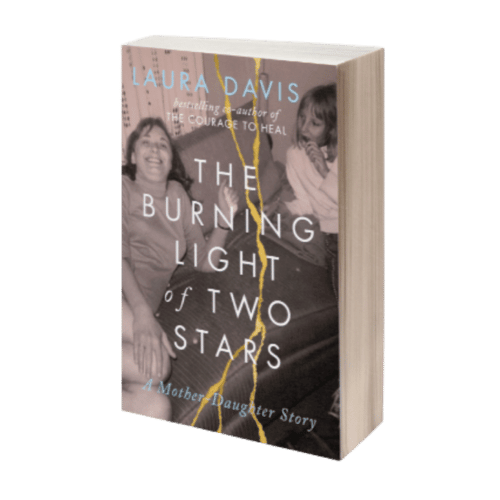 As a special bonus, your registration will include a free copy of Laura's latest completed project, her new memoir:
The Burning Light of Two Stars: A Mother Daughter Story, as soon as it's released in October. You'll be one of the very first readers.
The cost of the one-day workshop is