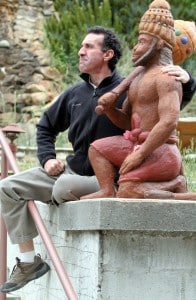 Martin Sampad Kachuck attended Laura's weekend retreat at Esalen in January and then joined the Wednesday morning writing practice group as part of his sabbatical from teaching. This was his response to an exercise to describe his childhood kitchen in vivid sensory detail.
During my adolescent years, the kitchen at our home in Tustin, California was a place of hurry. Not a lot of in depth cooking occurred there, nor was meal making given huge priority. The repeated routine consisted of my mother, a college English teacher, arriving home late, scurrying to "throw something together", my father needing to be repeatedly called from his corner office fortress, my older brother shaken free from his space helmet stereo headsets in distant bedroom and me staring in the bathroom mirror, aghast at some new pimple.
Dinner was our one shot during the week for a family meal, but what we ate didn't seem to matter that much. My mom did make her Brisket meticulously, as well as our birthday cakes constructed from numbered molds. Other than that, it was more shake and bake, slam into oil sprayed pan, press bake or broil. Aside from the Thanksgiving turkey that never cooked enough, we really only employed the top portion of our Bi Level oven for dinner reheating. The bottom was house for the unused battered large pans that my parents dragged across country from their past lives in New York. Nothing was thrown away.
In the storage cabinet below the kitchen stovetop you'd find tins bent to unrecognizable shape, edges distorted, stained forever, also battered and blackened aluminum pots, proof of remiss when my mom, too busy, burned the vegetables or the soup. In the drawer next to the stovetop was ancient silverware from my parent's wedding, same history true for some of the chipped plates and bowls in the upper cabinet.
Dinner itself promised to be a mishmash of this and that and no one really minded. For my mother, a daughter of a butcher, if there was meat enough, the other items didn't matter. So from the garage freezer armory came the main course- frozen ground round hamburger or meatloaf bound or stew, lamp chops; chicken, and the fish brothers, haddock or salmon, all to be plopped into some greased pan and shoved mostly naked into the top oven.
The side dishes were found mostly in the pantry closet standing sentinel next to the Refrigerator. Inside, infinite dented cans, on sale from Gemco; my father liked a full pantry since in his Depression Soaked home of his childhood they never had enough… ever. Thus, along with boxes of Ritz Crackers opened and not fully reclosed, were Green Giant Creamed Corn, Peas, Tall Asparagus cans stacked in multi level rows ready for quick heat and serve, along side Del Monte Fruit Cocktail with maraschino cherries in heavy sauce, also trapped peaches, pears, plenty of prunes. The bottom shelf was reserved for countless stacked soups: Campbell Chunky Manhandlers, Tomato and Rice, and Turkey Vegetable, as well as the random pickled cabbage and bottled Borsht jars.
Further dinner embellishments were extracted from our trusty groaning Amanda refrigerator, like a time machine capsule, stuffed to the gills with days on end leftovers. Literal stacks, one on top of the other, containers with indistinguishable droplets of meat dish, pasta, vegetable clump. There'd be wilted lettuce uncovered in last night's dinner bowl, droopy celery, half shrunken grapefruits, wrinkled tomatoes often molded and discolored. Upside down Mustard, Ketchup, jars with only a ¼ inch of substance, nothing wasted, nothing ever thrown away. Rubberized Jell-O mixed with fruit cocktail, CalVa Orange Drink 100% artificial and bright. CalVa Dairy products, many past their expiration date, nonfat cottage cheese for my dieting mom, and green tinted brick cheeses the size of a shoebox. Gefilte Fish Jar in the side drawer that defied description to Non Jews. Horseradish as well. We weren't kosher, mind you, but a scarcity of pig products would be found there, except my brother's revolutionary Farmer John's Bacon, tucked deeply away in the side drawer, not even allowed in the meat drawer where the other Hebrew National Baloney and Hotdogs awaited.
When finally the moment came for the family to converge, we'd all transit through the narrow kitchen towards our around the corner dining room roost, quickly flurrying in our pre eating duties to set the table with the mismatched accouterments, then re-assaulting the cabinet and refrigerator for any omitted favorites that my mom liked to avoid. So, by the time we finally sat, the table would be loaded garage sale like with stark meat disk, as well as spontaneous leftover combinations, canned vegetable delights, ¼ inch filled upside down condiments, CalVa everywhere and stale crackers.
Dinner meal times, while not culinary oriented, were crucial to our unifying survival. "Hello, Family," my mom would intone tapping my father's knee to snap him out of consternation, all of us, each in our own mysteries, coming to the present for a brief silent moment, soon broken by new frenzy of clatter, standing and reaching, loud mouth filled conversation, argumentative, philosophical and oft times practical; it was undeniable, disjointed but palpable family fusion.
Martin Sampad Kachuck is a Middle and High School teacher at Mt. Madonna School in Watsonville, CA. He also is engaged in establishing a personal writing practice and greatly appreciates any and all opportunities that challenge, stretch and further his exploration and discovery of the craft.