Join Me for a Productive, Supportive Writer's Work Weekend
"This weekend was exactly the jumpstart I needed. Having this time away from all my obligations was perfect. I wrote 25 new pages and made some really important decisions about my book. I gained new clarity and the momentum I need to continue. Thank you!"

—Cooper Gallegos, author of The Waterhauler
Friday, September 30th-Sunday, October 2nd, 2022
Three Full Days
Location: At Home with Intermittent Meetings on Zoom
Dear Writers,
If you keep promising yourself that you're going to dig deeper into your writing but can't seem to make the time or find the focus, my Writer's Journey Work Weekend may be the perfect opportunity for you.
Do you find it hard to focus on your writing in your busy, daily life?
Do you ever wish you could carve out a serious chunk of time to dive deep into your creativity?
Do you wish you could spread out and accomplish a body of work that would help you move concretely toward your writing goals?
Would you like the support and inspiration of meeting with a group of writers who are as intent on their goals as you are on yours?
Do you have a writing project that is gnawing at you for time and attention?
Do you have an idea for a new project that you haven't yet carved out the space to dream about or begin?
If you answered yes to any of these questions, this online work weekend will provide you with the conditions to work, to dive deep into your material, and to have long stretches to focus on meeting your writing goals.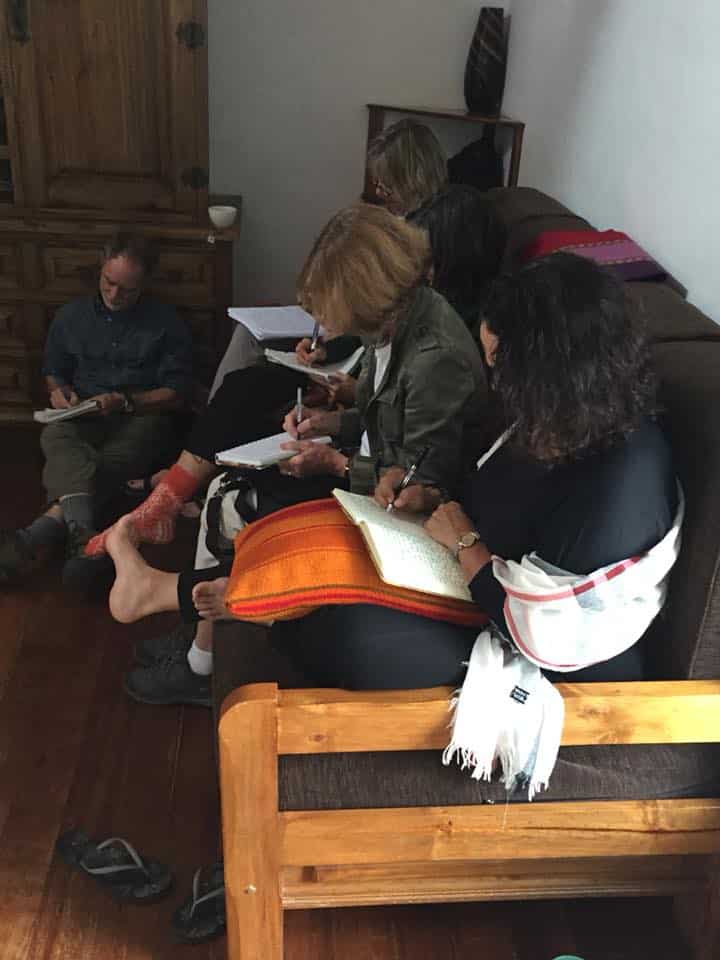 Past work weekend students include memoir writers, novelists, fiction writers, essayists, cookbook writers, young adult writers, those writing as a tool for exploration and healing, and people compiling family histories. Some developed ideas for a new project, others did research, still others were deeply engrossed in the fourth draft of a manuscript or put together the promotional plan for a soon-to-be-launched book. But everyone had one thing is common: a great hunger to write and the desire to have sacred, uninterrupted time to dive deeply into the work of their choosing.
What most writers lack is time—and this weekend will help you designate and commit to taking that time. You will have the opportunity for real concentration amid a cohort of your peers who are all wholly focused on writing, and nothing but writing. Even though you will be writing in different locations, the fact that our whole group shares the same intention will help you keep to your goals for the weekend.
Even though you'll be at home, your intention should be to treat this weekend as a retreat. You'll be expected to block out the entire weekend from normal family, work, and community obligations. In between our periodic daily online meetings, you'll be writing on your own: "writing" includes work at your desk, in your notebook or on your computer, brainstorming, research, noodling on a pad, as well as dreaming while walking, napping and other forms of introspection. Writing does not include caring for your kids, going out to dinner, watching TV, listening to news, going out to buy groceries, visiting friends, or participating in regular family life.
"The time, space and safety I experienced at this retreat were gifts beyond measure. I felt safe, nurtured and valued the whole time."

—Caroline Bliss-Isberg
Why an Online Work Weekend?
I've been offering these work weekends in person on a quarterly basis for years, primarily to serve my Santa Cruz-based students, but as we've moved into year three of this pandemic, with continued uncertainty about in-person events, I've begun offering an online version of my popular and productive work weekends. At first, I thought the online version couldn't possibly be as powerful, supportive and productive as the in-person weekends. But I was wrong. In fact, I've discovered that the online weekends help writers accomplish their goals just as efficiently, and provide the same enthusiastic support of a community of writing peers. To my delight, I've found that the online work weekends offer the following additional benefits:
Safety and comfort. You'll attend an inspiring, supportive retreat from the safety and comfort of your home.
Learning to create space for deep thought and creativity at home. You'll practice setting boundaries with family, friends, work, social media, and anything else that gets in the way of achieving deep concentration and creative flow in your home environment.
A work strategy you can build on. You'll develop and create an effective work style and environment that you'll be able to maintain long after the retreat
Peace of mind. You'll not have to worry if the retreat will be canceled due to a new Covid surge.
International participation. People from different countries, continents and time zones can participate.
Affordability. You'll not have to travel or pay for airline tickets or lodging.
"Thank you for creating a very secure environment where my goals were my own. There was no pressure, just a nurturing, warm, and encouraging environment. Everyone was kind, supportive, talented and funny. I got exactly what I needed."

—Simi Monheit
Here's How the Online Retreat Will Be Structured:
Before the retreat occurs, I'll send you strategies and guidance for preparing for a home retreat that will maximize your productivity and success.
Friday, the first morning of the retreat, we'll meet on Zoom at 8:00 AM Pacific time (11:00 AM Eastern) for an initial check-in meeting. I'll review ground rules for the weekend. Then, one at a time, participants will introduce themselves, outline their projects and specific goals for the weekend. I'll ask questions, prod a little for clarification, and make some specific suggestions.
For the rest of the morning, writers will work in their own environment. They might be at home, sitting in a backyard shed, holed up in a friend's extra bedroom, or renting a nearby Airbnb.
Each day, I'll host an optional midday meeting that will provide anyone who wants it the chance to check in, troubleshoot stuck places, and connect with me and their fellow writers. We'll fishbowl any issues that arise.
For the rest of the afternoon, writers will work alone.
Friday evening at 5:00 Pacific time/8:00 Eastern time, we'll have a three-hour, all-group session. These evening meetings will provide the heart of our community time. Everyone will get to do a brief check in about the day's work and then half the group will have more substantial time to share. People might read a couple of pages of their day's work or ask a question of the group (brainstorming a title, discussing the hook of an opening scene, talk about writer's block, etc.). I'll offer feedback to each writer and others in the group will have the chance to chime in. I'll ensure that each writer gets both encouragement and the type of feedback they need, appropriate to their level of experience and where they are in their project.
The same schedule will repeat Saturday—a brief morning check-in and goal-setting session, morning work alone, an optional midday meeting, afternoon work alone, and a second evening feedback session, where the other half of writers will have the chance to share their work.
Sunday will begin with a brief morning check-in and goal-setting meeting, morning work alone, optional midday meeting, and conclude with another evening feedback session. In the final feedback session, everyone will get a chance to share, and people will talk about their goals going forward.
Note: This is a participatory workshop. Participants will share their concerns, questions, and work in the group, keep their cameras on during all Zoom meetings, and participate with the other writers. Although you'll spend much of the weekend working on your own, the real superpower of this weekend is the intimate and supportive community we build together.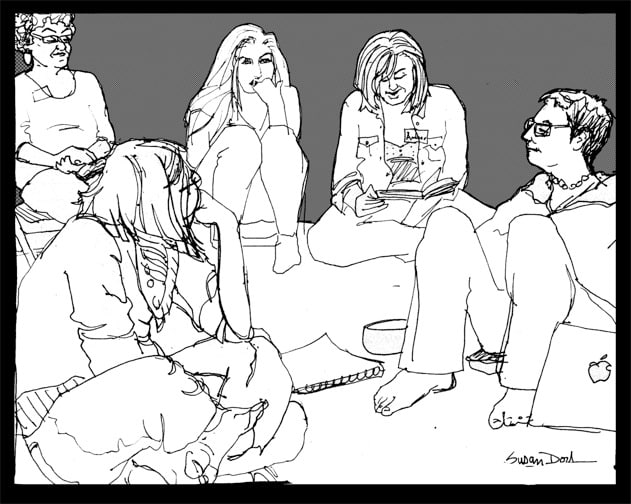 Laser Coaching: In addition, each writer will get a 20-minute private, individual, laser, coaching session with me on Zoom or FaceTime. These consultations are optional and deal with whatever issue is uppermost on your mind. I might respond to a piece of your work, brainstorm a strategy for carving out time to write, or provide personalized prompts to help you get unstuck.
Optional Bonus Sessions: For those who have read my 2021 memoir The Burning Light of Two Stars, I'll offer an hour-long question and answer session about how I wrote, constructed, published, and promoted the book.
Here's a sampling of what some of the participants had to say:
"Attending Laura's digital work weekend helped me to take my writing to a deeper level. Laura is an exceptional writing teacher and an excellent facilitator. She held the group and created a sacred space for each of us to find our true writing voice. If this retreat was not online, I most likely could not have participated. One morning I stayed in my pyjamas and I wrote the best work of the weekend. Thank you Laura. Thank you for sharing your gift."
—Annie Rosenberg, Vancouver, British Columbia, Canada
"The digital work weekend blew me away! It kickstarted my confidence to write about my life. The safe and wakeful space Laura created, encouraged me deeply. Her advice was keen and fresh, sometimes surprising but always bang on.  It was also a gift to meet such a kind group of people."
—Pam Rubin, Nova Scotia, Canada
"Attending Laura's online writing "work weekend" was exactly what I needed--peaceful, protected time to immerse myself in writing, surrounded by a community of wonderful women, and led by a teacher and guide with just the right blend of support, perceptive feedback, humor, and warmth. I've already signed up for the next work weekend, and can't wait."
—Toni Littlestone
Now That You See What You Can Accomplish, Why Don't You Join Us?
Next Writer's Online Work Weekend
SOLD OUT
Friday, September 30th-Sunday,October 2nd, 2022

All Group Meeting Times:
PACIFIC TIME:
Friday: 8:00 AM first meeting; 1:00-2:00 pm optional check-in; 5:00-8:00 PM all-group feedback session
Saturday: 8:00 AM first meeting; 1:00-2:00 pm optional check-in; 5:00-8:00 PM all-group feedback session
Sunday: 8:00 AM first meeting; 1:00-2:00 pm optional check-in; 5:00-8:00 PM final all-group session
MOUNTAIN TIME:
Friday: 9:00 AM first meeting; 2:00-3:00 pm optional check-in; 6:00-9:00 PM all-group feedback session
Saturday: 9:00 AM first meeting; 2:00-3:00 pm optional check-in; 6:00-9:00 PM all-group feedback session
Sunday: 9:00 AM first meeting; 2:00-3:00 pm optional check-in; 6:00-9:00 PM final all-group session
CENTRAL TIME:
Friday: 10:00 AM first meeting; 3:00-4:00 pm optional check-in; 7:00-10:00 PM all-group feedback session
Saturday: 10:00 AM first meeting; 3:00-4:00 pm optional check-in; 7:00-10:00 PM all-group meeting
Sunday: 10:00 AM first meeting; 3:00-4:00 pm optional check-in; 7:00-10:00 PM final meeting
EASTERN TIME:
Friday: 11:00 AM first meeting; 4:00-5:00 pm optional check-in; 8:00-11:00 PM all-group feedback session
Saturday: 11:00 AM first meeting; 4:00-5:00 pm optional check-in; 8:00-11:00 PM all-group feedback session
Sunday: 11:00 AM first meeting; 4:00-5:00 pm optional check-in; 8:00-11:00 PM final meeting
Limited to 14 participants
Fees: Cost for the weekend: $400
To Register . . .
This workshop is full. If you'd like to be on the wait list to be notified the next time I offer one, you can indicate your interest using the form below.