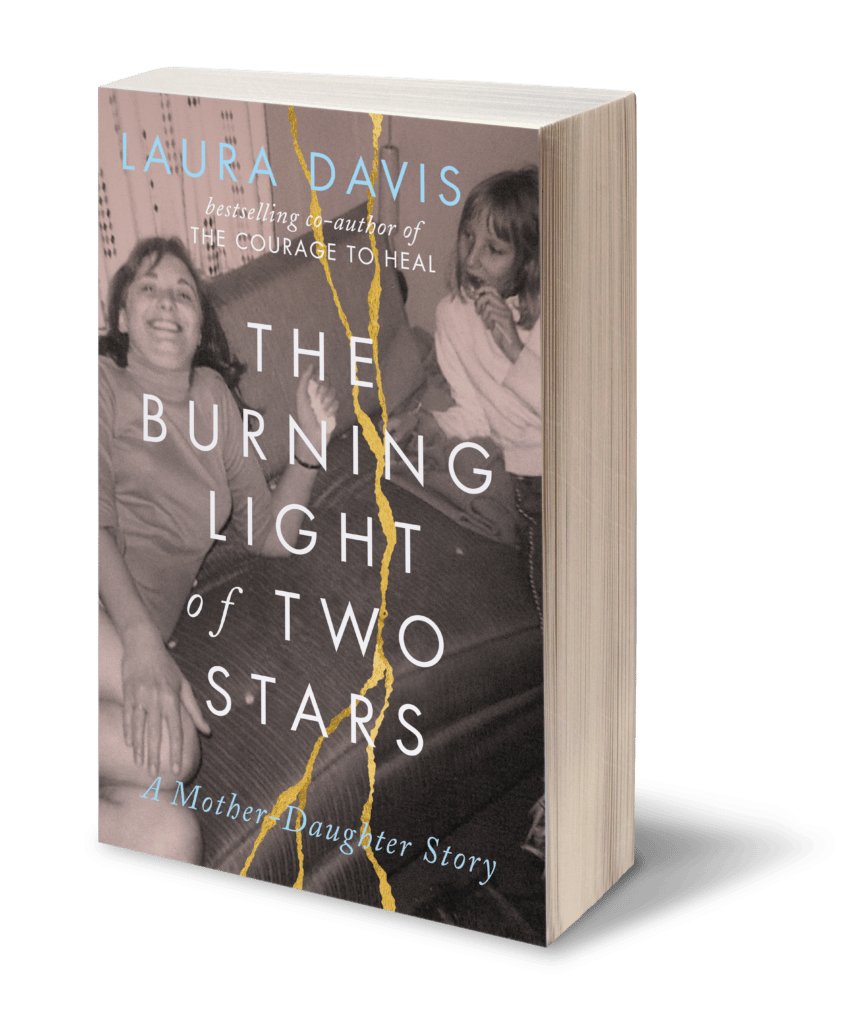 The Burning Light of Two Stars
This riveting memoir by The Courage to Heal author Laura Davis examines the endurance of mother-daughter love, how memory protects and betrays us, and the determination it takes to fulfill a promise when ghosts from the past come knocking.
Welcome! I'm Laura Davis.
I write books that change people's lives and help people tell stories that matter.
I am the author of seven non-fiction books, including The Courage to Heal, Becoming the Parent You Want to Be and I Thought We'd Never Speak Again. My groundbreaking books have been translated into 11 languages and sold more than 1.8 million copies. In addition to writing books that inspire and change people's lives, the work of my heart is to teach. For more than twenty years, I've helped my students find their voices, tell their stories, and hone their craft as writers. I love creating supportive, intimate writing communities online, in person, and internationally.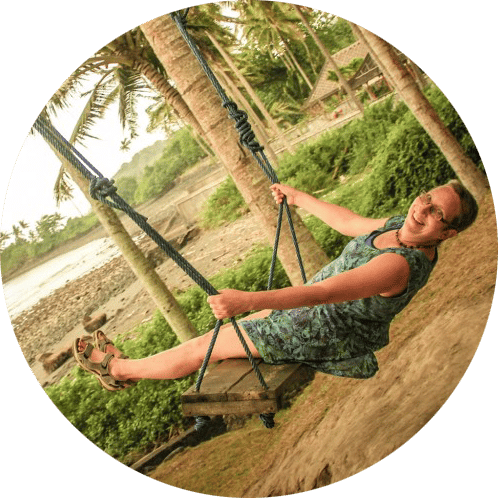 Subscribe to my mailing list and I will immediately give you a beautiful eBook: Writing Toward Courage: A Thirty Day Practice.
Look Mom, I Got Published in The New York Times!
This past summer, on a whim, I distilled my soon-to-be-published 89,000-word memoir down to 100 words and submitted it to the Tiny Love Stories column in The New York Times. They said yes to publishing it. My mother, Temme Davis, antagonist and co-star in my forthcoming memoir, The Burning Light of Two Stars, did the New York Times crossword every day for more than 50 years until dementia took away her capacity to fill in those little boxes—always in ink. I'm sure she's looking down from heaven right now, smiling at my 100 words and this wonderful picture of us.
If you don't subscribe to The New York Times, and a paywall prevents you from accessing the link, you can read my Tiny Love Story, The Daughter She Needed, here.
Experience the incredible power of finding your voice and honing your craft in a supportive circle of your peers. Weekly online classes include include writing practice classes and feedback circles. Click the "classes" button below for more information.
I also run writing retreats online, around the US, and internationally, from daylong and weekend workshops to weeklong retreats on writing through grief and uncertainty, to international travel adventures that combine writing with ecotourism in beautiful places around the world. To learn more, click on the link below.
The Burning Light of Two Stars: A Mother-Daughter Story
"Caregiving an elderly parent, especially against the backdrop of a difficult shared past, can be a bruising spiritual ordeal. We who must travel this territory don't need any more sentimental narratives about it. What we do need is the healing medicine of truth-telling, and Laura Davis brilliantly and generously gives it to us. I literally could not put this book down."

—Katy Butler, bestselling author of Knocking on Heaven's Door and The Art of Dying Well

My riveting new memoir examines the endurance of mother-daughter love, how memory protects and betrays us, and the determination it takes to fulfill a promise when ghosts from the past come knocking.
The Making of a Memoir Blog
Did You Ever Wonder What Goes into Making a Great Memoir?
Let me take you behind the scenes and show you what it takes to create a compelling book and get it into the hands of readers.
As a special bonus, you'll get a sneak peek at some deleted scenes from The Burning Light of Two Stars: A Mother-Daughter Story, like the time I dropped acid with my father…
Featured Retreat: Writing, Relaxation, and Adventure in Tuscany Next Spring
Tuesday, June 14 - Thursday, June 23, 2022
Journey to sun-soaked Tuscany for a ten-day retreat at a majestic 15th century estate seated on the rolling hills of the Italian countryside. Located just 45 minutes away from Florence, the Villa I Bonsi is a vineyard and olive farm ideal for relaxing and exploring the cultural wonders of a region celebrated for its history and food. Writing and yoga will be at the heart of the retreat and will help us bond as a group. This intimate and magical vacation includes an olive oil making tour, truffle hunting, a wine tasting tour, cooking lessons, and a day trip to San Gimignano with its medieval tower houses, encircling walls, and the unforgettable view from its hilltop setting. Spouses and non-writing friends are welcome to join in on the fun.
Upcoming Events with Laura Davis
Monday December 13th, 2021
2 PM PDT | 3 PM MDT | 4 PM CDT | 5 PM EDT
Online
In this special online event, Laura will read from her new memoir and answer questions about her tumultuous and ultimately redemptive relationship with her mother—and her ten-year journey shaping this story. The event will also feature a mini-writing workshop where Laura will lead participants in writing about their own mothers or daughters. Bring a notebook and pen and your own family histories to this creative, engaging event. You do not need to consider yourself a writer to attend. Temple Beth El has graciously opened this event to people outside the temple community.
To prepare for the event and the mini-workshop, Laura suggests you read the first five chapters of her memoir, available here for free.
Click "Tell Me More" for Zoom link:
Meeting ID: 264 744 173
Passcode: Passover
January 3-7, 2022
Online
In the course of promoting The Burning Light of Two Stars, I've had the good fortune to meet and fall in love with new friends and colleagues. Two of them, Cami Ostman of The Narrative Project and Lisa Dailey of Sidekick Press invited me to be part of a terrific free summit that they're putting together to help aspiring (and established) authors, called "Write That Book Already." It will be held January 3-7, but sign-ups for this great free event, full of wonderful industry experts, is available now. My topic was "Writing About Family: the Perils, Pitfalls, and Gifts Along the Journey."
Save the dates and register to be inspired. You don't want to miss the interviews or the free gifts!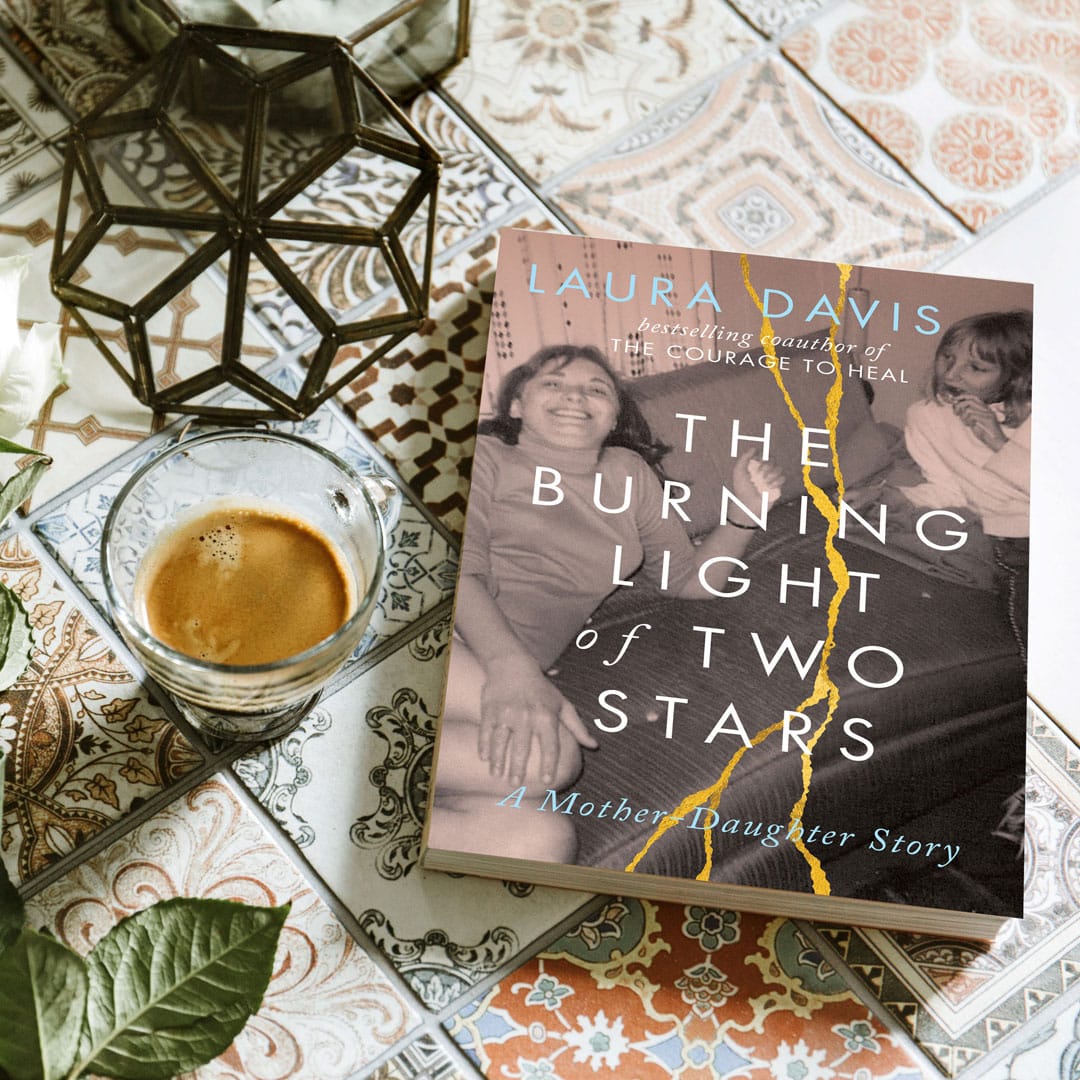 Laura's First and Only In-Person Book Reading Event
Sunday January 23, 2022
1-3 PM PT
Barnes & Noble, 3600 Stevens Creek Blvd, San Jose, CA 95117
Come Meet Her in Person!