How To Salvage Lost Relationships You Once Cherished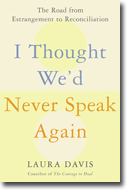 As a best-selling author and member of a family that struggled to stay connected, I understand the power of and need for reconciliation. After the publication of The Courage To Heal, I feared that my mother and I would never speak again. Today we do. Often and lovingly. The fact that our relationship went from an eight year impasse to a renewed bond inspired me to write I Thought We'd Never Speak Again.
Let me tell you our story.
Twenty-five years ago, I remembered that my grandfather had sexually abused me. At the time, I was completely devastated. When I told my family what had happened, they felt betrayed and angry. But they didn't feel angry with my grandfather. They were furious with me for tarnishing the image of a man they had deeply loved.
Three years later, when I published The Courage to Heal, things went from bad to worse. From my point of view, my family had abandoned me when I needed them the most. From theirs, I was not only spreading lies about my grandfather, I was now doing it on national TV. There things stood, at an impasse for years. I feared we would never speak again. Then slowly, gradually, things began to change.
And they didn't change because I forgave my grandfather, was suddenly believed by my family, or stopped telling my story. They changed because I discovered the basic principles that make reconciliation possible, even in the most damaged of relationships.

"Anybody who has given up on the possibility of reconciliation should read I Thought We'd Never Speak Again. Davis builds a web of hope that human beings can indeed move on, even when relationships have been painful and very destructive."
–Ron Kraybill, Professor, Conflict Transformation Program,
Eastern Mennonite University
How to Rebuild Family Ties
The path I have traveled with my family is just one of many stories I tell in I Thought We'd Never Speak Again. In addition to my personal story, I describe a wide variety of reconciliation scenarios. In the pages of I Thought We'd Never Speak Again, you will find people and situations that resonate with your own circumstances, challenges, and feelings. You will be moved and inspired, motivated to break through limiting patterns that have kept you stuck for years.

Although everyone's reconciliation story is different, I believe everyone can reconcile in one of four ways:
In my book, you'll learn how to achieve:
Deep, transformative reconciliation, in which both people change, and both people experience healing and growth in the relationship
Reconciliation in which one person changes his or her expectations, so their perception of the relationship changes, whether or not the other person makes significant changes
Reconciliation in which core issues remain unresolved, yet both people agree to disagree, creating ground rules that allow a limited, cordial relationship
Inner resolution when no viable relationship is possible with the other person
---
Within this framework of possibilities, much healing can occur, and I Thought We'd Never Speak Again is full of powerful, moving stories of people who have reconciled or found peace in a wide variety of circumstances.
"Laura Davis has given us a true gift. She offers us pathways to let go of pain, bitterness, fear, and even hatred. She presents a continuum of reconciliation that goes far beyond simple answers. Davis eloquently presents her message that attaining peace in our lives and in the larger world must be first anchored within our own personal journey of healing. Few authors have addressed the issues of forgiveness and reconciliation with such clarity, compassion, and sensitivity."

–Mark Umbreit, Ph.D., Founding Director, Center for Restorative
Justice and Peacemaking, University of Minnesota, School of Social Work
How to Make Peace with Your Enemies
As you learn about the four types of reconciliation and how to attain them, I Thought We'd Never Speak Again will introduce you to:
Rachel Thomas, who made peace with her sister, as she lay near death in a Utah intensive care unit
Elizabeth Menkin, a Hospice doctor who met with the drunk driver who ended her sister's life
Sara and Tom Brown, who rebuilt a long-term marriage after alcoholism tore it apart
Azim Khamisa, who started a foundation against youth violence with the grandfather of his son's murderer
Kate Gillen, who rebuilt her bond with her brother after a dispute over a will nearly destroyed their relationship
Marc Levy, a Vietnam veteran who became friends with North Vietnamese Bao Ninh, forever changing his concept of "the enemy"
Beth Tanzman, a 67-year-old woman who tracked down her favorite cousin, Marvin Treach, after losing touch with him for 30 years
Armand Volkas, an Oakland drama therapist, who leads workshops that bring together children of Nazis and children of Holocaust survivors
How to Transform Hurt and Anger into Compassion and Love
If there is someone in your life that you are estranged from—and you think you might want to do something about it—you will find support and inspiration within the pages of this book. Once you read it, you will know whether or not you want to seek reconciliation, and what you need to do to proceed.

I Thought We'd Never Speak Again will teach you:
To assess your current situation clearly
To determine whether or not you are ready for reconciliation
The three main obstacles to reconciliation
The critical difference between reconciliation and capitulation
The essential elements of a good apology
What to do when you want to reconcile and the other person doesn't
Why you need to heal unforgivable injuries before you consider reconciliation
Six steps that can change enemies into allies
Why estrangement can sometimes be good
To establish the boundaries that are essential to reconciliation
To reconcile even if don't want to forgive
When it is right to talk about the past and when it isn't
To accept that a relationship is over
The critical distinction between humility and accountability, and how to determine which one is needed
Why "failing" at reconciliation can still lead to personal success
---
"With prodigious love and wisdom, Laura Davis shows us ways to reconcile with our own fear and pain and rage, if not always with our adversaries."

–David Hall, M.D. Family Psychiatrist and Author of Stop Arguing
and Start Understanding: Eight Steps to Solving Family Conflicts

If you or someone you love is suffering over an estranged relationship, I Thought We'd Never Speak Again will provide you with an unbeatable combination of information, insight, and inspiration.
I wish you the best in your reconciliation journey.
In the spirit of healing,

P.S. If you like to leaf through a book before you decide to buy it, you can take a virtual look at I Thought We'd Never Speak Again: