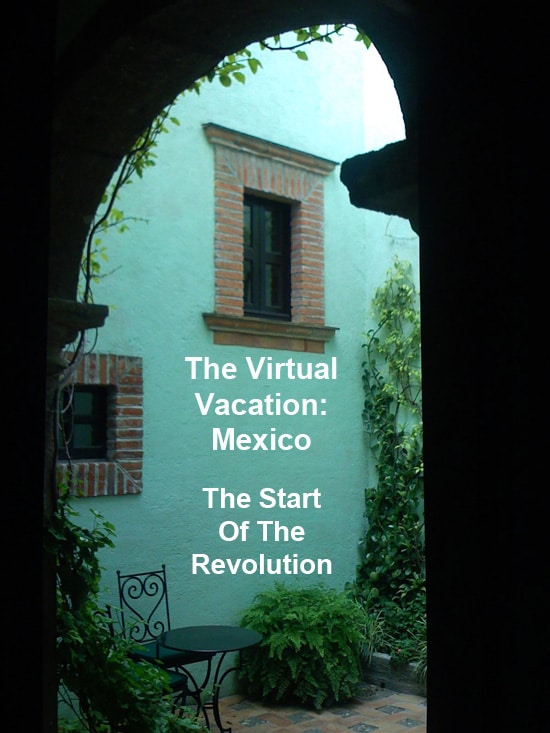 Today, Susan needed to go to Dolores Hidalgo, a small town a little more than an hour from San Miguel, to replace her ceramic water dispenser and its wobbly wooden stand. I went along for the ride and got a Mexican history lesson in the bargain.
The first Mexican Revolution, Susan told me in the car, the one that freed Mexico from Spanish rule, started in Dolores Hidalgo on September 16, 1810 when Father Hidalgo, a Spanish priest, stood on the steps of the church and gave the rallying cry–the grieto—a fiery Spanish version of, "We're mad as hell and we're not going to take it anymore."
Father Hidalgo was one of four men who led the Revolution—and one of the others was Ignacio Allende, whom San Miguel is named for.
September 16th is the Mexican 4th of July, and every year, all the mayors in Mexico stand at a high point in their town square and read the exact words Hidalgo delivered. Then there are fireworks, the crowd cheers, and according to Susan, there's lots of tequila.
Unfortunately, all four instigators of the Revolution were captured by the Spanish and decapitated, and their heads were put in cages on the four corners of the granary in Guanajuato, the mining capital of Mexico—also famous as the birthplace of Diego Rivera. To this day, if you go to Guanajuato, you can see the hooks on the corner of the building where the cages displaying their heads were hung. The heads were kept there rotting for a year to dissuade the peasants from further revolution—but the uprising continued and the Mexicans ultimately won their freedom.
A second Revolution occurred in 1910, with Pancho Villa and the rebels, to establish democracy in Mexico.
As we approached Dolores Hidalgo, Susan pointed out the numerous tile making factories and ceramic stores all along the highway. We stopped at A Mora, a very successful factory on the outskirts of town. Behind the showroom (more like a packing room for exports), we could see the ceramics being hand-painted in the back:
Next door was a showroom full of exquisite tile work:
I took a fancy to this katrina myself. I thought she'd look great in our garden, but she was far too large to take anywhere:
Susan and I continued on into el centro and parked, passing an immensely ugly statue in the middle of town, depicting the four heroes of the Revolution. The outskirts of town were industrial, but as we entered the town proper, all the buildings were one-story with everything painted a different color.
It was like walking into another era. There were no tourists on the streets here, no ex-pats, no gringos. Pushcarts lined the streets, selling fresh pineapple and other fruits, brightly colored juices in large plastic bags, tortillas, toys, glistening eggplants and huge heaps of avocados, tomatoes, and chilis. There were christening dresses, cheap straw hats, roasted corn on the cob.
Ceramic stores were everywhere. I wish I'd been in the market for a sink:
After Susan took care of her business and I bought a few small bowls to bring home, we walked to the zocalo, the town center.
Families relaxed on benches. A young couple strolled by, the woman in impossibly high stiletto heels. A teenager sat across from us rocking out to music on his i-pod while making macramé jewelry. Carts sold brightly colored cotton candy and the whole zocala was rimmed with ice cream vendors. We resisted for the moment and walked on.
The strangest thing was that in this one city block, lined with trees and paths and beautiful wrought iron benches, there were at least two dozen shoe shine men, each with a little one-person stall.
When I asked Susan about it, she explained, "Everyone here wears their shoes out completely so shoe shines are very important." She thought a bit longer and added, "People here save everything. I save saran wrap here. I don't have to. I can afford more saran wrap, but from living here, I realize I don't need to waste what I have."
As we passed another shoeshine man, she continued, "You know that ceramic shop we went to? I take my chipped bowls and plates back there to get fixed. They made them and they repair them for me—as good as new. I've dropped off a dozen or two chipped things and then I come back a week later and pick them up, pay ten or fifteen dollars, and it's like having a whole new set of dishes. I can't believe how wasteful our culture is in the U.S."
We had come upon a giant statue of Father Hidalgo, right in the center of the zocalo. Carved on the side were the words, "al padre de la patria," the father of the country.
After another 100 paces, we came to the church where the Revolution had begun with Hidalgo's famous words.
Susan told me that there had been a huge countdown clock next to the church for the two years leading up to the bicentennial celebration in 2010, and that half a million visitors had swamped this small colonial town.
On our way back to the car, we just had to stop for ice cream. "You won't believe the flavors," Susan told me, and she was right.
There were normal and slightly unusual flavors like vanilla, pistachio, peach, chocolate, mango, rose petal, and limon.  But there was also: camaron con pulpo (shrimp with octopus), chicharoon (pig skin), mole ice cream, tequila ice cream, michelada (bloody mary mixed with beer), vodka ice cream, and elote (corn).
I had a cup of vainilla and beso de angel—kiss of the angel—peach with coconut. We sat on the bench enjoying our ice cream watching the families and young people—and lots of pigeons—all relaxing and passing the time. People don't relax and hang out like this back at home. I know I don't.
It was a perfect warm day with a little breeze. We sat for a while and then headed back to Susan's for a siesta before dinner. And then it was time for me to start getting organized for the start of the writer's conference tomorrow.