This morning in writing group, I gave some instruction in close observation and then sent everyone out into the garden in silence. I asked them to choose one square foot of nature, something they found beautiful (a flower, a kale plant, a turned bed in the garden), and to sit in front of it, observing that one square intently for a minimum of half hour—and then to write about what they saw.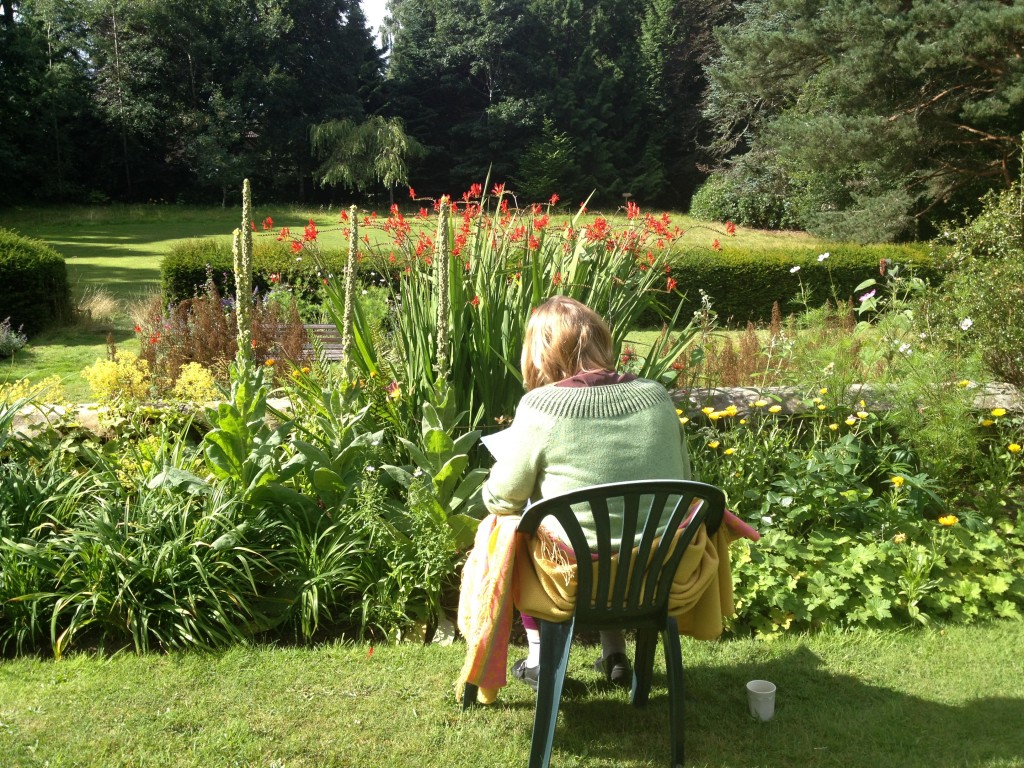 I asked them to remain in silence—not to talk to their fellow students or to any of the workers in the garden so this could remain a private, intimate exercise.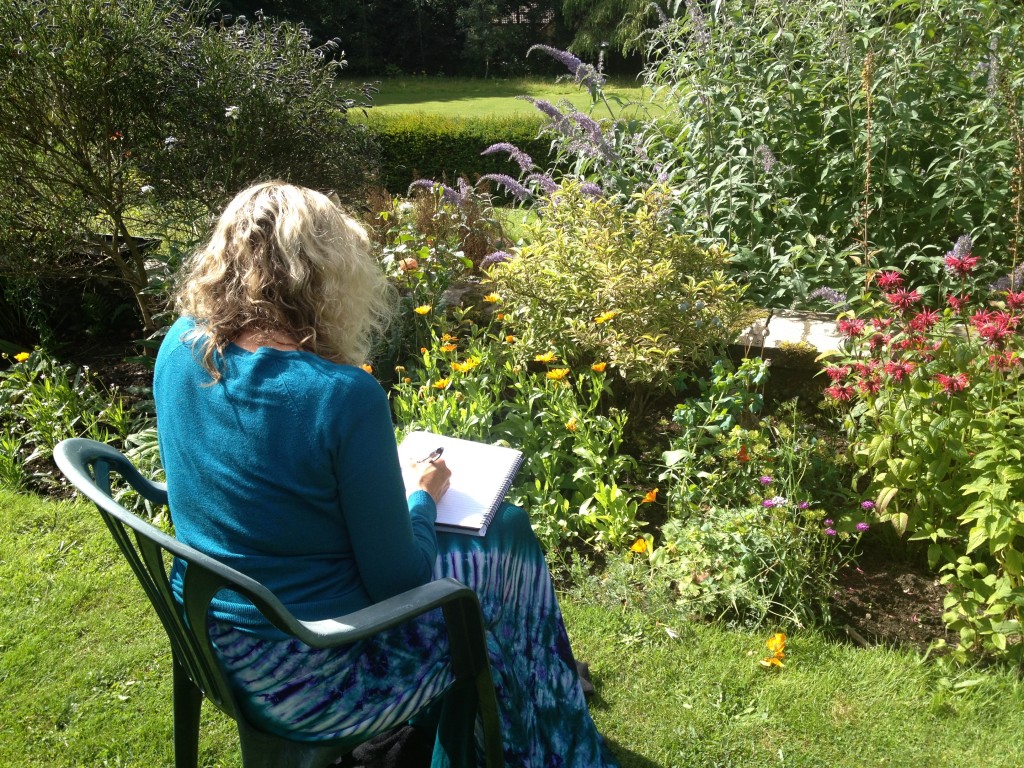 When they came back after an hour, I asked each writer in turn to describe the experience. Here's some of what they said:
"I was in awe at how much I miss in my daily life."
"I loved having the time."
"It was a portal to deeper reflection."
"Everything disappeared but that one square."
"That square, that plant, became part of me."
"I was amazed at how much I saw as time went on."
"It was gratitude that I felt."
Here's a sample of the writing that came out of this exercise. This piece is by Talin Vartanian, who offered to let me share it here with you:
One Hour With One Square Foot
It looks delicate, but look again. The mauve-pink petals are as sturdy as the crepe paper we used in grade four crafts class, the same ragged edges and wrinkled.
It looks like a single, unified bloom, but look again. There are five distinct parts that overlap in a subtle way, creating the illusion they are one.
It looks symmetrical, but look again. The lighter-coloured veins form a map, with lines that tell a story, waiting for the floral palmist to read into its destiny.
It looks feminine, but look again. It has a penis protruding from the centre, erect, white, statuesque, but like no penis I've ever experienced. This one has a textured core, resembling a vertical, velvety cauliflower. (Wouldn't that be interesting?)
It looks like it has a starburst centre, but look again. It's more like an array of bloodshot eyes, regretting last night's one drink too many.
It seems quiet, but check again. This is the sanctuary for the bees, looking for a haven from the chaos of the comb.
It smells of nothing, but sniff again, for the aroma of day-old cut grass.
It looks young and vibrant, but look again. This is a bloom of wisdom, revealing soft wrinkles, like a newborn baby with the face of an old man.
The hibiscus.
This afternoon was free. Some people went into town for an adventure, some napped, some wrote, a couple volunteered around Newbold House, and a group of us took a felt-making class.
This evening after dinner, we had our second writing session of the day. People went deeper than they had before, touching into more raw and vulnerable places. Afterwards we all gathered in the dining room for a coffeehouse arranged by our hosts, Robyn and Geoff—they'd invited a wonderful Scottish folk singer to perform for us. We listened to his music, sometimes singing along, and had wild berry pie. Afterwards, many of us went outside to the side of the Newbold property, where there is a large fire pit, to join in on a going away party for couple of the Newbold workers who were leaving.
Around the fire, I chatted with people from England, Ireland, Scotland, Canada, Pakistan and Italy, while being serenaded by guitar and songs in several languages. One young Italian man set up a series of glasses with water in the firelight and played a lively tune on the water glasses. Then he stood up on a tree trunk and belted out a passionate love song in Italian, his thank you for the hospitality Newbold House has shown him.
The party was still going when I turned in at midnight. It was hard to tear myself away, but I knew I had to get up and work in the morning—that I'd have another writing class to teach.
It was another amazing night in Scotland.