I woke up at 5 AM this morning with a raw throat and a cough, feeling scared. Not that I was dangerously ill with Covid—though I was definitely still SICK—but because I was losing the sheltering cocoon and safety of the group. My plans going forward were not clear. My return ticket to the US wasn't until October 5th. What was I going to do until then?
Back in California, I had purchased a bus ticket to Porto two days from now. I'd even reserved an extra seat next to me up front for an extra 15 euros—I did it so I could set my backpack there, instead of holding that huge thing on my lap for hours, but now, I was glad I'd booked for another reason: no passenger would be forced to sit next to me, masked and coughing.
My plan had been to meet up with my friend Michaela from Brussels at the Porto airport and to spend the next nine days traveling with her through Portugal, a country I'd never been to. I had rented a car in my name, a little mini half-convertible, and Michaela had booked us a couple of Airbnbs. We had some open days, unplanned, in between. This time was to be my vacation from the intensity of being a group leader. While I always enjoy my Write, Travel, Transform trips, I am definitely on duty and working the whole time. I was looking forward to leisurely days with a friend, no real plans or agenda, and no responsibilities.
But now I had Covid, and Michaela didn't want to travel with me until I tested negative. I didn't blame her, of course. No one wants to get sick with Covid and have their life disrupted and derailed.
I didn't want to fly home early for multiple reasons: I couldn't imagine the stress of an international flight home right now; changing travel arrangements at that level felt daunting; and what if I felt better in a few days and could enjoy my final week in Portugal?
But now, suddenly, I was facing the prospect of traveling through Portugal sick and alone, not speaking a word of the language, and I was scared.
I am certainly not proud of the fact that I hadn't had the respect to have prepared ahead of time for visiting this new country. I try not to be an ugly American when I travel, but I am often an unprepared one. I didn't even manage to learn the basics in Portuguese: hello, please, thank you, good morning, good day, where is the bathroom? can I please have the check? I had been far too preoccupied with the Camino and the millions of details involved in bringing a trip like this to fruition. The only thing I did to prepare for the second leg of my journey was rent our car (I love driving little stick shifts in Europe). Otherwise, I just said yes to whatever Michaela, planner extraordinaire, proposed that we do.
You might assume with all the traveling I write about, and all the traveling I do, that I am a seasoned and intrepid traveler, but that is actually not the case. Outside of the US, I have very little experience traveling alone. I've always been with a group or a friend or with Karyn or with family. Internationally, I've only traveled alone once, in Bali. I never did the "strike out with a backpack" thing when I was young—like my partner, Karyn, or our daughter, Eliza, who has traveled all over the world—she has traveling wired. I didn't even have a passport until I was 40. Traveling alone is still an edge for me—though it's one I'm ready to explore. But the prospect of doing it sick with Covid pushed me right over that edge into a frightful abyss.
Fortunately, I spoke with Michaela later in the morning, and she had decided that by the time we're scheduled to meet, I will have had symptoms for a week and that the chance of me being contagious would be greatly reduced. She said she'd be comfortable traveling with me if I mask and we keep the semi-convertible top down. We've got separate bedrooms and will take precautions. Suddenly, I feel safe about going to Portugal again.
After our WhatsApp call, I only had an hour to pack all my things and get out of Hospederia Seminario Mayor, which had a check-out time of 11 AM. I was moving temporarily into a two-bedroom place five minutes away…but had several hours to kill before I could check in there. Luckily, Hospederia Seminario Mayor provides a free baggage storage service for pilgrims, so I was able to set out on foot with just my backpack, leaving the rest of my luggage behind. I would have preferred to crawl back into bed, but since that wasn't an option, I began walking through Santiago toward "a stream with a path beside it" that several people in my group had recommended as a beautiful, peaceful place.
I had missed breakfast and was feeling weak and hungry, so when I passed by a corner café with outdoor tables and saw the waitress walking by with avocado toast AND pancakes with what looked like REAL maple syrup, AND the cast-iron teapots that I love at the Tassajara Mountain Zen Center in Carmel Valley, California, I just had to stop. We had not seen any food remotely like this on the Camino. In fact, every restaurant on the Camino served pretty much the same thing. All the menus were the same. They even looked the same. There were often images of the food on the menus and the photos were identical.
This food was….well, like manna from heaven.
As I got into the queue of people standing in a line on the sidewalk, waiting for a table, the waitress walked by again with…bagels and cream cheese and lox? What? I couldn't believe it. I was salivating.
I told the waitress that I only wanted to sit outside (after looking up how to say it on Google Translate) and that made the wait a lot longer. I was masked and trying to suppress my cough as I stood in a line of what seemed to be primarily locals visiting their favorite breakfast spot. Fortunately, there was a lamppost and I leaned hard against it. It was hard to stay upright for so long.
Next to me in the queue was a young father with two beautiful children, one in a stroller. I did not start a conversation with him, but I thought about how Susan, from our group, would not only have introduced herself, she would already know his name, his children's names, where he was from, what he did for a living, and how the two of them were somehow connected. I would like to be more like Susan! She demonstrated every day on our Camino that friends are everywhere just waiting to be made.
Finally, an outside table came free, and it was the perfect table for me. It was by the street corner, at least ten feet from anyone in line and far away from the closest table where people were eating. It felt like a safe place to take off my mask and eat.
Though I have to say, moving through Santiago and all along the Camino, as well as through airports and everywhere else I've been since leaving home, I've seen very few masks except in our group, and there are TONS of people coughing everywhere. People with Covid moving through the world taking zero precautions is ubiquitous. The altruism of not infecting others has largely disappeared.
Once I got my table, I had a panoramic view of the street and a great opportunity to people watch: men and women in running gear, on bicycles, pushing kids in strollers, walking dogs, holding children's hands, carrying shopping bags. I saw a few pilgrims, but mostly it was locals, just a ten-minute walk outside of the Cathedral area, which is always teeming with pilgrims and tourists.
When it came to ordering brunch, I was challenged. It was one of those QR code menus that you read on your phone, and it was only in Spanish, and it was incredibly tedious to memorize each item on the menu, then go back to my home screen, then to Google translate to try to figure out what each item was. I really wanted those pancakes, but when I looked up pancakes in Google Translate, the translation was "paqueques" but that word was nowhere on the menu. But finally, I was able to communicate what I wanted to my waitress, and pretty soon I had my pancakes, fresh yogurt with berries, and black tea with honey. I never got the milk for the tea. That's the thing about ordering in another language. You have to just accept what you get. You can't make special orders like, "I'd like the onions on the side," or "Do you have oat milk?' You just do your best and eat what you get, even if it's not what you think you ordered. I find that liberating.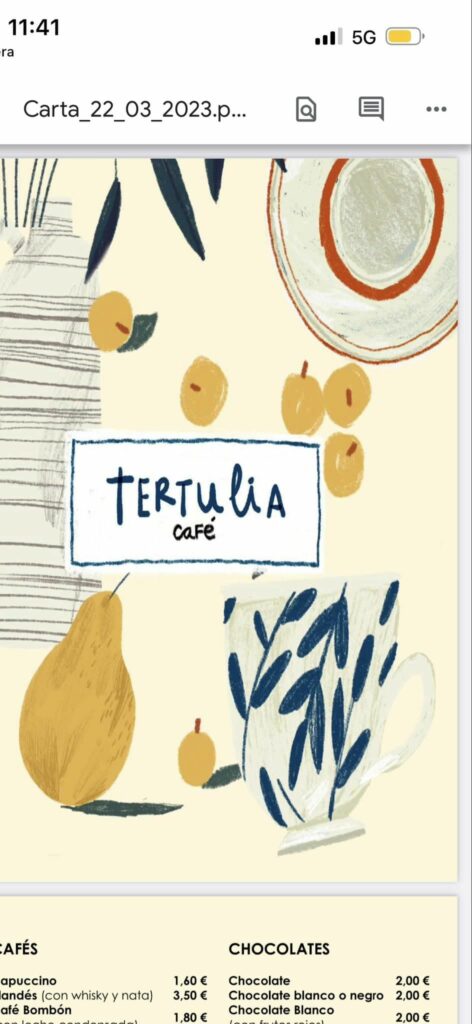 For me, my Camino has been about giving up control—in small ways, like tea without milk, and in big ways, like not being able finish my walk. Not being able to lead my group to the end. Having the humility and grace to rely on my partners to take over and replace me. This has clearly been the message of my pilgrimage: loosen the reins and let go.
I sat at my little table resting and watching the world for a long time. I ordered a second course: a cup of chai (really! Chai….never expected to see that here—it was delicious and creamy) and a piece of carrot cake to go—now my dinner. One of the lovely things about Spain is that I knew they'd never encourage me to leave. Until I said, "La cuenta, por favor," I could sit there as long as I wanted. "Turning over the table" is not a concept in Spain; "lingering over your meal" is.
Across the street from where I was sitting, I noticed the green cross that designates a pharmacy. Good! I wanted vitamin C and D for healing, and I was running low on Tylenol. I managed to get what I needed there and felt proud of myself for fulfilling a whole set of basic needs: I'd eaten, used the bathroom, and gotten medicine. I was successfully moving myself from one location to another.
Using Google Translate, I asked the waitress if there was a stream nearby, and she vaguely pointed me to an alley across the street. I shouldered my pack and headed that way. Within ten minutes, I found it running through an urban park. Locals walked and biked alongside the flowing water. The whole scene reminded me so much of West Cliff Drive back home.
The stream looked cool and refreshing; if I'd come across it five days earlier, I would have unlaced my shoes, peeled off my sweaty socks and put my feet right in it. I swallowed and my throat was still raw and painful. I kept coughing and walked on, noticing the many shades of green before me, something I wouldn't have noticed in quite the same way if it hadn't been for Brenda's classes. Despite still feeling sick, I was grateful for day, for my solitude, and for the small victories that had been mine and mine alone.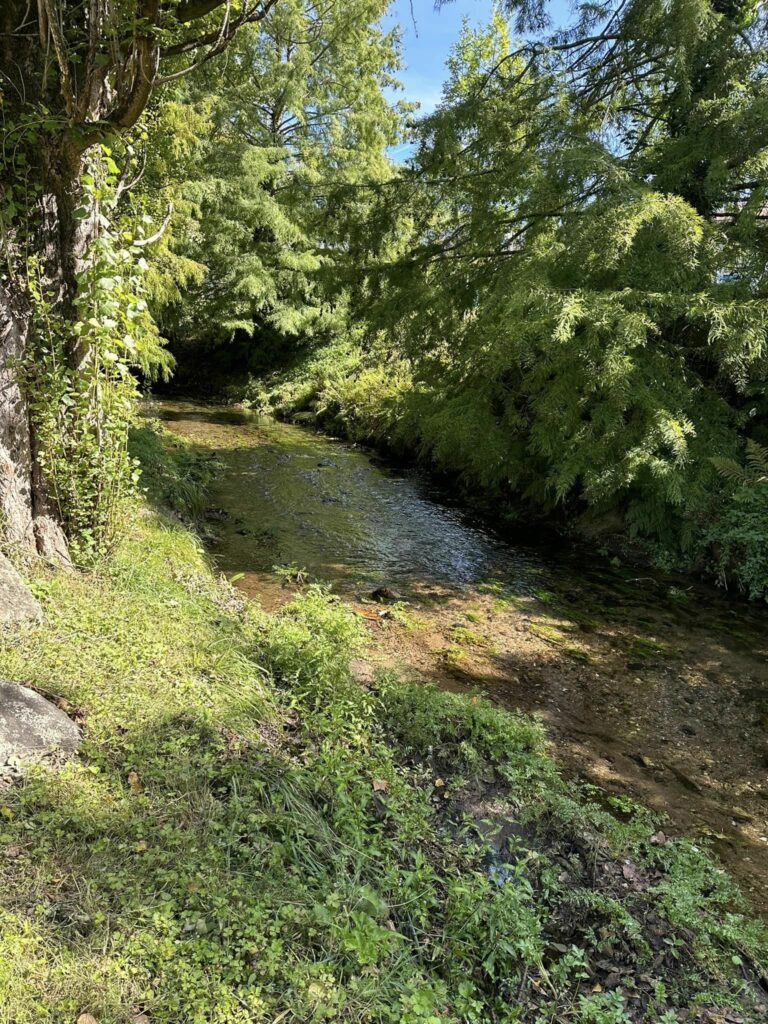 I sucked on a ginger chew and kept walking. It was almost time to check into my new digs.