I have always been a huge fan of hot water: saunas, hot tubs, sweat lodges, steam rooms, steaming bathtubs filled with bath oil, scented Epsom salts or both. Relaxing in a hot bath at night is my top tier coping mechanism for just about every stress life has to offer.
Twenty-three years ago, we had a house fire at our current house and had to move out with a three-year-old and a seven-year-old for four months while our home was being repaired and repainted. Once we moved back in, my job was to spend our fire insurance settlement. I'd fought the insurance company and gotten the maximum payout we were entitled to for our belongings—we had to replace almost everything—smoke damage. As I recall, it was a really fun shopping spree.
What I remember most about moving back into our house was how sparse and spacious it felt. There was empty space on our bookshelves, cupboards that weren't full to bursting, just enough stuff, but not too much. There was no extra clutter. That sparseness lasted for a few years, but then, as consumers in a capitalistic society, we started to slowly accumulate again.
One of my best choices after the fire was to use part of our insurance settlement to redo our back bathroom. A prior owner, who didn't know what he was doing, had put in a shower that leaked in a dingy depressing bathroom none of us like to use. Rather than replace all the linoleum in the kitchen (we patched it instead), we took that money, ripped out the shower and redid the back bathroom instead.
Since it really mattered to me, I took it upon myself to choose the ultimate bathtub. I didn't just want an ordinary bathtub, the kind where my chest and knees would be out of the water, a very unsatisfying experienced. I wanted a great bathtub.
So, I went to a huge bathtub emporium
somewhere in San Jose, California, a bathtub warehouse that took up a whole city block. I spent an entire afternoon there sitting in every bathtub in the store until I found a beautiful long deep soaker tub that would enable me to immerse my entire body in hot water. We had it installed without an overflow valve against our plumber's advice, but that was a great decision, too. Because now, you can really fill it up as high as you want to. (And if you don't pay attention, you can also cause a terrible flood, which has happened a few times in 20+ years).
Our giant tub has been a favorite place to relax in our house ever since. I stockpile Epsom salts, collect candles and love to take a steamy hot bath with the window (at bathtub level) cranked open so cool air can blow in on my face while my body is in the hottest water I can stand. It is my idea of heaven.
Since my breast cancer 17 years ago, my joints have ached on a regular basis, and hot water became even more important to me. I just love hydrotherapy. So, when I set off for the Camino several weeks ago, I did so knowing that I would be walking more than I ever had, for more days in a row than I ever had, and that no matter how sore and tired I felt, I would not have a hot water and epsom salt solution at the end of the day.
Truth be told, I did just fine. A hot shower was good enough. I massaged my knees and feet with arnica and herbal salves each night. And I did well. Although I love hot water, I discovered I don't have to have it.
But now, in my last days vacationing and recuperating in Portugal, Michaela and I decided to book a couple of nights at the Grande Hotel de Luso, in Luso, a small town famous for its waters: both the thermal kind and its drinking water. People come from all over Portugal to fill their water jugs in the fountain in the middle of town.
When we were considering this hotel, I read a bunch of reviews on Trip Advisor and struggled to find a way to translate their website from Portuguese to English. It seemed that access to an indoor pool and an outdoor pool came with booking our rooms. And next door, there was a thermal spa. Sounded like it was worth a try.
We drove into Luso this morning on a lot of small windy country roads, one highway, and a dozen or more roundabouts. The town immediately charmed us, and the hotel was grand indeed. The indoor pool had wall-to-wall windows and a great temperature, probably about body temperature, and was so full it lapped over the tile floor. There were sturdy railings which were great for Michaela, who is getting over a severely broken leg, making it as safe place for her to swim and exercise. The outdoor pool was even vaster: a huge Olympic size pool with diving blocks, all set up for racing, and three diving platforms, all the way to 20 meters. When we arrived, there was just one family of four enjoying in the indoor pool and no one at all at the outdoor pool or on any of the many lounge chairs and umbrellas surrounding it.
We had arrived in heaven.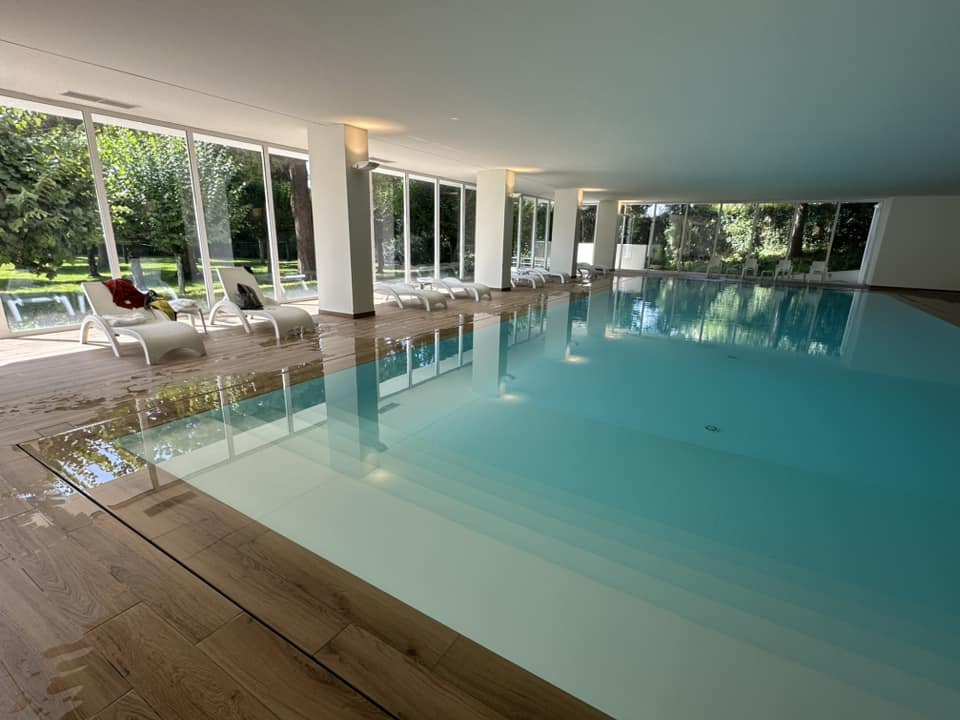 I made an appointment for 3:20 for what they call "a circuit" at Termas Luso, the spa next door, established in 1852. Michaela had to pass on joining me—too much risk with a slippery floor and stairs for her stage of recovery. So, I booked a solo spot for an hour and a half.
The first thing all the reviews had told me, and the woman at the desk reiterated, is that bathing caps are required. So, I paid 5 Euros for a Hotel Lusa bathing cap to cover my two inch long hair. I brought my cap, my credit card, my bathing suit, my hotel room key and a small notebook and pen down to the hotel desk and asked for directions to the spa. I was told that there was a special underground passageway between the two facilities—which I supposed would be quite handy on a cold winter day—which this was not. We continue to have magnificent weather day after day that feels much more like mid-summer that the beginning of October.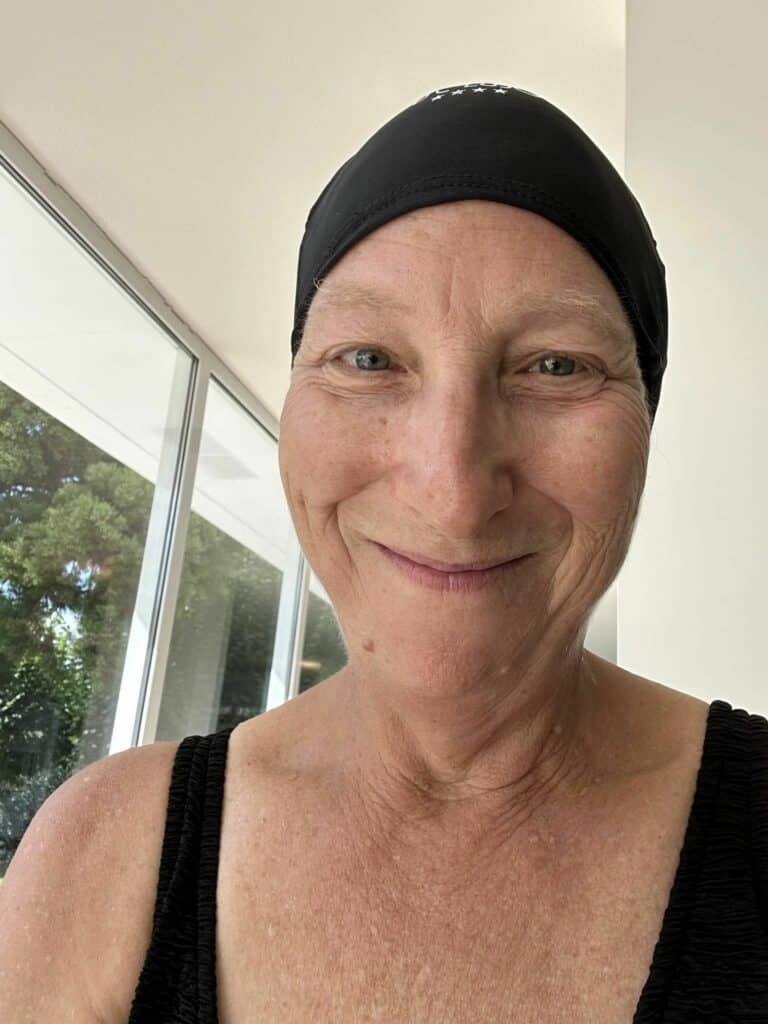 I headed down a long corridor as directed, and then through a long heated passageway that felt like sauna in and of itself (see photo)—the railings were actually hot! Then there was a second passageway with white couches to recline on, which finally opened into a room with a beautiful sculpture—maybe a relic from the original spa in its heydey?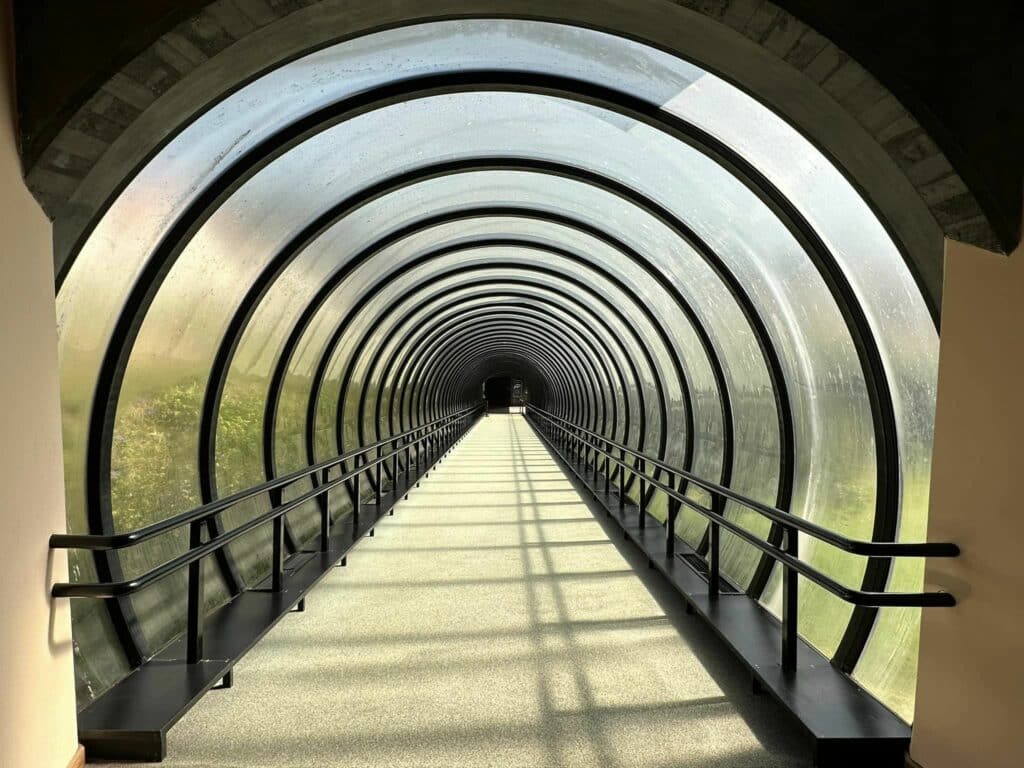 The receptionist at the spa desk had me fill out a health questionnaire in English—did I have heart trouble, thyroid issues? Was I pregnant? In other words, was I going to pass out in their facility? I said I was healthy, the receptionist swiped my credit card for 43 Euros (I got a discount because I was staying in the hotel) and directed me around the corner, where an attendant handed me a white terrycloth robe with THERMAS LUSO 1852 embroidered on the pocket in blue thread. I was instructed to wear shoes at all times, except when in the pools. I had brought my waterproof sandals from the Camino for this purpose. I was given a locker key and sent to the women's locker room where I stashed everything but my robe, y locker key and soon to get soggy little field notes notebook. I wanted to record every detail.
The woman who had given me my robe gave me a tour of the facility. Her English was minimal, but far greater than my Portuguese, and I understood everything she told me about the rules. Basically, there were a series of rooms with different water and heat treatments, and you could go in and out of all of them as much as you wanted for your allotted amount of time—in my case an hour and a half.
The décor was stark black with white accents and the lighting was dim—or you could say restful. The first of the many rooms I had to choose from was a large traditional sauna with a bucket of water and a scoop that had triangular wooden headrests if you chose to lie down on the wooden benches. Probably a dozen or more people could easily fit in the room, but when I went in, I was the only one. That was my first stop until I built up a good sweat.
Next to the sauna was a square silver table with a long circular metal tube coming down from the ceiling above it. In the square metal trough that made up the surface of the table was a pile of crushed ice which was dropping down through the tube. When she oriented me, my guide gestured that I was supposed to rub ice all over myself when I came out of the sauna. "Hot, cold, hot, cold," she told me, and I let her know I understood. I remembered this same practice from a German spa I visited a few years back—there was a bucket of ice in the sauna and all the old paunchy German men were rubbing themselves down with it in the extreme heat. So I did the same.
The other hot room in the spa was the hammam. I knew hammams from Turkey and I was imagining someone squeezing bubbles all over me from a fabric tube, but this hammam was different–basically just a wet steam room without the other bells and whistles. The room was oval shaped with black tiles, gleaming wet on the walls, and white tile inset benches ran all the way around the walls. Everything was wet and it was very hot. I could only stay in for five minutes at a time, but it was wonderful. My guide also let me know the hammam was scented with eucalyptus. Breathing it in seemed like the best possible thing for my lungs after my bout with Covid. It felt fantastic.
While I was sitting there, an older couple came in, both with soft bodies and large rounded bellies. I couldn't identify the language they were speaking, but I loved hearing their voices together. Since I couldn't understand the words, I honed in on the intonation and the rhythm of her higher feminine voice melding with his lower masculine speech. There was such a feeling of warmth and comfort between them. Somehow not understanding what they were saying led me to tune tone and modulation much more clearly than if I'd been actively eavesdropping on their conversation. They could have been discussing their neighbors or their mortgage or their granddaughter or complaining about yesterday's sermon at church, but all I heard was tumbling intonations that spelled out love.
Next to the hammam was something called the sensation shower. It was small room you stepped into with a very large showerhead way up on the ceiling. There were three buttons on the wall. When I pressed the first one, I was misted with eucalyptus and peppermint for the respiratory system. When I pushed the second one, I got a hot shower with a strong stream of water. And the third button started healing lights pulsing—yellow for peace of mind and red for energy.
Exiting that room, I had to step into a trough that washed my feet before I could enter the huge multifaceted pool room that had three main spa areas curving around a giant room. The walls were made up of beautiful tiny turquoise and white tiles, and the water was chest-high throughout. It wasn't hot; it was comfortable—comfortable enough that you could stay in for a very long time without giving it a thought. The instructions were to leave your slippers at the top of one of the sets of steps leading down into the pool and to hang your white robe on a hook. And to be careful of the huge showerheads that loomed over one wall in the pool. "Don't get too close," my guide told me, "They can hurt you." I nodded vigorously. I didn't want to get hurt.
After I'd visited all the other rooms several times, I walked past a couple laid out on two cushioned white recliners in the main passageway and headed into the chamber with the pools. The first thing I noticed, with delight, were four silver metal chaise lounges along one wall that were underwater with headrests above water and arm grips to keep yourself in place. I slid onto the smooth silver surface. I'd never seen anything like it. Then I realized there was a button behind each silver chaise and when I pushed the button behind mine, I was suddenly immersed in a sea of bubbles—jets had sprung up all up and down my body—and I had to hold on to stay put. I couldn't stop giggling.
My next stop was a curved wall with a tile bench that had my chest just barely poking out of the water. There was a button behind me there, too, so I pushed it, and suddenly I was sitting in an intense personalized water jet experience with water boiling up all around me that I could aim absolutely anywhere I wanted. I stayed there for a long time, savoring the pleasure of that pummeling underwater spray as colored lights: green, red, blue and violet flashed underwater, some kind of hydro-color therapy? It was hard to relinquish my seat (and no reason to; the whole facility only had half a dozen people in it while I was there) to move on to the next region of the giant pools, but then I started watching a couple in the next area standing under the huge showerheads I'd been warned about. They seemed to be surviving the assault. I waited my turn, stood under the giant giraffe of a sprayer, and when I pressed the nearby button, an intense stream of hard water began pounding my shoulders and the back of my neck. I stood a distance from the spray head, as I'd been warned, but only lasted a few minutes under the intense pressure.
I climbed out of that pool and went to the last section I hadn't explored yet. It was down a short flight of underwater steps that led to a tile corridor, just wide enough for me to hold on to grab bars on either side, about 15 feet long. I couldn't figure out what this tile corridor was for, but I waded down to it, and could see three smooth square metal panels embedded on the floor of the pool. I walked down the corridor to the first metal panel and stood on it. The water was chest deep. Nothing happened. Then I saw another of those buttons on the side. I pushed it. A simmer of water began to arise from the panel under my feet, kind of like the slow simmer I like to use for soft boiled eggs—enough to cook the egg, not enough to crack the shell. The "simmer" lasted for about fifteen seconds, then suddenly, I was in a cauldron of rapidly boiling water—only it wasn't hot—it was cool—but it was so violent, I had to hold on to the grab bars. It felt terrific. And again, I couldn't stop laughing. Who thought up this place?
By the time I emerged from all the stations of the pool, I was a limp noodle. I had no idea how much time had passed, but it felt like I'd been there far more than an hour and a half. But no one had come to get me, so I went back to the sauna and the hammam one more time, but this time, I scooped up a handful of ice and shoved it down my bathing suit top so that I could feel it slowly melt as the heat in those rooms intensified.
Finally, even I had had enough. I went into the "normal" shower, washed my hair, wrapped my white terry robe around me and went through the glass door marked REST ROOM which was dark and housed four cushy white vinyl chairs that tipped back into cozy recliners. I closed my eyes, utterly sated, gripping my water-speckled glasses in one hand and my soggy Camino field notebook in the other.
I'd had three and a half weeks of heat and water treatments all in one afternoon.
That's when my attendant came looking for me. "Laura, it's the end. Thank you!"
I climbed off my white throne and made me way out to the desk where I was offered a choice of plain, lemon-flavored, or red fizzy water. I drank down the lemon water, returned to the dressing room, peeled off my wet robe, packed up my things, and walked back up the heated corridor to the hotel where I found Michaela relaxing by the huge outdoor pool. She'd gone foraging in the village and come back with hummus and bread and some fruit, which I happily devoured.
Now, I'm lying on my hotel room bed, my body completely relaxed as I write these words. We're here two blessed nights and this is the first. I'm going hiking tomorrow in nearby Bussaco Woods—it seemed fitting to end this trip with another hike—but I booked one more visit to the spa circuit for Wednesday morning, our last day here, my last full day in Portugal.
What a great way to end a long trip and pamper my body after an unexpected illness.
I only hope you write down the name of this place: Grande Hotel de Luso and Termas Luso and make it here one day. It is definitely worth the visit.