After wandering down through all nine levels of Borobodur, Roy said we could either stick with him or go off on our own, meeting back at our bus in an hour. I immediately opted for my own freedom of movement. I love groups, but there are times I just want to move on impulse inside my own skin, to not be tracking other people's movements, accommodating other people's needs or engaging in conversation. I wanted to just see what the next hour would bring. Maybe I'd find a quiet place and start my blog post. Maybe I'd just wander. I took off and headed down the steps, making my way against the tide of humanity surging up to climb the steep steps up to the top of the temple.
Before I'd gone ten yards, two young girls wearing white uniforms and hijabs came up to me, smiling and shy, and started a conversation. Once we chatted, they asked if I had more time to talk. At first, I thought maybe they were selling something or trying to convert me, but their sweet ways and gentle voices quickly disarmed me. Their names were Umi and Ayu. They were both sixteen years old and in high school—boarding school—and their assignment was to be at Borobodur for a week and to practice their English with visiting tourists.
Well, I definitely had an hour, so we went over to a bench and began to talk. They asked if I'd ever been to Jakarta (no), asked me if I'd eaten guleg, a Javanese traditional food made from shredded and cooked jackfruit—no, but after meeting them I had it for breakfast and it was delicious and sweet. They told me, "We like sweet foods and not just for dessert." They told me about the best beach in Central Java—Parangtritis, but I'm afraid I won't make it on this visit.
I was curious about their lives as young Muslim women in Indonesia and asked a series of questions to try to ascertain how circumscribed their lives were and how much freedom of choice they had. I tried to find out if they could fall in love and choose their own husbands, but they didn't understand my question, no matter how many times I rephrased it. So, I changed the subject: "What do you want to do after high school?"
"Study. Study first. Then get married."
Umi wants to be a designer. Ayu said, "I want to have a life like my father. He's a traveler and I like to travel." She wants to go to Egypt for University to study Arabic. I told her my daughter has studied Arabic in Morocco and in Beirut and that she was going to move to Jordan for a job speaking Arabic. This got Umi very excited. We talked about Modern Standard Arabic and the Amiyah dialect, which she wants to study. But, she said, her mother says she can't go. When she learned that we'd allowed our daughter to go, she looked at me earnestly and said, "Maybe you can give me some advices on how to talk to my mother?"
Her father was for idea and I thought maybe he could influence her mother. And that she can express how much she wants it. "And I can pray," she added.
We talked about how kids in the US don't always do what their parents want them to do, and how people often live far from their children—and how parents don't always dictate their children's lives and choices.
Umi and Ayu wanted to know about my family. I told them about my three children and what they do. Then they asked about my husband. I said, "I don't have a husband."
Ayu looked at me mournfully and said with great sincerity, "I'm so sorry."
"It's okay," I said, and then wondered how far to take this conversation. I decided to go for broke. Would these girls ever meet another lesbian? A lesbian mother? "I have a wife," I said.
They both looked at me completely blank as if I'd said, "I'm really a zebra and I live on the moon." We moved on to other topics.
I found out that not just rich kids go to boarding school in Indonesia and that you don't have to be a top student to get in. I asked how often they got to go home and they said, twice a year—in December and May. "If we really miss our families, we call them and say hello. Sometimes, we cry from missing them."
They told me that there were 54 other girls at Borobodur this week doing the same assignment and that they always go out in pairs. They walked me over to my meeting place with my group and there was Melisa from our group, talking to two other teenage girls with the exact same white uniform and hijab. When we got back on the bus, all six of us had had delightful encounters with these beautiful young women, a real highlight in our day.
You never know who you're going to meet at Borobodur.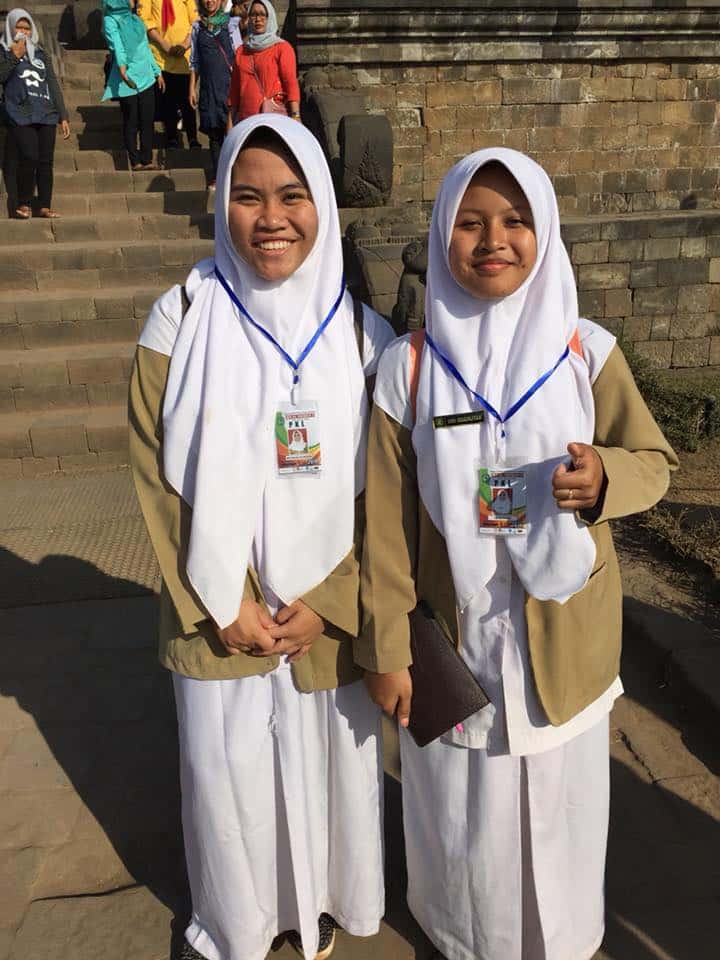 Umi and Ayu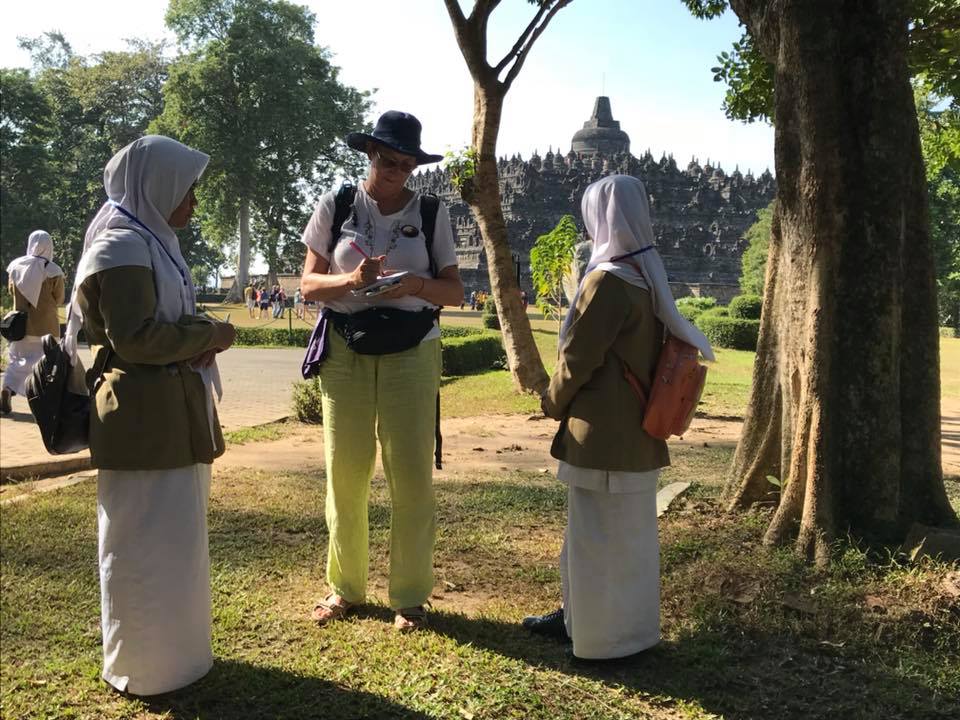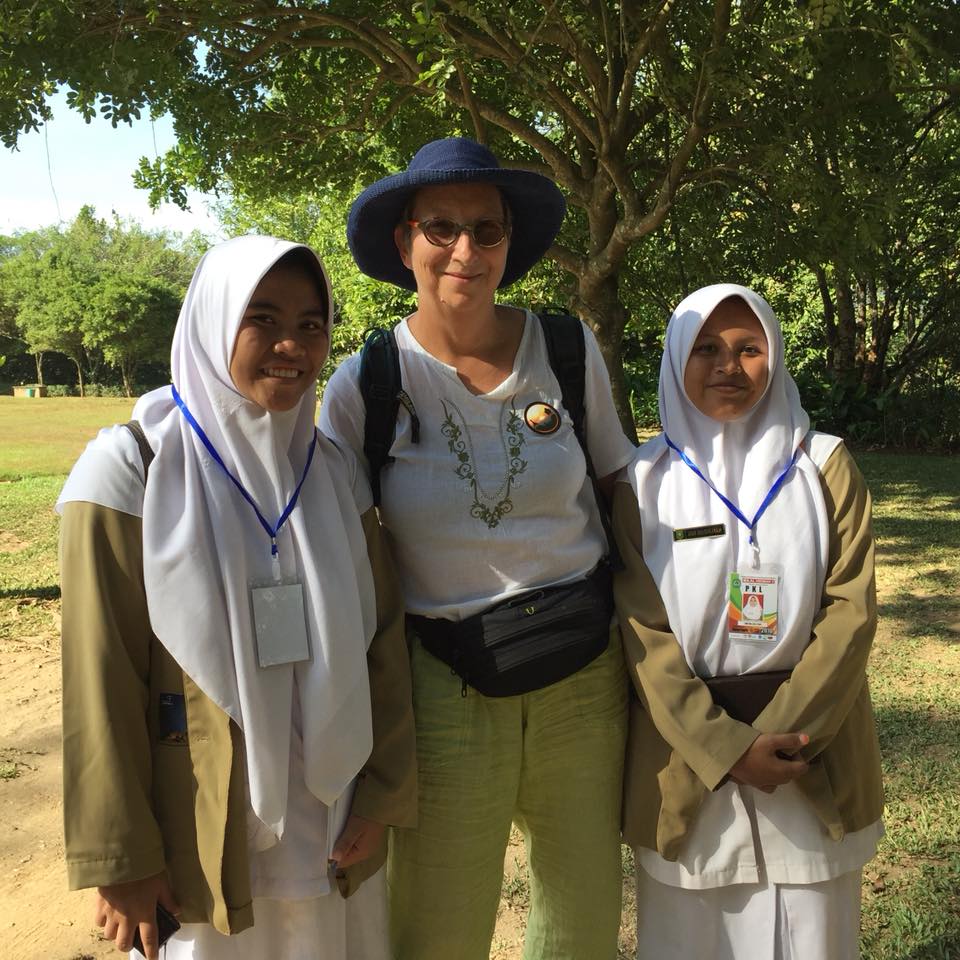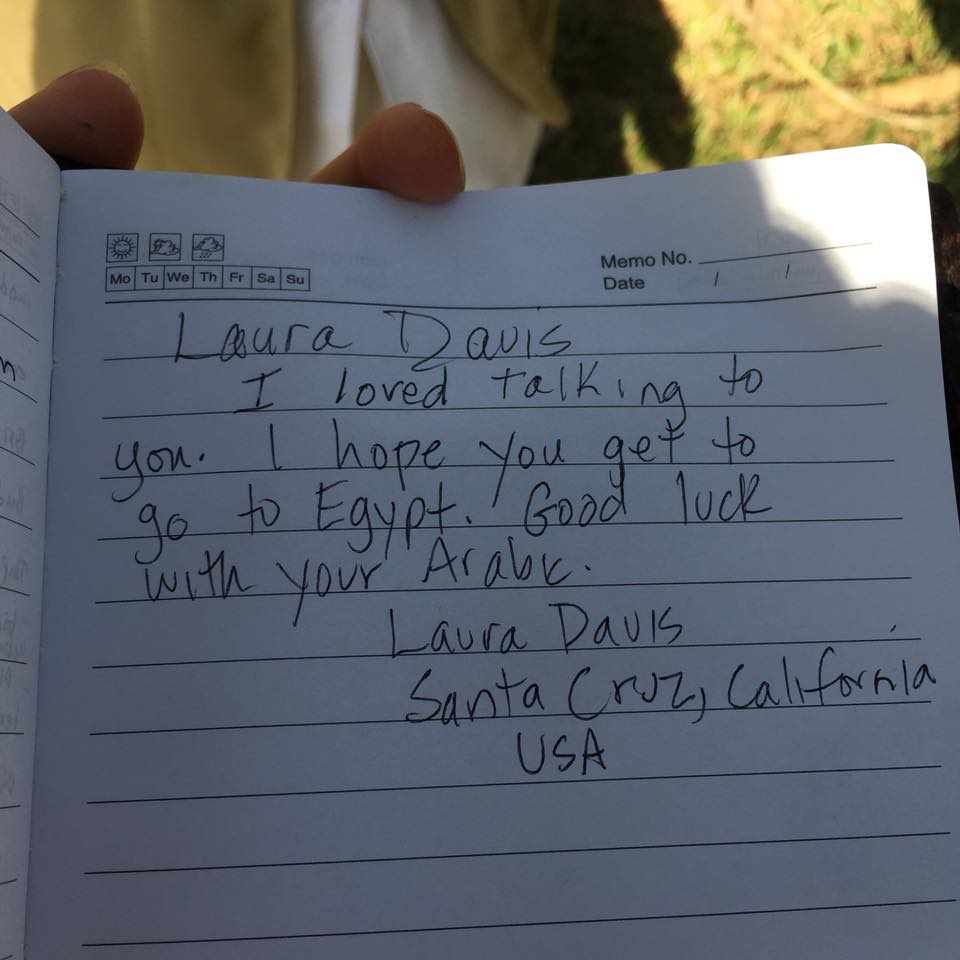 They each needed me to write a note in their notebooks as proof of our conversation.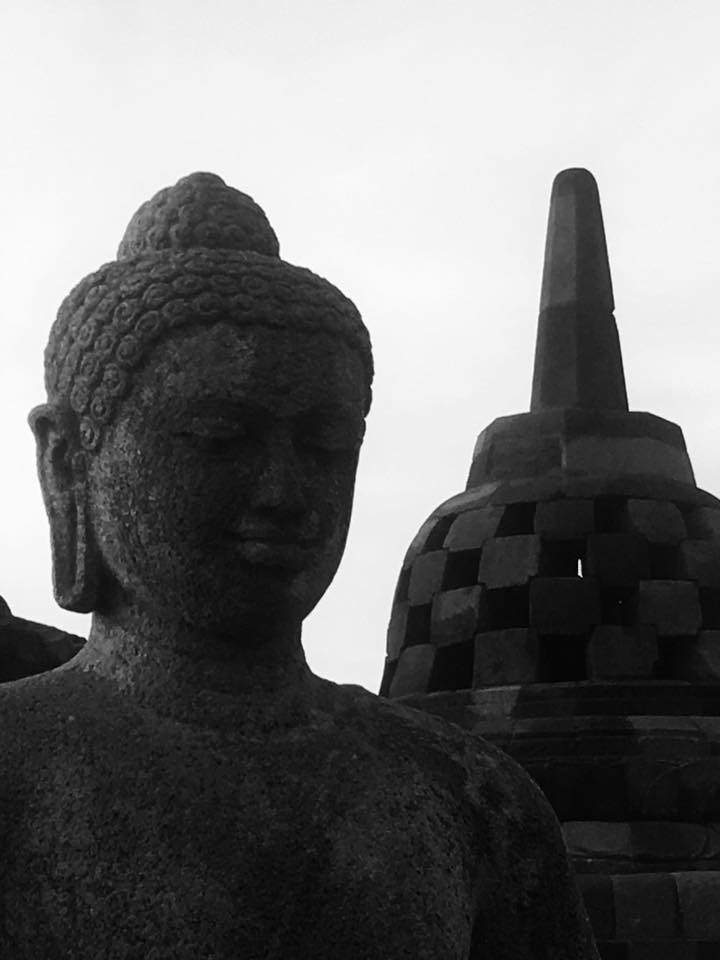 This conversation wasn't what I expected when I came to Borobodur.