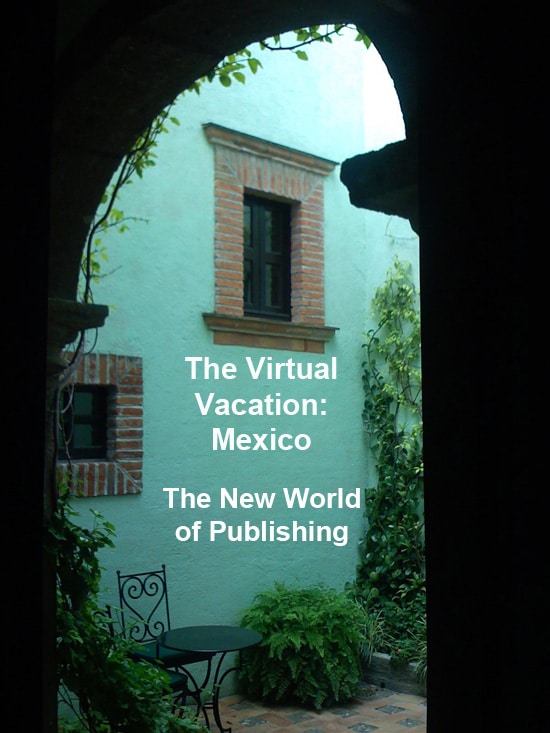 The San Miguel Writer's conference, in its ninth year, attracts writers from all over Mexico, the United States, Canada, and this year included participants from England, Australia and Morocco. This year, there are 300 full conference attendees, and some of the keynote speakers draw as many as 900 people.
There are workshops on everything from travel writing to playwriting, from how to find an agent to how to make characters come alive, from young adult novels to book promotion, and so much more.
This morning, I attended a panel on the new era of publishing, covering everything from traditional publishing to do-it-yourself and everything in between. The panelists described five types of publishing, all continually morphing and changing as "the industry" goes through incredible transformation. Everything in publishing has been in flux for the past ten years and that constant flux is continuing today.
Since so many of you reading the blog are aspiring authors, I thought I'd focus on this panel today.
Here's a brief summary of the five types of publishing that were discussed:
1. Traditional publishing: Until recently, traditional publishing was the gold standard and few writers were willing to consider anything else. In traditional publishing, you as the author find an agent, the agent finds a publisher, the publisher provides you with an editor, designs your cover and the look of your pages, copyedits the book, prints it, distributes it, and promotes it. (Actually in all forms of publishing, even traditional, you're the one who promotes your book).
Your book skyrockets to the top of the New York Times bestseller list, and the next thing you know, you're on Oprah, you get rich, and you live happily ever after. That's every writer's fantasy, but in this day and age, it's a fairy tale.
One of the panelists, April Eberhardt, a "literary change agent and author advocate", explained, "It can be a long painful journey to take an author who's wedded to the idea of a traditional publisher to the point where she will consider alternate routes." But alternate routes exist and that's what this panel was about.
2. Self-publishing: Do-it-yourself soup to nuts. In this scenario, you do everything yourself. You retain full control, but in order to do a good job, you need to know or learn every aspect of the publishing business. You edit your book, you design the pages, create the cover, negotiate with the printer, distribute the copies, and all the rest.
3. Partner publishing: You pay a company to publish your book for you–they edit it, design the cover, and get it printed. Companies offering these services range from ethical and solid to fly-by-night companies who don't care about quality and just want your money. If you're going this route, be sure to vet the company thoroughly.
4. Assisted publishing: A menu approach where you work with a company who provides services for the aspects of publishing you're weak in. For instance, you may be capable of editing your book yourself, but you need help with marketing or your cover design. You buy services on a piecemeal basis. And in some cases, you work with a coach who helps bring your manuscript to the point where it's strong enough to be published.
5. Hybrid publishing: Just what it says—a hybrid of the above. You publish some things with a publisher and some on your own.
Another one of the panelists, Stephanie Bennett Vogt, told her publishing story, one I thought worth sharing here with you. Stephanie wrote a book called Your Spacious Self: Clear the Clutter and Discover Who You Are and she was determined to get it published by a traditional publishing house. She had interest from several agents, but then came the question, "We love your book, but what's your platform?"
For those of you who are uninitiated to the publishing world, a platform is the basis on which you demonstrate that you already have a huge number of followers eager to line up to buy your book. Unfortunately, most unpublished writers are like Stephanie and are caught in a classic catch-22: they're told they can't be published because they don't have a platform, but until they have a book, it's very hard to create a platform.
For Stephanie, her lack of a platform killed her dream, but then she regrouped and decided to self-publish her book. "I learned everything from soup to nuts–how to edit, how to lay out a book. Then I started getting teaching and consulting jobs. My book was like this gigantic business card and it really worked for me. I got to control how my book came to be."
Six years later, she got a call from a traditional publisher who said, "Your book is selling really well. We'd like to pick it up."
When she got that phone call, Stephanie described her dilemma like this, "It was like going through infertility, grieving for the pregnancy that wasn't going to happen, then adopting a baby, and then getting pregnant. It was a total paradigm shift."
Ultimately, Stephanie negotiated a deal that worked for her with the new publisher—and her book was rebirthed. "It wasn't the experience I thought I wanted, but it led me to feel empowered."
Another panelist, Betsy Graziani Fasbinder, was able to get an agent, but found that the agent wasn't being skilled or effective. She'd seen how much work it was to self-publish by watching her friends. "And I'm a little bit lazy," she said.
Betsy worked with SheWrites, a partnership press to publish her novel Fire & Water. "For me it was perfect. I paid money at the beginning for their skilled, ethical services, but it was less than my friends were paying for their self-published books. I wanted to work with a press that had a curating process, where a professional would say to me, 'Yes, this book is good enough to be published.' I wanted the prestige of a curated book, and I also wanted to work with people had expertise in the skills I was lacking."
Betsy retained all the rights to her book. "I started making money right away. I could pay myself back right away. And when I opened that box and saw the cover that I had collaboratively designed with the experts who kept me from making a terrible mistake, I cried."
The fourth panelist, Brooke Warner, is the founder and publisher of SheWrites, the press Betsy worked with. Brooke came from a background as an editor in traditional publishing. After a decade in two different publishing houses, she felt like the barriers to entry for new writers was just too high. "Editors needed to be obsessed with an author's marketing plan even with the greatest, best written books."
The last straw for her came when she brought an amazing book to her editorial committee. "They asked about the platform and I said the author didn't have one. And they said to me, 'If you want to stick your neck out for this author, go ahead, but if it doesn't do well, it's on you.' My love affair with traditional publishing ended at that moment."
Brooke founded SheWrites Press in 2012. Two years later, it has 65 signed authors and 30 books published. Of these authors, only 7% come in ready to publish—they're track 1. "If you're not ready, we put you on a track. Track 2 means you just need a copyeditor. Track 3 means you need a developmental edit—someone who is going to work with you to get your book ready. Our goal is to have a wonderful product that rivals a traditionally published book."
For these do-it-yourself and partnership models, the cost is $2000 and on up.
These five models are not the only models out there in today's ever-changing publishing landscape. One of the most interesting suggestions I heard at the panel was to spend a half hour a day Googling independent publishing, new publishing models, and self-publishing and you'll find new things cropping up every day. Some of these businesses care about authors and the quality of their products and some don't. So carefully vet anyone you're going to work with. But move forward. Don't keep waiting for someone to discover you.
Brooke's final words: "Get the book published. Don't be stuck in the place that there is only one right way to get published. There are so many right ways. You have to find out what the right way is for you."