Wouldn't you know it? My first blog post practically wrote itself before we even checked into our Eva Air flight to Taipei.
Joanie and I chatted our way through the check-in line and as we approached the front, we reached into our respective purses for our tickets and passports. I grabbed mine and when I looked up, Joanie was holding her ticket and rooting around in her purse with a very concerned look on her face. I recognized that look and knew it could only mean one thing: her passport wasn't where it was supposed to be.
I found a still place inside me because panic never helps at moments like these. I dragged my duffle bag out of the pathway, motioned for people to pass us in line, and waited. Joanie searched through her purse a second time. Then she opened her suitcase and started digging through it. Finally, she looked up at me. "I stopped at my office. It was the last thing I did before we picked you up. I took a photo of my credit cards, back and front, my license, front and back, and the last thing was my passport. I think it's in the copy machine."
Joanie manages a dental office in Scotts Valley, an hour and ten minutes from the San Francisco airport. It was 9:20 PM. Our flight was boarding at 11:45.
"Do you want me to look through your purse?" I asked. Joanie handed it to me as she searched through her suitcase a second time. But her passport wasn't in her suitcase. It wasn't in her purse. It wasn't in her things.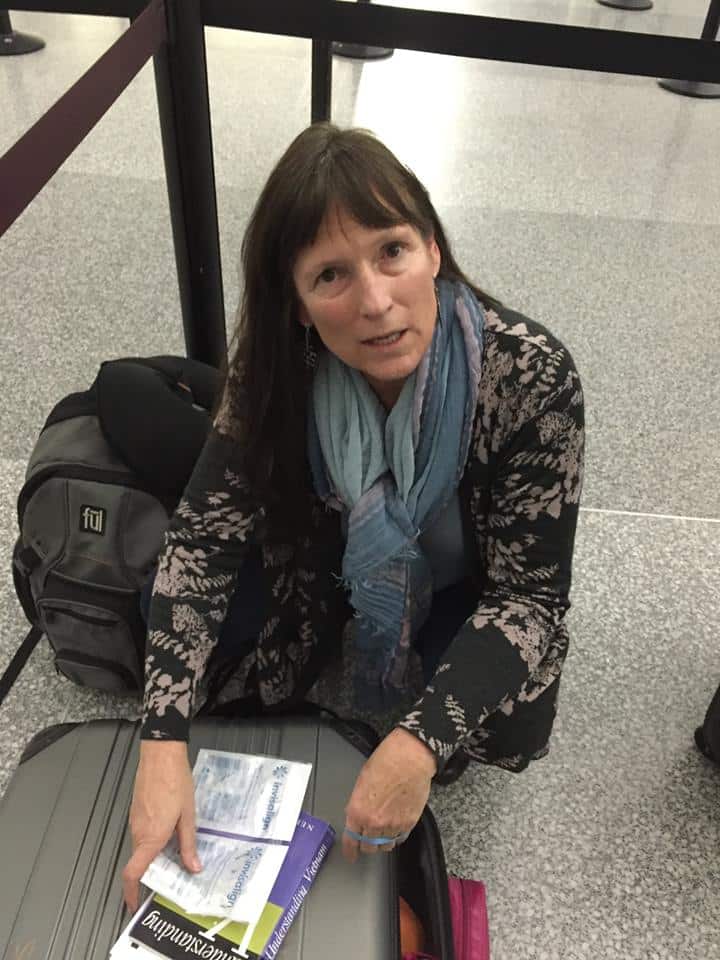 I thought about my partner, Karyn, the great finder of missing items. I tried to channel her. "Do you have a body memory of the last time you touched your passport? Do you remember putting it in the copier?"
"Yes, I do. I copied it last."
"Do you remember taking it out?"
"No," Joanie said.
"I think you should call Mark." Mark, her husband, who'd just dropped us off at the airport.
Now we really pulled our things out of the pathway.
When Joanie reached Mark from her cell phone, he was in Menlo Park, half an hour south of the airport, heading home. She asked him to pull over so he could search the inside of the car. Five minutes later, he'd found nothing. "You're going to need to drive back to my office," Joanie instructed in a clear, steady voice, "I think the passport is in the copier. Once you get back to my office, I'll walk you through the alarm system."
It was 9:38 PM.
Joanie sat in the waiting area while I checked in. When the agent handed me my boarding pass, I asked, "What's the last possible time my friend, who left her passport at home, can check in?"
"11:30," he said.
When I got back to with Joanie, she was digging deep into a bag of trail mix, dotted with colored M&Ms. She phoned her work colleague, Devon, who was on the call list for security. "I've got a bit of an emergency," Joanie began, explaining the situation. "… so if the alarm goes off, you'll know it's my husband." Before she hung up, she told Devon. "You have to promise that you won't tell anyone at work. I'll never live it down."
Then she turned to me and smiled. "But you're going to tell everyone about it on Facebook!"
"Only if you let me."
"Let it be a lesson to everyone following us in three days." I took that as permission and snapped her picture.
It was 9:45 PM.
There was nothing for us to do but wait until Mark reached Joanie's office and raised the lid of that copy machine. "Where is your office exactly?" I asked, as the minutes ticked by.
"Our dental office is right off the Scotts Valley exit, directly off the highway."
Thank God for small miracles.
As we waited, an airport cop rode by on a BICYCLE , five feet in front of us. Joanie and I gave each other a, "Did you see what I just saw?" look. Then I said to her, "You seem incredibly calm."
Joanie smiled a rueful smile. "My ex-husband taught me a lot about crisis management. How to focus on exactly what action needs to be taken to resolve a crisis. How to let go of what I can't control. My passport is somewhere and it's either going to make it or it isn't. You're either getting on that flight alone or I'm getting on with you." Joanie reached for another handful of trail mix. "Right now, my mind is unraveling in several directions. What it's going to take to make this flight. In 15 minutes, I'll know if my passport is where I think it is. If it's not there, you're flying alone. And I'm wondering what happens if I miss this flight. How I get to Vietnam."
At 9:58, Joanie's phone rang. Mark had driven all the way from Menlo Park to Scotts Valley in 20 minutes. That means he'd driven very fast.
Joanie was all business. "I'm going to tell you how to get in and how to get out. Open the door with the key. There are two light switches, one above and one below. The top one is the kill switch…" She finished her instructions for disarming the alarm, then added, "Don't worry about tripping the alarm. Devon and his family are home having Christmas dinner. They think this is all very funny."
Joanie walked Mark all the way through the office to the copy machine and a moment later, a big smile broke out on her face. She turned to me, "It was in the copier."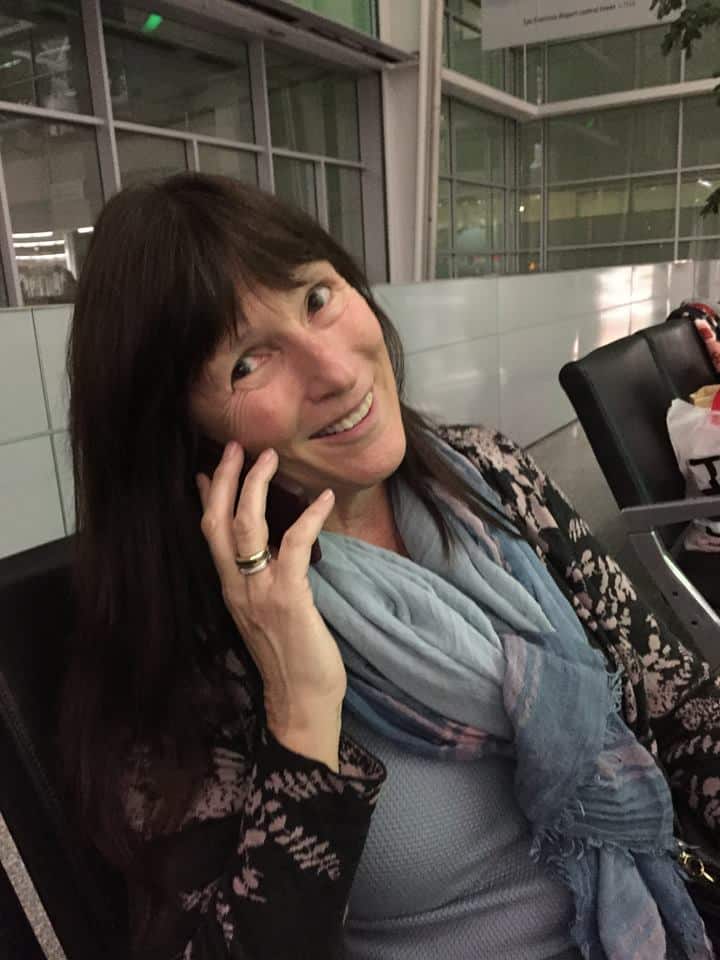 Then to Mark, "I know how fast you can drive when you need to."
It was 10:02. If everything went well and he drove like a maniac, Mark could arrive back at the International Terminal by 11:15.
We had to be checked in and through security by 11:30.
"Mark will never let me live this down," Joanie said as we settled down to wait. "Boy, I'm definitely going to owe my husband something for this one. Hopefully he only wants sex. That's easy. That's fun. I like debts like that."
Fifty minutes later, Mark announced his arrival curbside with a text. Joanie ran outside while I watched over our bags. When she returned, her passport was clutched in both hands and she did a little spontaneous "Oh yes!" passport dance for me.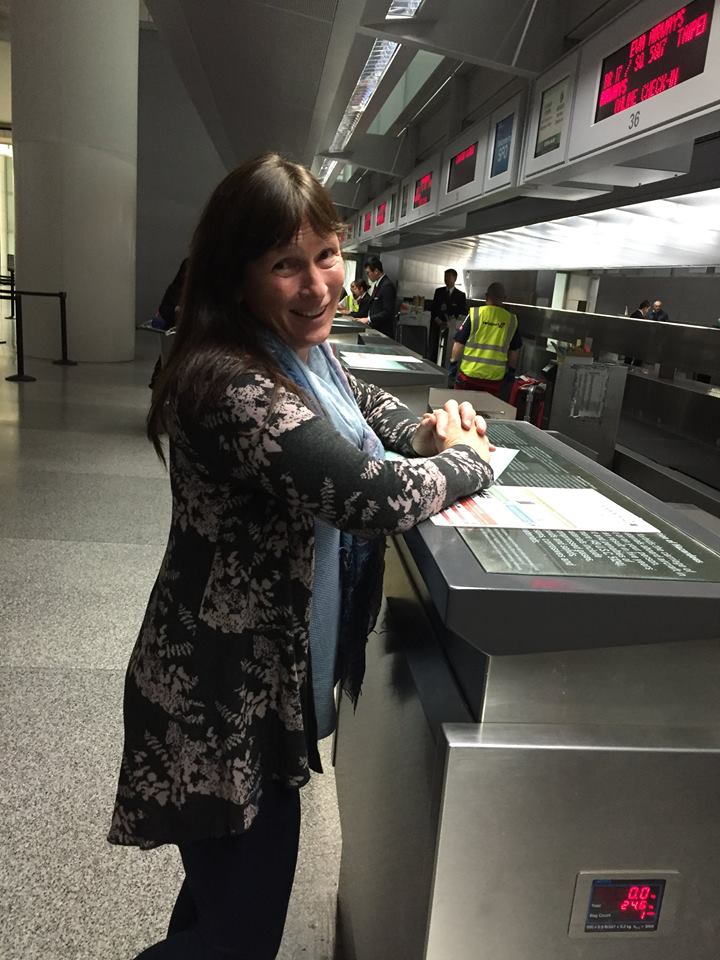 We made it through security with time to spare. We were golden. We were going to Vietnam. Together.