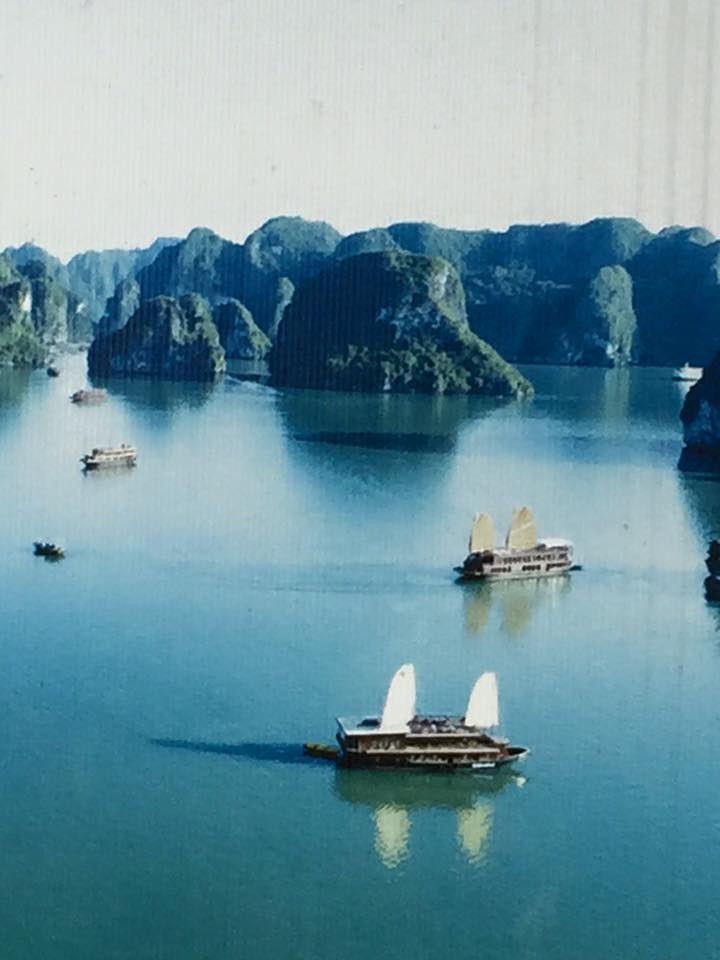 This morning, we left Hanoi and are now on a three-day, two-night cruise of Ha Long Bay, on a traditional junk, a beautifully appointed ship with sumptuous seafood meals, comfortable cabins, decks open to the vast Vietnamese sky, surrounded on all sides by the giant limestone structures this bay is famous for.
Sunsets. Sunrises. Writing and yoga on the deck. Kayaking. Cool clean air. Time to get to know each other over meals that never stop coming. Space for our group to coalesce after the zing of the city. Time to savor beauty.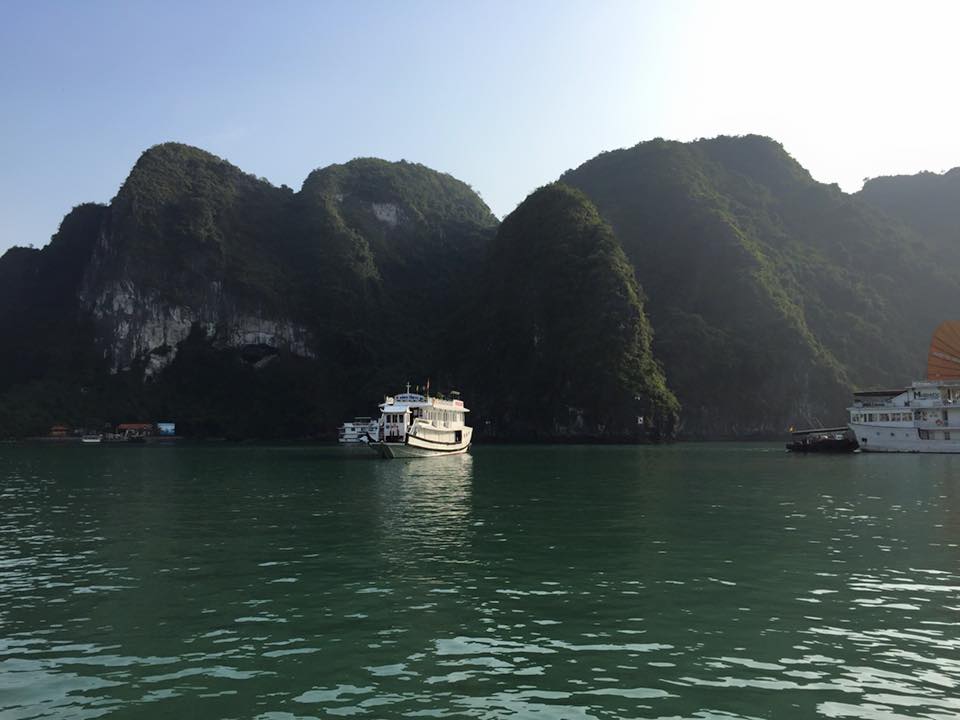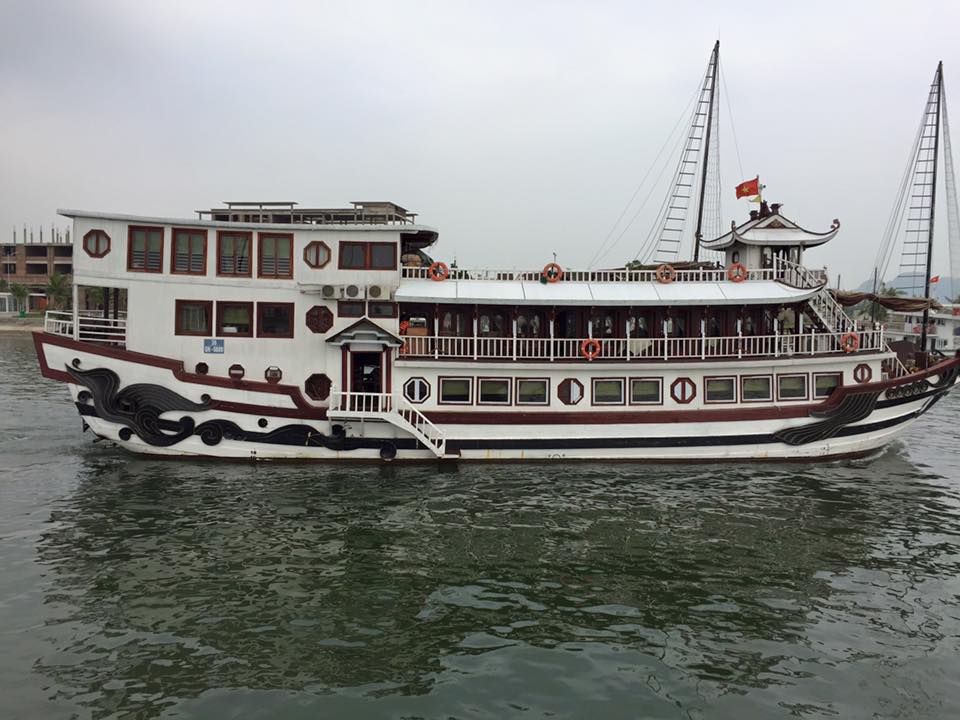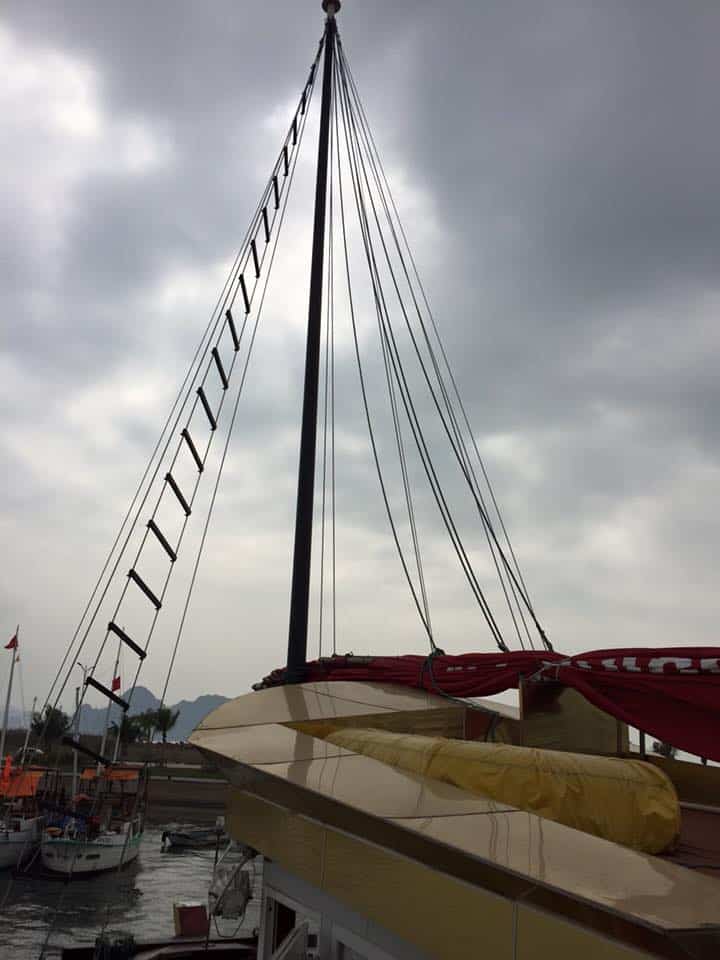 It was almost perfect, but something was still not right: Eli was still missing.
Two days ago, back in Hanoi, I'd gotten a text from him: he'd successfully boarded his flight in Chicago. Yes! The Weather Gods had complied with our wishes. They hadn't kept him grounded from a second flight.
Six hours later, Eli texted me the question: "What should I get in my burrito at La Cumbre?" Our favorite burrito joint on 16th and Valencia in San Francisco. Answer: Steak, cheese, beans, no rice. Salsa. Those burritos had been my father's favorite before he died. He'd introduced them to me thirty years ago, and I'd eaten them twice a week back when I lived in the City. Twenty years later, when I took Eli, an avid young paper folder, up to San Francisco for the monthly BARF meeting (Bay Area Rapid Folders) in a library basement in San Francisco so he could learn new origami techniques, I'd always take him to La Cumbre for lunch. The best burritos in California. And now, Eli was nostalgic for one. He just had to have one. If there's one thing our California-raised kids miss living in Boston, it's decent Mexican food.
Eli had a six-hour layover in San Francisco and rather than sit in the airport, he'd decided to take a 30-minute bus ride into the Mission district to fulfill his craving: food memories demanding repeat satisfaction. When I told her about his text, Karyn couldn't believe he'd done it. Was he really going to risk missing his flight to Asia for a burrito?
But he did. And he sent me picture of the burrito with a bite taken out of it to prove it.
Sixteen hours later, as we were packing to leave Hanoi, we got another text from Eli:" I made it to Taipei." He was walking around the airport taking pictures of quirky things and snap-chatting them to his girlfriend back home.
Eli was getting closer. I could feel a little buzz of excitement in my mama center, starting to arise. Eli's coming! He's really going to make it!
Three-quarters of the way through our bus ride from Hanoi to Ha Long Bay, Quyhn got off his cell phone, came over, and beamed me one of his great big smiles. "Eli's in Hanoi."
But Eli clearly wasn't going to make it in time to meet our boat at the departure dock. He was going to have to take a smaller boat, a tender, once he reached Ha Long Bay, a boat that would come out through the vast bay to find us. But he was coming. (Remember the old Three Dog Night song: "Eli's coming, hide your heart girl; Eli's coming, hide your heart girl. Girl, Eli's a-coming, hide your heart…" It was pounding in my ears.)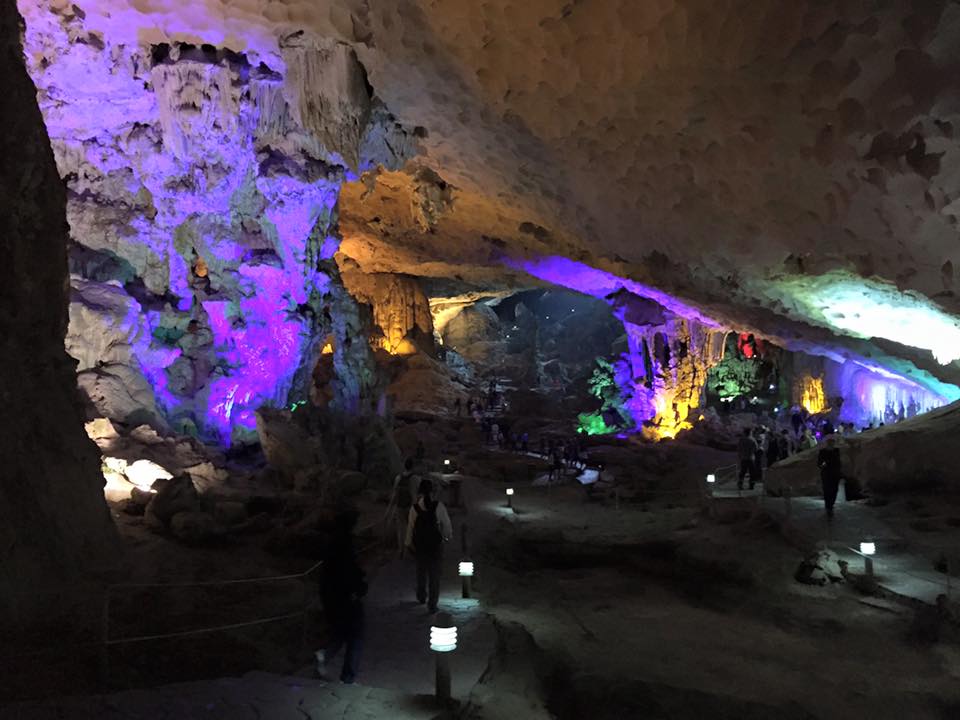 Three hours later, after a visit to a spectacular limestone cave, I taught an afternoon writing class on the deck, definitely the most beautiful place I've ever taught a class in my whole teaching career. The entire time, I kept scanning the horizon, wondering if I'd be able to see Eli's tiny boat arriving.
Here are writers at work in paradise: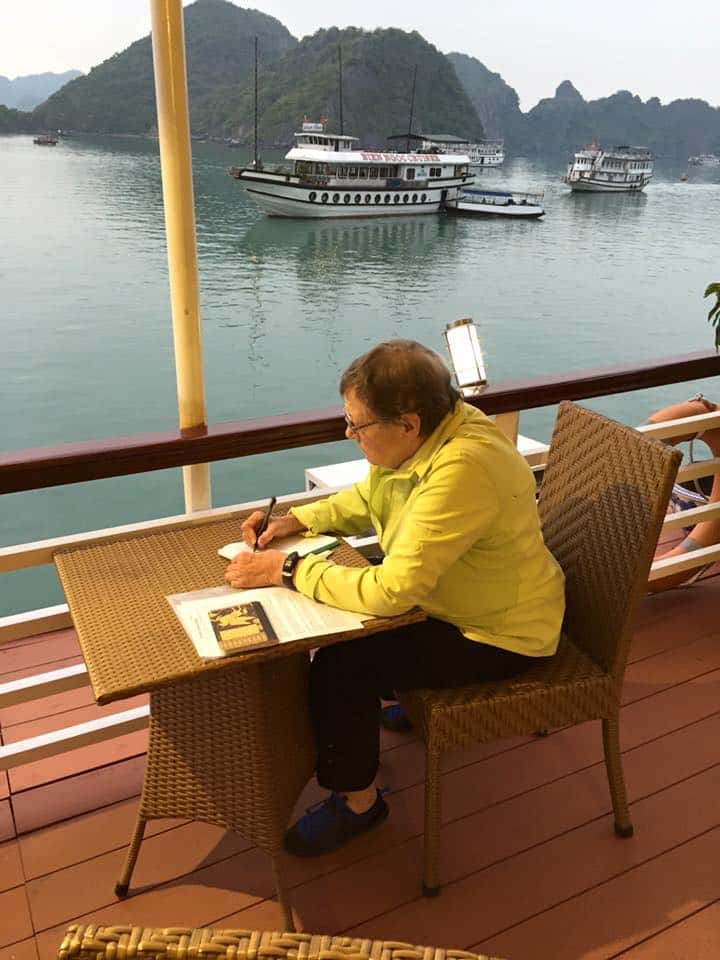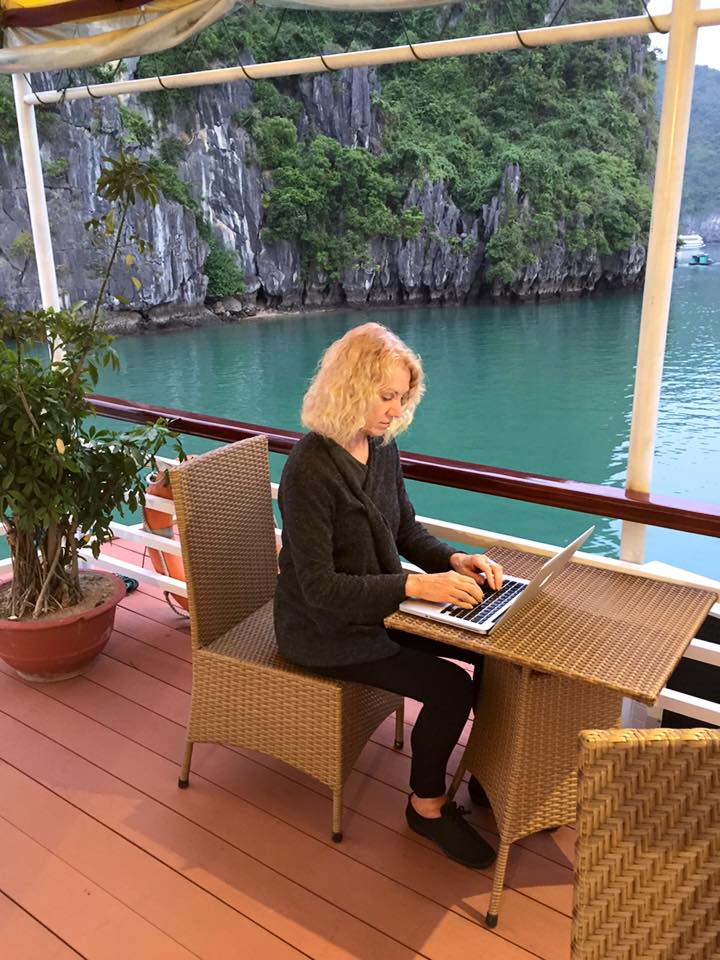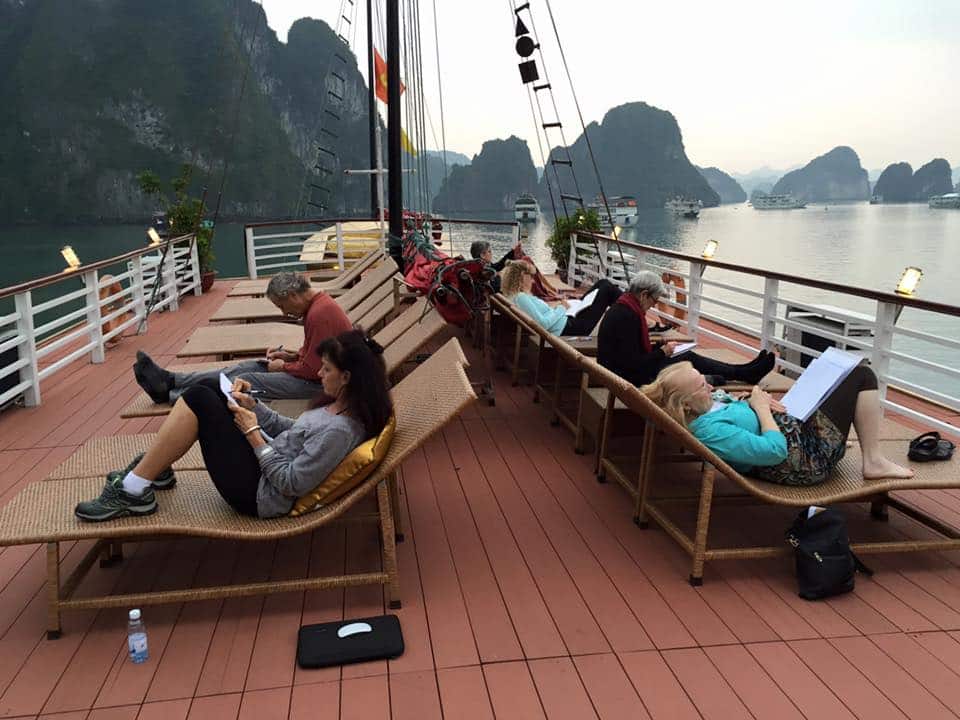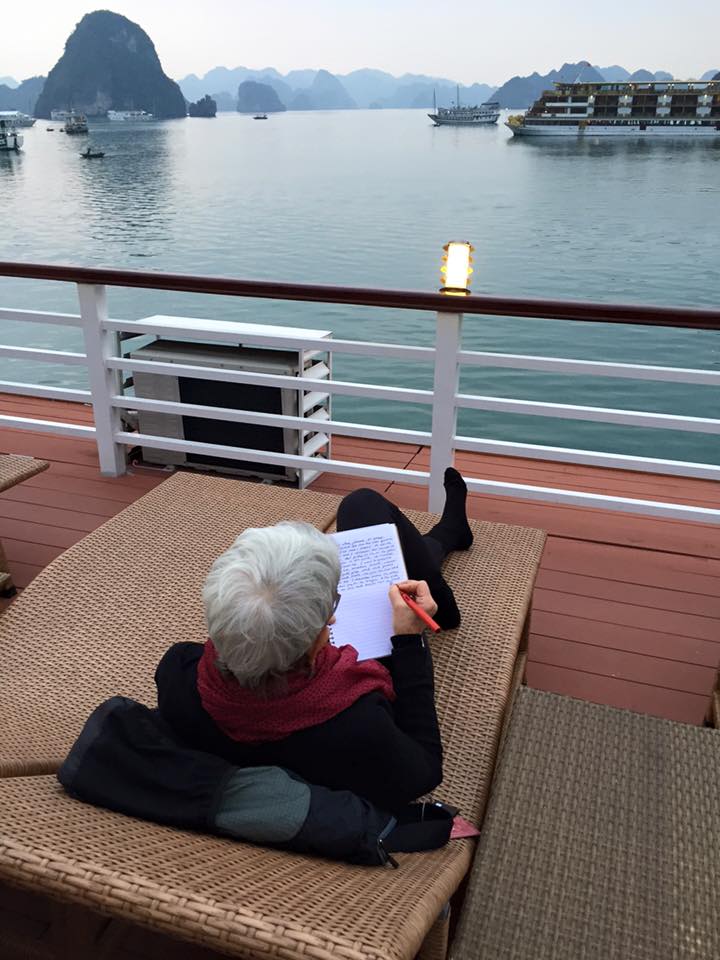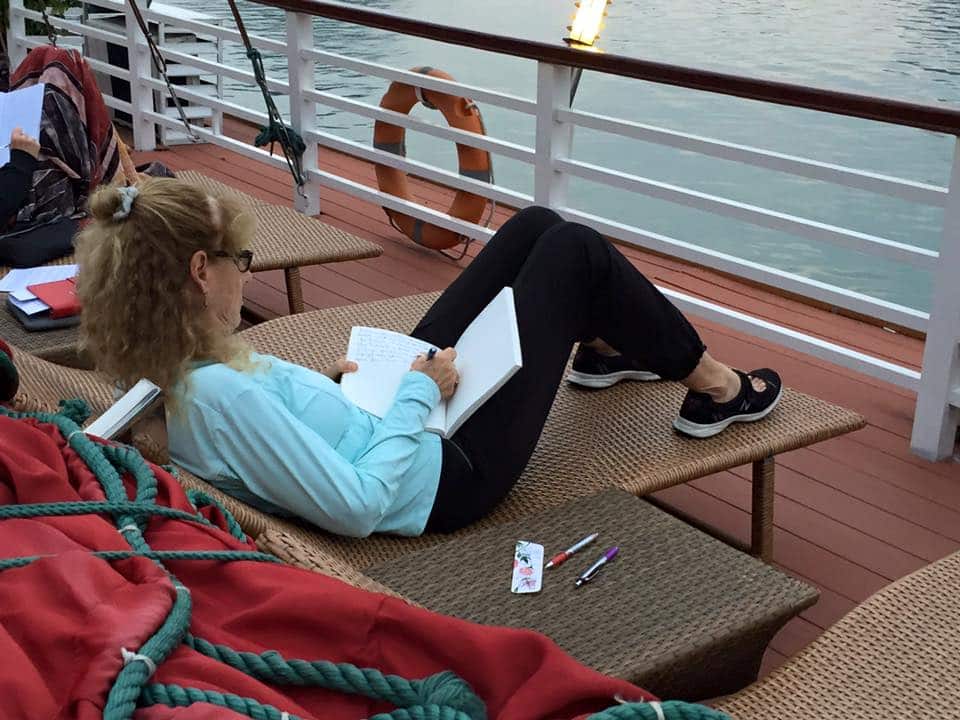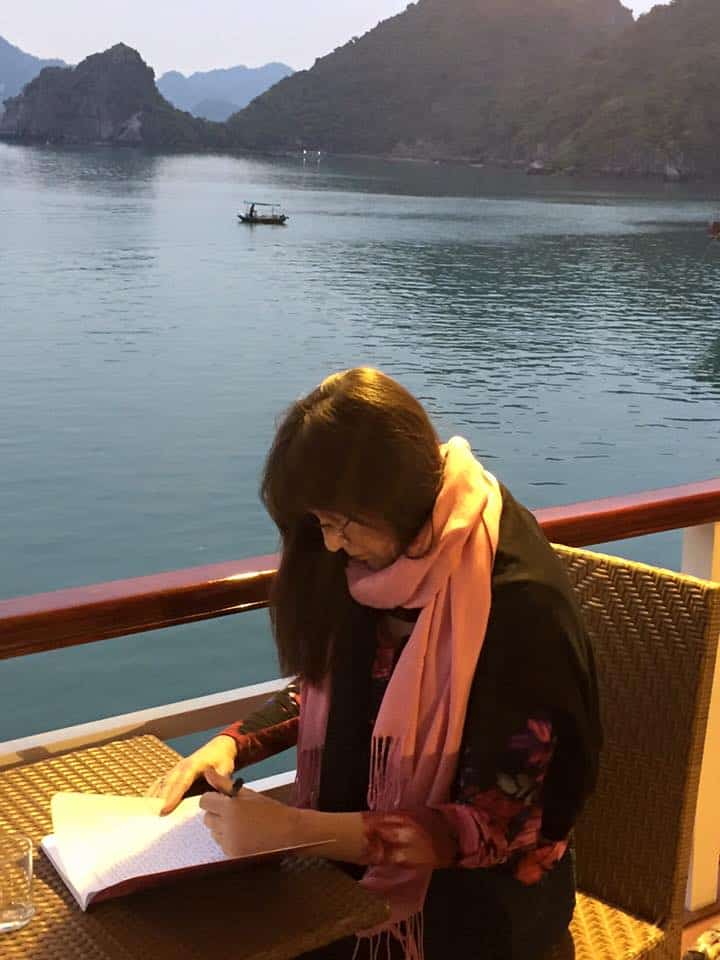 I slipped downstairs while after giving my students a 20-minute writing prompt to see if Eli had arrived, and there he was, sitting at an outdoor wicker table with Karyn and Eliza, scarfing down a huge plate of fried eggs and toast. He was wearing a pair of scruffy jeans and the, "Stay Calm. I'm an Engineer" tee-shirt that I'd bought him in London last spring. Eli stood up and gave me the most delicious hug, a hug I'd been waiting for for more than three days. "I made it!" he proclaimed. "We just figured out I've been traveling for 40 hours."
Eli sat back down and dug back into his food, took another bite of eggs, another bite of toast, half a piece at a single swallow. He was HUNGRY. He looked around, taking in his sister and his moms, the old wooden junk, the mast rising above us, the dozens of ships like ours out in the Bay, the staggering limestone behemoths rising all around us. "I can't believe I'm finally here."
"Did you have any glitches?" I asked.
"Nope. The whole trip all went according to plan. I felt like a tracked package."
The mighty Quyhn, who had once stopped an airplane so Judy's travelers wouldn't miss their flight, hadn't let us down.
And now our company was finally complete.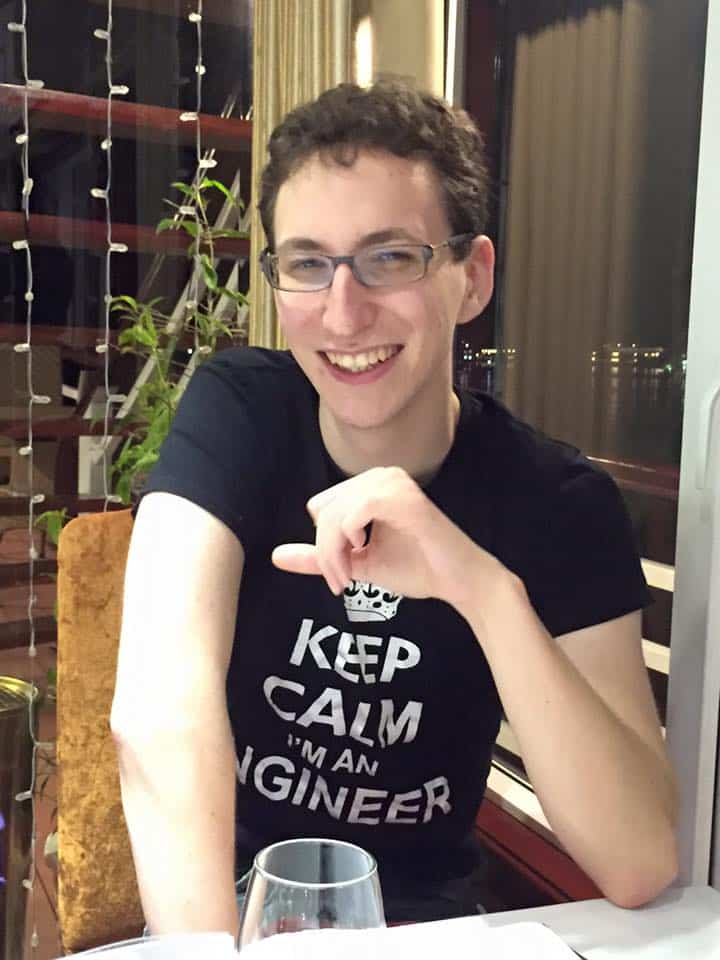 P.S. We have no wifi on this boat, which I must say is lovely. I am sending you this post because Quyhn made a wavery wifi hot spot for me with his phone. But this will probably be my last post until we leave Ha Long Bay and reach our next destination.