Although I have been loving every day of this trip to Southeast Asia and savoring all the new tastes, smells, sights and sounds, I am not having the same experience as the people who paid to come on this trip. I am the writing teacher, the trip initiator and one of the leaders, and I am responsible for what happens. That means when I'm not teaching or preparing to teach, thinking about a blog post or writing a blog post, I am constantly scanning for potential problems, keeping tabs on group members to make sure things are going okay. In other words, I am working.
And since I've been in Laos, I haven't had a moment free for myself. No freedom of movement. No alone time. Aside from meals (which have been fantastic – the food is terrific here), I've been on the clock all day every day.
This morning I decided to do something about it. When Karyn woke up at 5:00 to prepare for a morning trip in a tuk tuk to teach a 6 AM class at the local yoga studio, I got up for a solo adventure. I wore sturdy sandals, a long sleeve very light cotton shirt I bought at the night market last night (for potential bugs I might encounter at dawn; there weren't any), my fanny pack with 7000 kip for the bamboo bridge, a sturdy little notebook, a pen, a headlamp, and my camera.
Eli and Eliza told me about the village on the other side of the bamboo bridge down where the Mekong and Nam Khan rivers meet. Although I'm loving Luang Prabang, it is full of tourists and I was craving a little more of the real Laos. They said all I had to do was walk across the bamboo bridge and I'd be right in the middle of it. I decided to do it in the early morning so I could see the local people starting their day.
In part, this was because it was the only time I had. From the morning meeting (8:30 on), my day was booked. But also because I was channeling my father, Abe. When I was a little girl and we were on a trip, he'd always get up very early in the morning while we were all still asleep and go out walking through whatever town we happened to be in. He'd find a local diner and have a cup of coffee and maybe a first breakfast. He loved greasy spoons and so do I. He'd talk to the locals and read the daily paper cover to cover. By the time he came back to us,  we'd be waking up and he'd already have the lay of the land. I thought of him fondly as I set out on my early morning walk. He's been dead 16 years already (how can that be?) and I miss him terribly. No one ever told me that I'd miss my dead the longer they've been gone.
The kids had told me to turn left when I walked out of the hotel. "Follow the river to the left," they'd said. So that's what I did.
The air was moist with former rain and I could see puddles on the street. I must have slept through an early morning downpour. To my left, I heard the sound of people laughing uproariously. I looked at the hotel across the street to see if there were tourists still partying from the night before, but the restaurant was shut up tight. But then I saw the source of the sound – a man hoping for a fare in his tuk tuk, sitting in the back, watching TV on his cell phone.
It was so dark out, I wondered if I'd even be able to find the bridge. But eventually, after a few false starts down dead end paths, I found a muddy track that led down to the river.
The pathway to the bridge was steep and muddy with a wavering bamboo railing. I went down sideways like a crab, carefully placing each foot, glad I wasn't leading an expedition here. I was only responsible for me.
When I reached the bridge there were two teenagers, a boy and a girl, standing there. When I tried to pay them my 7000 kip (86 cents), they laughed and motioned me across. A moment later they were down by the water's edge, embracing. I guess it was too early for the real attendant to be on duty.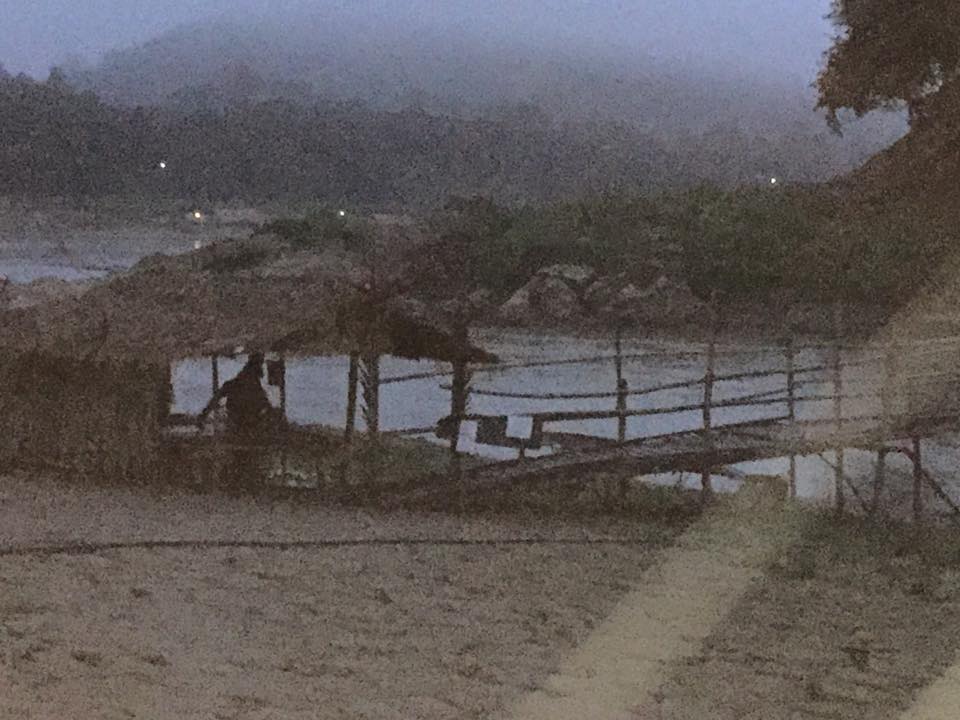 When I stepped out onto the bridge, it gave way by at least an inch or two with every step, yielding to my weight. I am a lot heavier than the average Lao. That thought did cross my mind, especially when the woven lattice of bamboo under my feet listed to my right or my left. The river beneath me was brown and the current seemed manageable. I figure the worst that could happen was I'd ruin my cell phone, get wet and have a good story to tell. But I'd seen the monks crossing this bridge the morning before. Even though Tui had told us the bridge washed out every year, we were months away from monsoon season.
It was a moment for trust. I held on to the single bamboo railing and forged on.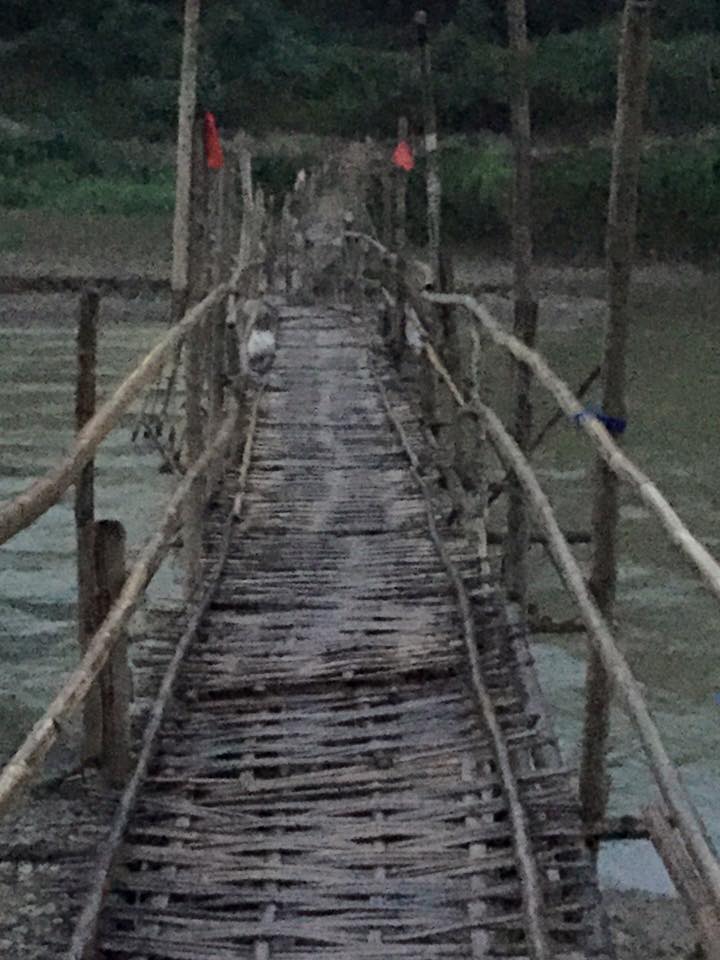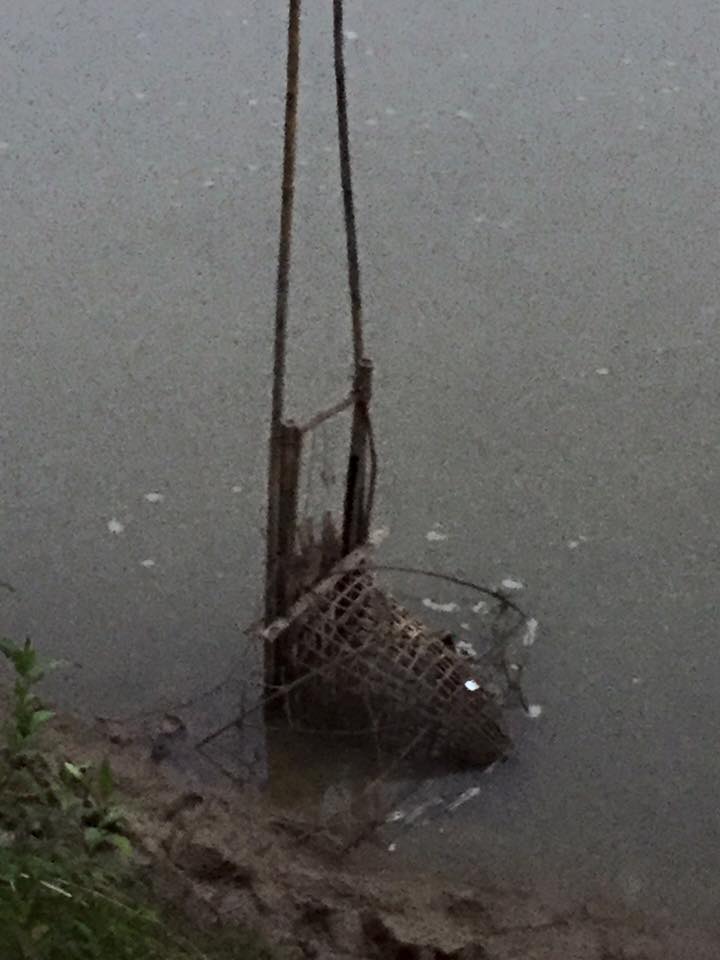 On the other side of the bridge, there was a dirt path to the right and another to the left. I chose right.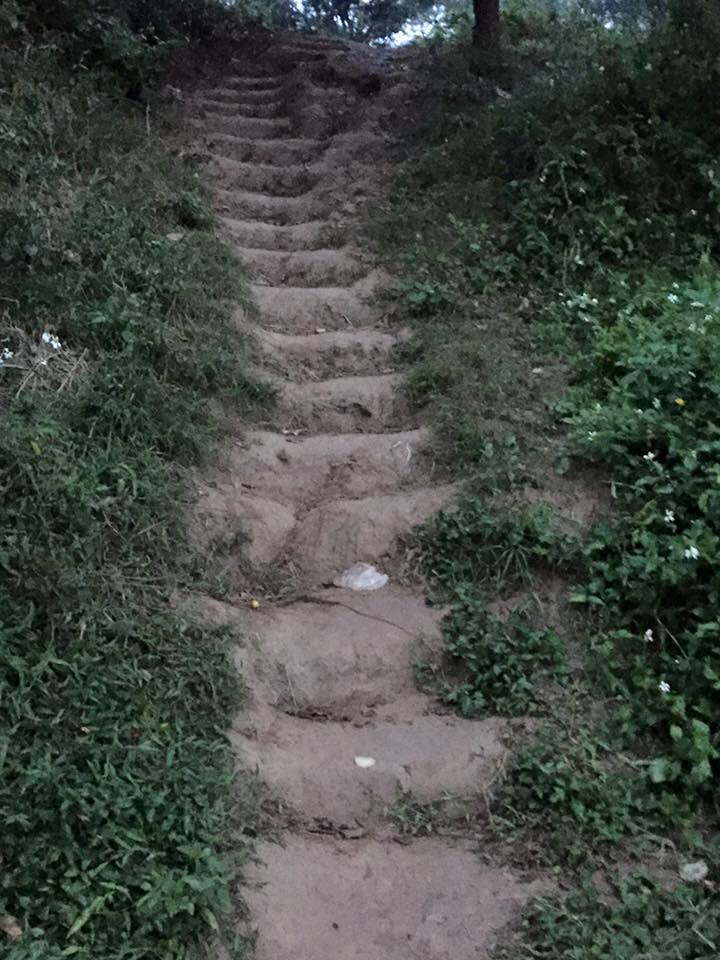 Garbage dotted the path all the way up to the village: candy wrappers, gum wrappers, empty water bottles. Having traveled to Bali where there is no organized sanitation system and a sudden influx of packaged crap from the West, I wasn't completely shocked. Still, I'm so adverse to littering, it was jarring.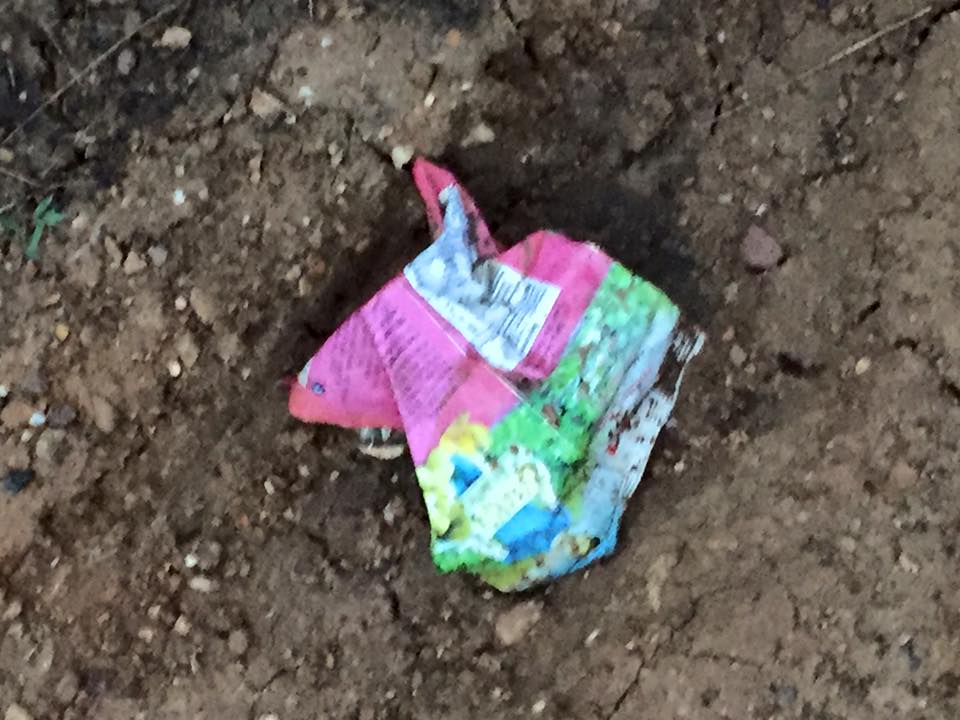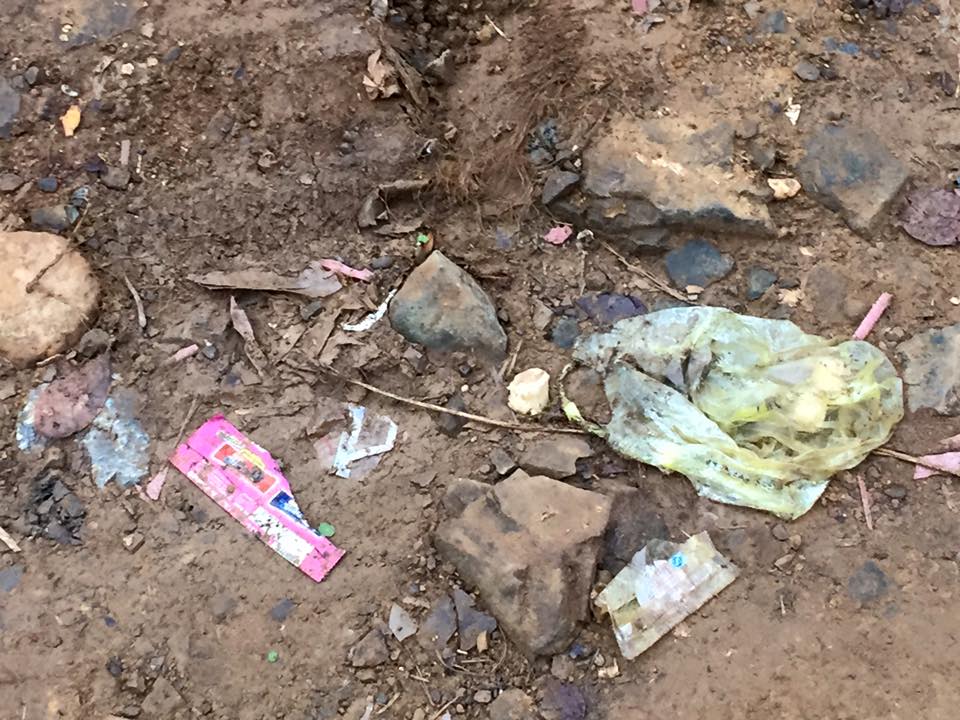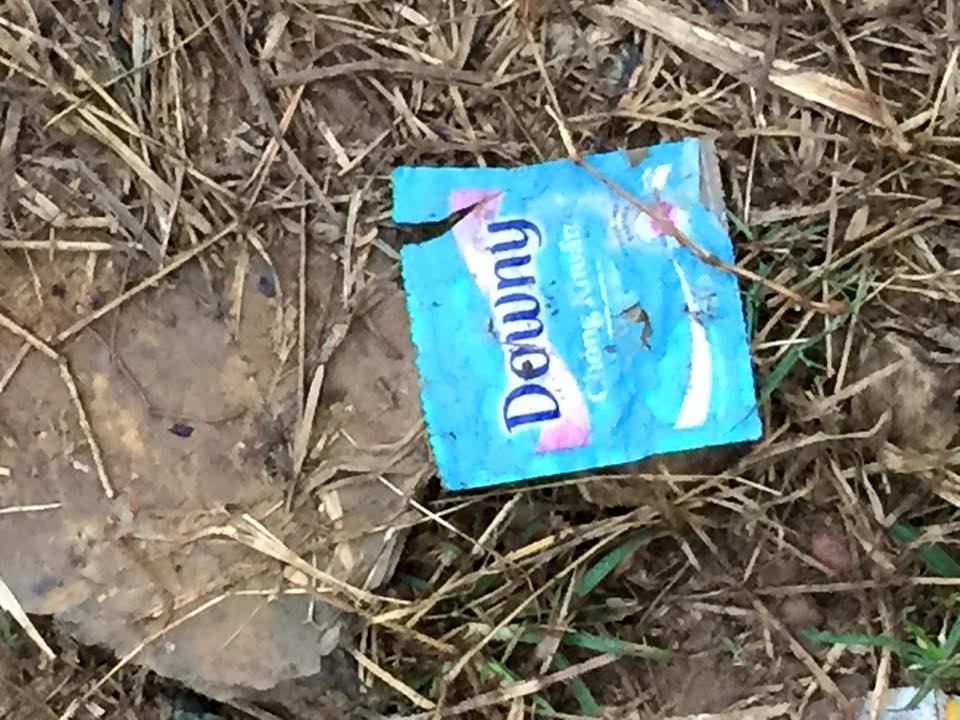 Dirt steps took me up the hillside. I was greeted by a cacophony of roosters and frogs, the steady whine of a generator as day broke around me. At this hour, there were far more dogs out than people. As I wandered through town, I could see people getting up in their houses, but no one was out on the road yet. It was 6:30 AM.
I savored the wet cool on my skin. I felt free.
There was only one thing that worried me – the dogs. And there was one standing right in front of me, ferociously barking his disapproval. I'd been warned about these dogs and so I turned around and went the other way. Minutes later, I turned to avoid several other dogs. And that's probably how I got turned around. But I didn't worry about it then. I just kept wandering.
One thing that surprised me was the wide socioeconomic diversity in this village. The houses ranged from small shacks to fancy homes with satellite dishes.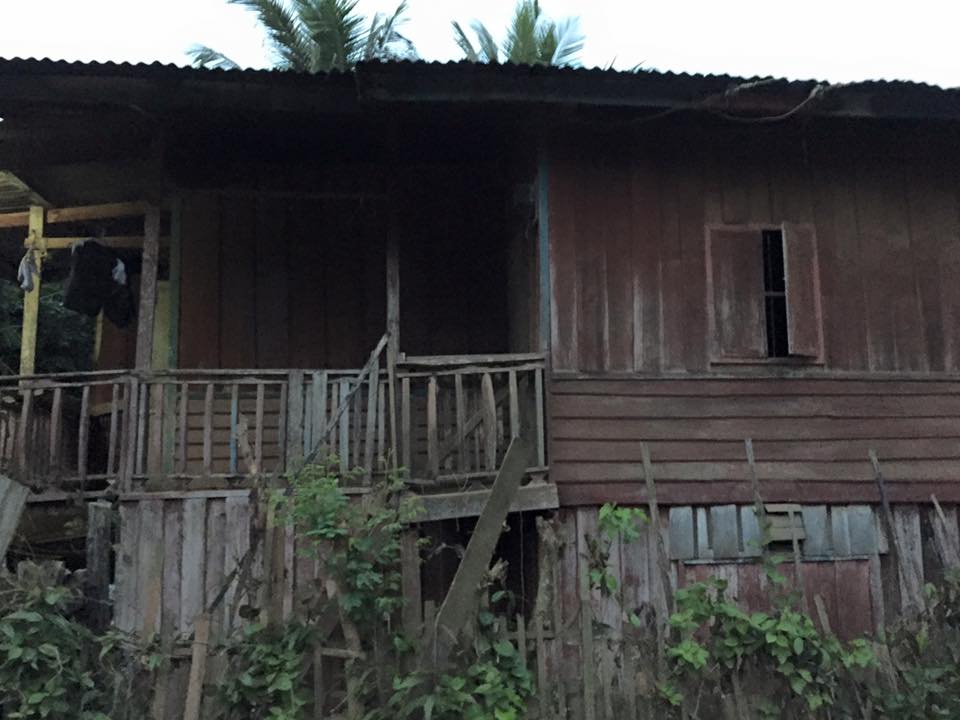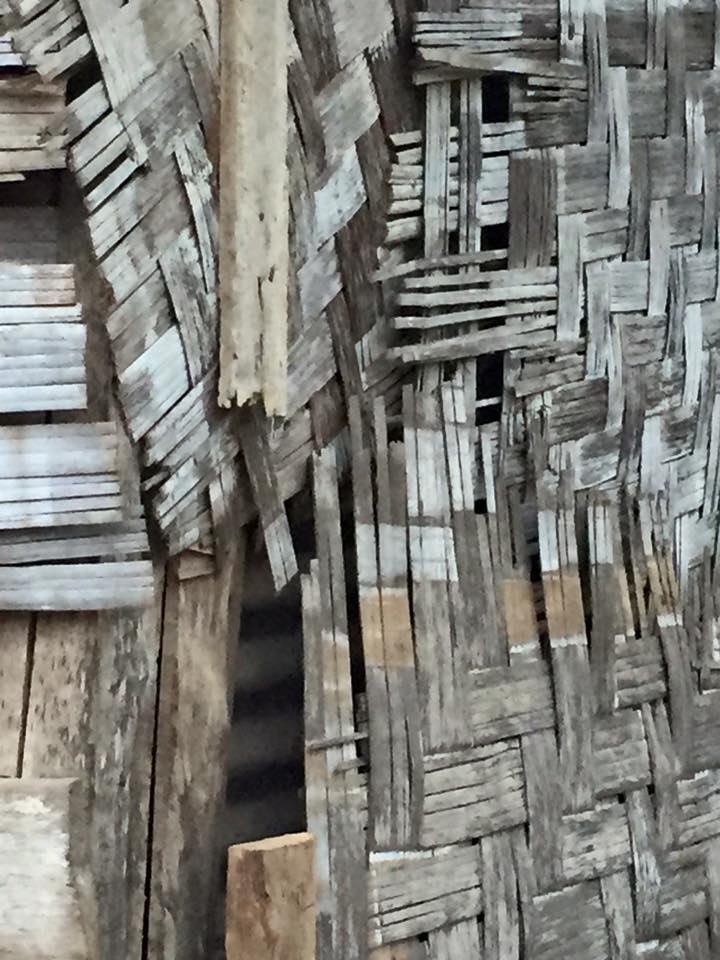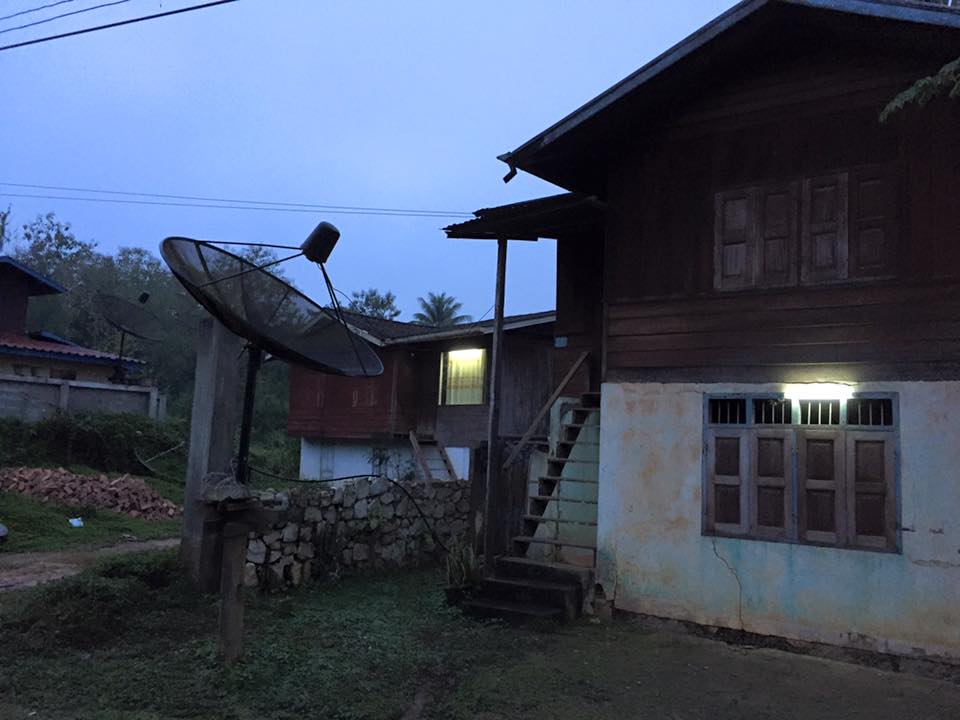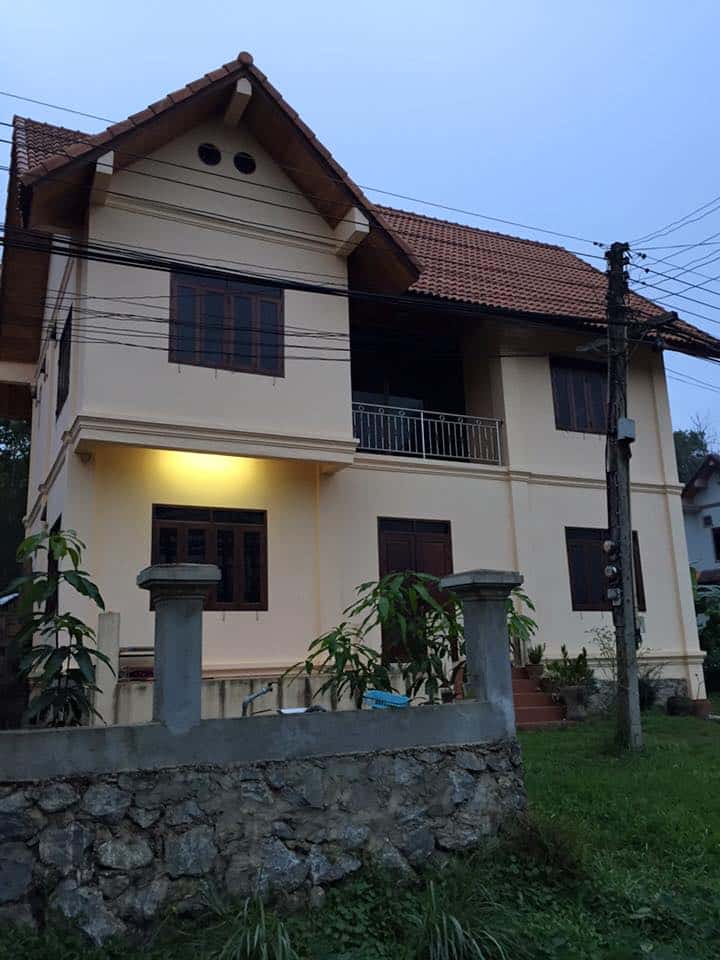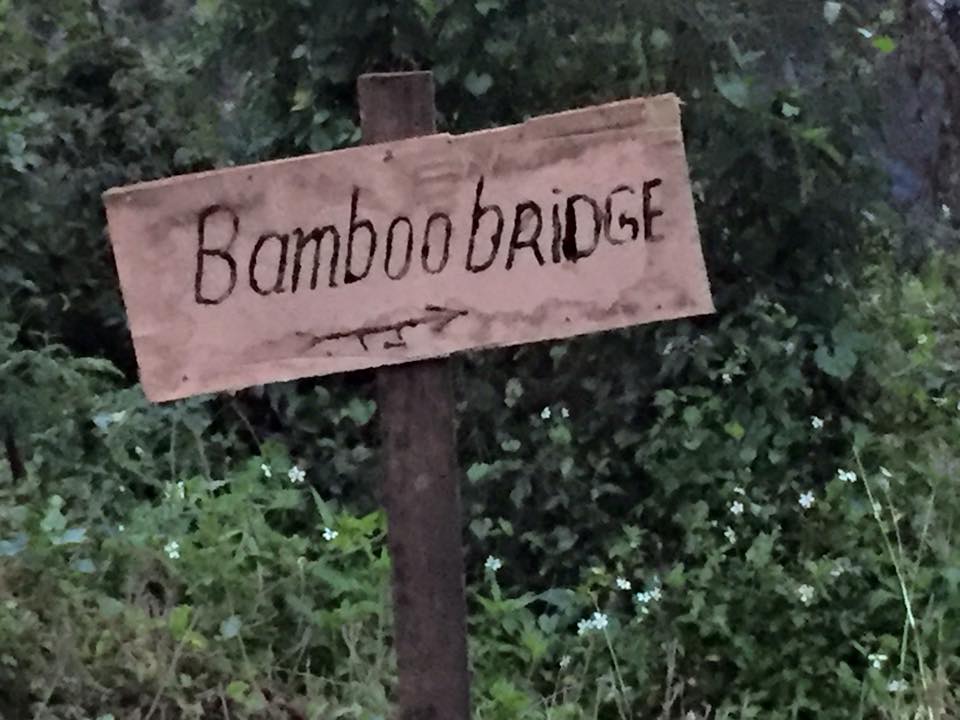 As I walked the rutted dirt roads, people started to emerge from their houses: squatting and cooking over fires in their yards, sweeping out their roadside shops, doing their morning chores. A little boy squatted by a fire pit with a pot of boiling water. His mother washed her face with hot water as she stood beside him. As in Vietnam, life was being lived out in the open. An older woman shot me a big smile and I smiled back, wishing I'd taken the time to learn to say good morning in Lao.
Chickens ran everywhere. I saw way more cars than I had anticipated. Way more than I'd seen in Vietnam.
I stopped at the first open shop and bought a bottle of water. I was the first customer of the day. I wondered if that meant anything here in Laos. In Bali, the first sale of the day is considered good luck, so if you're first customer, you can bargain for a special price. I wondered if the same thing was true here, but I certainly wasn't going to bargain for my bottle of water.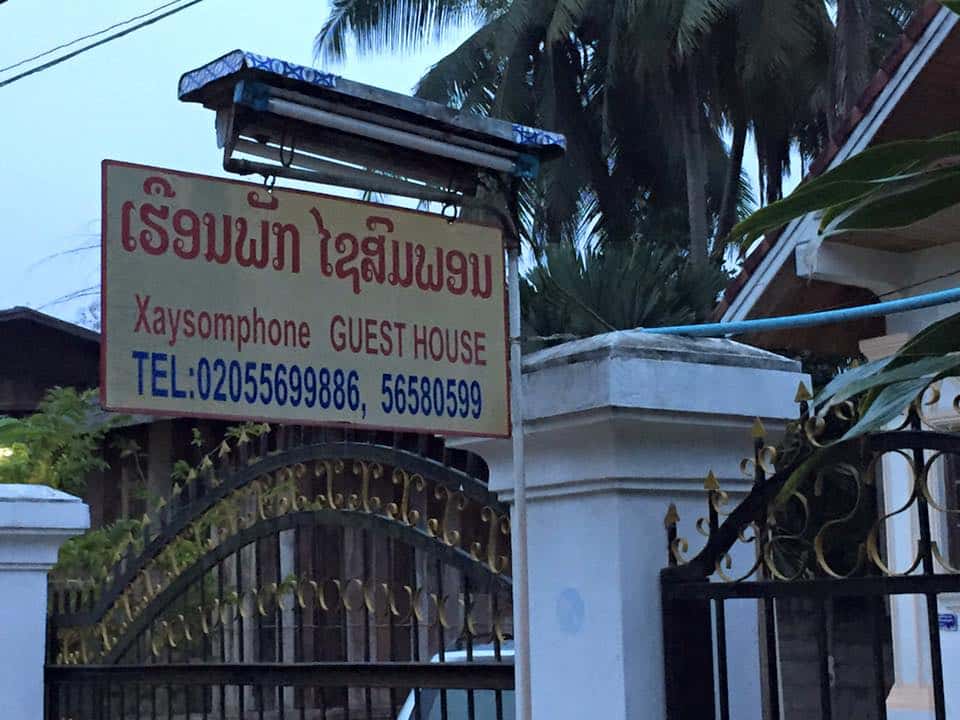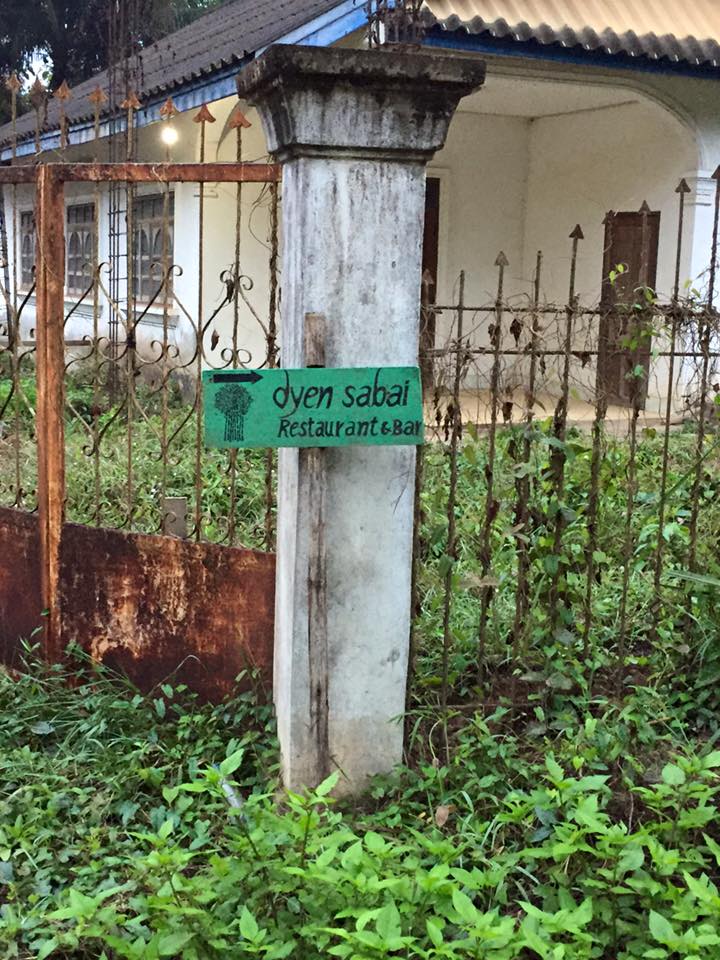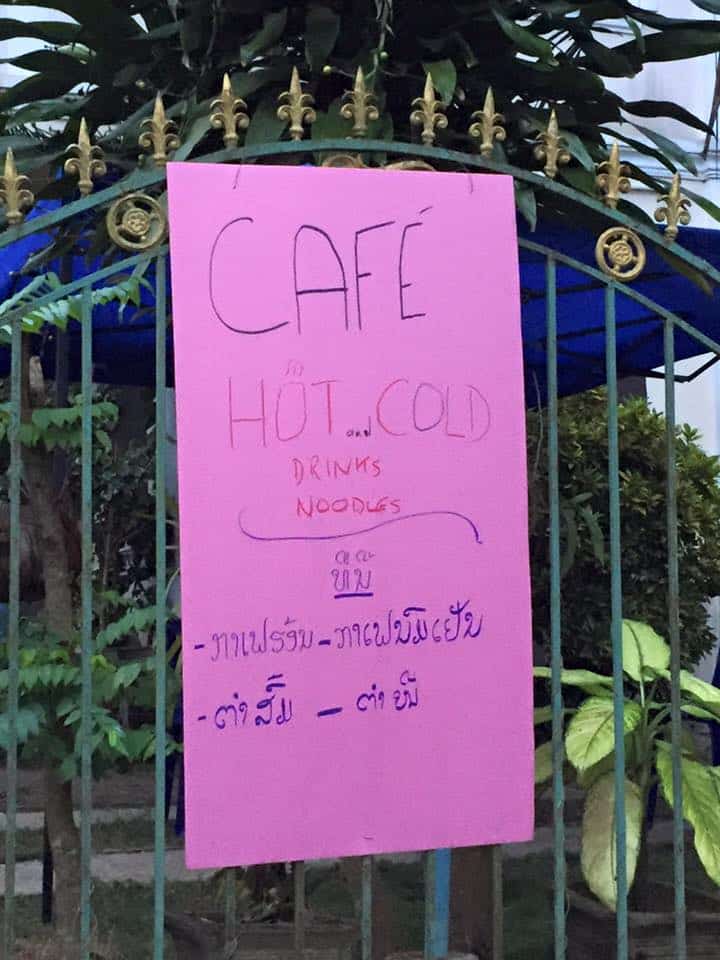 By 7:15, a dozen these little shops were now open for business. They sold water and soda and little snacks – and always cigarettes: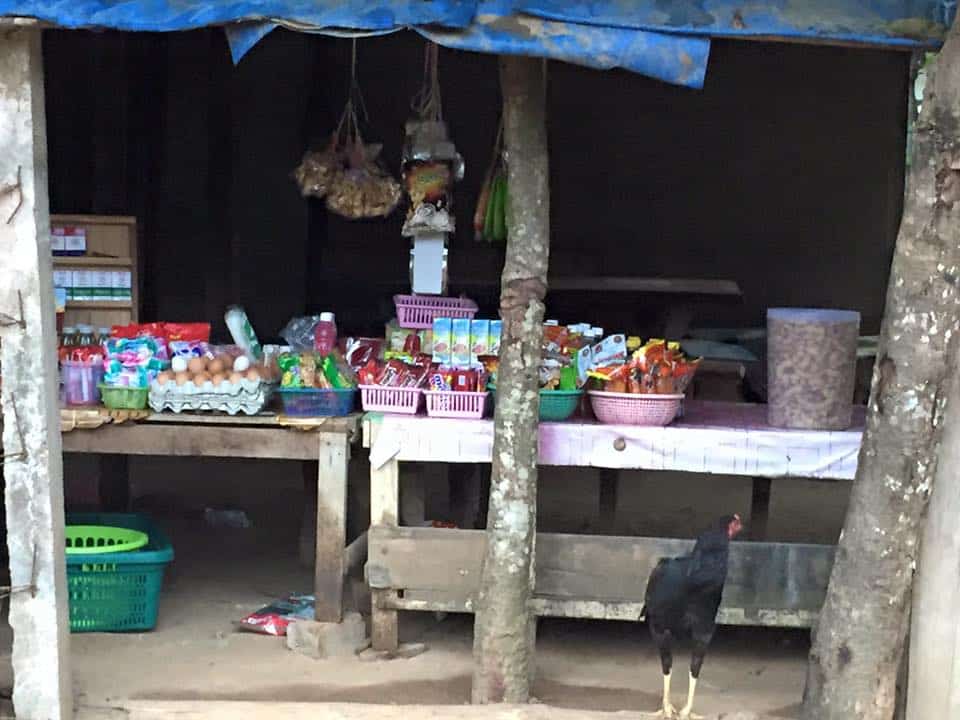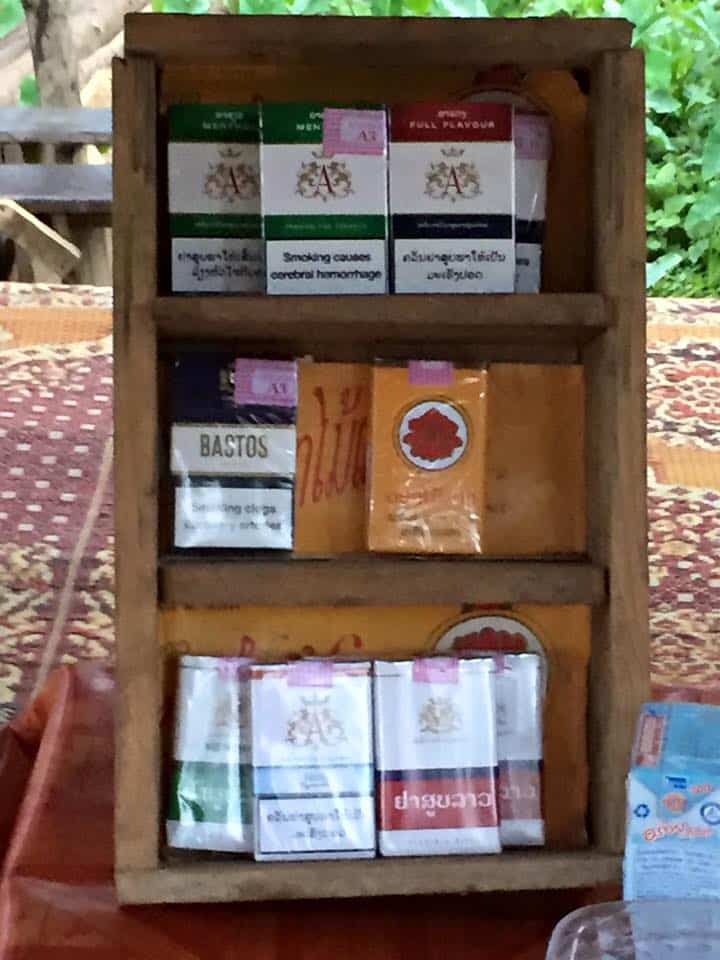 I guess this was the local ice cream parlor: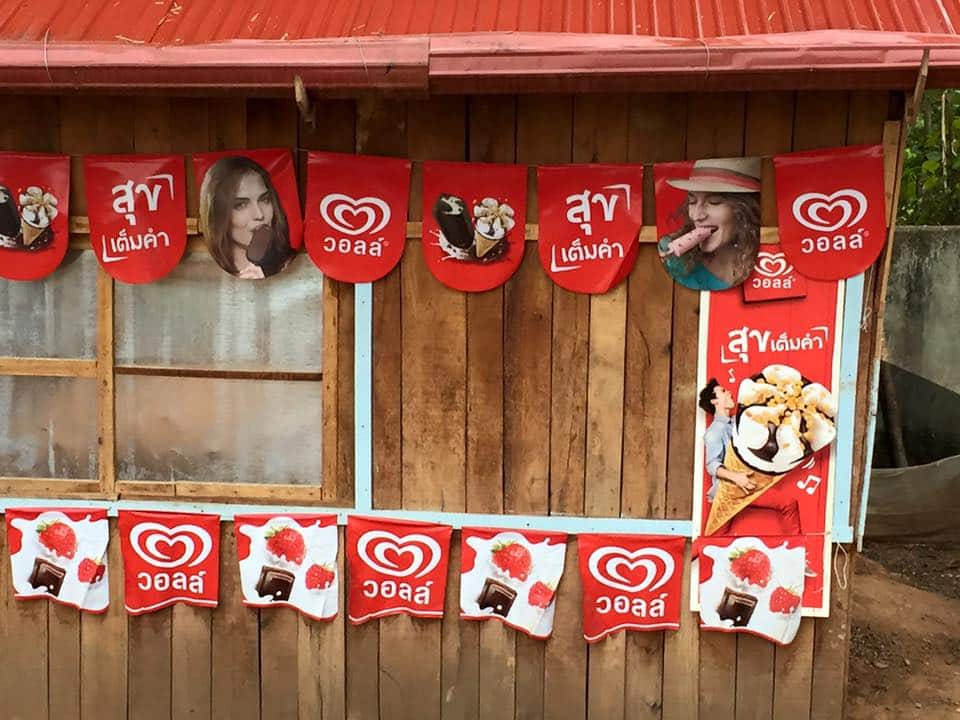 This outdoor gathering place looks like a town hall. I noticed right away the communist flag and the Lao flag both flying.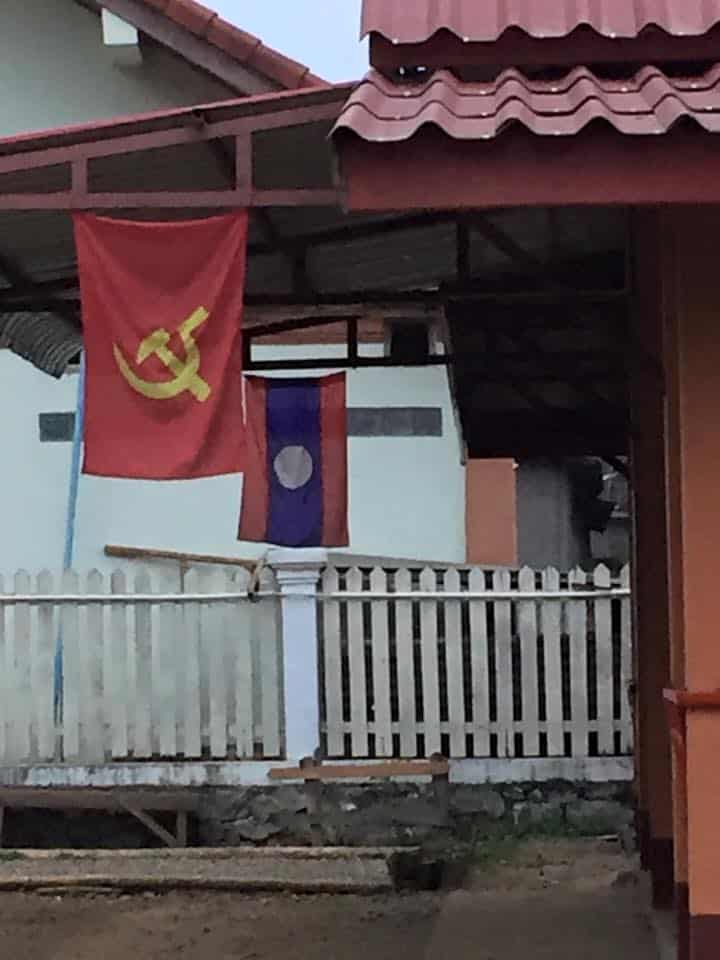 Typical kitchen garden:
Chickens were everywhere. And I really had fun watching them. Crowing was everywhere.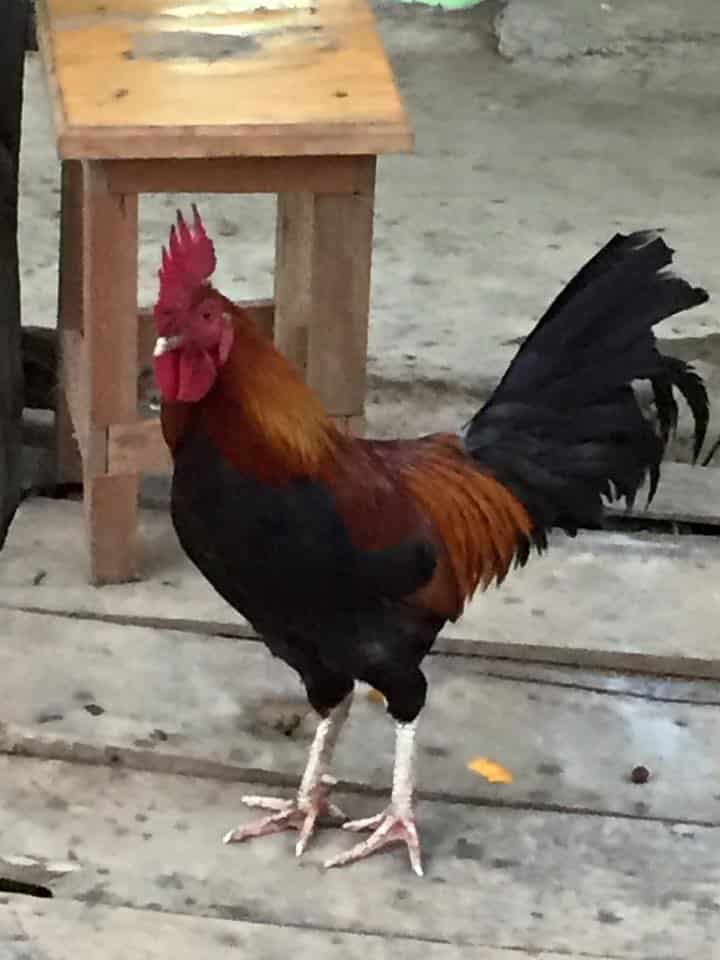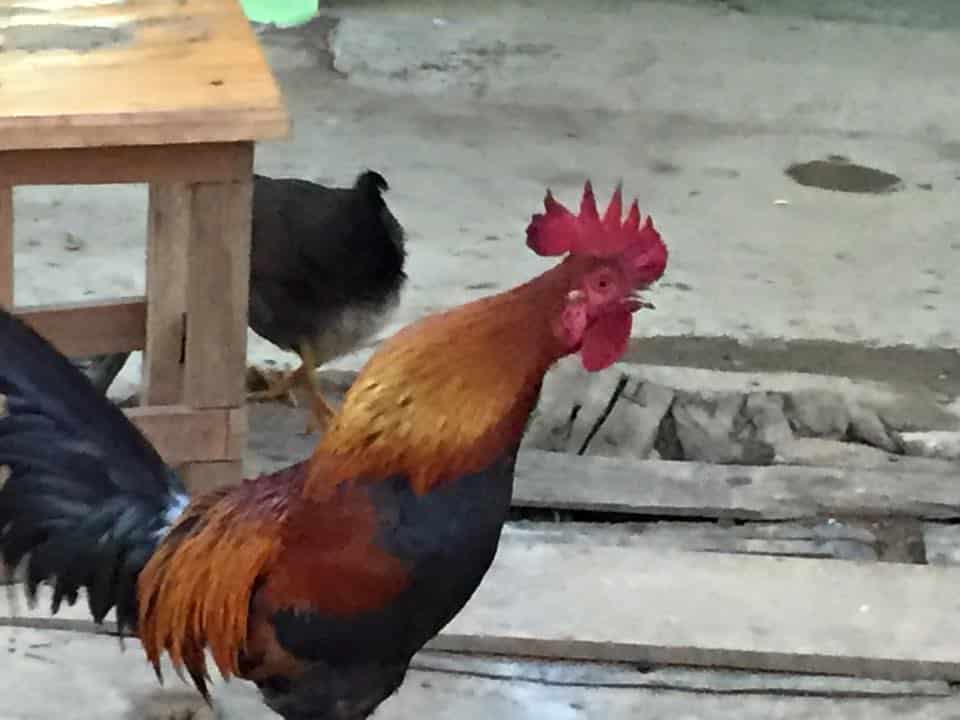 More and more local people went by on foot, on scooters and in cars, heading off to work and school. The new day was beginning.
It was at about this point that I realized that I wasn't where I thought I was. I had followed the vehicles and they led to a big road – definitely not where I wanted to be. That was not where the river was. I stopped to ask a couple of shopkeepers, but no one spoke a lick of English and I didn't speak a lick of Lao.
I was lost.
I thought about what Eliza's photography teacher had said to her: "Go somewhere and try to get lost." I think it's the only way to get to know a place. It's certainly a guaranteed way to have an adventure. It was 7:30 in the morning and I was having one. I actually didn't mind being lost, but I did have a morning meeting to attend back at our hotel at 8:30. I had an hour to find my way back. That seemed reasonable, but as I turned on road after road, nothing looked familiar. In fact, it all looked unfamiliar. I passed a giant yard with piles of gravel and sand and big trucks. How had I suddenly found this industrial area? And a giant garbage truck . . . I guess maybe there was some kind of garbage pick up here after all. Maybe that's why I'd seen two neat little tidy bags of garbage out in the road in front of someone's house, right next to all the litter. I thought it had just been an anal-retentive neighbor, but maybe someone did come by to collect it: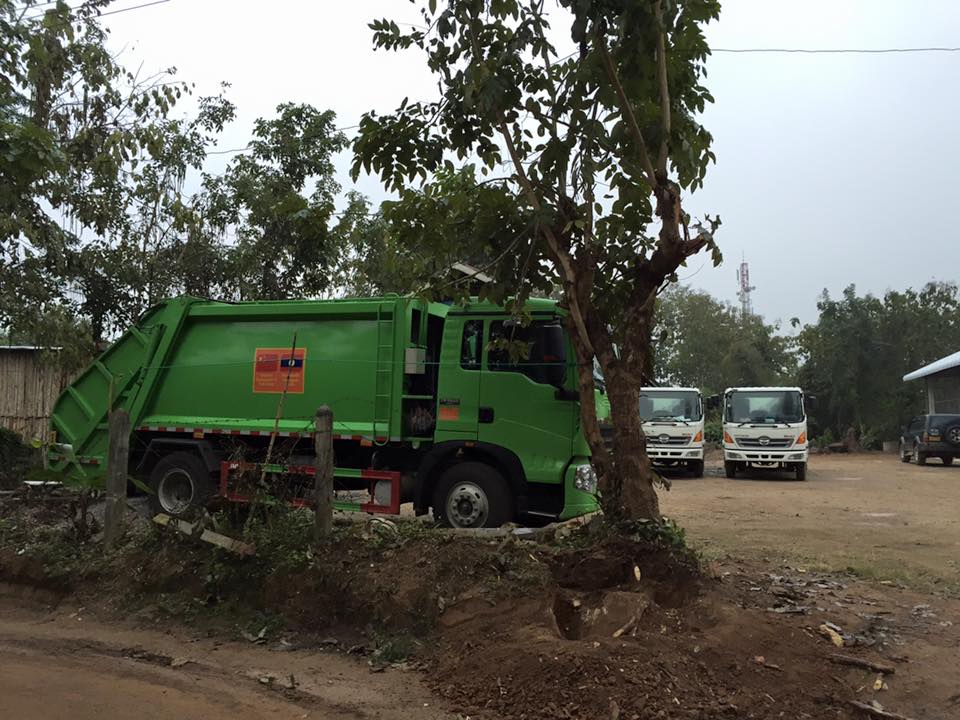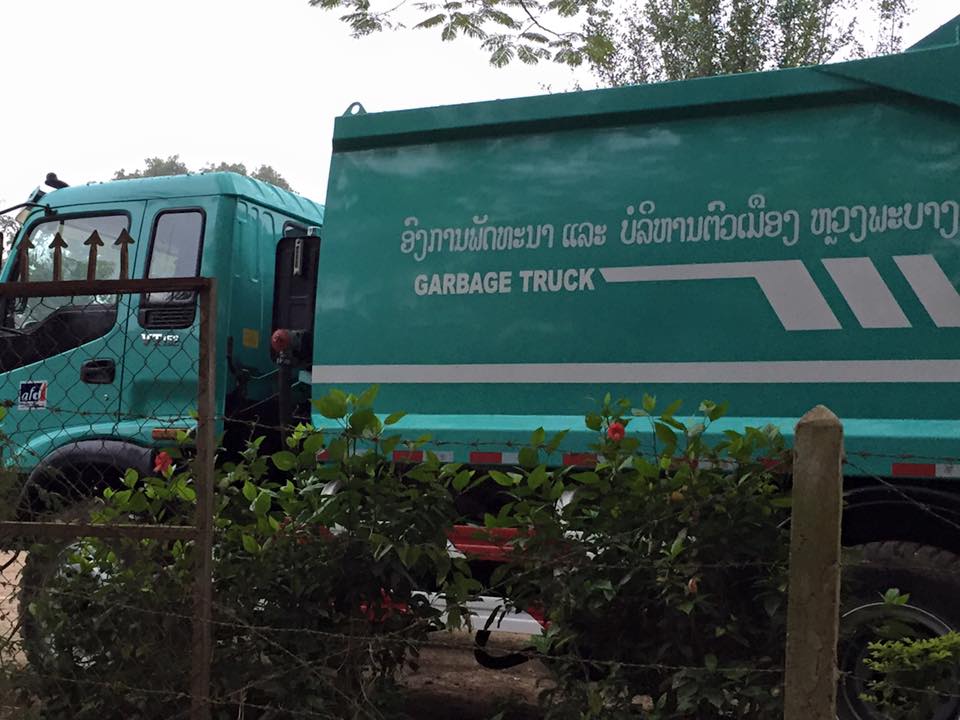 I tried to retrace my steps, and kept asking the kids on the road going to school. They all looked at me blankly when I spoke English. I tried to figure out how to pantomime "bamboo bridge over the river," but my first tries definitely weren't successful. My miming was obviously falling short.
Directional signs in Lao with its ornate Pali script, which had looked so pretty to me just a half an hour before, started to frustrate me. I really had no idea where to go. I couldn't see the river to orient myself. Nothing looked familiar. And once that seed of worry got in – it was 8:00 AM – I realized I'd spent the small bills of kip I'd squirreled away to pay for my passage over the bridge on my bottle of water. No way was the person at the bridge, even if I could find it, going to have change for a 100,000 bill. Maybe she'd take a dollar. I think I still had one of those.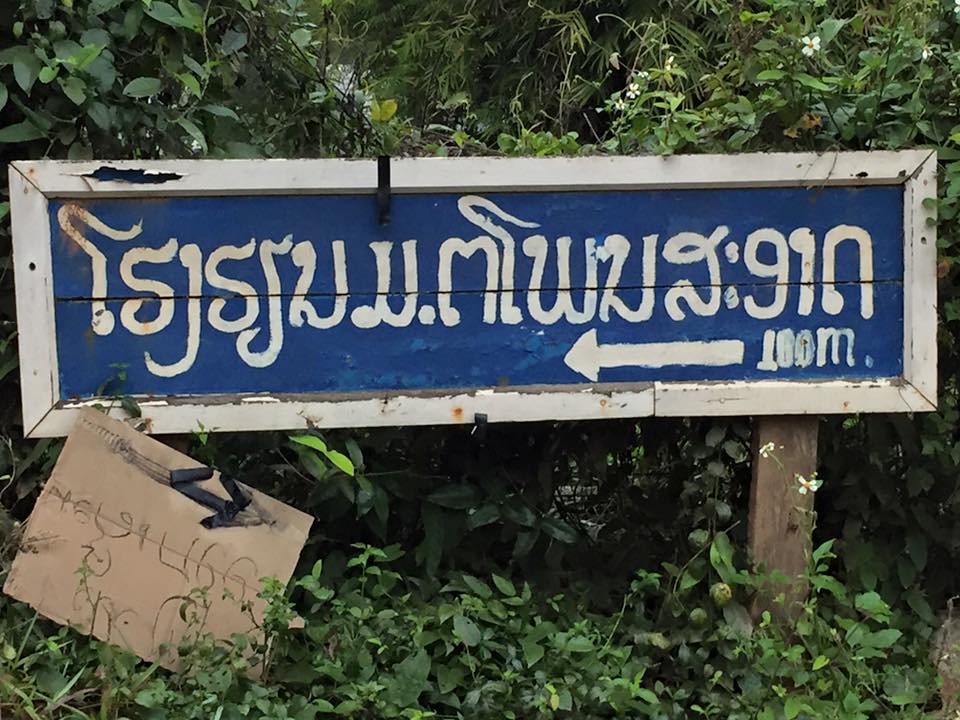 A couple of people directed me, but their directions led me exactly . . . nowhere. Finally, one guy working on his motorcycle responded to my curvy gesture of crossing the river by pointing to the right and indicating a curve. He seemed to get my pantomime so I followed his directions. I ended up in a wide dirt cul de sac with small shops around the perimeter. Another dead-end.
Then I saw a faint dirt road curving down to the right and took it. I started going down immediately. This looked promising. I came around a bend in the path and saw a monk in the woods. I started following his orange robes and the next thing I knew, I was rewarded with a view of the river – and the bridge!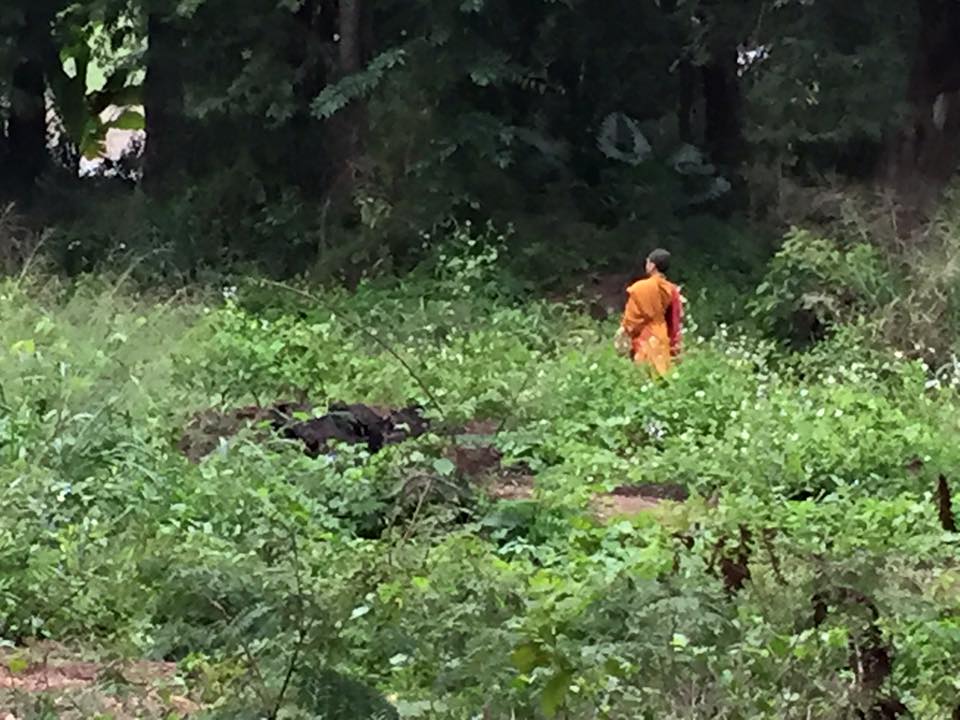 A sign in English told me I was on the right track: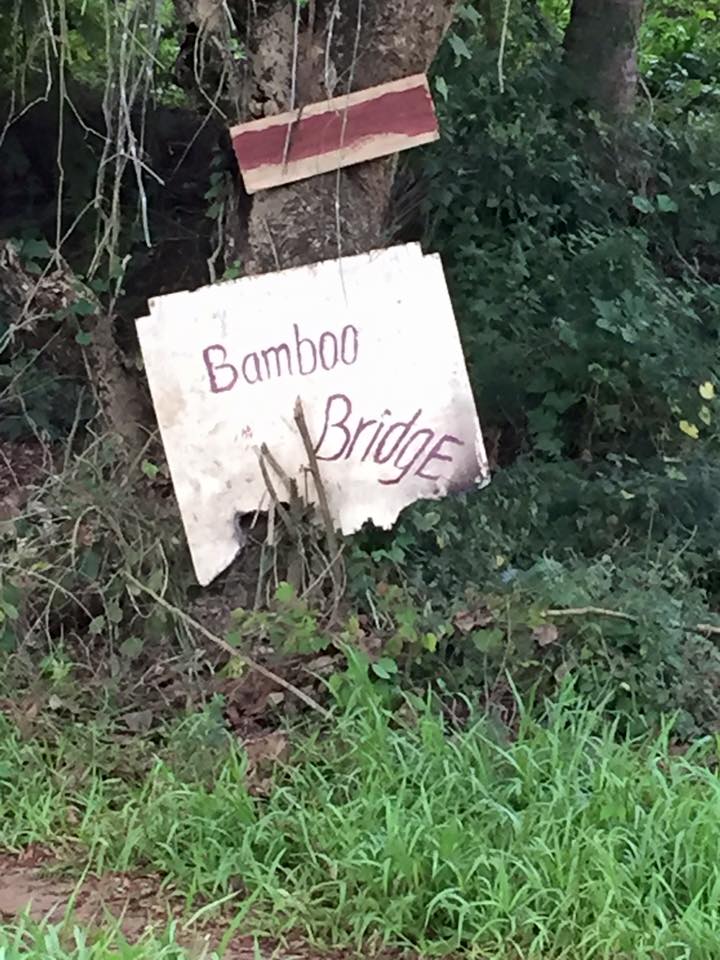 Homeward bound: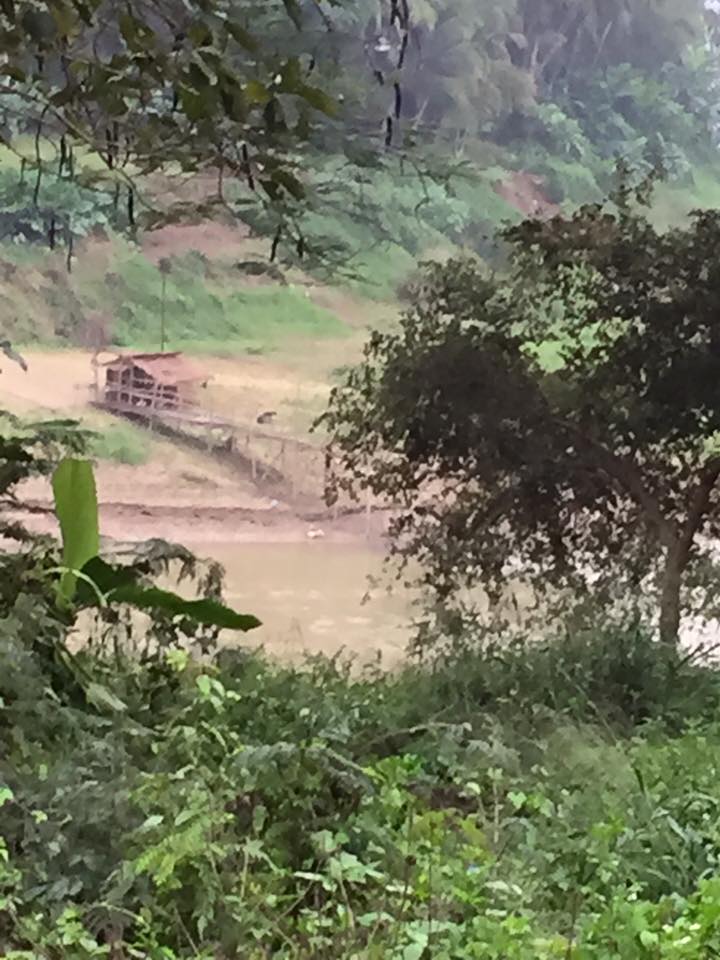 Paving the way with his beauty: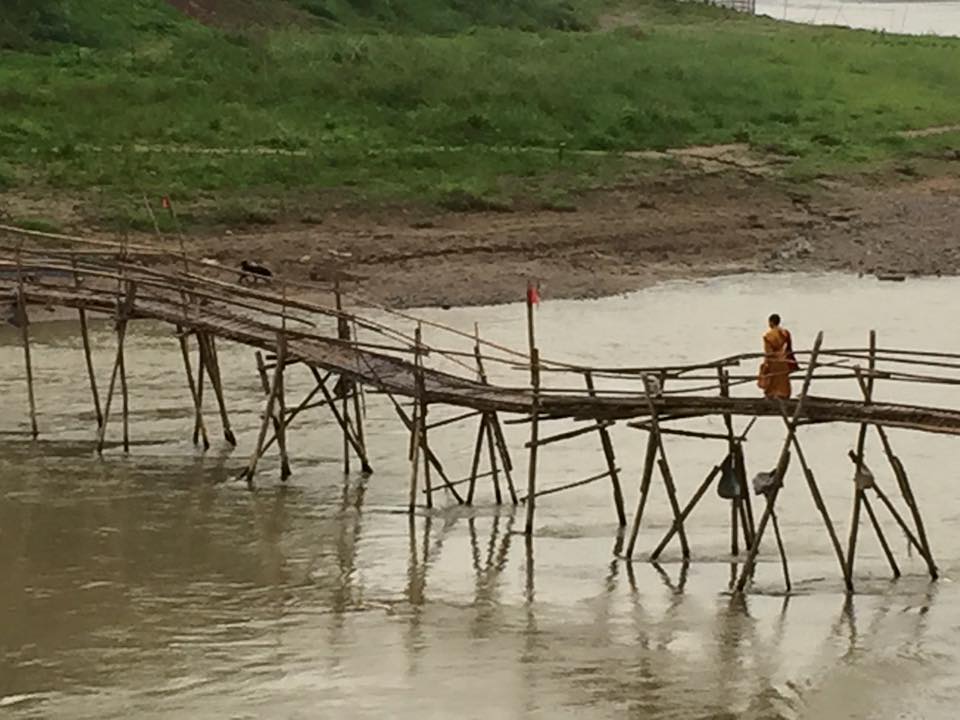 Almost home free: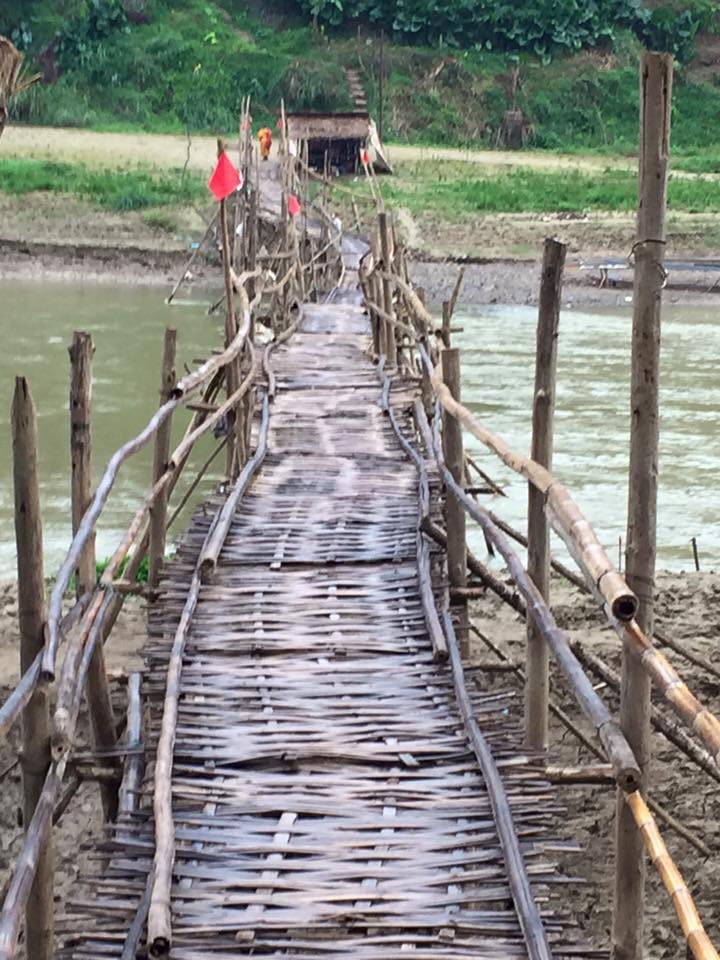 I strode with confidence now. The woman on the other side of the bridge accepted my dollar. I loved this sign: bridge tax for inevitable repairs.
I climbed across the cracked mud river bank and up a set of steep dirt steps, and fifteen minutes later, after passing a monk across the street striding under an umbrella, I reached our hotel. I ordered the local Lao chicken noodle soup for breakfast and added chili, and sat there happily, knowing I'd had my own private little adventure before our morning outing by boat on the Mekong River to a sacred Buddhist cave and a village that specialized in weaving and whiskey-making. I bought a bagful of beautiful scarves and took a picture of bottles of whiskey that actually had snakes sealed inside them, but that, dear friends, is another story.