Allison and I started the day at the local fish market and bought some of the largest most gorgeous prawns I've ever seen, some local glistening tuna, and something called a Moreton Bay Bug, which is kind of like a lobster, but it's all tail and all meat. It's a specialty of this area. We're going to have quite the seafood feast for dinner.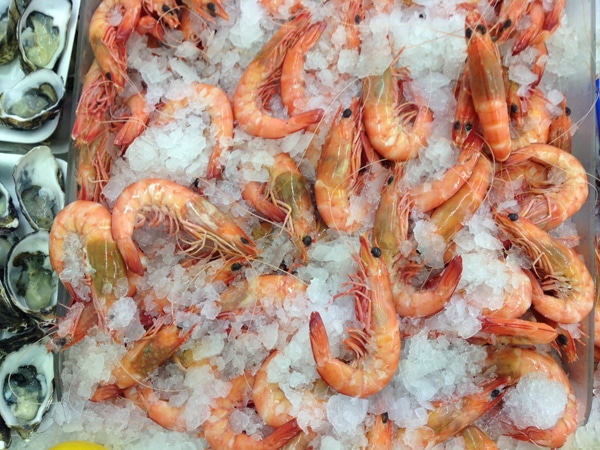 On the way home, Allison explained a bit to me about the political system here—namely that every citizen must vote in every single election—or they have to pay an actual fine. Can you imagine a country with 100% participation in the political process? What do we average in the U.S.? 40% is a good show for national election, with local elections dropping far below that. What if everybody voted?
This is the same country that banned guns after a huge mass shooting 12 years ago, did a massive gun buy back and there have been no problems with mass shootings ever since. This is definitely not the U.S.A
After dropping our goodies back at home in the fridge, Allison drove us up to Byron and we took a long coastal hike up and around a stunning lighthouse, through coastal rainforest, up and down hundreds of stairs and wooden boardwalks, out to the very tip of Byron Bay, the easternmost tip of Australia. The incredible geographic diversity in our hike was stunning—from rainforest to ocean to rocky promontories to seeing whales swimming below us along the coast. The day was brisk and windy and clear. We saw some hang-gliders diving off the cliff where we stood and watched them lazily circling the beach. We contemplated trying it; it's something neither of us has ever done before and it looked so dreamy and wonderful.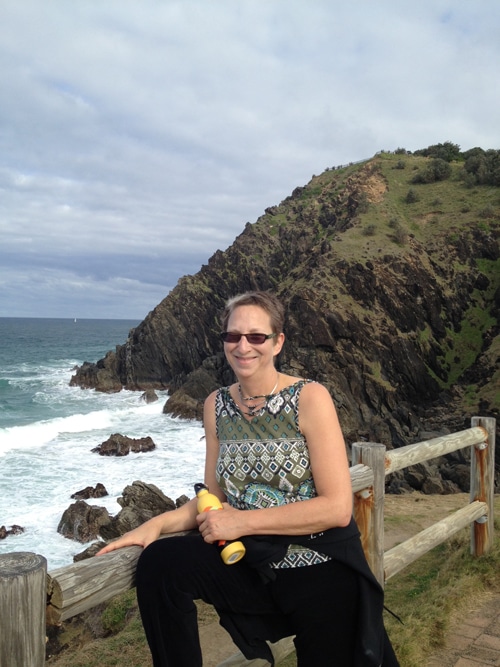 There were surfers everywhere, just like in Santa Cruz. In some ways, this beach town reminds me of home, and of course the language is the same, but then suddenly something would look very different, and I'd realize I was 17 time zones away from home.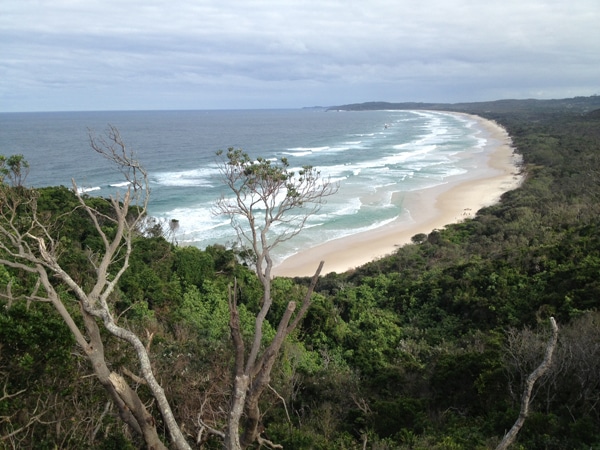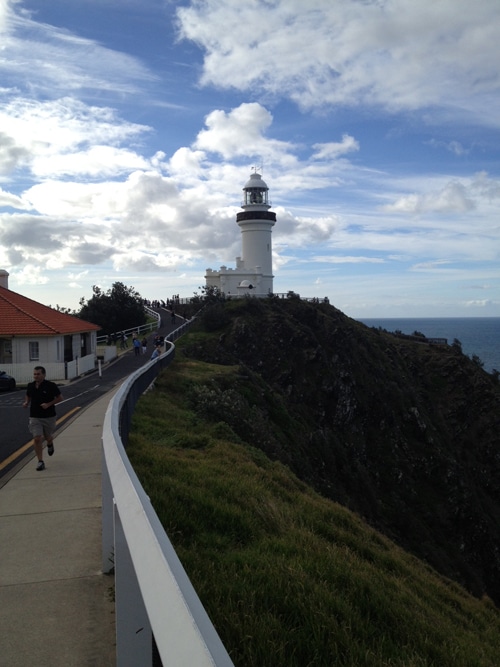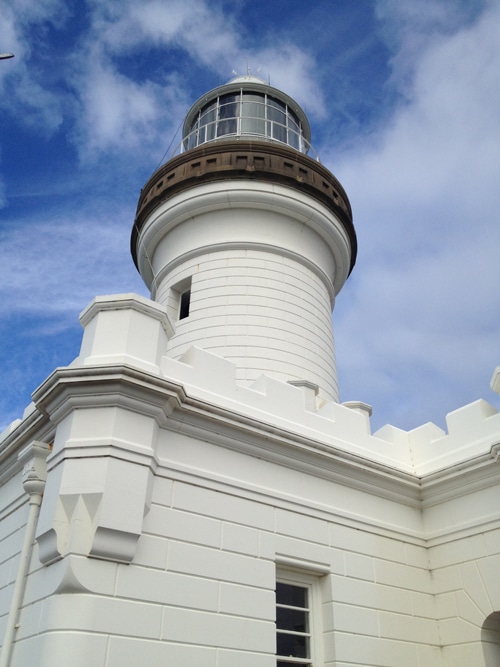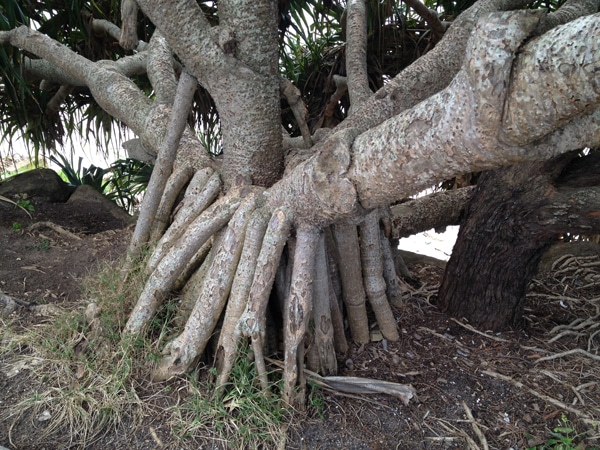 The town of Byron is full of trendy shops and restaurants. I bought three of the most gorgeous desserts I've seen ever at Allison's favorite bakery, Twisted Sister: a carrot cake, a banana cake and a piece of passion fruit cheesecake, which I bought for our dessert tonight. The three desserts were $25 bucks—that's pretty typical for what things cost here. But they're huge pieces and look like enough to feed about ten people!
After wandering around town a little, we landed at Beachie, formally called Byron Bay Beach Hotel, for Sunday happy hour. I had a platter of Turkish bread with some of the best feta cheese and hummus I've ever eaten and another great dark local beer, Toohey's Old.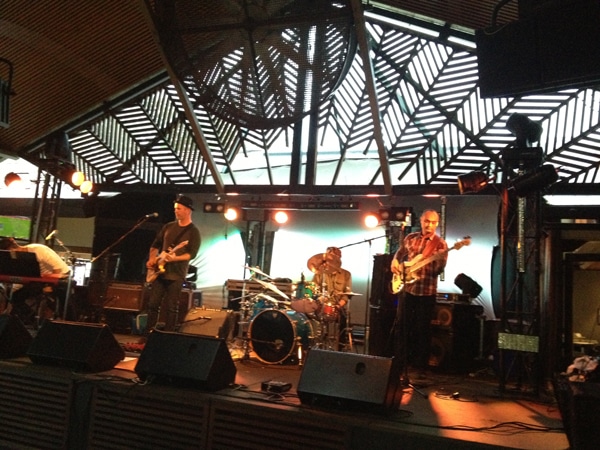 The house band was doing brisk work of a lot of lively, great pulsing oldies: Man Eater by Hall and Oats, Stuck In The Middle by Steeler's Wheels, If You Think I'm Sexy by Rod Stewart. Two blokes with a wheelbarrow came by selling raffle tickets to win a pile of meat they were dragging around in the wheelbarrow. Allison says this is typical—there are meat raffles, seafood raffles, and grog raffles: 2 bucks a ticket or 3 for five dollars.
Beachie is filled with locals on Sunday afternoons. It's a vast indoor-outdoor scene all taking place in an open-air pavilion, where the band plays non-stop and people of all ages dance. There were tons of children, old people, families, all shaking their booties together on the dance floor—the kind of family-friendly community scene that is very unusual in the U.S. The only place I've ever seen anything like it were on my trips to Cajun country in Lafayette, Louisiana, where I saw the same kind of cross-age pollination and joy out on the dance floor.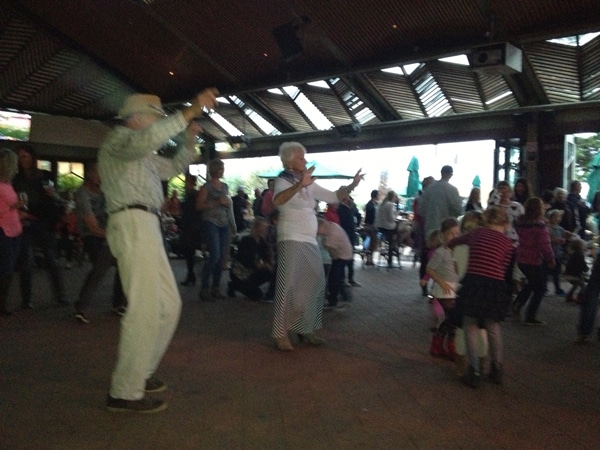 Allison says most parties in Australia are multi-age affairs. Here at Beachie, the party goes on all night and just gets more crowded and rowdier. I loved the energy and the atmosphere and I did a little booty shaking myself. I would have stayed longer, but it was getting dark (and when it gets dark here, it really gets DARK), and our tuna and prawns and our Moreton Bay Bug—and Kevin—were waiting for us. So we headed home to make dinner.
Now I'm taking some quiet time to write this while the tuna is marinating and the pasta is cooking for dinner. I feel happy and grounded and though still a little tired, I feel much more fully present.
Allison and Kevin are wonderful hosts—it's lovely to be shown a place by locals rather than trying to figure out what to do and see as a tourist alone. And it makes me want to slow down my life so I have more time to host guests through all the wonderful things that make Santa Cruz such a great place to visit.