I woke up this morning to the sound of the call to prayer and roosters. It is just starting to grow light. This is my last morning in Amed.
As I think about moving to Candidasa, I realize that I'm tired of being "a vacation consumer." Five or six days of that is lovely—but now I want to do more than just consume experiences. It's not like I have a lot of time to explore what that means—Karyn and our group of fellow travelers are arriving in three days—but I'm noticing that I'm hungry for something more engaged. Like work or study or otherwise being part of Bali, rather than being entertained by it.
In part, my contact with individuals here has shifted my perspective because I have more of a sense of what the people who are serving me are going through in their lives. My awareness of my incredible privilege as a US citizen and all that I own and have access to is palpable to me here on a daily basis. I know my tourist dollars are contributing to the Balinese economy, but I'd like to find ways to give more. And this morning, I had at least one small opportunity to do just that.
I woke up to an email from Nyoman, the man who runs the coffee collective I wrote about in Munduk, sending me the text he wanted me to smooth out for him in English. Here's what he sent to me:
1. When the demand of Luwak Coffee (civet coffee) increases very sharply this five last years, most people tend to take 'a short cut', they prefer to cage the animals then fed with coffee berries. The local people also compete each other to catch those nocturnal animals massively, of course it is not easy to catch them, so they are trapped and shot.

A part from the quality of this 'fake Luwak Kopi' is much poorer, it is undeniable that they become the victims of gaining the world best coffee. The people of WARUNG LUWAK MUNDUK also act as animal rehabilitation center, takes care of the 'injured animal', then release to our pilot project, a 27 Ha of coffee plantation with 3 Ha of tropical rain forest in the middle. They deserve roam in the nature, so they produce Luwak coffee Naturally since the enzyme from the wild can proceed the biological fermentation.

We strongly recommend buyers/coffee lovers NOT to buy the product from the caged animal, otherwise the animal will get extinct

Please support our effort only to produce and sell natural genuine luwak coffee……
I loved the fact that I could use my skills as a writer and editor to give something back to this country I love. I just emailed back with the following questions:
Nyoman,

Here are some questions I'd like clarification on:

What is the ideal (best) way to treat the animals and harvest the beans from their poop? If they are in the wild, how is the poop actually gathered? It seems like it would be impossible to find it if the animals were just running free. How is it harvested in the wild?

How much is a Ha compared to an acre?

When the animals are in the wild, how do you ensure (make sure) that they eat the coffee beans?

Are the animals shot and killed when people are trying to make them captive? Or to harvest the poop out of their bodies?

If they're trying to catch the animals so they can cage them and force feed them coffee beans, it doesn't make any sense that they would shoot them. If they shoot them, they can't use them to process the beans, since they'd be dead. Can you explain why they shoot them?

Aside from the cruelty to the animals, why is the coffee produced from caged animals inferior to the coffee produced when they're wild?
I look forward to my continued exchange with Nyoman and to being able to write something that will help further his mission. I'm glad there is this one small thing I can do. A way I can participate and contribute. On my last morning in Amed, this made me happy.
Half an hour later, as I was eating my breakfast and preparing to leave, an Australian couple, David and Angelica, newly arrived from Sydney, asked if I wanted to join them renting a boat for snorkeling. I checked to see if I could change the time of my driver—and then delightedly said yes. It was finally sunny in Amed and getting in the water, at last, seemed like a great idea.
I went back to my room, finished packing. Then I wrote a note to my "Ketut," who had greeted me so warmly as he brought out my breakfast. I told him in my note how much that trip to the holy waters had meant to me. I said that I would have paid 400,000 rupiah ($40) to go on the bike trip and that I wanted to give that money to him because his tour was so much better. And that I appreciated all he had shared with me. I put the bills in the envelope and hoped it was the right thing to do. I knew I was handing him the equivalent of a month's salary. Was it really okay to do that? I wasn't sure, but before I went snorkeling with the Aussies, I trusted my gut and gave him the envelope.
After two snorkeling sites and a lovely ride on a jukung (it's always a good idea to see a place from the water if you can—it looks completely different)–for which my share was ten bucks–I showered and changed.
I was about to order my last lunch at the hotel when the worker at the front desk told me that he hadn't been able to reach my driver, and that the man had been waiting for two hours, so I had to leave in a hurry. Once my things were in the car, I looked across the courtyard at Ketut and he looked at me. He came over and we hugged. Really hugged. Right there in the parking lot. I could see the same recognition of our connection in his eyes that I felt in mine. I felt so sad and so full leaving him behind. And we waved to each other until the van was out of sight.
On our way to Candidasa, my driver offered to stop to show me different sights, but all I wanted to do was sleep. But I did pull off a couple of times so I could show you the magnificent view from the road: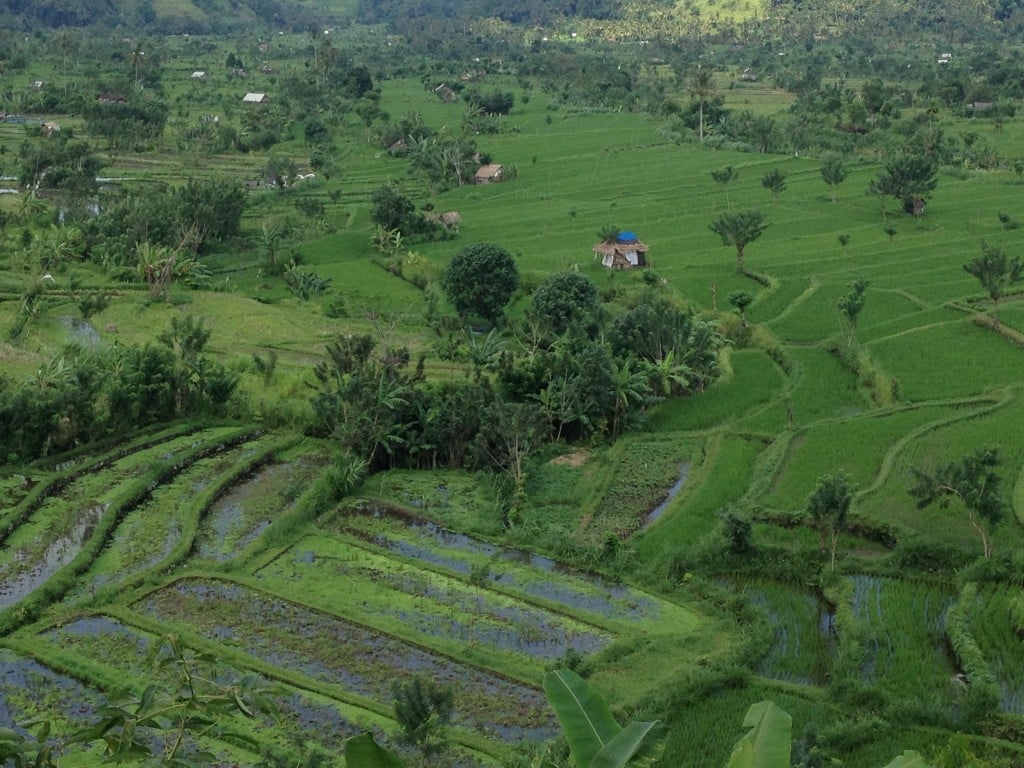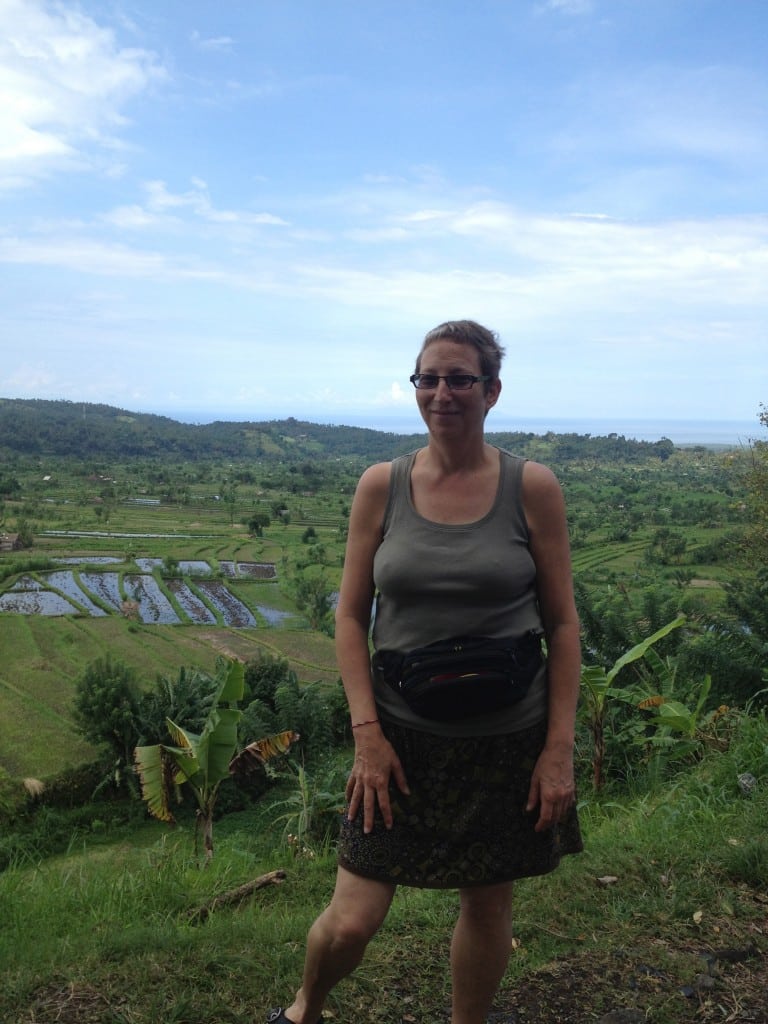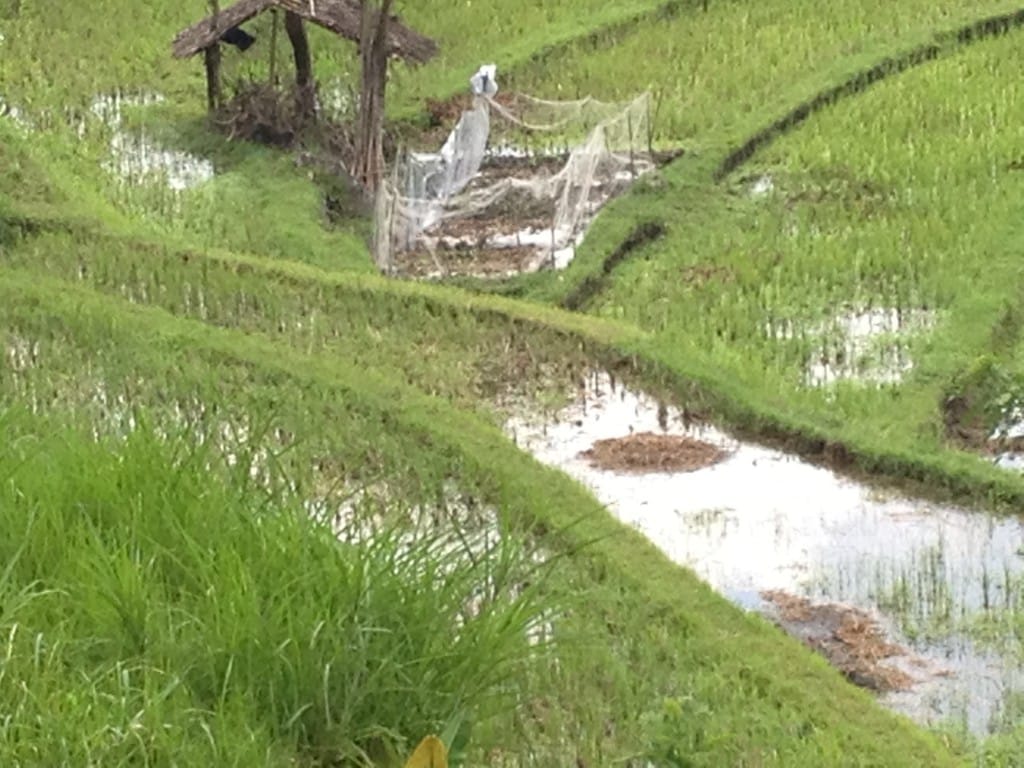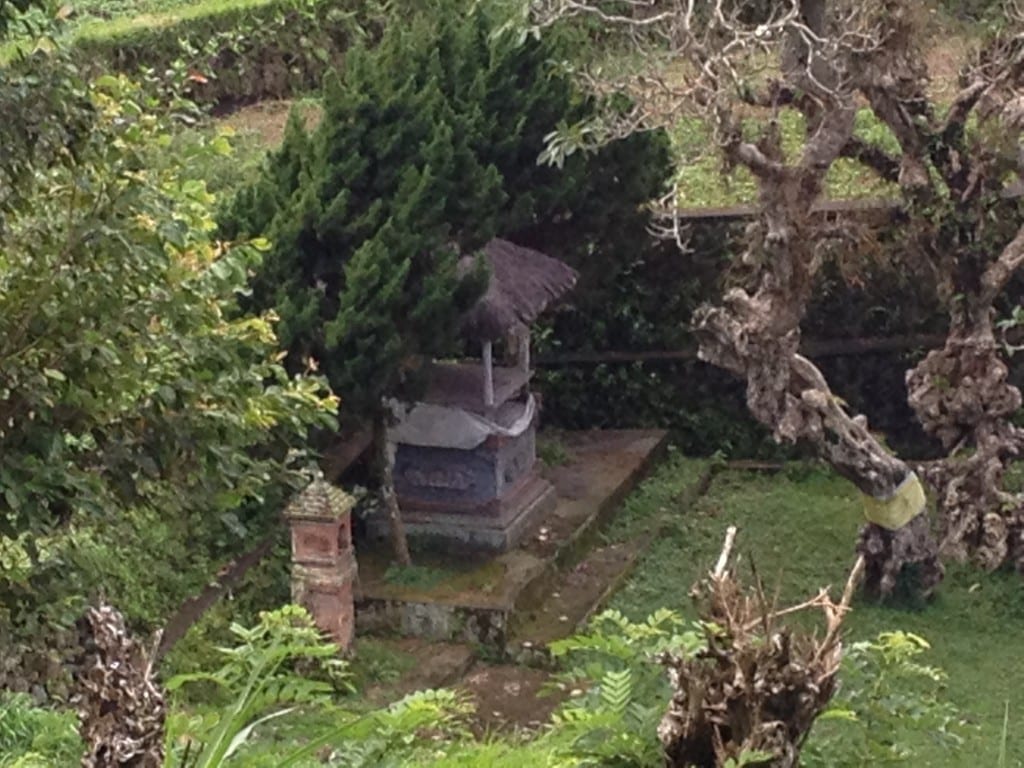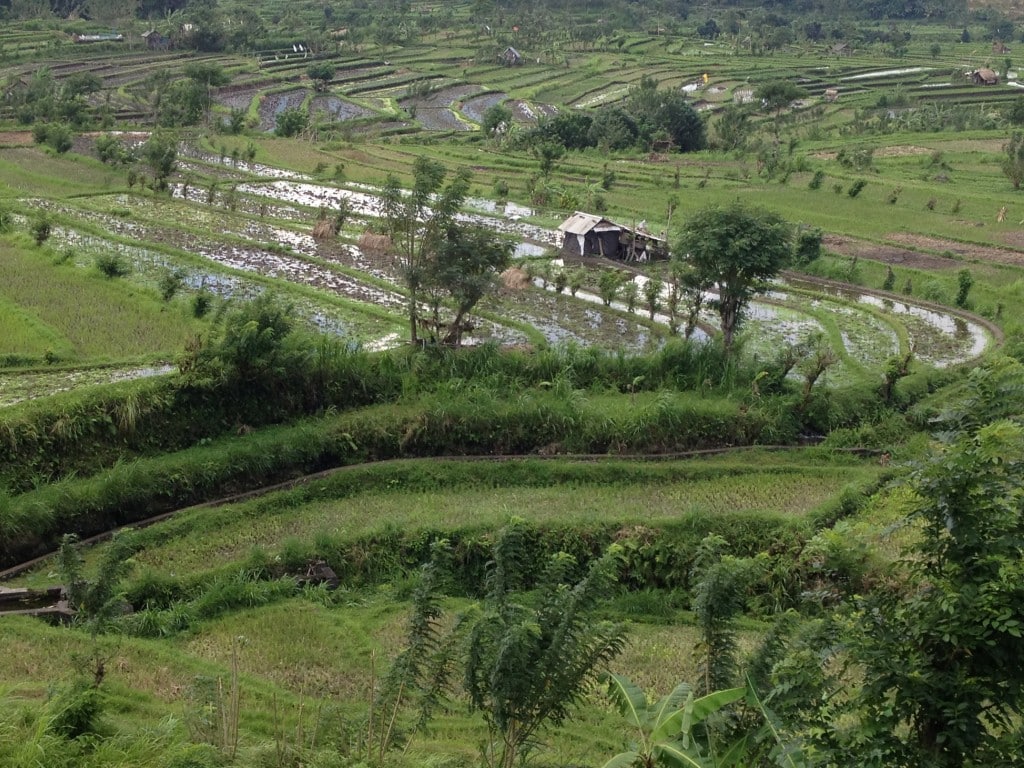 As we made our way south, I felt exhausted. And when I arrived at the Lotus Bungalows, a haven as peaceful as I remembered, I immediately crawled into bed to sleep. Something felt off. And half an hour later, I awoke with diarrhea. Shit! Quite literally.
Perhaps my drink of holy waters had caught up to me.
I took the various herbal remedies I brought with me, and only hope that this passes quickly and doesn't descend into body hell.
Still, I wanted to keep you up to date on where I am. Here's the welcome sign at the Lotus Bungalows: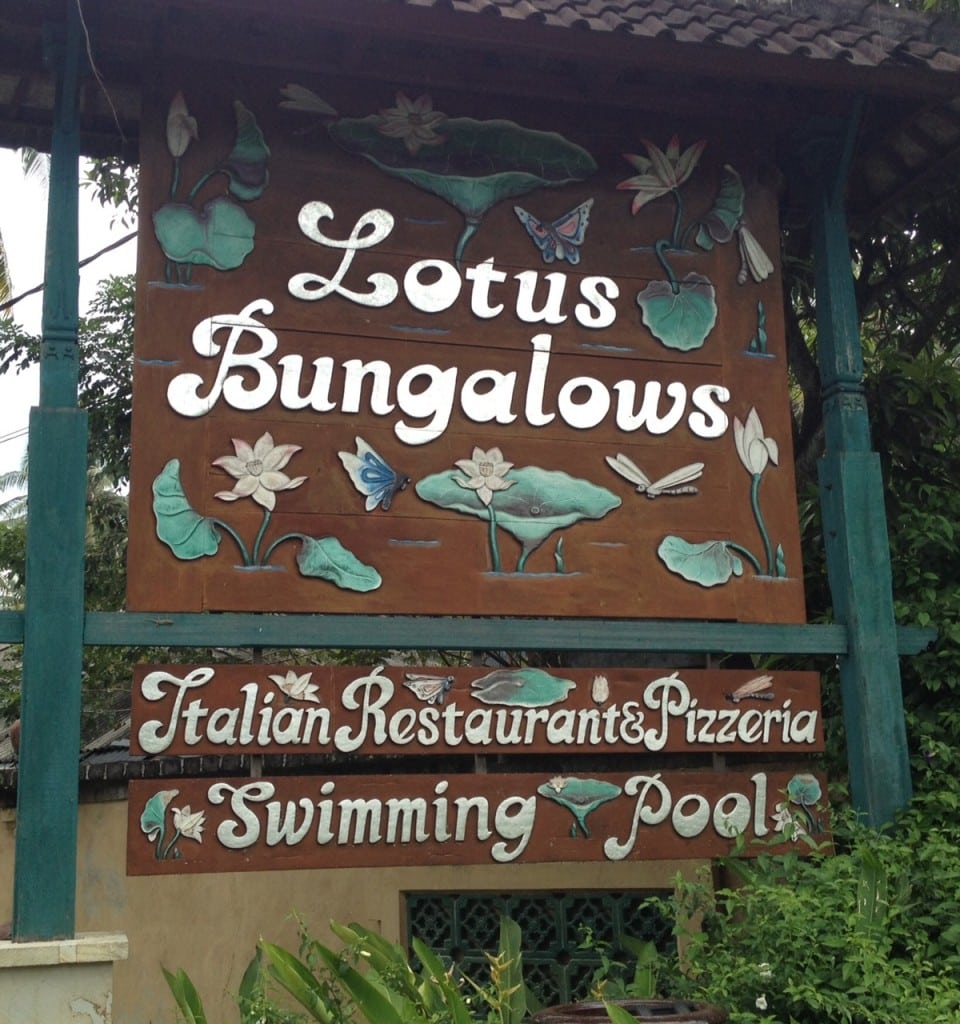 Here's the view from the endless multicolored outdoor couch, a favorite poolside place to hang out and relax: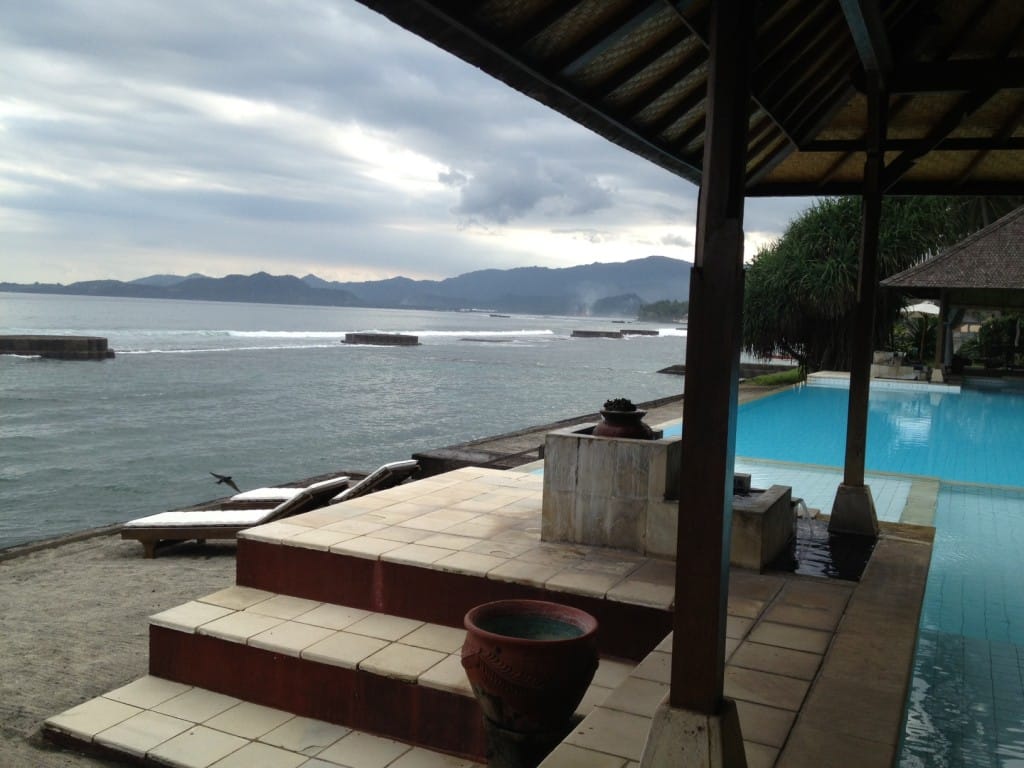 Right now, I'm lying on the outdoor couch. Everything in my view is perfect: the beautiful infinity pool, the waves of the Indian Ocean rolling up on the shore beside me, the perfectly manicured lawns and picture perfect lush tropical plants. The temperature is a comfortable 80 degrees, not too hot, not too humid. Everything telegraphs relaxation, peace and calm. But for me today, it feels too perfect. I feel as if I'm back in the fake Bali. The staff people are competent, capable, friendly, and polite. But all I get is the polite tourist smile. Now that I've left Amed and the special magic that happened there, the impenetrable wall between tourist and Balinese wait person/masseuse/groundskeeper has reaapeared, and that barrier no longer feels permeable. I can no longer cross it. The magic is gone and I am once again an outsider to be served. I feel so sad. In fact, I'm crying as I write this.
Last year at this time, I arrived here at Lotus Bungalows with my daughter, Lizzy. We were diving every day and sharing precious mother-daughter time. Now I am here alone and Lizzy is on her way to Morocco. Once again I have to face my solitude and what it means to "vacation" in Bali.
I have three days here before everyone arrives. How am I going to spend that time? Can I create something real?
Laura
P.S. Thank you for all your generous and warm responses. They keep me going. Thanks for being part of my journey. Your encouragement really helps. I'm winging it out here…and messages from home really make a difference.