Our writing retreat officially began last night with a surprise—a traditional Scottish welcome.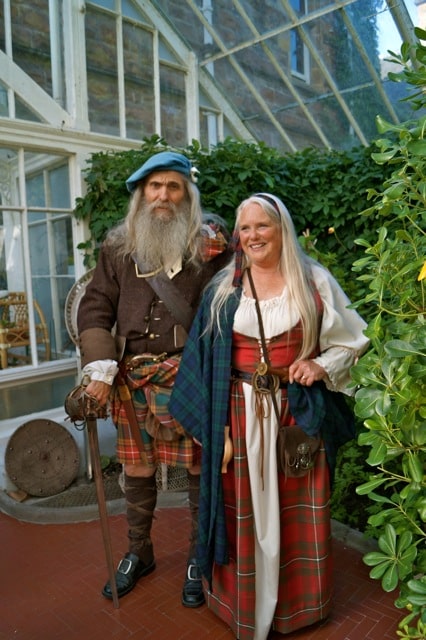 We all passed under these swords, were given a handshake and an ancient Celtic greeting, had some delicious snacks, and if we wanted it, a bit of whiskey.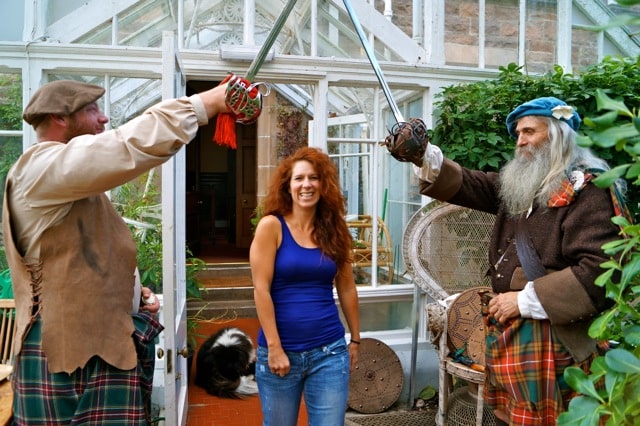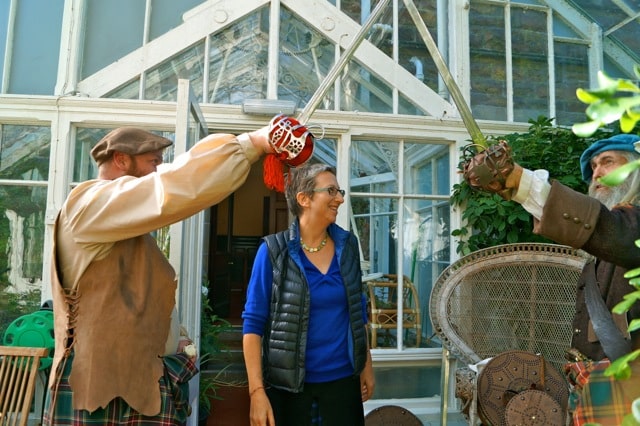 After a wonderful salmon dinner, we had an opening ceremony, Findhorn-style, led by Newbold House trustee, Elly Stuart. We did what is known in Findhorn parlance as an attunement—a way of getting the whole group to tune into each other's energy. We played some simple getting-to-know-you games and then had a chance to introduce ourselves.
We took turns sharing how and why we came to the retreat. I was moved by the incredible coincidences, intuition, serendipity, and passionate certainty that led each of us to choose this experience. And I had the feeling I always do when a new retreat is about to begin—awe at the potential of everyone in the room—each one a bud about to flower.
Elly warned us that this region—the Findhorn region—gives everyone exactly what they need, though not always the way they want it. People go through changes very fast, she told us. Expect intensity.
Her words reminded me of what a German man told me at my first breakfast here at Newbold: "This house is the perfect place for a retreat. Nothing much happens on the outside, but on the inside, everything happens." And then he made a gesture of a volcano exploding.
I couldn't wait to see what the next ten days would bring—for all of us.
This morning, we all gathered for our first writing circle. I couldn't believe that after so many months of preparation, this retreat had actually materialized. Those of us meant to be in this room were here, ready to begin.
I always find the start of a retreat thrilling–the moment when I step our from under the constraints of my daily self, the ordinary Laura, into being the teacher. All my years of practice and experience, and the months of planning and orchestrating fall away. When it comes right down to it, leading a retreat is about receptivity, openness, and presence.
I began, as I always do, by going over the groundrules that make a writing circle safe, explaining the particulars of confidentiality. I asked each writer to make it a point to take a risk every day—but made it clear that the risk could be small, something that might not be considered risky by anyone else—eating a new food, initiating a conversation with someone from another country or culture, reading their work out loud in our group, not wearing makeup when they usually wear makeup, taking a walk to town alone—something just beyond their comfort zone.
I stressed was the importance of respect—honoring each others' differences, approaching their fellow writers with curiosity, rather than criticism.
And then I taught the basics of writing practice, as developed by Natalie Goldberg in her classic book Writing Down the Bones, and we began to write. As I heard the responses to these early prompts, I listened closely and with joy, once again filled with the power of words to illuminate our lives and take us—and each other—on journeys to places undiscovered and unknown.
I handed everyone a tiny little notebook with which to develop their writer's eyes, writer's senses and writer's habits—and instructed them to move through their days and our outings and adventures with the skin of a writer. "I expect you to have these little notebooks and pens with you at all times," I told them, "I want to see you writing all the time—and I know you want to make your teacher happy."
Then I gave them each a workbook, specially created for this trip, to store their daily memories in, and I encouraged everyone to develop the habit of sitting at night, every night, for a time of reflection, pausing to record the days' events, challenges and insights. I closed our first session with the following poem, an excerpt from Julia Cameron's memoir, Floor Sample:
There are many things which resist naming,
And that is why we write.
We write because language is slippery,
And the truth is.
We write because
The light we have to see by
Is always shifting.

Never forget that writers are prophets.
We speak in tongues.
We testify.
We are for each other a believing mirror.
Our words make us visible.
Our listening makes us heard.

Never forget that writers are soldiers.
Our writing is the long march,
The walk into time.
Each word is a drum.
We sound it across great distances,
Reaching one another and ourselves.
Every poem is a day's march.
A celebration more necessary than water or wine.
Every poem is a drink of blood.

Never forget that writing is an act of courage —
Not on the days when it is simple and we discount it.
Not on the days when it is hard and we write like sand.
Our words are torches.
We pass them hand in hand
And mouth to mouth
Like a burning kiss.

Never forget to say thank you.
Every syllable is a grace.
Tonight, we are going on a tour of Findhorn, something I am very much looking forward to. We will all be there with our little notebooks, each of us searching for the particular story thread we want to follow and record. I, of course, will share mine with you tomorrow.