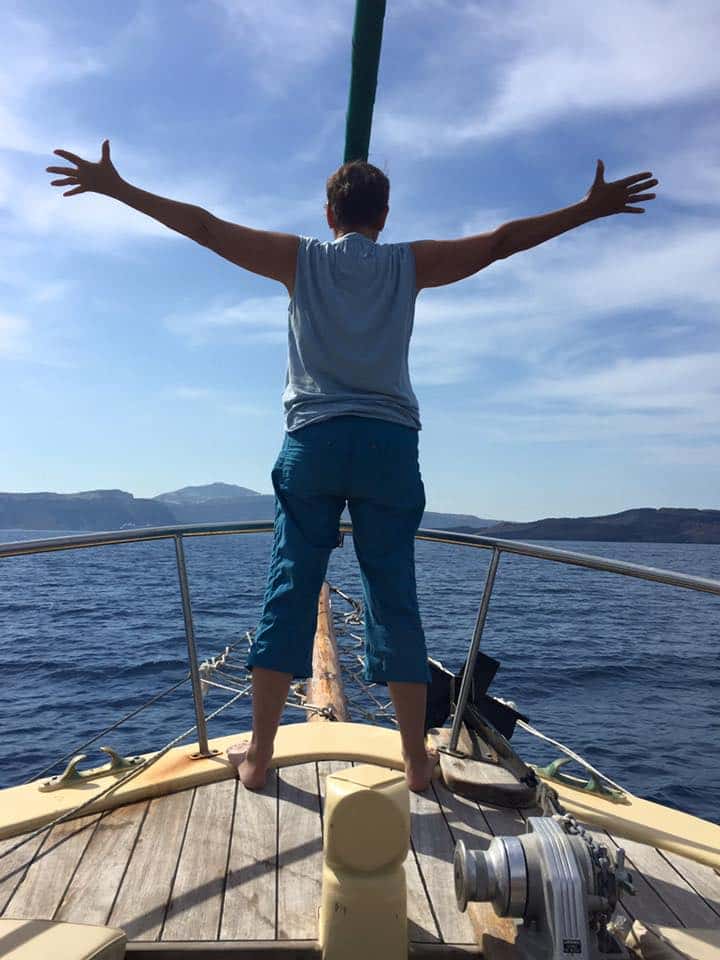 Today was a day I've been looking forward to the whole trip. I'd been told we'd be taking a boat from our new (and final) home base in Oia, Santorini, trekking to the caldera of the volcano that transformed this island, and then heading to a natural hot springs that had something to do with mud. The details were vague to me, but hot springs and mud sounded great. And I was ready for another hike.
But before we could start on this adventure we had to walk down 200 wide steps down the cliff from our hotel to the harbor beneath.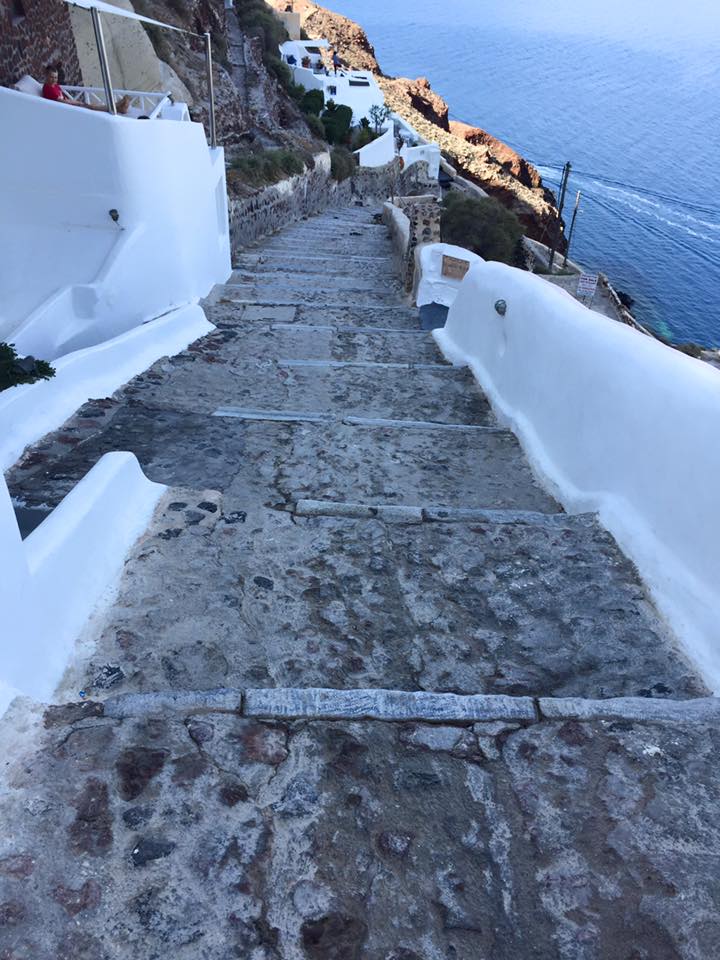 We met at the windmill, the best landmark for our hotel. I carried not only the requisite bathing suit (under my clothes), sunscreen, hiking sandals, water and a hat, I also an old towel that I could get muddy (supplied by the hotel), and my storytelling brain–because I knew this was an outing I wanted to write about.
The whole time I've been sharing these posts from Greece, I could have written about the archeological sites we've visited or the museums we've been to or the great lectures we've heard, but the truth is I love nature more than history and artifacts.
When I travel, I turn into an I-want-to-experience-it-viscerally kind of person, one who is turned on by adventure. Getting my body into the act makes a real impression on me–perhaps because at home, I live in my head so much of the time.
This day was definitely going to be an adventure, so I carried my little notebook, my pen, my phone for photos and my storytelling brain. I wrote and took pictures all day long, always shaping this story in my mind.
The nine of us wended our way through the warren of streets above, around and below our hotel until we found the relentless steps that lead down to the Amoudi Harbor.
There are 200 of them. They are wide and made of stone and the further down you go, the more they're covered with donkey poop–because if you really don't want to walk all the way back up the hill, you can buy yourself a ride up to the top on a donkey.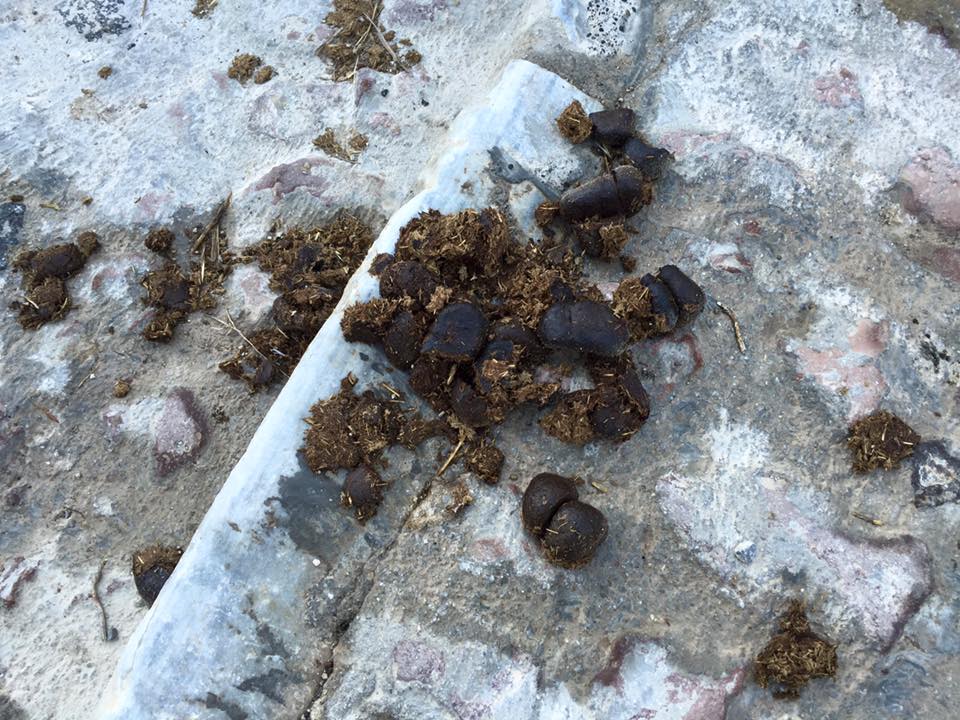 Part way down, Judy explained that the marble edges found on most of the steps were actually the original steps from a temple dedicated to Aphrodite built between the 3rd and 5th century BCE.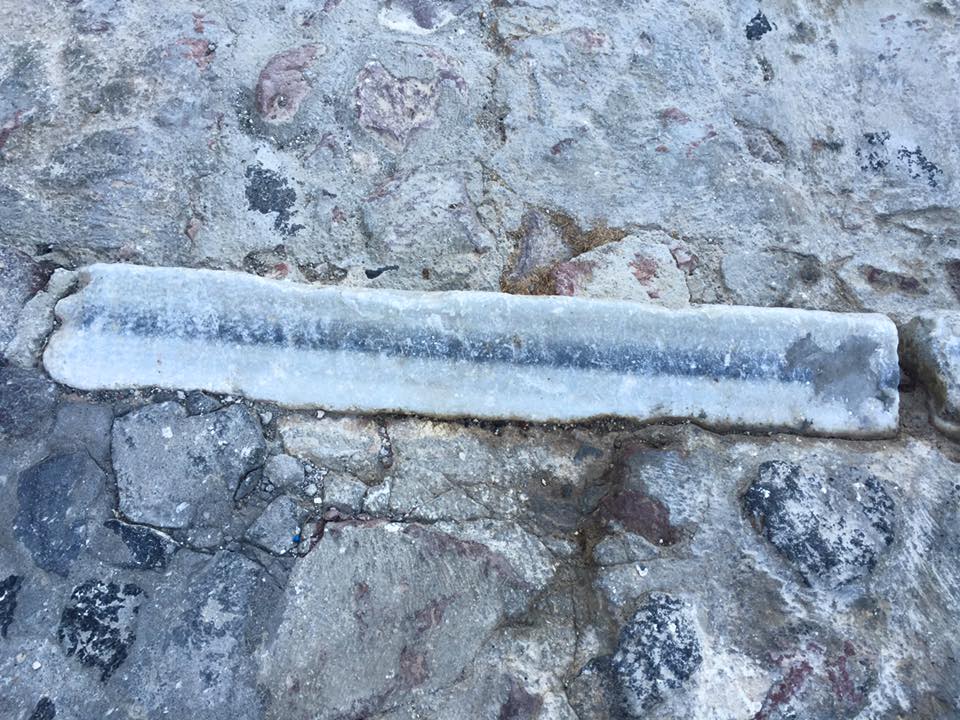 Twenty minutes later, we were still going down. Down, down, down. What was it about all the downhill on this trip?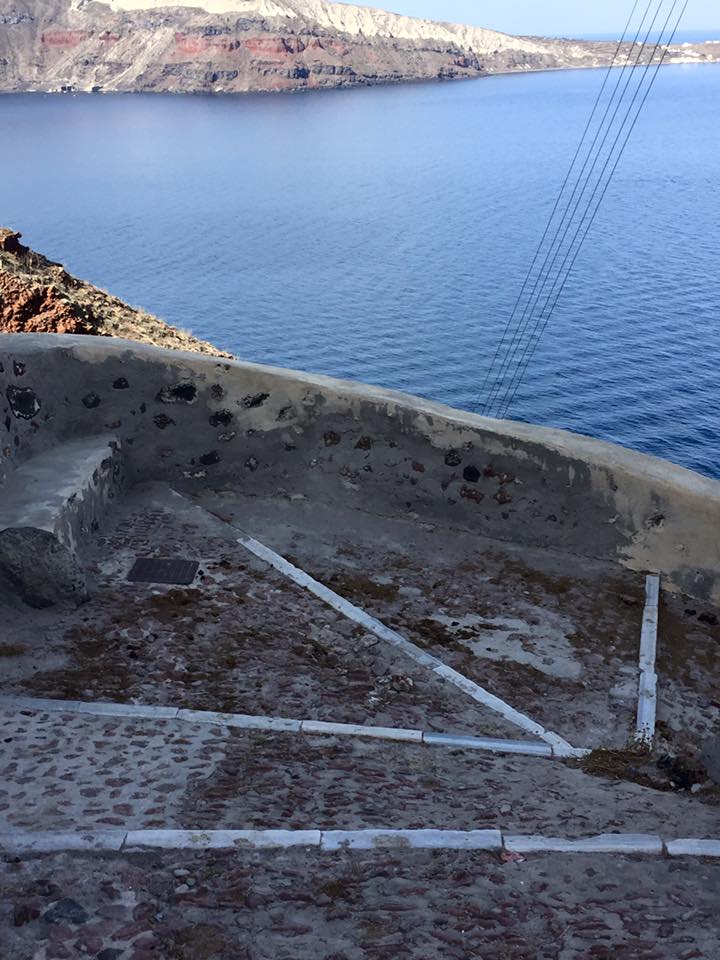 When we finally reached the waterfront, LJ called me over to tell me about the multi-dimensional view of the sky, sea and craggy cliffs she'd had from her bed when she woke up in the morning. Then she looked over and saw the boat that would be ours for the next four hours and she grew as giddy as a child. "I'm so excited I have goose bumps," she told me, and then she showed them to me.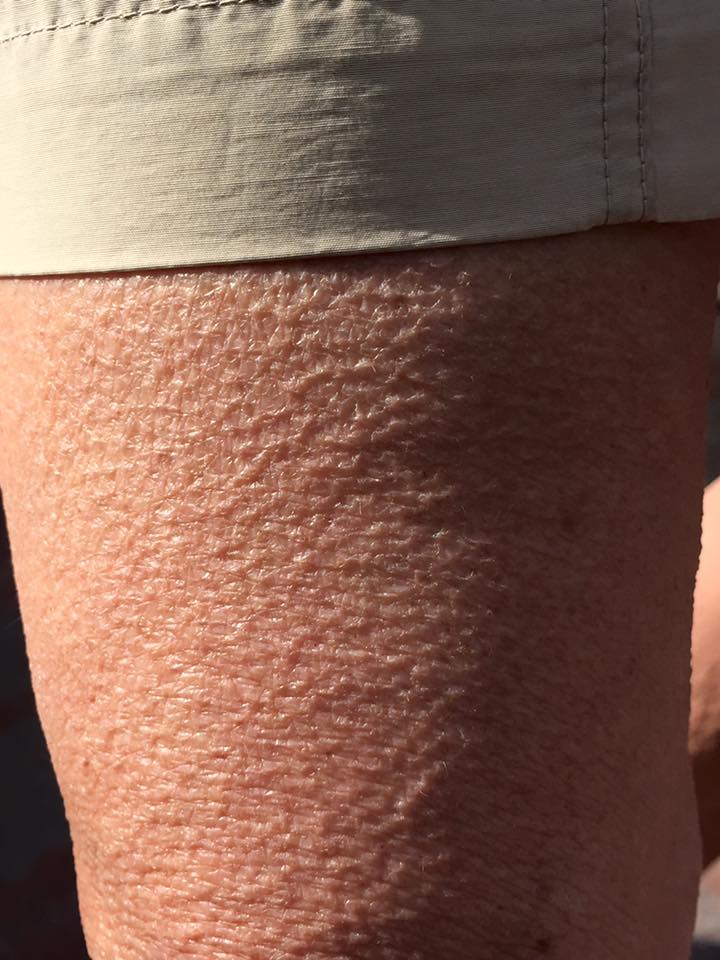 I've always loved being on boats and this was no different. The nine of us sprawled in the bow and across the stern as we headed toward the caldera. On the way, I learned a little more about the volcano that had shaped this island and created the dramatic black cliffs Santorini is famous for.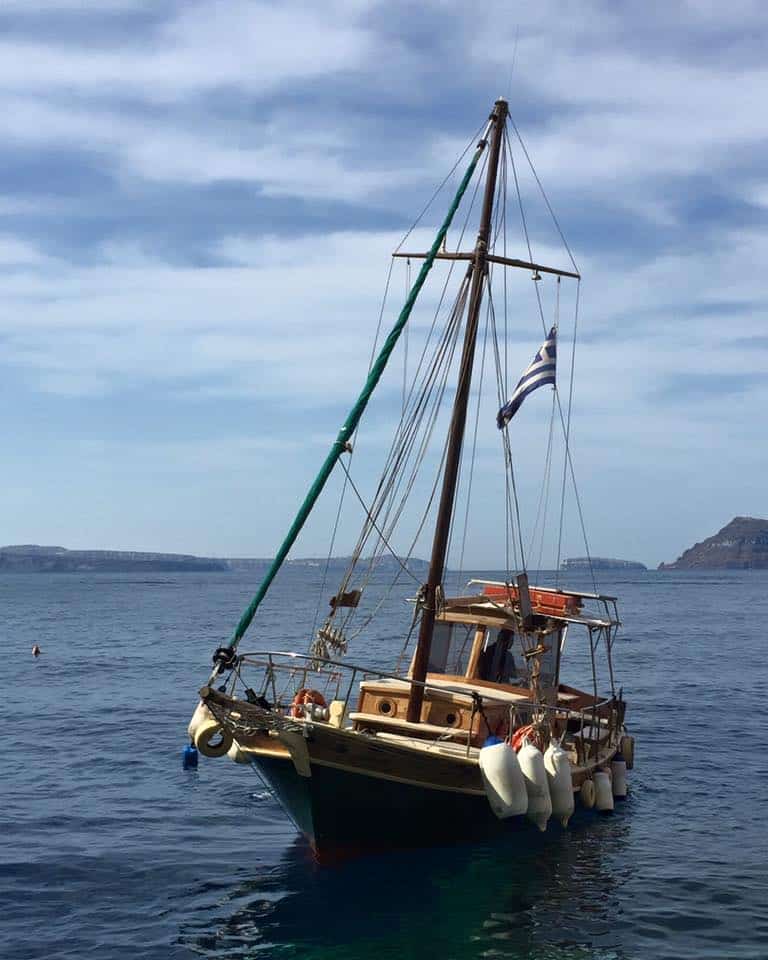 In 1613 BC, a huge earthquake exploded in the center or the ancient island of Strongyli. Two-thirds of the island collapsed, creating the harbor and dividing the land that was left into three separate islands– Thira, Thirasia and Aspronisi–now collectively known as Santorini.
Jean illustrated this huge seismic event to us by holding up her broad brimmed hat. "This was the original island and the center of my hat is the volcano that erupted and sank into the sea." What you see around you," she gestured at the three islands around us" is what was left–just like the brim of my hat."
Jean explained that a new cone is rising in between the three islands, under the sea. This is still very much a living volcano. It most recently erupted in 1956–only sixty years ago–a mere blink in geologic time.
As we approached Nea Kamenh, the volcanic island, jagged black rock, loomed in front of us. Wendy said, "It looks like the surface of the moon."
I thought it looked like a giant pile of coal. LJ remarked, "I don't see anything green."
"Just wait," Surya replied.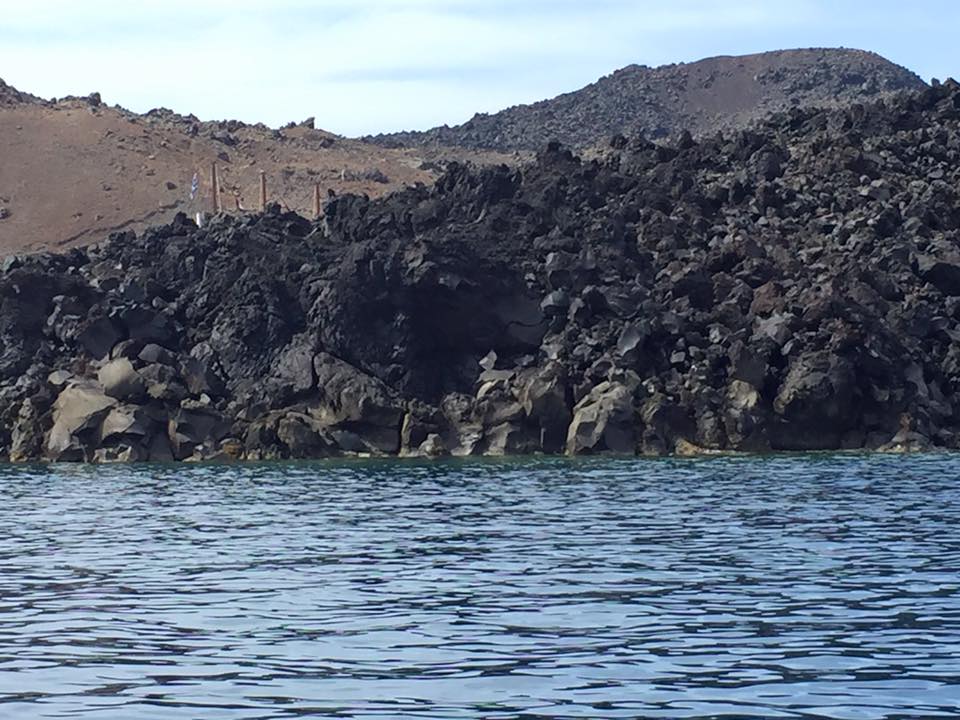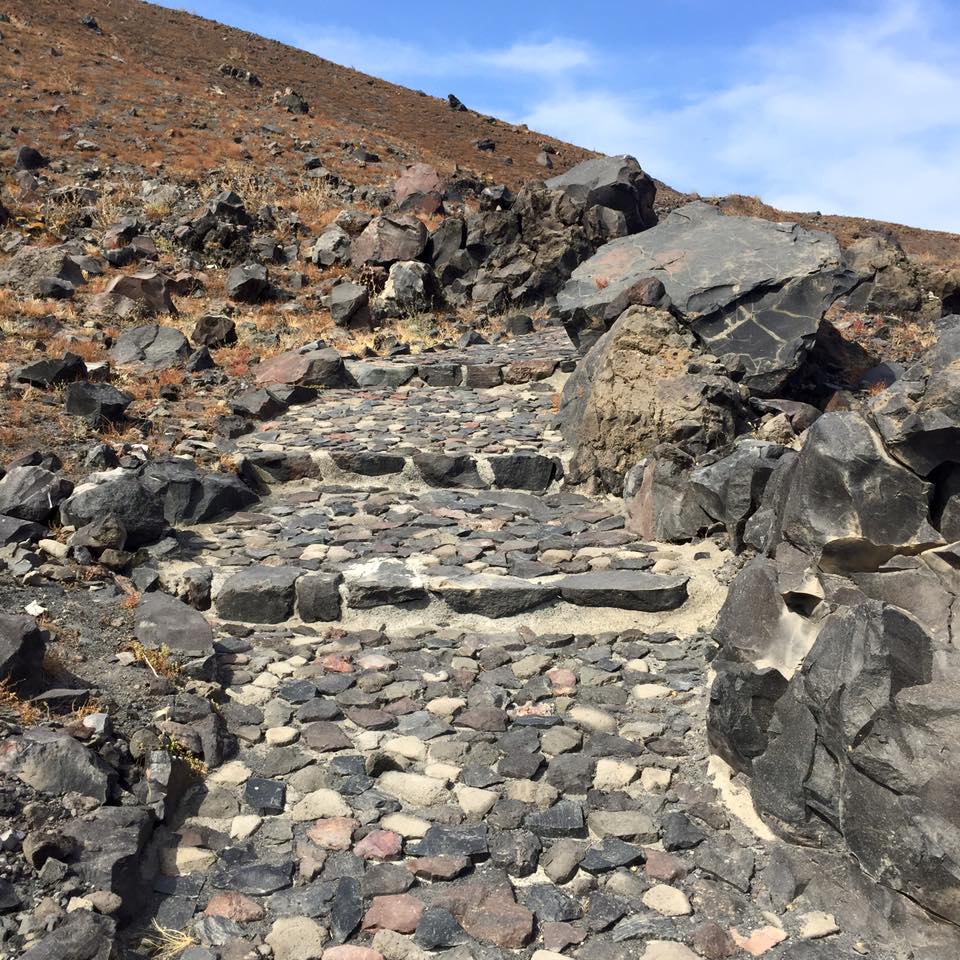 After disembarking, we walked up the shale covered path. Pretty soon, we started to see scrubby plants searching for a foothold. There were several large craters on either side of our path, and as we got higher, the plants grew more robust. What we were clambering over used to be the peak of the volcano. Now it was just black rock and in some places, fierce yellow flowers.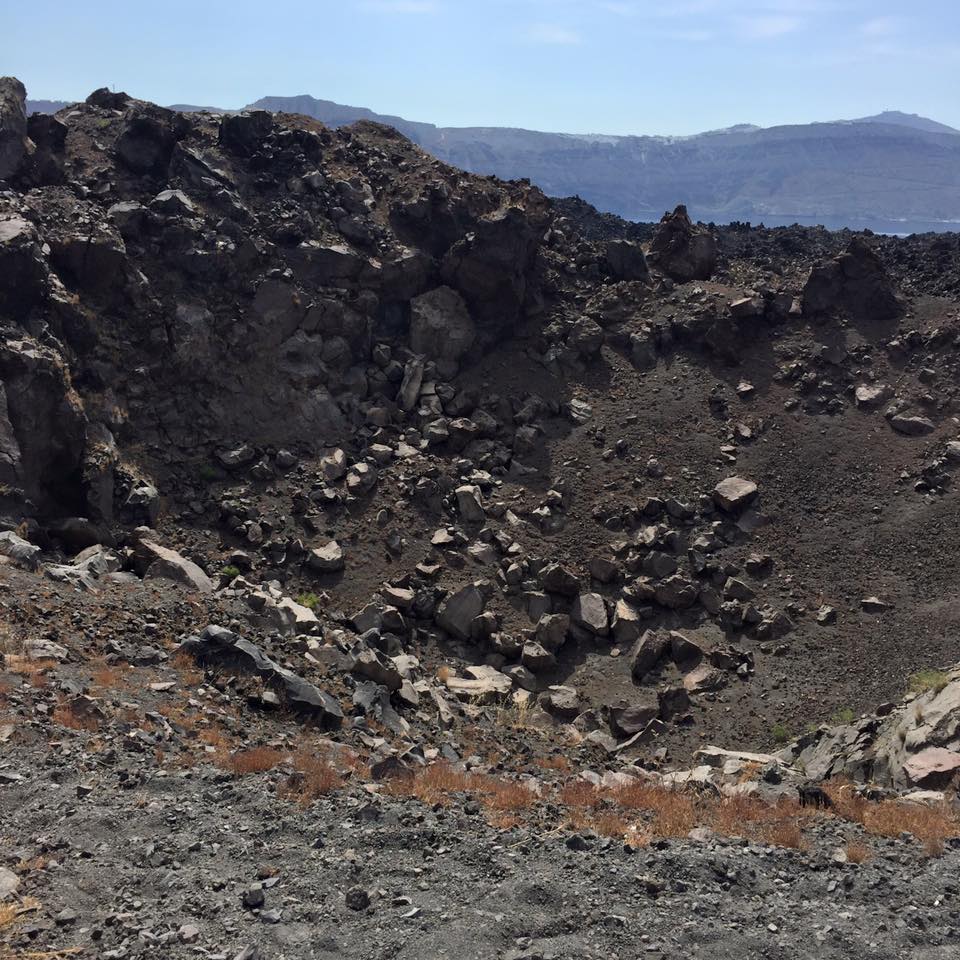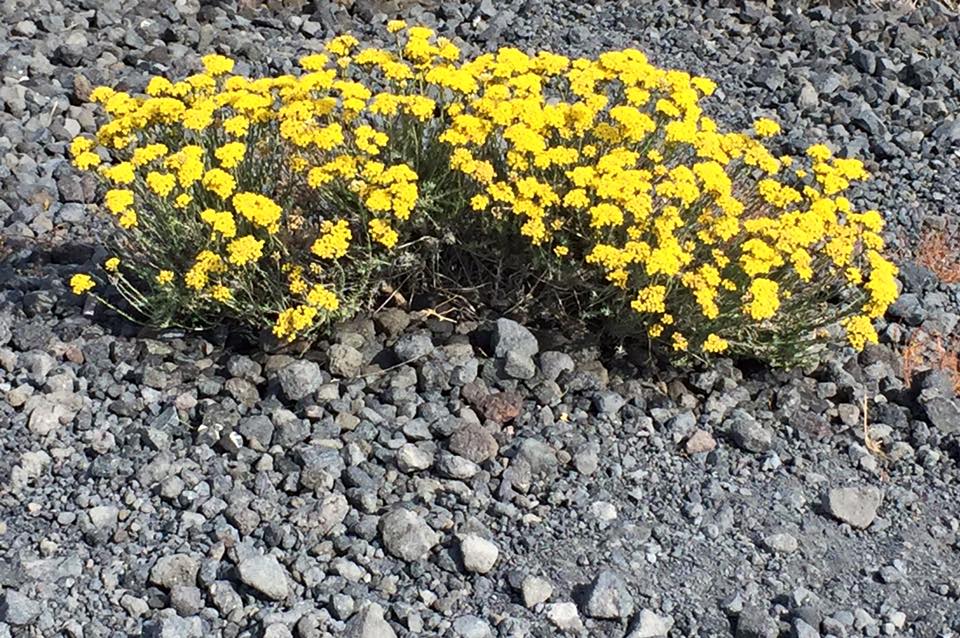 At the "top" was the ugliest concrete marker I've ever seen. But there was a great view of where we'd just come from –huge black volcanic cliffs with the glimmering turquoise and white town of Oia at the top, looking insubstantial, like a thin dusting of snow on a giant mountaintop.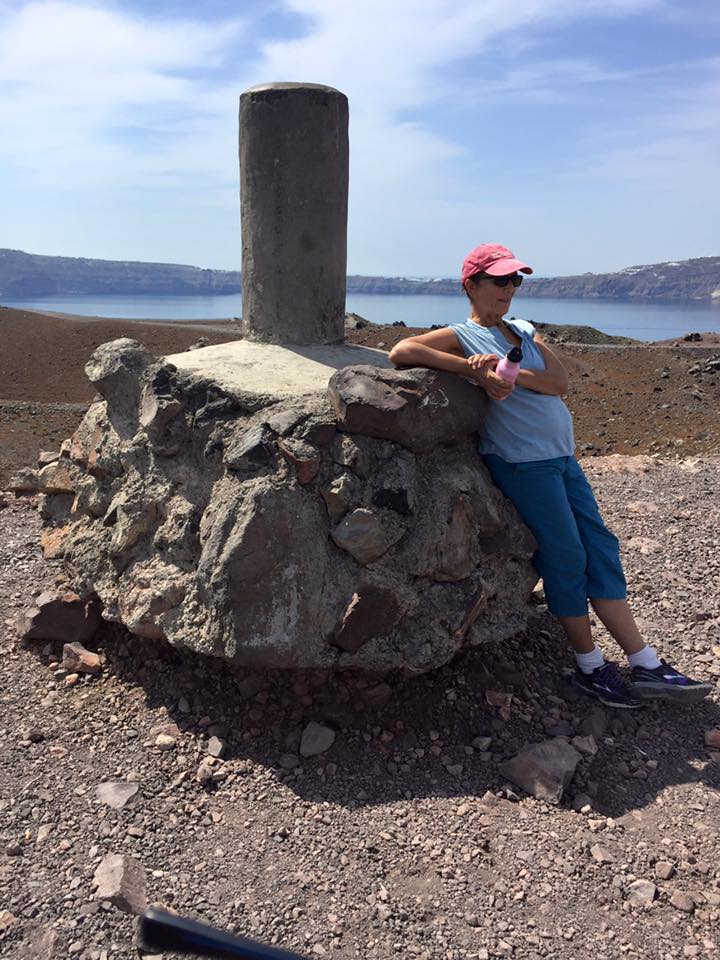 By the time we headed back down to our boat, the sun was beating down, I was starting to sweat, and heat was rising up from the black rock at my feet. I was really looking forward to the swim to come.
Pausing for a drink of water, I stopped with Wendy and Pam by one of the craters. Pam noticed thin plumes of steam wafting up from the bottom. The faint tang of sulphur in the air was evidence of the earth, still molten, beneath us. Wendy said, "It's amazing to think about what might be bubbling below us."
Hordes of tourists were just starting their climb up to the top as we approached the small harbor. A tour guide stood on a black rocky hilltop calling out, "English speaking people from the Albatross Boat." The crowd around her just kept getting bigger and bigger. Tour boats were filling the harbor.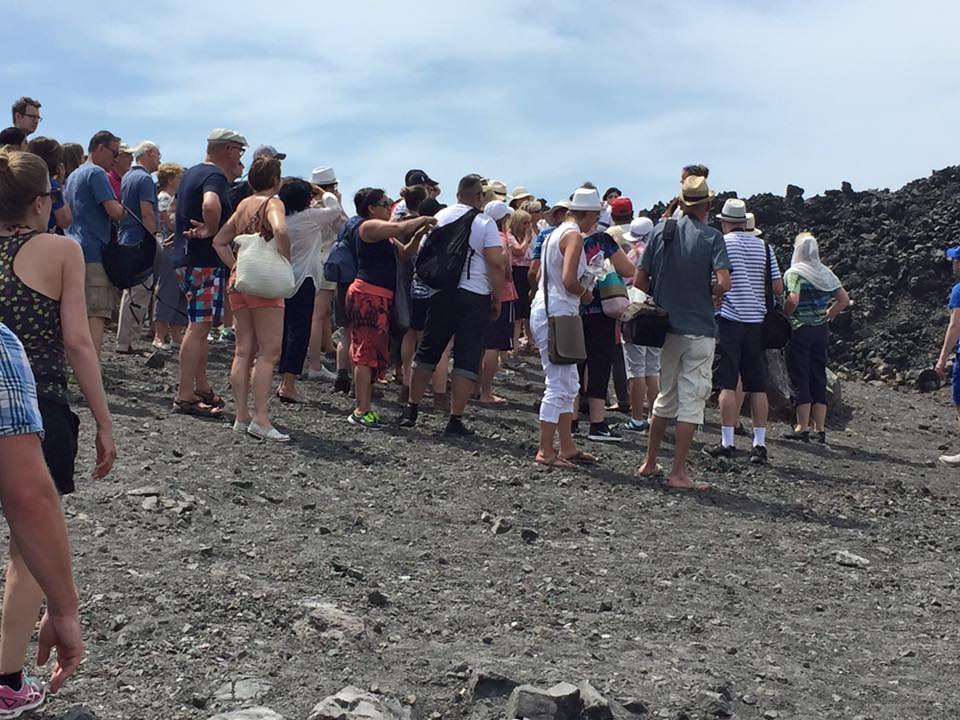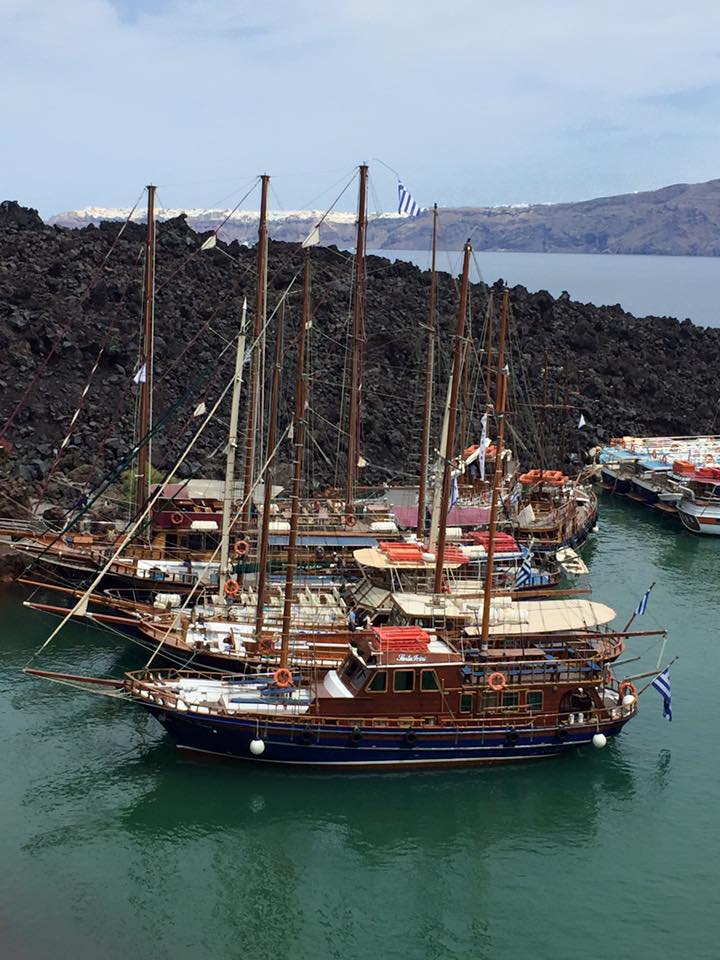 Judy turned back to me and said, "I think we're getting out of here just in time."
Then we were back on the water, sun on our faces, a breeze in our hair. As we approached a small cove, we could whiff sulphur in the air. Our skipper anchored the boat, and into the water we went. I dove off the side of the boat. It was cool, but not as cold as I expected. The shock was how salty the water was. I'd expected sulphur, but salt? There was clear evidence though–my eyes were stinging and I was incredibly buoyant. It reminded me of swimming in the Great Salt Lake 50 years ago when my family took a camping trip across the country the summer I turned 10.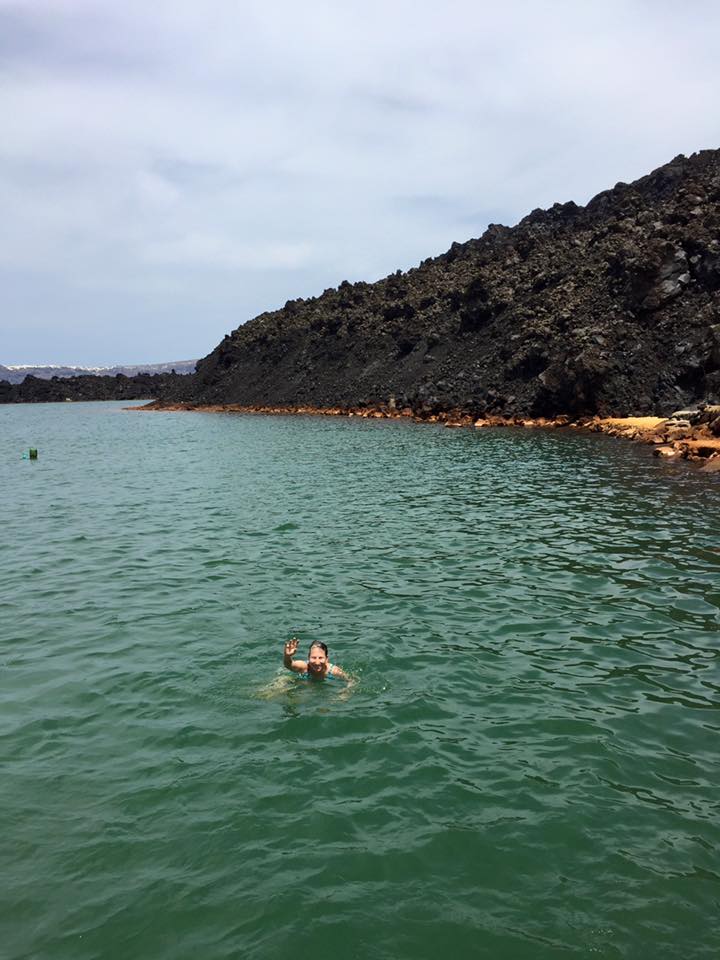 As I swam deeper into the inlet, the water got warmer and there more and more hot spots. I followed Surya over to the rocks where he was busy scooping warm green mud from the bottom and piling it up on one of the rocks. It was warm and gooey and reminded me of my mishap the other day…well, never mind. I climbed up on the rocks, and like Surya, the original Balinese mud man, I smeared the mud on me from head to toe. The mud felt soft and warm and erotic. We posed on the rocks and then I slid back into the water and floated on my back, which was effortless in the salty water.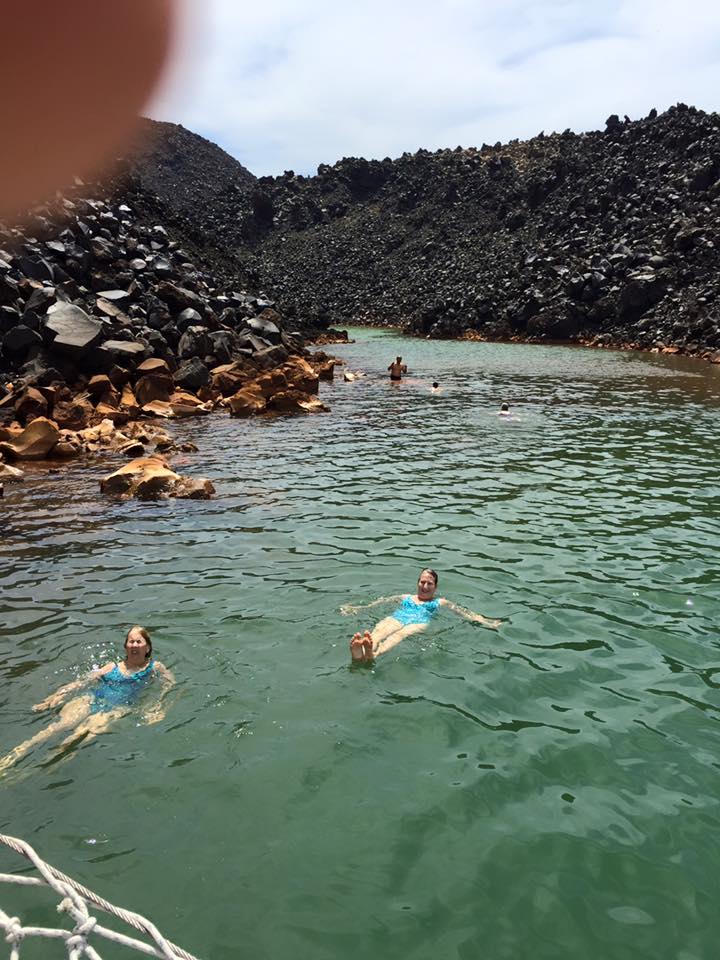 Ginny and I explored all the way back to the end of the the little cove. The volcanic rocks were covered with temporary graffiti painted in mud. We slowly drifted through hot spots and cool spots and warm spots. Whenever I hit a hot spot, I'd lie still on the surface, totally buoyant, filled with joy. I am an aficionado of hot springs, hot baths, steam rooms and mud baths, but my experiences up until this point had always been savoring heat+water in environments where the source of heat was contained in a tub, a pool, or a natural rock basin. But now I was actually swimming in it. Swimming in it! I never wanted it to end.
Climbing up to slather mud.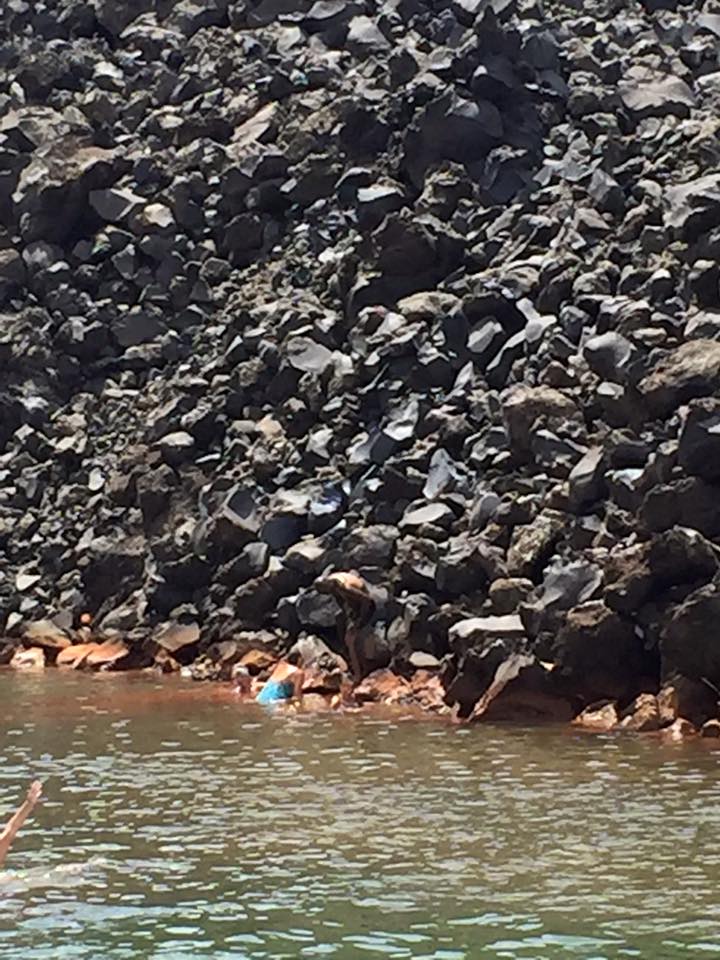 There's one leg.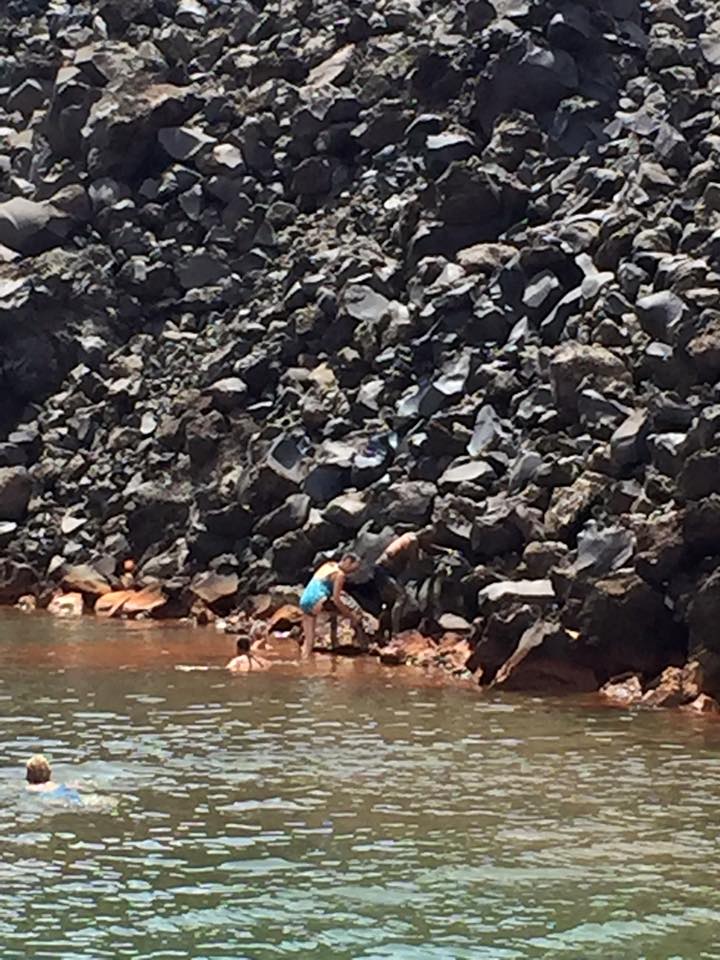 And more.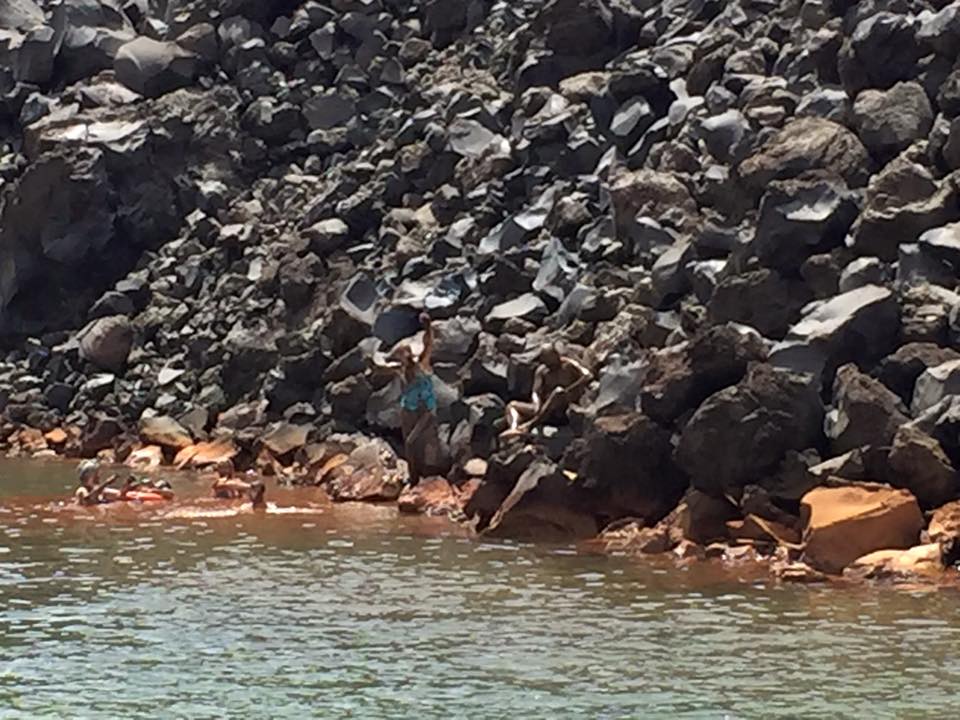 There have been several moments on this trip–moments when my senses were filled with beauty and pleasure and sensual abandon, moments there were no thoughts, no worries, no future, no past, only pure life pulsing through me, and this was one of them.
Back on the boat, I got cold, so I took off my wet and very muddy bathing suit using the tried and true method I'd learned as a child growing up in a beach town in New Jersey–the fine art of changing your clothes on a public beach. Soon I was warm again. Sitting on the boat, wearing my grey shorts, turquoise shirt, no bra, and mud streaks up my leg, I felt a million miles away from the lists and habits and screens and to-dos that define my life back home. This is why people travel, I thought. This is why I travel. For this joy, for this jolt of life pushing through me, for this moment.
Writing on deck afterward. See the mud smears on my leg. It went on green but dried orange.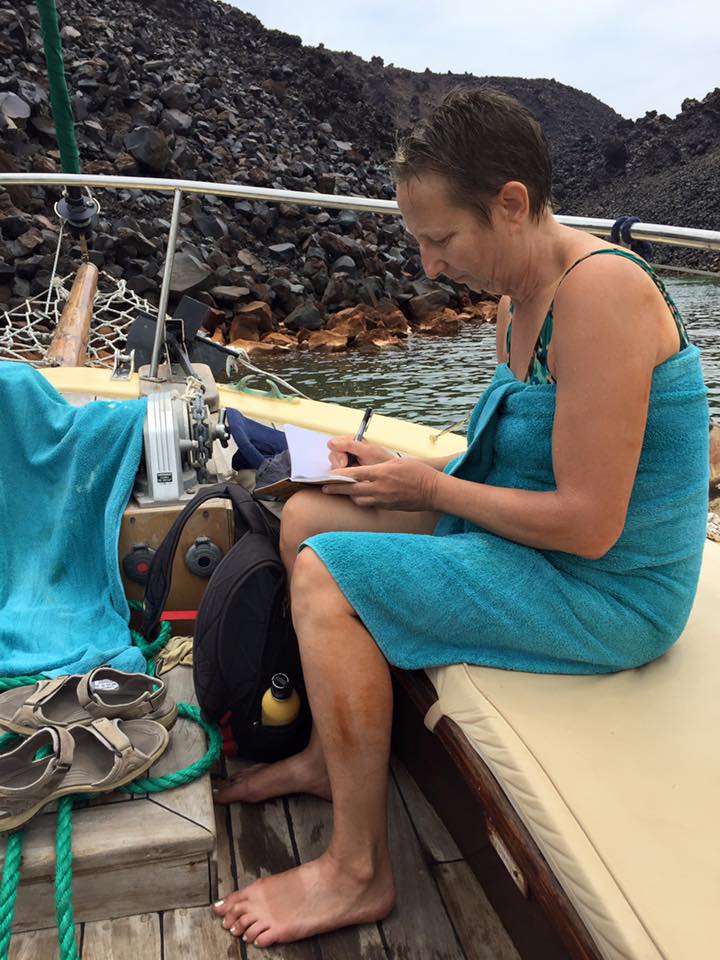 Evidence of a good time.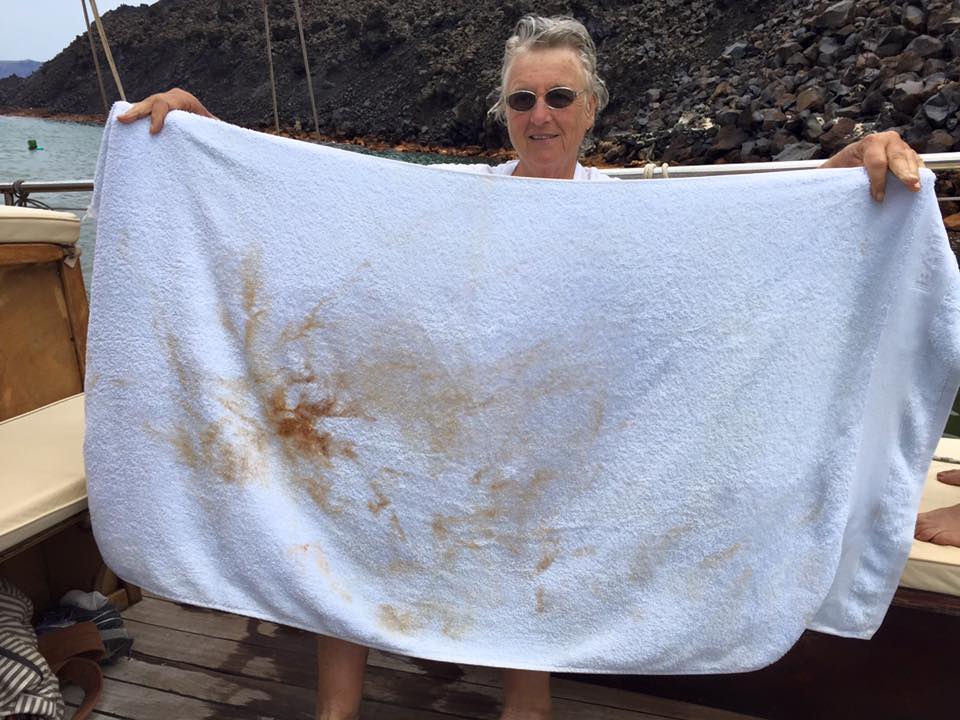 Look what it did to my suit.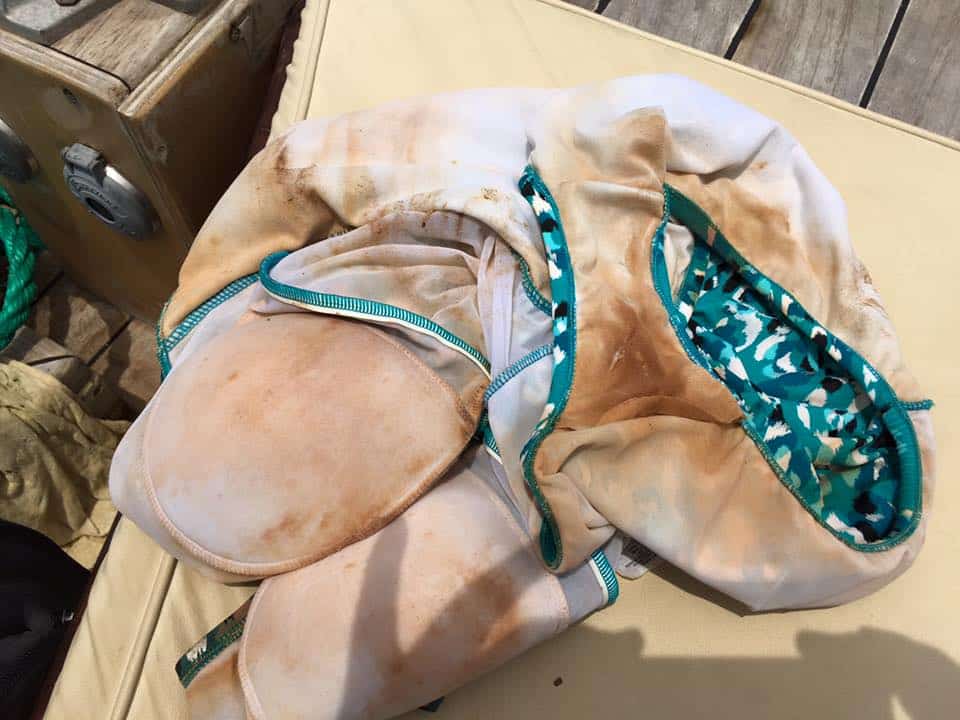 P.S. We ate lunch at a fish restaurant back at the harbor at the bottom of those 200 steps. We sat at outdoor tables at the water's edge and studied the menu. It featured 16 types of fish from lobster to sea bream to scorpion fish to swordfish to lobster. The prices on the menu seemed exceptionally high–until I realized they were prices per kilo. I had no idea how to order.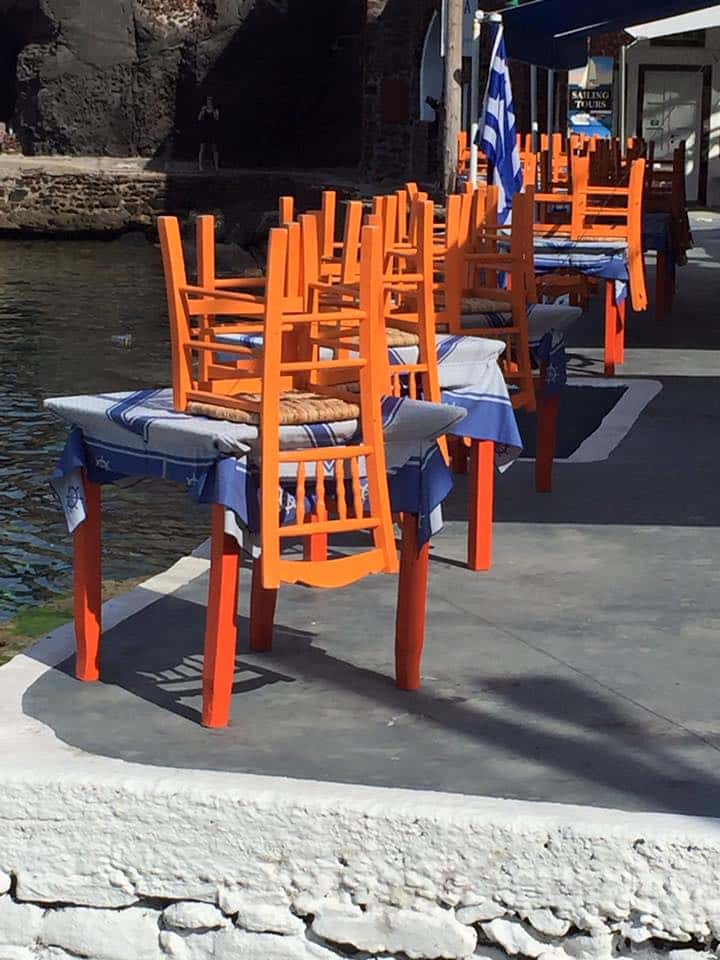 Surya told me to go inside to the fish counter to choose what I wanted. Then the fish man would weigh it and tell us the price. I walked inside and stared at a large glass case filled with very fresh whole fish, all with heads and tails intact. I said I wanted something meaty like swordfish–for two–Karyn and I–and the man suggested Red Mullet so that's what we ordered–with a tomato cucumber salad and baklava for dessert. The fish was grilled fresh–as was everything else–and it was incredibly good. I almost licked the bones.
Choosing lunch.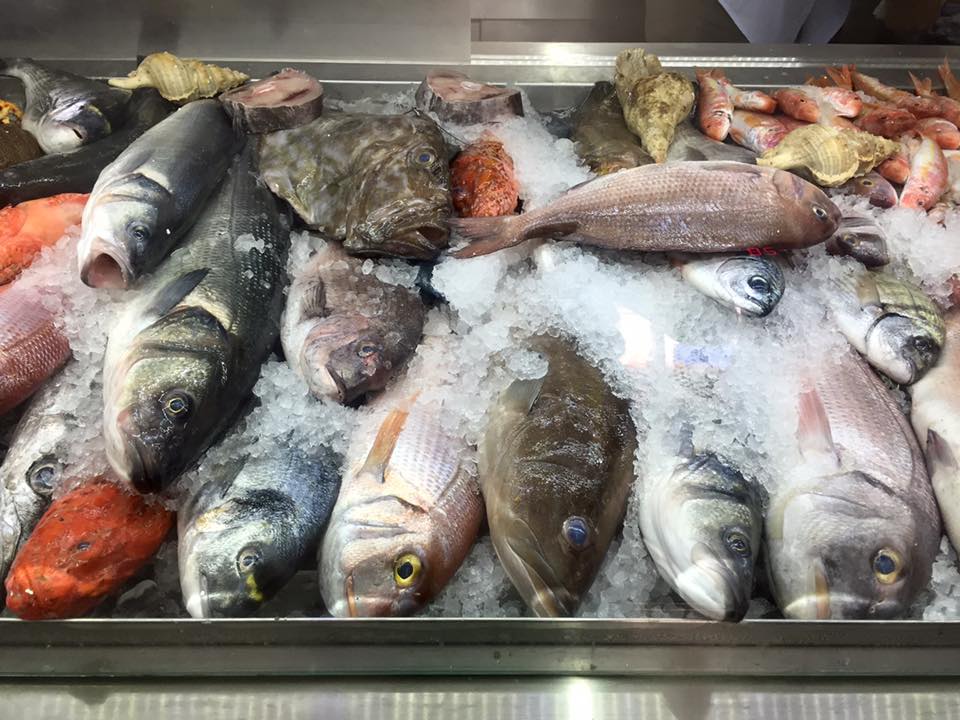 Weighing lunch.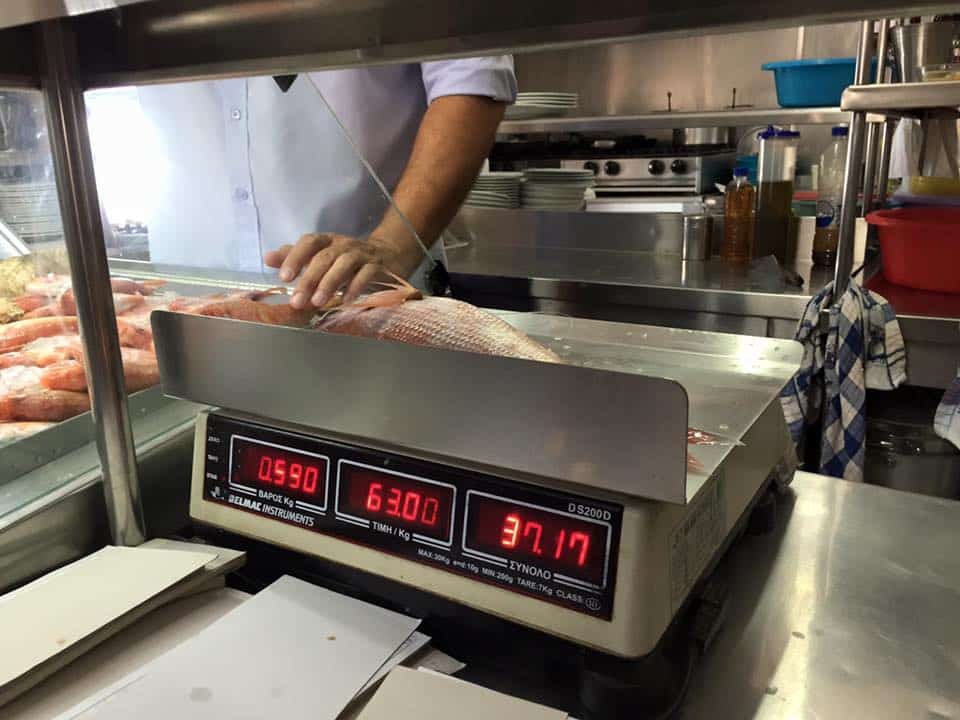 Grilling lobster.
Grilling octopus.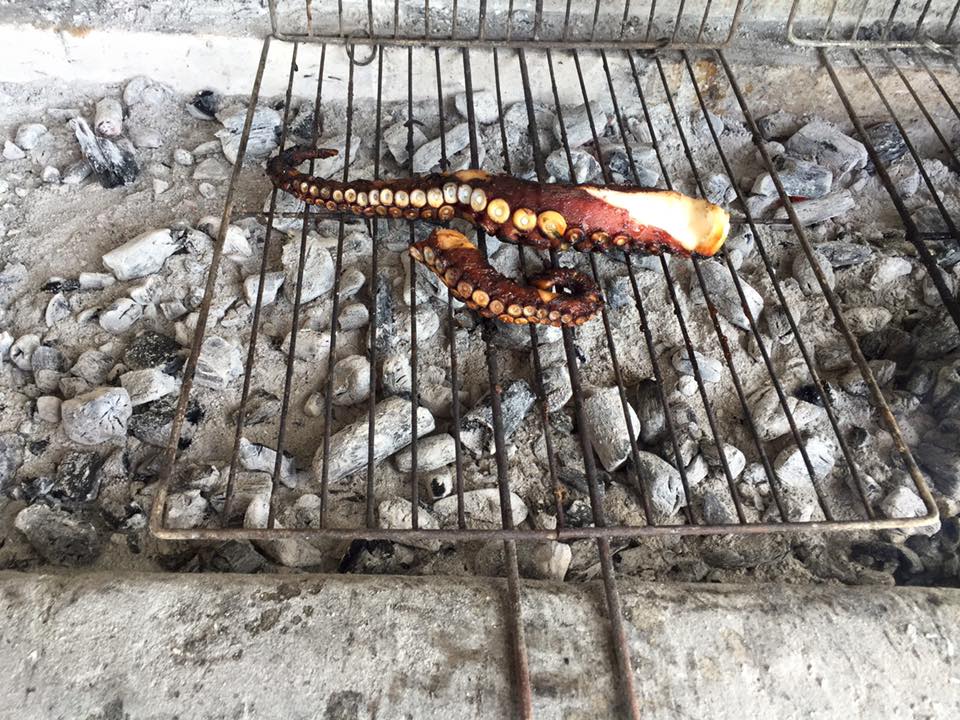 Our lunch.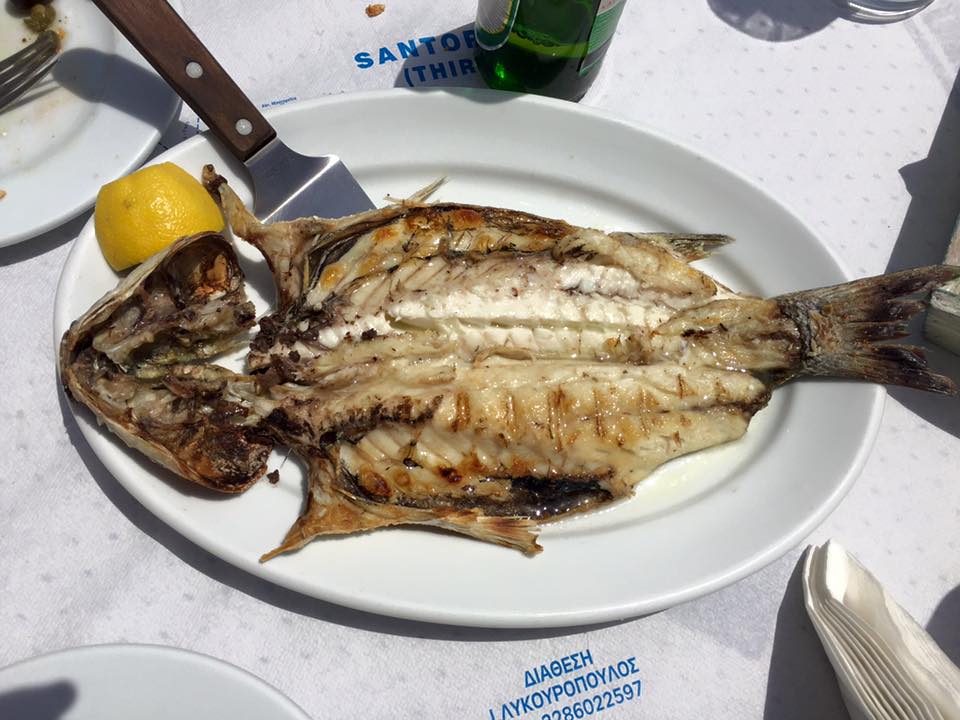 Here's more of the day in pictures. Be sure to read the captions, too:
Looking back up at our hotel and the surrounding area.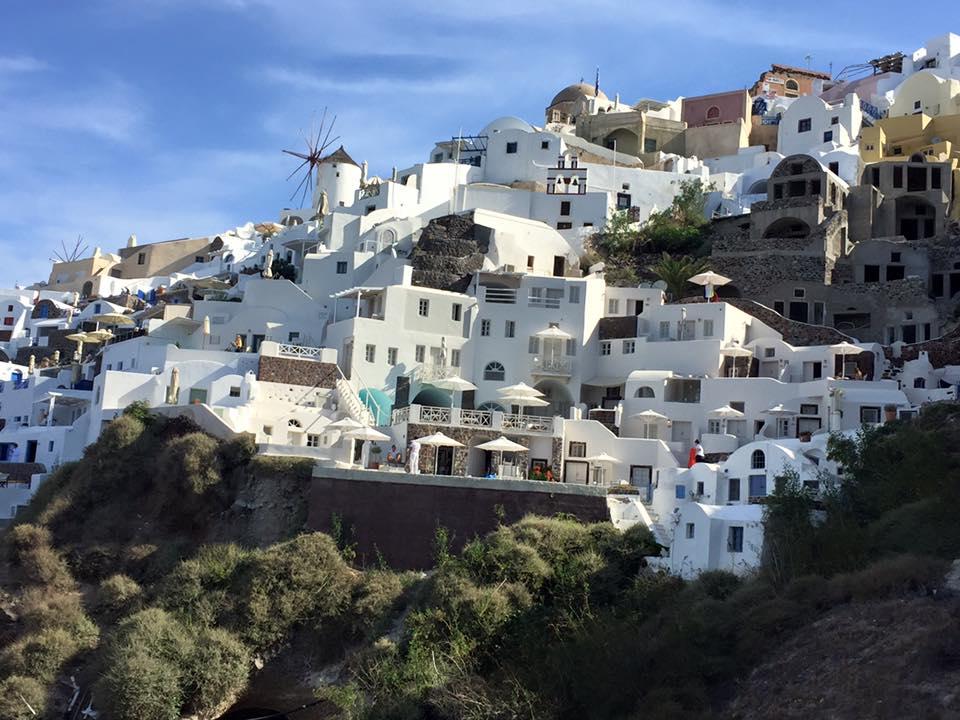 Wheelbarrow.
Drying dish towels.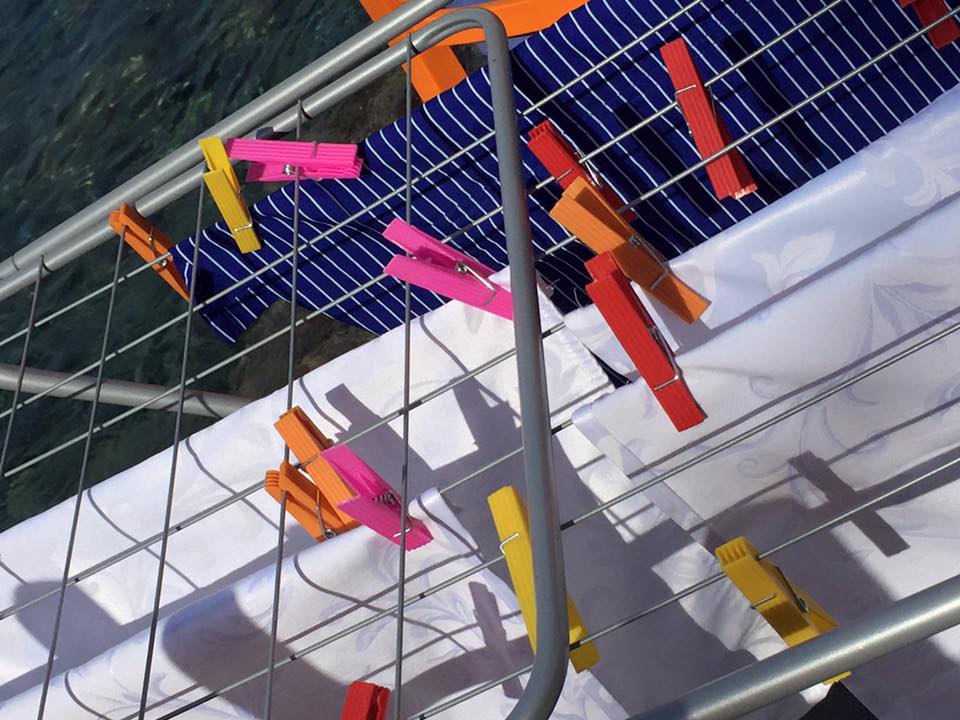 Every ship has rope.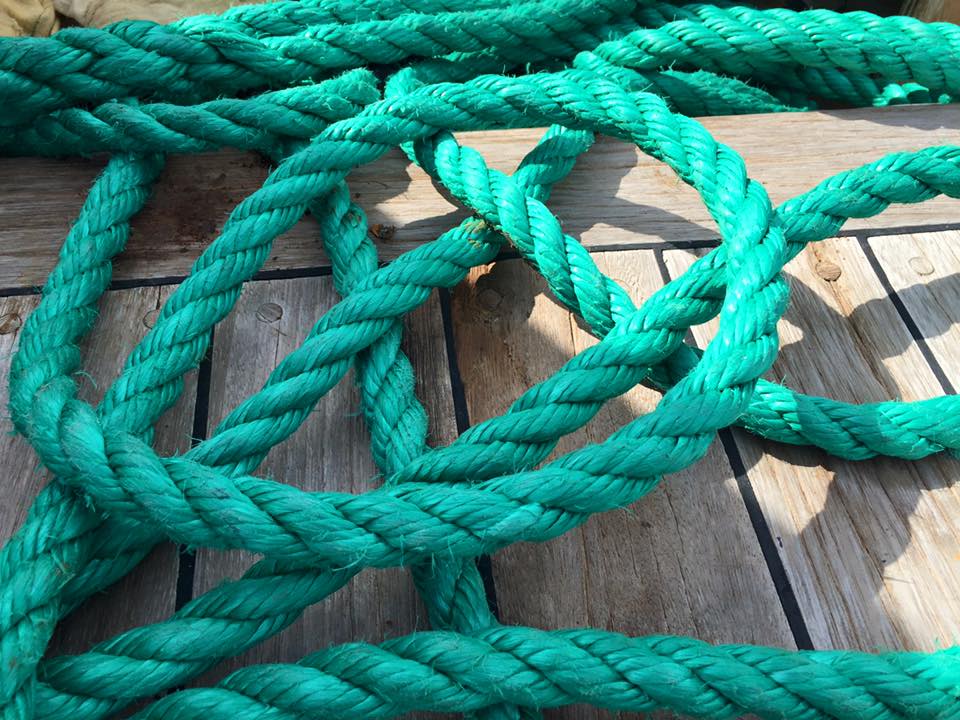 And these.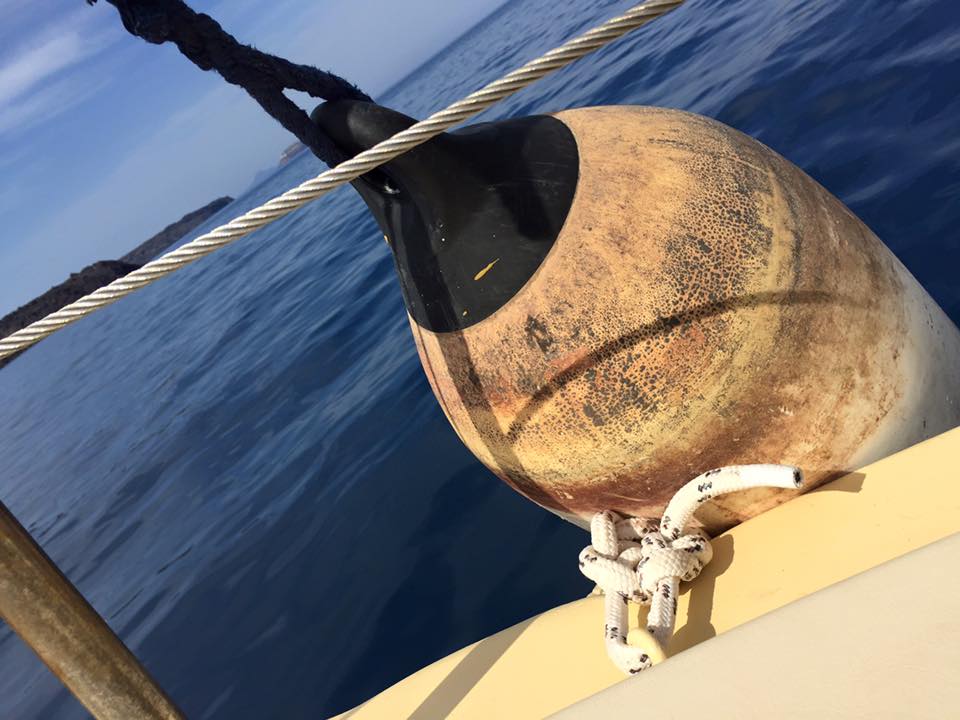 Looking back at Oia.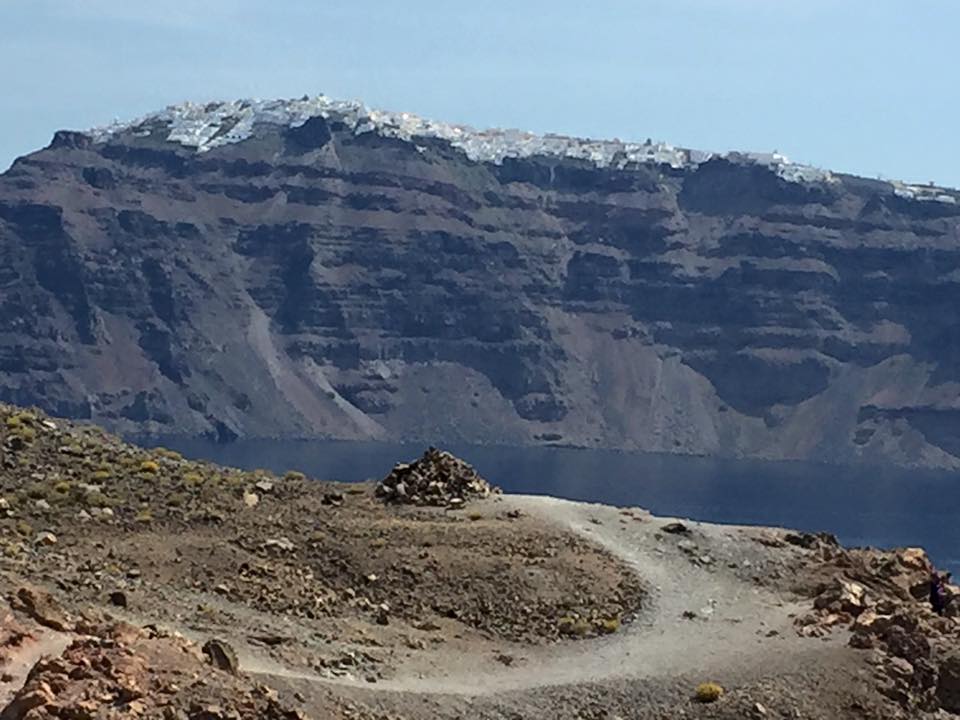 Buying coffee on the boat next door.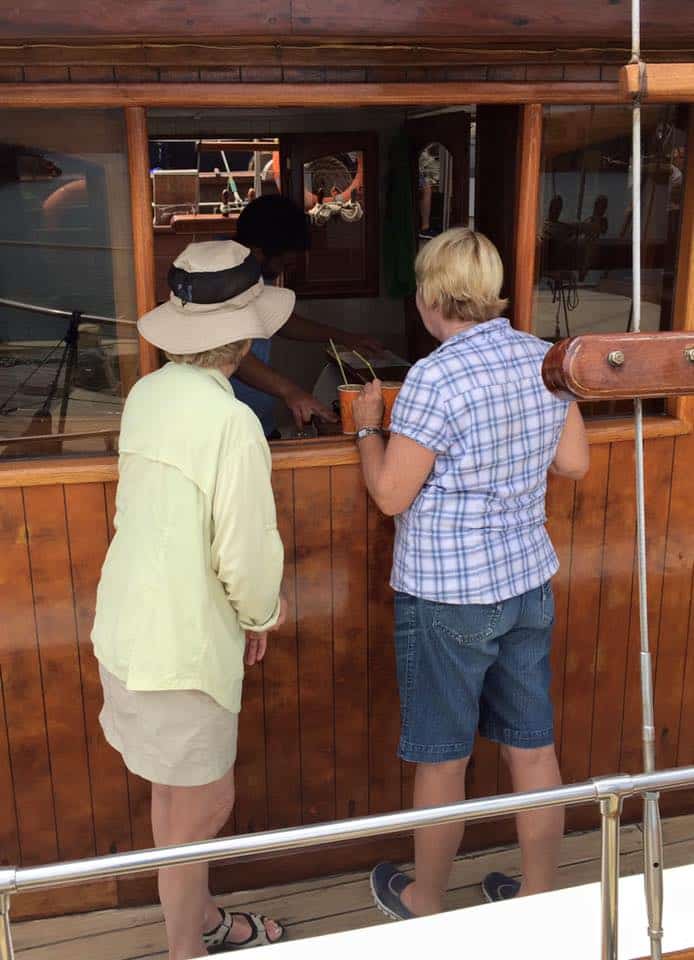 If you don't want to walk back up the hill…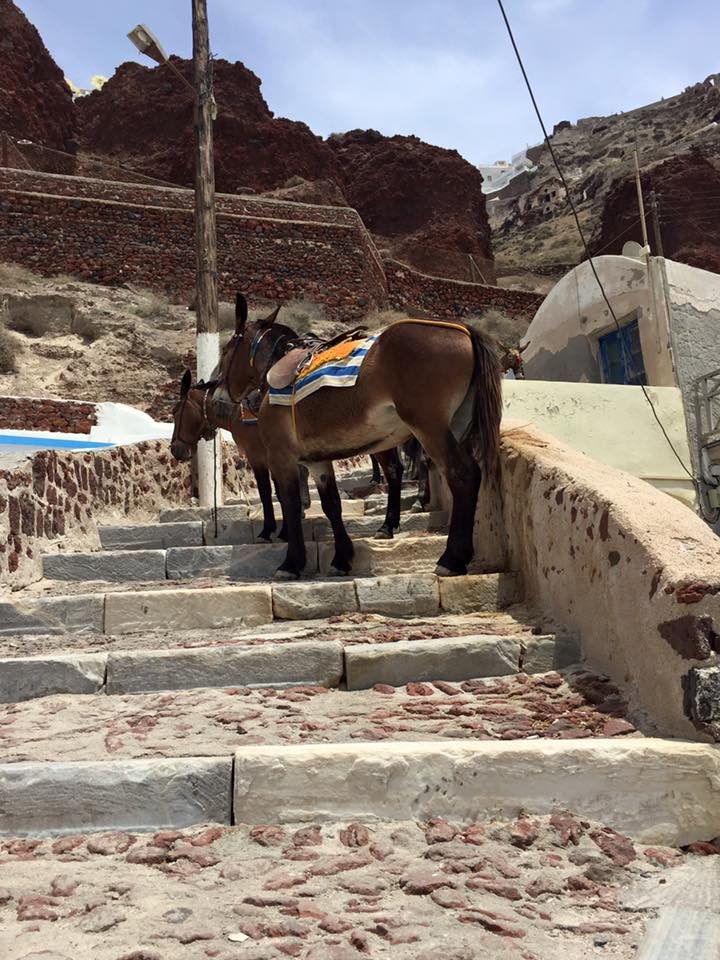 Back in Oia.