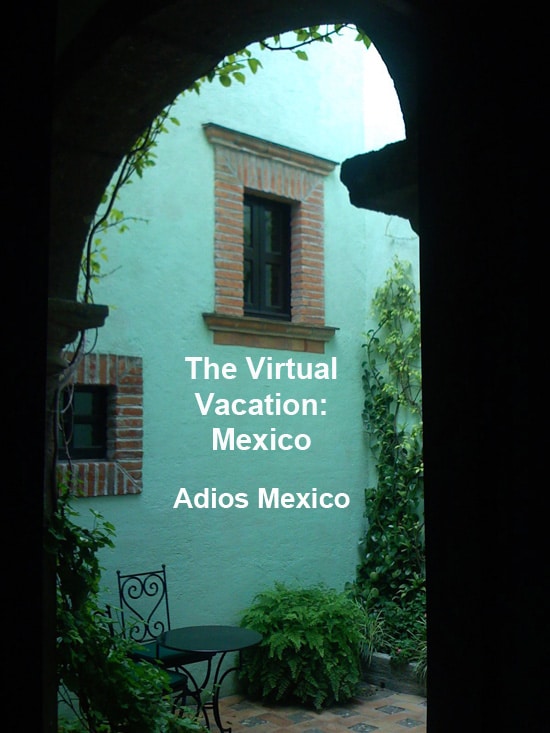 It's my last day in Mexico and we're heading back to San Miguel. We passed once again through Tzintzantzun. We drove through the wonderful gauntlet of huge statues, past the town market, and there the carnival we'd seem disembodied on the road day after day. Now it was all set up and ready for children:
As Richard was backing up the car, a man stepped out in the street to direct him safely. Richard rolled down his window and gave him a 5 peso coin. "You made his day," Suzy remarked. Five pesos, apparently was a big tip—the man might have expected half a peso or a peso for his service. "When I first got here," Suzy said, "I was sometimes annoyed when people would come up to me in the grocery store parking lot and want to carry my bags or help me park my car. But then I realized that this is their job—whatever they earn from tips at the parking lot is what their family has to eat that day. Now we always carry extra coins."
On our way out of Tzintzantzun, we passed El Charro, the divine lamb taco place and we just couldn't resist stopping there. It was almost 1 and a perfect place to stop for a few tacos to go. But when we got out of the car to order, the owner was already cleaning his grill and closing up for the day. He apologized and I remarked, "So much for trying to repeat a peak experience the second time."
That's something I've definitely noticed when traveling—it's hard to do things twice and also it's hard to have someone else's experience. So many times on this little trip—people have said we had to do this or we had to do that, and they've given us directions—whether its to a particular potter or to a town or to a place to rent a boat. And invariably, we haven't found any of it. Some of it is the very loose way people give directions down here—but perhaps we're all just meant to have our own adventures.
It was a long drive back to San Miguel. On the way we passed a huge truck heaped with 15 feet of plastic bottles contained in a rack built on the back. "Where do they go?" I asked.
That's when Richard and Suzy explained that they had run out of fuel in San Miguel for the brick-making factory in town and they were actually burning plastic bottles for fuel! Can you imagine the toxic fumes?
Once we arrived at Suzy and Richard's house, I spent some time figuring out how to pack my treasures and get them home. We wrapped the ears of my black and white pottery dog with newspaper and crammed it in my backpack:
Let's hope I get him home in one piece.
Then we went out to dinner at Serena Gorda, the fat mermaid. I guess some good things can be repeated:
I had two ginger margaritas, two artichokes with two dipping sauces and a chile relleno. Those will probably be my last margaritas until I come back to Mexico next year—I don't drink tequila at home! It's probably a good thing, too.
Now it's 4:30 AM. I woke an hour ago—you know how it is when you know you have to get up early to catch a plane and you can't sleep? Well that was me an hour ago. I'm all packed and ready to go and the shuttle will be here in half an hour. I'm sad to be leaving Mexico, and am so glad I gave myself this time and this adventure, but I'm also eager to return to my family and my life at home. So adiós readers! I'll see you on the next Virtual Vacation.