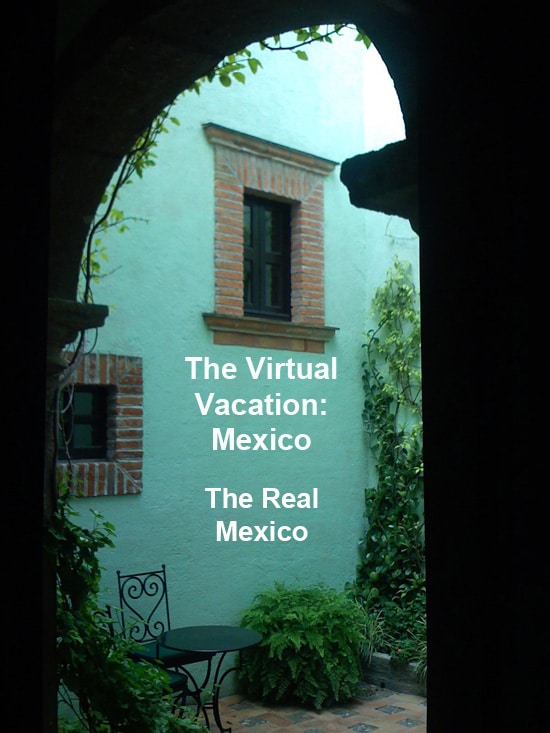 I woke up before dawn this morning, quietly dressed, and went out for an early morning walk. The air was bracing and I was glad I'd pulled on my fleece. I headed off, thinking I'd walk as far as I could in a single direction so that I wouldn't get lost. After a couple of blocks, I crossed the street, looked through an archway, and saw this enticing set of old steps: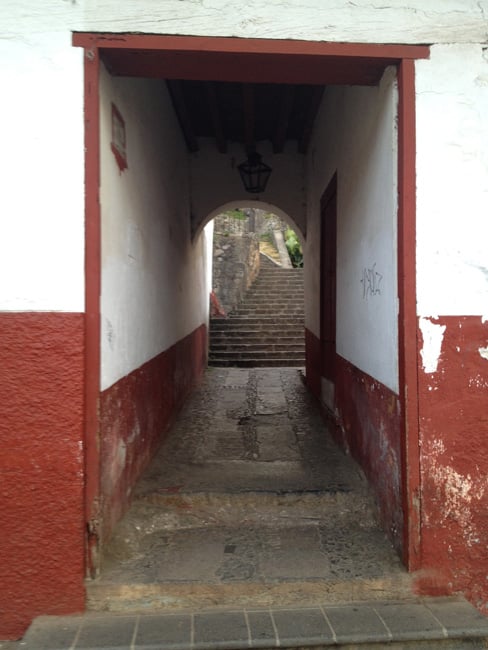 Soon I was climbing up a steep hill, and with the altitude, I felt winded. At the top of the hill I came to a curving set of steps—also going up. I followed a gaggle of school girls on their way to school and continued to climb: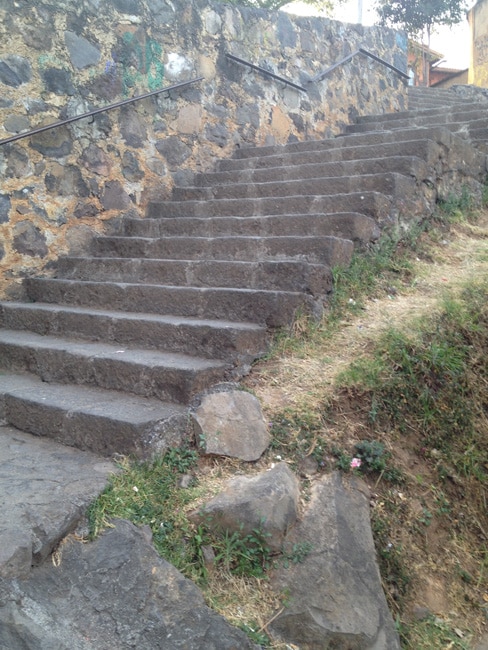 I was on a narrow street moving further away from the center of town. People were out sweeping the street. A man walked by leading a bony horse on a halter. I had to step around horse manure, picking my way across the cobblestones to a rooster concerto. Garbage was haphazardly strewn in small piles along the street. I wondered what happened to it. Was it all tossed in the lake? And then I came across this truck—recycling Pátzcuaro style.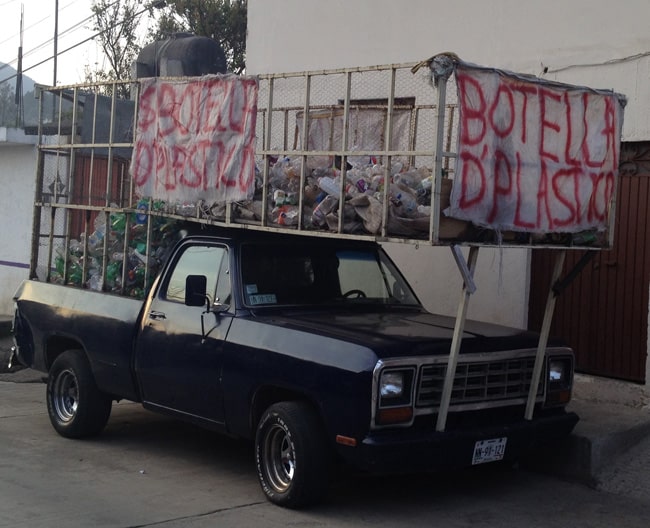 There were many small shops dotting the road, though most of them were still closed this early in the day: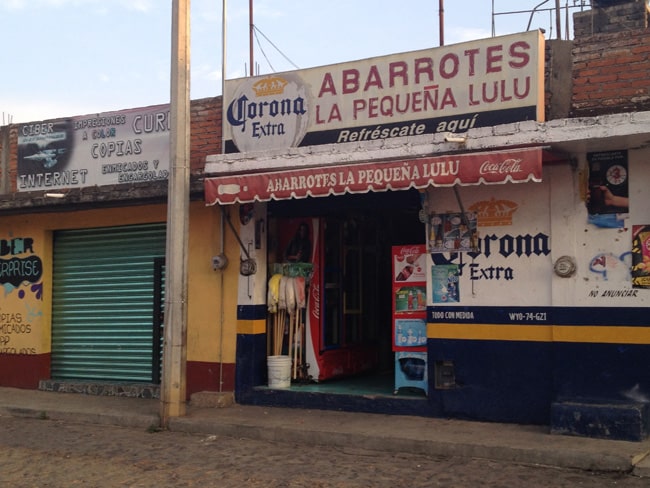 I walked until I came to a dead end. A huge hill of stone rose above me, and the road forked out in two crooked directions. I chose to return to the hotel for a shower and breakfast. This was my view from the top of the steps on the way back: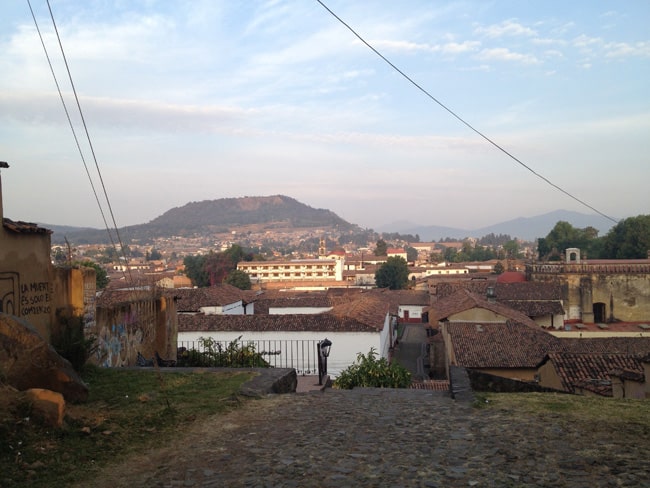 When I got back to the room, Richard and Suzy and I all agreed that we were burnt out on stores and shopping, and that for our last day in the state of Michoacáan, we wanted a dose of nature instead. Last night, my masseuse Ulises had recommended two possibilities: Urupan Parque National, a national park famous for its fountains and waterfalls, and Lago de Zirahuén, a local lake that is still clean, unspoiled by sewage and pollution.
As we sat at breakfast, I looked both places up on Trip Advisor. There was no listing for Lago de Zirahuén because tourists don't typically go there. At the top of the page for Urupan Parque National, above the reviews, was a red warning triangle with the words:
TRAVEL ALERT: SAFETY AND SECURITY
When I clicked the "more info"button, I came to this travel advisory:
From the U.S. State Department:
Millions of U.S. citizens safely visit Mexico each year for study, tourism, and business, including more than 150,000 who cross the border every day. The Mexican government makes a considerable effort to protect U.S. citizens and other visitors to major tourist destinations, and there is no evidence that Transnational Criminal Organizations (TCOs) have targeted U.S. visitors and residents based on their nationality. Resort areas and tourist destinations in Mexico generally do not see the levels of drug-related violence and crime reported in the border region and in areas along major trafficking routes.
Nevertheless, U.S. travelers should be aware that the Mexican government has been engaged in an extensive effort to counter TCOs which engage in narcotics trafficking and other unlawful activities throughout Mexico. The TCOs themselves are engaged in a violent struggle to control drug trafficking routes and other criminal activity. As a result, crime and violence are serious problems throughout the country and can occur anywhere. U.S. citizens have fallen victim to TCO activity, including homicide, gun battles, kidnapping, carjacking and highway robbery. …
You should defer non-essential travel to the state of Michoacán except the cities of Morelia and Lázaro Cardenas where you should exercise caution. Flying into Morelia and Lázaro Cardenas, or driving to Lázaro Cardenas via highway 200 from Zihuatanejo/Ixtapa, are the recommended methods of travel. Attacks on Mexican government officials, law enforcement and military personnel, and other incidents of TCO-related violence, have occurred throughout Michoacán.
Michoacán was the state that we'd been exploring for three days now. But this warning didn't match my experience. Throughout our stay, we'd all felt perfectly safe—in no kind of danger at all.
When I searched Trip Advisor further, I found several discussions on the relevance of this warning for this area. This response was typical:
TRAVEL ALERT: Safety and Security for Michoacán

Dec 29, 2012, 9:46 AM

It is difficult to inform the US State Dept. they are wrong. This travel alert is ridiculous. Gringos, tourists and wanderers are extremely safe in Michoacán and those of us living here wonder what the warnings are about.

Yes, there are disruptions in traffic, but they are student protests, and what can be done about that?

If you want to be safe in Michoacán, stay out of the drug business. The cartels do not like competition. At least, that's what they say. No one that I know has seen a cartel member, nor had an encounter with one.

But try to tell that to the State Dept. Unfortunately, sites like TripAdvisor must print these warnings, even if they are incorrect.
As we were finishing our breakfast, Victoria, the owner of Hotel Casa Encantada came in to chat. When I asked her what she thought of the travel advisory, she replied, "They put out that warning five years ago. I've been fighting with them for years to take it down. They just want to cover their asses. There's nothing I can do about it and it's really hurt our business. Every time someone writes to me to ask if it's safe to come here, I know there at least 10 people who have decided not to come. In the old days, I was solidly booked all winter until April, but not any more. I keep hoping we've hit the bottom. I keep waiting for things to turn around."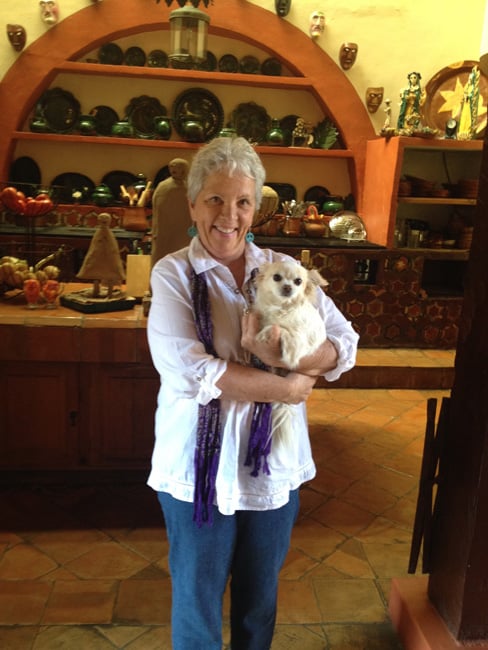 Victoria cradled her little dog in her lap. "Things get blown out of proportion. No one I know feels uncomfortable walking at night. It's still the kind of place where you let your children run loose and tell them to be home by dinner. You can walk around his town and ask any gringo or Mexican you see how they feel living in this town and they'll say they feel great. Violence can happen anywhere. It's a tragedy that we have such bad press. It's a shame that the whole state is painted with the brush that belongs to Tierra Caliente—that's the place for the last 125 years they've been growing marijuana. And that is where the narco trafficking really began. The problem is located there—200 miles from here, but we all get lumped in together because we're in the same state."
Despite the State Department warnings, I was very glad I'd had the opportunity to explore this area—I would definitely come back.
Based on Victoria's recommendation, we decided to go to Lago de Zirahuén. Zirahuén we found out, means, "Mirror of the Gods."
But first we set out for a little morning constitutional around the Plaza Grande. We'd heard the weekly pottery sale was happening today and we wanted to check it out.
San Jose Elementary School was having a parade around the plaza. Each grade was identified with a different sign.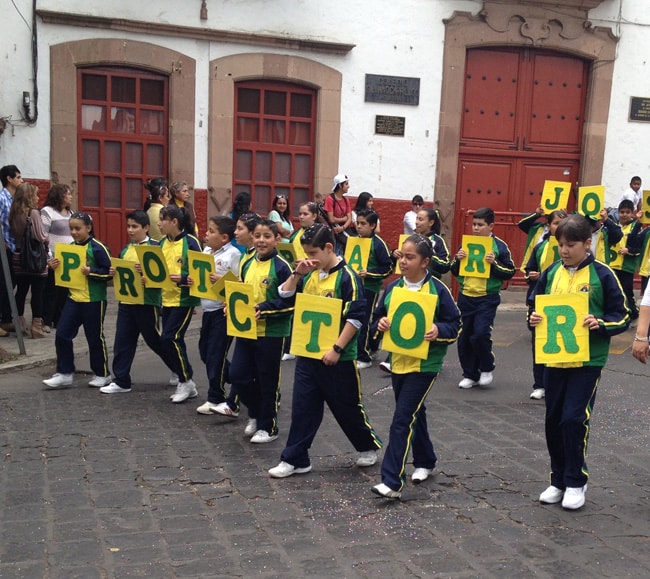 Girls in black leotards did backbends on the confetti-strewn cobbled street. I was particularly taken with the young martial artists practicing their moves.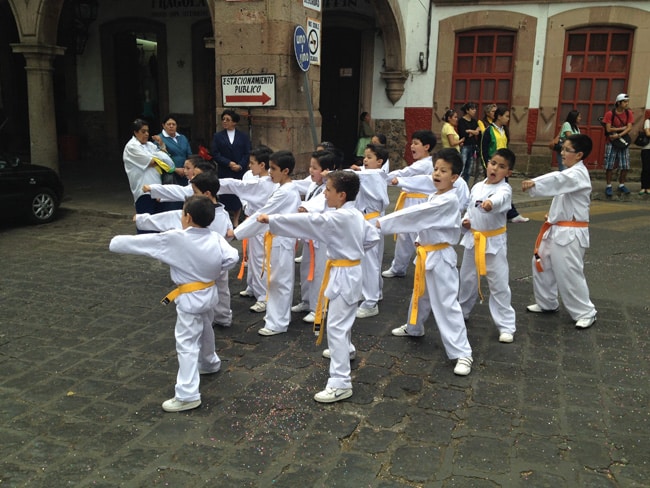 We strolled around the pottery market. Vendors lined the square, their wares displayed on blankets on the ground. It was all functional ware of lesser quality—none of the more artistic pieces we'd seen in the smaller villages.
On our way to our car, we saw this tortilla factory: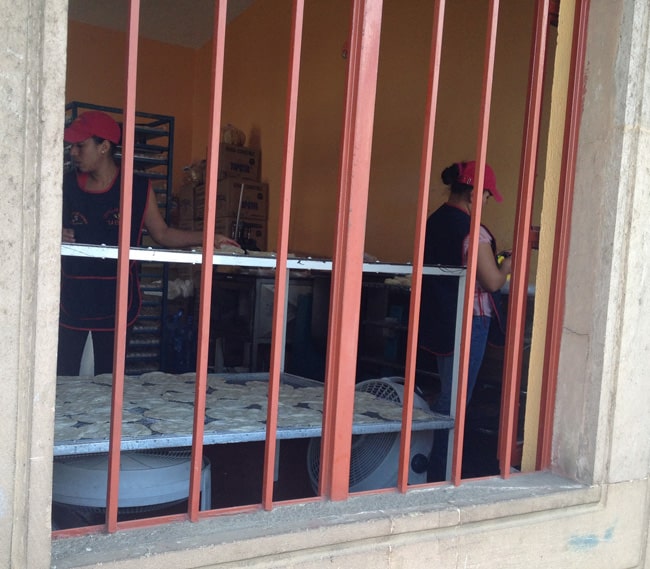 A shop for bras and lingerie: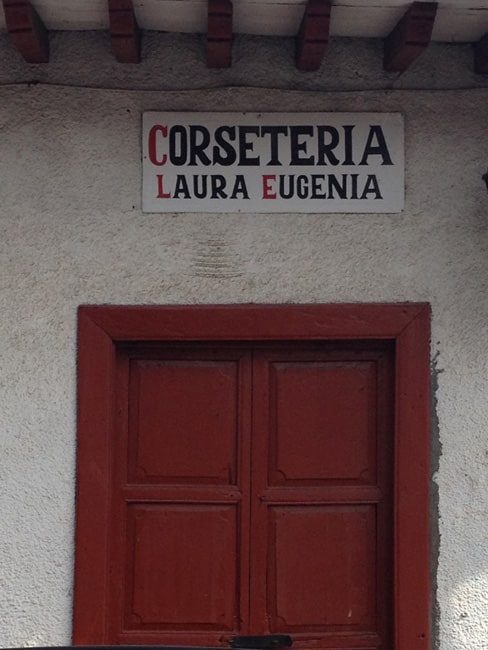 We also passed several pawnshops and a Farmacia Homeopatica, a homeopathic pharmacy, apparently very popular here in Mexico. A sign out front advertised their wares: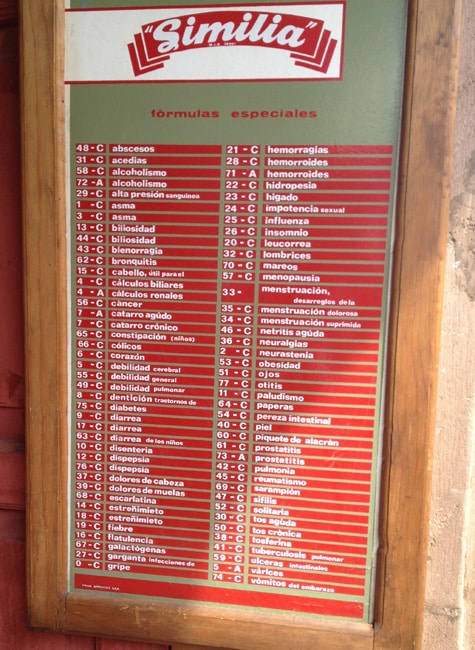 Some of the remedies on the list required translation:
Honga de uňa: toe fungus
Lombieces: worms
Vómitos del embrazo: morning sickness during pregnancy
Piquete de alacrán: bite of scorpion
Debilidad cerebral: cerebral weakness of brain fog (Sign me up for a dose of that!)
Others on this list were more obvious and required no translation:
Impotencia sexual
Flatulencia
Sifilis
Soon we were back at the open-air garage the hotel provides parking for its guests. Have you ever seen a garage with an orange tree in it before?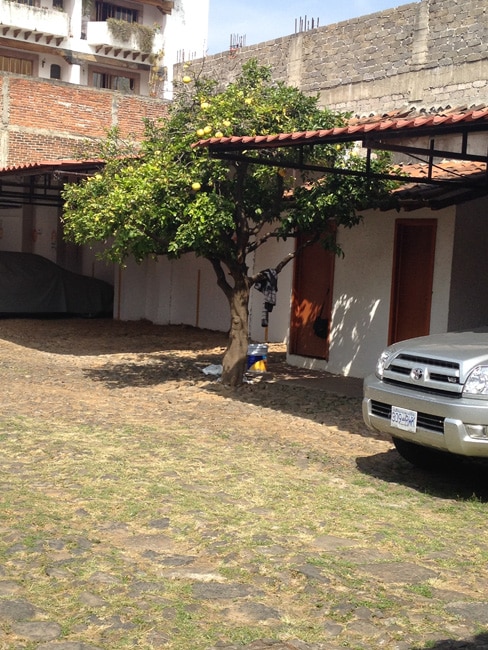 Unfortunately, the garage also featured this sign: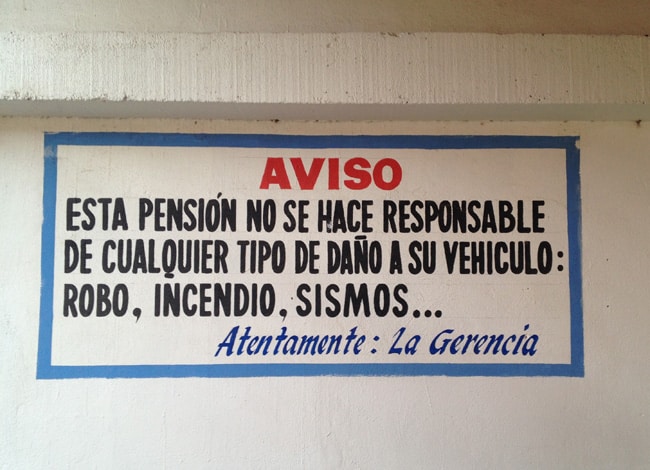 In English, the sign reads:
Be Advised: This hotel is not responsible for any type of damage to your vehicle: robbery, fire, earthquakes.

Attentively, The Management.
In order to get to Lago de Zirahuén, we had to drive through Santa Clara del Cobre, the copper village, again. On the way, we saw a horse tied up in front of a bicycle shop. The same man selling blue jeans out of the back of his truck. And right before we entered the town, we came upon this sign: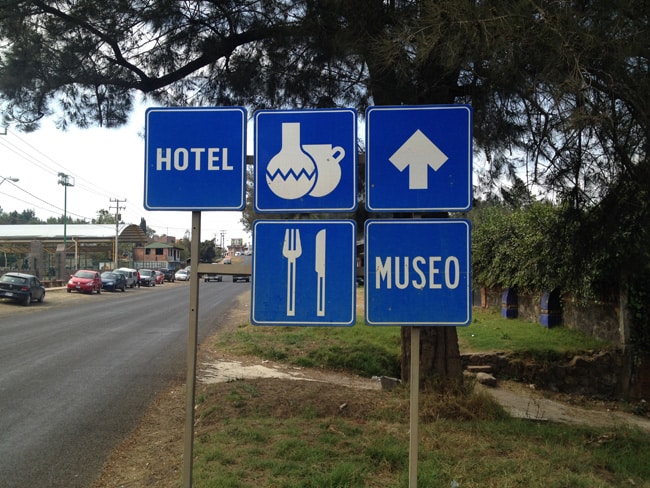 Have you ever seen art advertised on a roadside sign before?
After we passed the familiar copper shops and were headed out the other side of town, we found ourselves on a magical road with very little traffic. A sign told us it would be six miles until we reached the lake.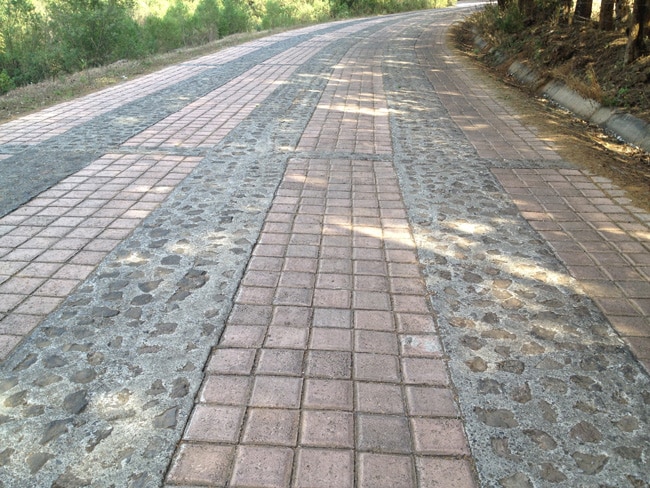 The road had a dreamlike quality. It was in a checkerboard pattern—colored reddish cement blocks alternated with darker cobblestones. Gorgeous farmland lined both sides of the road and turkey buzzards circled overhead. The smell of sun-warmed pine needles wafted through the car windows. We all felt as if we were in a children's fantasy novel and had stepped into another world.
Periodically Richard had to come to a complete stop to ease the car over yet another tope. I know I mentioned these in a prior post, but these speed bumps are nothing like the ones we encounter in the U.S. They're often two or three times the size of what we're used to and they often consist of a large steel pipe with small asphalt ramps in a triangle up to the top. If you don't stop completely—and even when you do—there's a mind-numbing thump when you return to the road surface again. I can't imagine what they do to shock absorbers.
When we weren't stopping for topes, we had to stop for cows: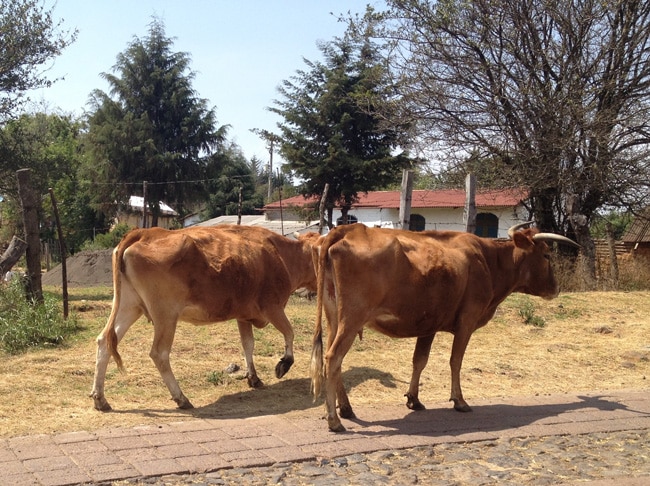 Now we were driving at a snail's pace on the narrow road that wound through the town of Zirahuén. Every time we looked to our left down a side street, we could see farmland stretching all the way to the lake. We passed an animal feed store, a basketball court with a stunning view clear down to the water and across to the mountains on the far side. It was lunchtime. School children filled the streets, all dressed in uniforms: grey pants, white button down shirts and black vests. The smell of wood smoke filled the air. Horses were grazing everywhere. A woman pushed her two little girls, both dressed in pink, in a wheelbarrow. We inched along, stopped by constant topes, schoolchildren, women shopping and living their lives. Everyone seemed to be out on the street.
We were searching for the muelle, the dock. Victoria had told us that at the first dock we could rent a boat to take us out onto the lake (my idea of heaven) and that at the second dock, there were a variety of funky restaurants on the water where we could have lunch. But we couldn't find either dock. There were no signs, no directions, no maps of this town. "Maps in Mexico," Richard explained, "are a challenge."
Suzy agreed. "They're never detailed enough and they're usually full of mistakes." We would have been complete goners if Suzy didn't speak Spanish.
We passed all the way through town, having never found either of the docks, but a few miles down the road, we met two gringas who were hiking back toward Zirahuén. They told us that we'd passed the docks and that we needed to turn around. They also told us that boats only take people out on the weekends and that we were out of luck on that score. We offered them a ride, but they declined, and we turned the car around.
Before we returned to town, Richard slowly drove the car down a rutted lane in the middle of nowhere that led all the way down to the lake's edge. We were all eager to stop and get out and just be close to the water. Here's the place where we stopped: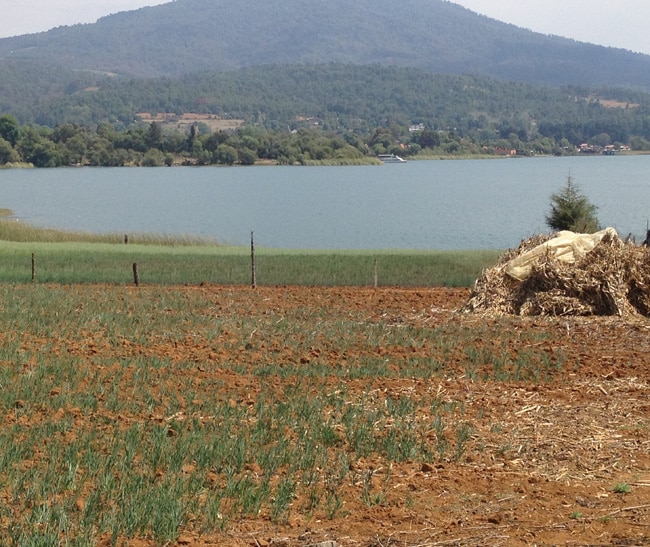 As we walked down this boat ramp to sit by the side of the lake, we were absorbed in deep, abiding quiet.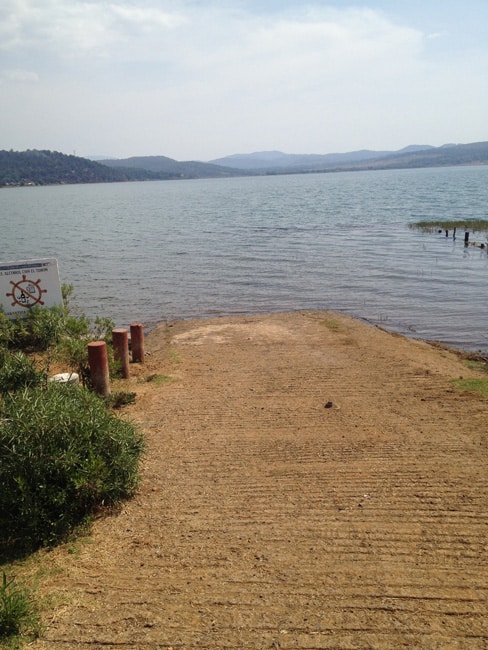 Two men were fishing nearby, pulling in a net: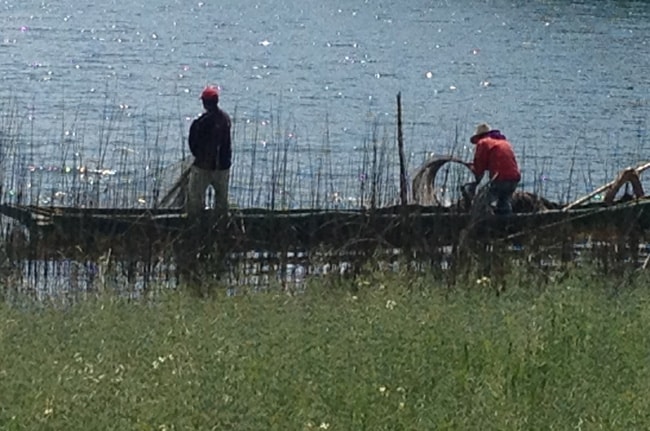 And this dock was to our left: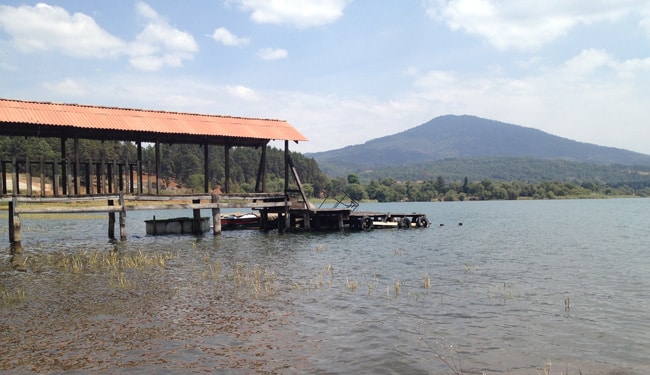 This field of wild oats was to our right.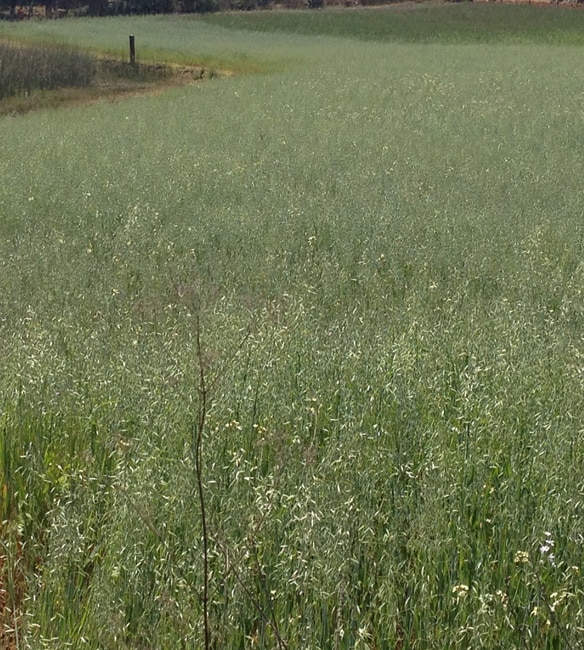 "I love getting lost," Richard said.
"Yes," Suzy agreed. "We wouldn't have seen any of this if we hadn't," she said, gesturing around her.
"How can such a beautiful lakeside not be full of private resorts?" I wondered out loud. I couldn't imagine a place like this not all divvyed up into condos, private property and exclusive resorts at home.
After we drove back to Zirahuén, we struggled to find the dock again. While we drove up and down the narrow streets trying to find our way, I kept seeing this sign over and over again: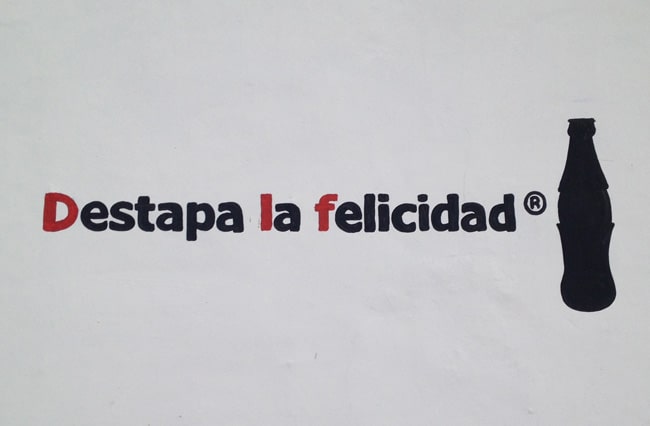 "What does that mean?" I asked Suzy.
"It means, 'Uncap your happiness.'"
I'd noticed hand-painted Coke and Pepsi signs everywhere we'd traveled—they were ubiquitous.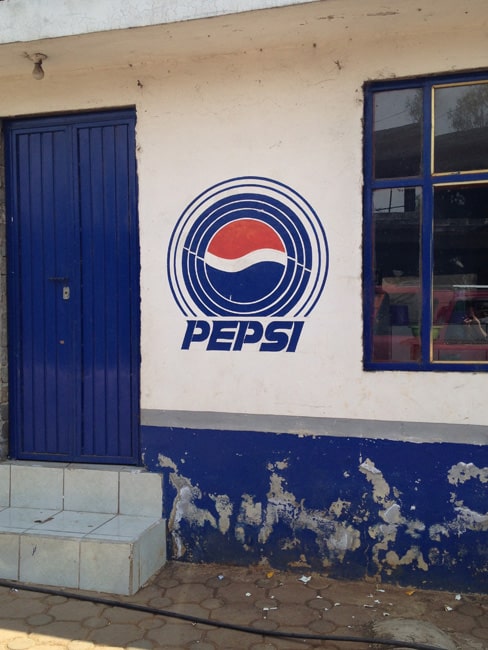 "Coke is considered a luxury item," Suzy continued. "In some places it's cheaper than water. Fried snacks are very cheap and very popular, too. Obesity and diabetes are rapidly increasing among the young."
Finally, we finally asked directions enough times to locate the main dock. This was a the display in one of the shacks down by the water's edge: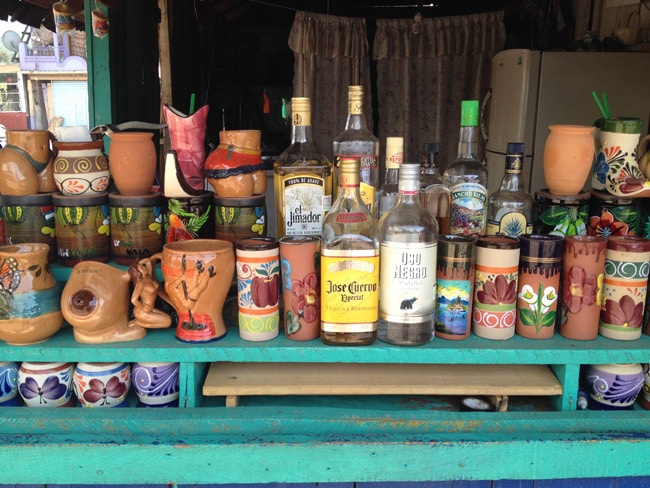 There were several very rickety restaurants to choose from for our lunch. None of them had customers and all the proprietors called out to us, encouraging us to choose them. Instead, we walked all the way out onto the dock that extended out into the lake. As we stood there, taking in the view, this woman was scrubbing her laundry on a large stone right beside us: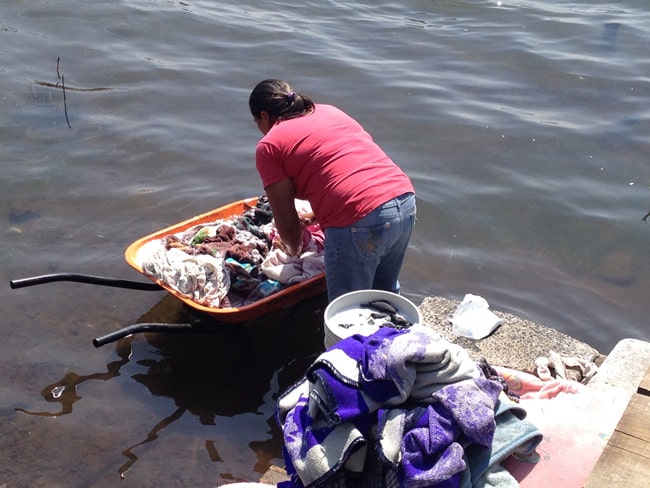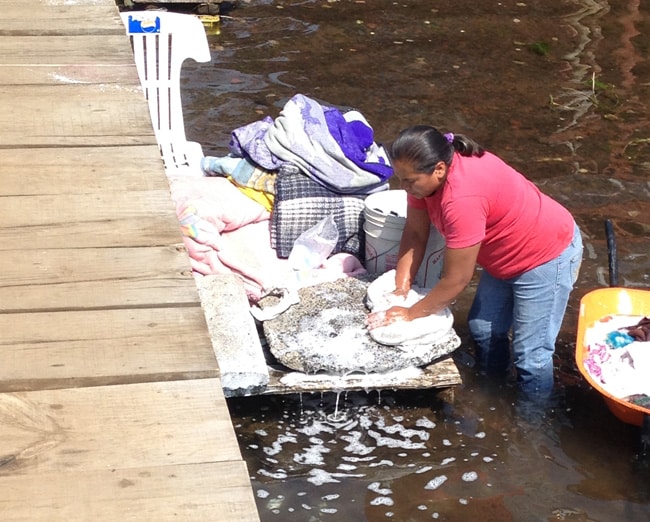 And here we were—three gringos about to go out to lunch. We Suzy peruse the menus. This was the restaurant we chose: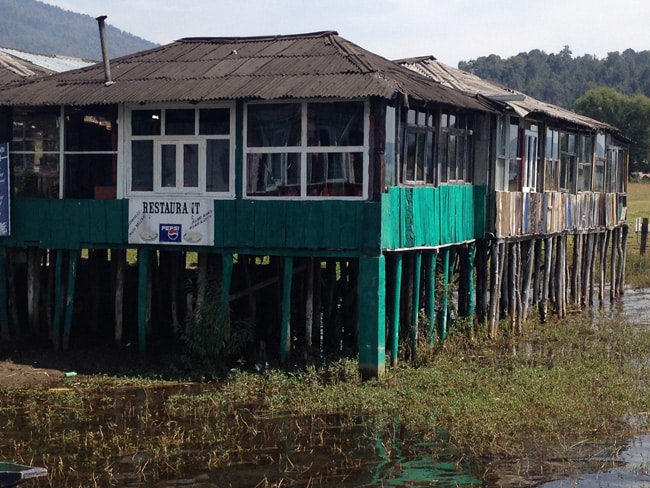 This was the view inside: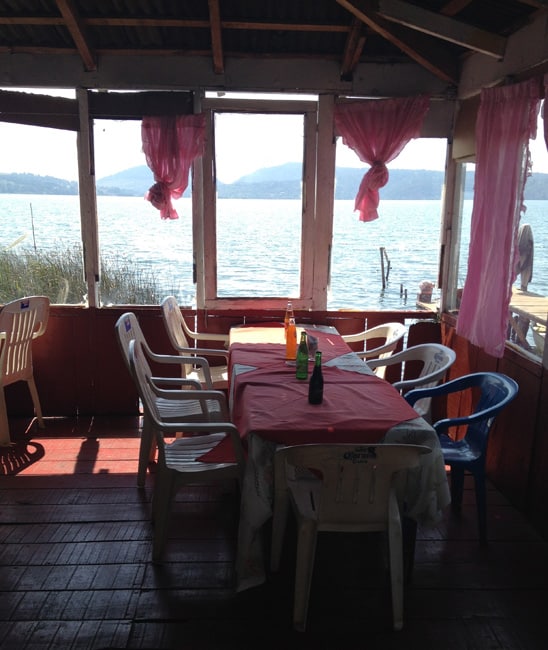 There was only a single menu for the entire restaurant. As we read it, we could feel the dock shaking beneath us.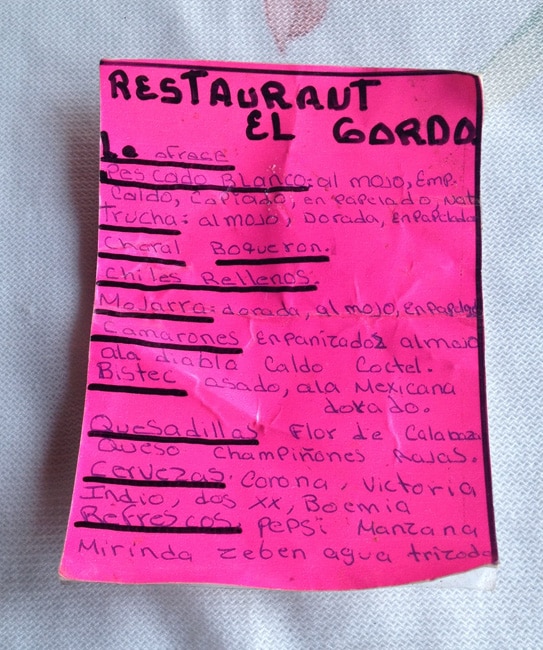 I ordered the local fish and Suzy and Richard ordered different types of quesadillas. We also ordered some of the house specialty—the tiny little fish that come from the lake—battered and fried. "We're here," Suzy said, "We might as well try them."
While we were waiting for our food, Suzy and Richard went out in search of a bathroom. This is where the man in the restaurant instructed them to go: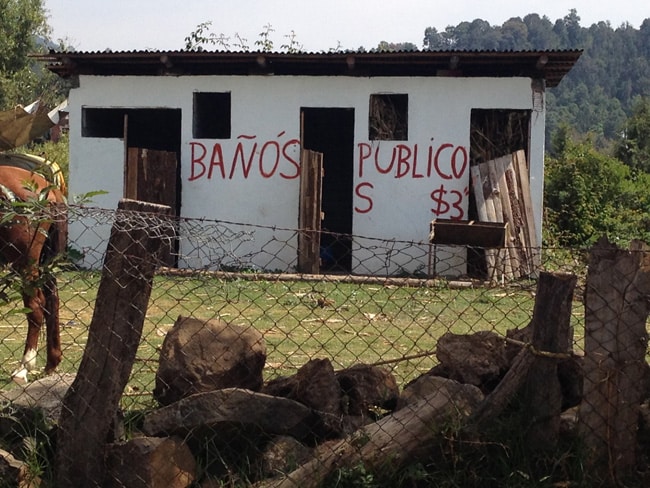 But the doors were shut and they couldn't get in. A young boy, about ten, immediately showed up and invited them to use the outhouse on his family's property. Richard couldn't bear to use this outhouse; but Suzy was desperate and braved the unusual conditions: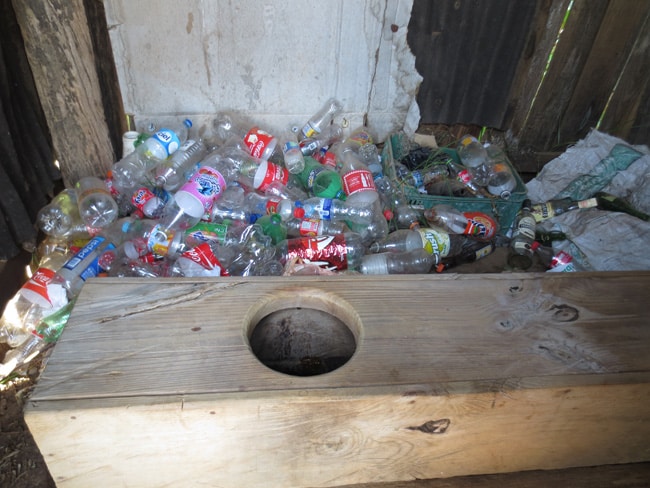 Afterwards, the boy asked to be paid a peso or two for the use of the facilities.
While Suzy and Richard were gone on their toilet adventure, I watched our lunch be prepared. The proprietor cut onions, smashed garlic and sliced peppers. Here he is frying the tiny fish that I'd watched him bread and prepare:
While his young daughters were playing in the corner of the restaurant, his older daughter grilled tomatoes and peppers over this wood fire: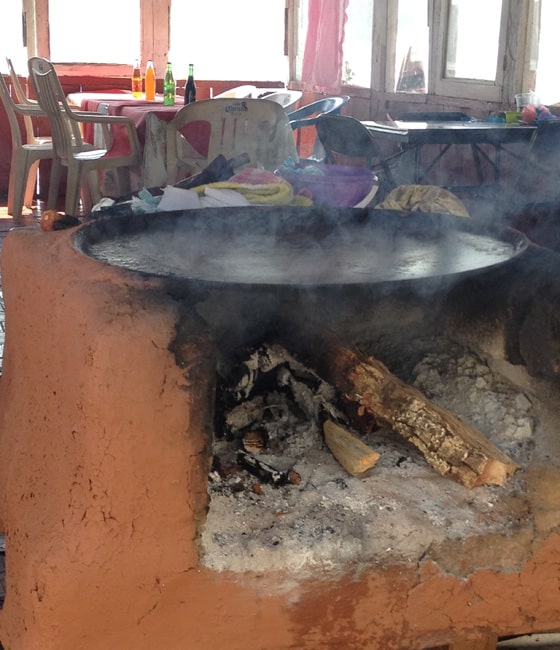 After she cooked the vegetables, she ground them for a long time in a stone molcajete, a Mexican mortar and pestle. Then she put the freshly made salsa in a bowl and brought it to our table: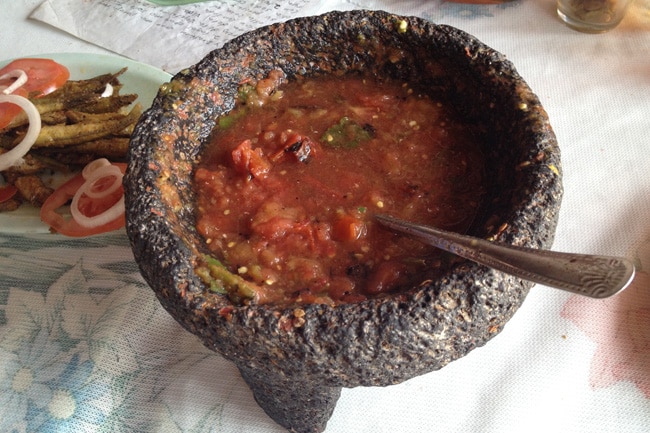 Once the salsa was done, she began rolling and pressing fresh corn tortillas, which she then cooked over the same open fire.
When the tiny fried little fish, the charalitas, were brought to the table, I squeezed on the accompanying lemon and took a tentative bite . They were delicious. I ate a few, but I couldn't quite manage the heads. It was those little eyes looking back at me.
All our food was good, the view could not have been more superb, and the bill per person, including a beer, was 108 pesos, or about 8 bucks each. After we said, "Buenos tardes," we walked up the pathway back to our car. To our right, a young man and a woman squatted over a huge bucket, stripping the kernels off dried ears of corn to make their own masa. Just a hundred yards up the path, I saw the source of the corn—all of it drying in this room: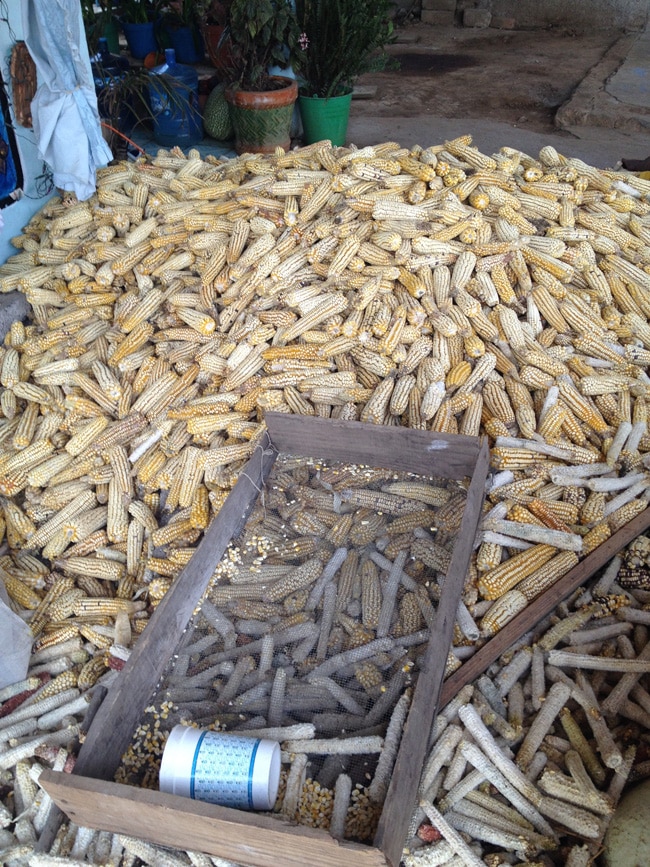 I'd never seen so many ears of corn in my life!
On the long drive back to Pátzcuaro, Richard said, "It's been a long time since I've seen Mexico like this. I was in Baja in the late sixties and it was like this." Then he reconsidered, "Actually it was more developed than this."
As we passed the town square, an old hippie gringo, the incarnation of Jerry Garcia, sat in the town square with two very incongruous suitcases parked beside him. We speculated about who he was and why he might be there. Then Suzy said, "I have never been in a place by the water like this that seems so lost in time. This town has been barely touched by tourism. This is the sleepiest town I've ever seen in Mexico. In fact, it's the most refreshing picturesque place I've ever been."
Once we left Zirahuén, we kept driving on the rim road around the lake. A few miles down the road, we saw more signs of prosperity—fancy houses and several resorts, either currently operational or under construction. I felt sad for the people of Zirahuén, just a few miles back on the same road. How long would it be before visitors and development altered the traditional rhythm of their lives?