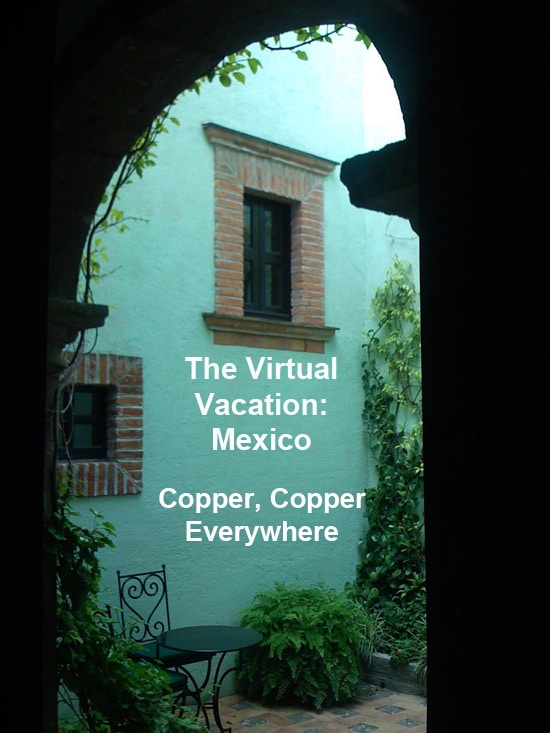 As we wandered around Pátzcuaro this morning, doing a little shopping, we came across this storefront. Apparently, even AA obeys the rules of signage in this colonial town:
"Once," Suzy told me as we walked, "I was in Oaxaca and I came across the national headquarters of 'Neuroticos Anonimos.' Now that's a 12-step program we need in the U.S!"
Over breakfast, we learned from Victoria that the beautiful lake we circumvented yesterday is shrinking and is horribly polluted. Sewage goes directly into the water, as does industrial waste. So much for scenic beauty.
Mid-morning, we set out for Santa Clara de Cobre, where more than 80% of the town's population is employed as copper artists. The townspeople—and their ancestors—have been working with copper since the pre-historic era. There are currently 250 registered copper workshops in the region, generating an income of about fifty million pesos a year. I imagine so—we dropped quite a few pesos there ourselves buying plates, earrings, napkin rings, and other small gifts.
The beauty of what the people make is staggering—both utilitarian items such as sinks, plates, chairs, counters, bathtubs, vases, clocks, pots, pans—as well as beautiful copper works of art.
The double doors of this workshop were made entirely of copper:
Here's a close-up of the incredible door—one of the first things we saw as we drove into town:
The town was lined with street after street of shops showcasing wares such as these pots:
This bathtub was as big as our giant soaker tub at home:
Here are some beautifully etched plates:
Some woven copper placemats:
Here's what one of the hand-painted plates looked like:
This wall of kitchen and bathroom sinks stretched from floor to ceiling. From the picture, you can't see the scale of the pieces or the detailed etching in many of them:
This entire vanity and mirror—all made of copper. The picture doesn't begin to do justice to this majestic piece of furniture.
Copper vases like this one, painted in a myriad of colors, patterns, and scenes were displayed everywhere:
The shapes were stunning. This pitcher was in the town's copper museum:
This was the door outside the copper museum.
And this sign, on the wall outside the museum, etched in copper, was "In Memory of the Pioneers of the First Competition of Hammered Copper in 1946."
In one of the many shops we wandered into, the shopkeeper told us we could go through a back door to see the factory where the work was being done. This is some of what we observed:
Here were some of their tools:
The local copper mines are no longer in production, but recycled copper is purified and used to make all new items. Here is some of the recycled materials we saw piled near the stairs:
Our last stop was at the studio of Cobre El Portón. We'd heard from a couple at the breakfast table today that we could tour their shop as well.
We walked all the way to the back of the store and found a vast workshop with four men hard at work. They were used to tourists visiting and the first part of their demonstration involved putting this copper helmet on my head:
This man explained the process of working with copper. Luckily, Suzy was there to translate. Like many young people in this town, he began working copper when he was nine. Families own the workshops and the trade is taught to the children, whose first job is often painting on the lacquer.
Every step of the process is done by hand. It can take hundreds of thousands of hammer blows—and a huge amount of upper body strength—to complete one large piece. Copper is heated again and again in a fire and then pounded with mallets, often several people at a time pounding and turning each piece. Then it's returned to the fire because if the copper gets too cool, it can break. "We have to train our ears to hear the sound of the hammer hitting the copper," our guide told us, "and we need to be able to feel it through the pincers or it can break." This process can take days and requires more and more refined tools as the process goes on.
While we watched, one of the workers lifted the copper out of the fire and immersed it water. A huge plume of smoke went up. When he removed the cooled piece from the water, it was so soft he could bend it with his hands. He told us that repeated hammering makes the copper hard and more durable. It can take anywhere from four days to a month to complete one piece, depending on its size, complexity and decorative features.
This was the color when it came out of the fire, the natural color of copper:
The color was beautiful. I'd love to have a piece that looks just like that. We learned that it's acid that creates the golden-orange copper color we are used to–like a shiny copper pot hanging in a kitchen. The pieces that are darker are given their color by a torch. Etched designs are often drawn with a compass first.
As we gave the men a 200-peso tip for the demonstration, we asked about this work-in-progress sitting right in the middle of their studio. "It's a still for mescal," they explained. "The coils, when it's done, will stretch all the way down to the ground."
Walking back to our car, we passed through the town square. The garbage cans were painted to look like copper, as were the benches. Copper flower pots hung from all the rooftops:
And in the very center of the square was this homage to the artistic tradition that keeps this town alive:
Once again, I was sleepy as we drove home through pine forests, passing a junkyard and a man selling men's Levis out of the pack of his truck. Dozens of hand-painted signs decorated the roadway. Muted with age, their colors softened, they were much easier on the eye than all the advertising we have in the U.S. Strangely enough, we spotted one sign that read: Devanand Yoga Ashram. Maybe Karyn should have come with me on this trip after all!
I nodded off on the way home and then crawled into my bed for a real siesta. Now I'm waiting for my masseuse Ulises to arrive. Richard and Suzy have gone out on a date so I can have privacy for my massage. As I write this, the sky is growing dark and the chill of evening is coming on. I'm looking forward to the deep relaxation I hope will infuse my body soon.
I'm very much enjoying my time here in Pátzcuaro, but I'm starting to feel a little homesick and am missing my family. So if you're reading this back at home—drop me a line.
P.S. Later…During my two hour massage with Ulises, I closed my eyes and kept seeing copper in front of my eyes.