Last night, after my wonderful interlude at Big Brother Mouse with Eliza, we returned to the hotel and headed out with our group for a farewell dinner and Baci ceremony at the home of a local family. Tui had arranged it for us and I knew it would be a wonderful evening. Judy and Surya always end their trips with something special.
We were dropped off at a family compound, took off our shoes, and each of us was draped in a ceremonial wrap around our chest and shoulders. We sat on chairs around the perimeter of a large room. At the front of the room were members of our hosting Lao family: the oldest man (the high priest), several older women, a couple of teenagers playing drums and an instrument I didn't recognize, and two young children. They sat on the floor in front of a large altar with a centerpiece made of beautiful marigolds. From the top and sides of this offering were a hundred or more white strings.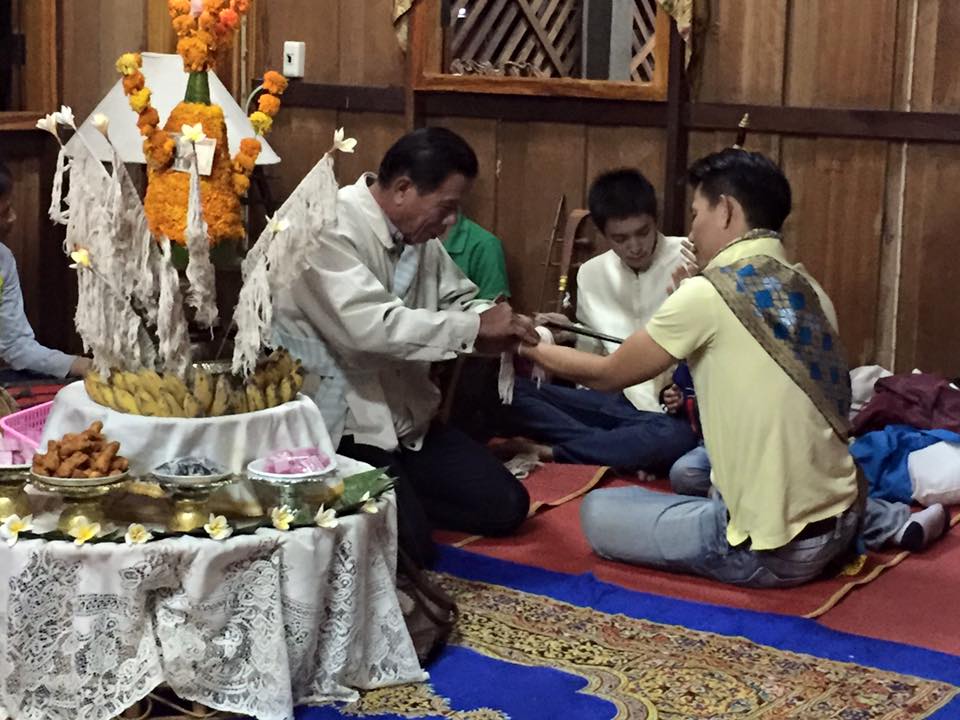 Tui explained that the Baci ceremony was a traditional Lao ceremony of blessing and that we were about to be blessed by this family. The high priest chanted for a while. Then each elder in the family came to us, and tied one of the white strings around each of our wrists. Each interaction consisted of "Sabadee," a greeting, a smile or a moment of eye contact between us. Then we'd extend our wrist and they'd tie the string on and knot it. Then we'd say, "khokhobchaithan rai rai" or thank you very much. The whole ceremony took ten of fifteen minutes and I feel such an upwelling of tenderness and love while it was going on. We all felt it – the sacred in the room.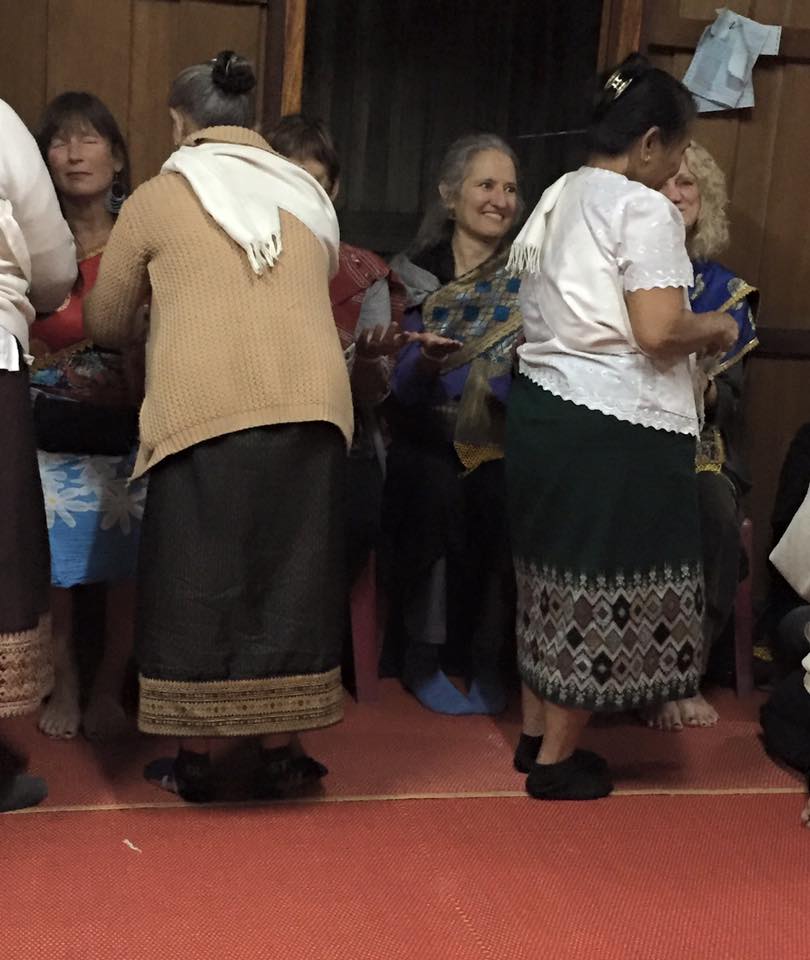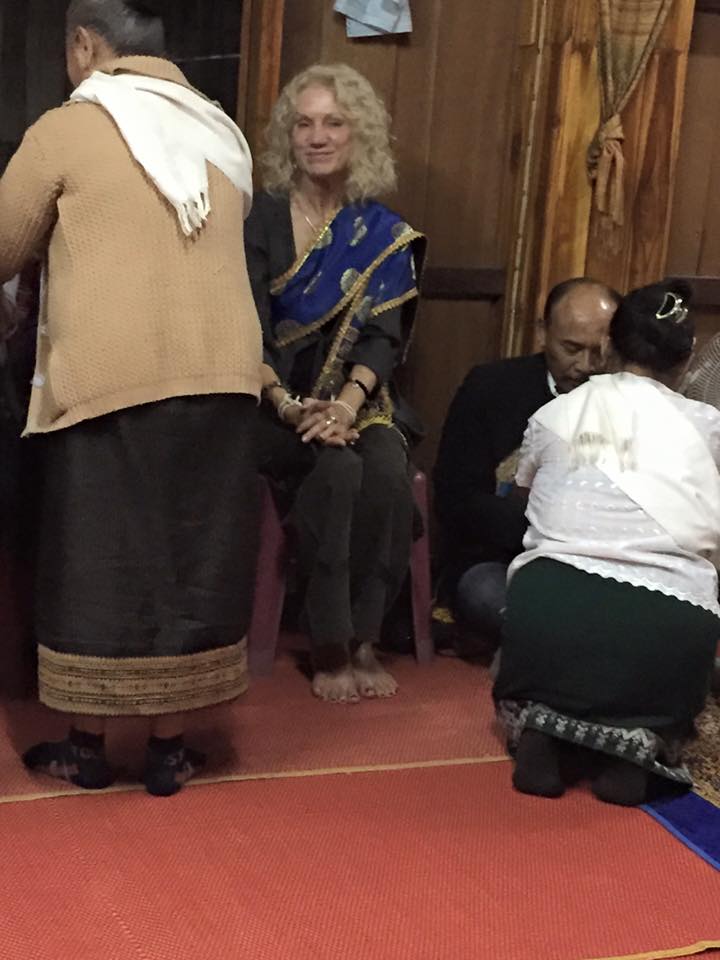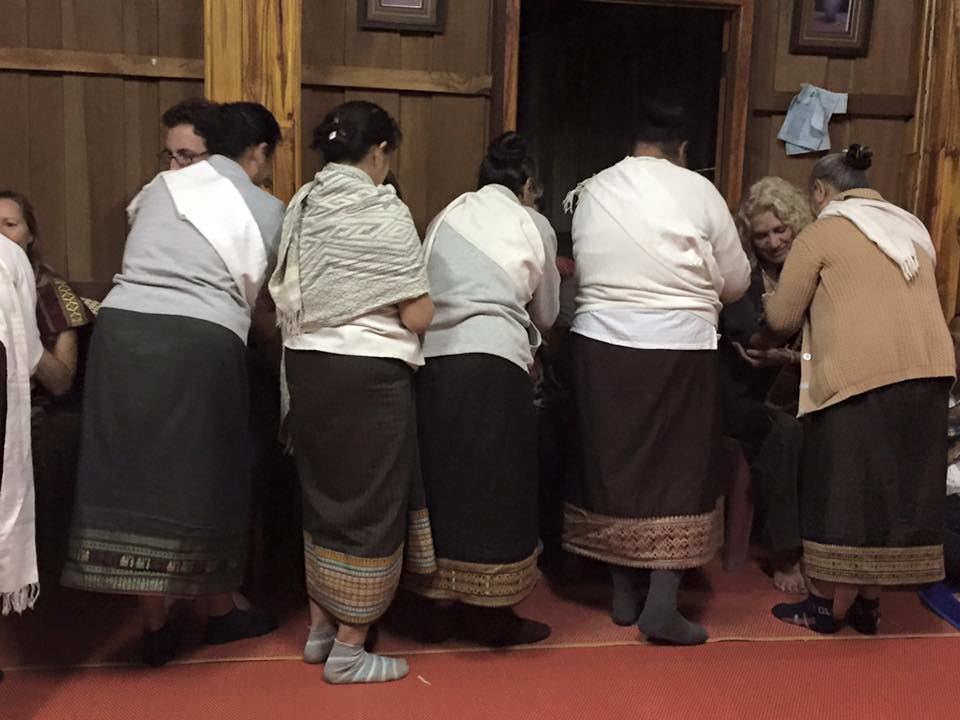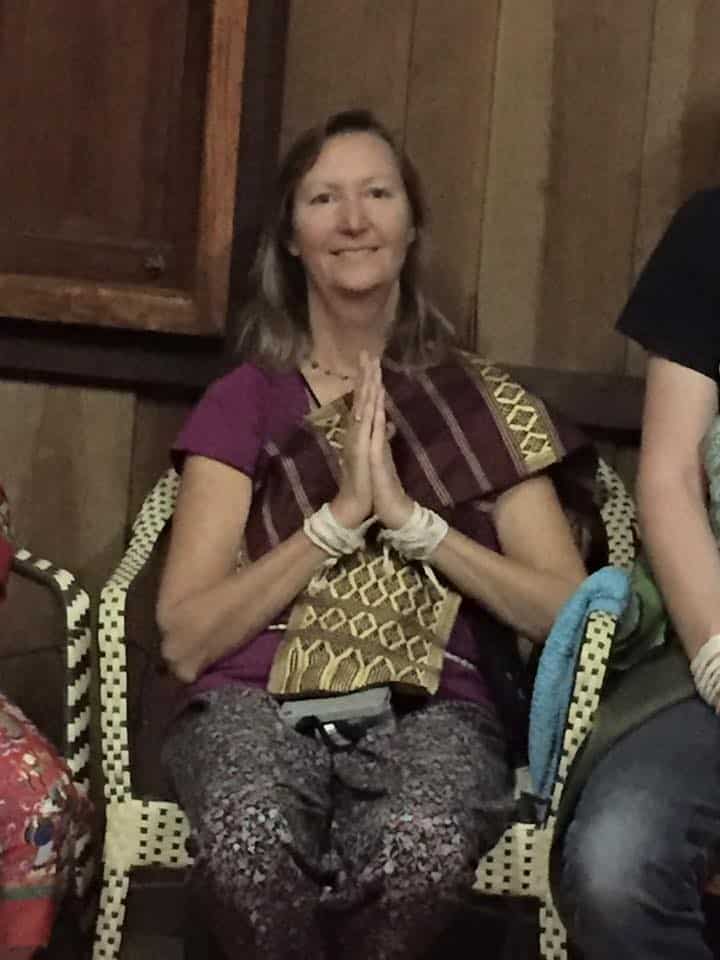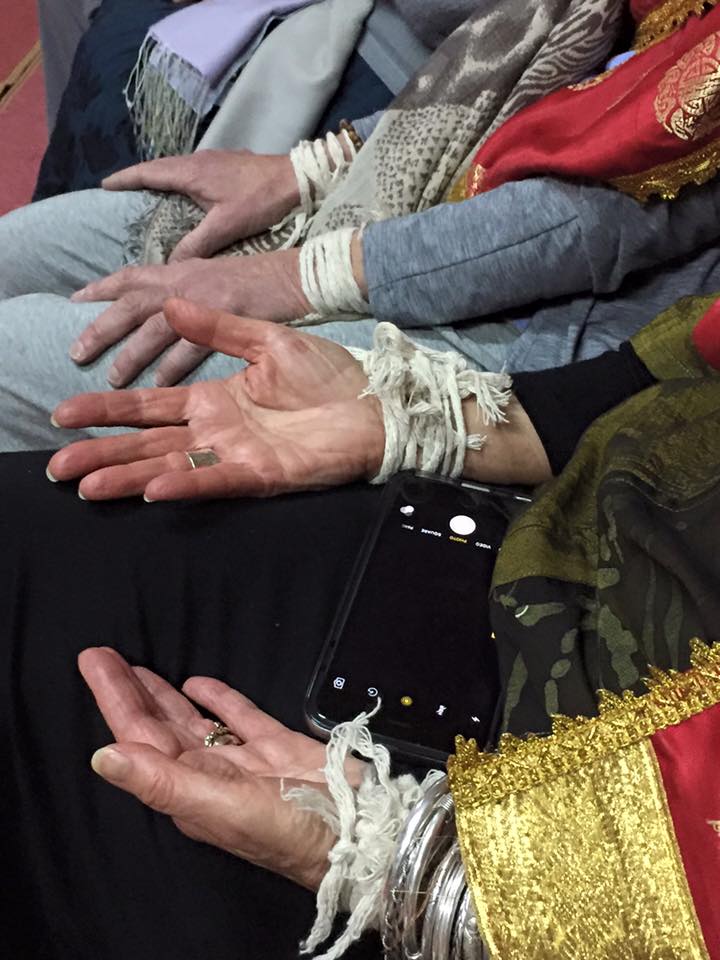 As trip leader, I was then asked to come to the center of the altar. I knelt down and before I knew it, the high priest was in front of me chanting a blessing and looking right into my eyes. In those 20 seconds, there was a definite transmission of spiritual power and I began to cry. I recognized that holy place inside of me and I opened my heart to him and whatever he was sending my way for the benefit of our whole group and all beings. He handed me the beautiful marigold offering to take with me and I returned to my seat, holding all that beauty and love in my hands.
Tui told us that we should keep our wrist strings on for at least three days to get the benefit of the blessing – and then to take them off, not by cutting them off (that would bring bad luck) but by untying them. I plan to keep mine on a lot longer than that. Perhaps until they disintegrate.
After the ceremony was over, several young girls came around with plates and served us dessert first: a crispy sweet rice stick, a black confection, and a striped candy that shook like milky jello. The rice stick was hard enough for me to break my teeth, but I managed with my molars. The other two were delicious. Then the women came around and we were each give a shot of local alcohol. I don't know what it was, and I rarely drink, but this was a sacrament. I was sitting next to Eliza. We looked at each other, smiled and did them as shots. Everyone was laughing.
After being lubricated with alcohol, dressed in ceremonial sashes, blessed and fed sweets, we were treated to a dance performance by a three sets of young girls, representing the three different ethnic groups in Laos – lowland, highland and midland. The final dance included girls from all three regions–each in their traditional costume–dancing together to show that "we are all one is Laos." The dance performance ended with a young man doing a monkey dance with a traditional monkey mask.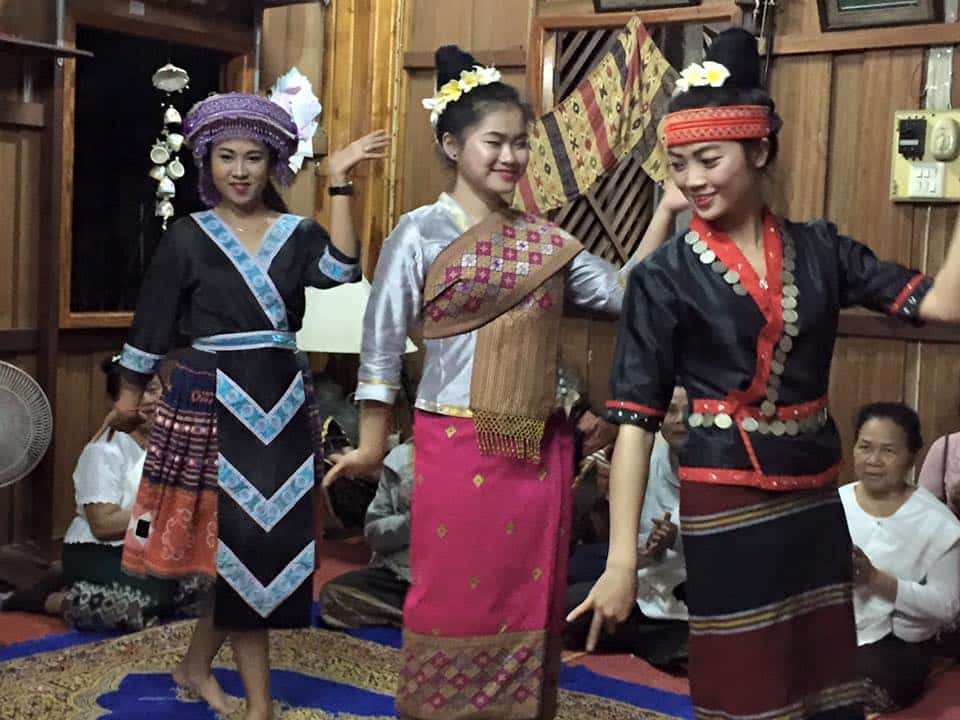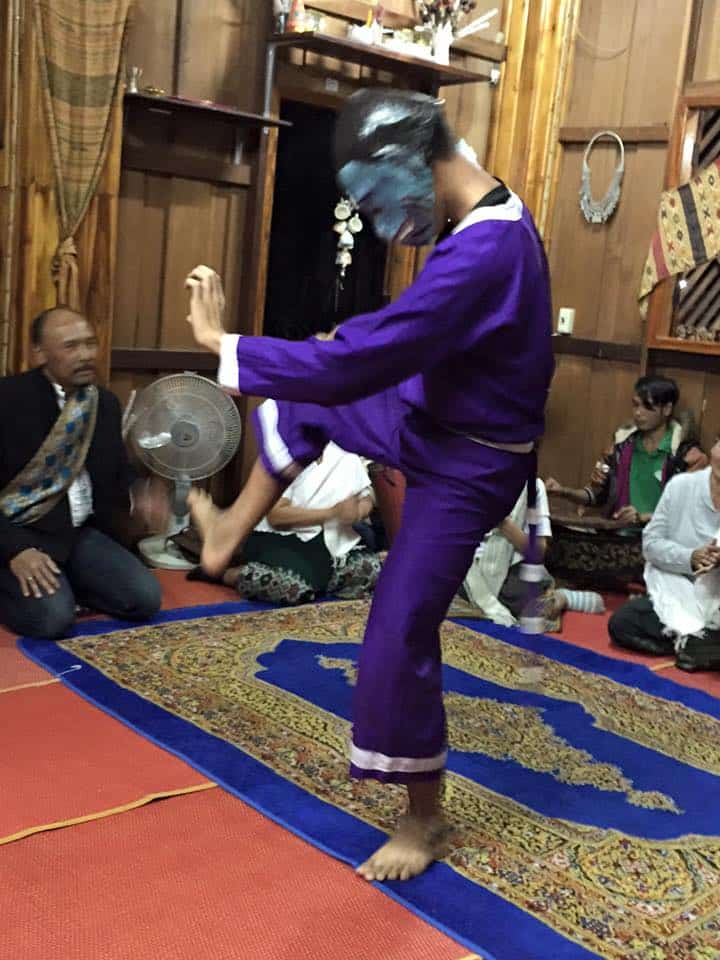 Then our guide Tui got up and danced for us. He was beautiful and fluid and aglow. And before long all of us were up dancing together in this small holy room, feeling free and happy and blessed. And as we danced, one of the matriarchs of the family started to cry.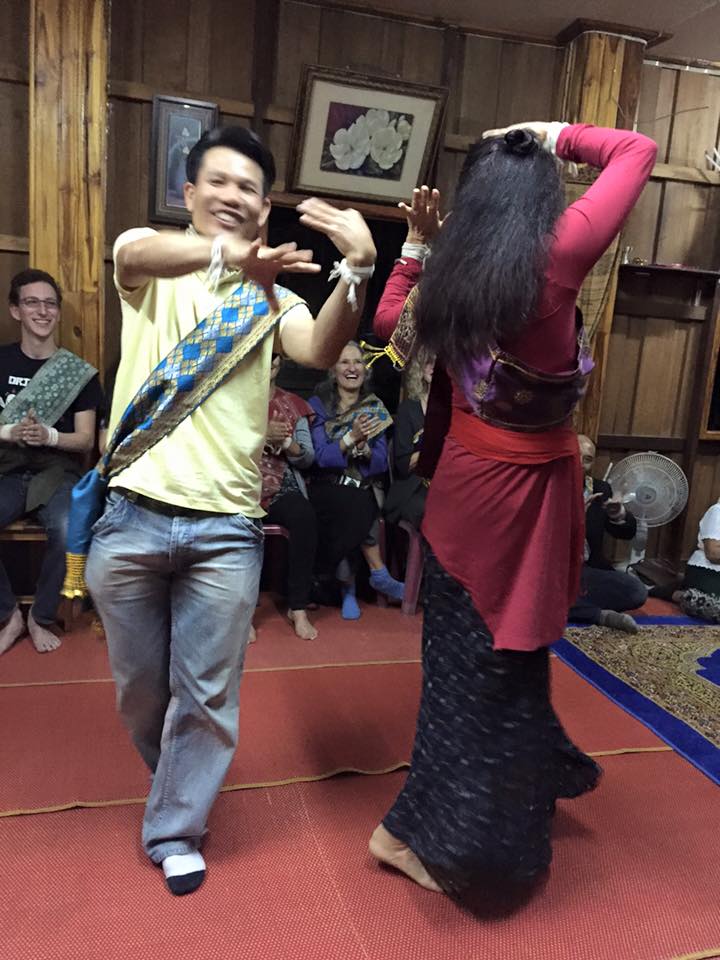 Tui dancing with joy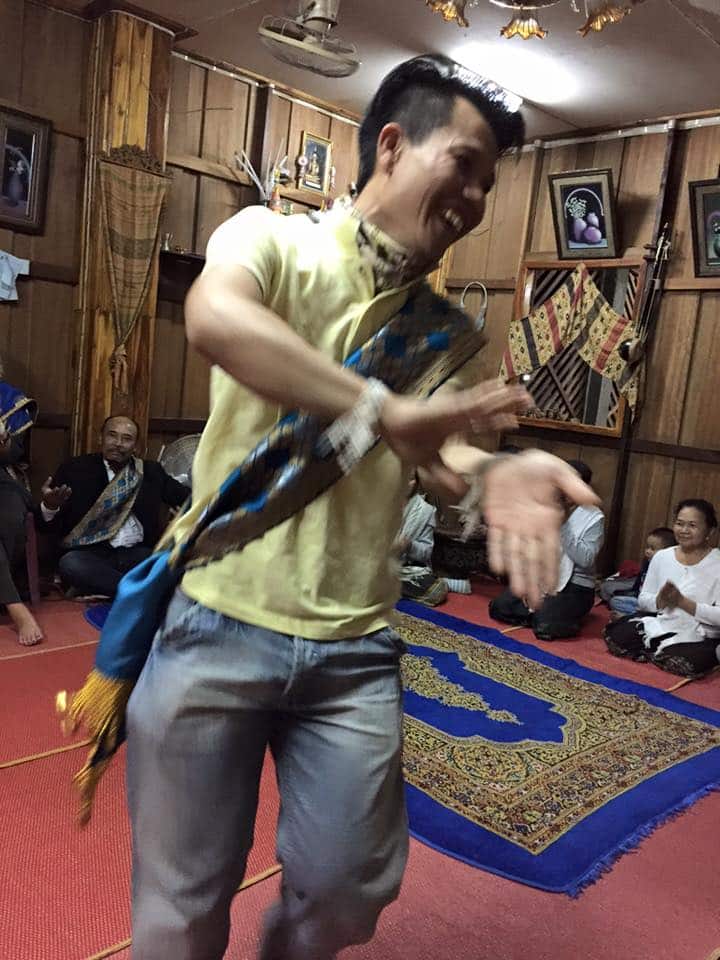 Judy told us later that she'd never brought a group here who had gotten up and danced before–her other groups have been too shy, too afraid, embarrassed. But not us. We got right up and started to move, filling the small room with our joy and celebration. We imitated the Lao hand movements and added our own personal flair. I can't imagine a more special ending to our trip.
Afterwards, we returned our sashes and walked next door and sat at long outdoor tables for an authentic Lao feast. We ate pretty much everything, but the buffalo meat sausages remained mostly uneaten. It was a taste too foreign for our western palates. But I ate five of the little desserts–a coconut pudding with a pale green minty layer underneath.
Everyone was in high spirits riding back to our hotel. We all returned to our rooms to pack and to get ready for our next destinations–home or Cambodia. Three-quarters of us are traveling on together.
This time we will have a local guide, but no Judy or Surya to lead us. I guess we will have the fun of finding our own way.
This morning, I got up at 6, threw on some clothes and padded downstairs to see off the early morning travelers leaving for the airport at 6:30 AM. This included four people returning home to the US and Australia, Judy who is flying back to Bali, and Surya who is going back to Hanoi to start leading another trip.
Several of us stood in the street waving goodbye. That is the tradition here and in Bali–to stand in the street waving until you can see the car no more.
I came back upstairs, picked up the large offering from last night and headed out in the cool early morning to take it to the closest wat and leave it in blessing. Surya had suggested I walk over to the wat just two blocks away, so that's where I headed.
Roosters were crowing and tourists were watching the morning feeding of the monks. The first thing I saw was a dozen older monks, ambling down the road looking at their cell phones and snapping pictures, just as if they were tourists. Monks on the other side of the street were still making their almsround, tipping their bowls to the locals for their dedications of rice.
All of this made me smile.
I climbed up the steps of the wat, just two blocks from our hotel, slipped off my flip flops brought the offering to the temple door and prostrated in front of it. "Thank you for this wonderful trip, " I said. "Thank you for everyone's safety. Thank you for a wonderful group and a great adventure. Thank you for Eli and Eliza and Karyn and that we could share this is a family." My heart swelled with gratitude in the early morning light. I could feel moistness on my skin, the silk swish of my black dragon pants, the sweet warmth of my cashmere sweater.
Again, it was wonderful to have some early morning moments alone.
Now I have two hours to pack, have my last bowl of chicken noodle soup (more like Pho) for breakfast, and settle up with the hotel before getting in the van for the airport and our flight to Cambodia.
I feel bittersweet leaving this gentle land, the most bombed place in the world, somehow still so full of reverence and peace. I know I'll be back.