Several times since we've arrived in Luang Prabang, I've passed a storefront that says "Big Brother Mouse" and I've always wondered what it was. The other day on my way home from the night market, I passed a cart out in front filled with children's books written in Lao, including a Lao translation of The Diary of Anne Frank, which I thought was pretty cool. I recognized it because it had that classic photo of Anne which is on all the copies I've ever seen of her diary.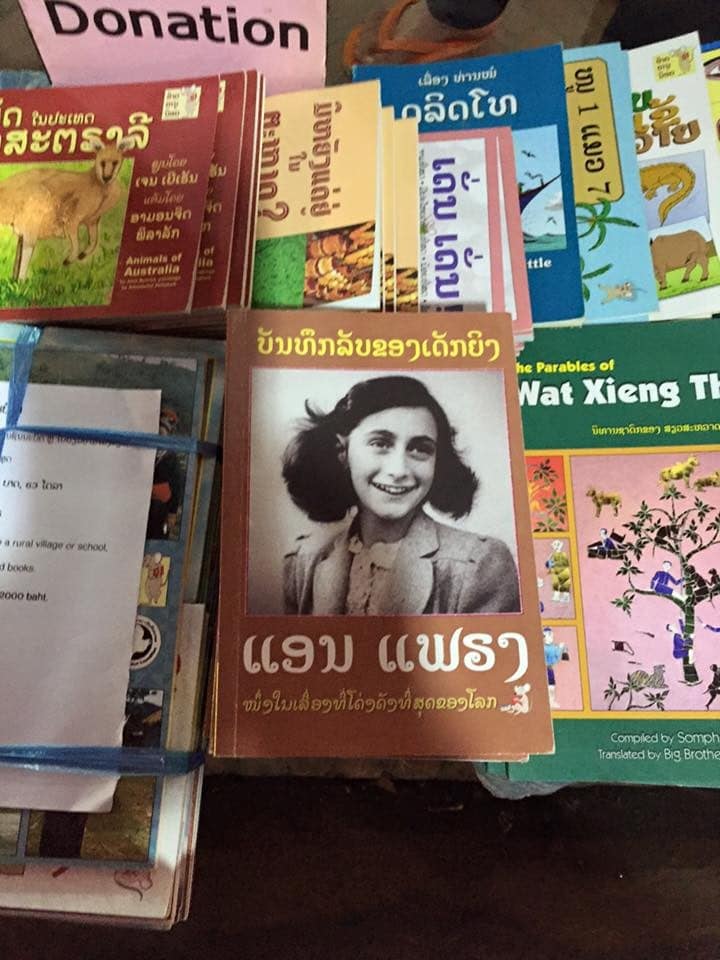 Anne Frank in Lao
Intrigued, I picked up a brochure and learned that Big Brother Mouse is a project designed to promote literacy in Laos. The opening paragraph of their little pamphlet read as follows, "This is the story of how we are changing Laos from a country where 'people don't read' into a country that loves books.
"It begins in 1983, when a boy named Khamla was born in a small village about 50 km from Luang Prabang. He started school when he was eight, and was the first in his family to learn to read.
"When he was 12, Khamla's family decided he was so bright and studied so hard that he should move to Luang Prabang. There, as a novice monk, he could get a better education at the temple school. He made the journey by boat; there was no road at the time. It was a six-hour trip, and he didn't see him family again for nine months.
"'At first I was very unhappy and homesick and sometimes I cried,' he recalls, but soon he grew to enjoy novice life, and he enjoys very happy memories of that period.
"Occasionally he saw tourists in Luang Prabang. Many of them read books when they had spare time. 'Why would they do that when they're on vacation?' wondered Khamla, whose only experience with reading had been a few dull, tattered textbooks in school. But he had no access to other books in his language, and wouldn't learn the answer to his question for many more years.
"As Khamla took his long boat trip to Luang Prabang, Sasha was selling the publishing company in the United States that he had run for 15 years. In 2003, he visited Laos.
"As a former publisher, he looked to see what Lao people were reading. The answer was: Nothing. 'On that first trip, I never saw a book in the Lao language,' Sasha says. 'I wondered: Could I help young people learn publishing skills while producing books that would improve education?'
"As he proposed the idea to various people, he kept hearing the same four word response, 'Lao people don't read.'"
But Sasha didn't accept this answer and he started to connect with students at the Teacher Training College and began to help them with their computer skills. They'd often stop by to practice their language skills, and several became interesting in learning about publishing, and eventually a company producing traditional Lao stories in Lao was born. These books were delivered to children in the villages through a series of Book Parties and a literacy movement was born. To date, over 1000 book parties have been held."
As a writing teacher, I thought this would be a fantastic project for writers to get involved with the next time I bring a group here, so I wanted to see Big Brother Mouse in action. So tonight, after a day at a waterfall, a big hike, a swim in icy water (just me and Eliza and Eli and one other brave group member braved the COLD water), and a final circle for the group to share appreciations of each other, Eliza and I slipped out for an hour before our closing dinner and walked over to Big Brother Mouse. Every day, from 9-11 and 5-7 PM, English speakers are invited to show up at Big Brother Mouse to help young people practice their English. All you have to do is show up. So Eliza and I walked over. It was only three blocks from our hotel.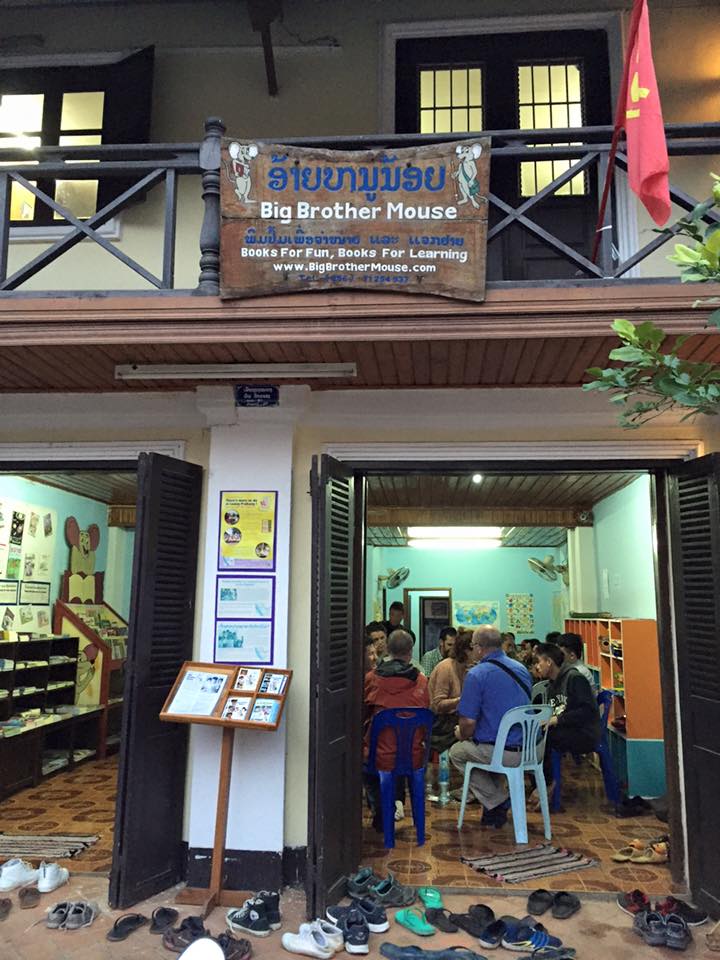 Big brother mouse storefront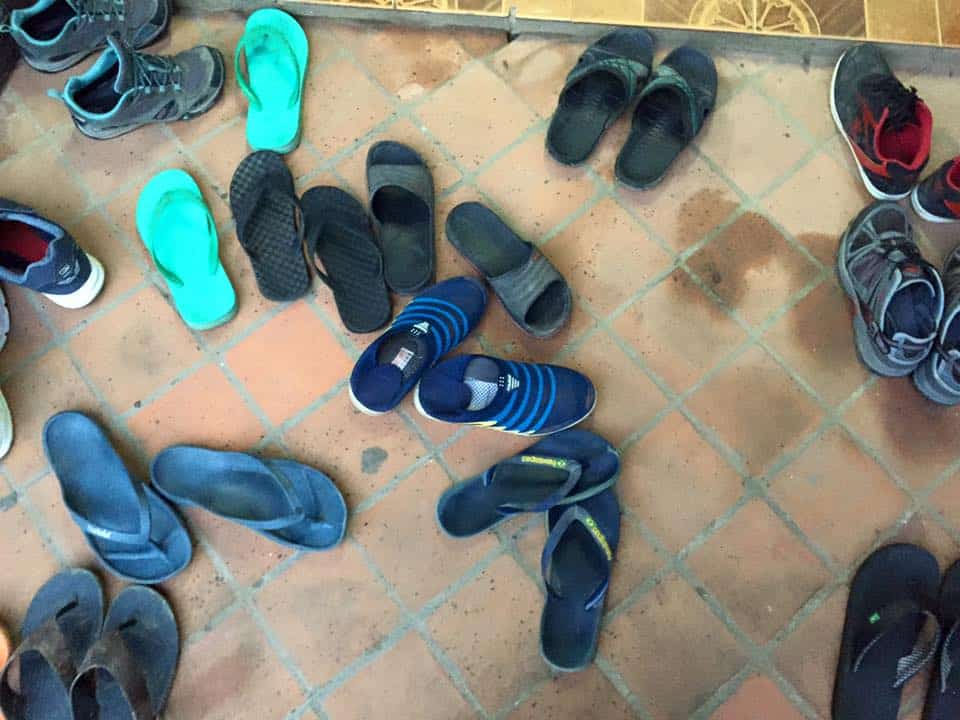 Shoes outside the door
We took our shoes off at the door and were motioned to a back table where a teenage novice monk was engrossed in conversation with two British tourists. I heard the novice say that he preferred conversing with Americans because American English was what they heard when they watched on TV, a primary way they practiced their English. But the young monk didn't really need two more people in the conversation, even if we were Americans.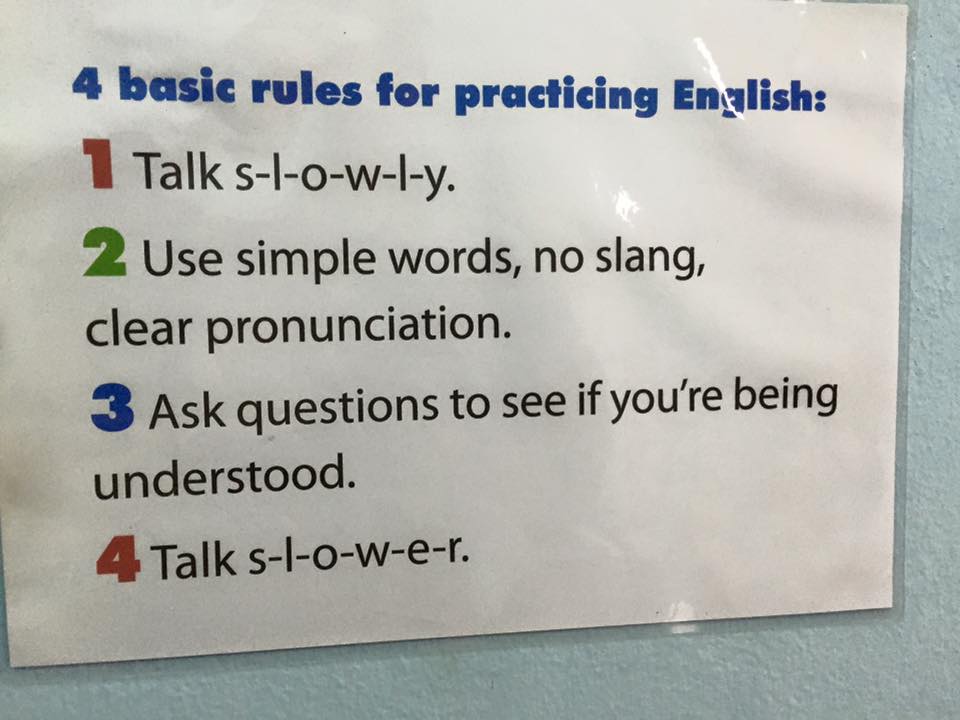 Four rules for practicing English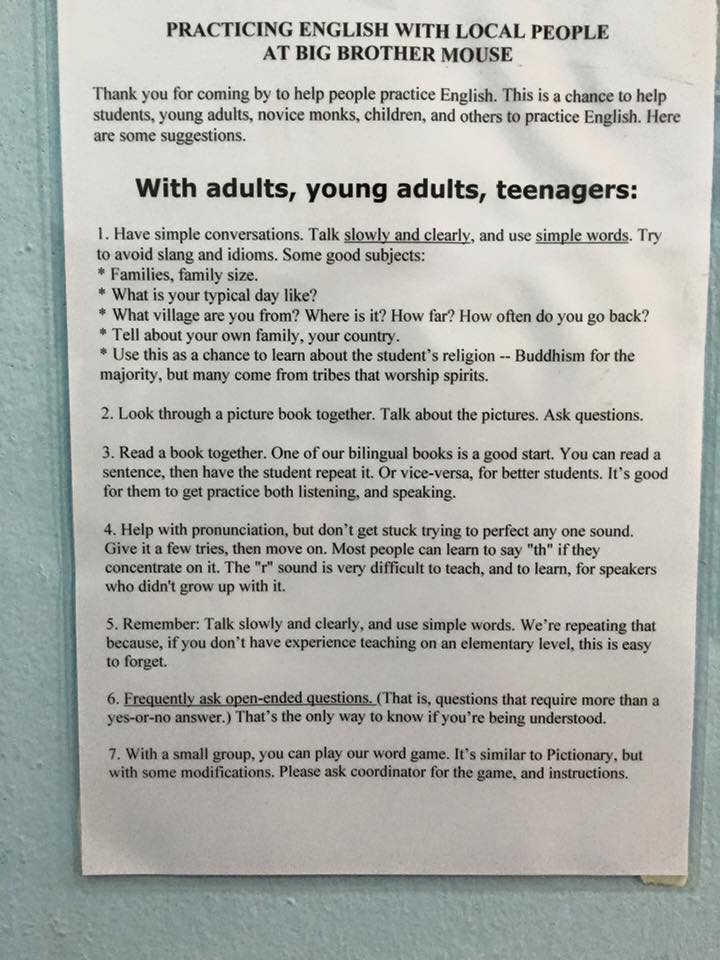 I didn't get this far, but would love to
We sat down a little further down the bench, not really sure what to do, so I studied the instructional signs on the wall, including instructions on how to interact with a monk (1. Monks may not play; 2. Women should not touch a monk, give something to him directly, or sit next to him; 3. Do not touch people on the head, point your feet at people or step over people).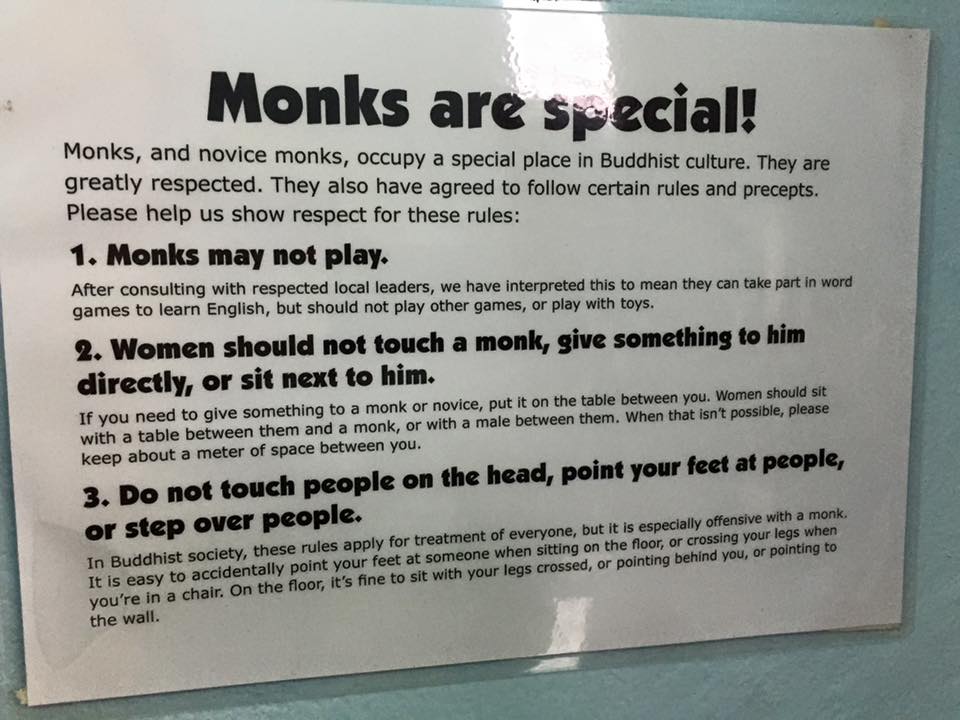 Monk rules
Within 5 or 10 minutes, two more Lao young people arrived, and then more English speakers and pretty soon, the whole room was full of dyads of people conversing.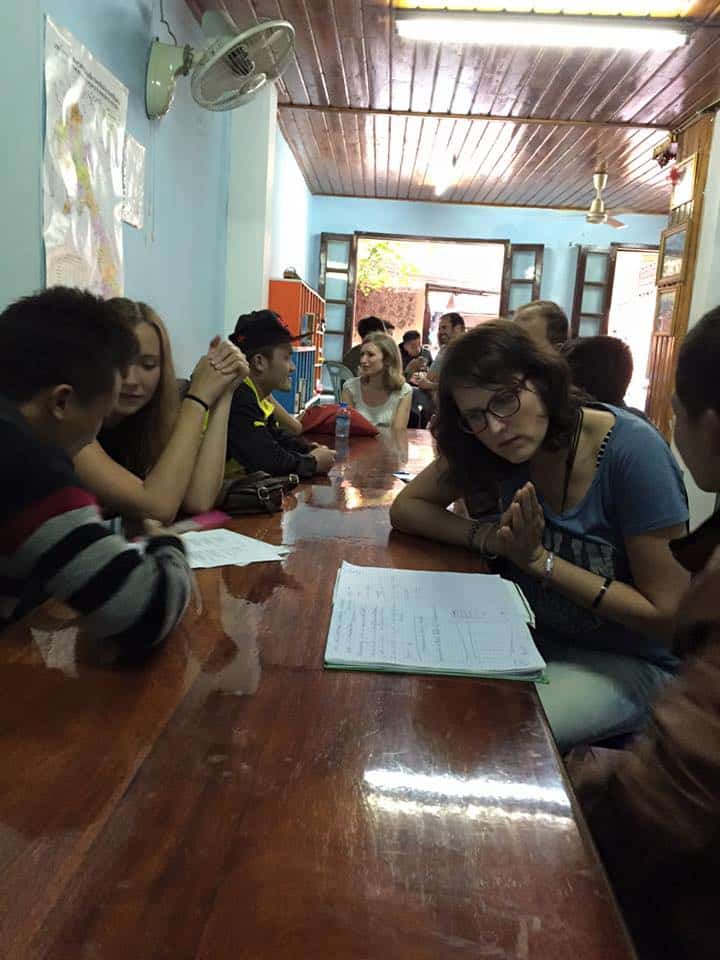 Down the table from me
Eliza was talking to a high school student who was fairly fluent in English already. I ended up at the other end of the table talking to two 15-year-old boys who were first year English students, Geely and Xeng. Xeng spent most of the hour blushing and leafing through his English I workbook, trying to find something he could say to me. Geely was more courageous, but I had to struggle to understand every word he said.
Our conversation was extremely simple with lots of sweet awkward smiles. I was able to ask things like, "Do you have a teacher?" but it might take three or four tries to be understood. There were lots of long silences and I resorted to gestures a lot. I learned that Geely and Xeng had never left Luang Prabang and had no interest in traveling whatsoever. And there were lots of misfires like this one:
Geely: What do you do at night? (that's what I thought I heard)
Me: I write stories on Facebook about my travels.
Geely: We chant when we go.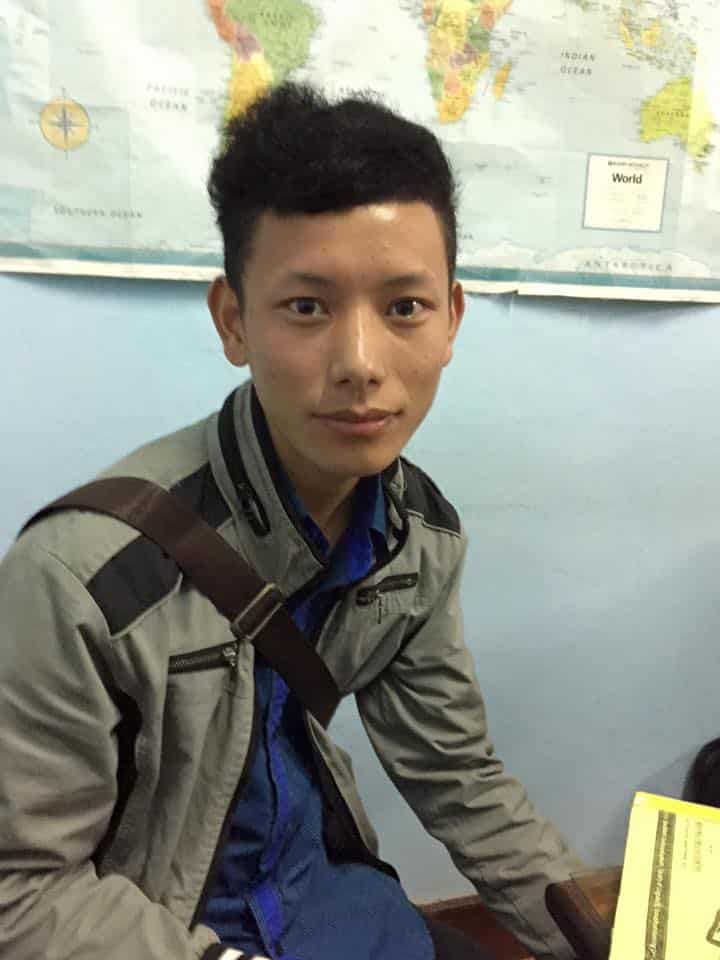 Geely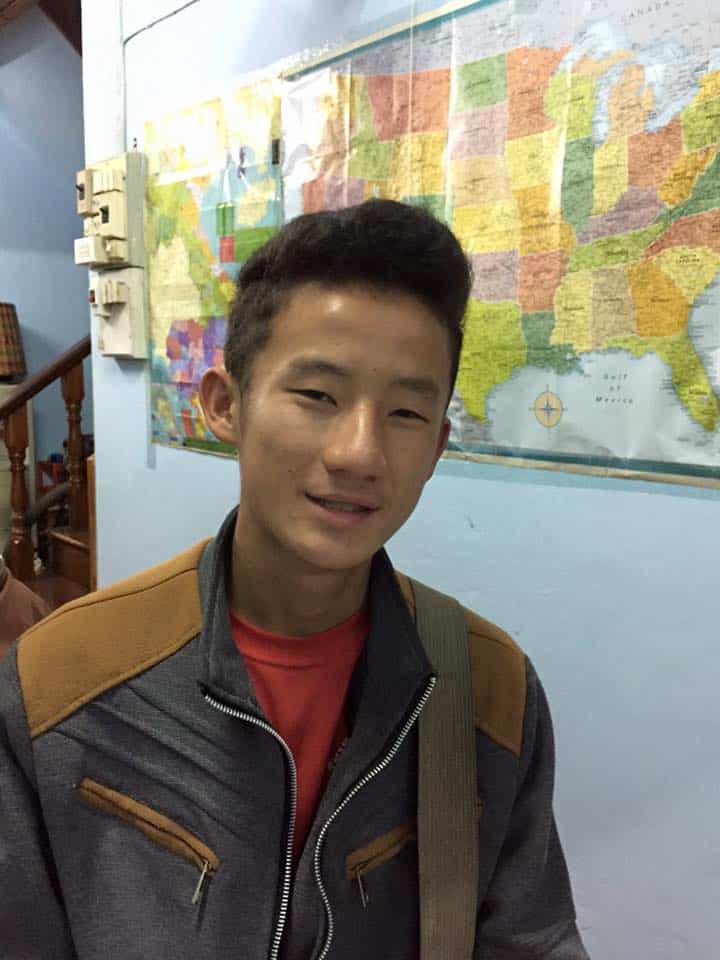 Xeng
When we couldn't figure out how to proceed and lapsed into silence, I could hear Eliza going through a list of English idioms with her partner, explaining terms like, "the valley of death," "paint the town red" and "let sleeping dogs lie." While I struggled to be understood saying things like, "When you learn English more, it will be easier to talk," Eliza was discussing the meaning of Justin Bieber and One Direction song lyrics with her partner.
Geely asked me: "What is your village?"
And I was able to go over to the map of the U.S. on the wall and point out Santa Cruz, which was actually on the map. I said there was ocean and mountains and big trees. And then I asked if he knew about surfing, but just like 95% of what I said, my words drew a blank. In desperation, I pulled out my i-phone and showed him a picture of my grandson, Lucas, on a skateboard. "Do you know skateboard?" I asked. Geely and Xeng stared at the picture, but clearly had no context for it.
It was at this point, that Xeng finally ventured his one question of the evening, "In what city do you live?"
Obviously the previous five minutes had completely gone over his head. I walked over and showed him my home town on the map as well.
Once we pulled our phones out, we clicked more. Tech is a universal language. We ended the session by sharing photos of our family members – a language we all understood. I said that Eliza, down the table was my daughter. I showed a picture of Eli and one of Bryan and his family back in Santa Cruz.
"My son," I said. "My daughter-in-law." "My grandson." "My granddaughter." "Daughter in law very big," I motioned with my hands over my stomach the universal gesture for pregnancy. "New baby coming."
Geely showed me a picture of his little brother who is 10 and told me the ages of his parents.
And then there was another long silence. They really didn't have enough English to converse. And I was an untrained visitor, uncertain how I might help them with their English in any other way.
Eliza was deep in conversation with her guy and I was jealous, but I loved being at Big Mouse and was sorry we had to leave early for our final dinner before our groups splits up tomorrow morning – several going home – and most of us flying on to Cambodia.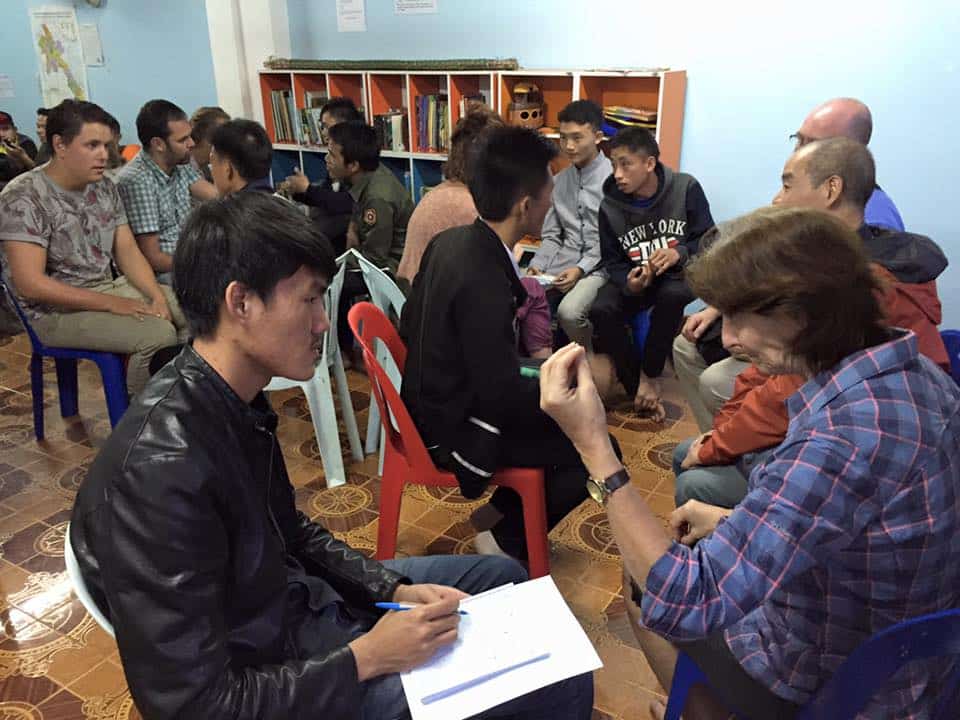 Full house at 5:45 PM
I wish I had more days here so I could go back to Big Brother Mouse again and again. It was a real highlight for me.
When I got back to the hotel, I went online to read more about Big Brother Mouse. I learned that a tour group can sponsor a reading program in a rural Laotian school and be part of delivering the books to the village – that we might actually be able to witness children choosing the very first book they've ever had. Doesn't that sound perfect for a group of writers?
What can I say? I'm already dreaming of the next Write, Travel, Transform trip to Southeast Asia.
But in the meantime, you can check out big brother mouse for yourself by clicking here.