This writing retreat in Scotland came about when my former student, Robyn Randolph, emailed me from her new home in the Scottish Highlands and said, "Laura, if you ever want to teach a writing retreat here in Scotland, I'll handle all the logistics on the ground." That one email turned into a series of emails and Skype calls, and several months later, the Write, Travel, Transform Retreat in Scotland was born.
It's always incredible to me how an idea can actually come to fruition. This retreat will be starting in just a few days—and I really am in Scotland, a place I never would have come to without Robyn's enticing invitation.
At 6 PM tonight, Eileene and I arrived by train in Nairn, the town of 8000 where Robyn and her husband, Geoff, live in rural splendor. As soon as we got our baggage into the boot of their car, we headed out to the farm of their friends Peter and Terry Muskus. I was immediately struck, once again, by how different it is to visit people who live in a place than it is to be a tourist. This farm is definitely not a place we would have visited if we hadn't been with them.
A week ago, Robyn and Geoff had asked what we wanted for dinner. They suggested lamb and we happily said yes since we knew it a specialty of the region. Our lamb, the one we were going to eat tonight, had been raised right here on Terry and Peter's Laikenbuie Farm. We just stopped by just to pick some fresh greens for our salad.
Laikenbuie Farm was a stunning little paradise and the gorgeous vegetables this region is famous for were apparent everywhere. Here are just a few of the delights we found in their garden: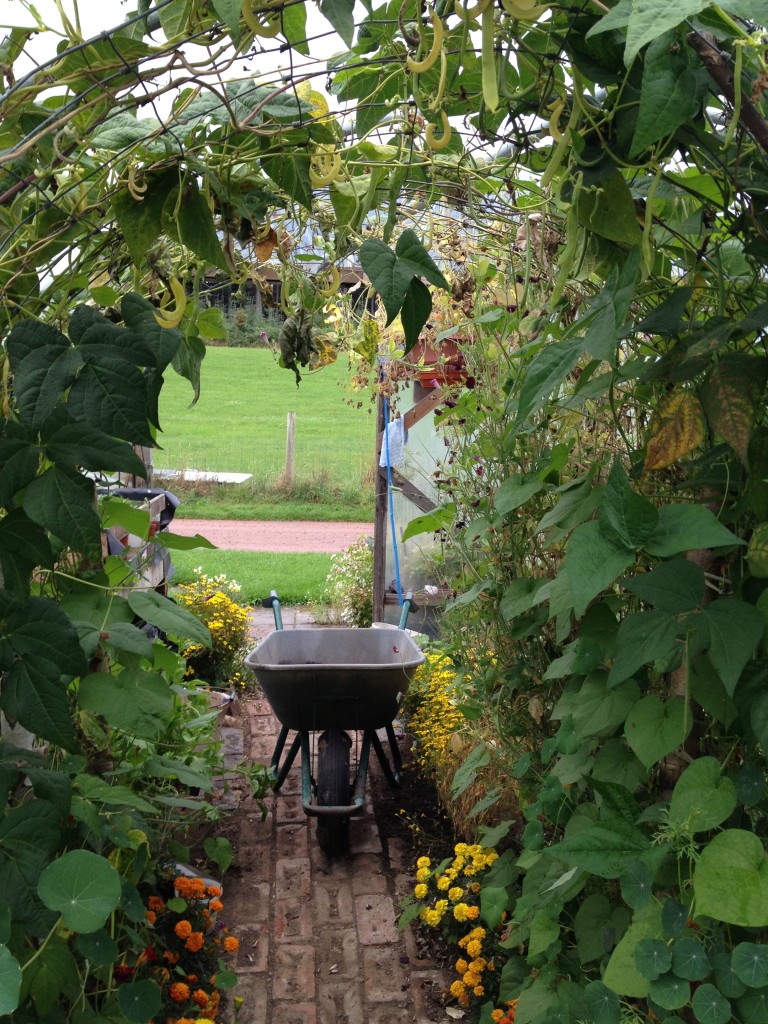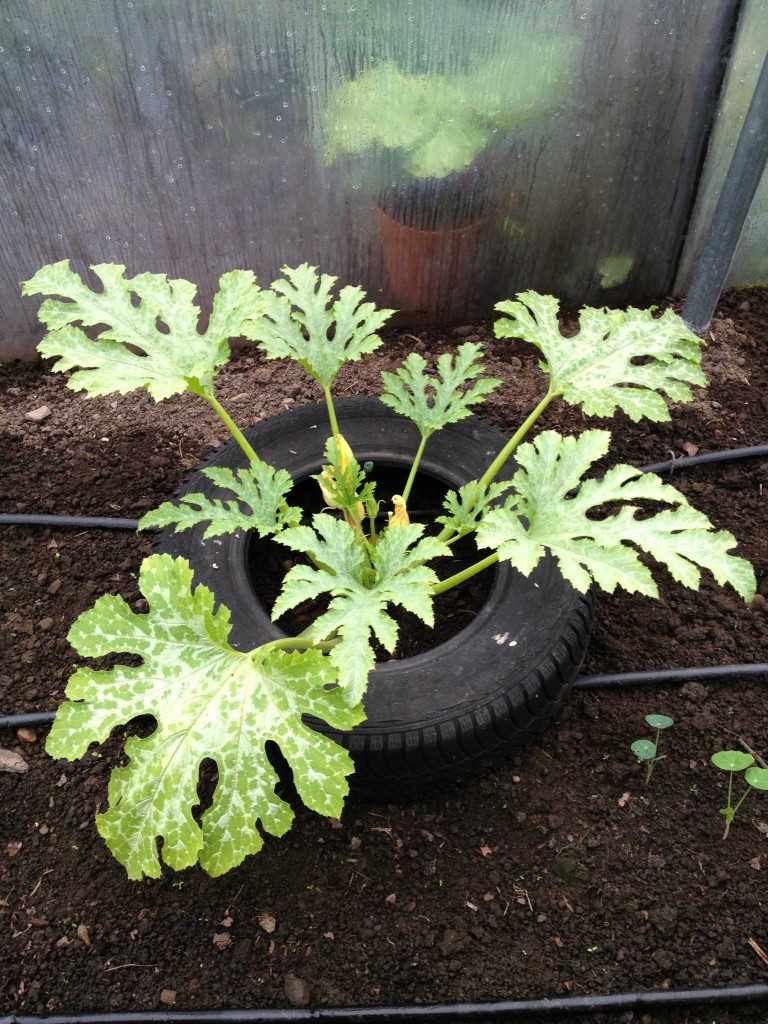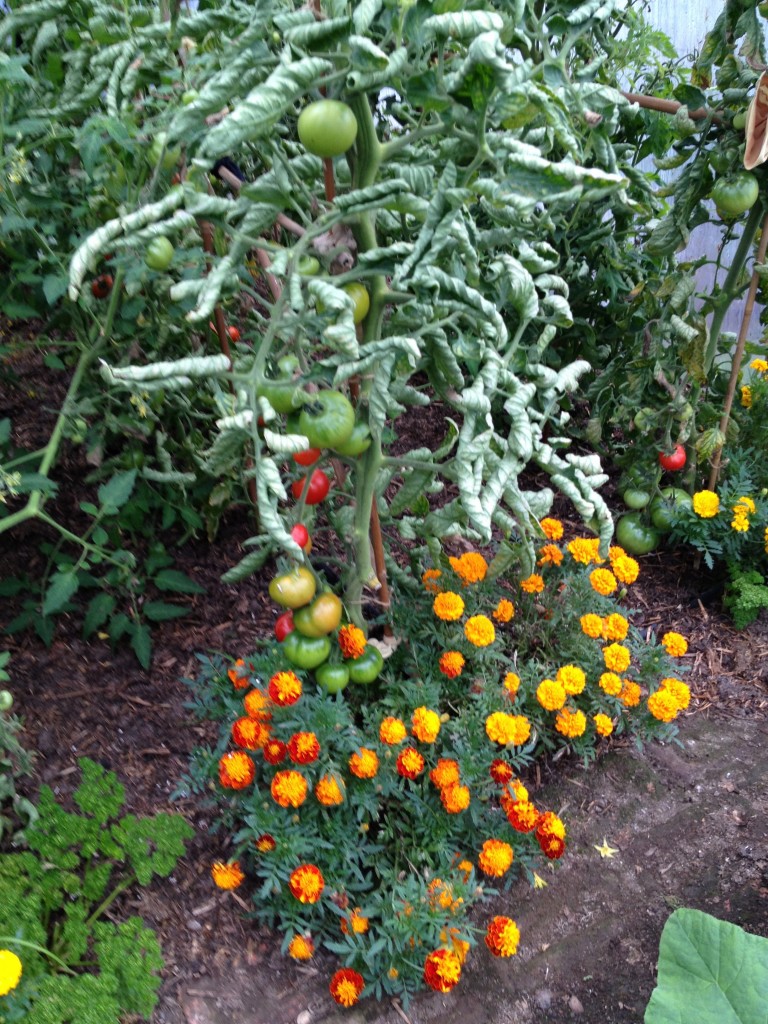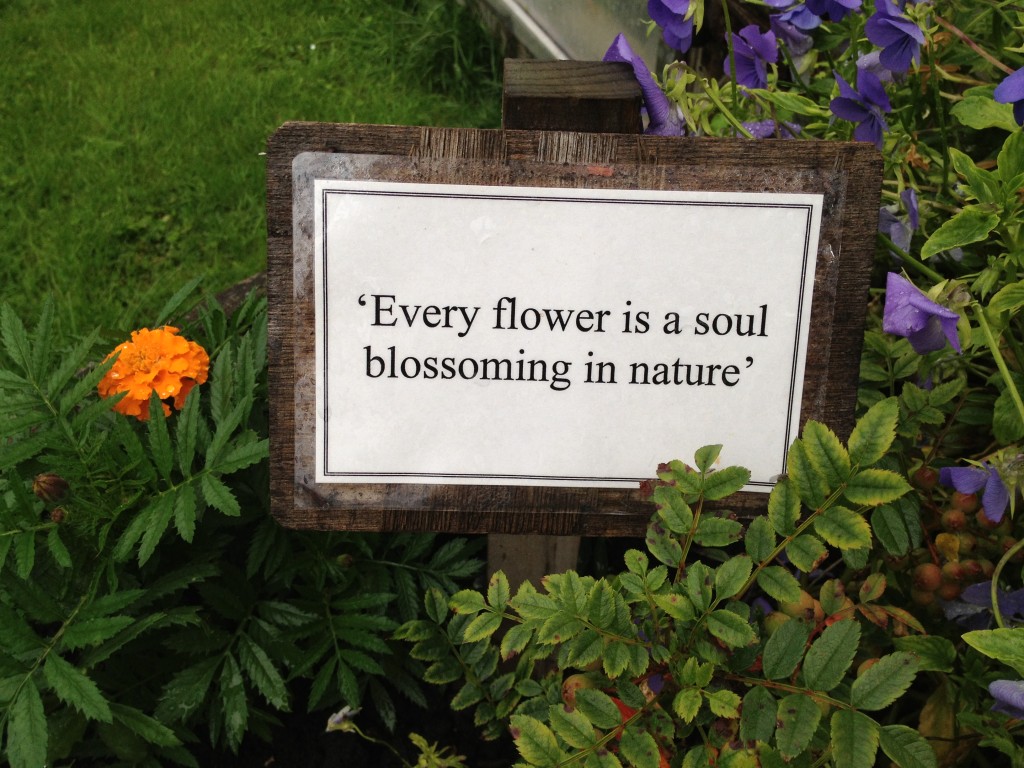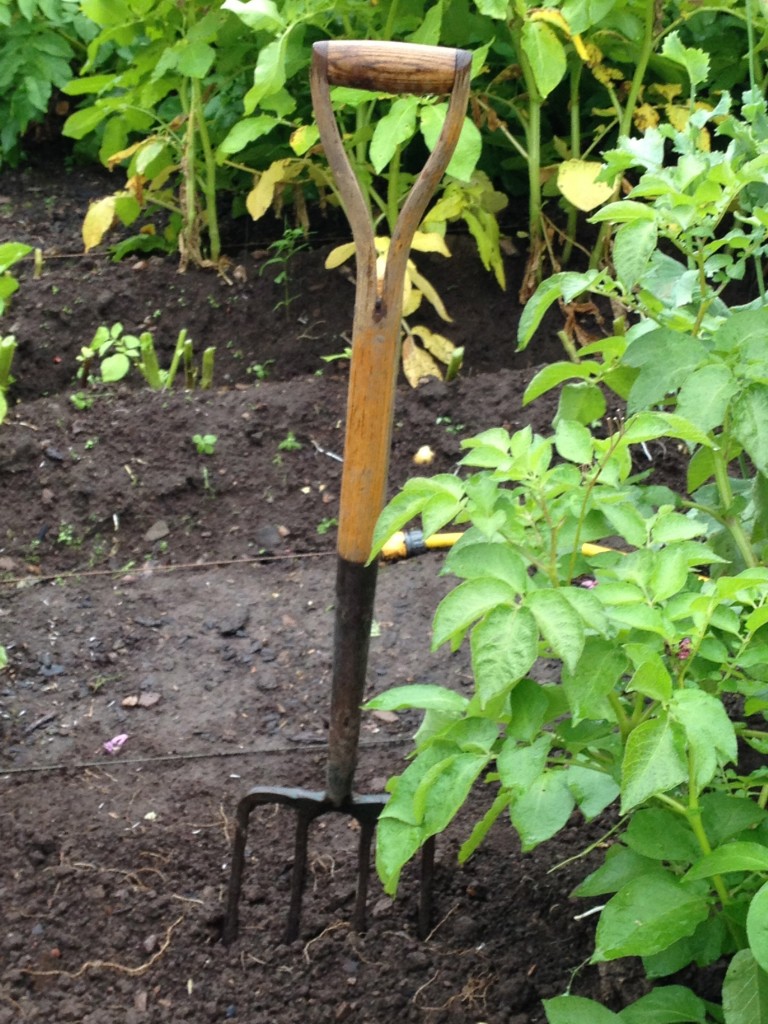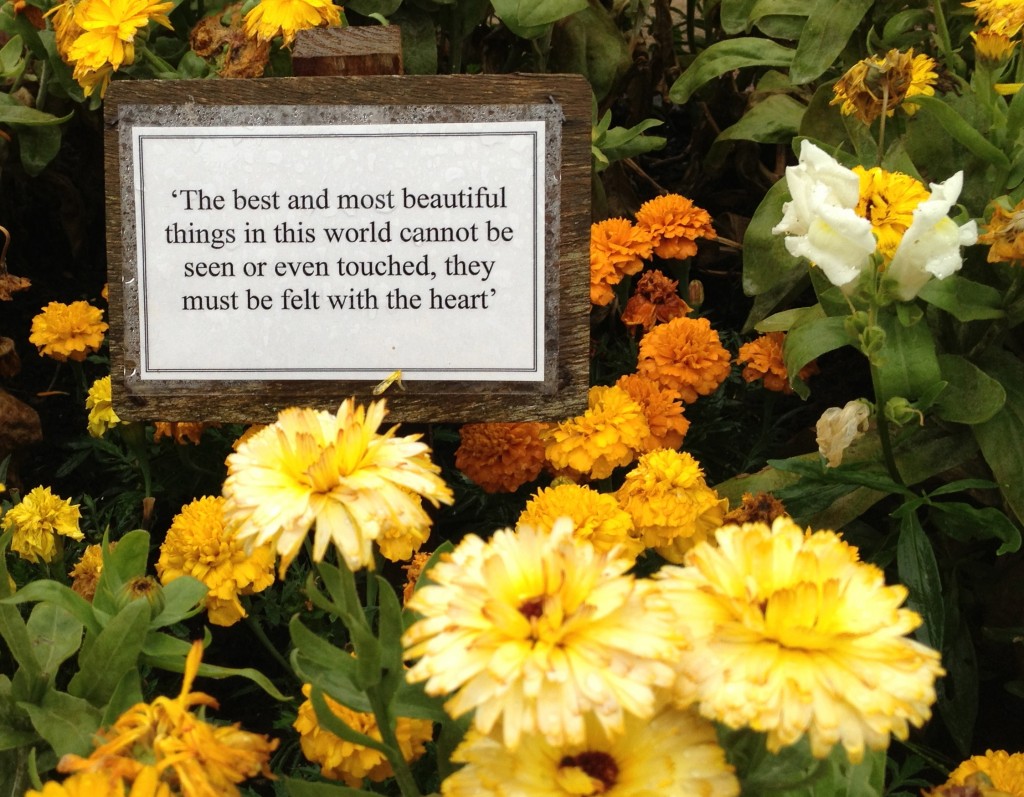 Here's what they did with an old pair of boots: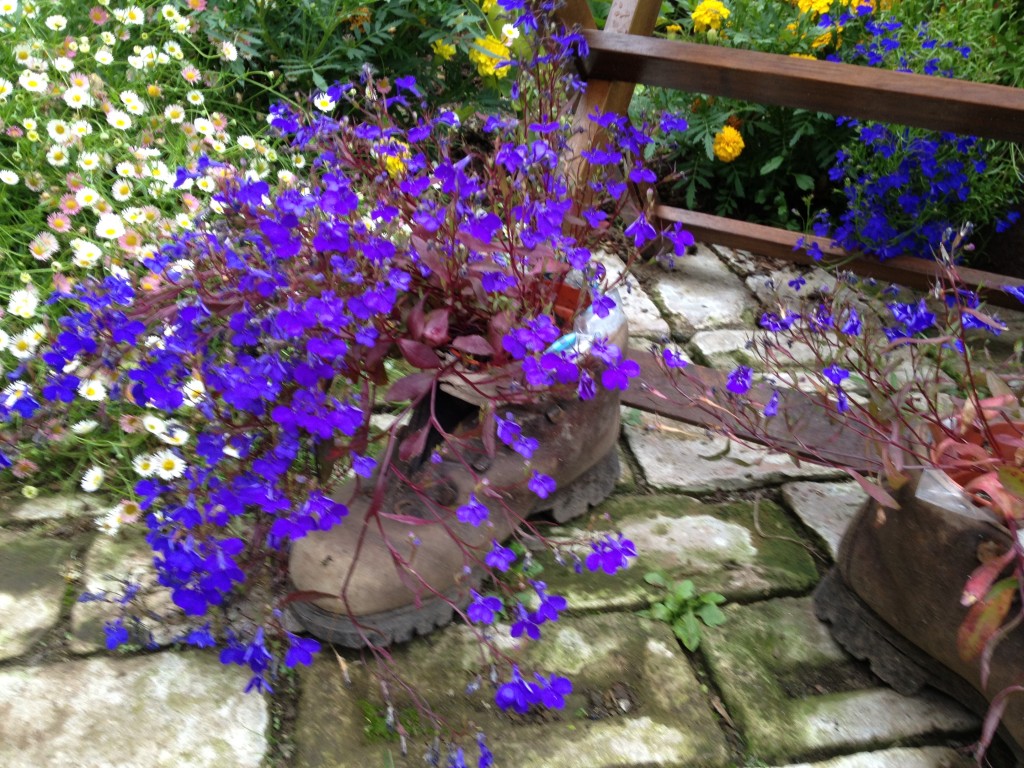 On the way home, Geoff told us a little about the town and its most famous resident: actress Tilda Swenson. Charlie Chaplin, we learned, used to bring his family here for vacation every summer. There's something magical about the Highlands that draws visitors back again and again.
Even from the back of the car, I could tell that the landscape felt open and generous. The coastline was stunning and when we got to their home, there were views of the ocean and the ever-changing sky from almost every window. I could see why they loved living here. And the story of how this house came into their lives one where serendipity played a winning hand.
Robyn and Geoff are foodies. Robyn is a cookbook writer and they lead cooking classes and retreats through their business, Pure Highland Living. And the kitchen in this house was state of the art and came fully equipped.
As we unpacked our bags and got ready for dinner, we knew we were into a treat.
At the kitchen table, we sipped organic wine as we watched Geoff take the largest, lushest kale leaves I'd ever seen. and fill them with walnuts, organic sharp cheddar, dates, and homemade picked red cabbage. Then he rolled each wrap and sealed it with a toothpick. It was our appetizer and the combination of unlikely flavors was outstanding. This is how Geoff and Robyn like to prepare food—they are intuitive, imaginative cooks.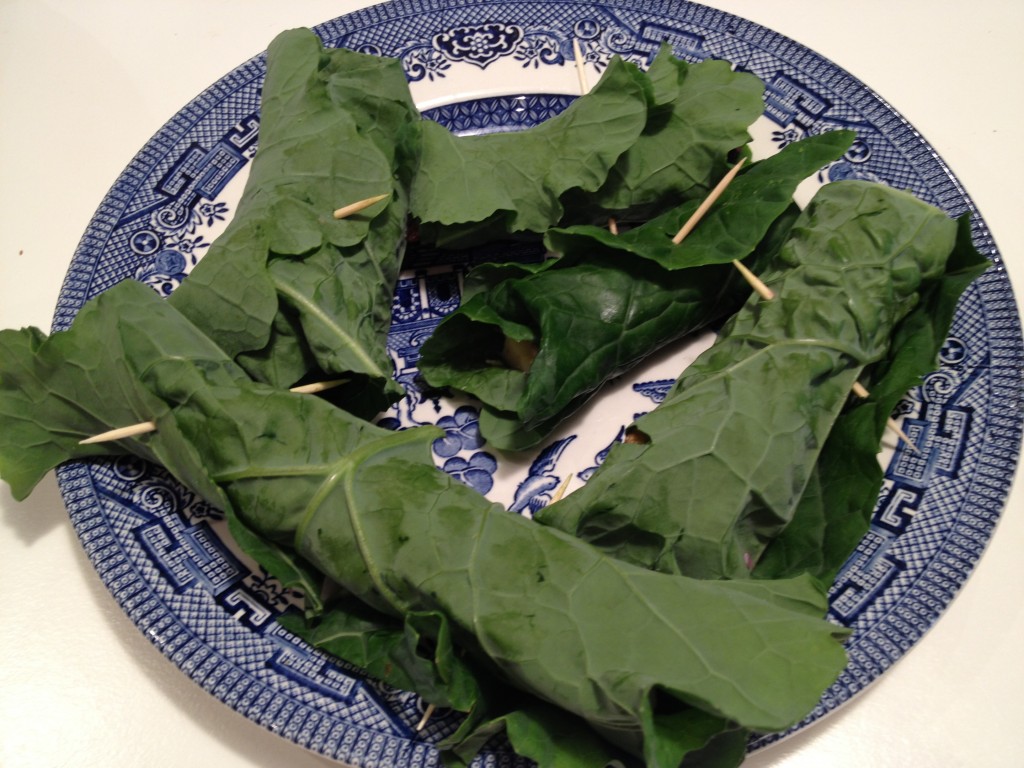 Geoff cooked the rolled lamb shoulder roast with rosemary from the garden, lemon, garlic, salt, and pepper. The aroma permeated the house and when it came out of the oven, it was beautiful. Later they served it with locally-made spiced Indian carrot chutney; the combination was divine.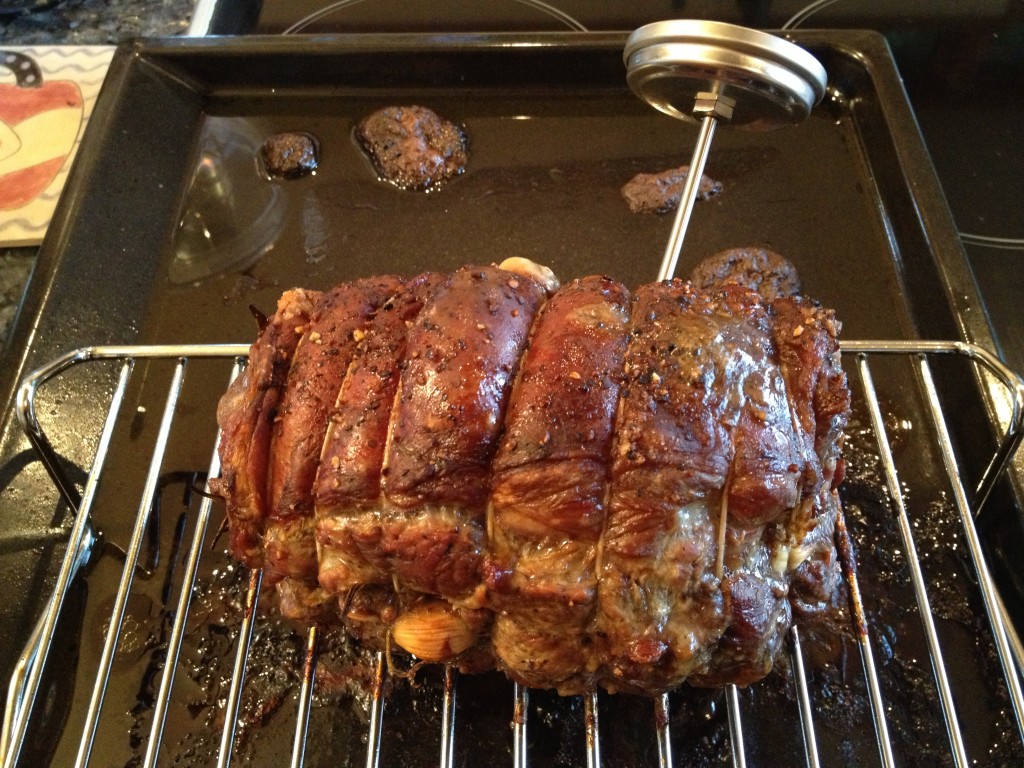 In the meantime, Robyn was finishing up the salad: three local lettuces, just picked at the farm, date syrup, walnuts, pomegranate seeds, local chevre, avocado, and fresh herbs: parsley, mint and basil snipped into the salad. It was all topped with a variety of edible flowers, then served with a dressing made of fresh mint from the garden.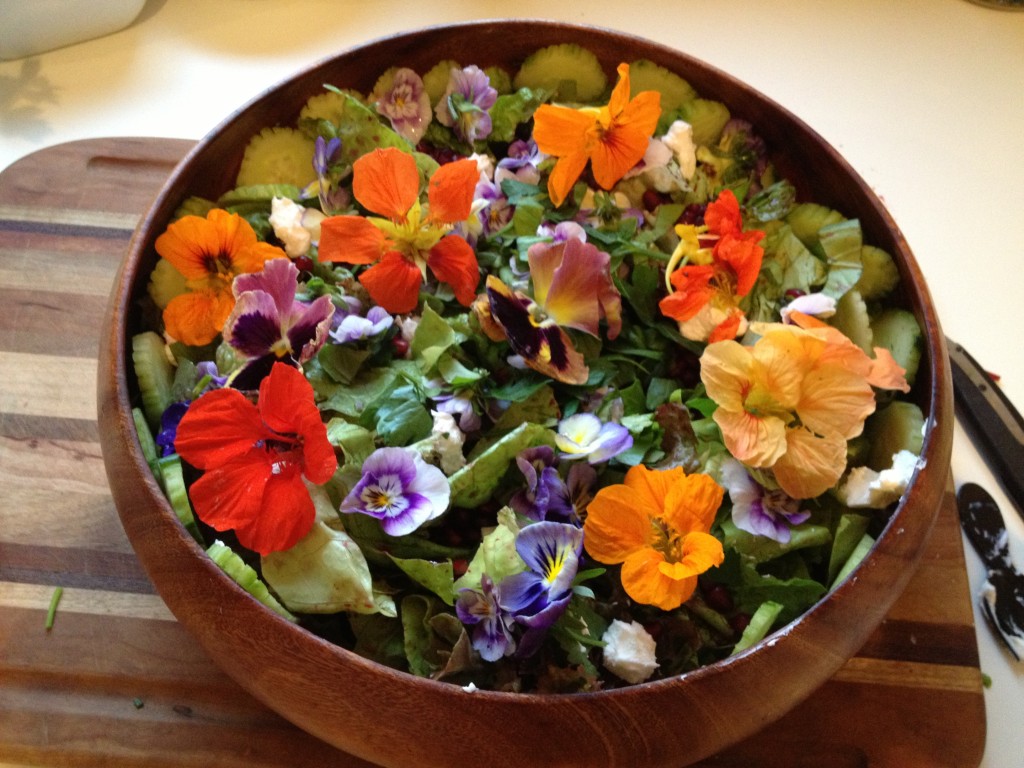 Rounding out the meal were baked yams with butter from the local organic creamery. The meal was incredible, every bite marvelous and bursting with flavor.
As we ate, Robyn told us stories about all the local farmers and foodies they've networked with. And there we were, tasting the fruits in each bite of a meal I will never forget.
After dinner, we put on some layers and headed out for a walk. I was happy for my windbreaker and glad I borrowed a hat. It was chilly, but comfortable. The coolness seemed to fit the evening perfectly.
This was the first thing we saw as we walked down their drive and it made me laugh: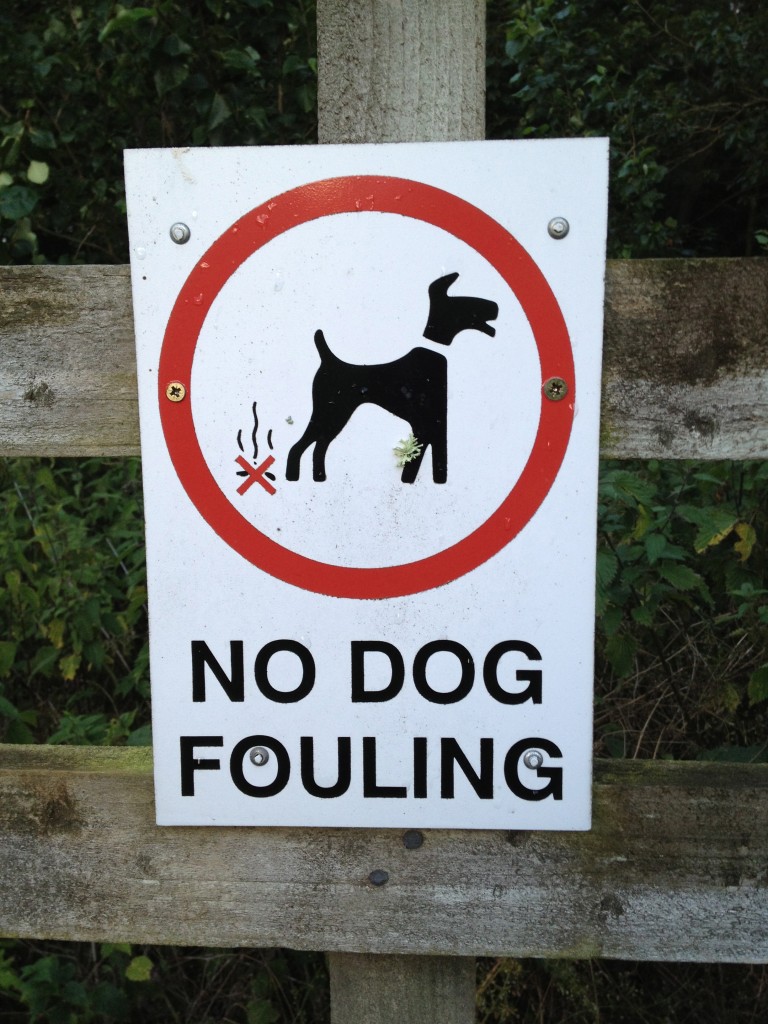 We followed a trail down to the beach, a short distance away. On the way, we picked tiny, wild raspberries, newly ripe and bursting with flavor.
For the past year, Robyn has been writing me flowery, effusive emails about the cosmic beauty and tranquility of her new home. She's gushed about how amazing it is and how much she loves it, but I just didn't get it. She's sent me plenty of lovely pictures, but photos and words just don't do this place justice.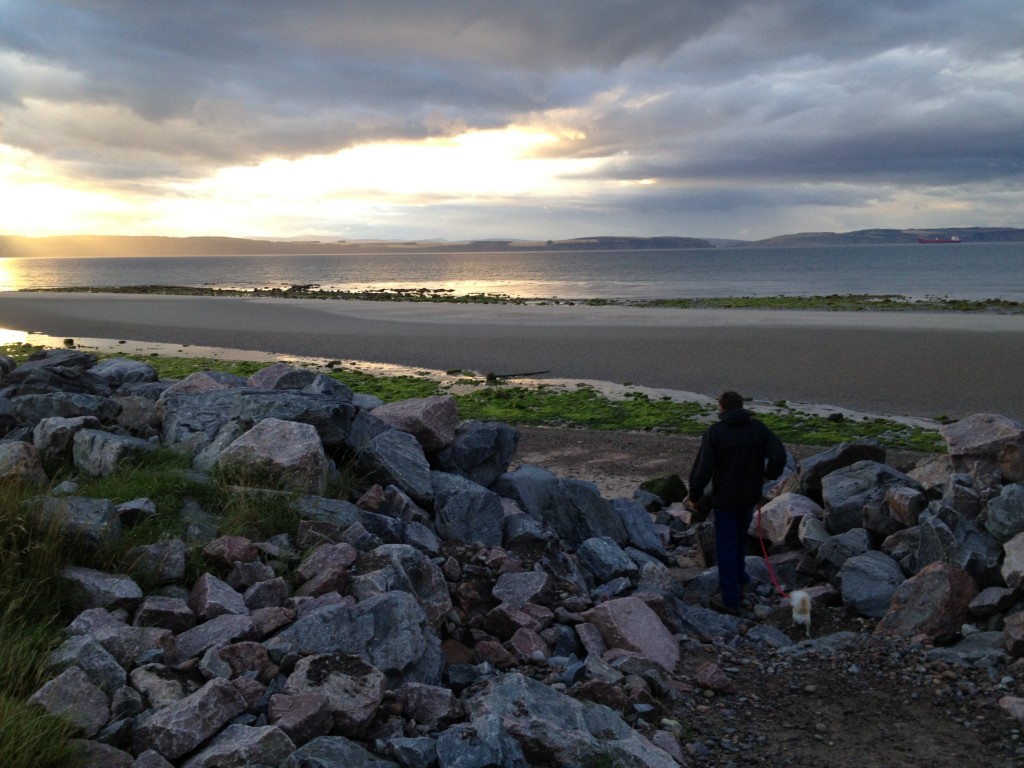 It was 8:30 and sunset was still an hour away. We were the only people on this vast stretch of beach. The sky above us was huge and constantly changing. It reminded me of the big sky in Byron Bay, Australia on the beach I had found so delightful just a couple of months ago.
As soon as we reached the sand, I was immediately silenced, gripped by a visceral experience of spaciousness, joy, stillness and awe. I didn't want to talk. I just wanted to walk, to smell, to feel the air, to breathe, to be. I could see that Eileene felt exactly the same.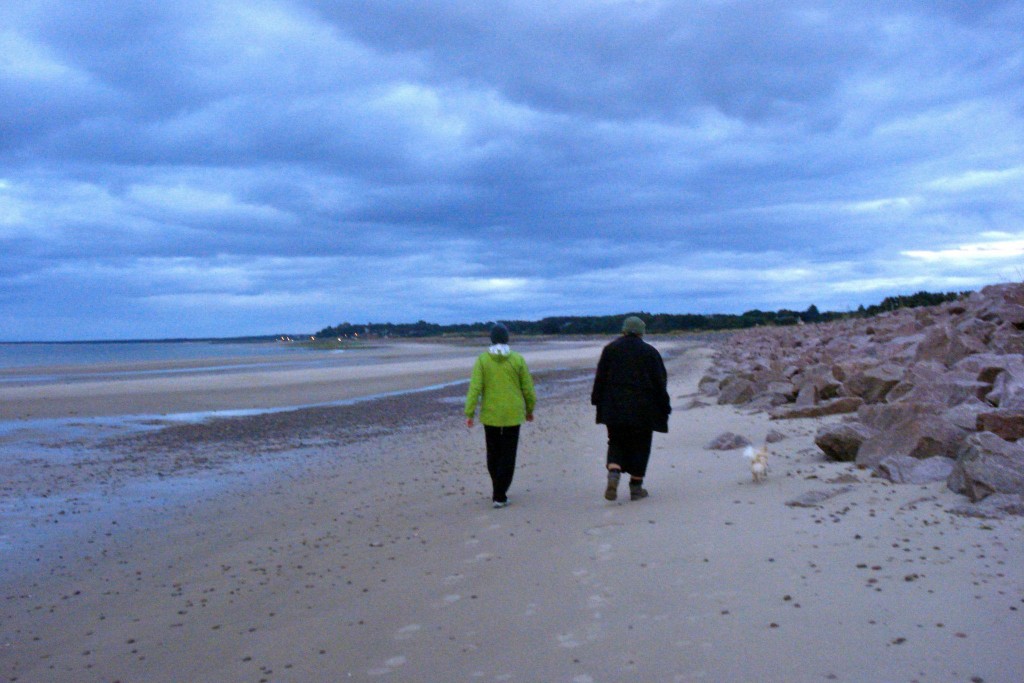 I was reminded of Ketchikan, Alaska where I lived for two years in my twenties, working for Alaska Public Radio—the incredible beauty and wildness of that place. This stretch of coast felt that way, too—primal, alive, so much vaster and more powerful than my worries, my concerns, my puny little human existence.
In one evening walk on the beach, I got it. This is why Geoff and Robyn left everything behind and moved with two suitcases to northern Scotland. Now I understood what could make someone give up everything they knew to start a whole brand new life. I could feel it in my body. I could feel it in the spaciousness of my mind. I could feel a deep recognition rise up from my core. I could feel my soul awaken. This was a place where magic is born.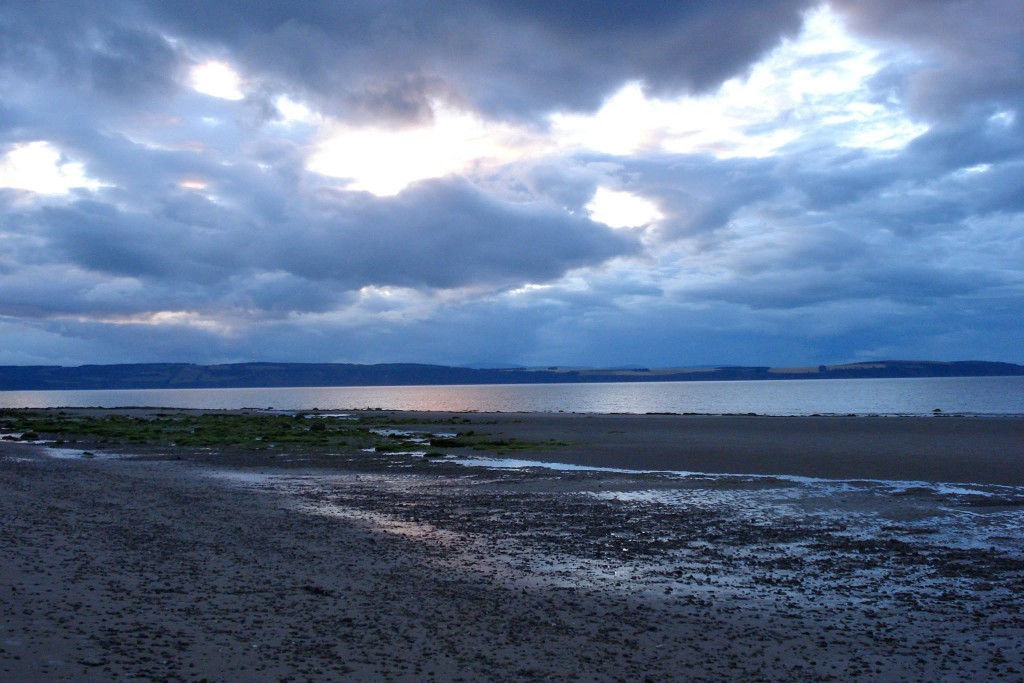 Under my feet, the sand felt unusually springy. When I asked Geoff why, he said that I was walking on the ocean floor. The tide varies four meters in height from high tide to low tide every day, and with the slope of the beach, that means the shoreline varies by 200 yards twice in a single day.
We were walking on the ocean floor. How cool was that? And here was a bit of evidence, a green crab Robyn found in the sand:
I felt like I could walk on that beach forever. But it was time to turn around and head back for home.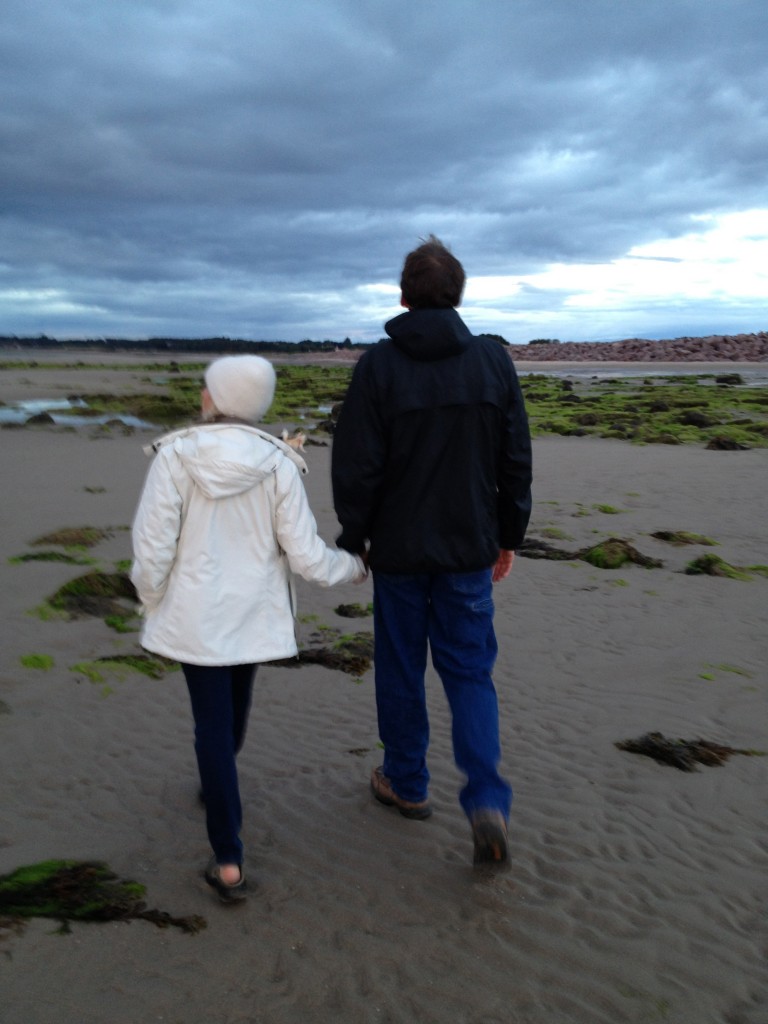 As Robyn and Geoff walked ahead of us, I turned to Eileene and said, "Can't you imagine being in a little cabin right here at the beach, looking at this, and writing?"
"Yeah," she said, "I'd get my frickin' book written." We both cracked up.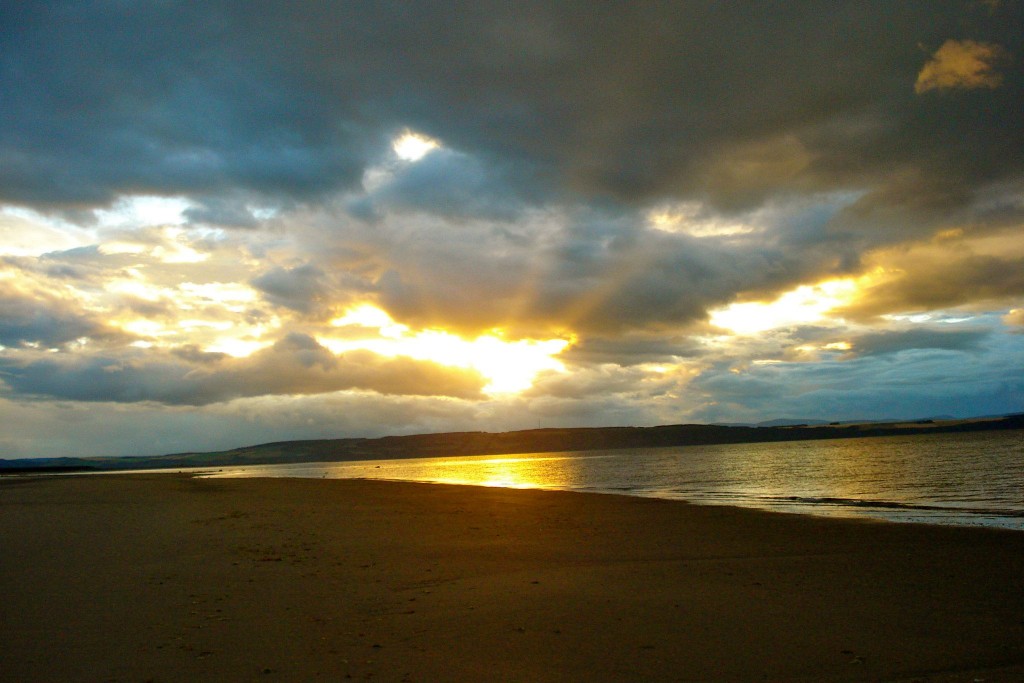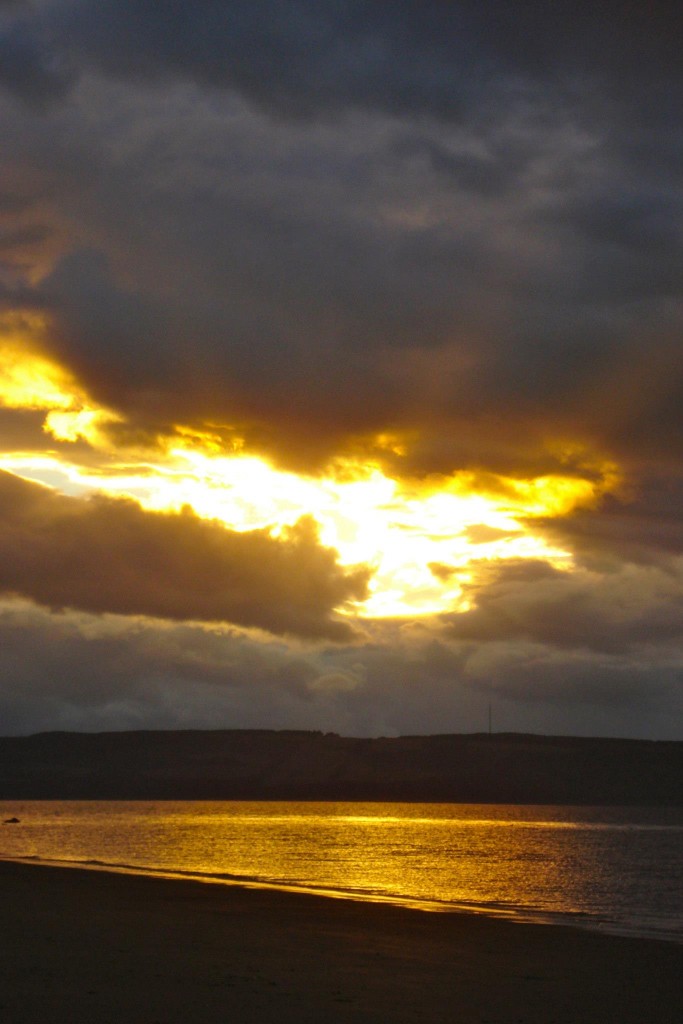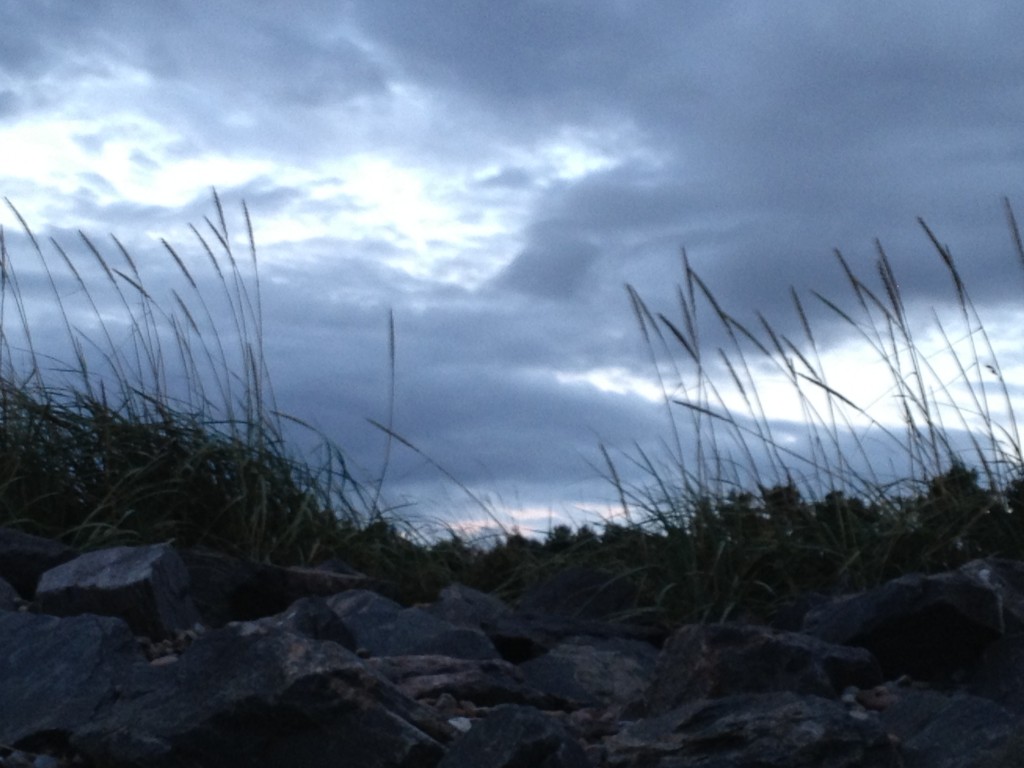 Back in Geoff and Robyn's kitchen, it was time for dessert: fresh strawberries, raspberries and brambles—what the Scottish call long blackberries—with freshly whipped local dairy cream. And yes, to top it off, Geoff poured us a couple of glasses of whisky.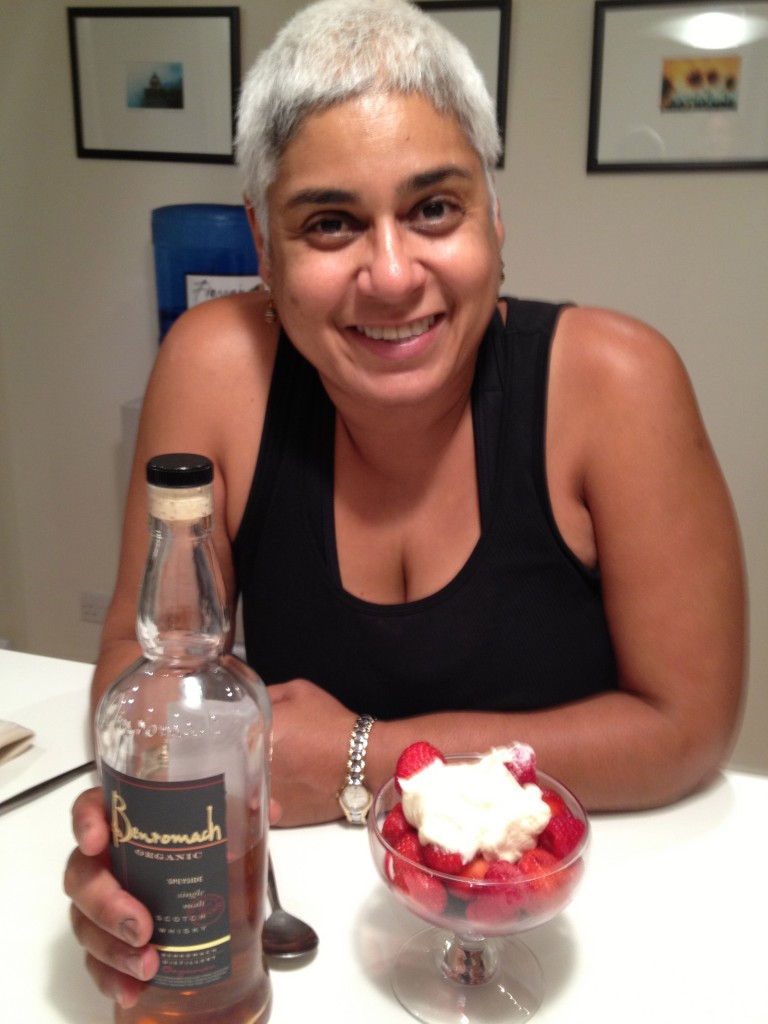 If that weren't enough, Robyn pulled out several varieties of chocolate for us to sample. And I learned what a good combination whiskey makes with chocolate.
It was an incredible evening, a terrific introduction to the wonders the Highlands has to offer.