During our last full day in Edinburgh, Eileene and I headed out on foot to the cemetery we'd spotted the day before, passing, on the way, all kinds of now familiar landmarks of "our" neighborhood. I love how in less than two days, we'd claimed the mile around our place as "ours." We delighted in these familiar places: Andrew May: Wind Instrument Repairer, Double Reed Specialist; Turkish Hot Shave Barber, the blue James Morrow building, the Indian-Nepalese restaurant, the scaffolding we always walked under, the site of the fire we'd watched burn the day before (could that have just yesterday?), the cluster of strip joints shut up at 10:30 in the morning, the Bank of Scotland, a bargain store called, "Pound Stretcher," the Kama Sutra Indian restaurant, the Bottom's Up Show Bar, my personal favorite, the Tin-Tin store. I remember Eli pouring over those comics endlessly when he was a boy: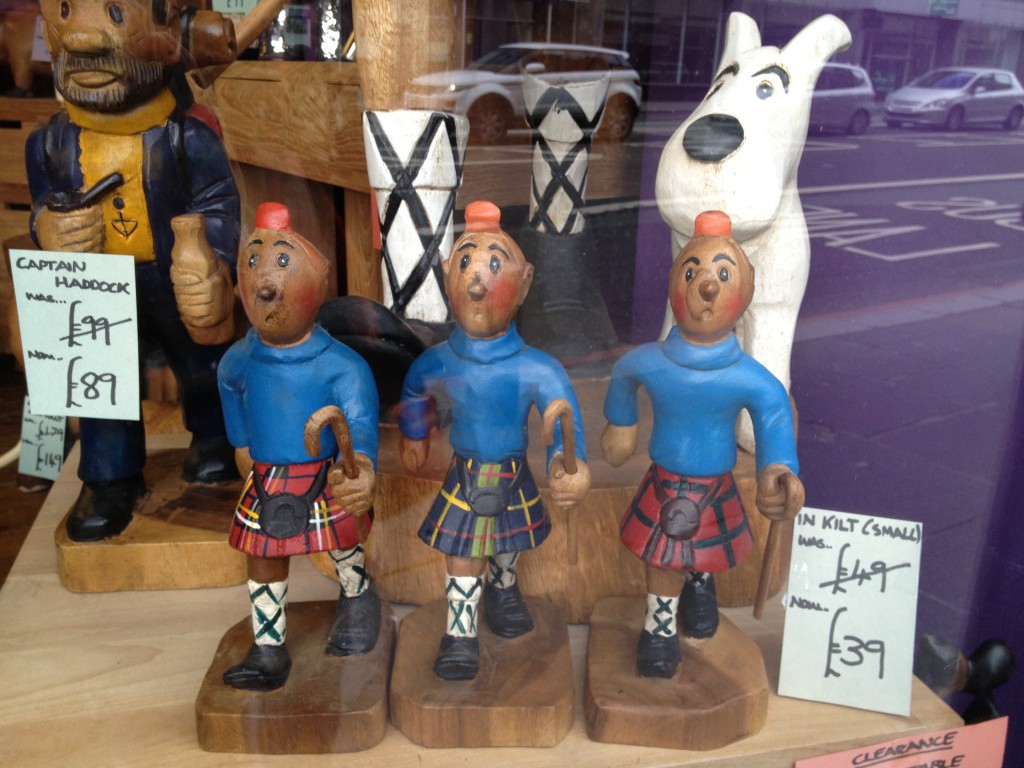 I love city walking, and fortunately, so does Eileene. Trucking on city streets always reminds me of Manhattan, and Eileene, from Brooklyn, strides like a native New Yorker. We were walking many miles every day. As we neared our destination, a bus drove by with an ad on the side for a festival play with the slogan, "Heavy Metal Meets Shakespeare."
A mile from "home," we entered the cemetery we'd set our sites on yesterday: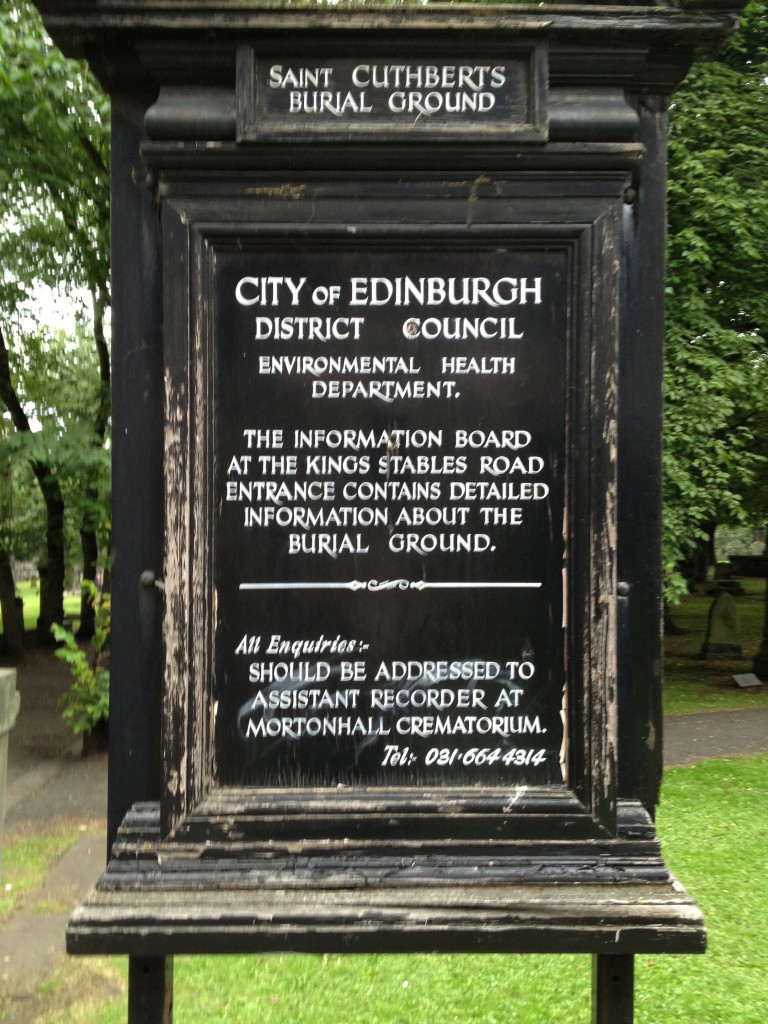 The gravesites and markers dated from the 1700s and said things like this:
HERE LYES INTERR'D THE BODY OF LOCH SPOUSE TO MUNGO LINKSON WHO DIED THE 14 OF JANUAR 1730 AGED 73 YEARS AND ALSO FOR OF HER GRANDCHILDREN WHO DIED YOUNG.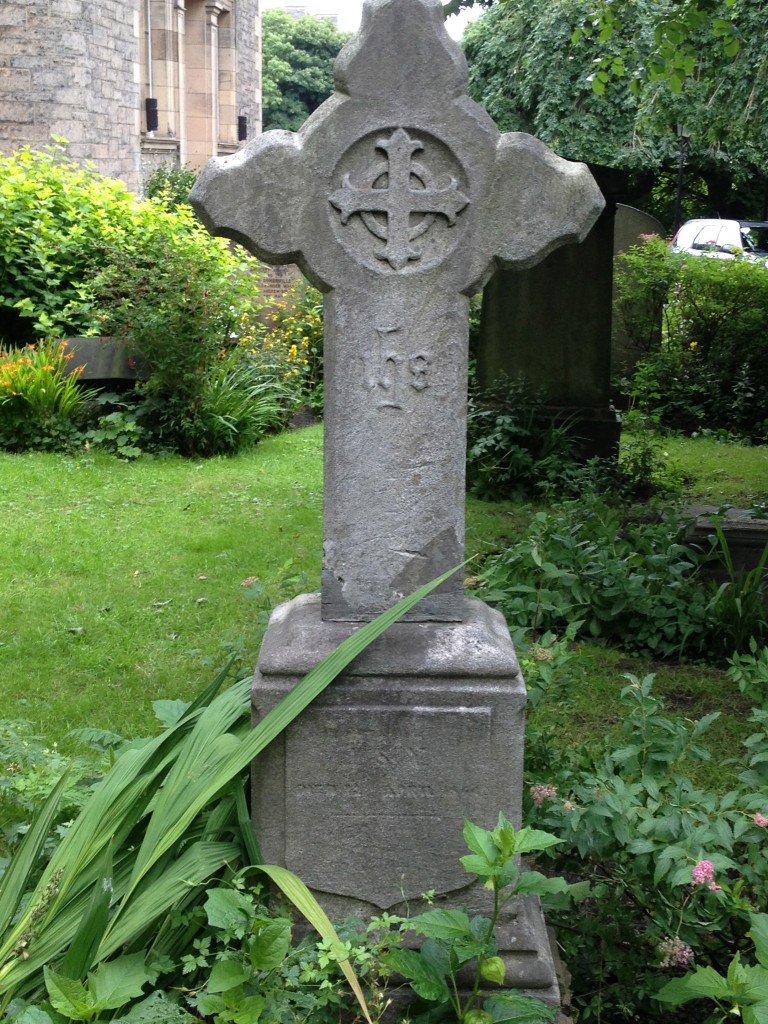 SACRED TO THE REVERED MEMORY OF JOHN RHIND ESQUIRE CASHIER OF THE FRIENDLY INSURANCE SOCIETY WHO DIED 21st APRIL 1826 AGED 67 OF HIS WIFE MARION ANDERSON WHO DIED 7th APRIL AGED 66 AND OF THEIR SONS JOHN RHIND ESQUIRE ALSO CASHIER OF THE FRIENDLY INSURANCE SOCIETY WHO DIED AT MADEIRA 31st OCTOBER 1845 AGE 46 AND WILLIAM RHIND ESQUIRE WRITER TO THE SIGNET WHO DIED 22 APRIL 1847 AGED 38 AND OF THEIR CHILDREN WHO DIED IN INFANCY JANET HART RHIND, CHARLES HENRY RHIND AND JANET HART RHIND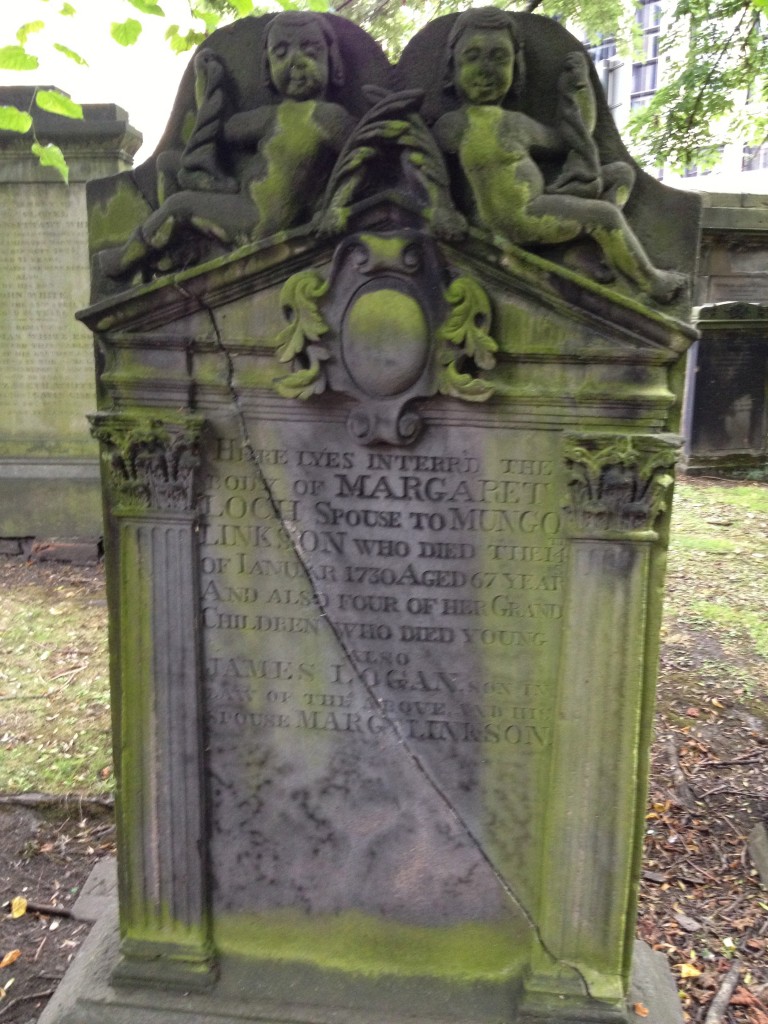 A whole family and their entire class background–as well as their tragedies–on one stone.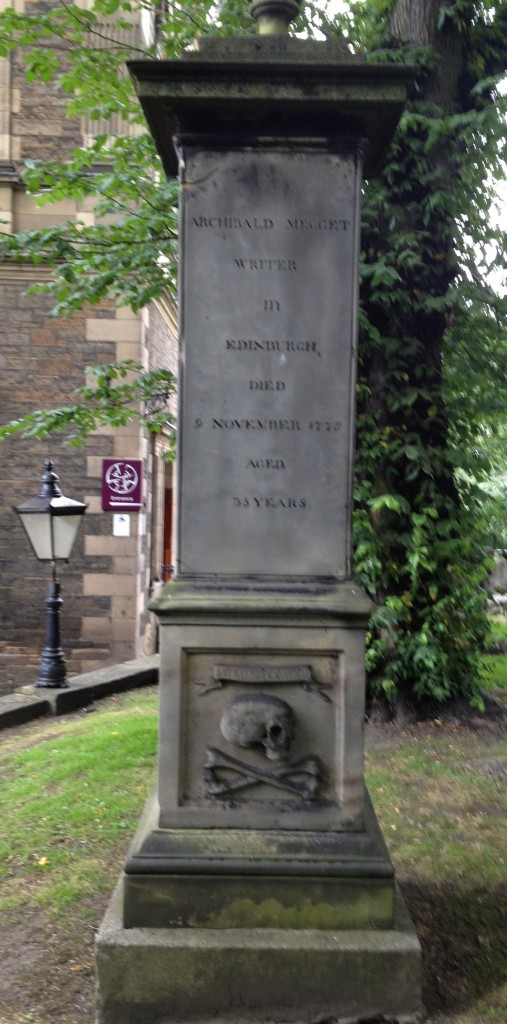 And there was this one: ARCHIBALD MEGGET WRITER IN EDINBURGH DIED 9 NOVEMBER 1778 AGED 35 YEARS.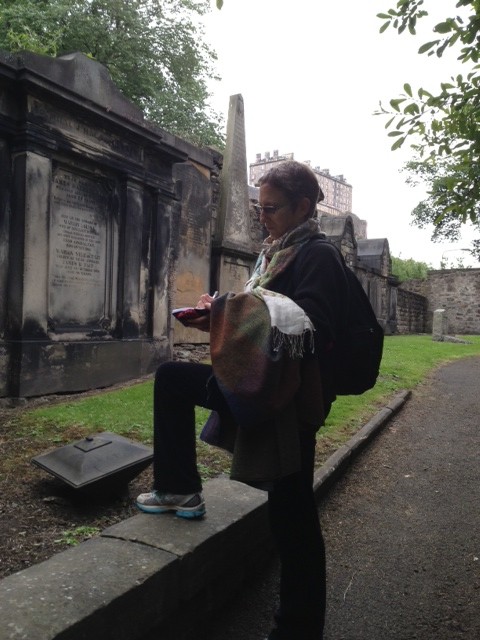 After strolling through the cemetery, we spent a couple of hours at a sprawling crafts fair, chatting with the local artisans and buying small gifts. I fell in love with a full-sized green stained glass candle lantern and debated long and hard with Eileene about the insanity of trying to carry such a fragile, beautiful, impractical thing for the rest of this trip–and then home. Just before I left Santa Cruz, Karyn and I had a long conversation about how often the treasures we buy when traveling no longer seem like treasures when we get home–and how nice it is to travel light.
So I walked away from the lantern, but was inexorably drawn back to the booth. I handed over my 50 pounds and watched as the woman in the booth wrapped it (inadequately, I thought) in plastic bags, placed it in a used carton, and taped down the lid. I carried the box away in a shopping bag and was at a complete loss a to how I was going to manage that bag and all my other belongings at the train station when we left town, but I had been blinded by art love.
Eileene and I had a luscious bowl of tomato soup and a salad at Henderson's, a wonderful underground restaurant at the site of the crafts fair, and then walked over to the Traverse Theatre for a matinee.
My former student, Hepzibah, a Edinburgh native, recommended that we get tickets for a show there. The Traverse features top-notch theatre by new and emerging playwrights, and we were not disappointed. The one-woman show we saw, Ciara, by David Harrower, was brilliantly written and performed flawlessly by an actor with the most delightful melodic lilting Scottish voice. It was full of inside references we couldn't possibly understand, but we loved the show anyway, despite the jet lag that overtook both of us as soon as we stopped moving and sat down in a darkened room.
It the first of two shows we'd be attending that day. The second was the Military Tattoo.
The Tattoo had been the pick of the friend who was originally going to accompany me to Scotland. When she and I sat down to plan our trip, one of the things she definitely wanted to do was attend the Royal Edinburgh Military Tattoo. It had something to do with bagpipes and was held in a castle. That's all I really knew about it, but the reviewers on Trip Advisor all said if you were going to be in Edinburgh in August, it was the one thing you simply had to do. So we bought tickets.
As it turned out, my friend couldn't make the trip. When Eileene signed on to be my travel buddy, I told her I'd already purchased tickets for the Tattoo at 10:30 on our last night in Edinburgh. "What is it?" she asked.
"Something to do with bagpipes," I said. And being a good sport and an easy traveler, Eileene said she was game to go.
Now it was our last night in the city, and at nine PM, we walked over to Edinburgh Castle, where the Tattoo takes place. We passed through crowds of theatre and concert goers, people from around the world speaking myriad languages, all out for a good time on a Saturday night in festival season in Edinburgh. The night was glorious—cool and growing crisper by the minute.
I loved these tee-shirts and immediately wished I could buy one to send to Eli: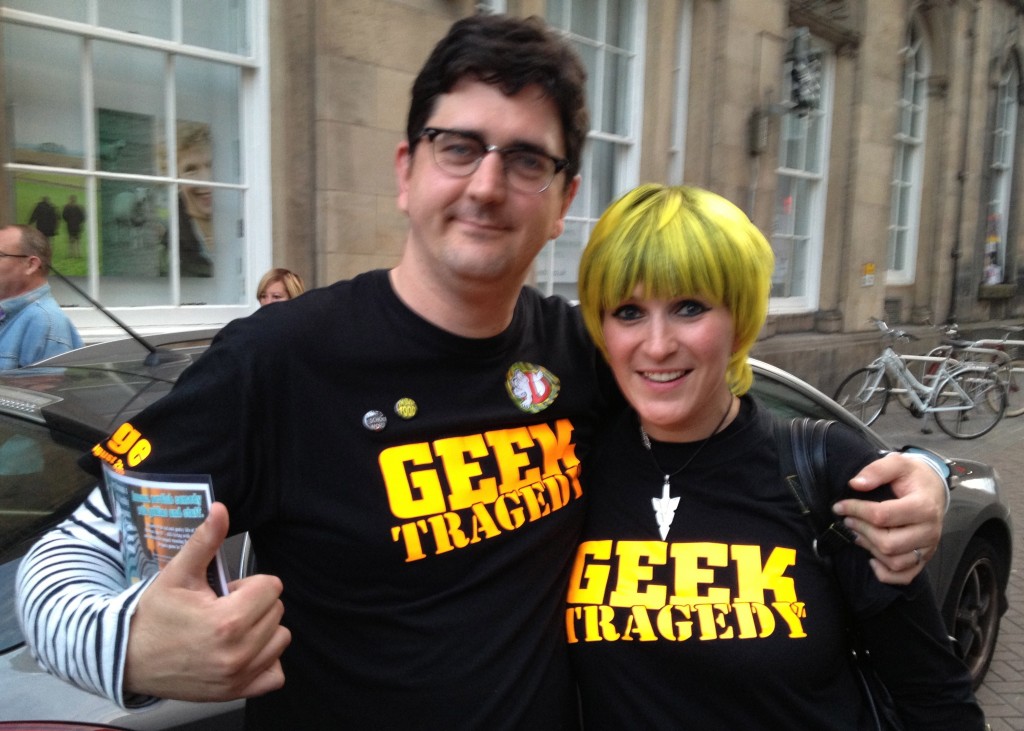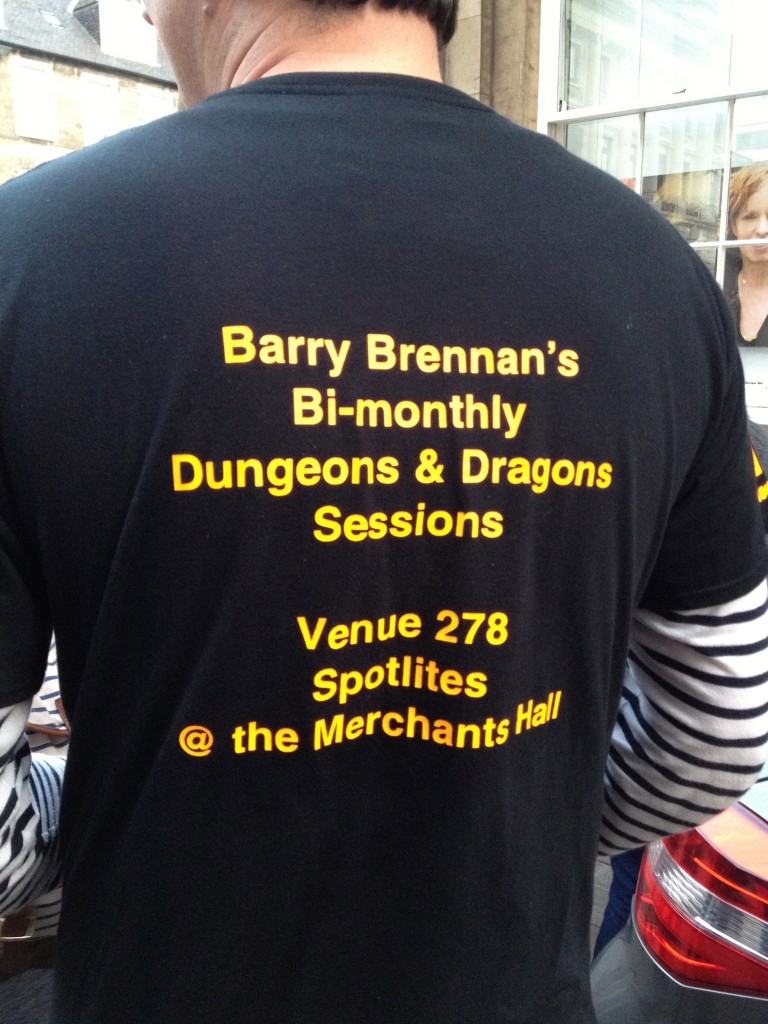 We were so captivated by our surroundings that we waited in the wrong line for a while, until we were redirected by the ticket-taker. He directed us through several ancient stone archways until we emerged at the base of the castle.
Dozens of neon-jacketed ushers led us into what was already a massive queue. As we took our place in line, fireworks from the early show arched and exploded in the cloudy grey sky above us.
Eileene purchased an official Tattoo program and while we waited, we read the official welcome from Princess Anne, Patron of the Tattoo, then paged through dozens of glossy pictures of bagpipe teams and marching bands from all over the world:
We learned the following facts about the Tattoo:
217,000 visitors attend each year, 12 million since the first Tattoo in 1950
20% of these are from Scotland
50% are from elsewhere in the UK
30% are tourists from all over the world
70% of international travelers say the Tattoo is their sole reason for coming to Scotland
Every performance has sold out for the past 13 years
There are 7 million pounds in box office receipts a year
The Tattoo is not for profit; five million pounds are given to charity every year
The Tattoo is performed every day between August 1-23rd
It takes six months each year to build the grandstands and prepare the grounds
There were over a 1000 performers in each show, coming from 46 countries and 6 continents
The Tattoo is broadcast to 40 countries
There are now Tattoos in Basel, Switzerland and Norway. It has become a worldwide phenomenon.
After we'd been waiting for half an hour, I turned around. A vast sea of people were now in line behind us. It was one of hugest crowds I'd ever been in.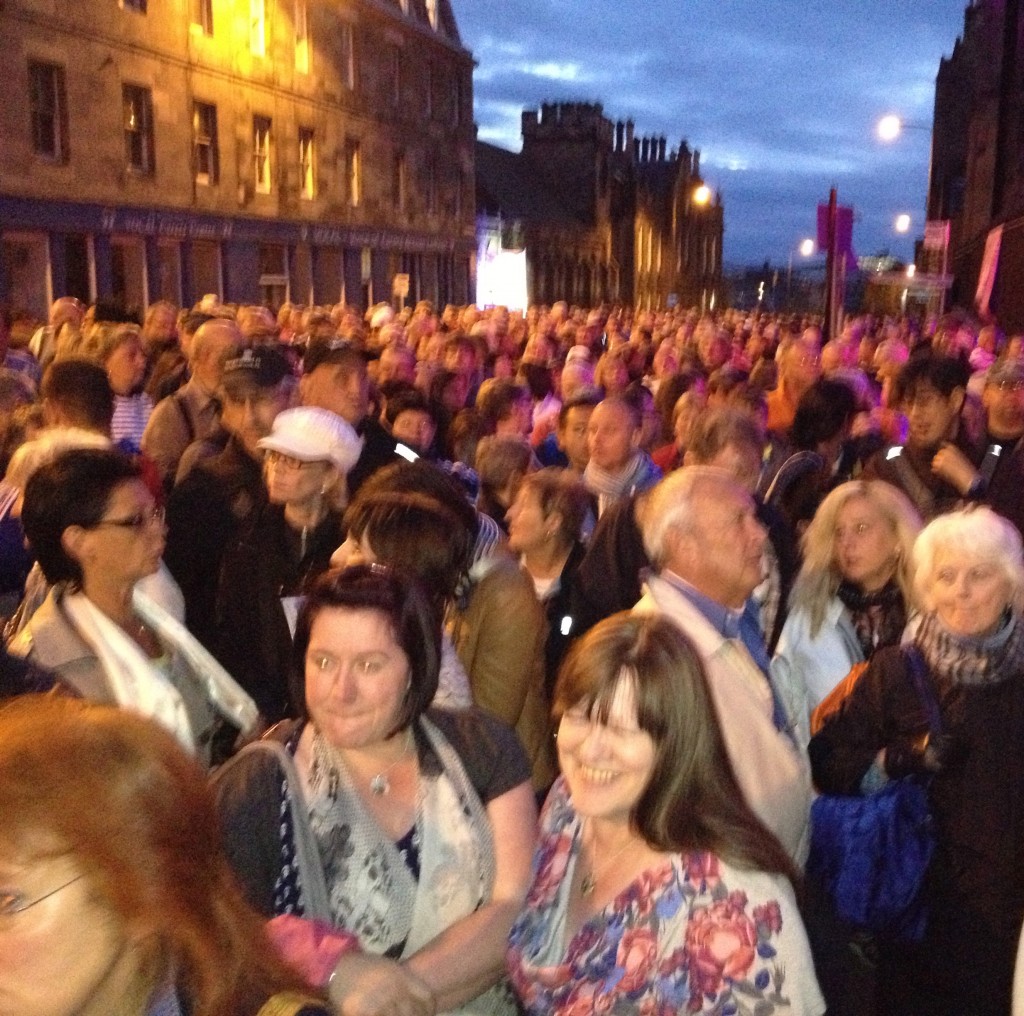 When the people in front of us began to move, we moved with them, a huge throng of people surging through the ancient stone streets. Two young men, wearing bright orange vests, were renting orange foam seat cushions for a pound. "Guaranteed to be softer than the seats," they hawked. We took two.
I'd purchased these tickets in April. By then, all that was available were the nosebleed seats. We climbed up and up and up, almost to the very tip top of the open-air stadium. By the time we reached our seats, we had to put on more layers. The temperature had dropped. I was wearing black corduroy pants, a tank top, a fleece long sleeve shirt, a fleece neck warmer, a fleece ear wrap, my wool cape and a pair of gloves. And I was carrying my poncho in case of rain.
"Where's the binocular app when you need it?" I asked.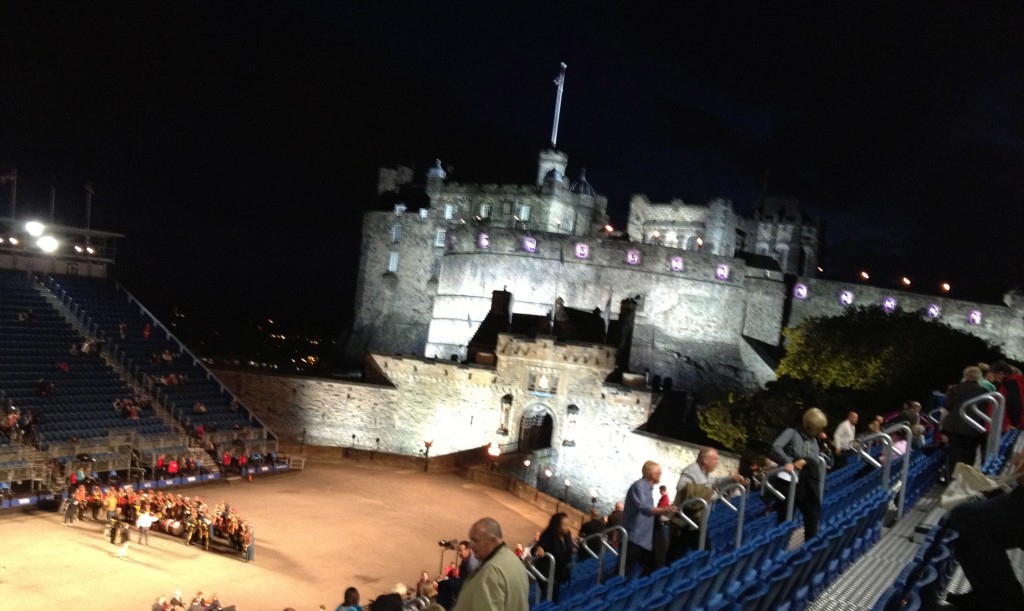 The view of the castle was breathtaking. Eileene leaned over and said, "If I hadn't seen the first band massing on the grounds below, I would have expected a lively Quidditch match to begin."
As people filed into the stadium, the announcer recited a litany of birthday and anniversary greetings. He congratulated one young couple that had married earlier in the day and skipped out on their own reception to attend the evening performance.
And then the Tattoo began.
The best way to describe the next hour and a half is that is was an extravaganza of music, dance and precision. Bagpipe groups and marching bands from around the world performed, their movements perfectly in unison. The pipe players wore spectacular costumes, depending on their clan. Dancers and singers from around the world, and a young group of motorcycle stunt riders rounded out the performances.
As Scottish as many the performances were, a youth choir sang Louis Armstrong's "What a Wonderful Life," and an early Ike and Tina Turner classic.
Toward the end of the night, there was a tribute to the Crown's military men and women, a lone piper at the end playing a tribute to fallen heroes from the Korean War and we were asked to stand for God Save the Queen. The final words of the Tattoo: "Health to the Queen. Health to all of you."
It was after midnight when the Tattoo ended. I felt like I had stepped into a world and been carried away by a culture completely new to me.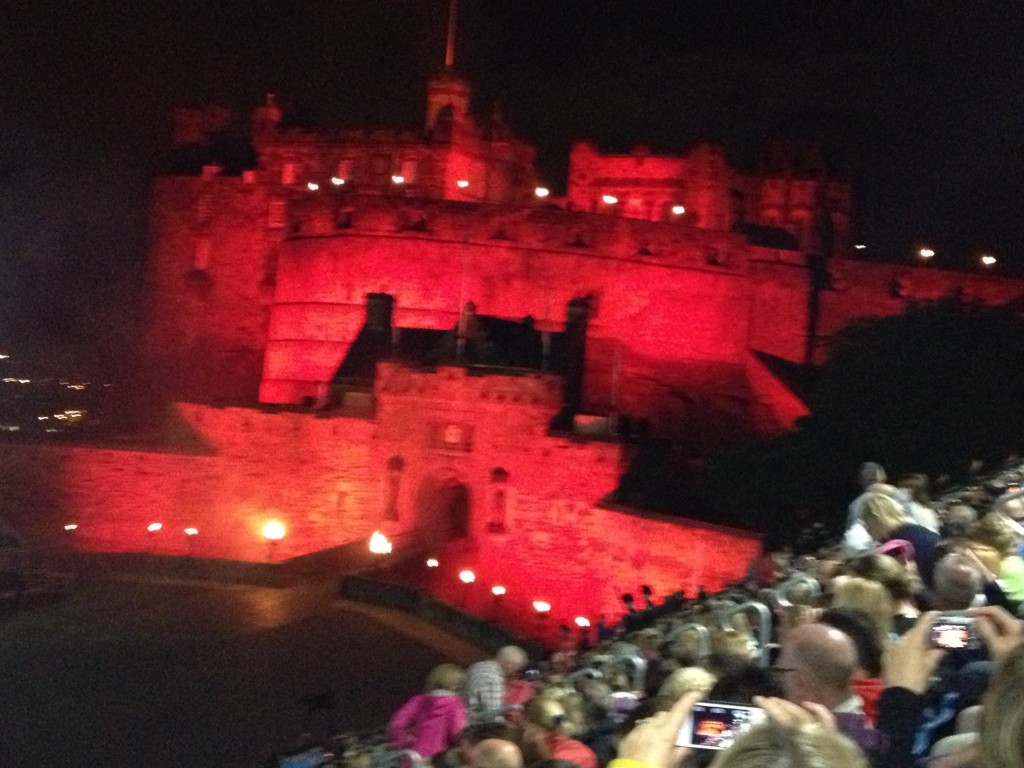 P.S. As I write this post, I'm riding on the train between Edinburgh and Nairn, three-plus hours to the north. The land is vast and green, full of rolling hills and farmland, the sky full of dark clouds is a million shades of grey. Ancient stone buildings and bridges dot the landscape. Lush purple and yellow wildflowers line the train tracks. And yes, there are sheep grazing outside my window. It's stunning, and I'm looking forward to the quiet and beauty of the countryside.