We had a bit of a strange night last night. We had tickets to see A Winter's Tale at the Fringe Festival. We'd scoped out the venue, gotten our tickets and showed up ten minutes before show time. The theatre, like all of Edinburgh this month, was crammed with advertisements for theatre: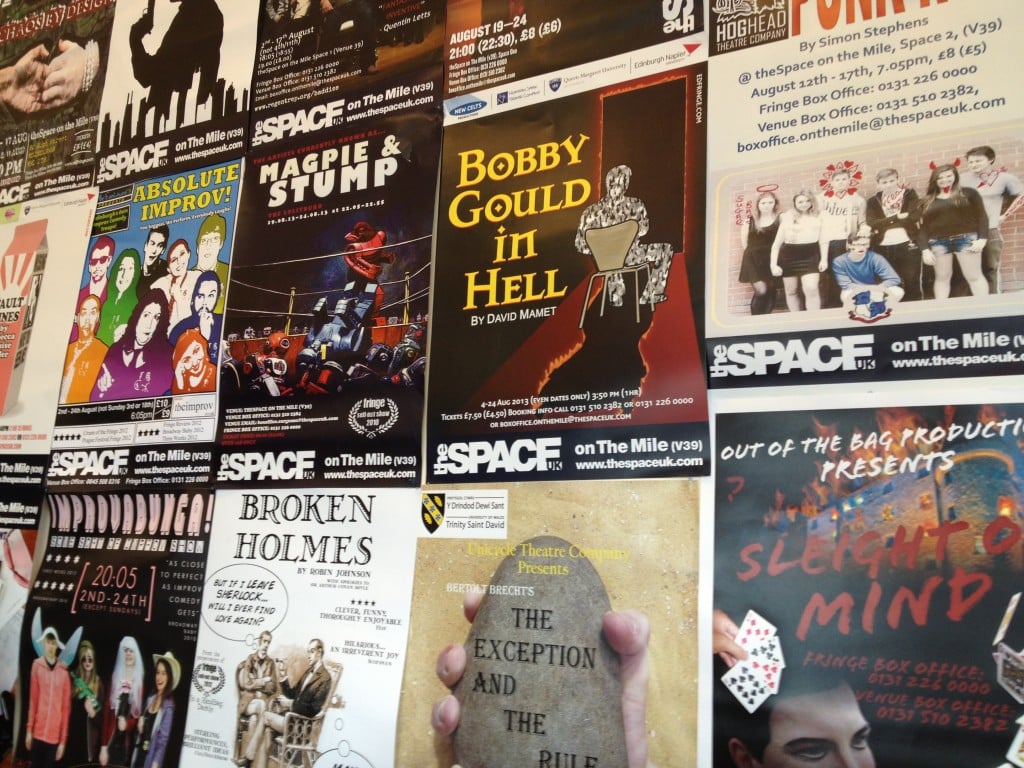 It was a small theatre and we sat in the front row. The cast was excellent and we were soon engrossed in the play, though when I looked over at Eileene, I could see that she was fading as much as I was. Jetlag had hit and it was hard to keep our eyes open even with all that brilliant Shakespeare.
They'd staged the play in a World War II setting and about half an hour into act two, an air raid siren went off—the sound effects were so real!
And then the siren kept going and going and someone came in and said we were being evacuated because it was the fire alarm. So we all quickly and efficiently and calmly followed the usher down three flights of stairs up to the back of the bridge, and up a very steep cobblestone street until we ended up back on the High Street, the biggest tourist street in all of Edinburgh.
We all stood around waiting to see what would happen next, even the actors: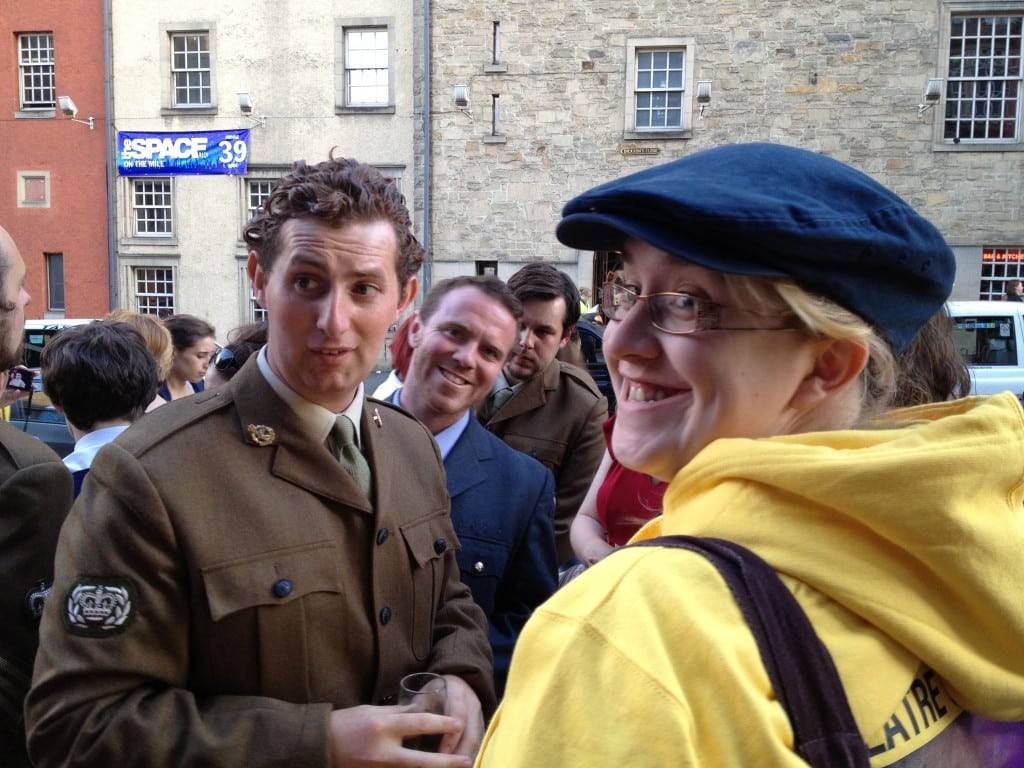 Fifteen minutes later, we all trooped back into the theatre and the play picked up one speech before it had left off. I was amazed that the actors could resume their roles just like that. The bummer was that we got into the theatre last and our front row seats were gone. In fact, we were crammed all the way in the back.
Forty-five minutes later, at the start of Act IV, after the wife and son were dead and the baby had been left out in nature to die, and the husband was feeling great remorse, the fire alarm went off again, and we all, without prodding, got up, went back down the three flights of stairs, out into the street, up past the bridge and up the steep cobblestone street. It was almost nine PM and we hadn't eaten since the Harry Potter café. Eileene looked at me and said, "Want to go back to that wool shop and get some dinner?" And I was so glad she did.
We thanked the actors, but said we couldn't hang in for the next portion of the performance and we went to the wool shop where Eileene bought gifts and a beautiful coat. Then we found a pub-like place for dinner, and we immediately said to the young waiter, "We want Scotch."
Boy were we ever in for an education.
Our young waiter started shooting questions at us about what kind of whisky we liked. Eileene had never drunk Scotch before and I'd only had a few shots in my time, and I couldn't remember what kind—wasn't Scotch Scotch?
Our waiter disappeared and came back with a two-sided placard which depicted the different types of Scotch on a map: they could be light, smoky, rich or delicate. They could be light floral, fruity spicy, rich rounded or full bodied. On this chart were 45 little dots, depicting different types of Scotch and where they fell on this continuum of unique flavors and qualities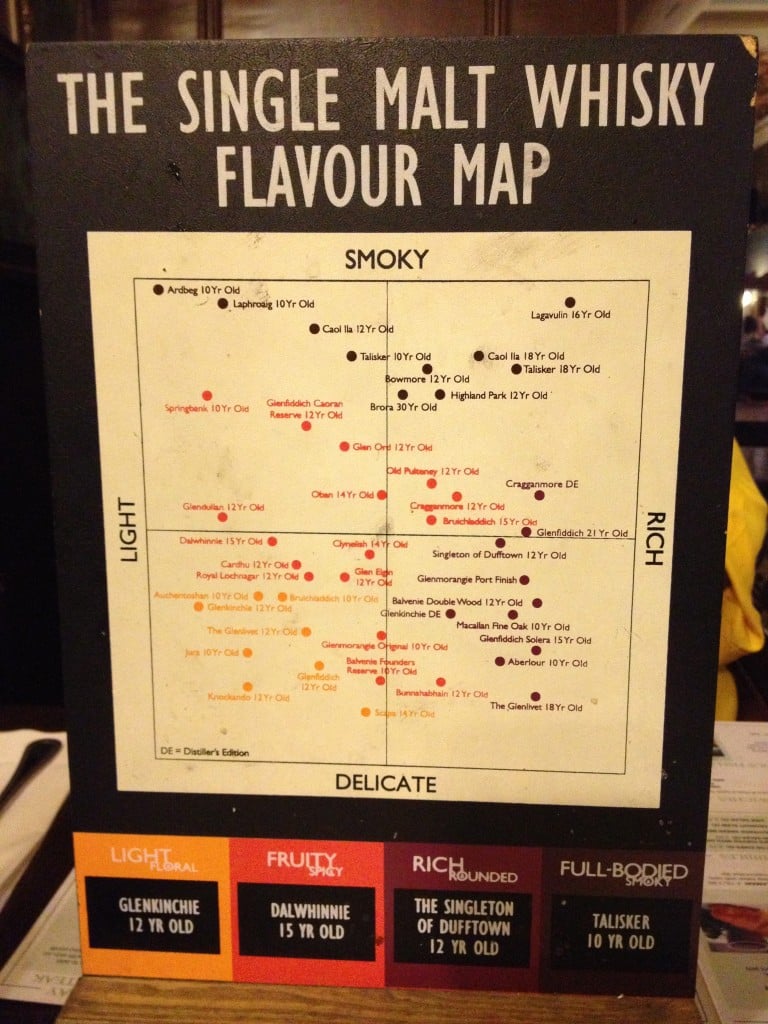 Eileene ordered Monkey Shoulder and I pointed to one of the dots on the map. I asked for it straight up and he told me a few drops of water brings out the flavor.
My Scotch was delicious. Eileene loved hers as well: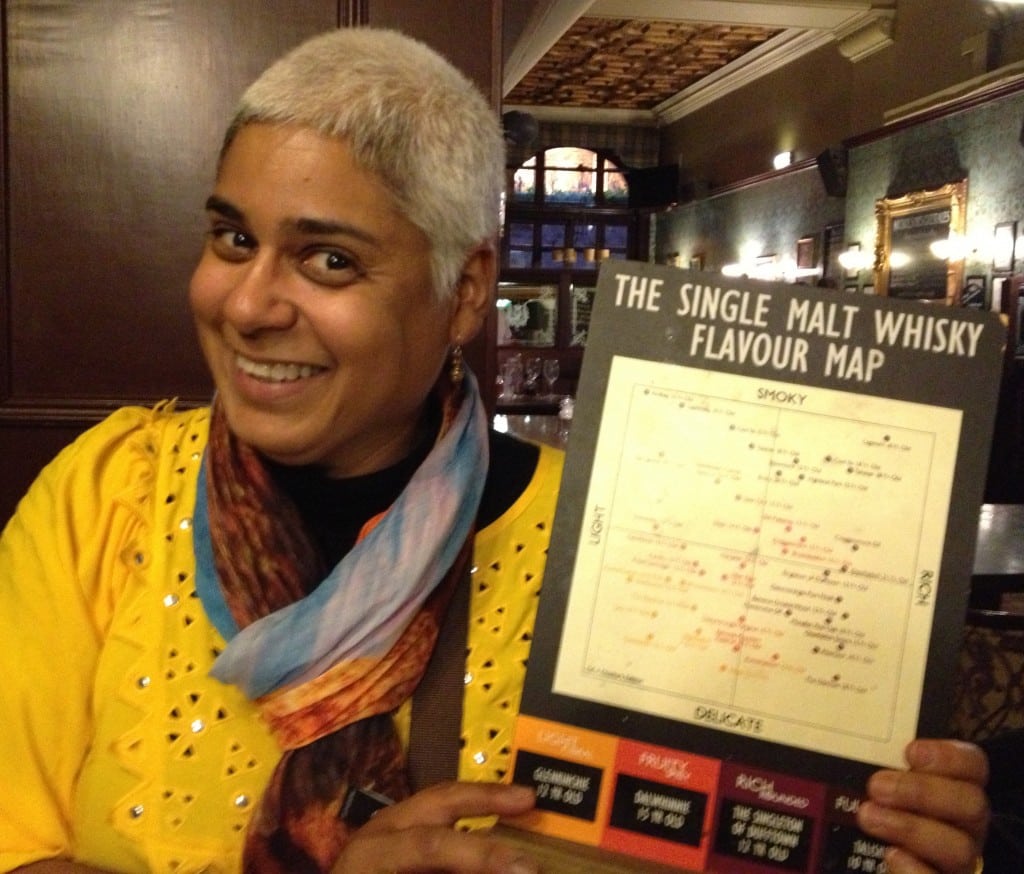 Over dinner, we each ordered a second round. This time I got one of the more smoky Scotches: Old Pulteney, the special malt of the moment. It was delicious: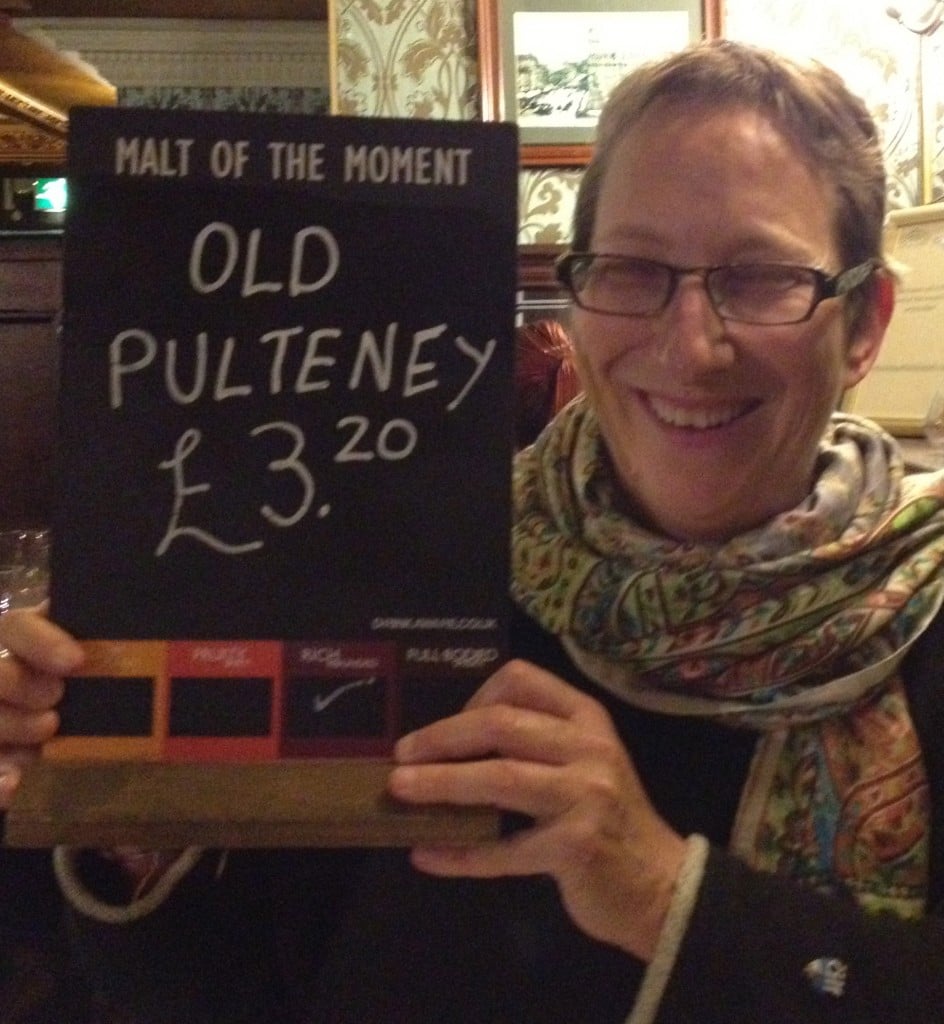 We sipped our second glasses of Scotch to the sound of the lounge singer going through his feel-good repertoire: Sweet Caroline by Neil Diamond, Elton's John's Crocodile Rock, The Eagles Take It Easy, Saturday by the Rolling Stones, and Ben E. King belting out Stand By Me.
After dinner, we exited the pub, which was now packed with partiers, and hiked all the way home. It was late at night and a bit chilly and tons of people were still out on the street. It was a good few miles back to our B & B and we were stone cold sober by the time we got home.
When I woke up this morning, Eli had sent me an email from Japan, in response to my post about The Elephant House:
I read it. I think you had most of the facts right, except I'm not sure we started doing the midnight book parties until the third book. I could be wrong, though. Lizzy, what do you think?

Great post!

-Eli
And I got this one from Lizzy, in California:
I'M SO JEALOUS
Lots of other people had written to me privately or posted their own stories of Harry Potter online. It was lovely to have your words greet me as I had my B&B breakfast. And as we headed out this morning for a large craft fair we'd seen advertised yesterday, I finally got a decent shot of the NightBus for all you Harry fans out there: