So far, 24 hours into my visit, Edinburgh feels like a teeming young person's city. I don't know if all the young people we see on the street are locals out for the evening or tourists from all over the world who have arrived for the theater festival.
Last night we struck out around nine o'clock to explore and to find something to eat. We were armed only with a shitty tourist map and tried to pick our way to the local theatre district.
We found ourselves a great local pub, The Fiddler's Arm, just underneath Edinburgh Castle. It was just the kind of place I'd hoped for: wood walls, big wood tables, a young woman singing folk songs, a young female bartender topping off strong dark draft beers, and great pub food: in our case, beef cooked in stout with a pastry top, excellent French fries and crisp, delicious fresh vegetables. We devoured our meal and our beers and watched the action in the pub. To our right, a couple from northern Ireland. To our left, three young French people out on the town. The pub didn't feel like a bar; it felt like a living room; it felt like home.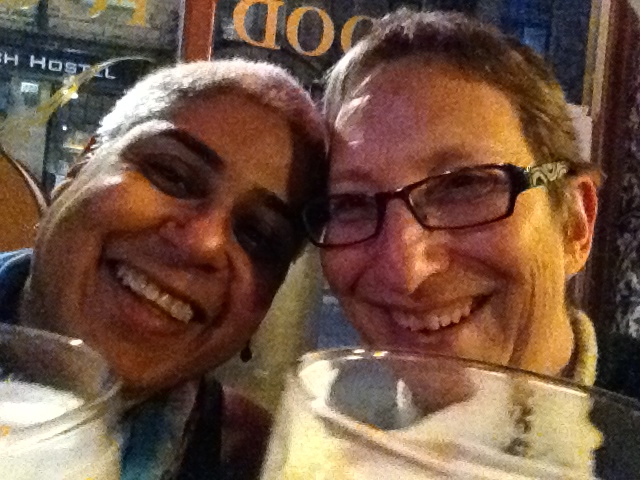 When we finally set out for our lodgings, at 11 PM, Eileene said her sense of direction was poor; I said mine was middling. We couldn't use our iDevices to navigate since we didn't have SIM cards that would allow us to tap into the local network. So we went old school; I bought a laminated detailed street map of the city at a tourist shop, and between us, we managed to find our way back to Balmore House.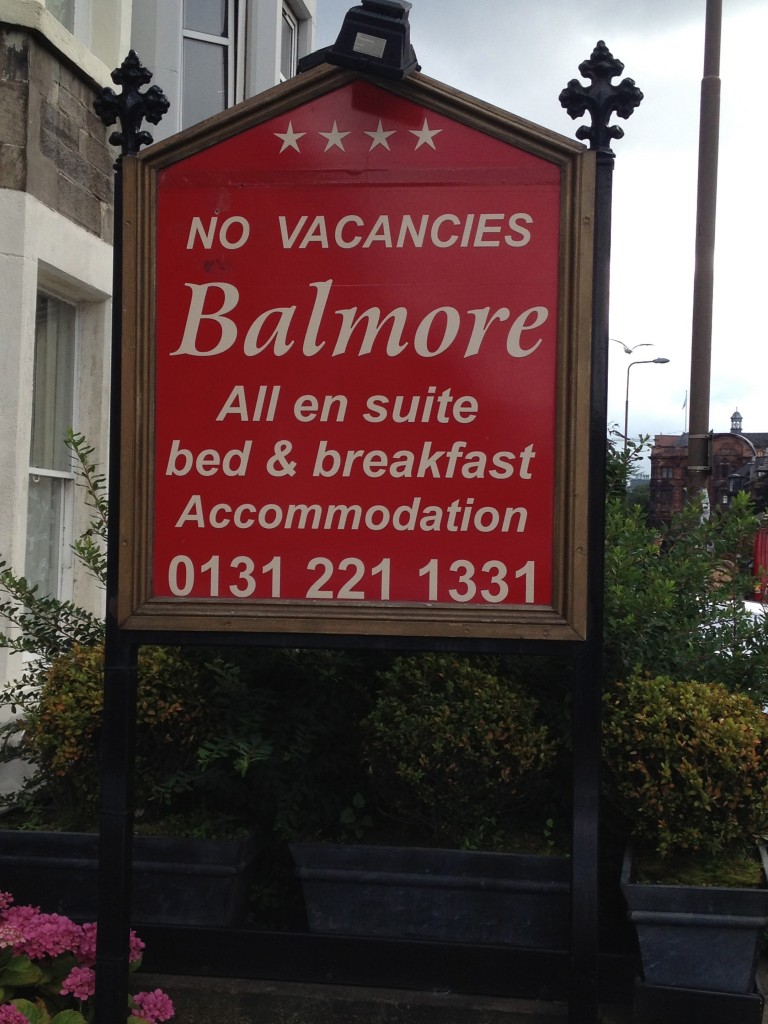 This morning, after a decent night's sleep, we set out in search of a replacement keyboard for me; the portable one I'd loaned Lizzy to take to Morocco came home missing the essential screw that holds the batteries in place and was full of corrosion; it was worthless. After we struck out at the neighborhood computer store, we boarded a double-decker bus and headed out in search of a giant department store with a supposedly good electronics section.
The view was great from the top deck of the bus. Here's Eileene coming down the stairs: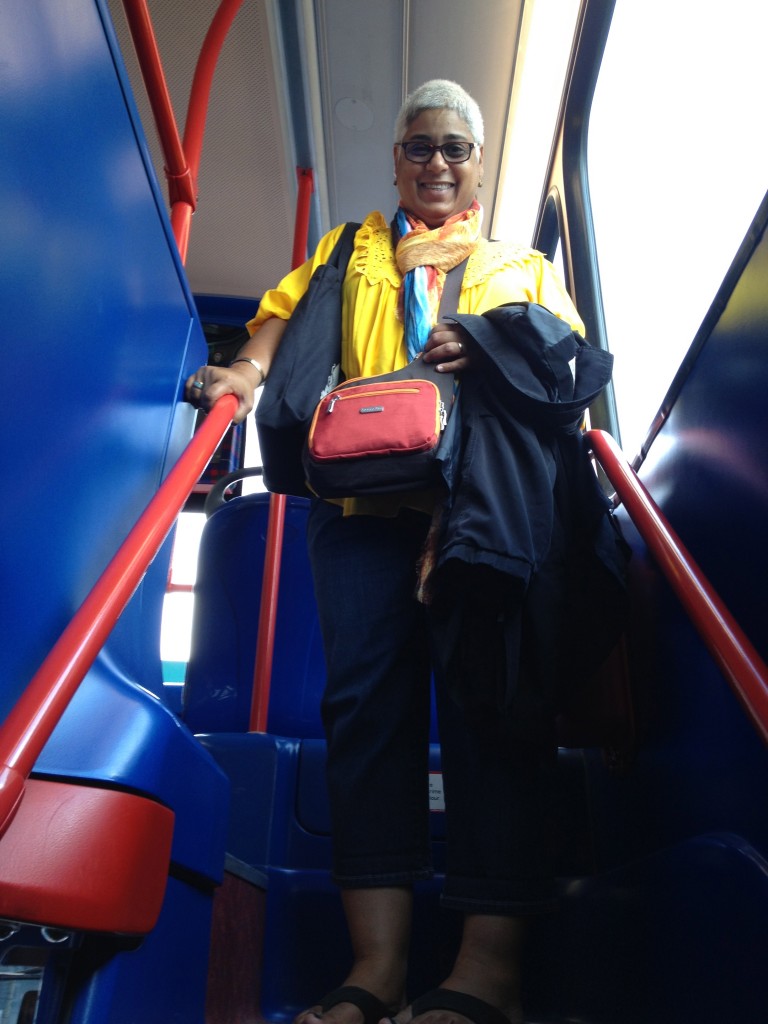 And here are the plaid seats. Only in Scotland, right?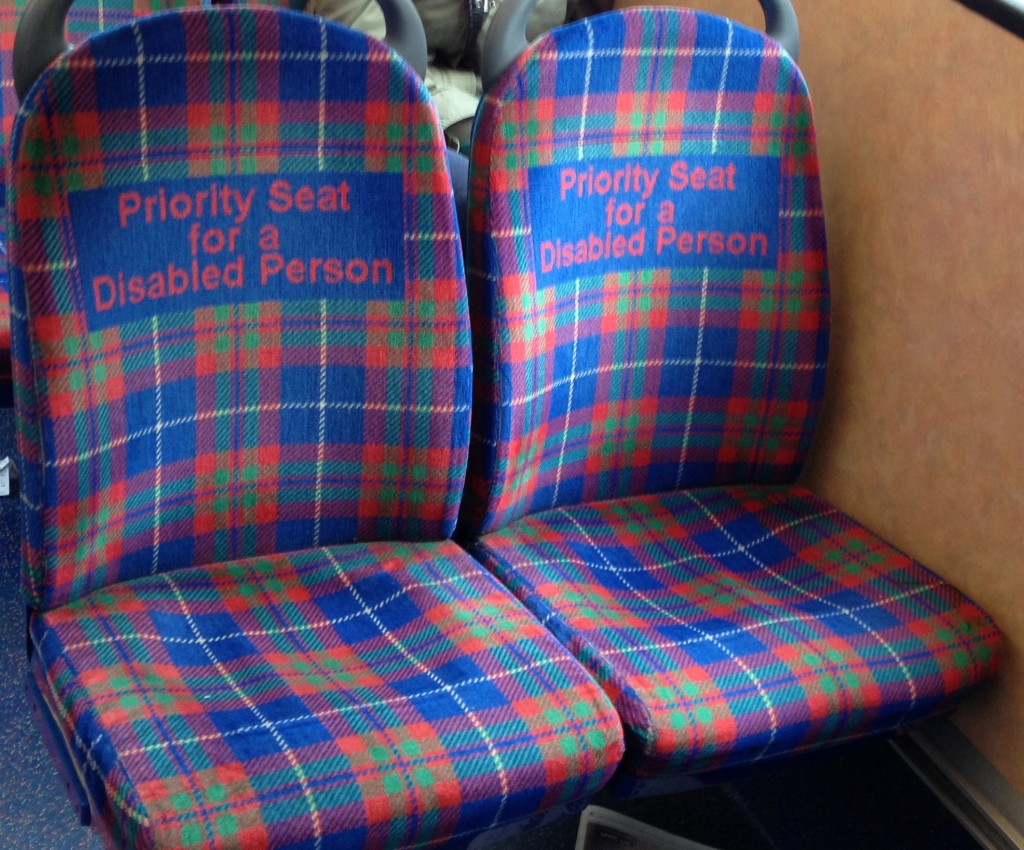 Two stores later, I finally succeeded in my quest. I found a knock-off keyboard that I hope lasts me for the rest of this journey. Then we meandered over to High Street, where we turned in our voucher at the Fringe Festival box office for tickets for The Winter's Tale tonight.
Eileene's must-go-to destination this morning was the Mary Queen of Scots exhibit at the National Museum of Scotland. And so I learned all about her political marriages, the murder of her second husband, her political downfall, her years spent in prison and her eventual beheading at the hand of her cousin, Elizabeth.
Once we left the museum and started to move through the city, there were street performers everywhere; we were stopped constantly with someone offering a handbill for a performance, a comedy show, or some other entertainment. We were surrounded by a swirl of languages and nationalities, a large, cheerful party happening everywhere around us.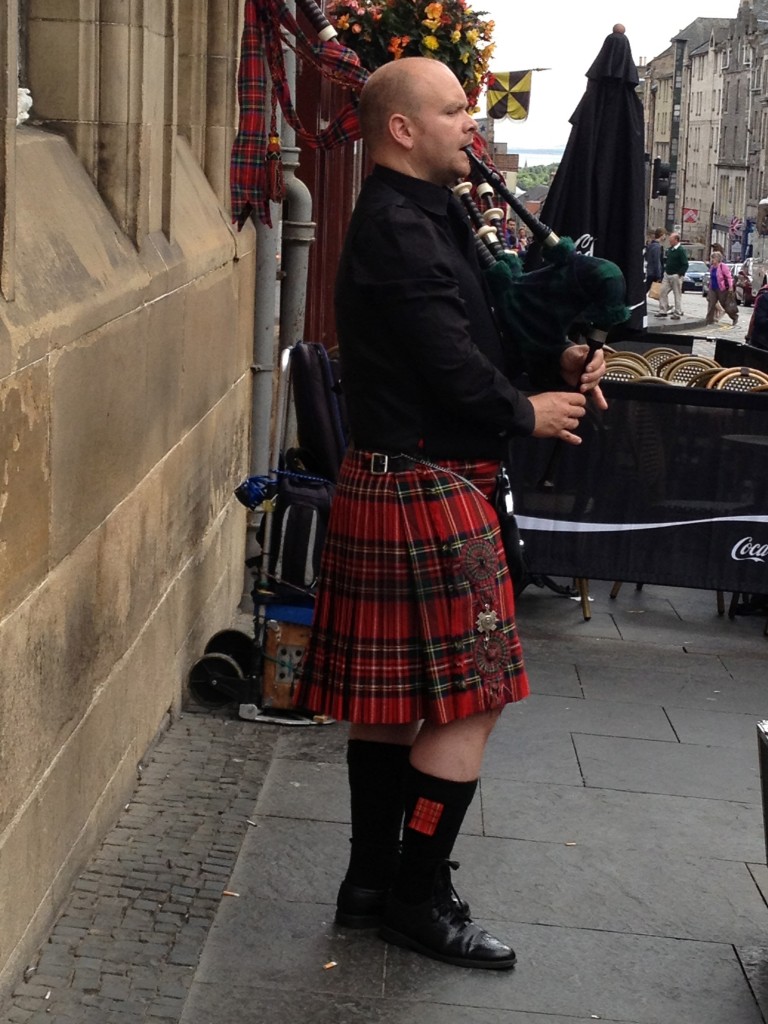 Midday, we both had one destination in mind: The Elephant House. In order to know why this was so important to both of us, you need to understand that Eileene and I are both mothers of children who came of age in the Harry Potter generation.
The first Harry Potter book came out when Eli was in first grade. Eli (and later Lizzy) and I waited in lines at Bookshop Santa Cruz starting at 9 PM the night before all seven Harry Potter books were due to be released; we stood there with hundreds of other crazy parents and obsessed children, up way beyond their bedtimes, waiting to get our hands on the next book the moment it went on sale at midnight. Waiting until the next morning was just not good enough.
Eli was in sixth grade I think, when Harry Potter IV came out. We got home from the Bookshop at 1 AM; he stayed up all night and finished the book by 9 the next morning and proudly staggered through school, the first child to have finished the 400+ page tome. Only to hand it off to Lizzy, of course, who devoured it in turn. She was just as immersed in Hogwarts and Quidditch and Dumbledore as he was.
I had to wait to read it third, but I was no less eager than they were.
I remember forbidding Eli to read certain sections that we felt were too dark for a nine-year-old or a ten-year-old, but he read them anyway. I remember wondering whether Lizzy would have nightmares about Death Eaters or Voldemort, but she never did. For years, Harry and his friends—and his enemies—were the backdrop of all of our lives. We were in the JK Rowling cult and Harry Potter was inextricably woven into the texture of their childhood.
When the Harry Potter movies came out, we stood in line once again; at 9 at night for the midnight opening of each show. The release of each book and movie were the major milestones of our children's lives.
Lizzy owned every audio version of all seven books, read masterfully by Jim Dale, who performed every voice perfectly. The first books we owned on cassette; the later ones, on CD. Lizzy listened to the books over and over and over again; she wore out the cassettes, she listened to them so constantly. Those Jim Dale tapes were literally the soundtrack of her childhood. She won every Harry Potter trivia contest, hands-down, and could recite large swaths of the books by heart.
So to be in Edinburgh, and to have the chance to visit the very place where JK Rowling, then a poor single mother, sat to compose the early books, was a pilgrimage I simply could not miss. And Eileene was just as eager. This was right at the top of her list, too.
On our way here, we saw several things that clearly inspired JK Rowling: a bus shelter with an ad for the Night Bus: Getting You Home Safe From Midnight to 4:30 AM and this set of phone booths: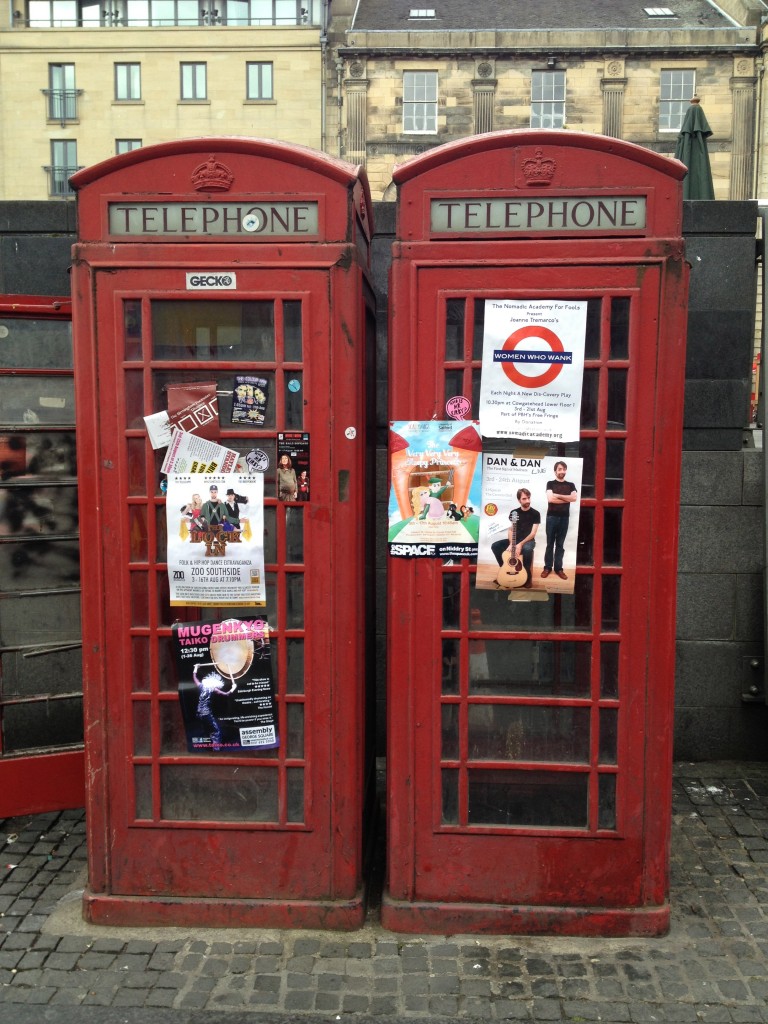 Ministry of Magic anyone?
The evidence was right in front of us: this is how writers are inspired by their environment. And here's the place where it all began: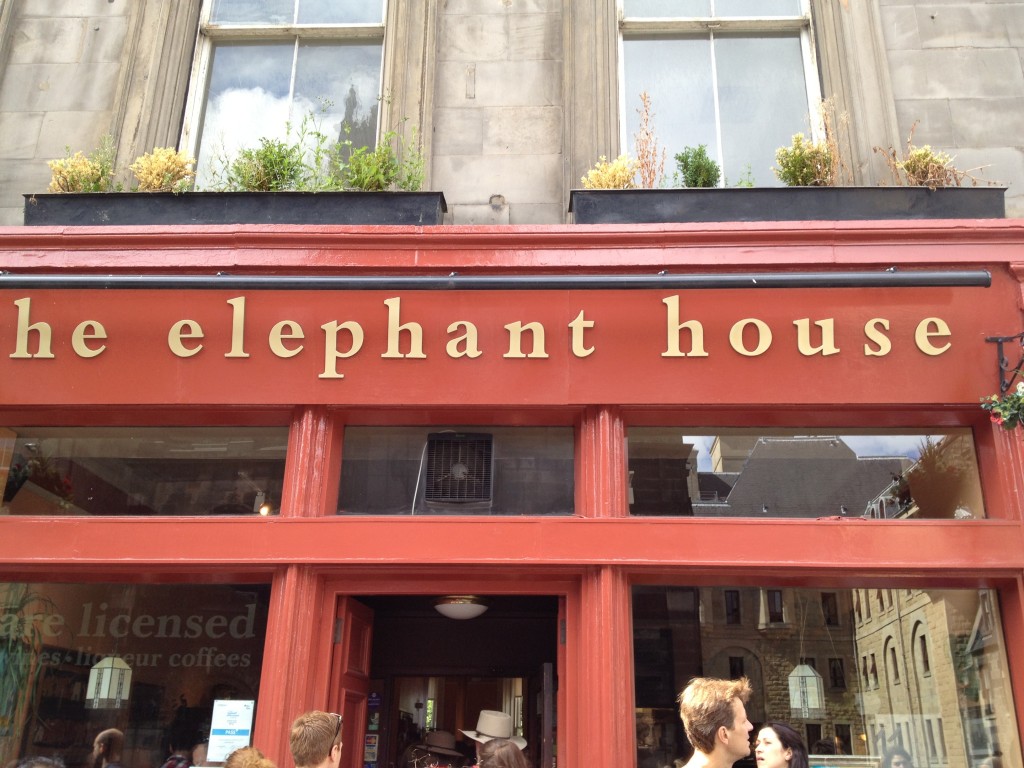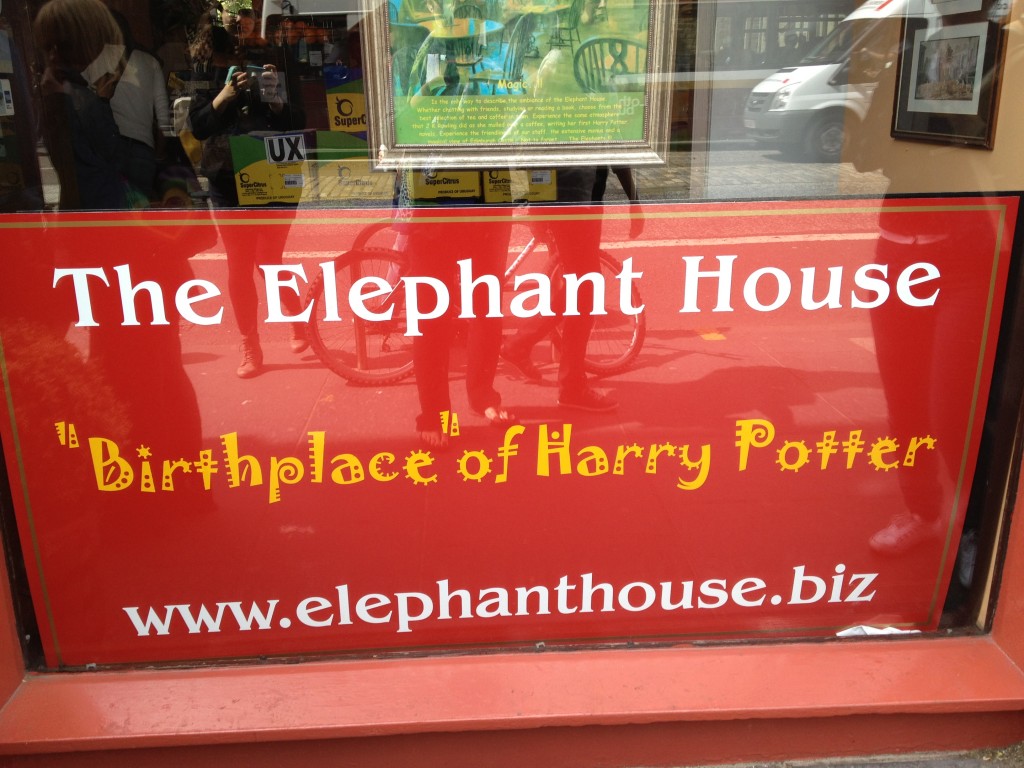 Inside, the place looked a lot like any other coffee shop: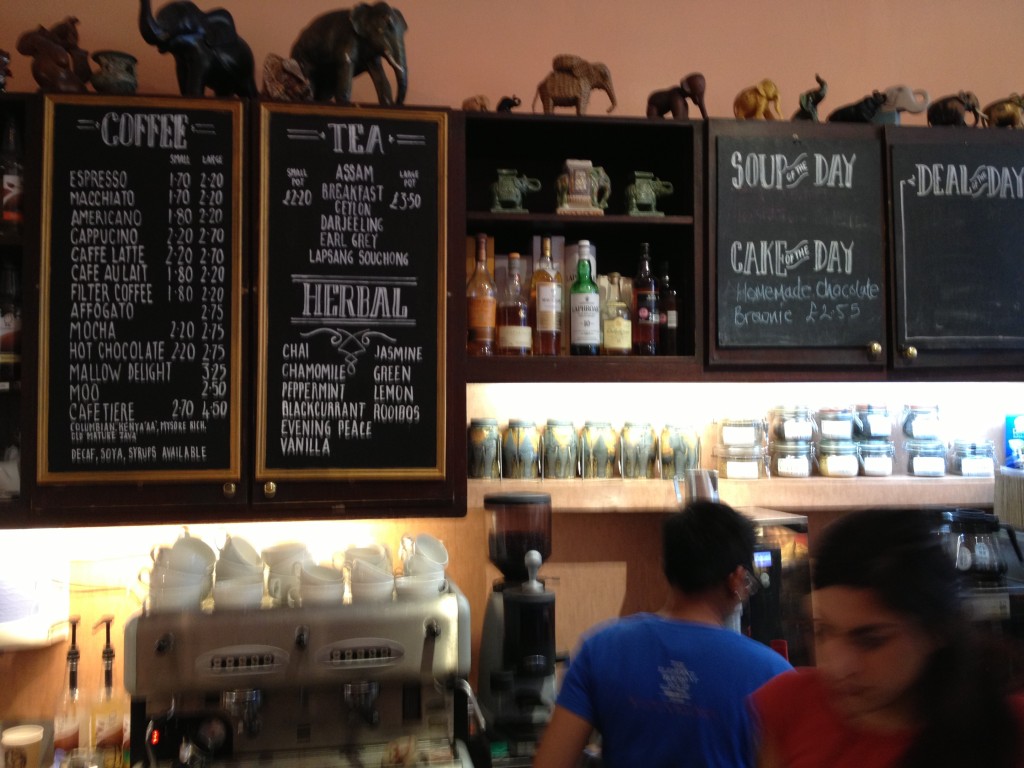 But on the wall, there was this, a framed set if photos of JK Rowling at work within these very walls:
I felt giddy and very happy eating my baked potato with veggie chili on top (mediocre—but the chai was lovely). And of course I felt inspired to write: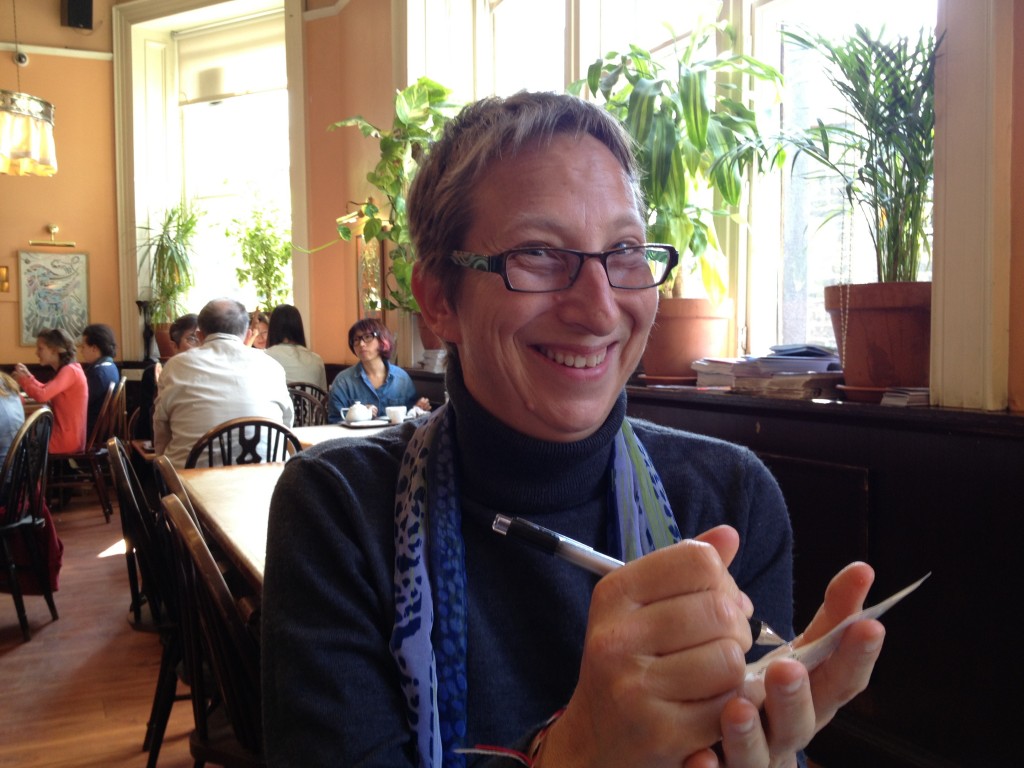 There were elephants everywhere I looked and the line of customers was out the door. It was a bustling, busy place. But I really hadn't seen anything yet.
It was only when I got up to go to the bathroom that I discovered the real secret of The Elephant House. Every inch of every wall, every inch of each stall, the mirror, the sink, every millimeter, was full of grateful graffiti thanking JK Rowling for the magical world she created for all of us.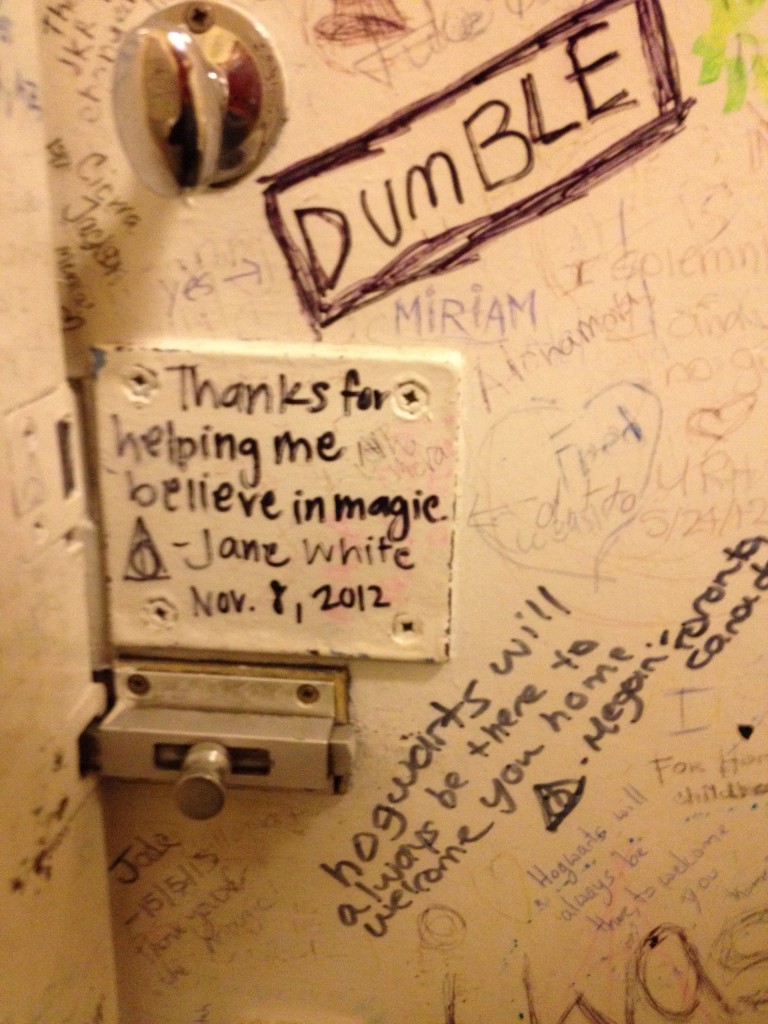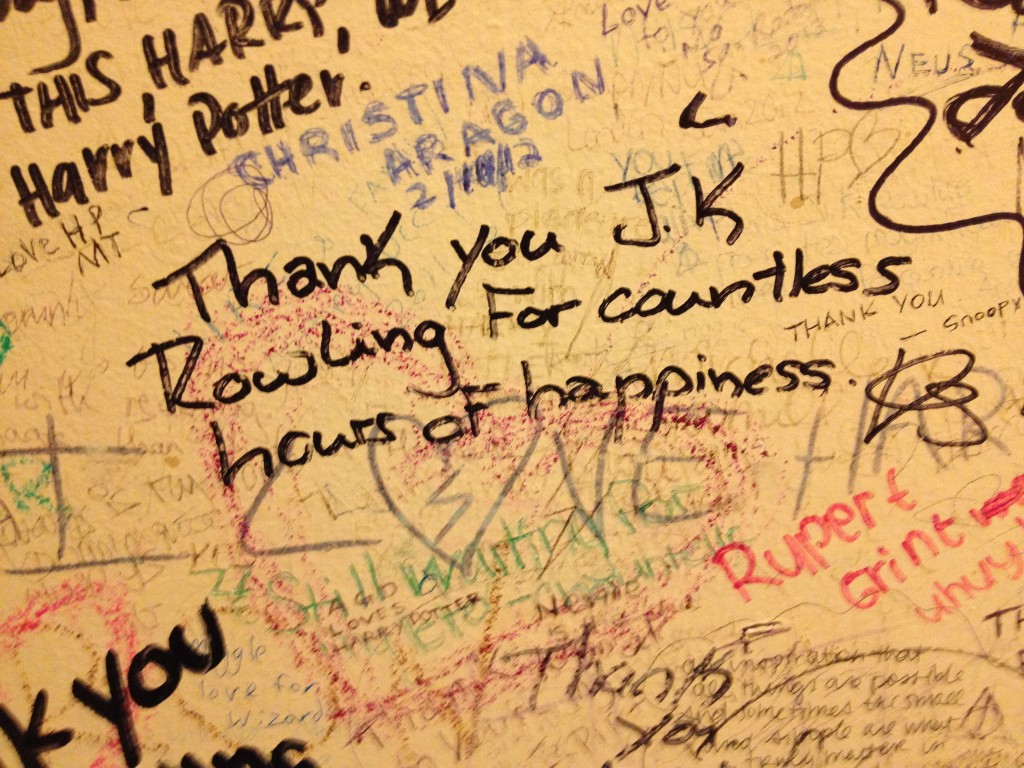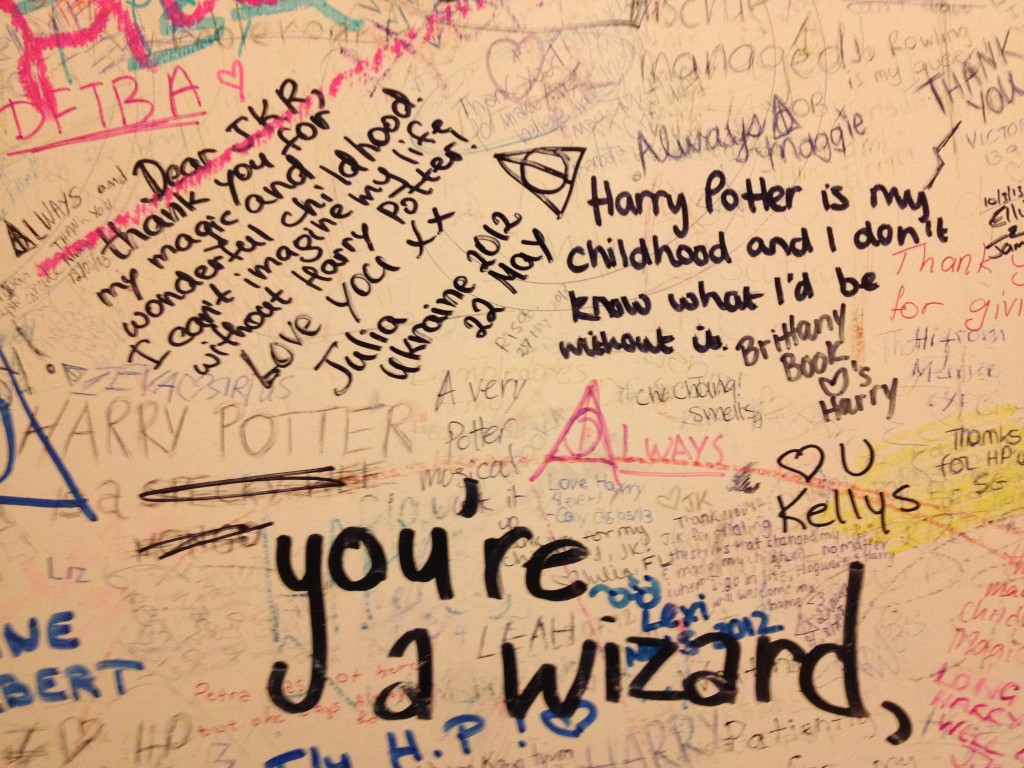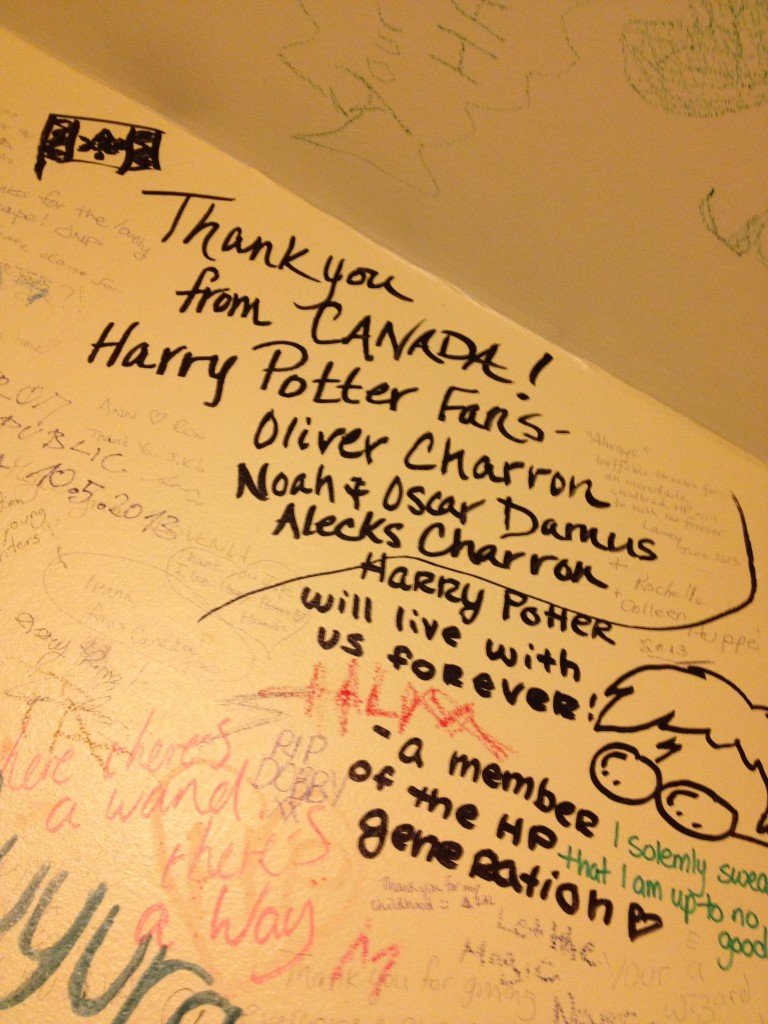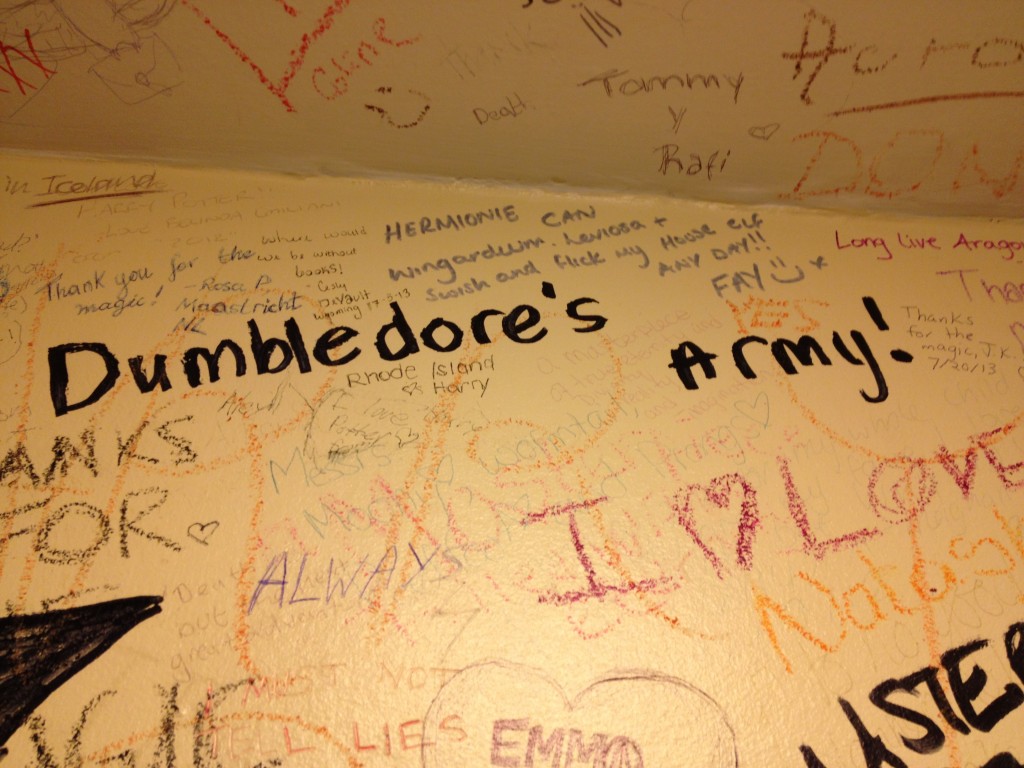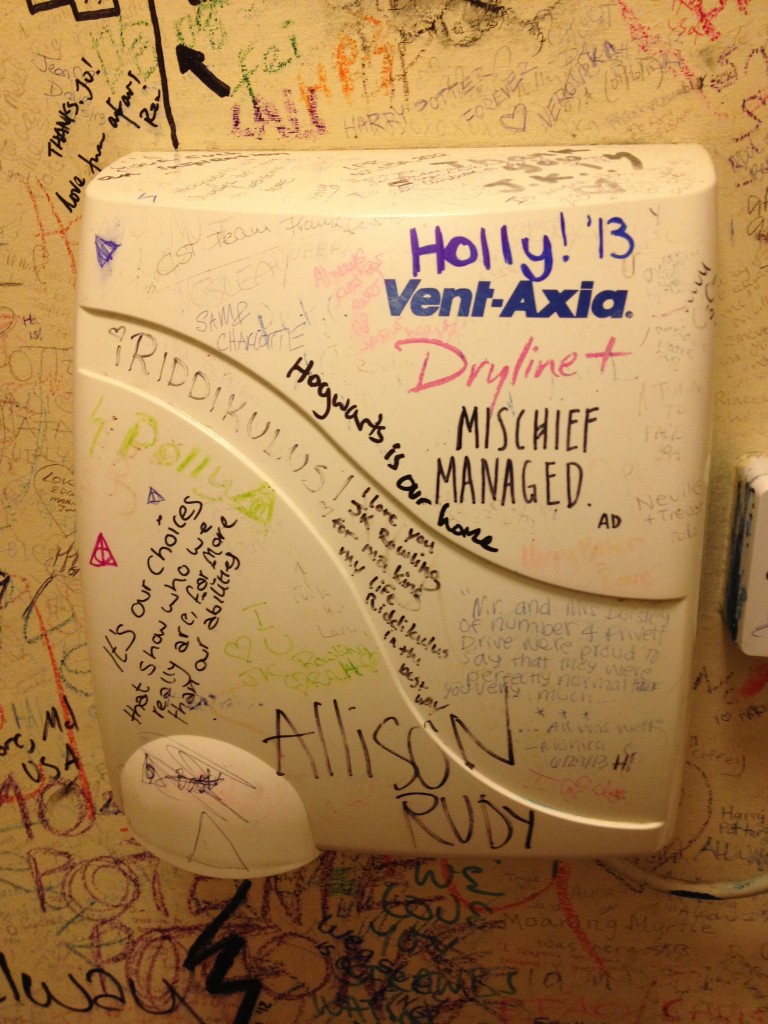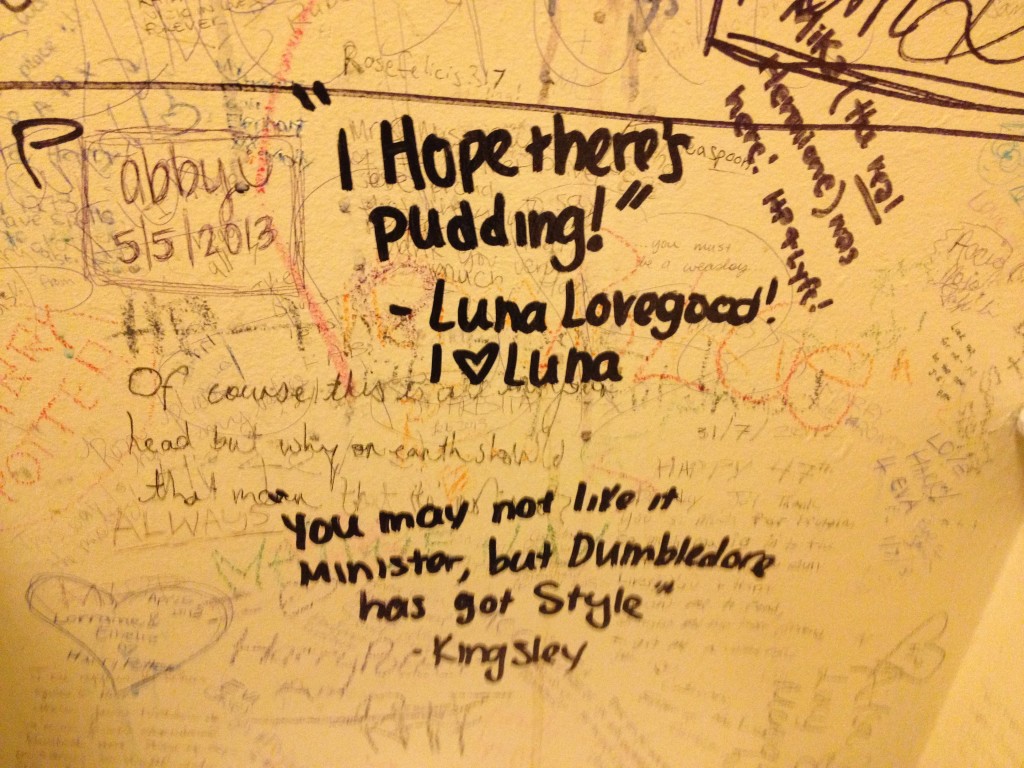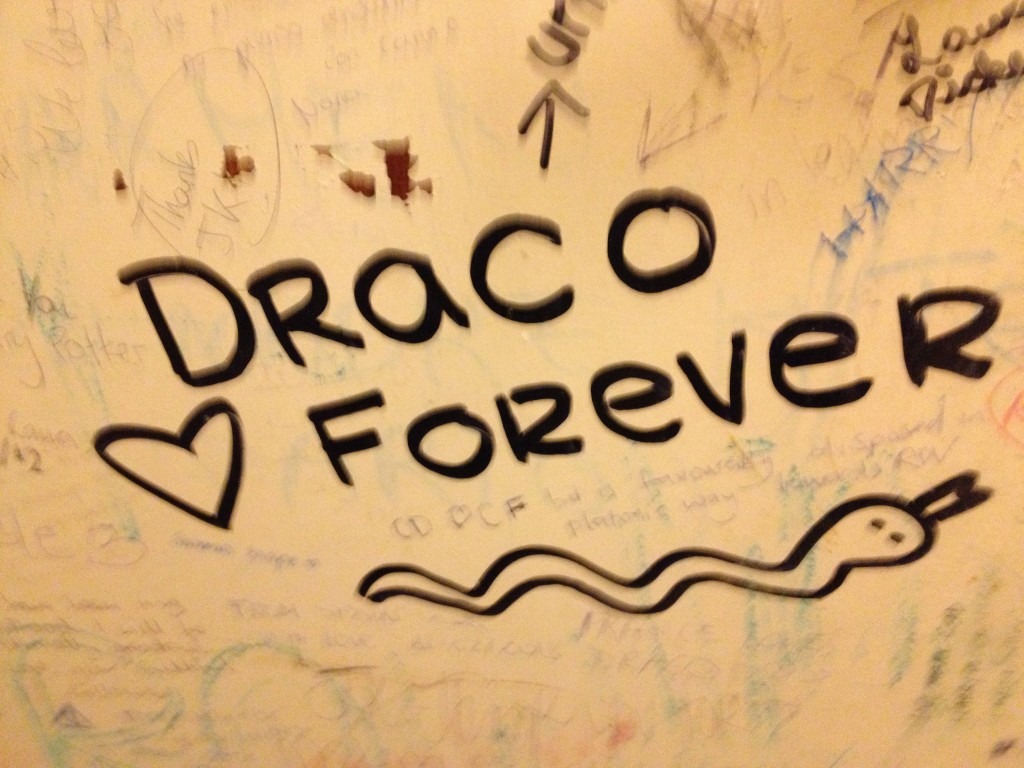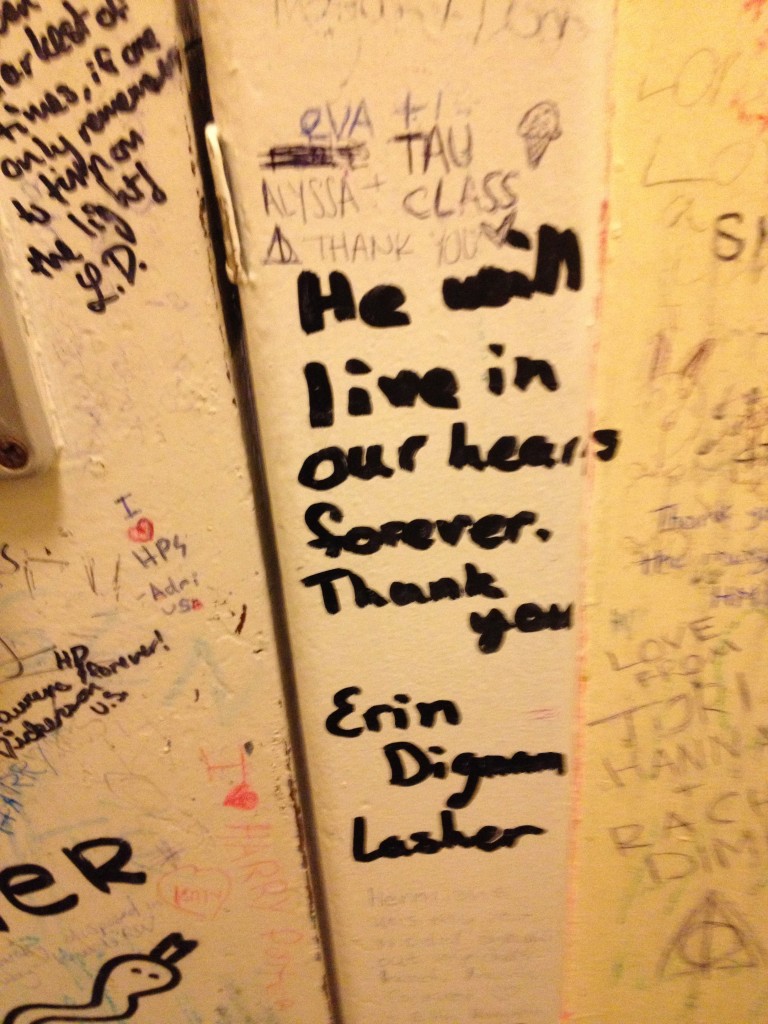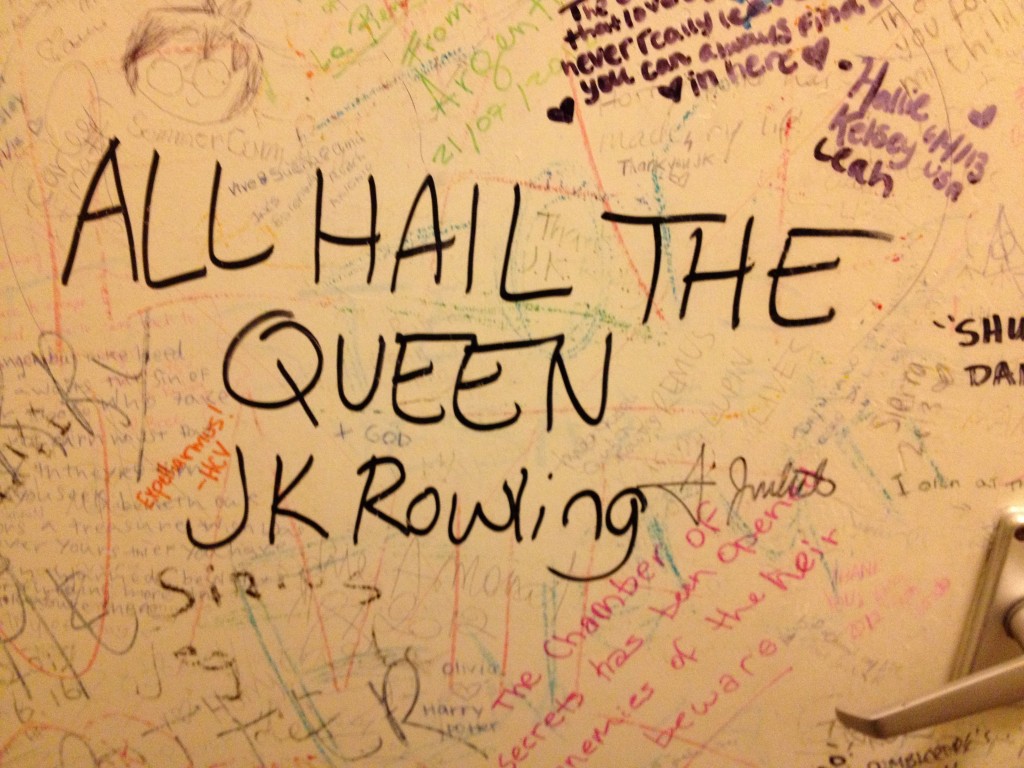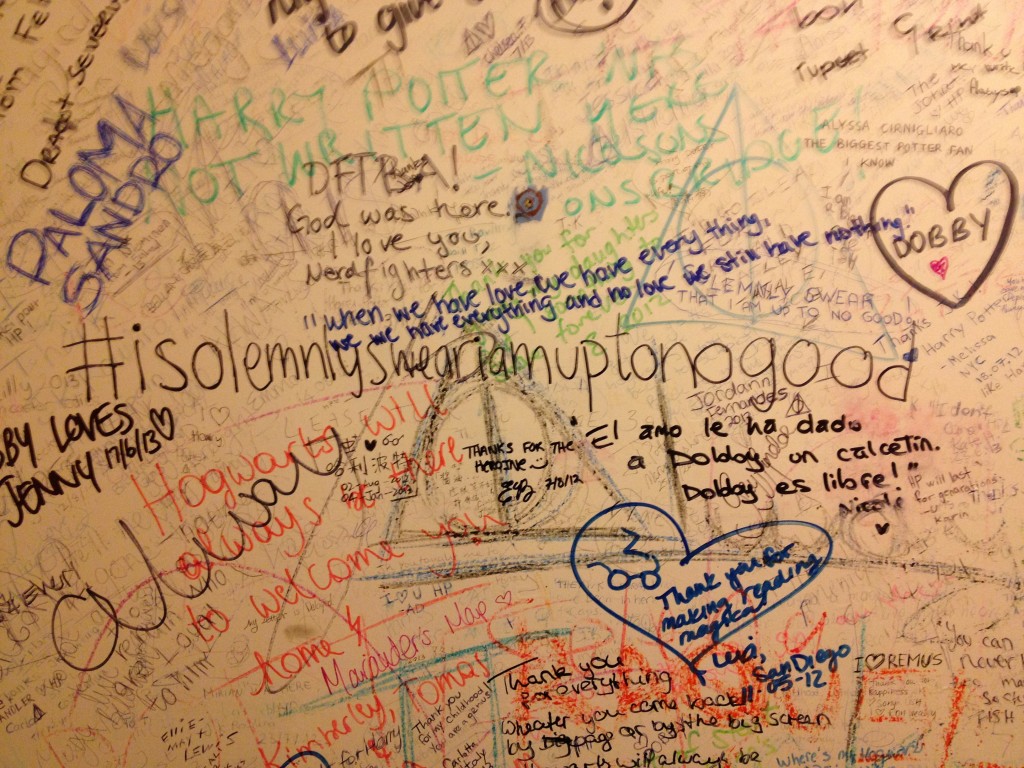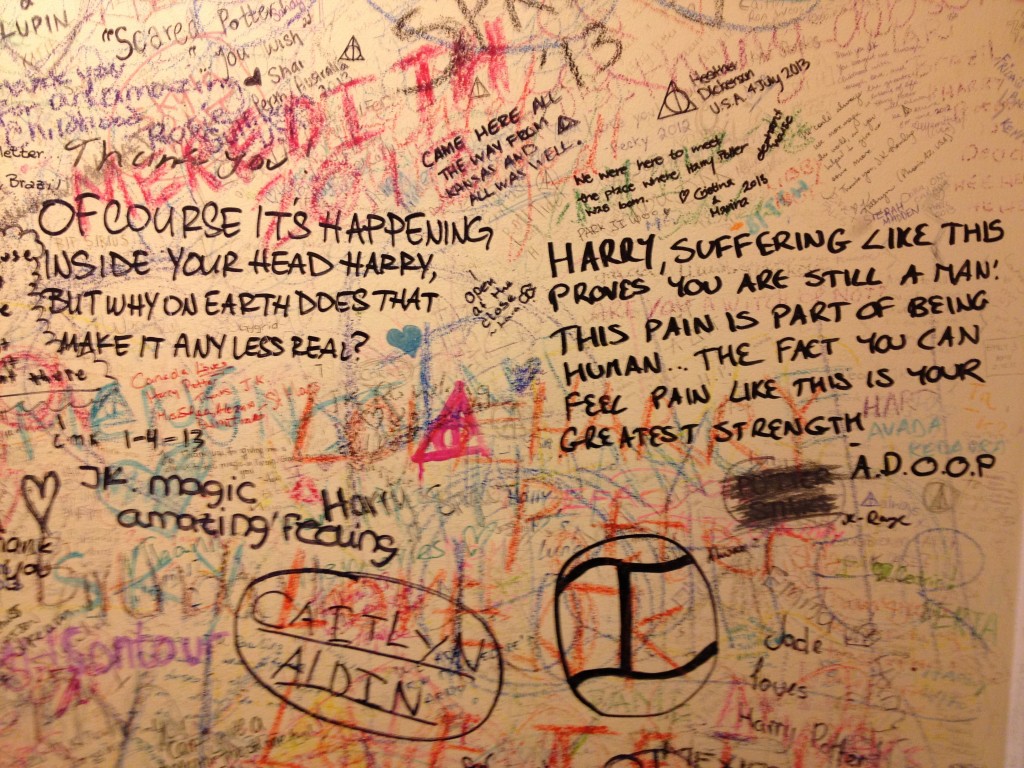 I started weeping when I walked into that bathroom and it's been hard for me to stop ever since. I'm weeping for what those books have meant in my life; for the end of my children's childhood; for the way one author's imagination and words—and commitment to write under all circumstances—can influence and entertain a whole generation, not to mention all the generations to come. I'm weeping over the impact words and writers can have on our lives and on our world.
All of that, and the magic that still lingers here in the Elephant House, has me choked up as I, too, sit here writing—maybe even at the very table where she sat.
But most of all, it's how much I love Harry.
"I solemnly swear I am up to no good."

–JK Rowling
PS:
Dear Eli and Lizzy,
Please forgive me for the gross inaccuracies in this post. I'm sure I got your ages wrong or the books wrong or which movie we saw when, but I know the essence is true. You weren't here for fact checking, so I just had to go ahead!